Get your favorite family photos off your phone and onto your wall with these foolproof Mixtiles frames. The best part is they're reusable so you can adjust as many times as you need for an easy entryway gallery wall!
DIY Peel and Stick Gallery Wall
Can it get any easier than a peel and stick gallery wall? Easily swap out your style, shape and design. We're big fans of quick projects and this one dressed up our entryway in less than 10 minutes!
We've slowly been remodeling our tract home over the past few years. We've replaced the floors, painted the doors a darker shade, remodeled the laundry room, installed a Dutch door, gutted the kitchen but we've yet to add any wall decor to the house. Except our ode to Seinfeld in the bathroom! Time to change that!
I hopped on Mixtiles, uploaded my favorite family pictures and had a box of wall decor in 5 days! All that was left to do was peel and stick!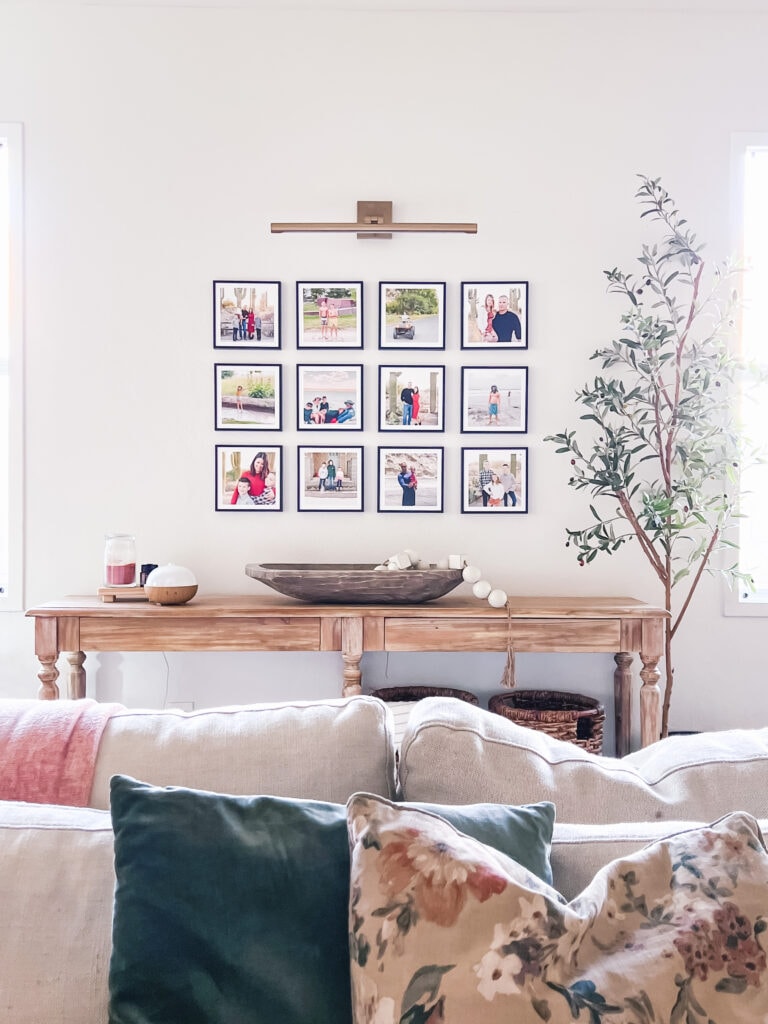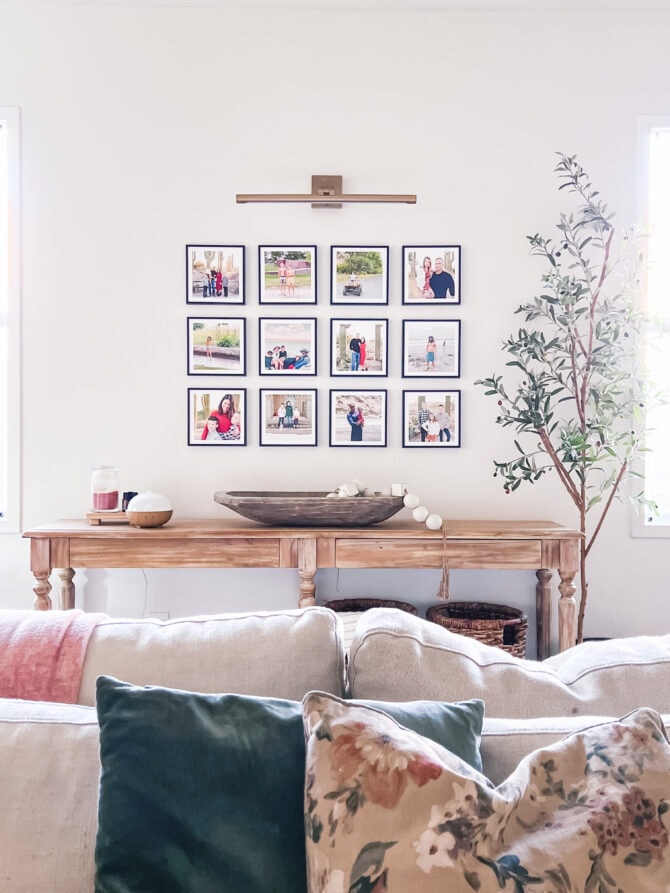 More Gallery Wall Ideas
How to Hang Mixtiles
If you're wondering how to install Mixtiles, it's extremely easy! Just follow these steps for an instant gallery wall.
Remove the backing from the adhesive pad on the rear side of the tile. You'll find this piece on the top section of the frame. Loosen the edge of the backing with your fingernail to get it started, then peel it off like you would a sticker. You're now ready to add your first tile to the wall.
Use a tape measure or ruler to keep the spacing of your tiles uniform. Try out different spacings until you find one that you think would work well for your display wall. Then, stretch your measuring device from the edge of one tile to the edge of the neighboring tile and jot down the number you see. It will serve as a handy reference while you're hanging the rest of your tiles.
Check the final alignment of your tiles with a level. Hold each of your tiles up to the wall and perch your level on the upper part of its frame as you work on getting them positioned. That way, you'll be able to see at a glance whether the edges are even, with no time-consuming trial and error required.
Press the upper edge of the tile into the wall. Take a moment to double-check that the tile is properly spaced and aligned. When you're happy with its placement, push the top part of the frame straight into the wall, applying firm pressure with both hands. That's all there is to it![6]
Mixtiles Discount Code
Use code LOLLY10 plus our link to buy 10 get 10 free Mixtiles!
FAQ About Mixtiles
Do Mixtiles damage the walls? Mixtiles are removable, reusable and don't damage your walls!
How many times can you move Mixtiles? A couple dozen times before they stop sticking.
Will Mixtiles peel paint? No.
How far apart should Mixtiles be? This is up to your personal preference but 2″ between the Mixtiles on all sides is standard. To make it uniform, use a 2″ block of wood to use as a spacer.
Can you replace photos in Mixtiles? No. Mixtiles prints the photos directly onto your tile so it cannot change.
Can you make Mixtiles in black and white colors? Yes. You can adjust your color preferences. You can select various color contrast profiles such as light, dark, inverted, and monochrome. Additionally, users can swap color schemes of titles, texts, and backgrounds with over seven different coloring options.
Shop This Room
Lots of questions on Instagram where things were from. Our top seller was this diffuser and humidifier in one, it's our favorite dupe to the YL $300 version.
Our second top seller was the dough bowl. Check out 5 more ways to decorate with dough bowls.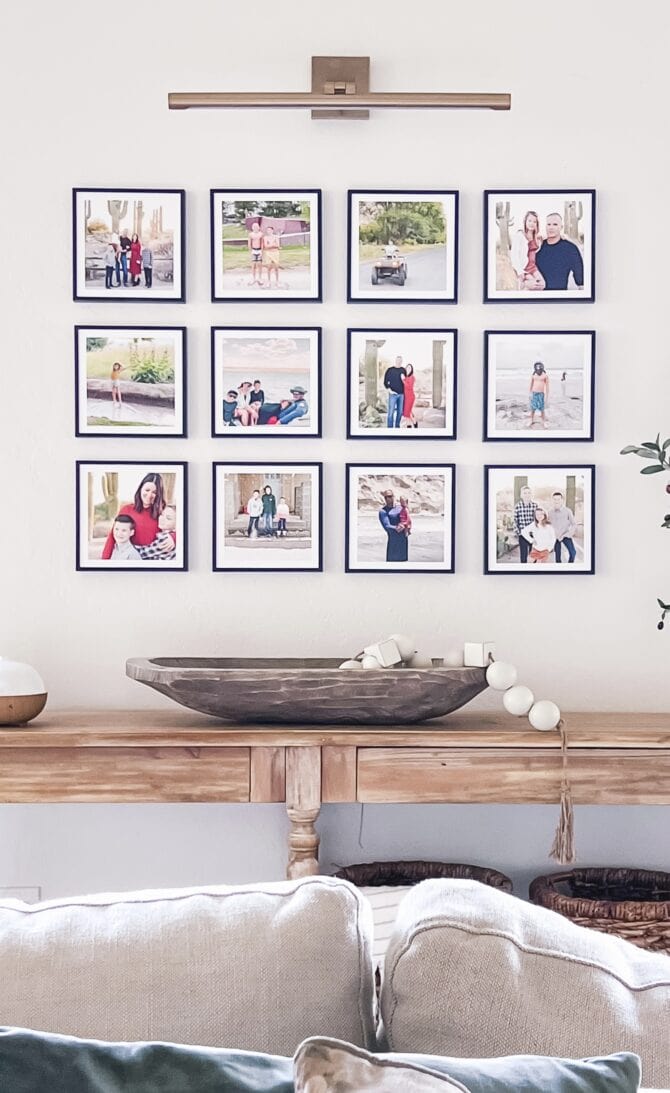 Everett Table | Artificial Olive Tree | Velvet Throw Pillow | Gold LED Picture Light | Humidifier Ultrasonic Aroma Essential Oil Diffuser | Woven Hyacinth Floor Basket | 50″ Ceramic Bead Garland | Raw Wood Riser | Hand Block Floral Pillow | Rustic Wooden Bread Dough Bowl
Shop this post and more on our LTK, a tidy little spot to shop our best sellers!
More Entryway Decor Ideas
We love a cozy entrance, visit more ways to dress up your entryway!