Front porch makeover with a gorgeous new Dutch door!
Check out this simple yet stunning front porch makeover! Give your builder grade home a custom look a few changes that make a big impact like the star of this show: a peachy pink dutch door
A few simple aesthetic changes can instantly make a space look custom and unique. This small front porch was transformed from a standard builder grade with no frills to being the talk of the neighborhood with a lot of paint, replacing plastic shutters with scrap wood, moving a light to a more focal point, and of course installing a new Dutch door that steals the show!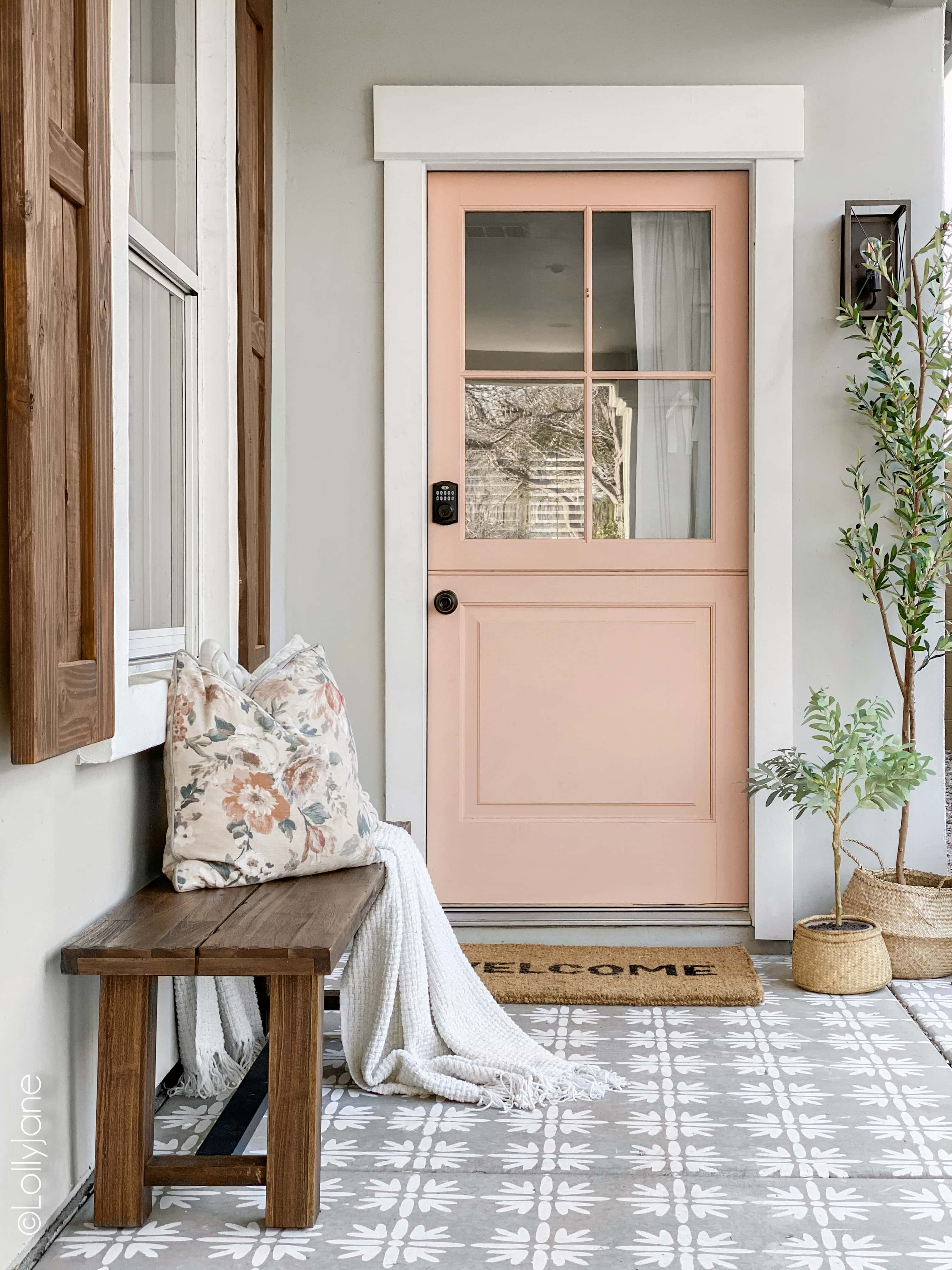 Front porch makeover
This makeover took a good year from start to finish and we are all about progress over perfection… or breaking our budget, anyway. You can see what we started with below: a beige home, rotting wood frame around a dented metal door, faded (and outdated) light fixture, and a non-working doorbell: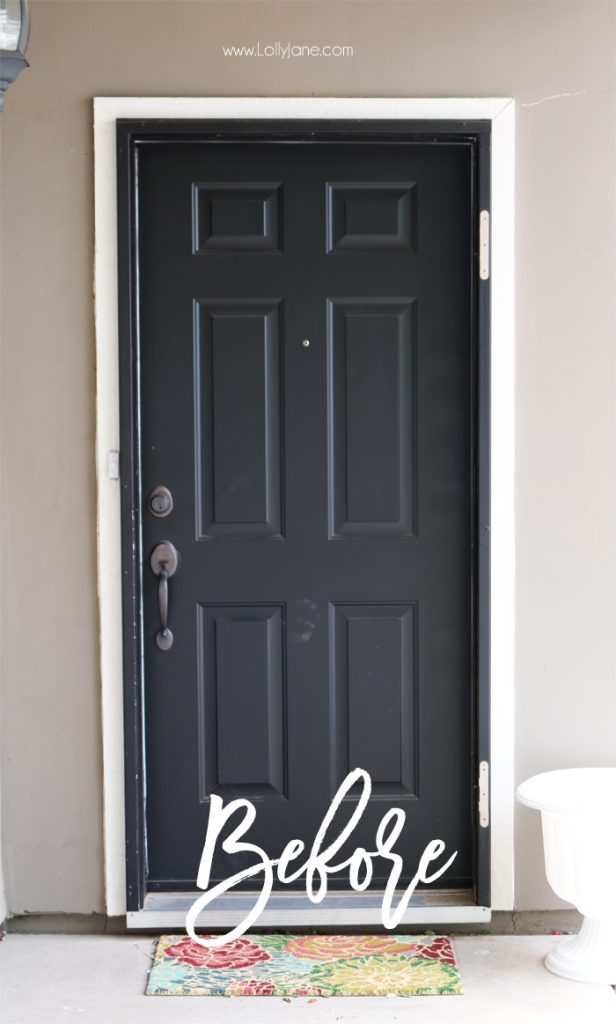 As we've said for over 2 decades, paint is the single most affordable way to transform a space, (or piece of furniture.) We knew the bulk of this project would require paint and a lot of it!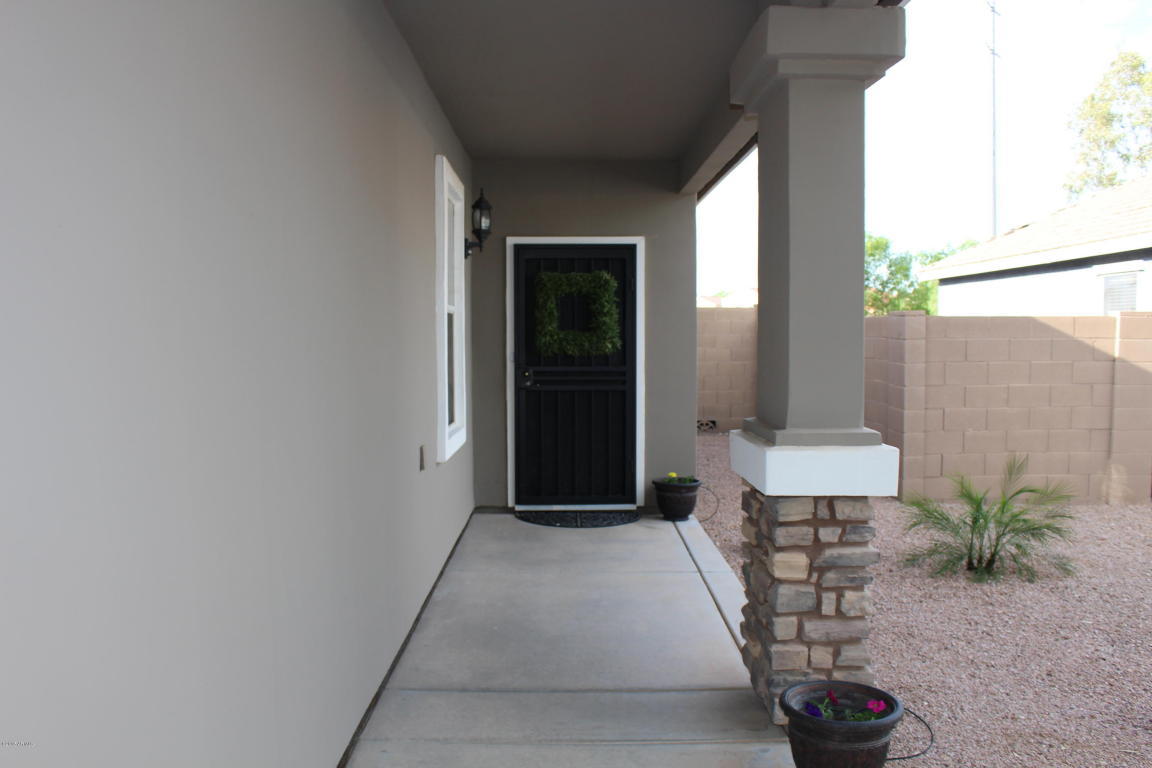 To buy some time from when we purchased the house 5 years ago until now when our budget allowed, I painted my black front door a cheery mint hue from a leftover paint project and that tide me over we had enough in our paint budget to paint the ENTIRE exterior. Not bad, right? You can see the full porch refresh here.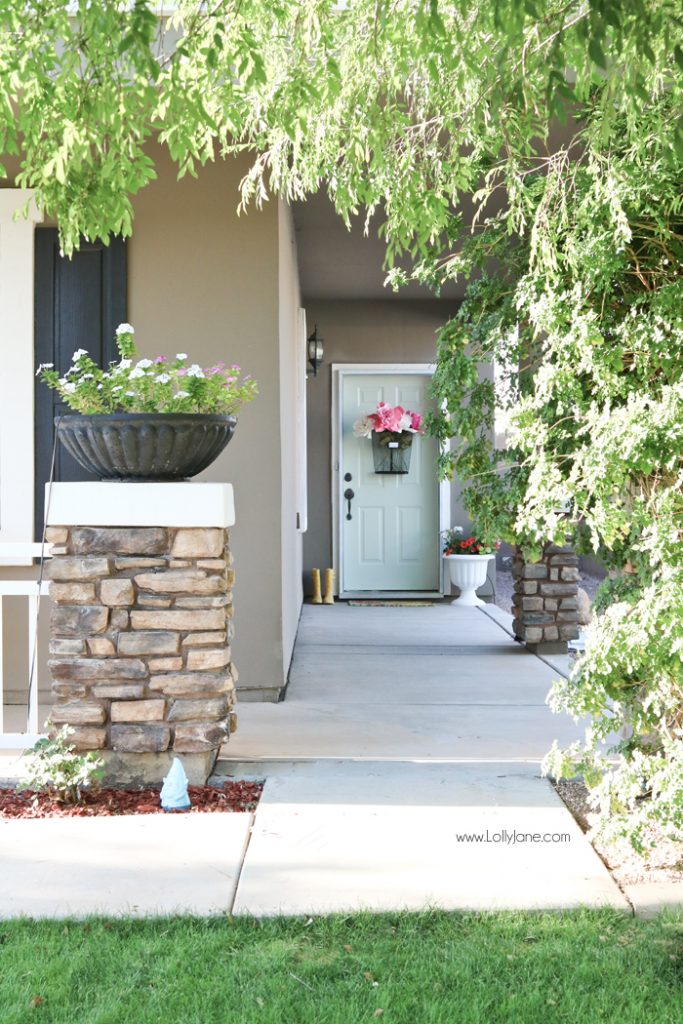 2019 was the year of the exterior so we finally covered our original gloomy greige exterior that blended together with the concrete porch, ceiling, and its surroundings and instead opted for a creamy light gray and made it pop with white trim, columns, and ceilings.
where do i order dutch doors?
I knew we needed a new door next and I had seen some gorgeous Dutch doors floating around Instagram.
I have wanted a Dutch door since we spent a 4th of July in Coronado Island as newlyweds and saw one on the cutest craftsman style home in the area and knew it would be the perfect touch on our own little house. After some digging, I discovered I loved the Thermal Sash door style.
The Thermal Sash door can be used as an interior or exterior door and the styles vary… swing, Dutch, with barn track hardware or pivot hardware, in a patio swing door, slider system aaaaand many other applications for the home's exterior. Wild, right?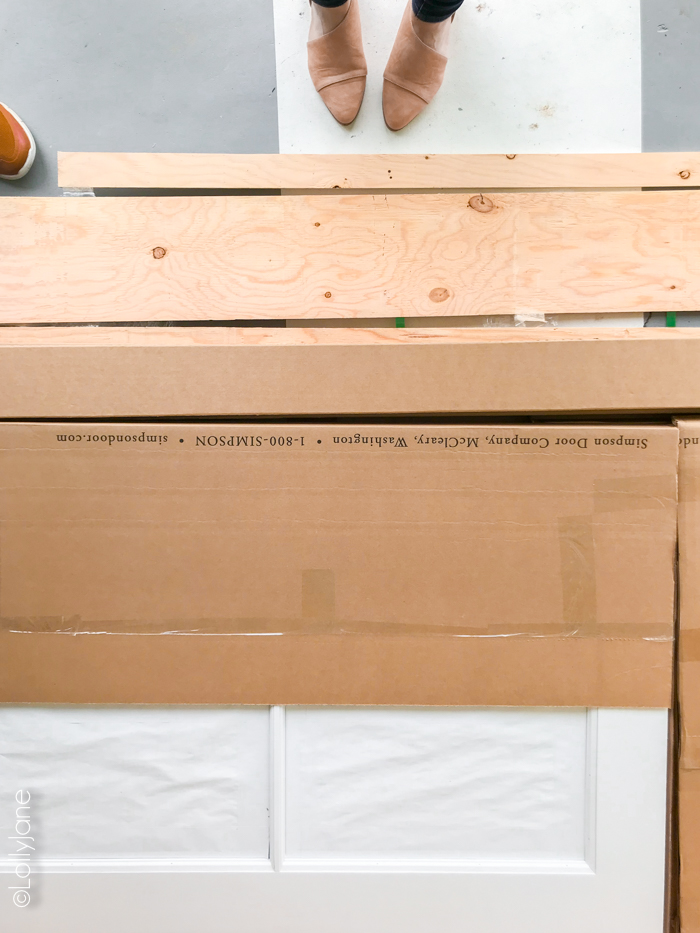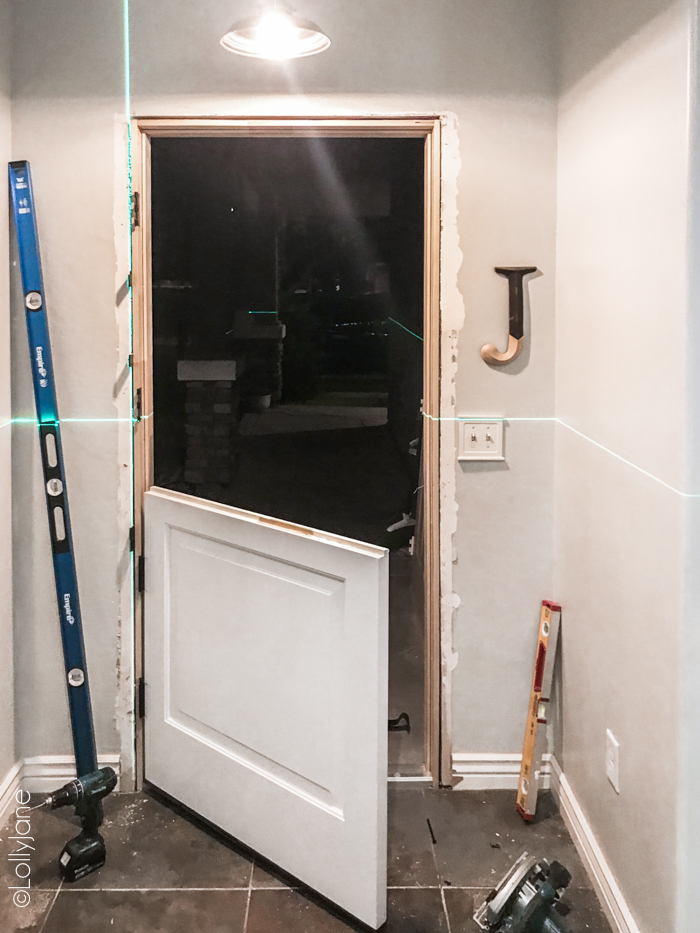 double dutch door Installation process
My husband Cory is super handy and he installed the Dutch door, along with some slick craftsman style trim around the exterior. If you're not able to do it yourself, you can contact your local door company to do it for you.
So clean and simple, and doesn't take away from the door at all but makes it pop!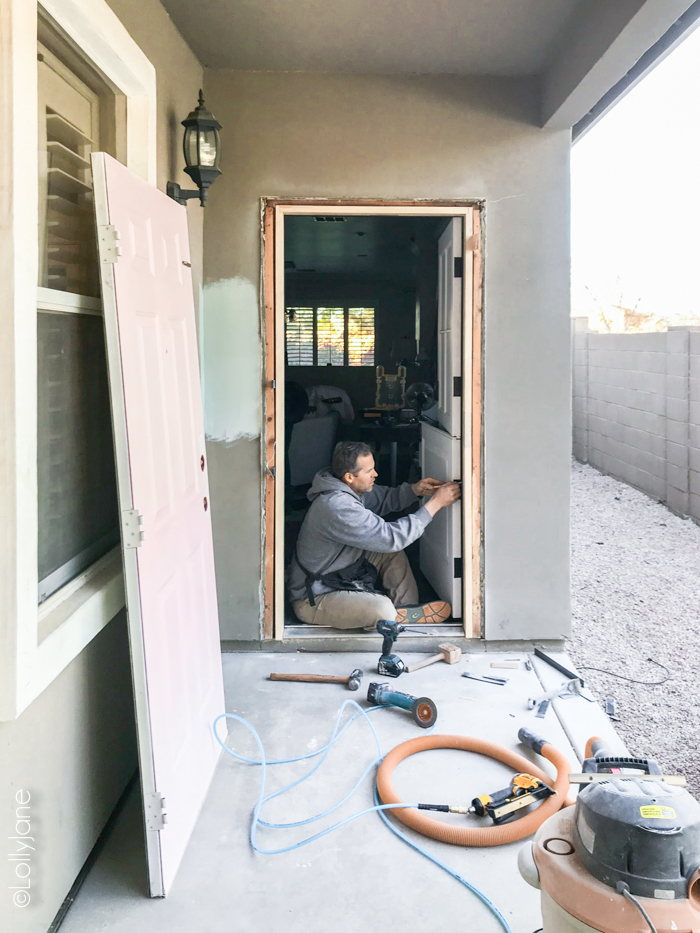 PAINT OR STAIN?
I had planned to paint this door because the body would be a neutral color so they shipped the door to me fully prepped for me to spray!

I think this is the biggest reason to have a Dutch door: it keeps my littles and pets INSIDE but they can still say hello.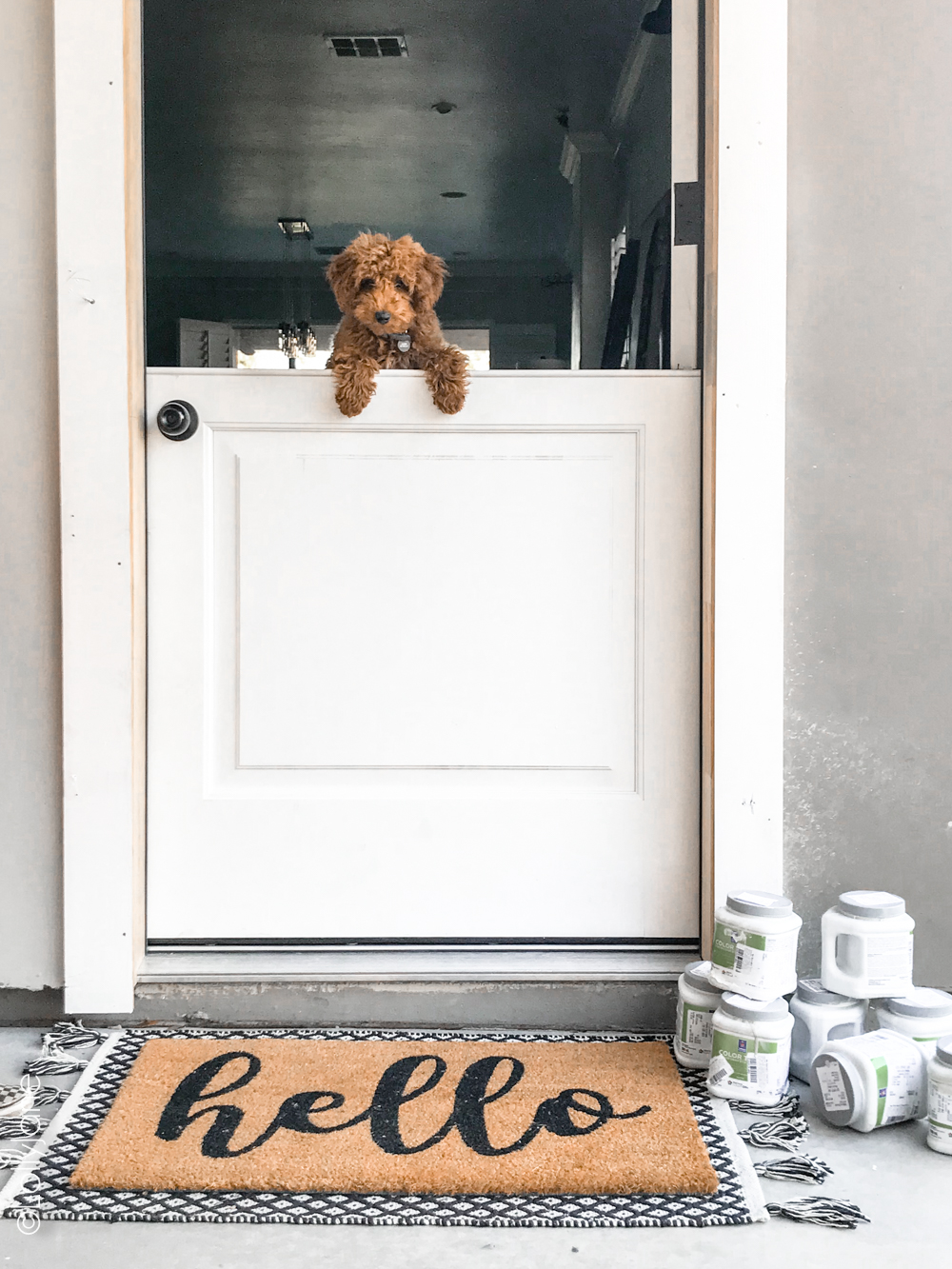 I was dying to see the light pour through this window as our front room lacks natural light so I tore off the window covering before even painting it.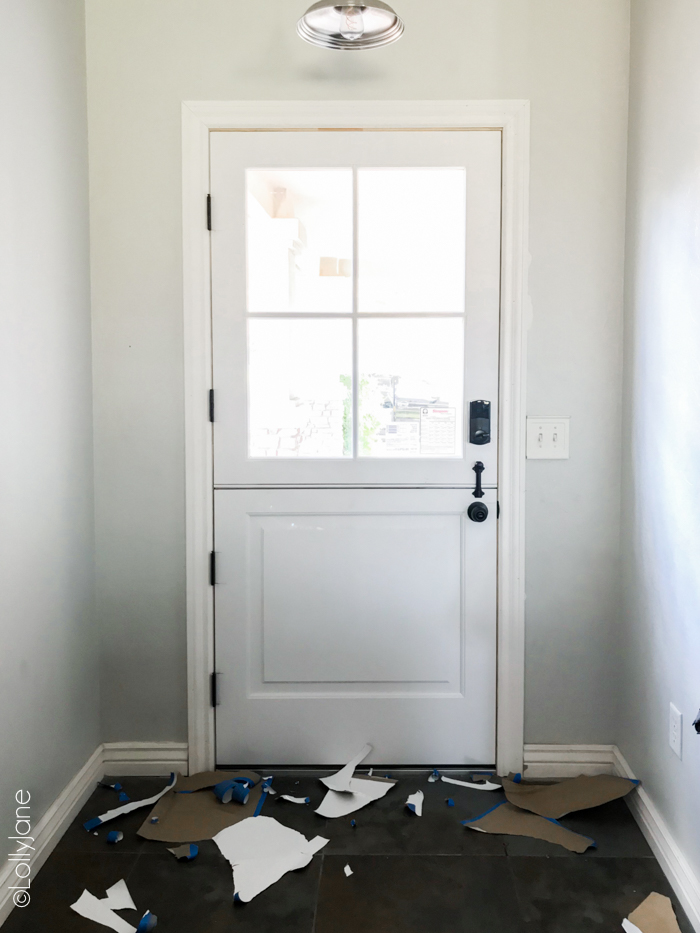 Look at that natural light! Stunning!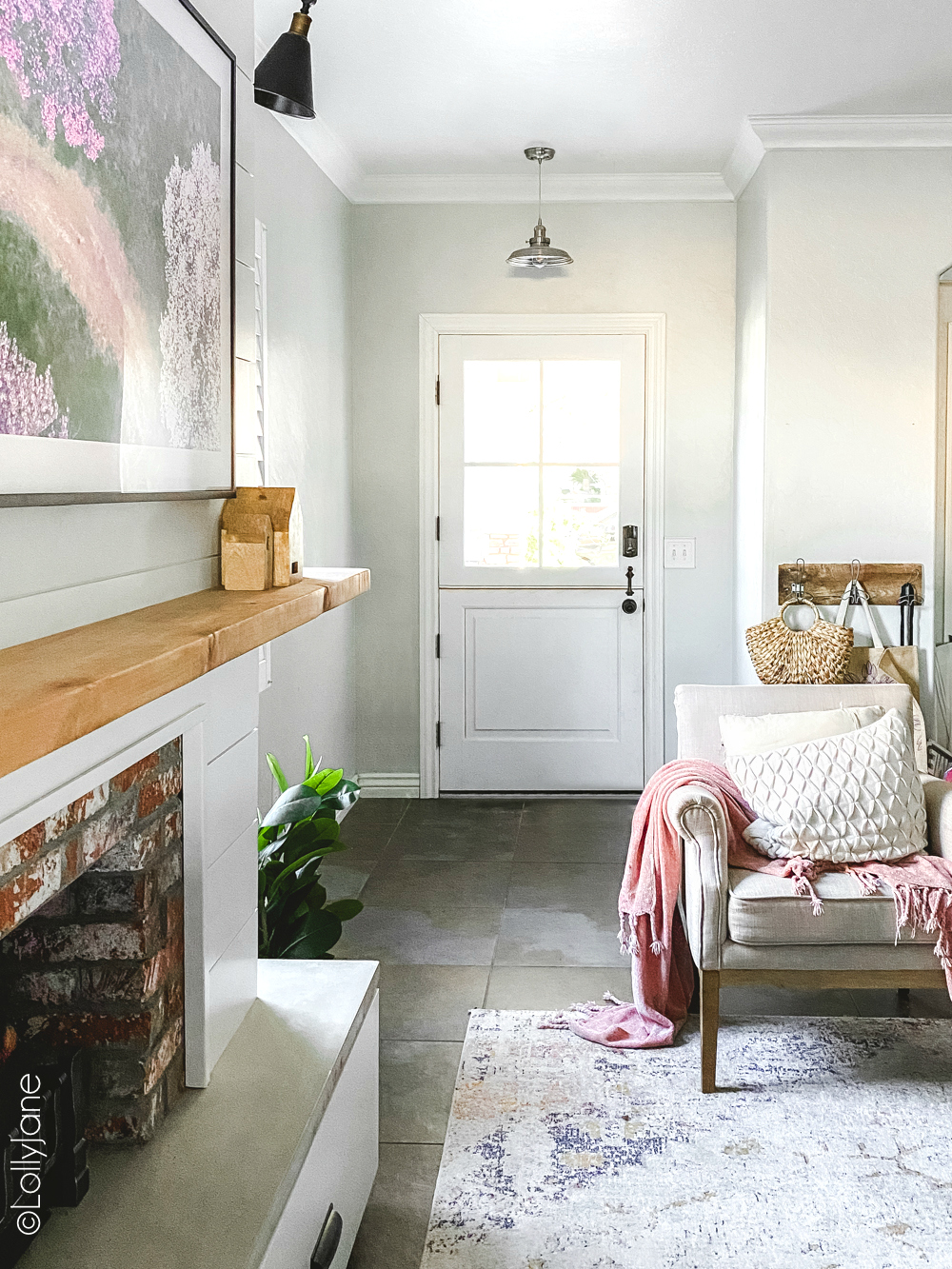 Back to the exterior.
Here are all of peachy-pink colors I considered for this door: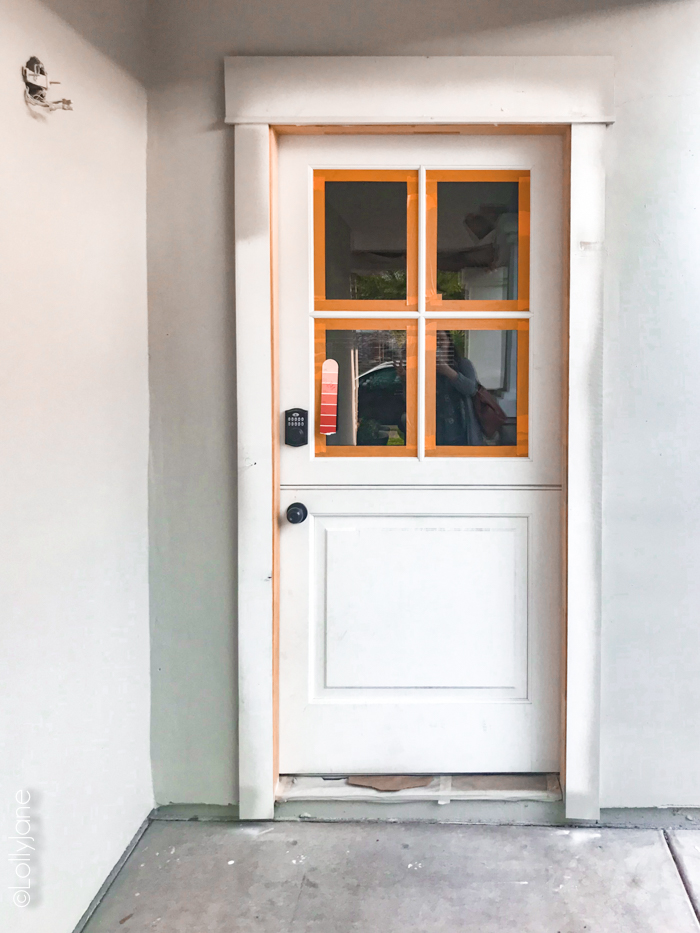 How 'bout this final door color? It's called Cosmetic Peach SW 6618 by Sherwin Williams and is so dreamy.
TIP: You won't need very much paint for your door so buy the sample size pot of paint from SW for $6 to save yourself a full gallon of paint you don't need plus the difference in price.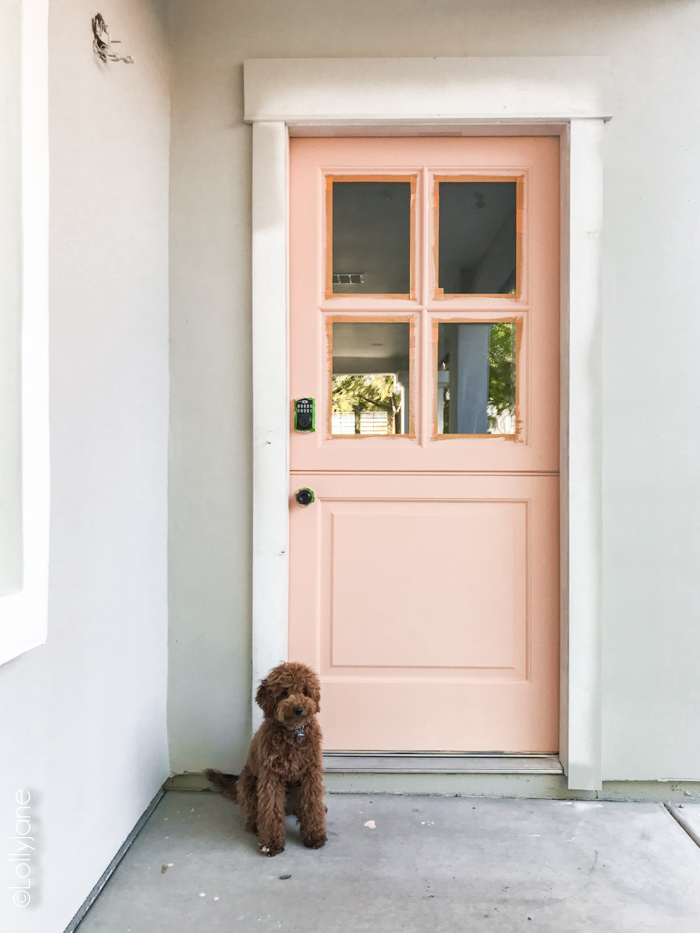 Here's a peek at the new house color that we absolutely love:
Body: Colonnade Gray SW7641 by Sherwin Williams
Trim: Alabaster White SW7008 by Sherwin Williams
SO much better than the boring hue before, right? To me, it's still missing a few final touches: shutters and a stenciled porch, of course!

DIY SHUTTERS
Next up, handmade shutters! Remember when we stained our shutters the same color as my doodle? ?
My husband whipped these up for our home and we took it to Instagram for you to vote and hands down, the darker color was the preferred choice so we re-stained the red and I have to admit that I love the contrast of the dark walnut stain with the cheery peach!
(Full DIY for these easy shutters coming soon.)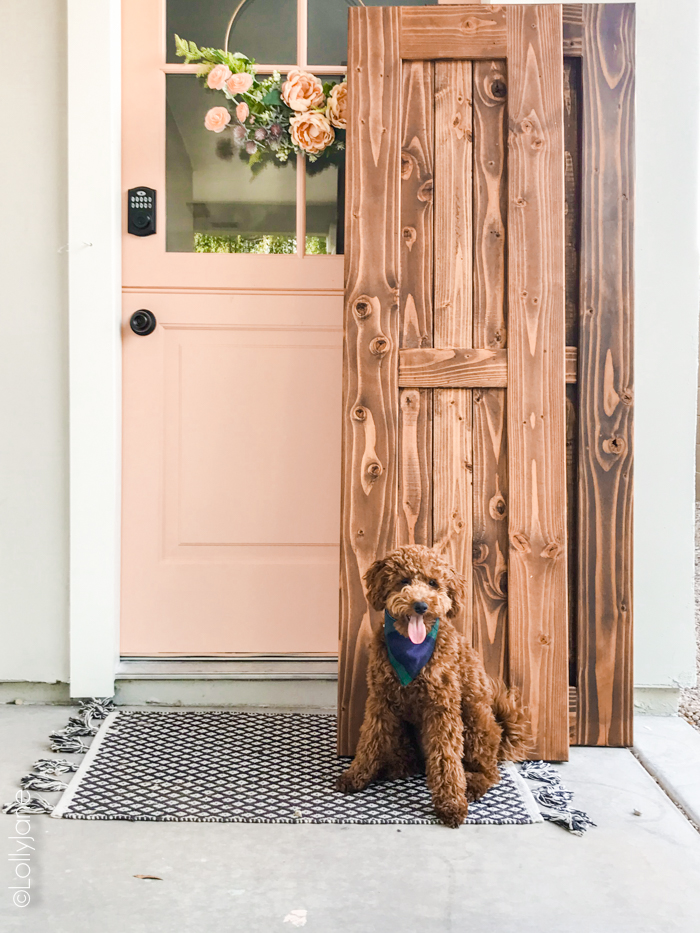 STENCILED CONCRETE
We are no strangers to stenciled flooring… from Kelli's painted bathroom tile to her painted pantry linoleum and striped concrete porch, we love us a good stencil + floor!
Although the new door really makes the porch, I wanted to highlight the door with a fun floor treatment so I cut an 18″x18″ stencil from a piece of mylar and made my own stencil. (Cricut/Silhouette compatible, free PDF template here you can convert into the file type you need.)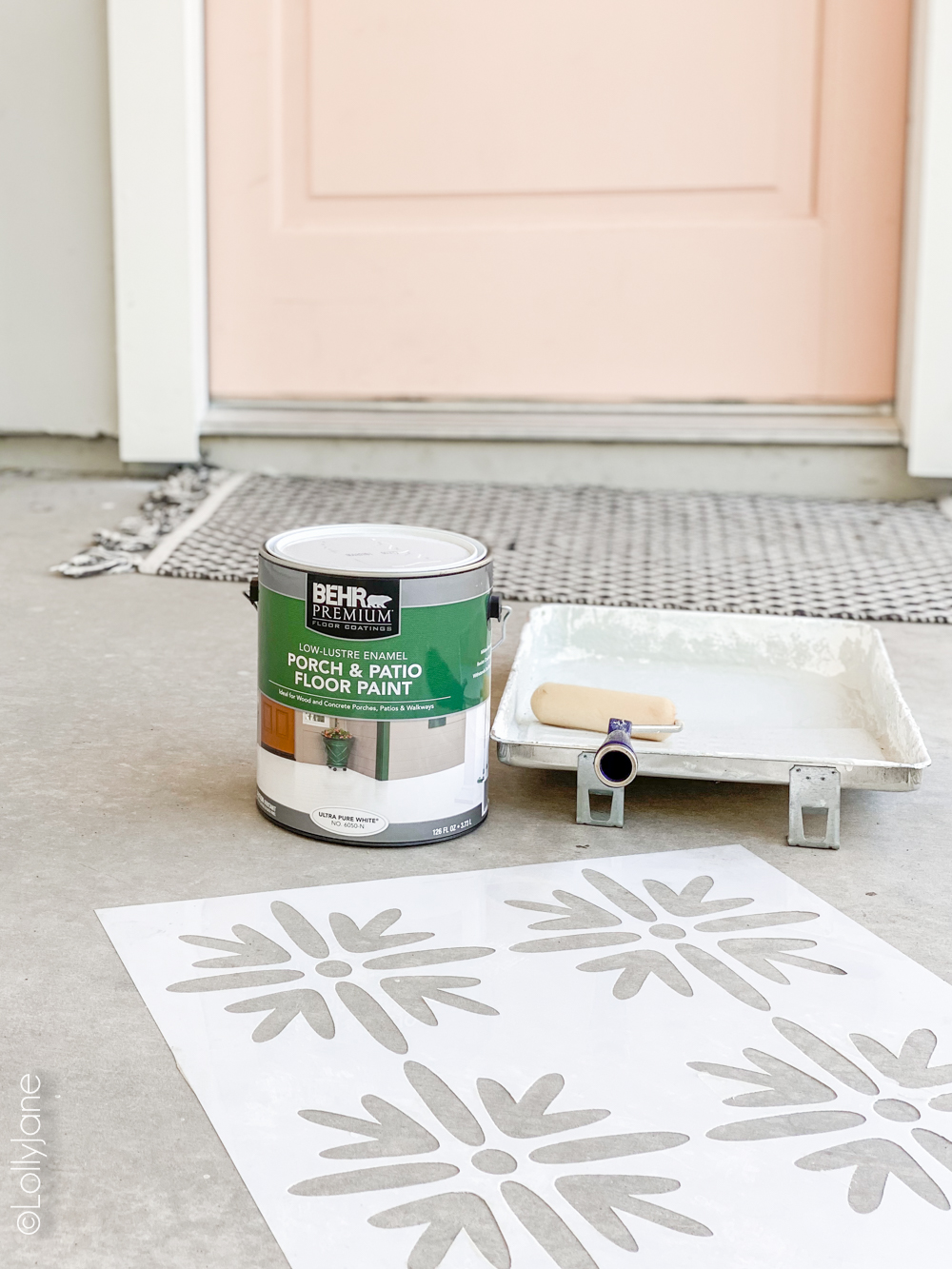 Snag the full how-to when painting exterior flooring here.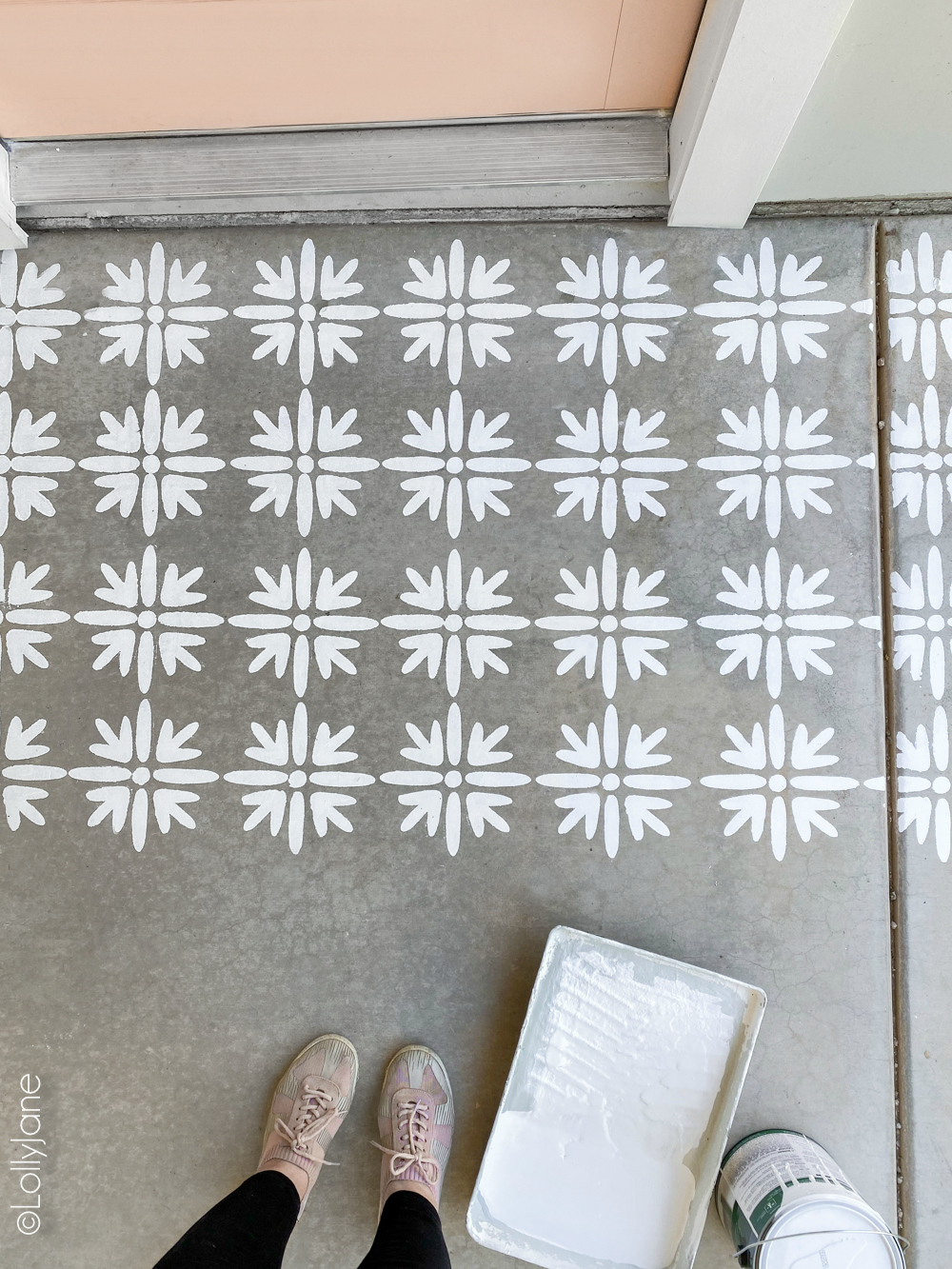 HOW TO STYLE A SMALL FRONT PORCh
Styling this space was so fun because even "naked" (no excess decor) the guts of it (door, stenciled concrete, shutters) make it stand out already… accessories are just the cherry on top! When styling a small porch, make every inch count. Here's a few tips:
Doormat. A doormat is an inexpensive way to greet your visitors right off the bat… whether it's something cheery like "WELCOME" or something funny or seasonal, a doormat is a must-have for a porch of any size. For larger doors, consider layering; a nice long rug under a coir mat is not only super on-trend right now but helps fill in the space. (You can see our favorite rug options here.)
Bench or stool. Besides being cute and adding instant cozy, a bench or stool is great for my family/guests to sit on while removing dirty shoes (I don't have a foyer indoor) or to set packages on, for neighbors to sit and chat through the Dutch door, etc.
Greenery. Since it's an outdoor space, I love to add greenery. These olive trees are the perfect evergreen decor paired in seagrass baskets and then I can simply swap them out with seasonal decor once the holidays approach.
Wreath. My door is currently "naked" in this picture because I didn't want to cover any inch of my gorgeous dutch door up but usually I have something simple hanging there. (If you look closely you can see my little gold hook I hammered in the window pane.)
House Numbers. Since my door is set back realllly far from the street, I opted to have them at the front of my house but if they were practical here then I would hang them above the light. So cute.

FAQ about dutch doors
We opened up our Instagram for a poll to ask ANY questions about having a front Dutch door. Read on for the replies and if we didn't answer your own question, leave a comment and we will be sure to do so!
How do you stop bugs from getting in dutch doors? Short answer: you don't…we love our bug zapper for that reason. Just like windows, we open the door when it's nice out and we don't worry about the bugs. Here in Arizona, the flies are most active in the hotter part of the year so the dutch door stays closed. We don't have mosquitos here like the more moisture heavy states so those aren't an issue for us. Regarding other crawly critters, we have great pest control service and don't have many crawly critters anyway, luckily.We typically keep them open for a few hours during the day. I mainly love them to let in the natural light and also to open the top instead of the whole doors when deliveries come in.
Are dutch doors safe? Yes. There is a bolt securing the top to the bottom piece then a deadbolt on the top half and another lock on the bottom. 3 components of security!
How do you keep the top and bottom of the door closed at the same time? There is a latch that slides down from the top to the bottom so the door can open at one time and if you pull the latch up, the top opens up!
Can you open the bottom and leave the top closed? Nope, just the top.
How much does it cost? The cost of a door varies on the type of material, size, and etc. Contact your local door dealer for a quote.
How you do cover the window? I have a curtain hanging if you look closely, I just slide it closed when we want privacy. (I hung it with this.)
Why are Dutch doors so expensive? Dutch doors are more expensive because they are custom and require more hardware (hinges, knobs and locks) plus multiple weather-tight seals.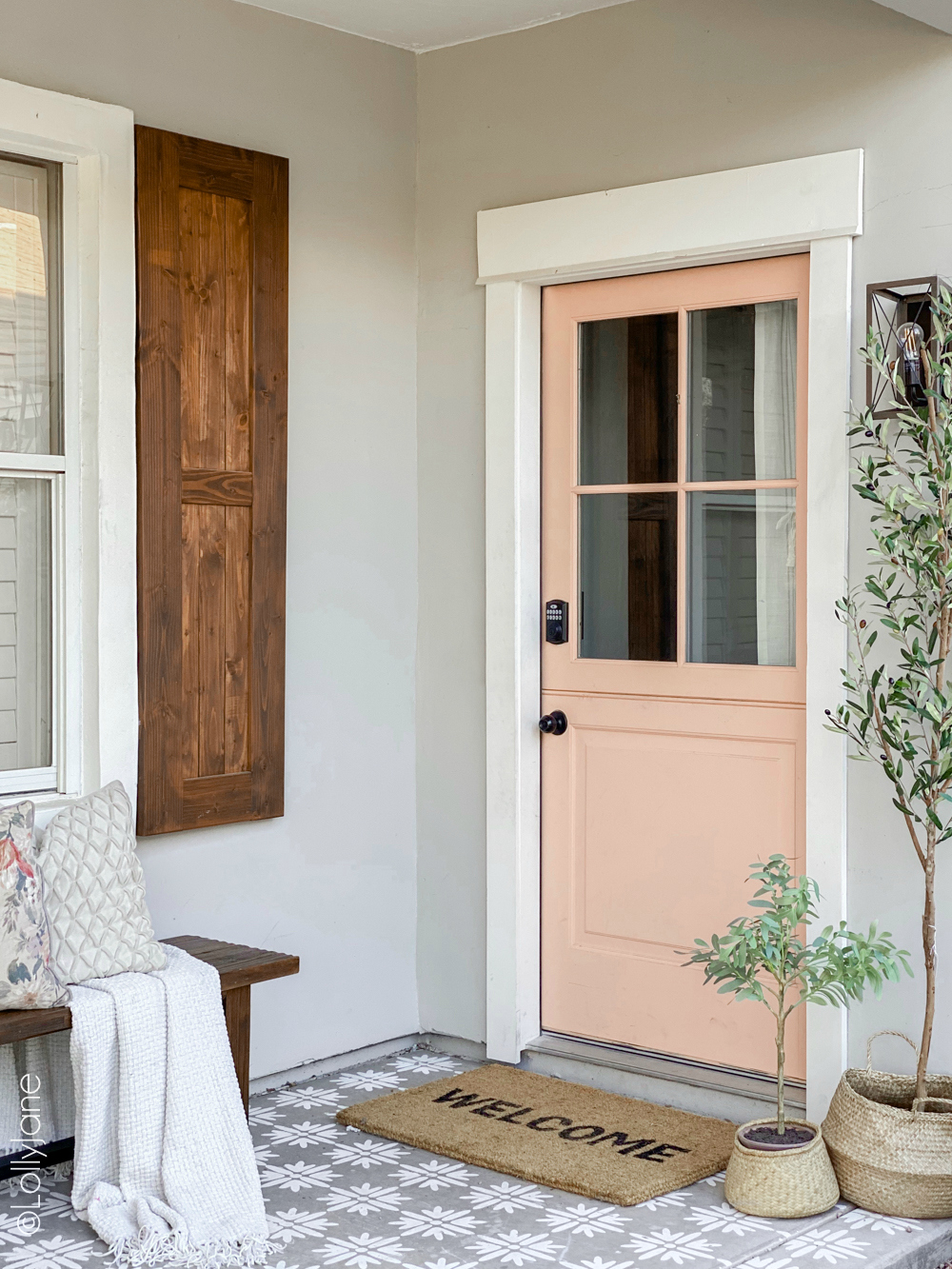 Well that's it! That was a LOT of information for one little space.
Leave any further questions below!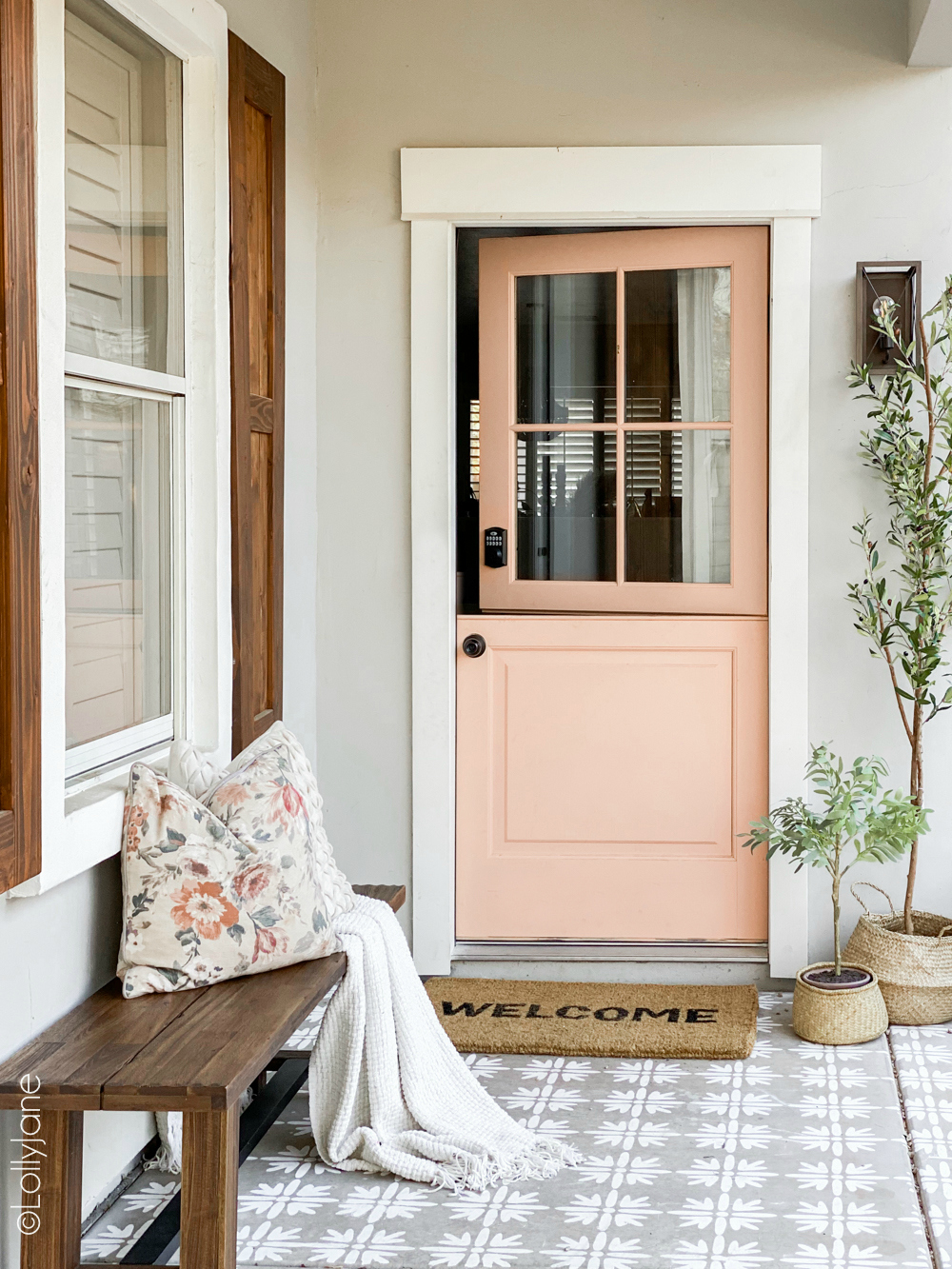 Here's a SNEAK PEEK at post #2 coming 'atcha soon… farmhouse double dutch doors?! YES, PLEASE!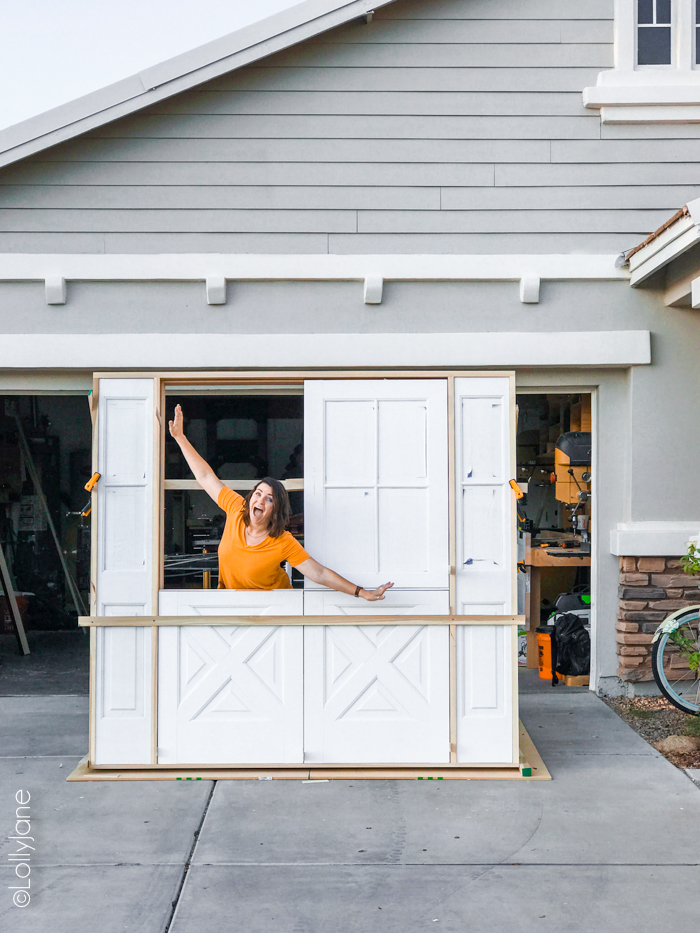 please PIN THIS IMAGE
Please PIN to save these ideas for decorating or making over your OWN front porch! 🙂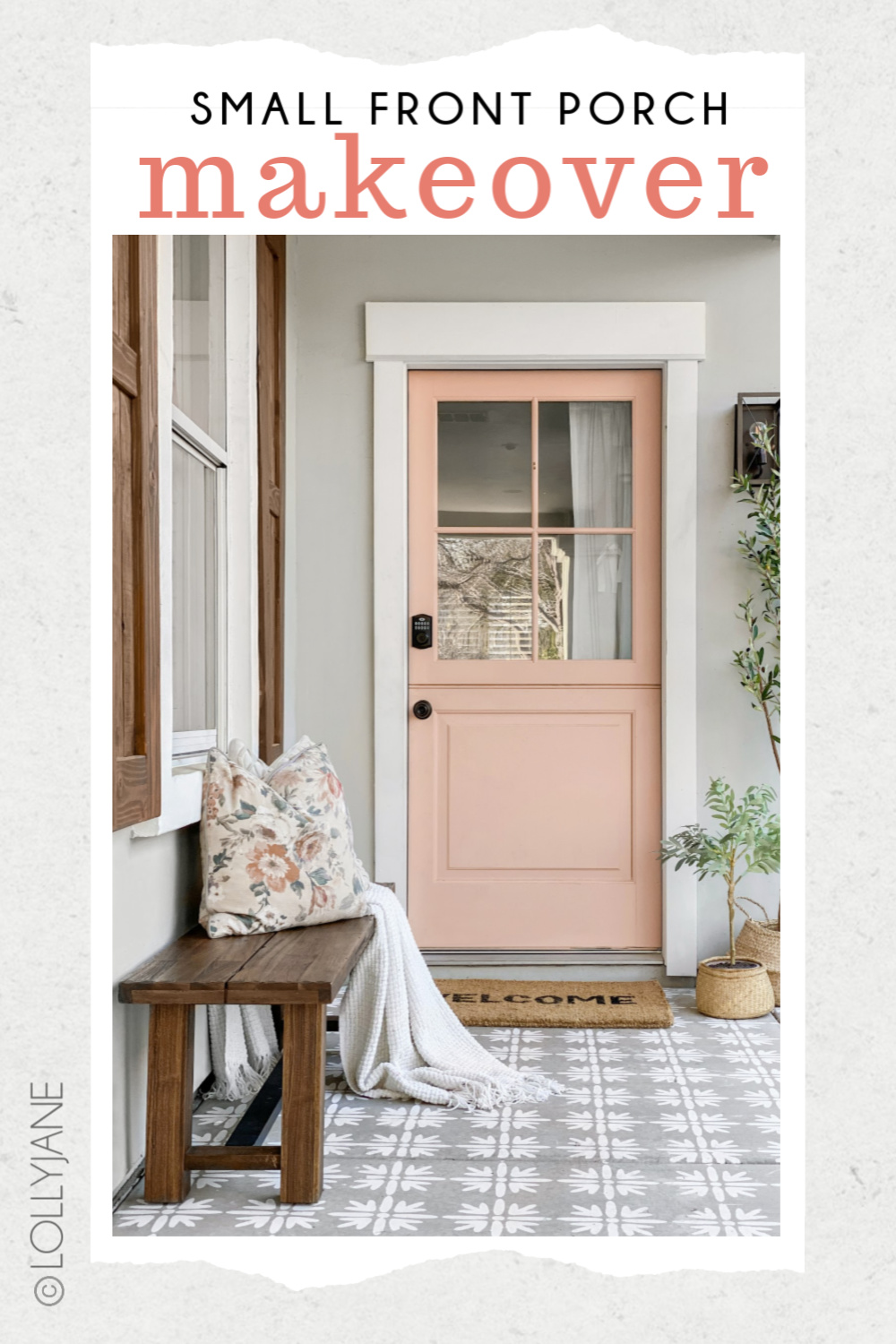 xo, Kristi