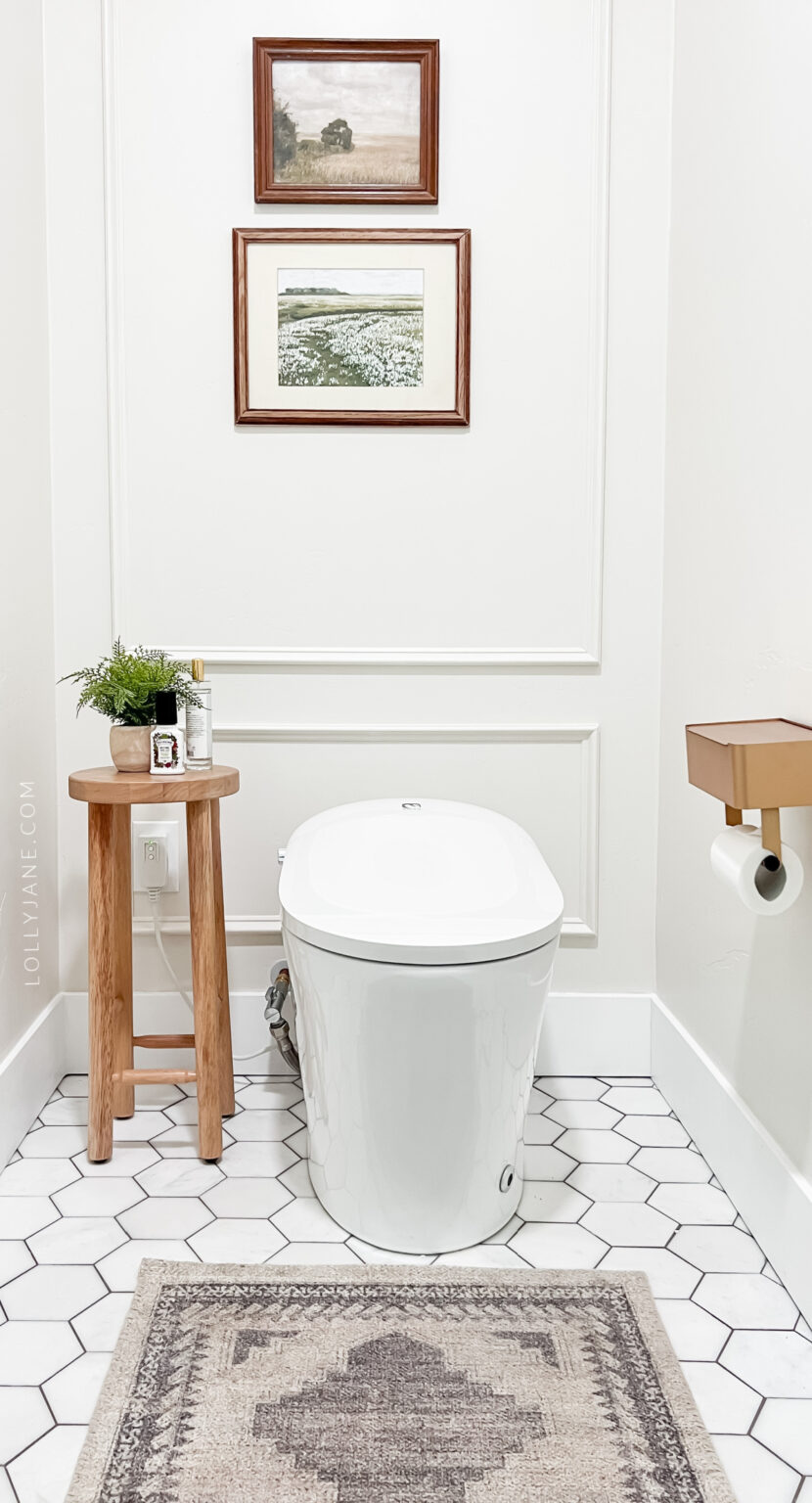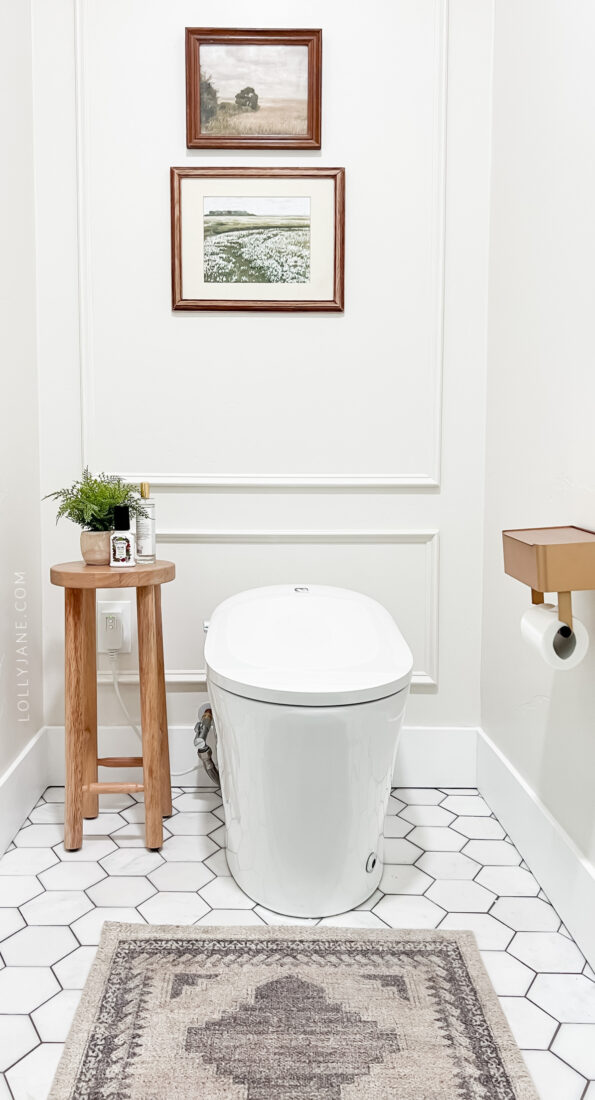 We just finished putting together our water closet attached to our master bathroom and could not be happier with how it turned out!
If you're considering adding a toilet room ie: a water closet to your bathroom, do it! It's so nice to have a private space to do your business.
Water Closet Fun Fact
In the real estate world, you may see water closets listed as "toilet rooms" or even jokingly referred to as a "private library" (since many do, in fact, read in there).
Water Closet Decor
When we designed our new master bathroom, I knew I wanted a private space for my husband to use the toilet so I wasn't locked out of the rest of the bathroom. There is a stereotype about husbands and sitting on the toilet for 20-30 minutes and mine totally fits the bill, lol!
We waited 15+ years for our own bathroom and saved cash for our remodel so we went all out with the bathroom. We may have run out of cash in said remodel so we're *s l o w l y* finishing the rest of the bathroom but are super excited to have the water closet done, at least!
I wanted it to feel luxurious but didn't want to spend a lot of money so here's what we did to pull off the look.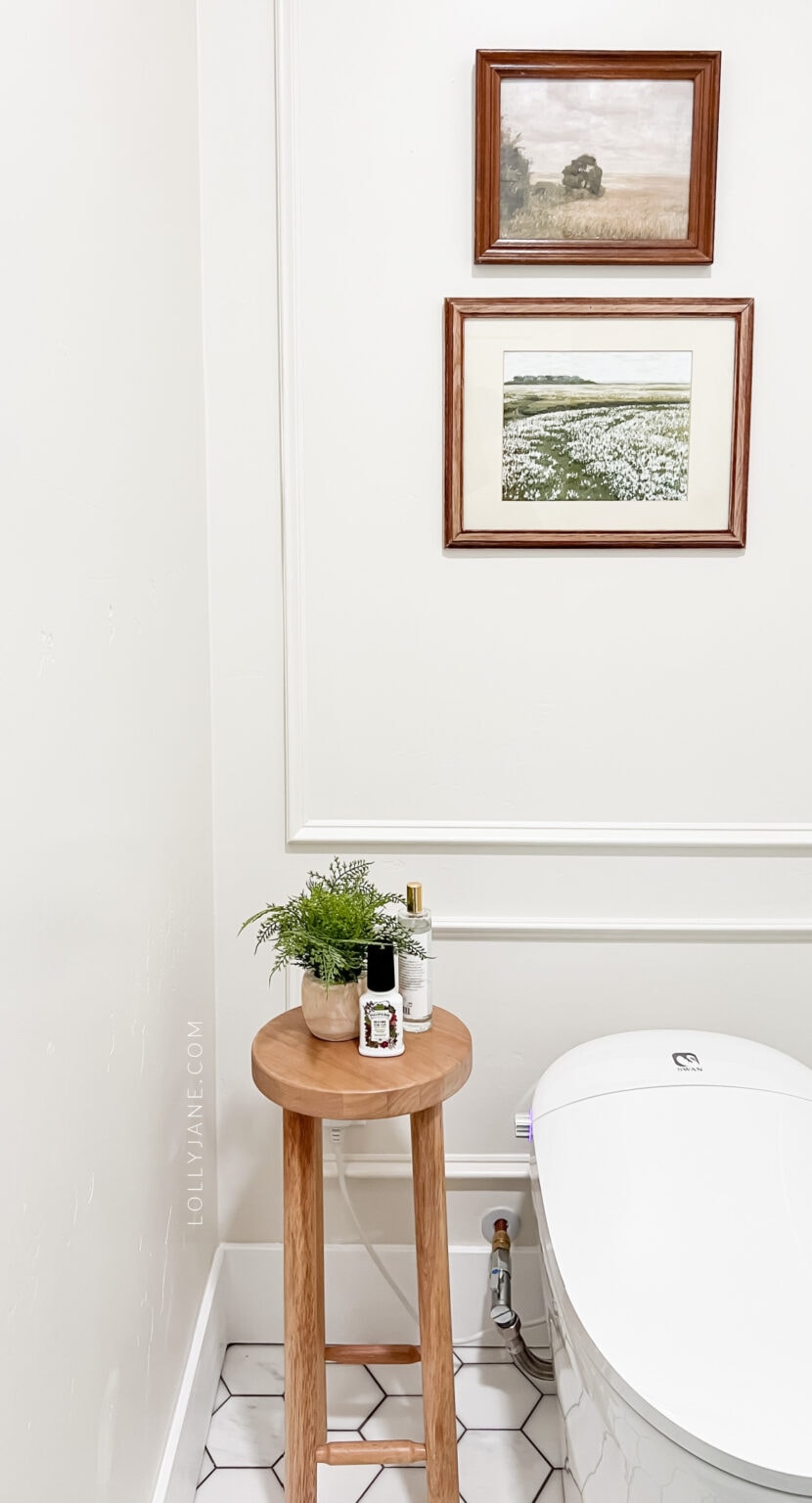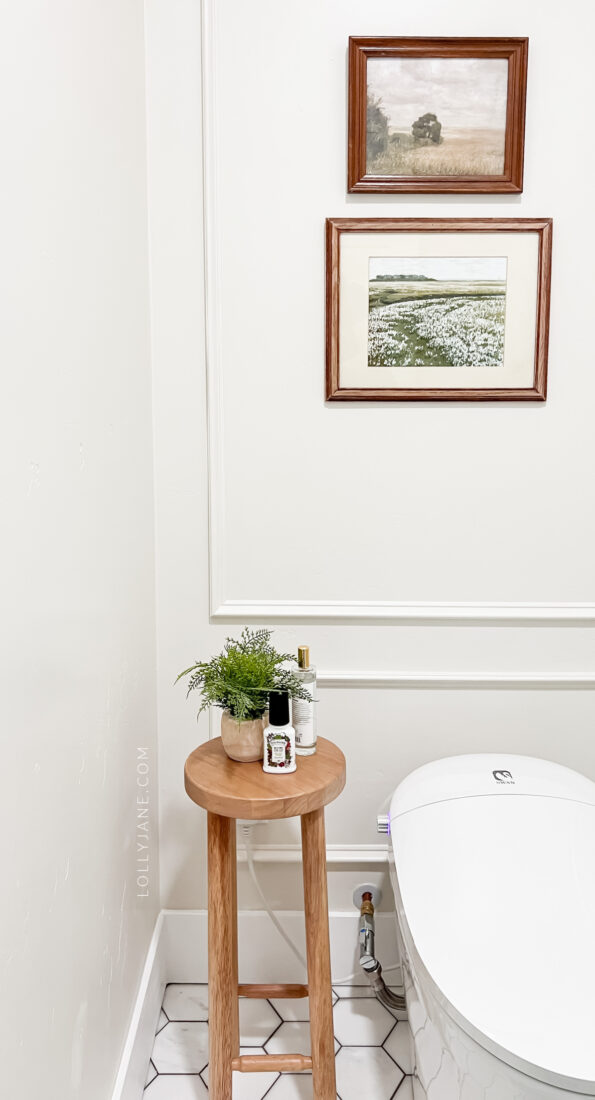 Neutral Water Closet Paint Colors
We painted the walls a subtle cream color: Soft Chamois from Benjamin Moore.
We then added 5.5″ base molding painted in Ultra Pure White from Behr.
The star of the show is an easy wall treatment: DIY wainscot! We painted it the same wall color, Soft Chamois.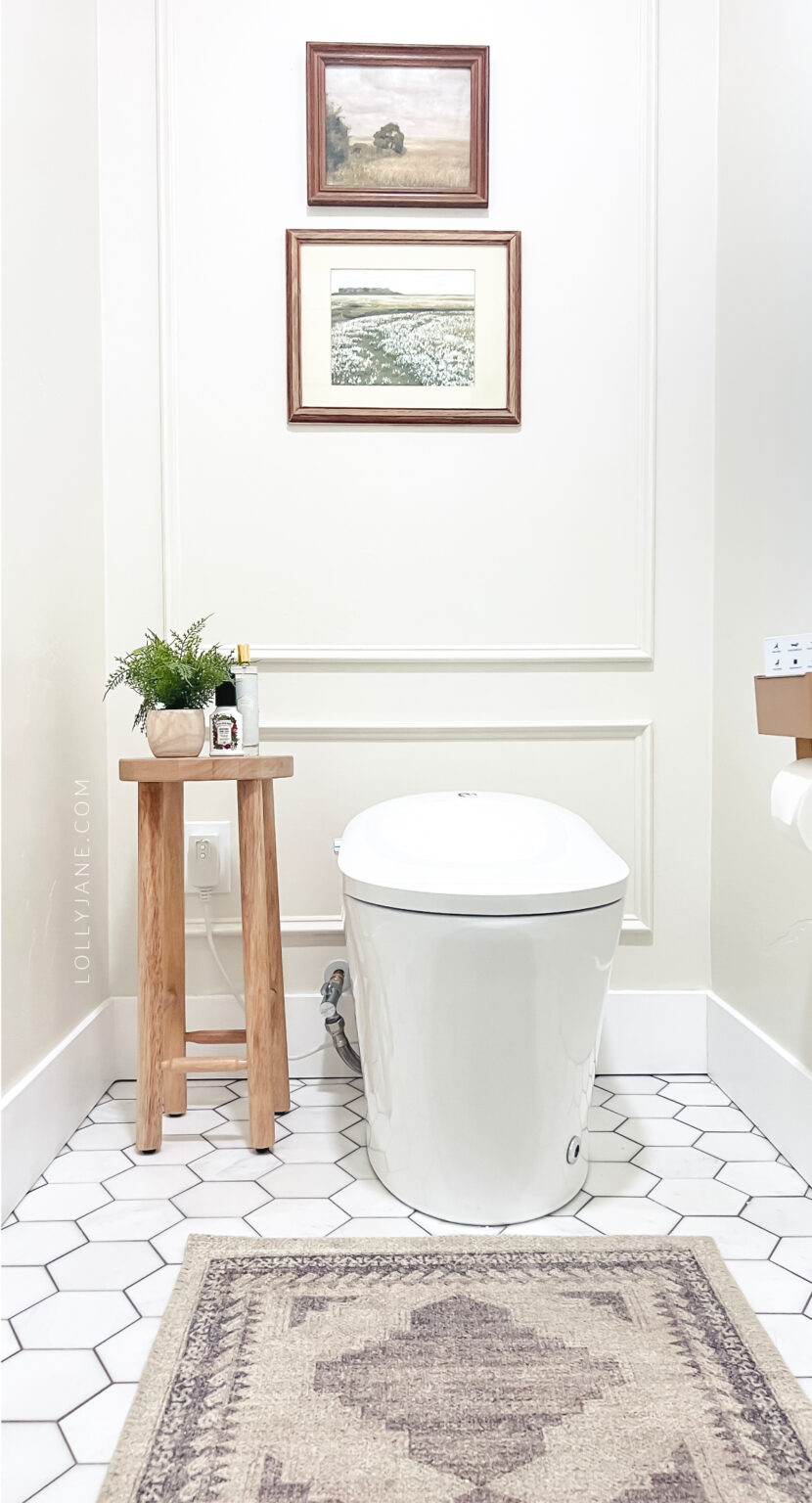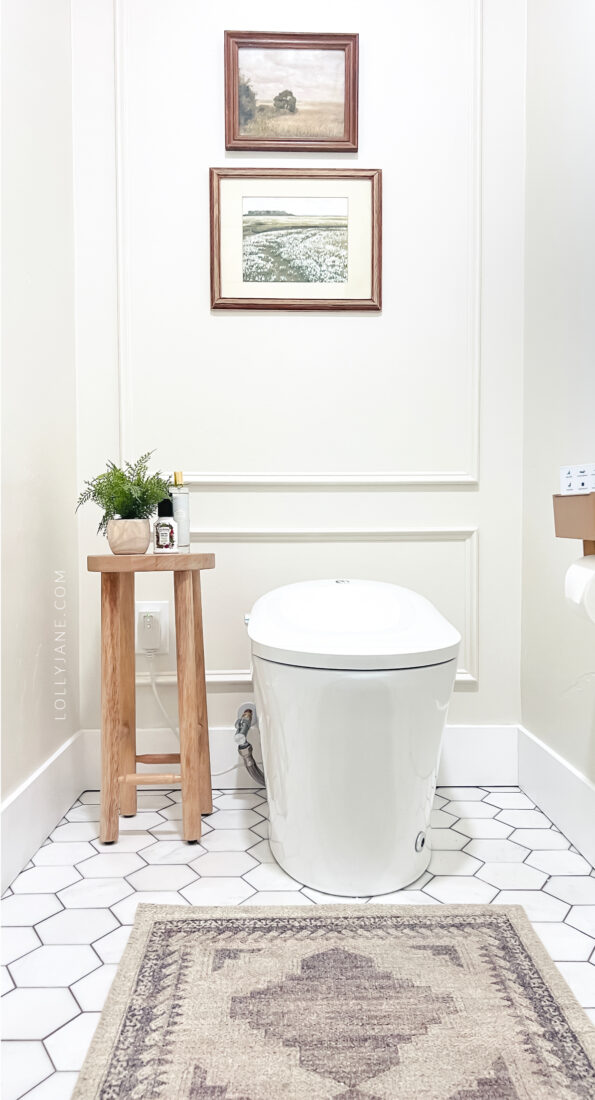 If you've never applied wainscot like us, you're in for a treat! It's easy and affordable and doesn't require power tools.
DIY Wainscot
We used 3 pieces total of PVC moulding. We like that it's not wood or MDF so it won't rot. Moisture won't affect it as it's in a bathroom with potential flooding which is a bonus!
We cut the molding into 2 rectangles total: cutting them at a 45 degree angle with miter shears. These shears are really popular in the DIY community and very easy to use, just apply pressure and snip!
Our boxes measure 65″ x 14″ on the top and 33″ x 14″, but measure according to your space.
How to Space Wainscoting Boxes
The rule of thumb is to keep a 3″-5″ spacing gap on each side of the wainscot boxes. So if you're a 3″ measurement like we did, place the molding 3″ from the top of the baseboard, 3″ from the walls and 3″ between the next set of molding boxes.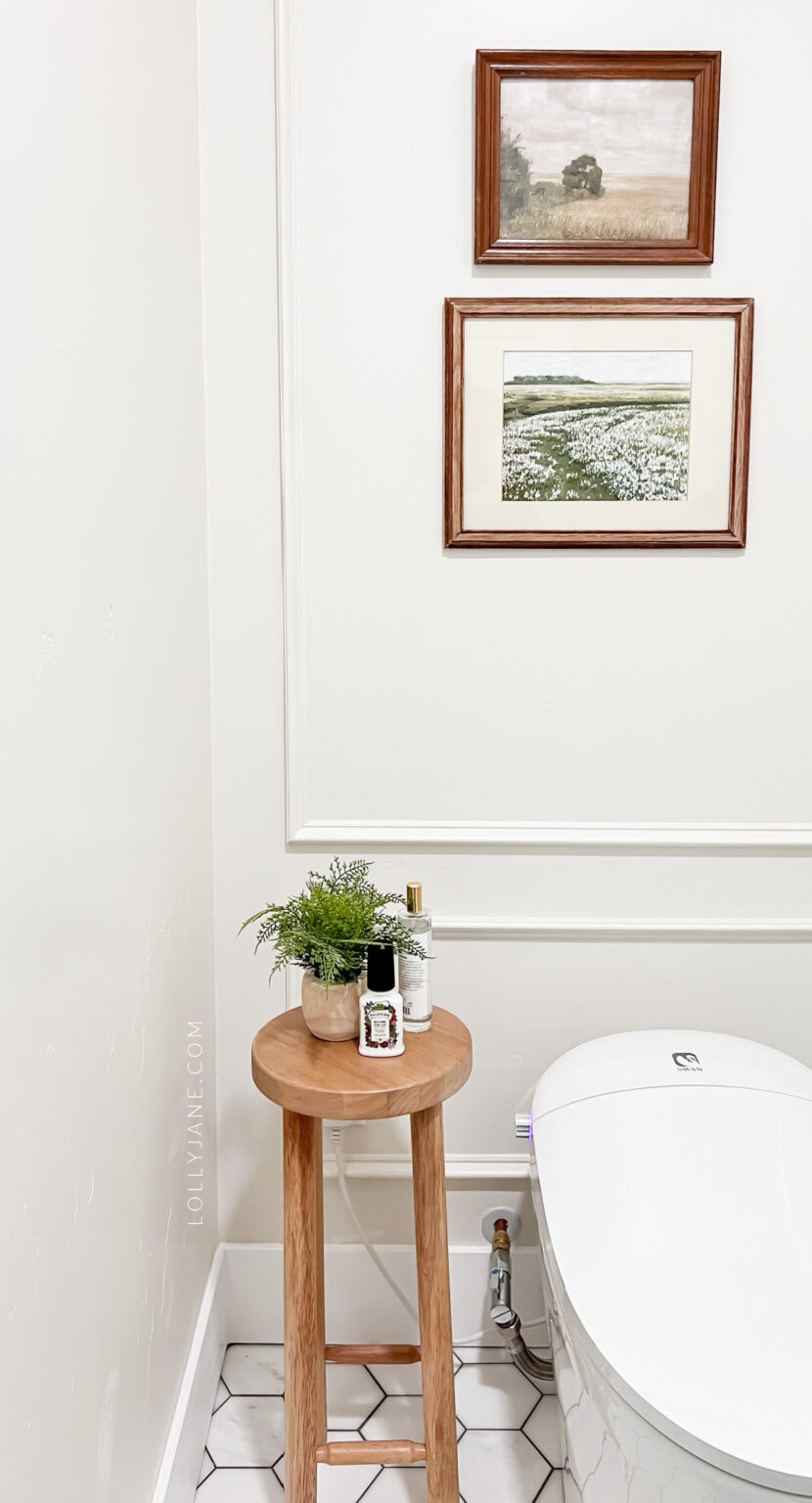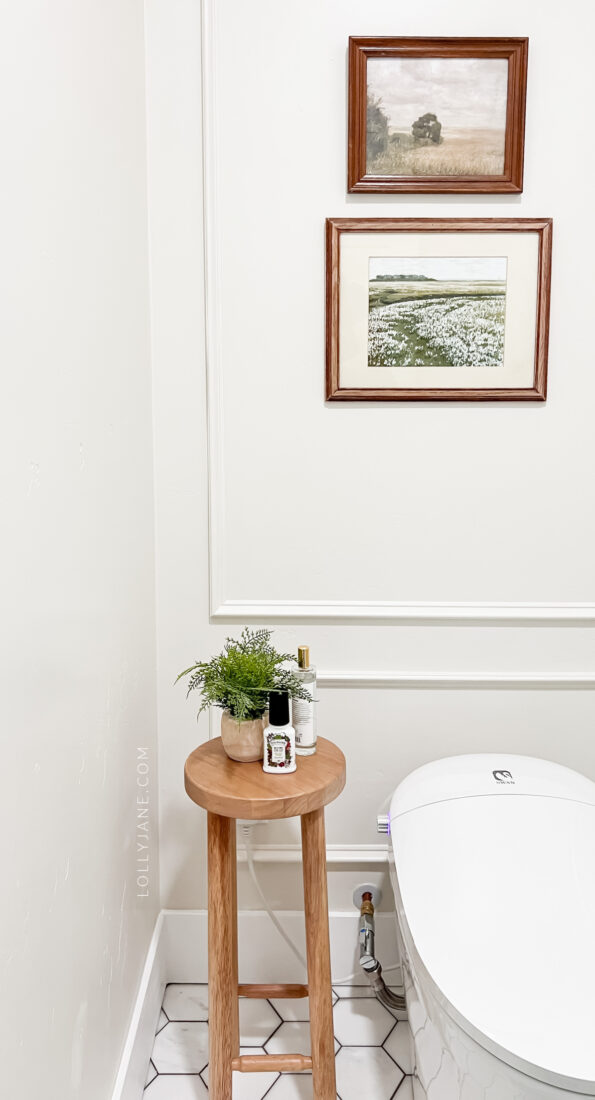 How to Hang and Finish Wainscoting
Use a finish nailer to attach the wainscot to the wall. Or use liquid nails for a power tool-free option. Secure and let dry with painters tape if you go this route.
Fill holes with spackle, not caulk. Spackle won't shrink and dries in less than 30 minutes.
Caulk the inside edges and outside edges of the wainscot.
Paint the same color as the wall color.
This was such a quick wall treatment that really elevated the small room! We haven't even finished the side walls but like how it looks so much, we may just leave it. What do you think?
Water Closet Decor Must Haves
This was such a fun space to pull together. Here's everything you need to recreate the look!
What To Put Above Toilet
This is a popular topic in our Instagram Community. Our readers love bathroom shelves and bathroom artwork so we decided to do a combo of both.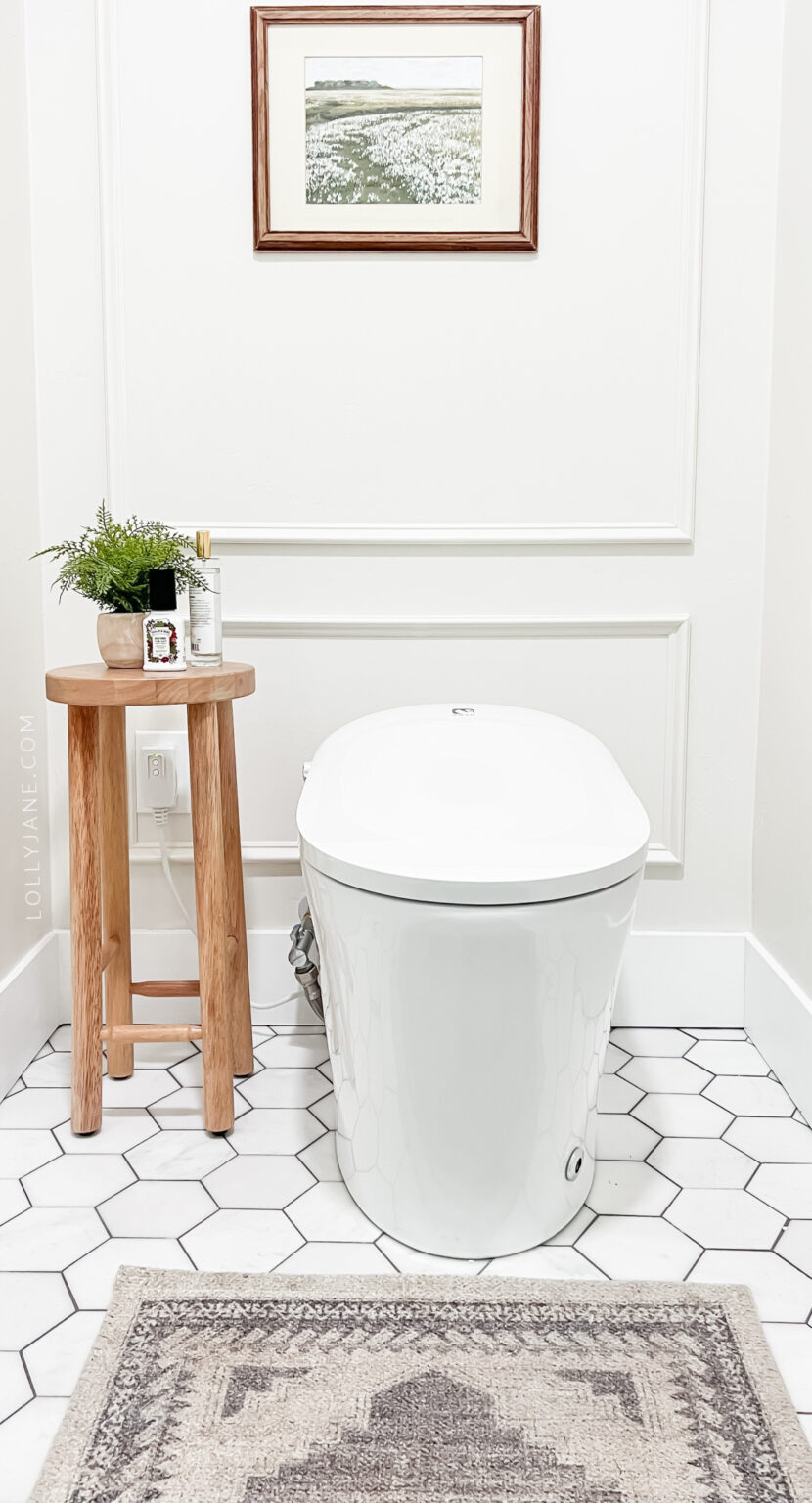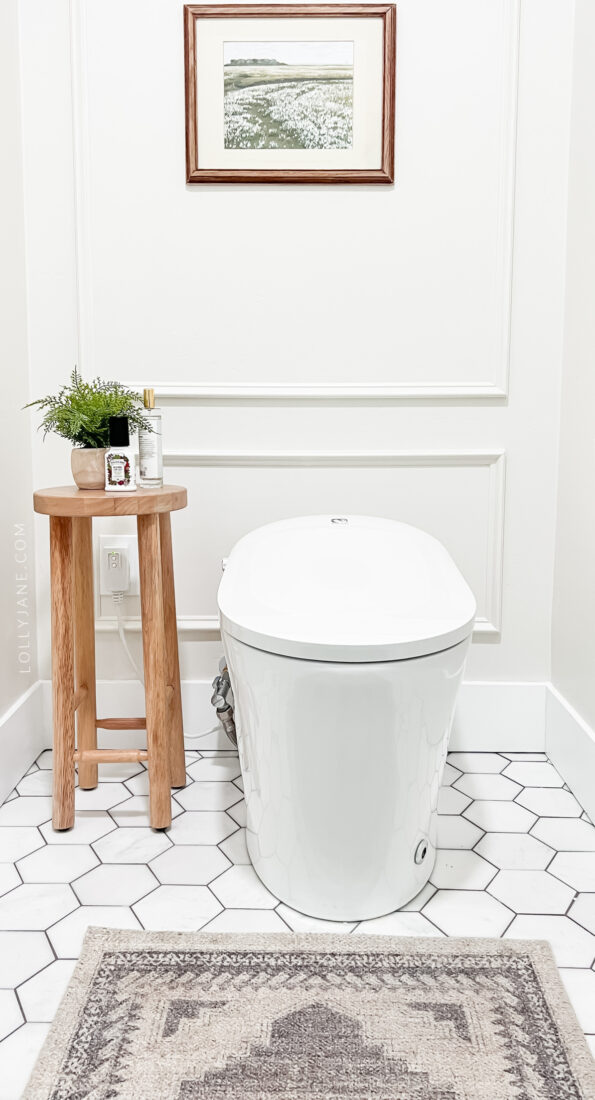 In lieu of a shelf above the toilet that we'd have to dust, we opted for a wood stool.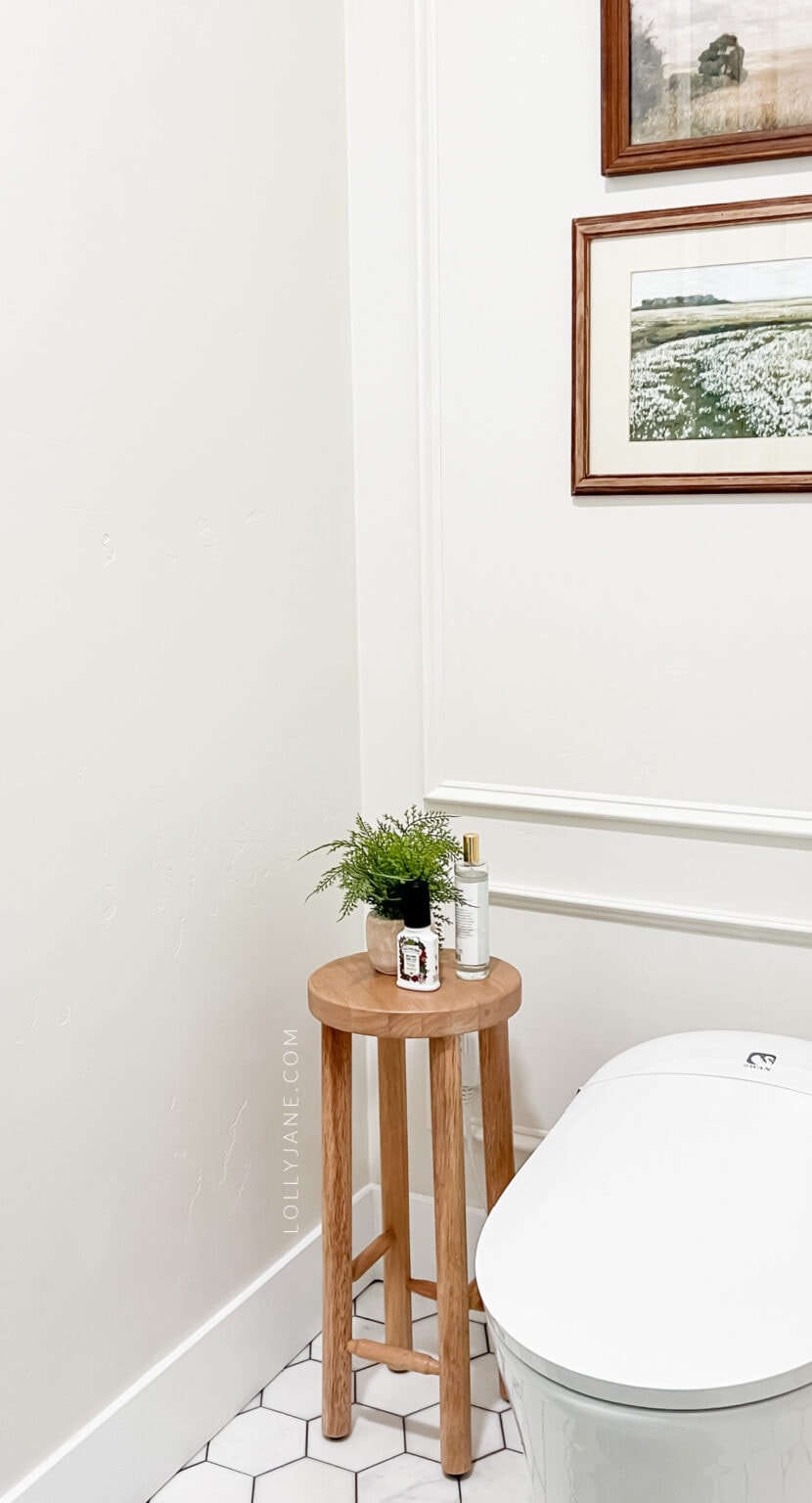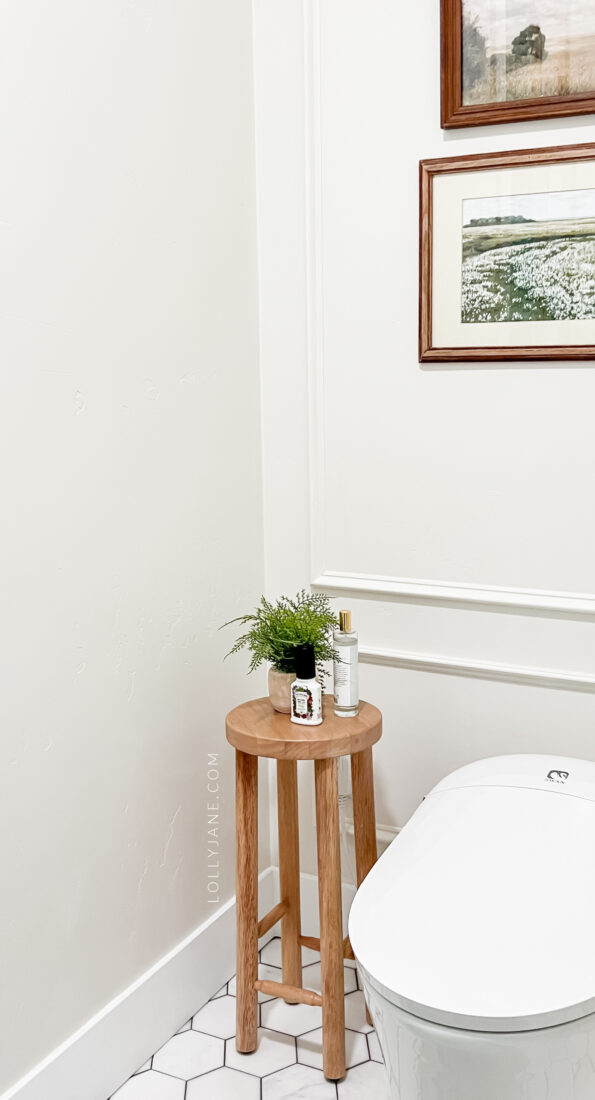 We love having the stool next to the toilet. It's the perfect height for setting down your phone and for housing the toilet and room sprays. Plus a little plant for fun.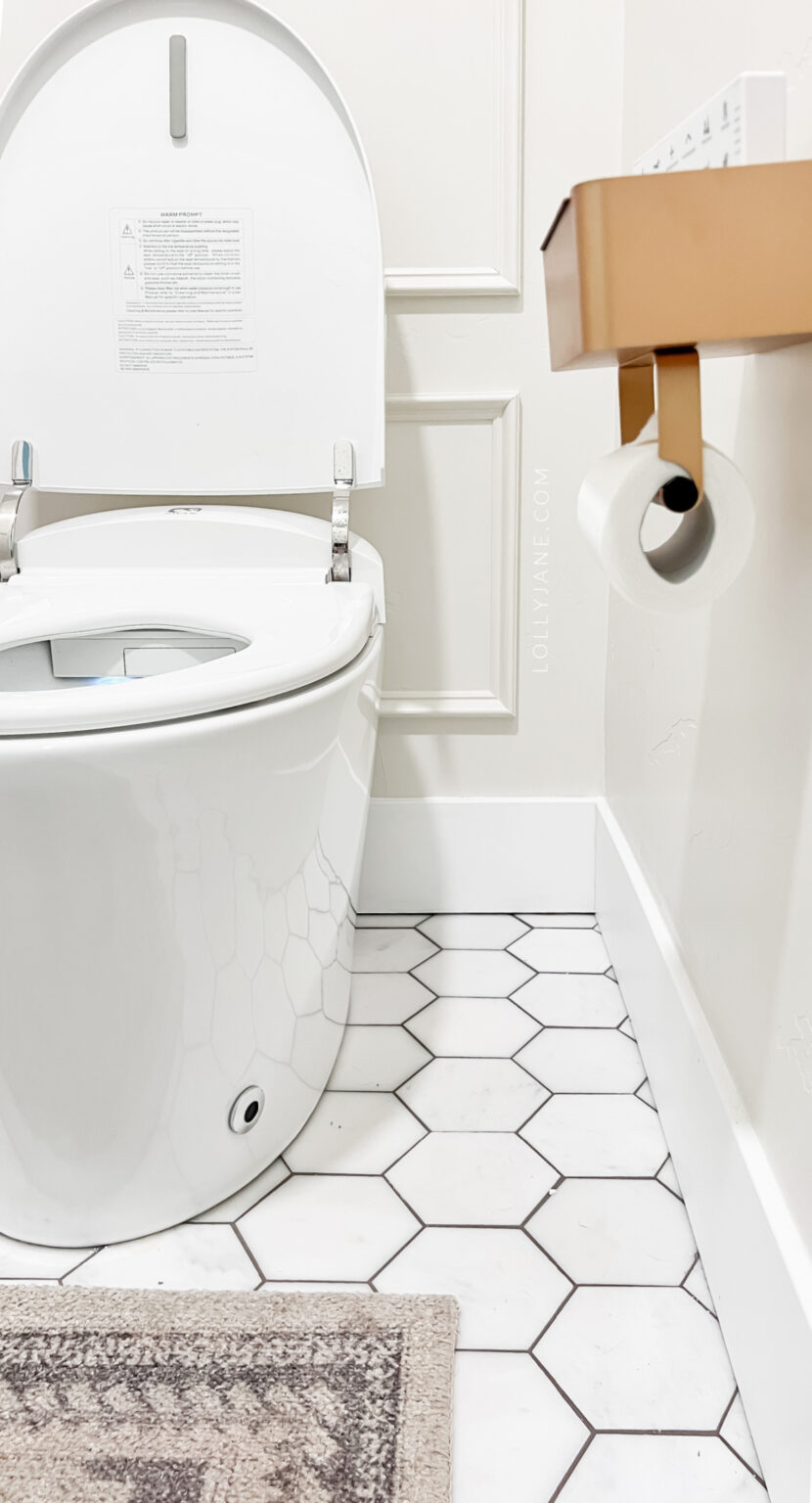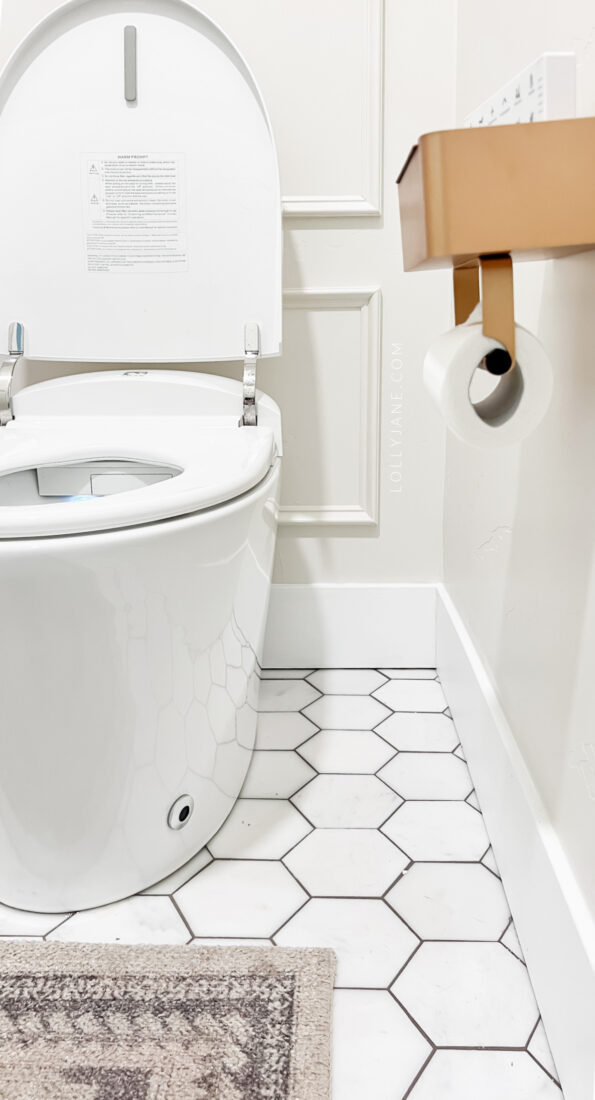 We also really like our toilet paper holder. You can tuck away feminine products, your phone or the remote for the bidet.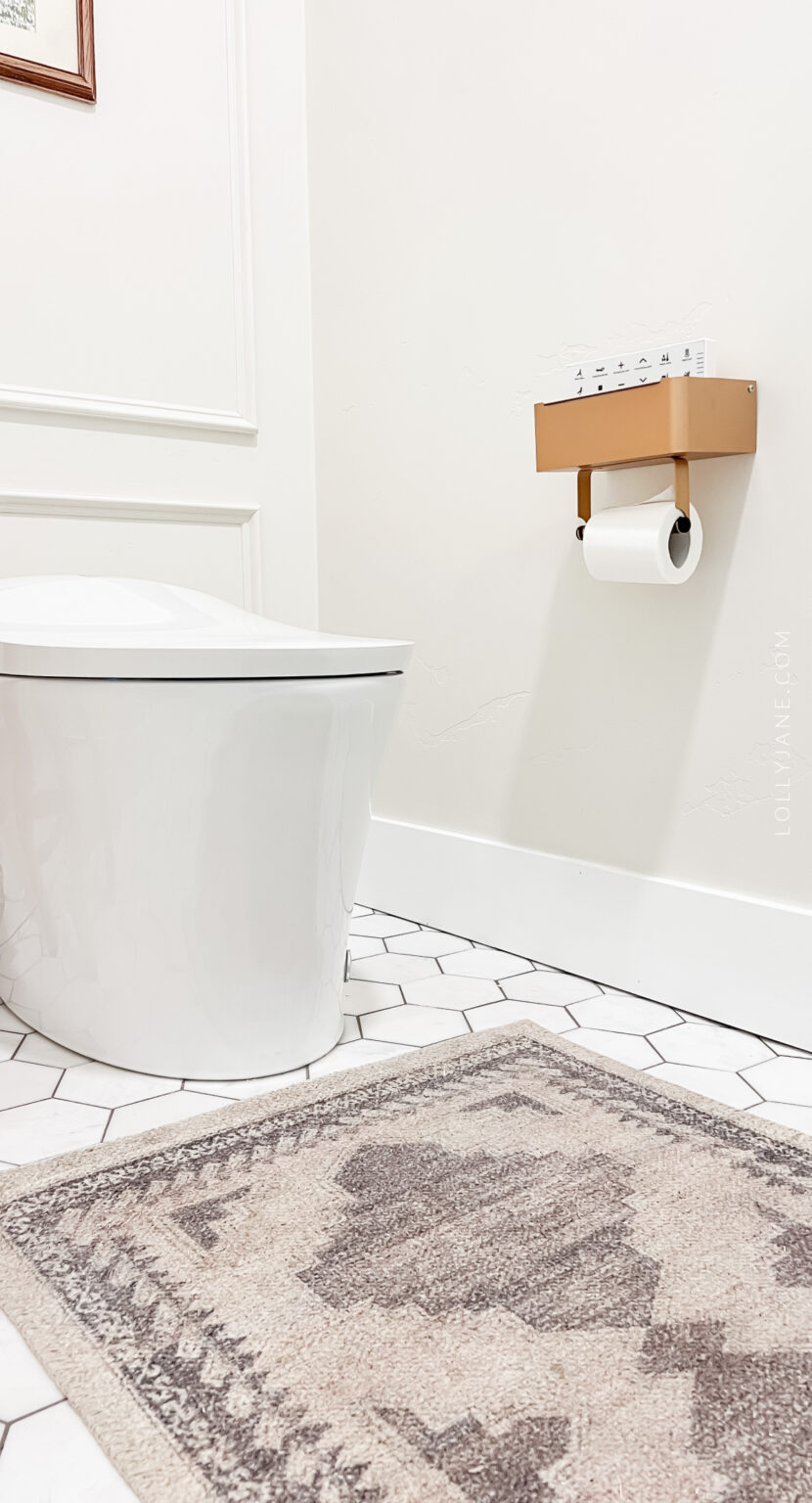 Artwork Above the Toilet
The artwork above the toilet is simply 2 thrifted wood picture frames with sale artwork inside. (We like these frames too). Such a dramatic statement with very little effort.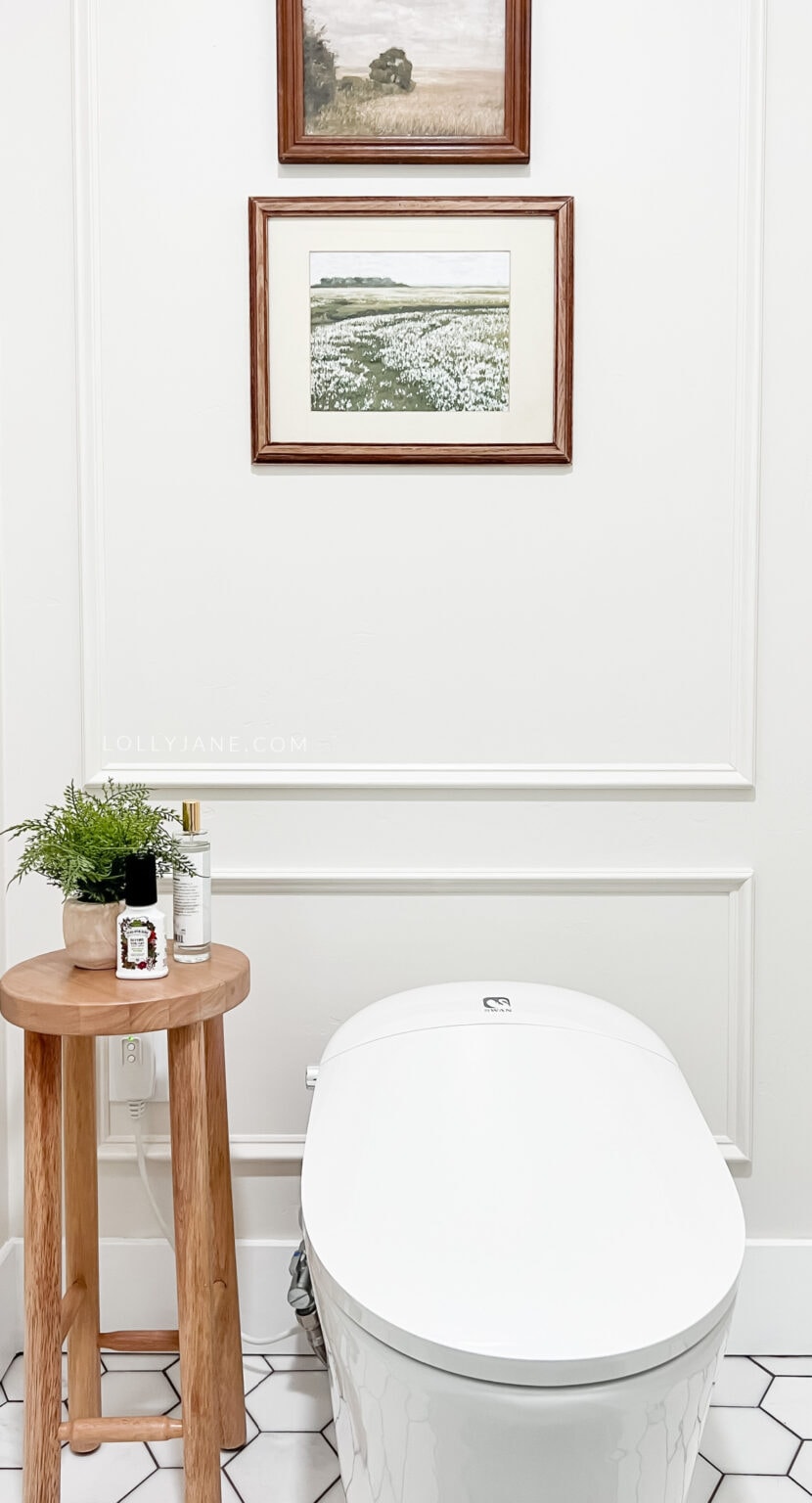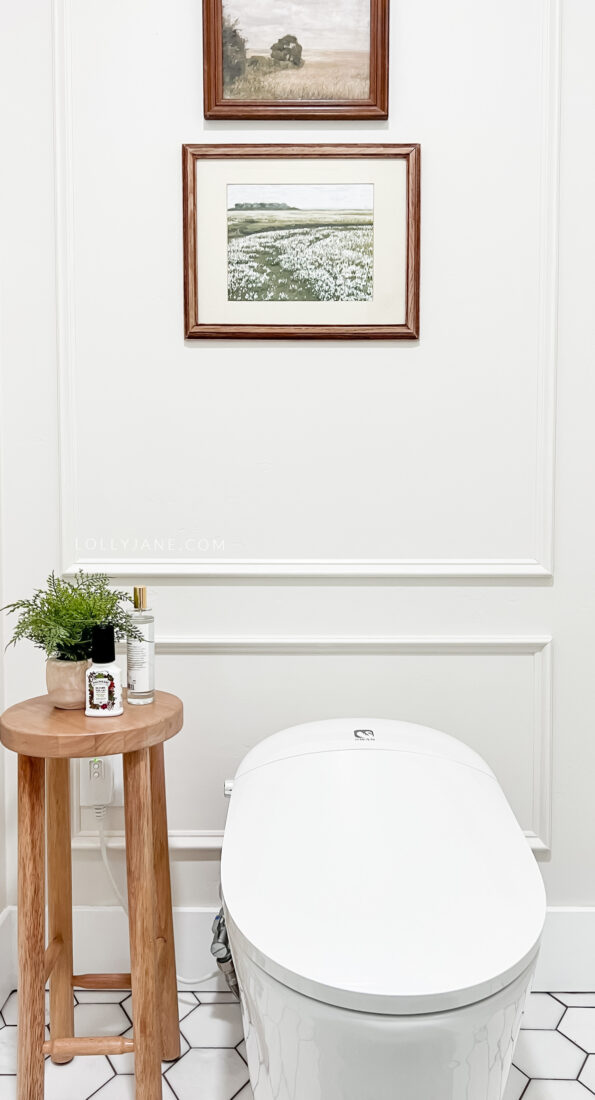 The Cadillac of Bidets
Another very popular topic on IG is bidets. The majority voted they love their bidets and several readers said they hate to go out of town since they can't take it with them.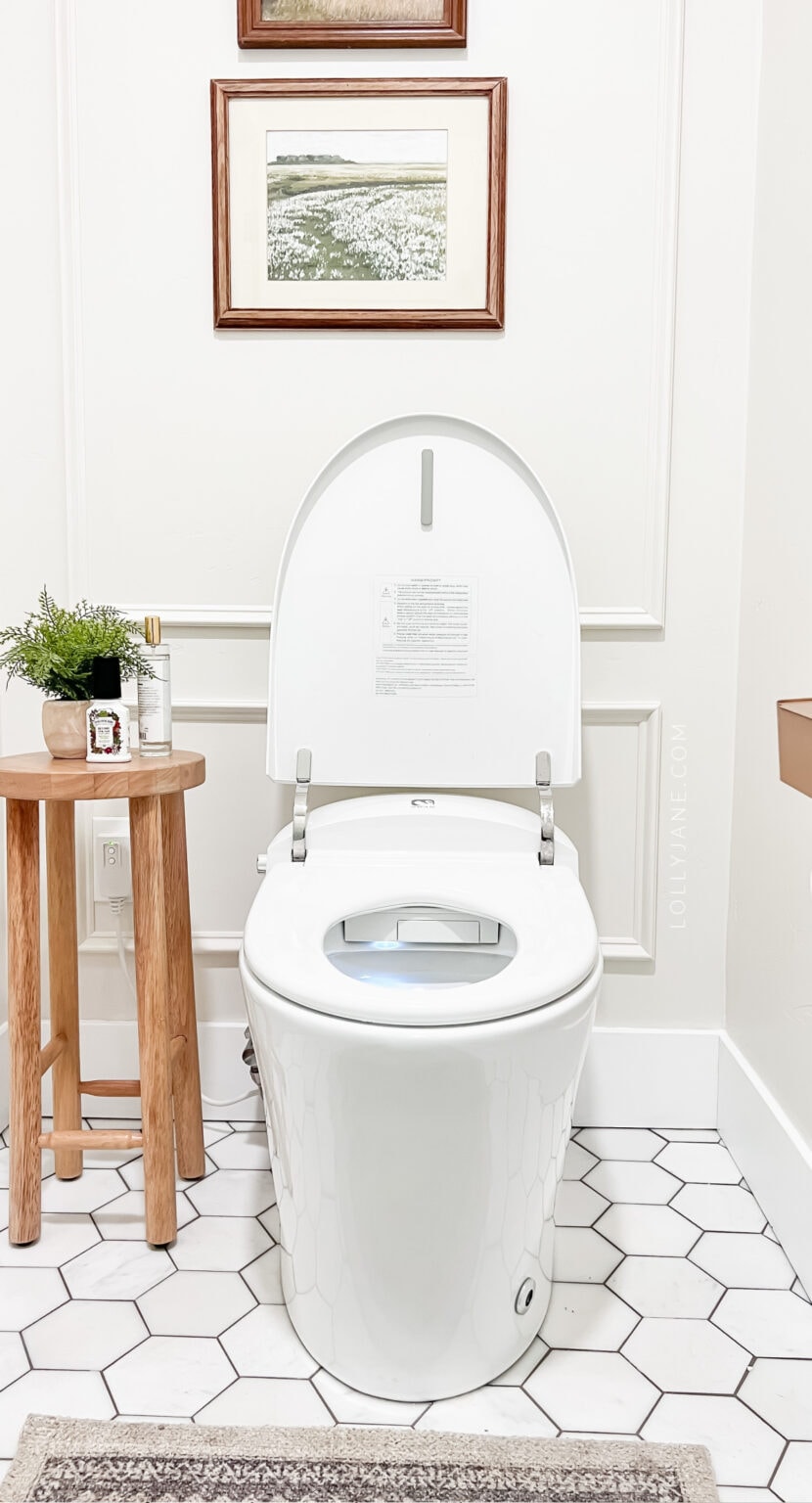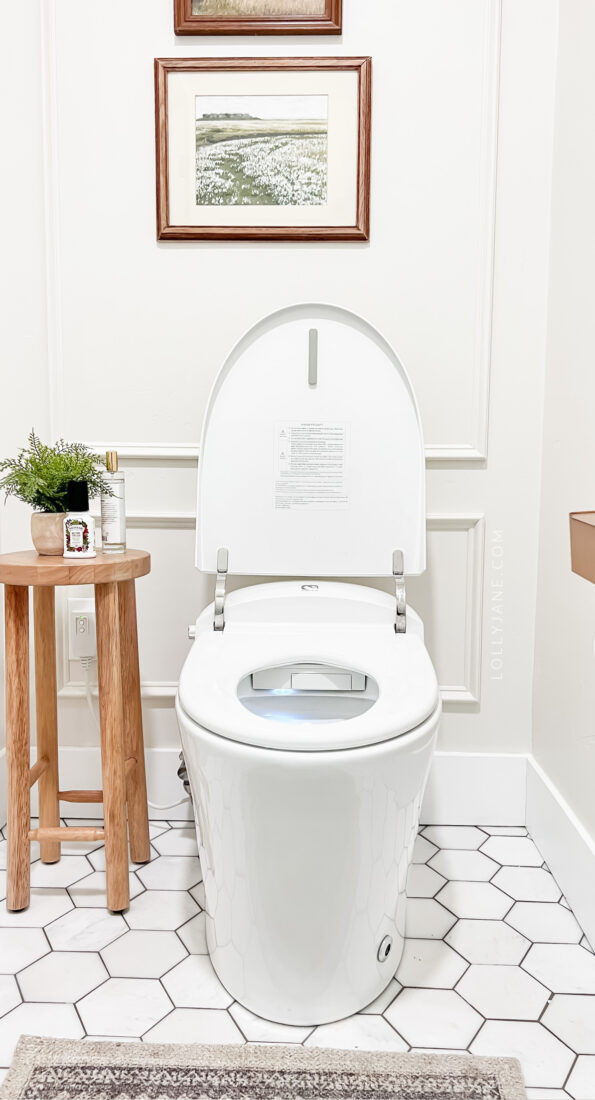 Having never used one before now, I thought that was pretty dramatic but after our first trip away from home this weekend, my husband said more than once, "I wish I had our bidet" and I had to chuckle.
We just got our first bidet and can't believe we've gone this long without one! Swan's bidet's seat has automatic open and close capabilities as well as auto flush and double flush features.
The seat is temperature controlled as well as the water settings. It's heavenly! It also has a nightlight for no missing in the night plus a remote control with customizable settings. It's pretty amazing! Definitely add it to your list…especially if you're a "personal library" kind of bathroom user 😉
We hope to finish the rest of the bathroom before Christmas. We're just waiting to save up for the vanities, glass shower doors and plumbing labor costs. It'll be worth the wait but in the meantime, you can find us fighting over who gets to use the bidet first in our pretty water closet!
Visit more of our Bathroom Designs