Hello!
We're happy you clicked this button! We'd love to work with you and promise we will work hard for you, should you choose to advertise with us. To get to know us better, click on our About Us page. Email [email protected] to work with us, we're excited to see how we can benefit each other!
About the blog:
Lolly Jane began in 2007 as a vinyl lettering/sign making company.  By June 2010, Lolly Jane went online to offer free tutorials for home decor and holiday crafts. We still love to share ideas, tips, ways to decorate on a dime, furniture re-dos and offer free printables. We still run the shop and love to see our work in your home.
As Seen In:
Regular Contributors for our local news stations sharing 3-5 minute home decor tutorials:
Brands we've worked with:
Home Depot, 3M, Duck Tape, DecoArt Paint, Valspar, Sherwinn-Williams, Dutch Boy Paint, Cutting Edge Stencils, Mohawk Flooring, Purdy Brushes, Walls Republic, Shutterfly, World Market, Target, Frog Tape, Home Chef, eBay, Walmart, Sitkwood, Walls Need Love, Devine, Jane, Apartment Therapy, Glade, Behr Paint + many more.
Ambassadors for:
Mohawk Flooring, DecoArt Paint, Redbook Magazine, BHG Live Better, Swiffer, Jeffrey Court
THANK YOU
We truly cherish our readers and are so grateful for every visitor who spends their time on our little corner of the internet.  We will never promote something we don't believe in to be fair to the readers, the advertiser and to be true to ourselves.
Kelli & Kristi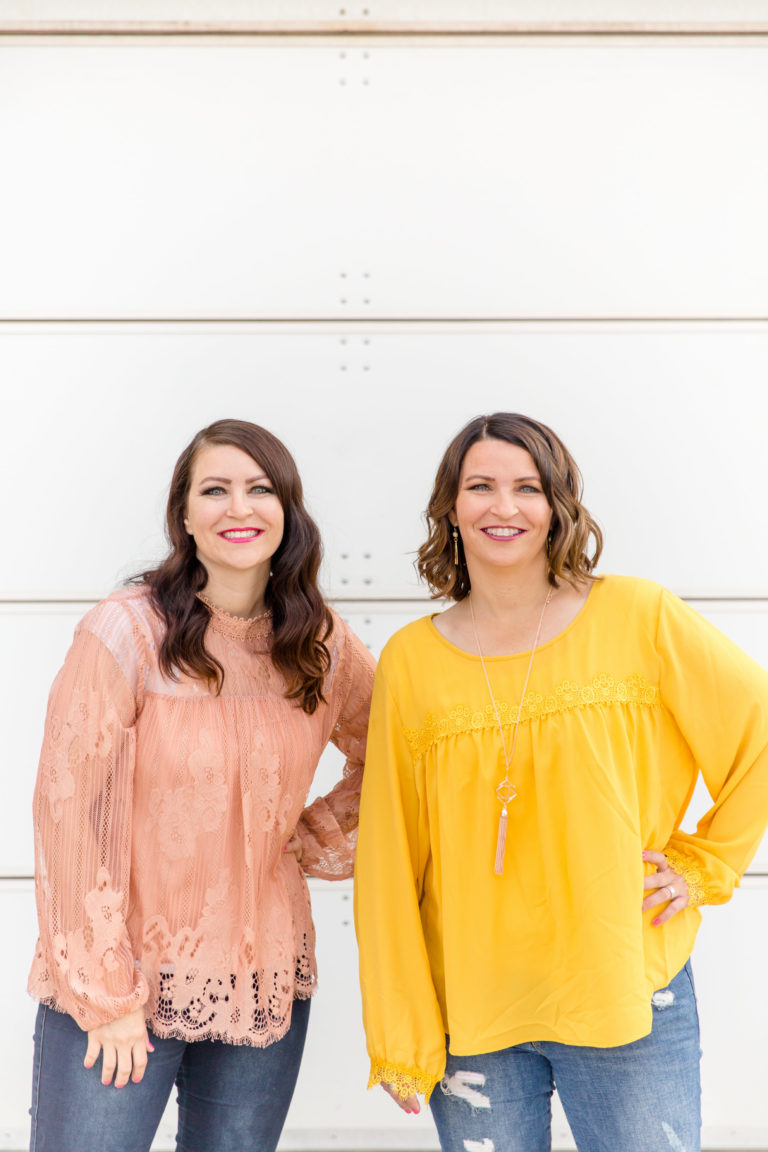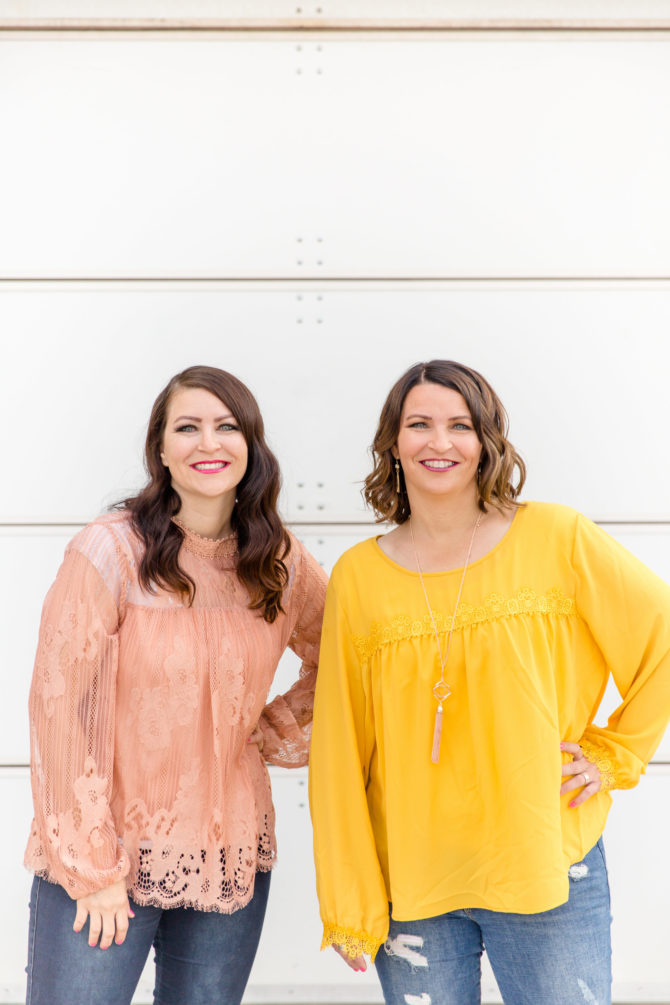 DISCLOSURE: We use third-party advertising companies to serve ads when you visit our website. These companies may use aggregated information (not including your name, address, email address or telephone number) about your visits to this and other Web sites in order to provide advertisements about goods and services of interest to you. If you would like more information about this practice and to know your choices about not having this information used by these companies, please see: https://www.networkadvertising.org/managing/opt_out.asp
ADS:
This Site is affiliated with AdThrive, LLC ("AdThrive") for the purposes of placing advertising on the Site. AdThrive uses standard and widely-available tools for the placement and serving of ads, including those provided by Google, Inc. and its affiliates. We publish interest-based advertisements on the Site; that is, ads that are tailored to reflect your interests. To help understand your interests, AdThrive, Google and our other advertising partners will track your behaviour on our website and on other websites across the Internet using cookies.
A cookie is a file containing an identifier (a string of letters and numbers) that is sent by a web server to a web browser and is stored by the browser. The identifier is then sent back to the server each time the browser requests a page from the server. Cookies may be either "persistent" cookies or "session" cookies: a persistent cookie will be stored by a web browser and will remain valid until its set expiry date, unless deleted by the user before the expiry date; a session cookie, on the other hand, will expire at the end of the user session, when the web browser is closed. Cookies do not typically contain any information that personally identifies a user, but personal information that we store about you may be linked to the information stored in and obtained from cookies.
By using this Site, you consent to the use of such cookies and the sharing of data captured by such cookies with AdThrive, Google, and our other third party partners. You can view, delete or add interest categories associated with your browser by visiting: https://adssettings.google.com. You can also opt out of the network cookie using those settings or using the Network Advertising Initiative's multi-cookie opt-out mechanism at: http://optout.networkadvertising.org. However, these opt-out mechanisms themselves use cookies, and if you clear the cookies from your browser your opt-out will not be maintained.
For European Economic Area Residents
If you reside in a country in the European Economic Area (EEA), then under the GDPR and applicable data protection laws you have the rights, among other things, to access your personal data, have us erase it, and/or restrict its further processing. If you wish to access or delete your personal data (if any) maintained by us or AdThrive related to advertising on the Site, you can contact us at [email protected] and contact AdThrive at [email protected]. If you wish to see a list of the advertising partners we work with or change which of those partners track your behavior using cookies, click the ad preferences link at the bottom of the site. (Available in the EU.)
COPYRIGHT: © Kristi Jansen and Kelli Mullins and Lolly Jane, 2007-current. Unauthorized use and/or duplication of this material without express and written permission from this site's author and/or owner is strictly prohibited. Excerpts and links may be used, provided that full and clear credit is given to Lolly Jane with appropriate and specific direction to the original content. You may not use our photography to sell your own products without written consent.
AFFILIATE LINKS: Lolly Jane is a participant in the Amazon Services LLC Associates Program, an affiliate advertising program designed to provide a means for sites to earn advertising fees by advertising and links to Amazon.com.  As part of this Amazon Associates program, the Website will post customized links, provided by Amazon, to track the referrals to their website. This program utilizes cookies to track visits for the purposes of assigning commission on these sales.
ALSO NOTE: We often link affiliate links on our blog, recommendations to you. Affiliate links mean we may make some pennies off your dollar if you purchase through our link. This is at NO extra cost to you. We appreciate you supporting our free blog to help pay for many back end monthly services.