Herringbone Kitchen Backsplash
If you're looking for a way to update your kitchen without a full remodel, consider tiling a herringbone backsplash. We love our mini herringbone tiles for visual interest and easy cleaning.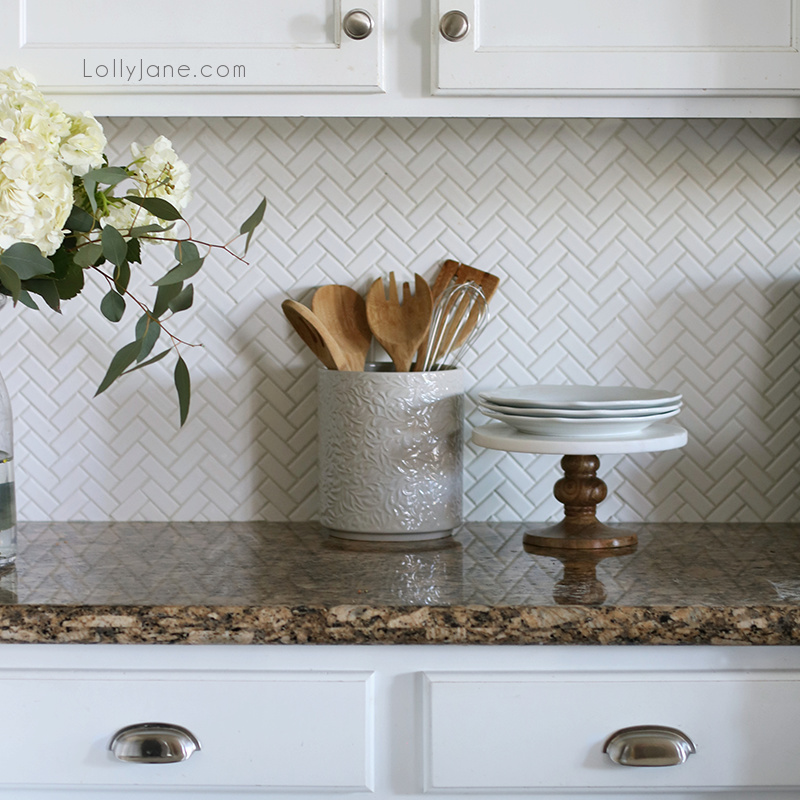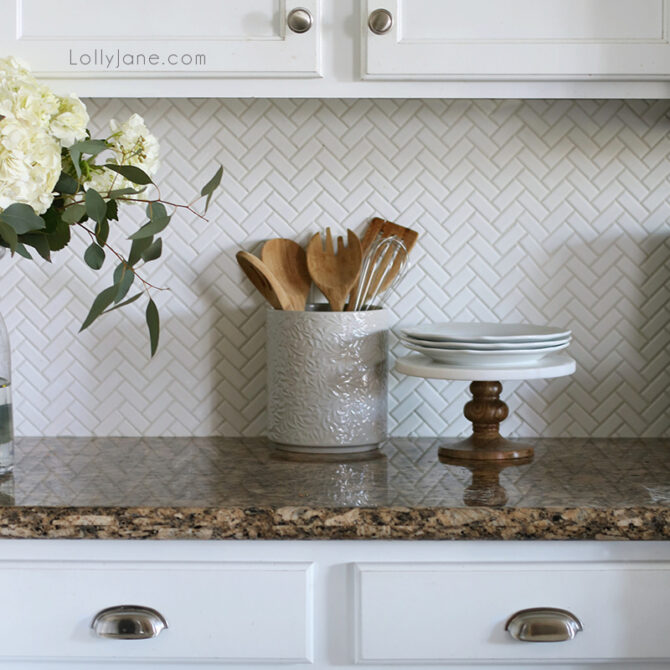 When we moved into our tract home, we loved the simple white kitchen. The only thing we didn't love was the bead board wallpaper in place of a real backsplash. Consequently, it housed red sauce stains and oily splatters. It just didn't wipe down well even though it was cute enough far away.
After a couple of years, I got frustrated with the stains and accidentally scrubbed a hole right through the paper, oops! This led to me removing the wallpaper completely and replacing it with a trendy wallpaper, faux subway tile peel and stick wallpaper.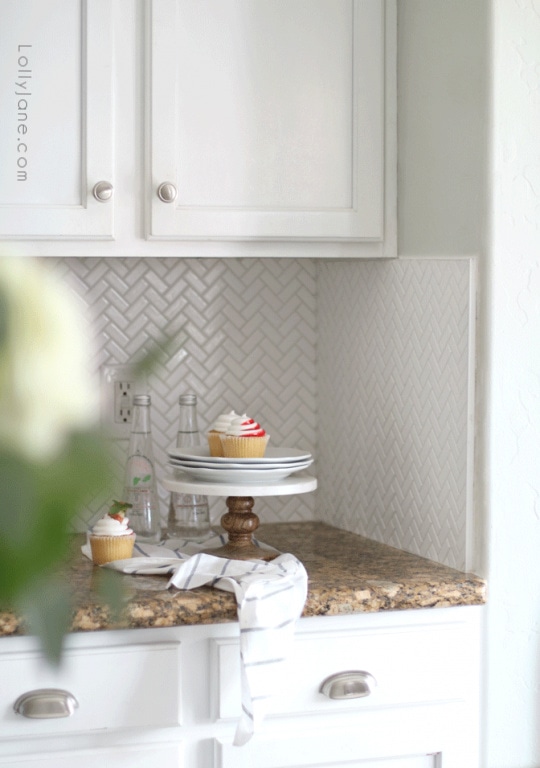 Again, it was an inexpensive alternative to the real deal and looked pretty good, especially far away. It also wiped well since it was a newer product to the home decor market.
FROM FAUX TILE TO MOSAIC TILE
My sister Kelli recently renovated her dreamy farmhouse glam bathroom using Allegro White Fan and Mosaic Penny tile. When I saw the sheets they arrived in, I knew tackling my own kitchen herringbone backsplash would be easier than anticipated.
I chose the Herringbone Ceramic Mosaic tile in Allegro White since my countertop is a busy granite and I didn't want two competing against each other.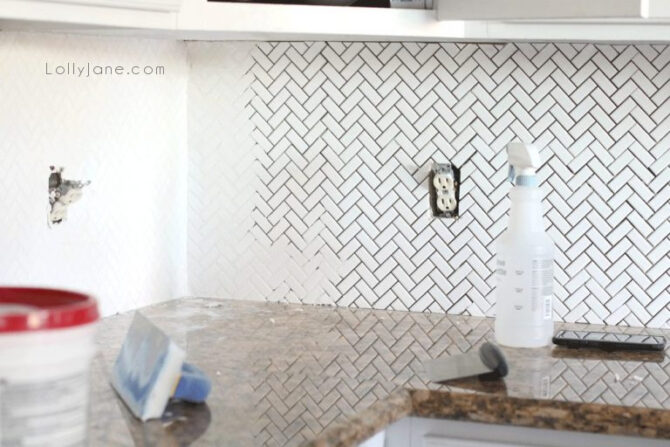 We went back and forth on deciding which grout color to use in between the tile pattern but ultimately chose white as I'm not the best tiler in the world and the white is very forgiving with imperfections!
A major plus is how affordable the herringbone tile is for everyday homeowners like ourselves. We love the convenience of being able to make a Home Depot run to grab extra tile if you mess up.
I love how the herringbone mosaic pattern adds texture to the kitchen but isn't too busy so I can accessorize around it still.
LOVE RESTORED
To be honest, I didn't love my kitchen until after the tile was installed. It immediately added personality to my standard builder grade kitchen.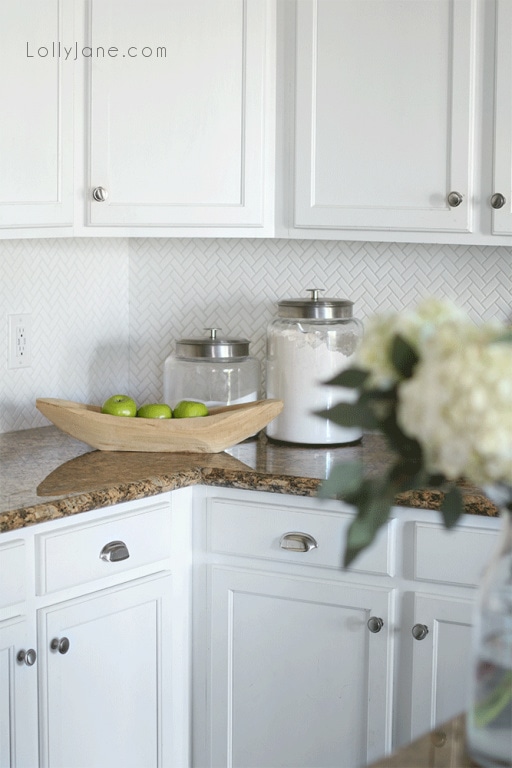 It also added some much-needed warmth that lets me embrace the brown in the countertop. I can add some woodsy, earth type elements around it whereas before I felt like I could ONLY decorate in whites to keep it looking clean.
The texture from the classic herringbone pattern really pulls everything together. I love going into the kitchen again. Plus the spills and splatters easily wipe off the gloss finish which is a Mom win!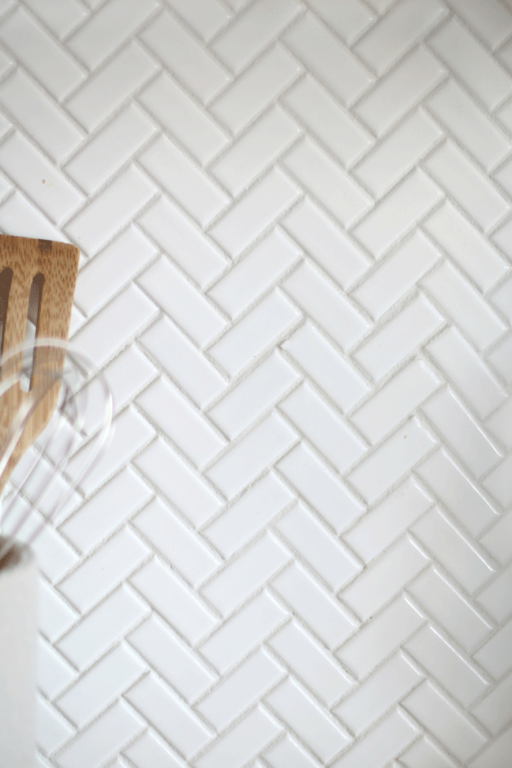 how to transition tile to the wall edge
We, like many kitchens, have that awkward transition where the edge of the wall meets the side of the cabinet. You're not quite sure if you should have the tile stop at the cabinet or at the edge of the countertop, right?
To finish off the herringbone backsplash tile, we used a white color-coated aluminum metal tile edging trim.
I think it looks pretty polished!
I love how custom my kitchen looks overall with this gorgeous Allegro White Herringbone mosaic tile! What do you think? We'd love to hear your comments below! xo
See More Spaces in This Kitchen