Hocus Pocus Charcuterie Board
This fun Hocus Pocus themed charcuterie board is the perfect way to kick off the Halloween season! Fill it up with sweet and savory goodies, cute cheese wheel faces, fruits and ghost chips for a not so spooky treat!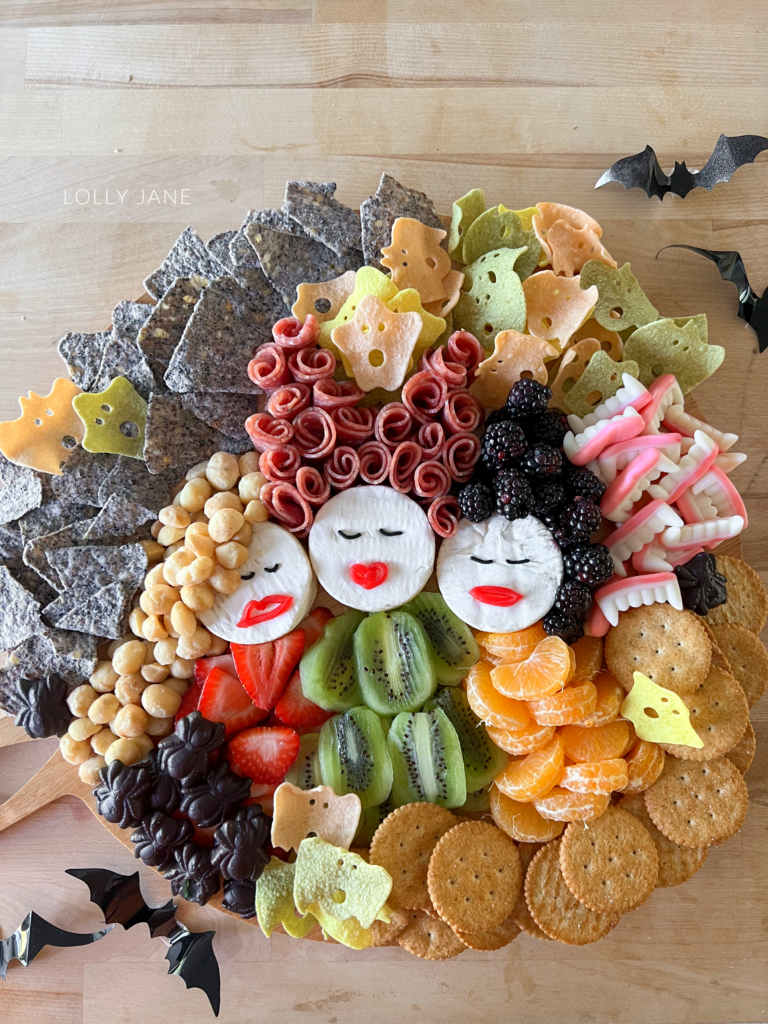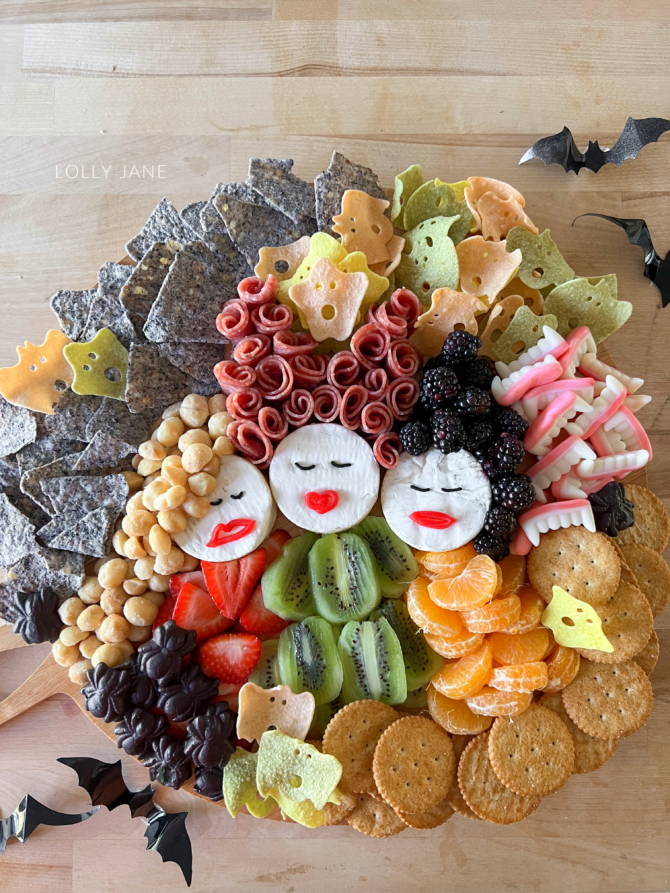 We're super excited for the new Hocus Pocus 2 movie much like many of you! We saw a Hocus Pocus themed charcuterie board on Pop Sugar and had to replicate it. Our family LOVED it so we're sharing it with you!
Supplies to Make a Hocus Pocus Charcuterie Board
You can get creative with your personal preferences. Here's what we used to create our yummy Hocus Pocus food board. Visit it all in one spot on our LTK page.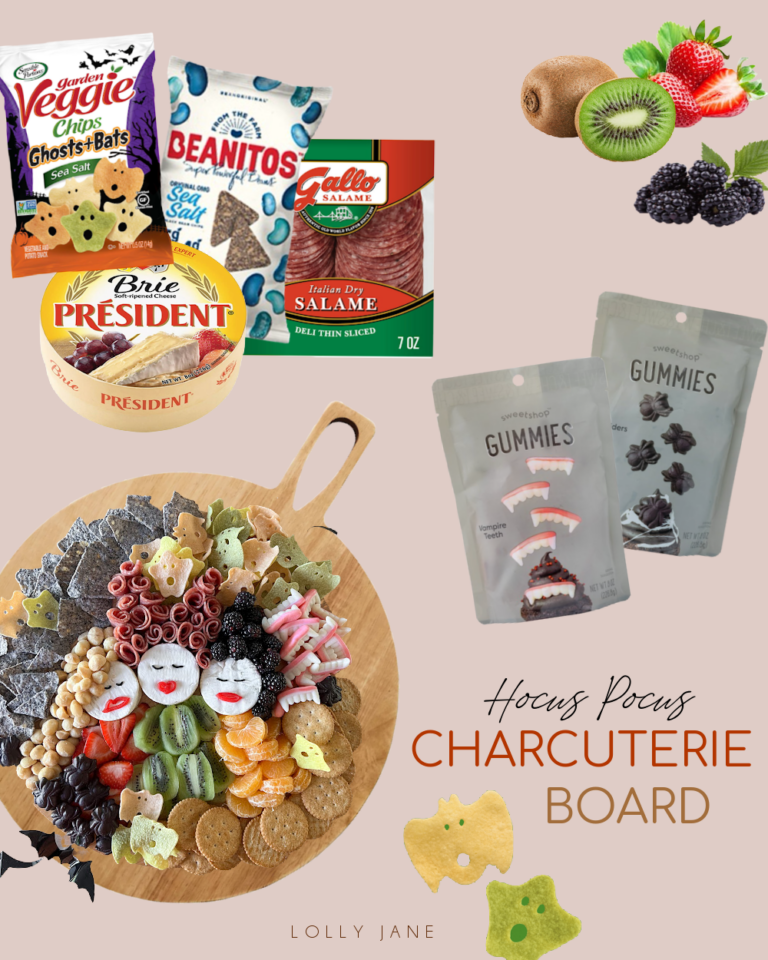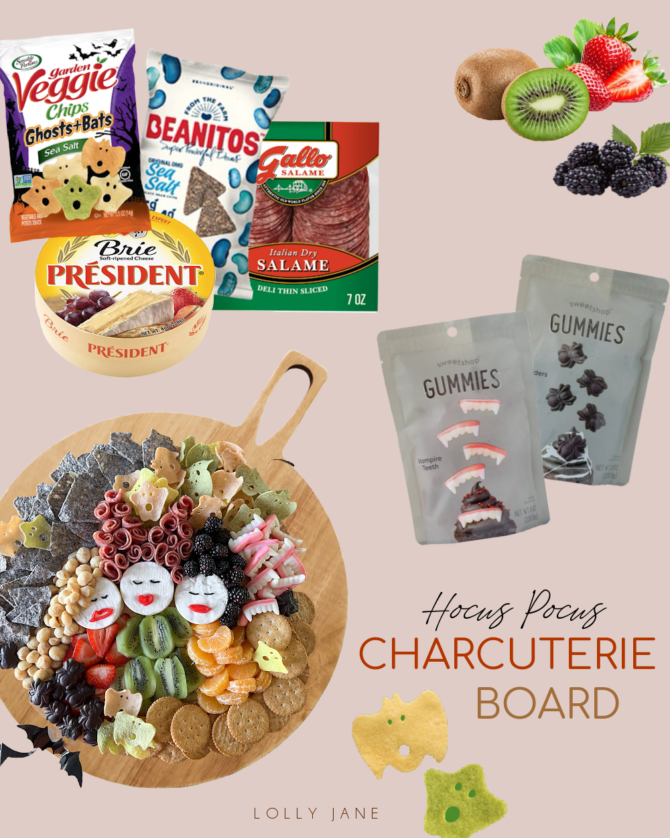 Start with a pretty circle wood charcuterie board to place everything on. The handle is nice for transporting to the table when it's time to eat.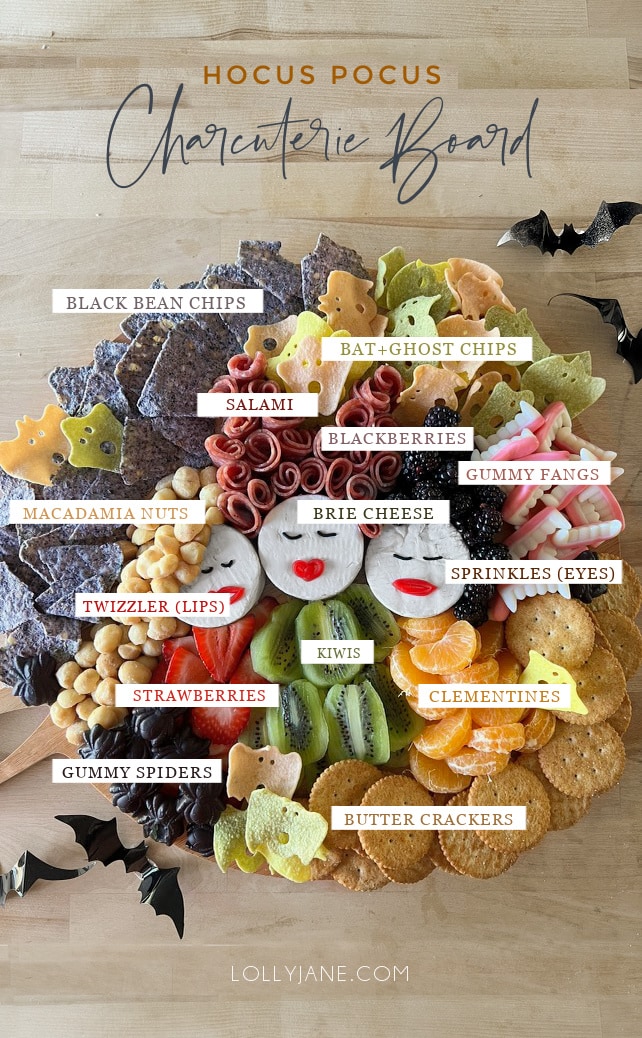 SAVORY ingredients for a Hocus Pocus charcuterie board
Brie Cheese
Blue Corn or Black Bean Tortilla Chips
Round Crackers
Veggie Straws: Ghost Shapes
Macadamia Nuts
Salami
SWEET ingredients for a Hocus Pocus charcuterie board
Strawberries
Kiwi
Cuties
Gummy Bats
Gummy Fangs
Chocolate Sprinkles
Twizzlers
How to Assemble a Hocus Pocus Charcuterie Board
Place the 3 circles of Brie cheese in the center of your board. Assemble the Sanderson sisters to the board then add the rest of the ingredients around it. See below on assembling the sisters.
Create the characters first: Winifred, Sarah, Mary then layer the blue chips to the upper right and the round crackers to the lower left.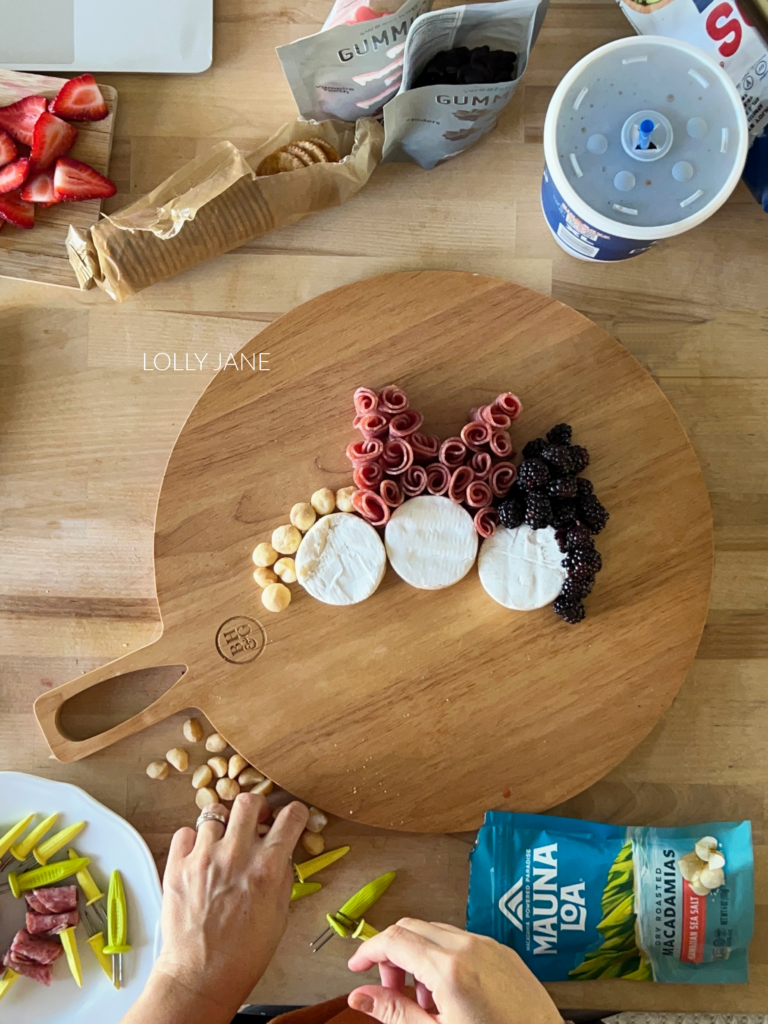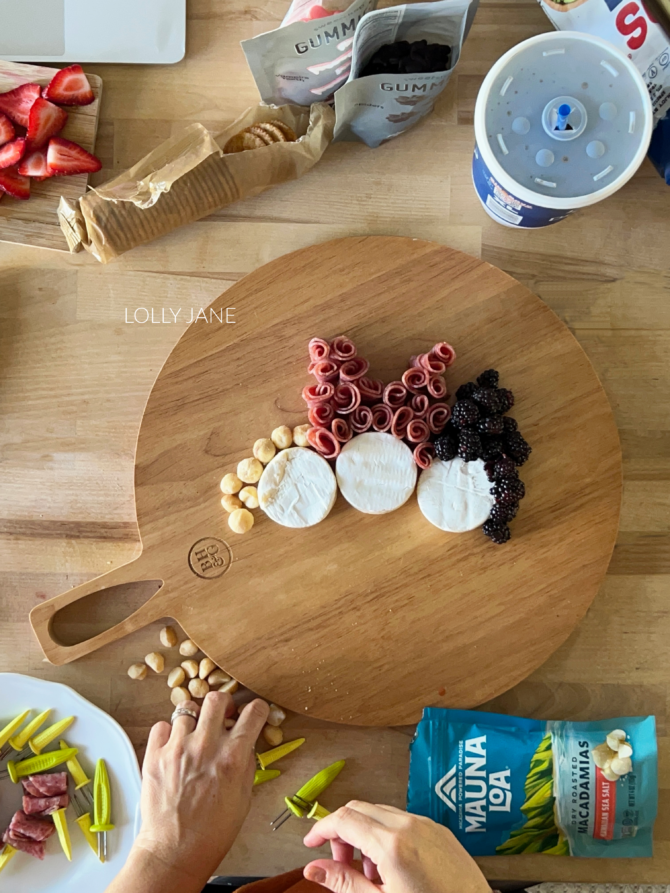 Add the bat gummies to the lower left and the fang gummies to the middle right. From there, place the veggie ghosts to the upper right then tuck more ghosts into any empty spaces.
How to Assemble Winifred from Hocus Pocus
Winifred is the bossy older sister with the defined heart lips. Add a "body" of kiwi underneath the middle cheese wheel. Salami is the perfect ode to her signature hairstyle. Firstly, to create curls, roll them into a tight circle then pin with skewers, tooth picks or corn on the cob holders, whatever you have on hand. PRO TIP: Roll salami first then put in fridge for 30 minutes for curled form to help set. (See pic below.) Finally, create a crown of curled salami around Winifred's head then create two triangles on each side.
Afterwards, shape Twizzlers into heart lips by then place sprinkles for eyes.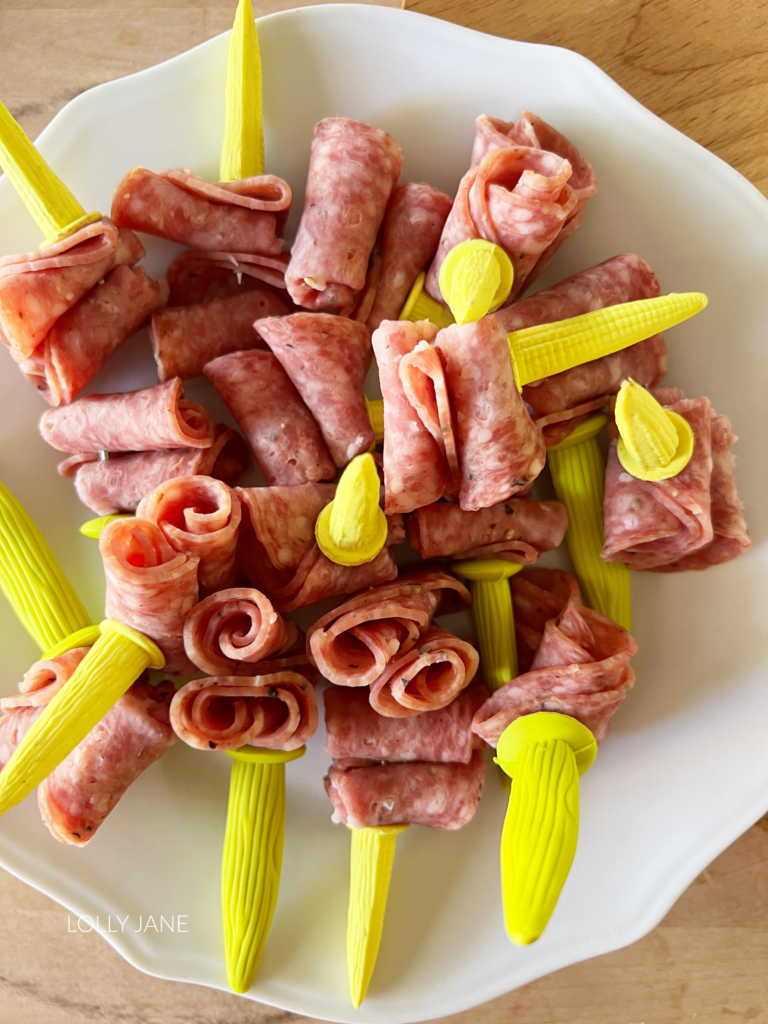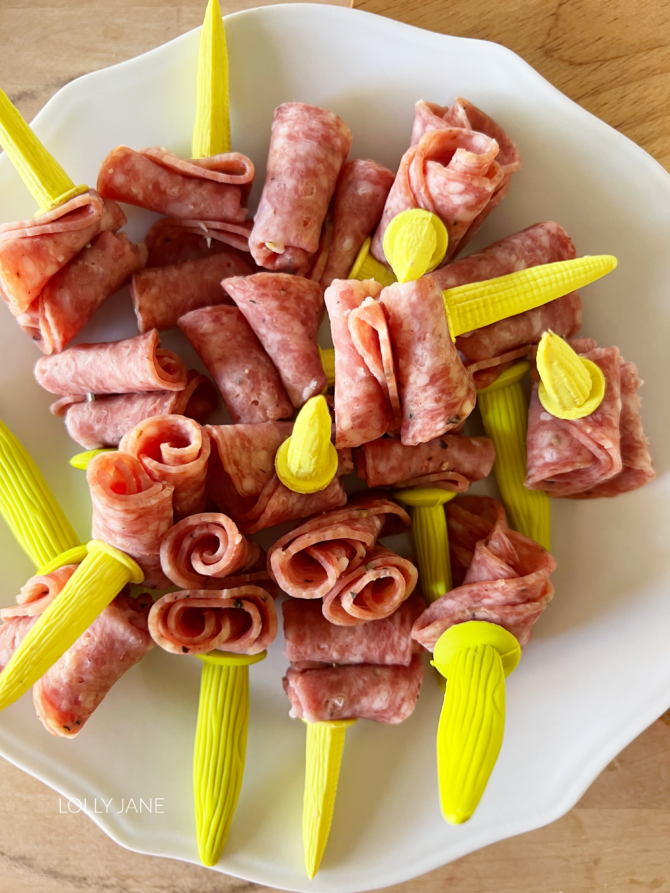 How to Assemble Sarah from Hocus Pocus
Sarah is the blonde Sanderson sister with long flowy hair. To create her signature hairstyle, lay the macadamia nuts from right to left, flowing to the right of the board. Add a "body" with sliced strawberries underneath the left cheese wheel. Add licorice open mouth lips + sprinkles eyes.
How to Assemble Mary from Hocus Pocus
Mary is the dark haired sister who obeys all of Winifred's schemes. She has wild, dark curly hair piled high on her head. To replicate the look, add the blackberries above the right cheese wheel. Add Add licorice flat lips + sprinkles eyes.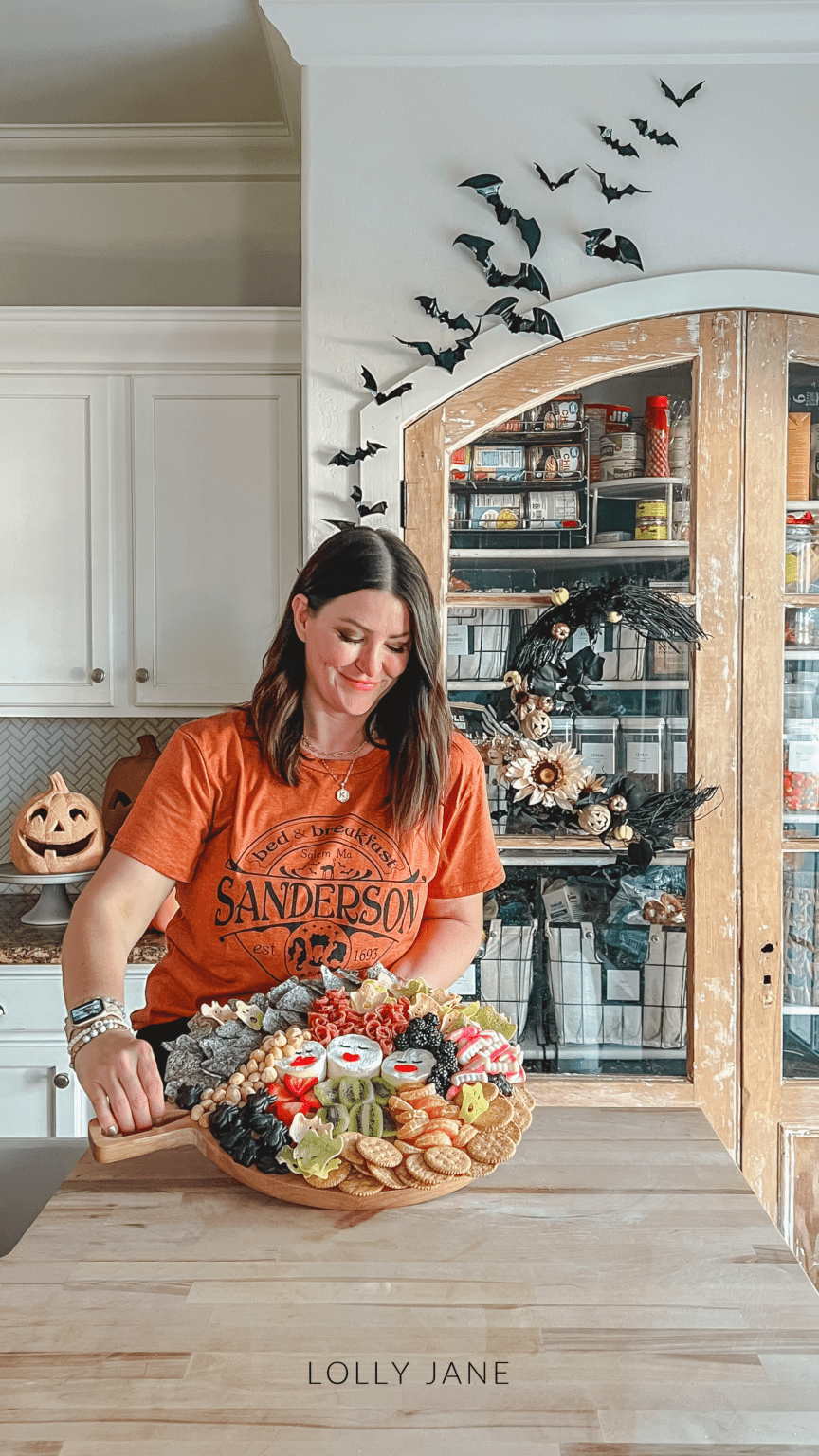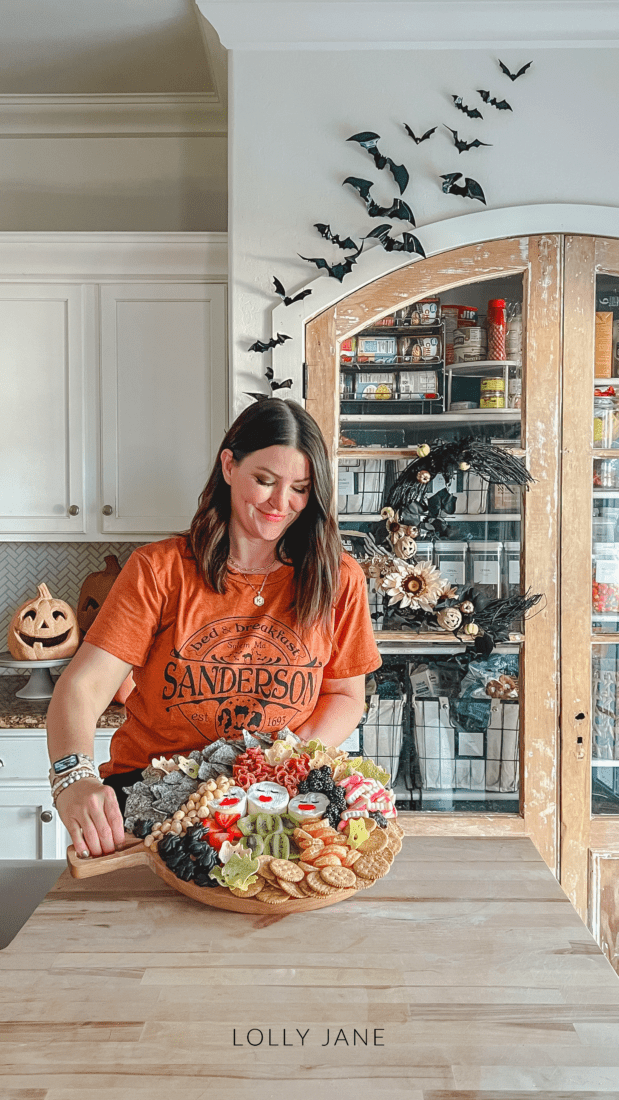 And that's it. How cute is that, right? You can see how we assembled ours on Instagram here.
Will you be watching Hocus Pocus 2 this weekend? Better yet, a watch party? If so, grab this Sanderson Sisters tee and decorate with some plastic bats to get in the spooky mood!
Visit More Halloween Ideas