How to frame a canvas the easy way (with pictures!)! Learn how to frame a canvas for just a couple bucks INCLUDING easy to use tools! No power saw required!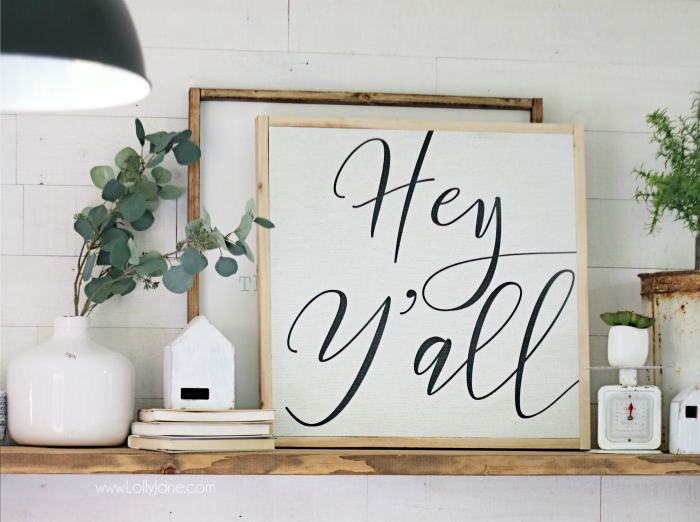 You know our love of sign making. It started back in 2007 and has come a very long way since then! Signs are now in every room of the house from the kitchen with EAT, the popular Home Sweet Home in the entryway to funny bathroom signs in the loo. Several years ago, canvases were equally as popular but then died off when framed signs hit the decor world. One of the ways to update an old (or new!) canvas is to add a frame around it. It instantly updates it and make it look more custom and finished. We've got a super cheap way to do just that: how to frame a canvas without spending much out of pocket. Bonus: no power tools required! Whaaaat! We know, we're all about our chop saw but have heard several complaints about being scared of it or not having room to store it. Check out our new favorite tools for diy-loving heart, super easy to use without sacrificing the quality!
Supplies Needed to Frame a Canvas
You know Fiskars for their iconic orange handled scissors. You most likely have a pair in your kitchen drawer and another pair in your office. Now you can add their simple tools to the same spot for quick fixes and fast projects like our easy framed canvas.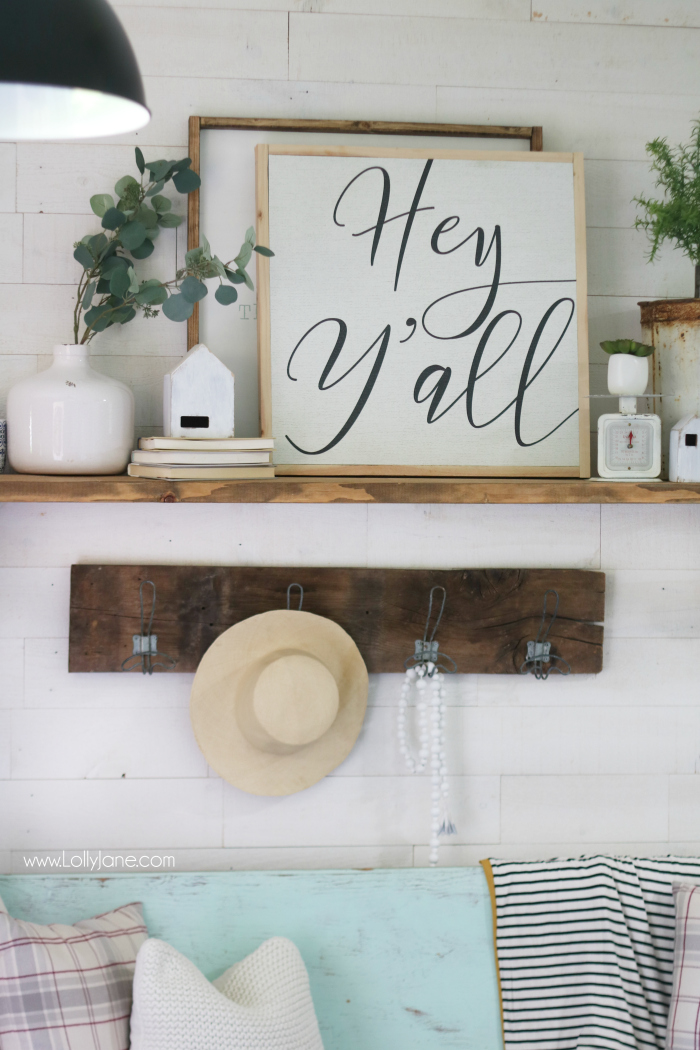 Grab a canvas to get started plus these tools:
1″ x 2″ pine wood strips
finishing nails
eye hook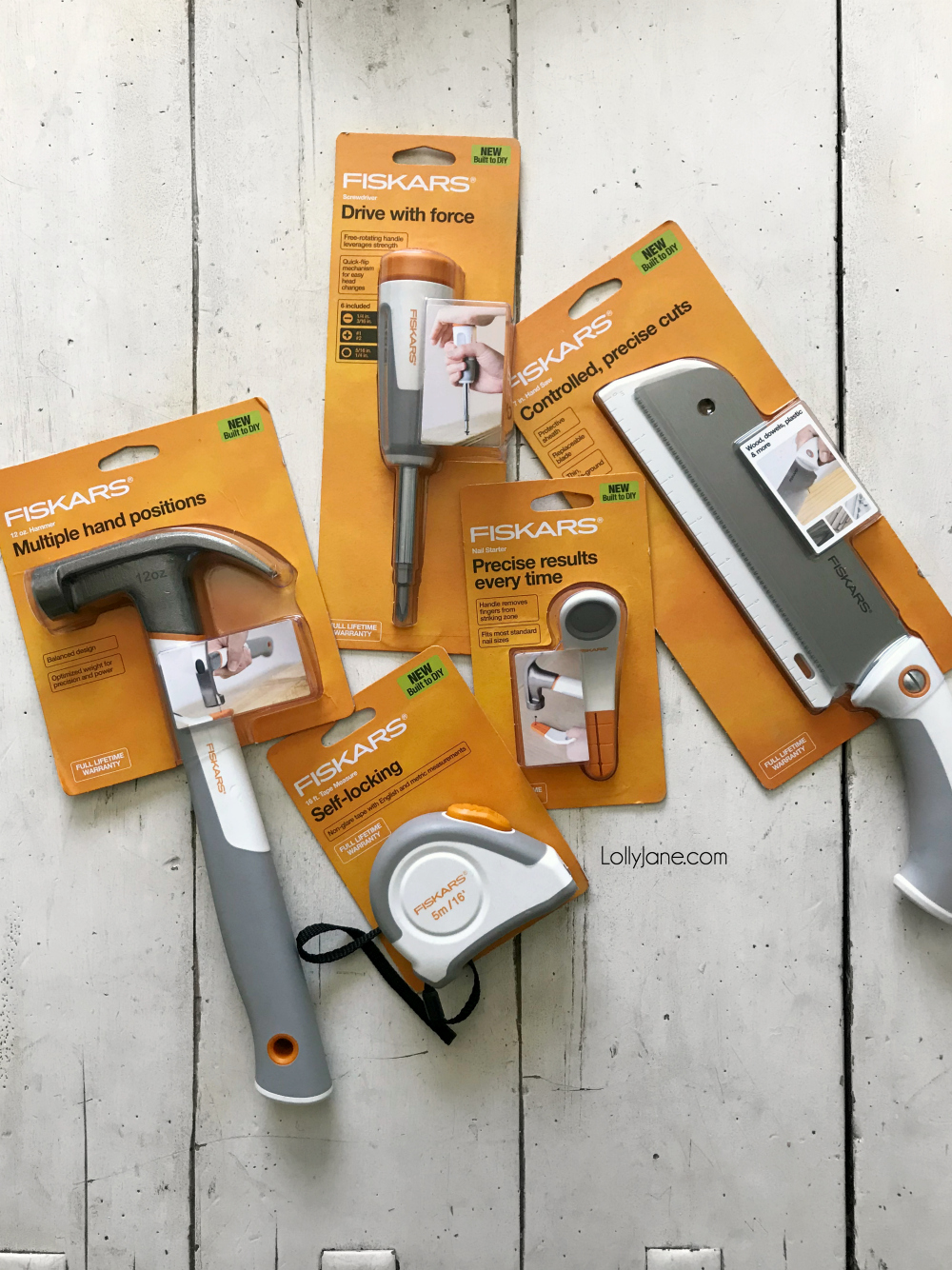 Introducing Fiskars DIY Tools
Fiskars PowerCut™ Shears & Fiskars PowerCut™ Easy Action Snips: Ideal for cutting cardboard, cork, decorative metals, leather and more Fiskars PowerCut™ Shears are strength-enhancing curved blades provide up to 2X more cutting power and have a serrated edge to accurately cut slippery materials
Fiskars PowerCut™ Easy Action Snips: With a strength-enhancing Micro-Tip® blade, Fiskars PowerCut™ Easy Action Snips provide up to 40% more cutting power and allow users to cut in hard-to-reach places. The Fiskars PowerCut™ Easy Action Snips' spring-action design opens blades after each cut to reduce hand strain; integrated wire cutter snips up to 12-gauge wire.
Free-rotating handle leverages strength to drive in screws with maximum downward force. Quick-flip mechanism makes changing heads easy;

includes extra heads within the shaft.

12 oz. weight provides the perfect balance of precision and power. Forged, stainless steel head provides strength and durability. Handle suits two different hand positions and prevents slippage with non-slip grips and a flare. Pair with the Precision Nail Starter for straight drives.

Triple-ground blade precisely glides through woods, cardboard, dowels and more; can be easily replaced. Sheath includes easy-to-read measurements.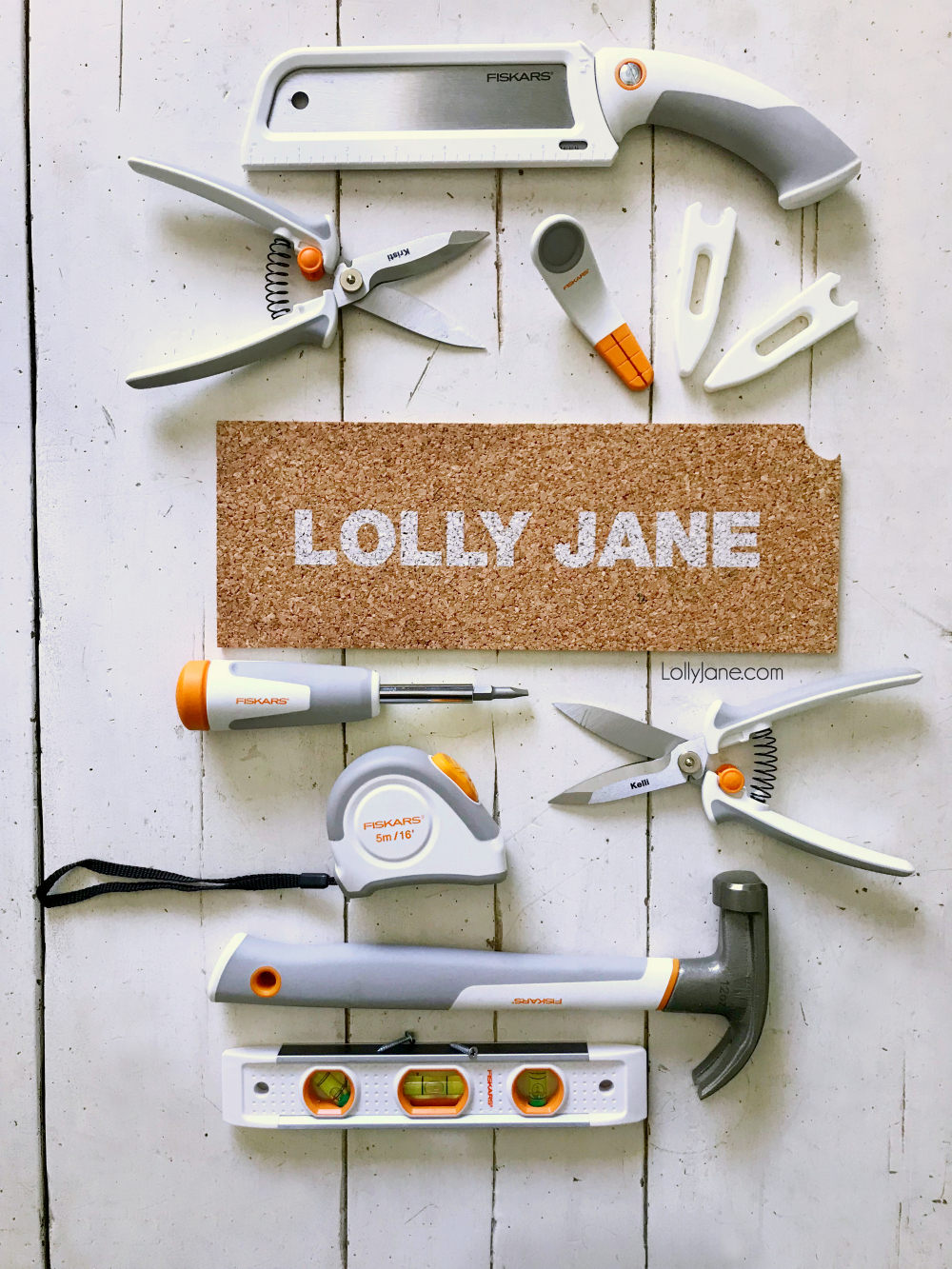 How to Frame a Canvas
Your sizing will vary depending on your own canvas size but this easy to follow tutorial will guide you on building your own frame for a pre-made canvas. Lay out your canvas. Our starting canvas size is 22″ x 22″.
Measure your wood strips as follows. This Fiskars Tape Measure is great because it defaults to lock in place, so you never have to worry about it snapping back.
Two will be the length of the sides and the other two will be the length plus the thickness of the wood strips.
In our case, two of the strips are 22″ long and since our strips are 1 1/2″ thick, the other two are 23 1/2″ long.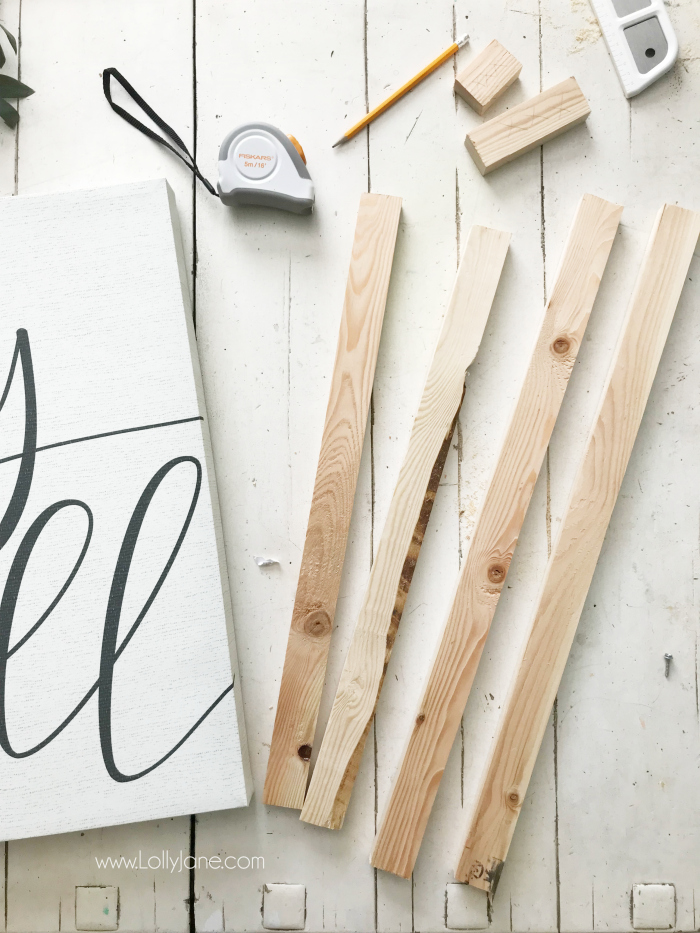 Cut to size with the hand saw, you'll be surprised how easily it slices through the wood! The Fiskars Precision Hand Saw is great because it is thin, yet powerful and glides through materials for controlled, precise cuts.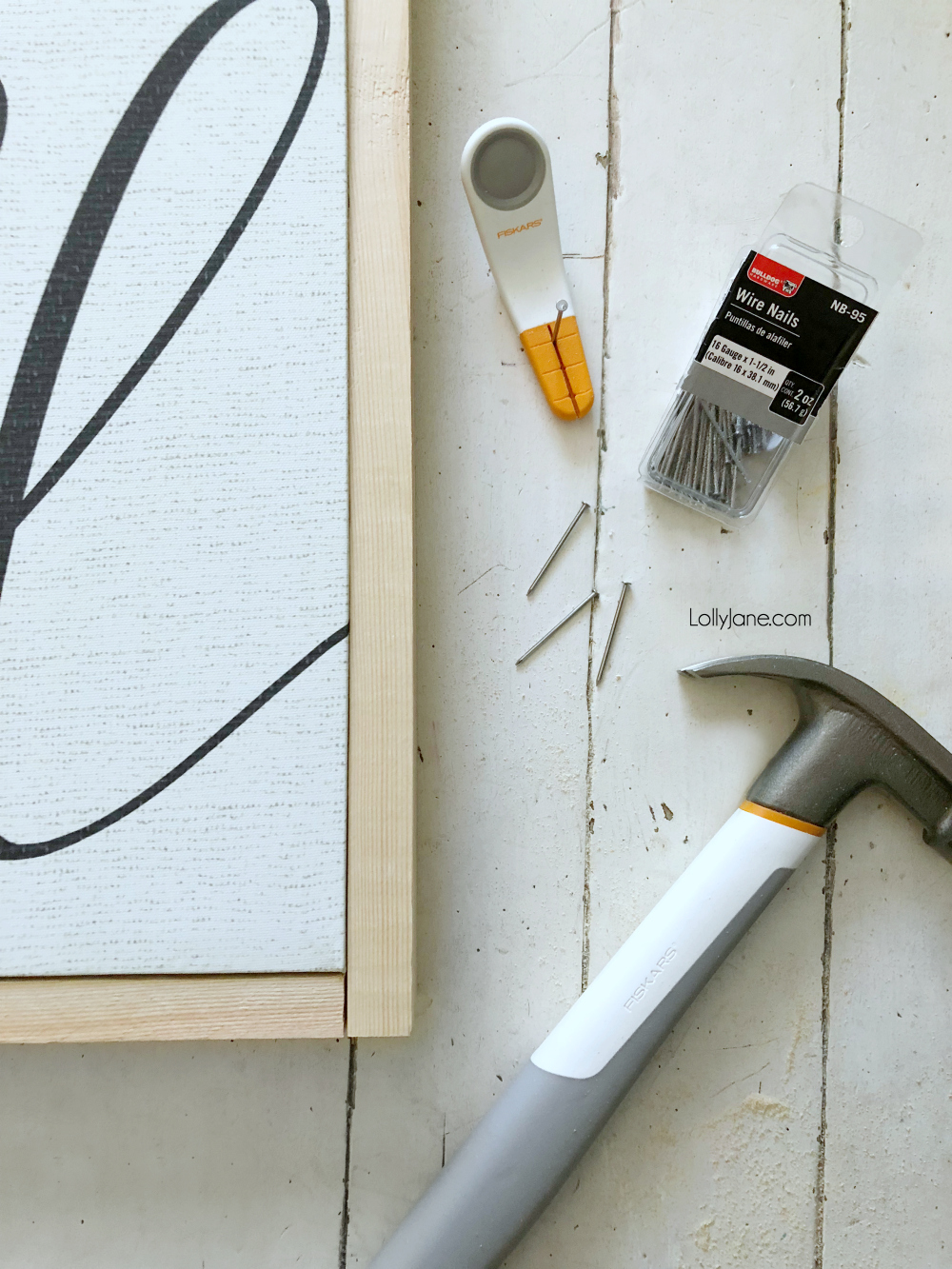 Use your Fiskars Precision Nail Starter – this works perfectly with the Fiskars Precision Hammer and provides a platform for straight drives, while removing your fingers from the striking zone, so your thumbs are kept pain free 😉 Start with 2 nails in the center of each side for added security, then add one more nail to each corner to completely secure the frame to the canvas. We used 12 nails total.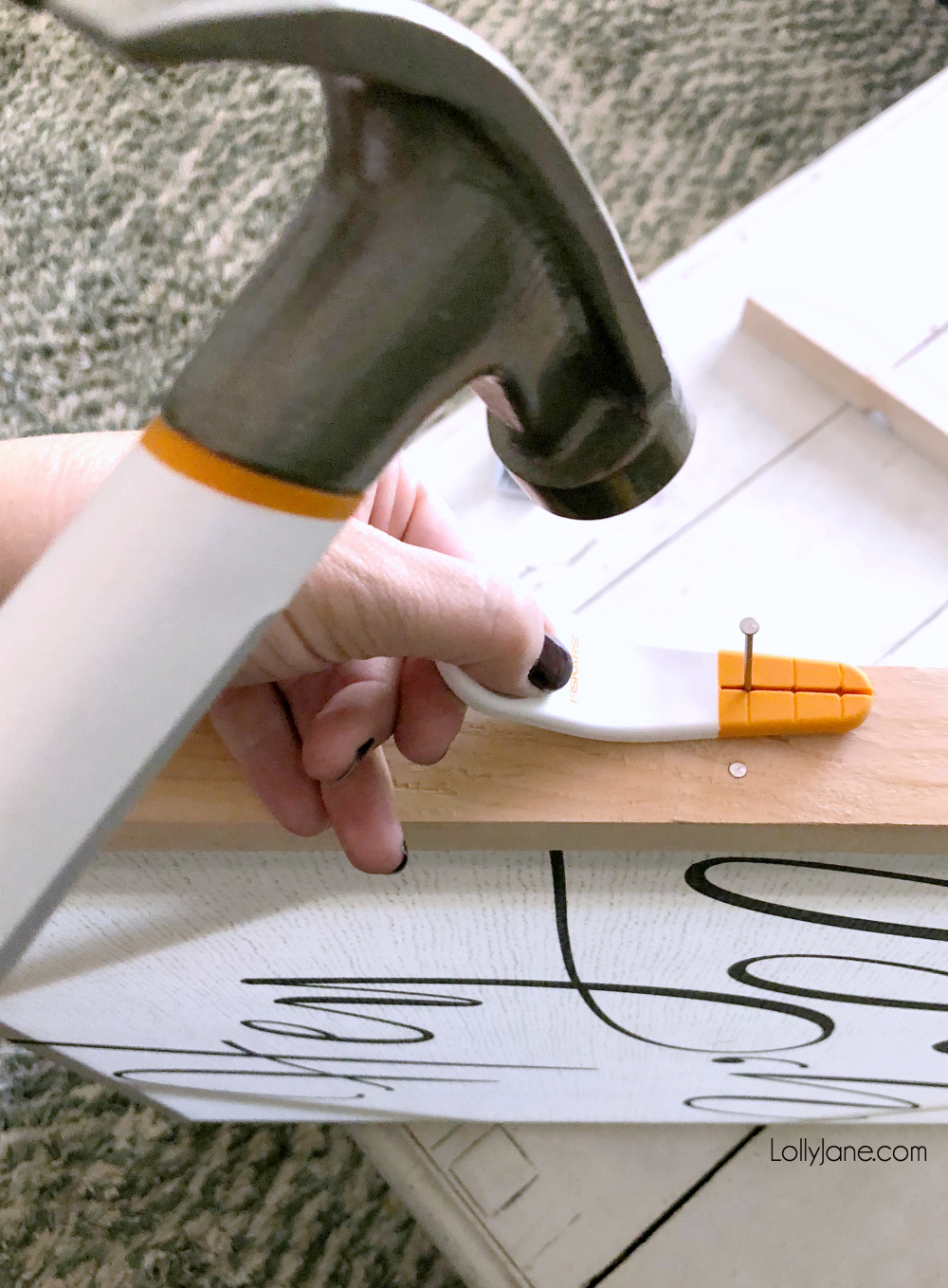 After your wood frame has been built and nailed, screw the eye hook onto the back of the canvas for added security. The Fiskars Precision Screwdriver is great, it has a super handy quick-flip mechanism that makes it easy to change heads. The benefit of a framed canvas versus a wood sign is how lightweight the final product is. Some of our larger signs get pretty heavy, requiring anchors and making extra holes in the walls. You won't need to with this quick DIY framed canvas. That's all there is to it! Display on your DIY farmhouse shelves in your entryway or give as a handmade gift!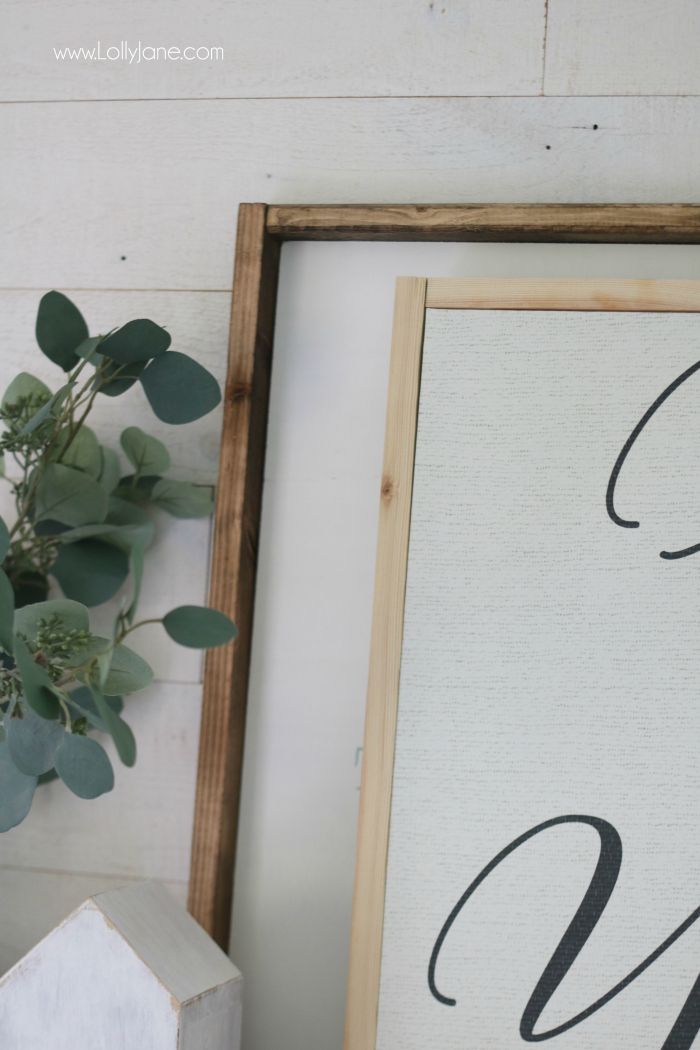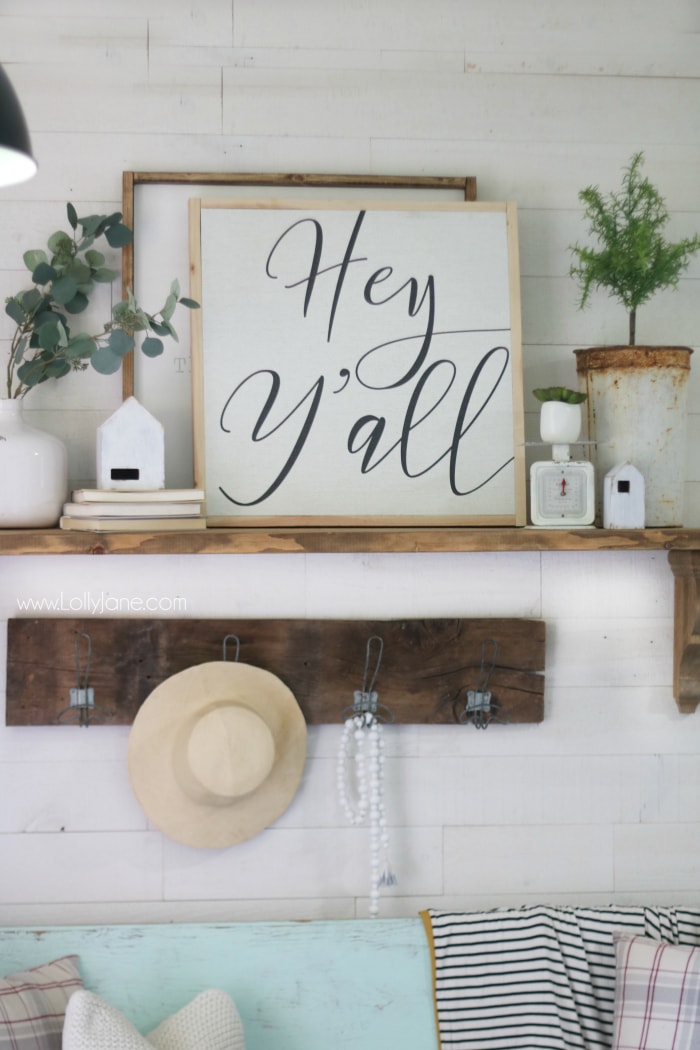 Please PIN so your friends can make this too! xo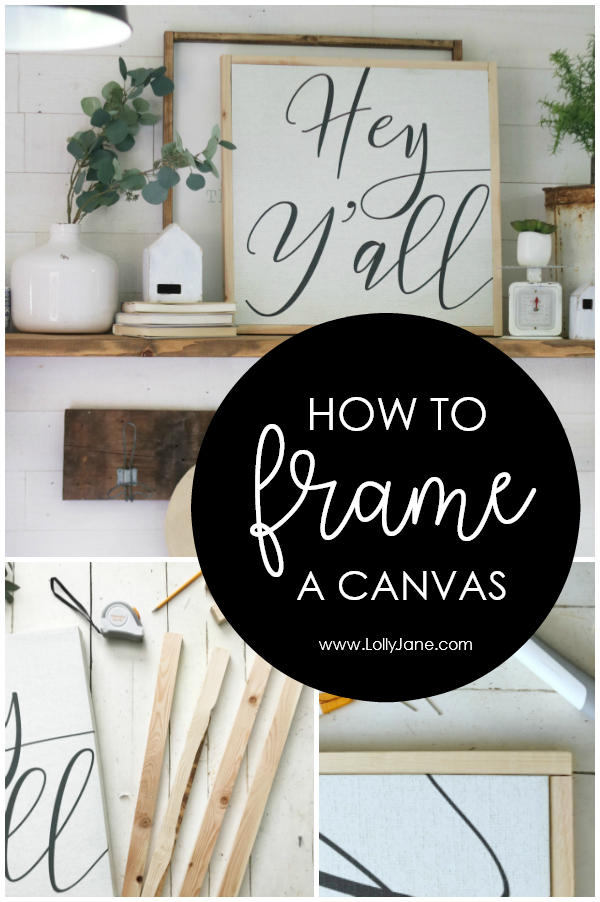 Thanks to Fiskars for sponsoring today's easy how-to! Be sure to check out their easy to use tools for the newbie or novice diy'er! As always, all opinions belong to us. Visit our disclosure here.