Peel and Stick Wallpaper Craft Room Makeover
Have you jumped on the peel and stick wallpaper trend? We love how this easy to apply wallpaper transformed our craft room makeover. Learn how easy it is to use peel stick wallpaper for your own room makeover dIY.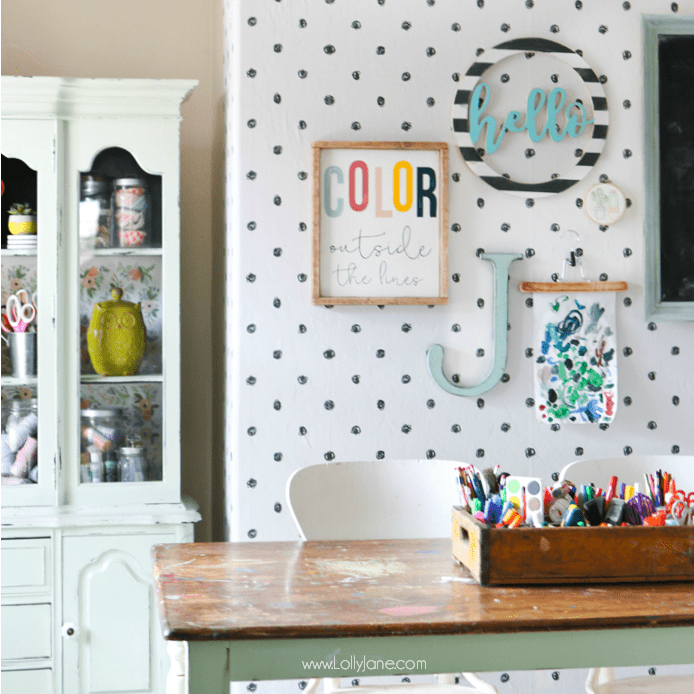 Craft Room Makeover
Holy cow, I still walk by this room several times a day and give it a second glance in awe at the difference… and it's not even finished yet! We bought this house in the fall with this den/extra room off of the family room and it. was. so. drab! I am all for a neutral pallete but the tan walls with the dark floors had me anxious to brighten this space up! Enter Walls Need Love, removable peel and stick wallpaper. Appropriately named since my walls DEFINITELY needed some love.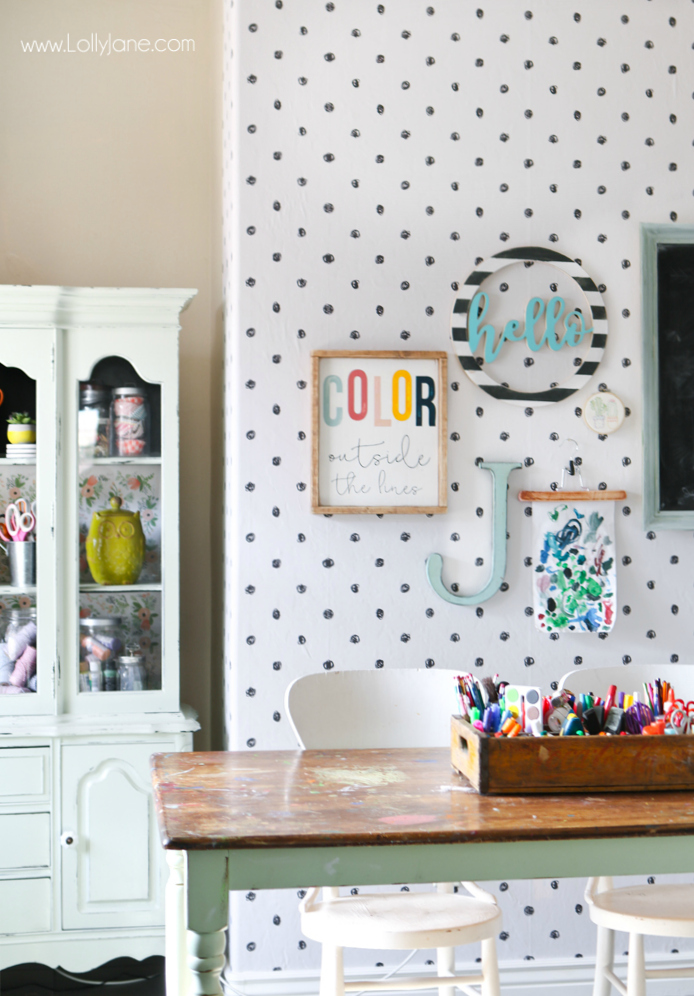 Update The Walls by Creating An Accent Wall
I selected the Scribble Dots pattern, (and it took me several hours to narrow down the design I wanted because the selection is ga-ga-gorgeous!) since it's playful yet still serious enough for a grown up space, too! Want to see the hideous before?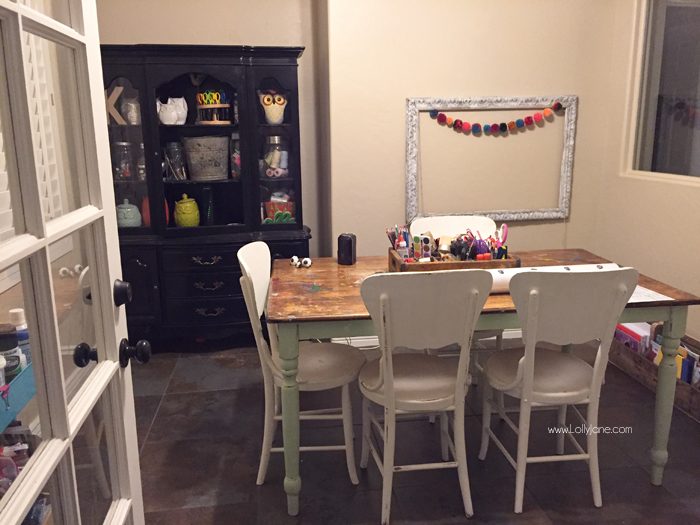 Use Peel and Stick Wallpaper for an Easy Accent Wall
I seriously can't believe the difference the white background on the wallpaper does to brighten up the space! I loved how easy the packaging was and how clear the instructions are.
Tools Needed to Apply Peel and Stick Wallpaper
XActo Knife
Sharp Scissors
2 People
PATIENCE 😀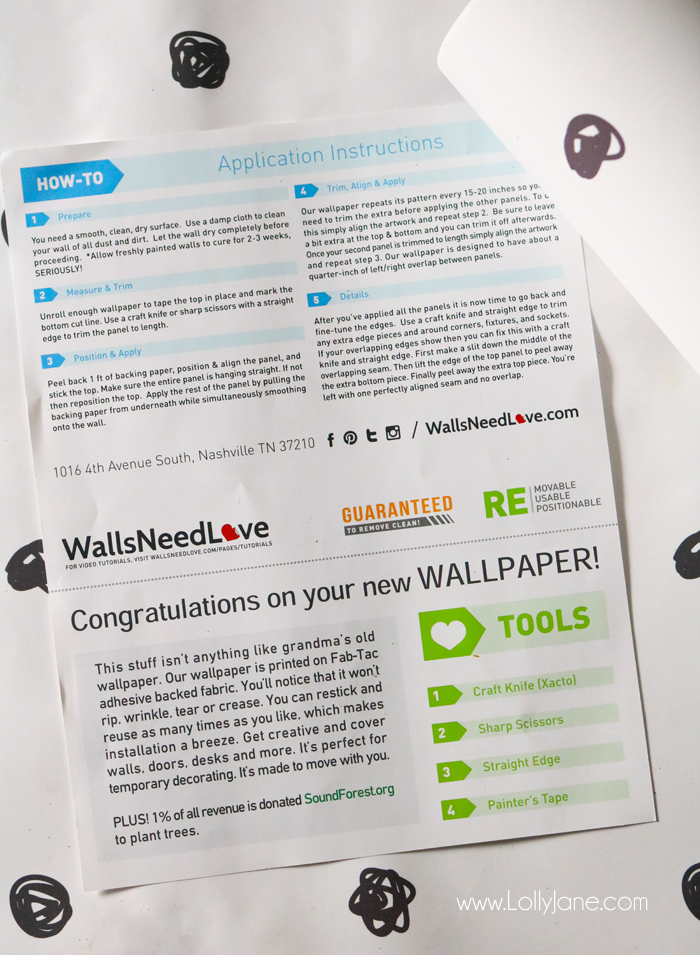 How to Apply Peel and Stick Wallpaper
Since I was tending a fussy 3 month old on the only free day I had last week to hang the wallpaper, my fab blog partner and twin showed up armed with a fresh Diet Coke fountain drink and ready to work! (She is the best, for real!) She got to work and hung the first strip in the center of the wall and worked to the right, then the left. Our number one tip is to have patience! It can be tricky to line the wallpaper up when you start a new panel, be patient! You can remove and tweak as needed, it's strong enough not to tear so line it up and press down firmly when you're lined up correctly.
PREPARE your walls.
Our biggest tip is to let new paint cure for 2-3 weeks. Otherwise, your paint will dry and the seams will dry with it and shrink, creating a gap in your wallpaper. TRUST US, DON'T SKIP THIS STEP! If it's older than 2-3 weeks, wipe your walls down so they're dust free and you're good to go.
MEASURE your panels.
Because the wallpaper is heavy, it's easier to pre-cut then apply. This is optional but makes it easier.
POSITION and APPLY.
Pull the backer paper down about 18″ or so to work with small pieces at first. When your top piece is lined up with the ceiling, smooth it down then keep peeling the back piece off and pull down as you smooth.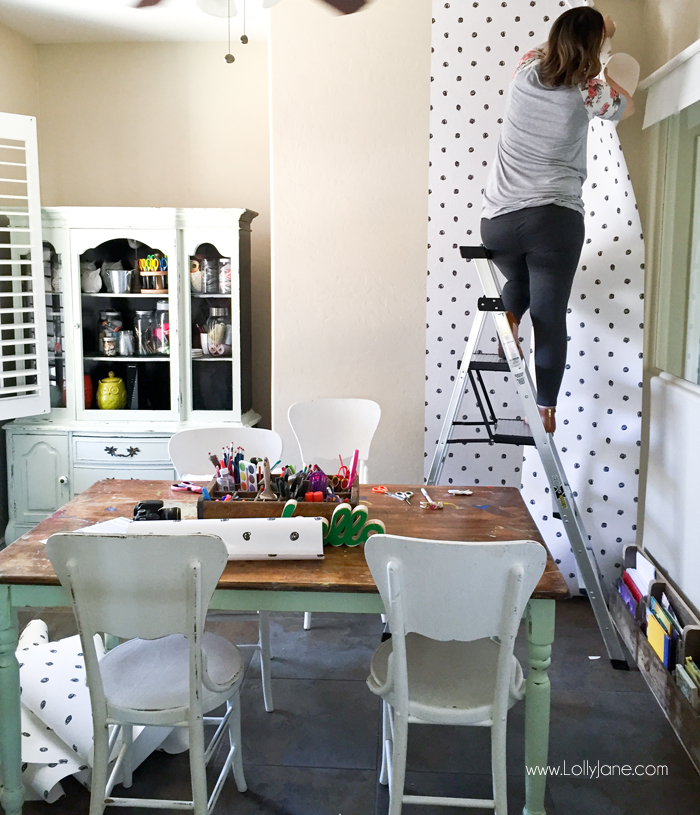 DETAILS: We wallpapered right over the outlet and cable outlet then used an Xacto knife to cut around it. So easy!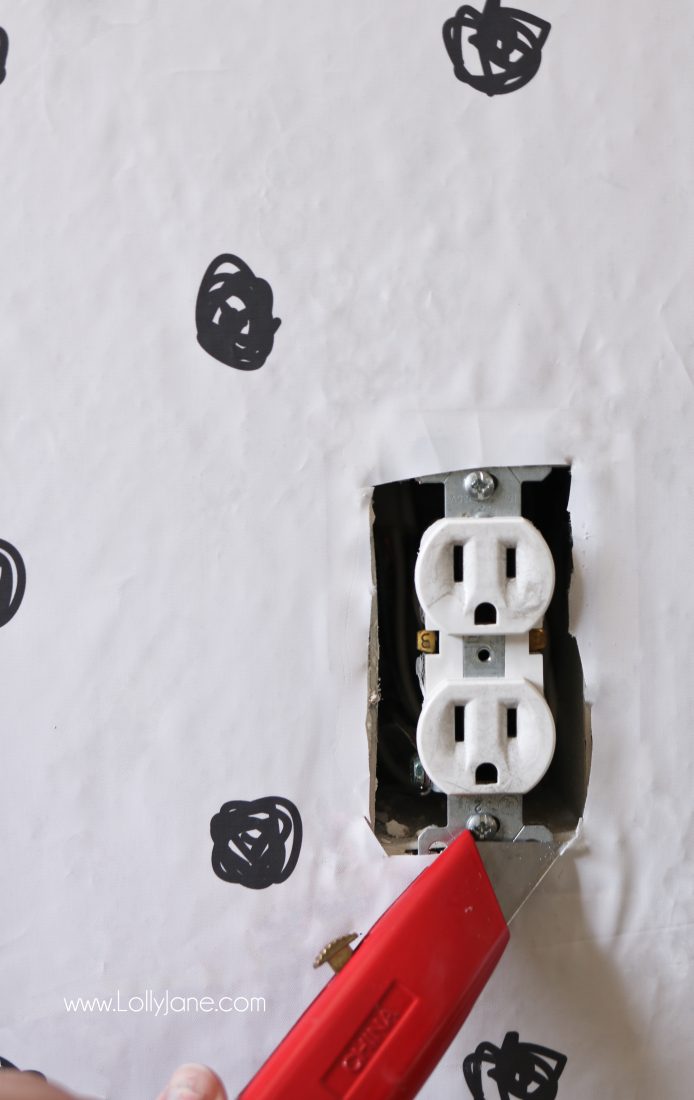 I am impressed with how natural the wallpaper looks against the floorboard; it's all about cutting a straight line. (A new blade is the key!)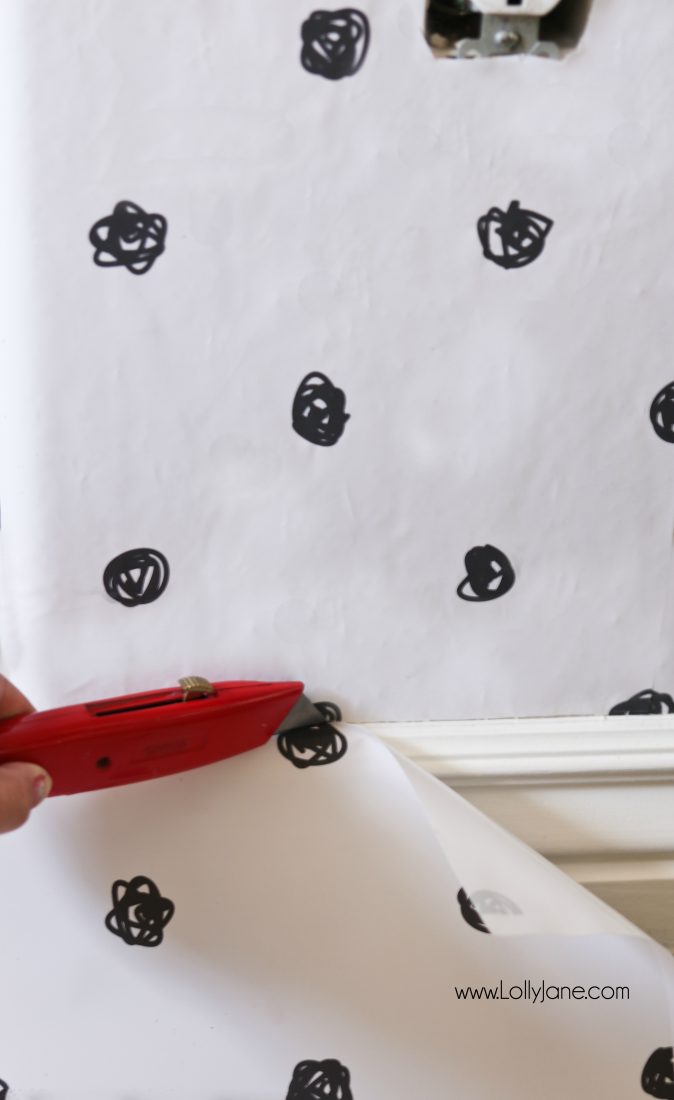 Check Out More Wallpaper Ideas:
We just put the plate covers back on over the stick on wallpaper and admired our work. 😉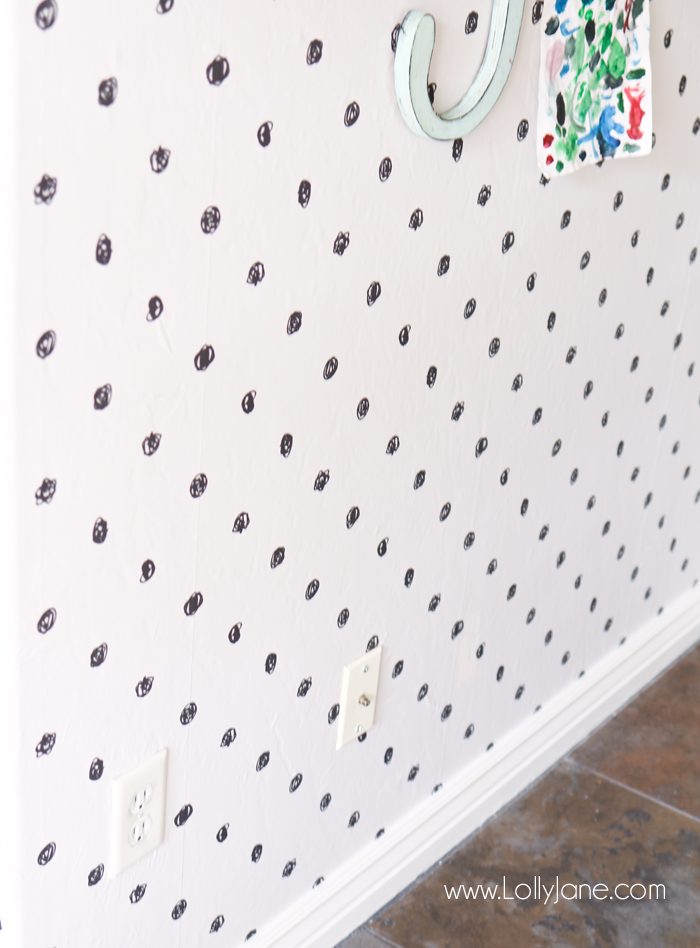 Here's a little peek! The newly painted mint hutch pairs much better with the bright wall than the black and tan… am I right or am I right? lol!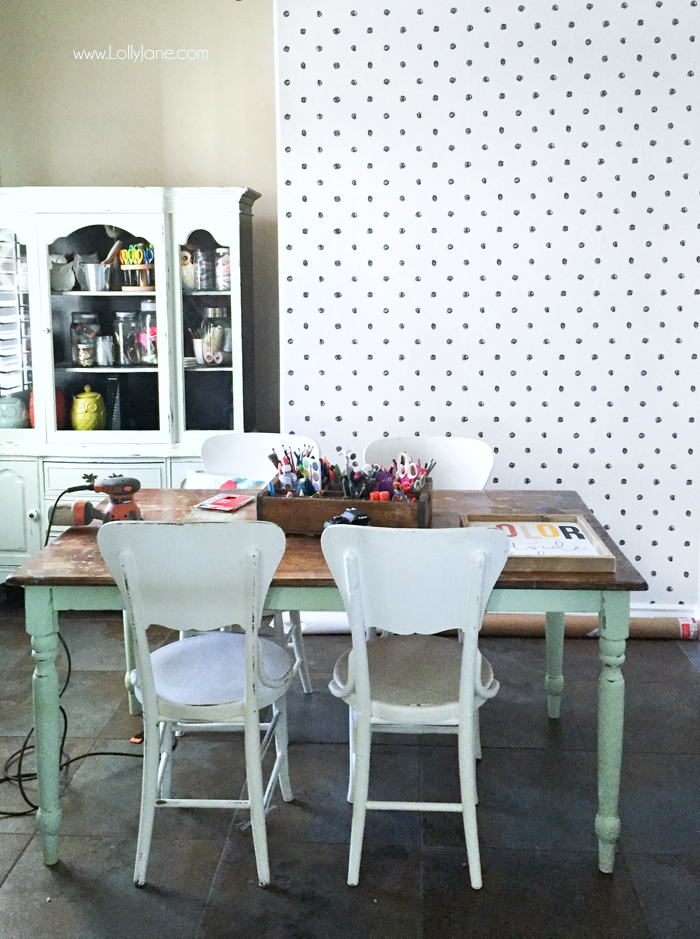 How to Apply Peel and Stick Wallpaper Over a Corner
Wallpapering over the corner was a breeze! I started from the top and just smoothed it out, pulling a bit here and there, until it was nice and tight with little to no air bubbles.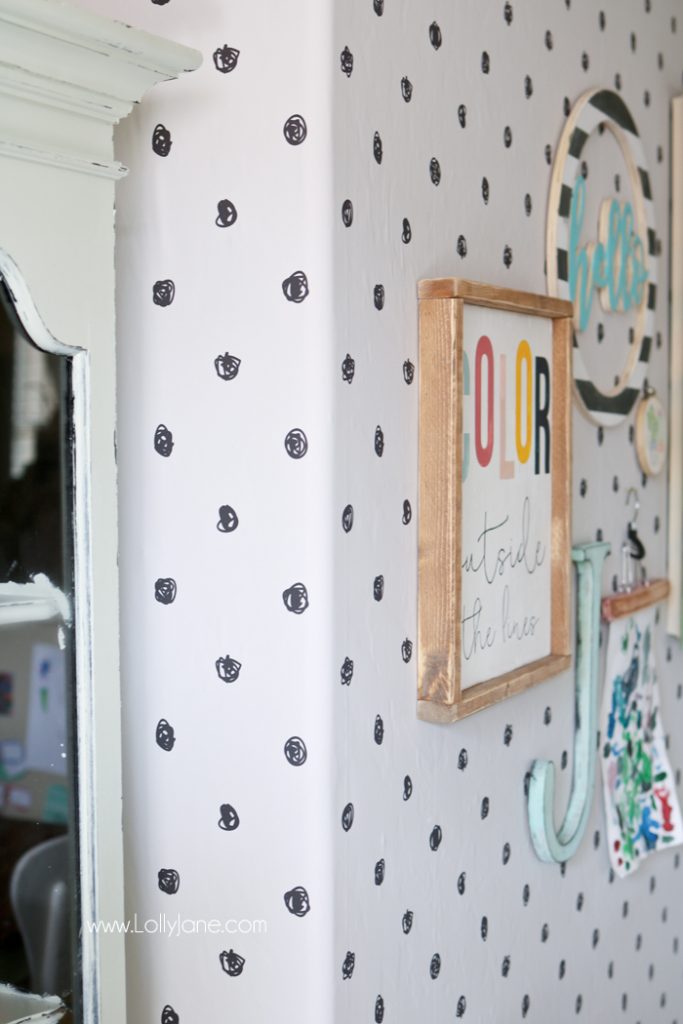 I can't wait to share the entire room reveal soon! Here's what's left on my to do list:
Wallpaper back wall behind hutch
Add rug underneath table
Paint tan walls (suggestions on color now being accepted, haha!)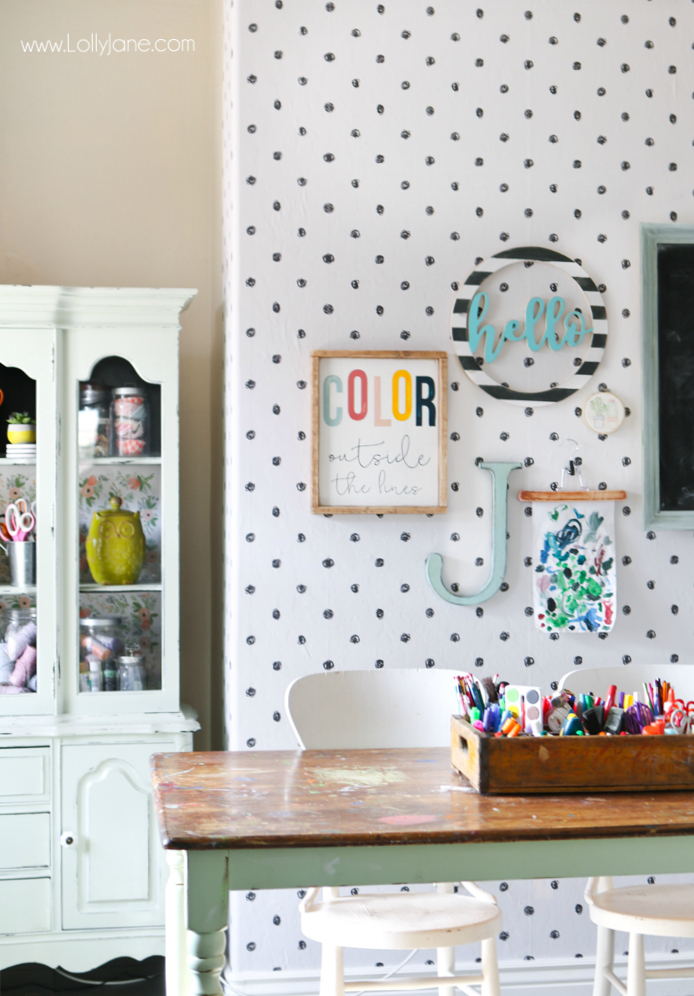 So far it's coming together and I am so happy to have a fun area for my creative littles to draw/color/paint in!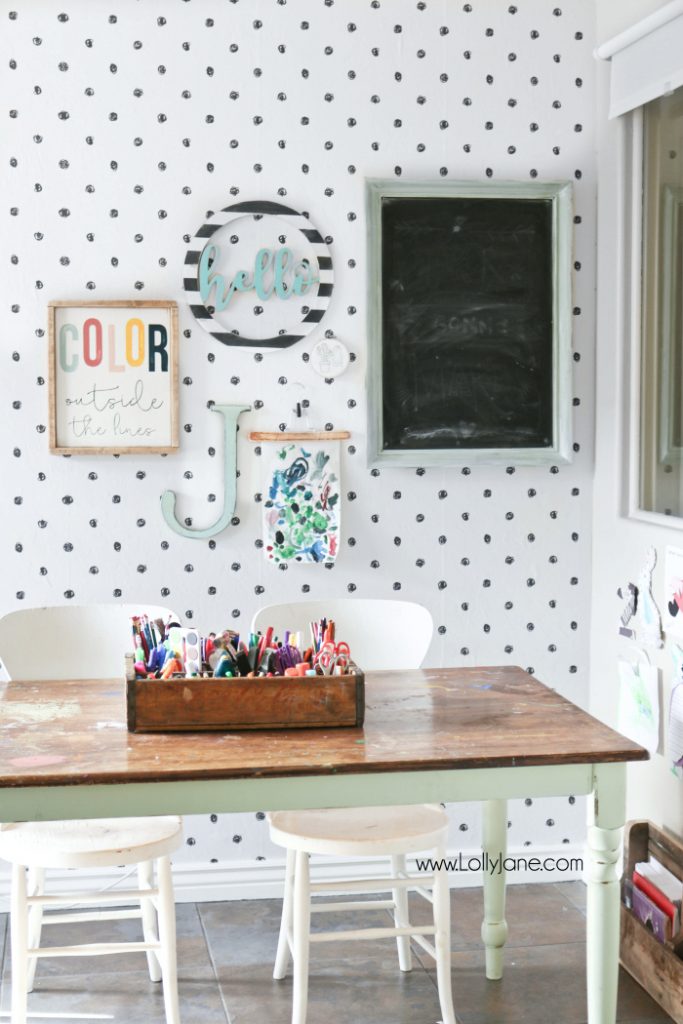 Update on Peel and Stick Wallpaper: Three Years Later
Hi, friends! We wrote this post back in 2016 and it's currently March 2019. We're happy to say that it's held up PERFECTLY. We're not exaggerating when we say the word perfect; no gaps in the seams, it hasn't peeled, none of the corners have moved. We can't say the same for other brands, unfortunately. Walls Need Love states: Peel and stick wallpaper application is just a more modern, better way to apply wallpaper. Tested and improved. We've developed and tested our adhesive backing for over a decade, to ensure that your wallpaper won't separate at the wall edges or corners after just a year or two. We have found that to hold true, way to go, WNL!