Holy cow I still walk by this room several times a day and give it a second glance in awe at the difference… and it's not even finished yet! So we bought this house in the fall with this den/extra room off of the family room and it. was. so. drab! I am all for a neutral pallet but the tan walls with the dark floors had me anxious to brighten this space up! Enter Walls Need Love… appropriately named since my walls DEFINITELY needed some love. 😉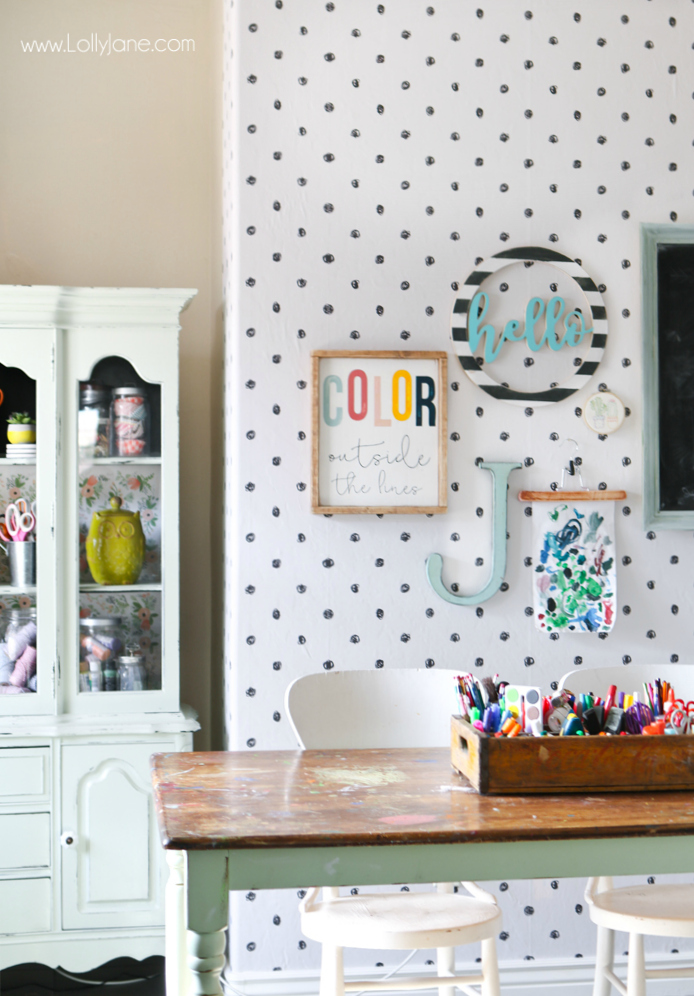 I selected the Scribble Dots pattern, (and it took me several hours to narrow down the design I wanted because the selection is ga-ga-gorgeous!) since it's playful yet still serious enough for a grown up space, too! Want to see the hideous before?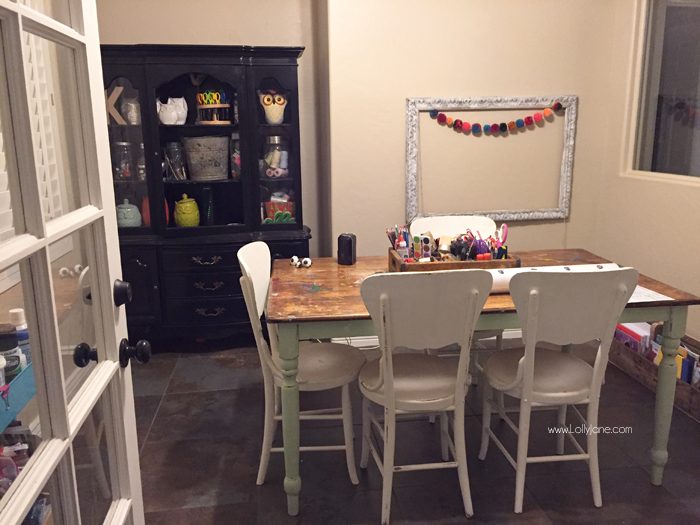 I seriously can't believe the difference the white background on the wallpaper does to brighten up the space! I loved how easy the packaging was and how clear the instructions are. My wallpaper came with a simple How-To sheet: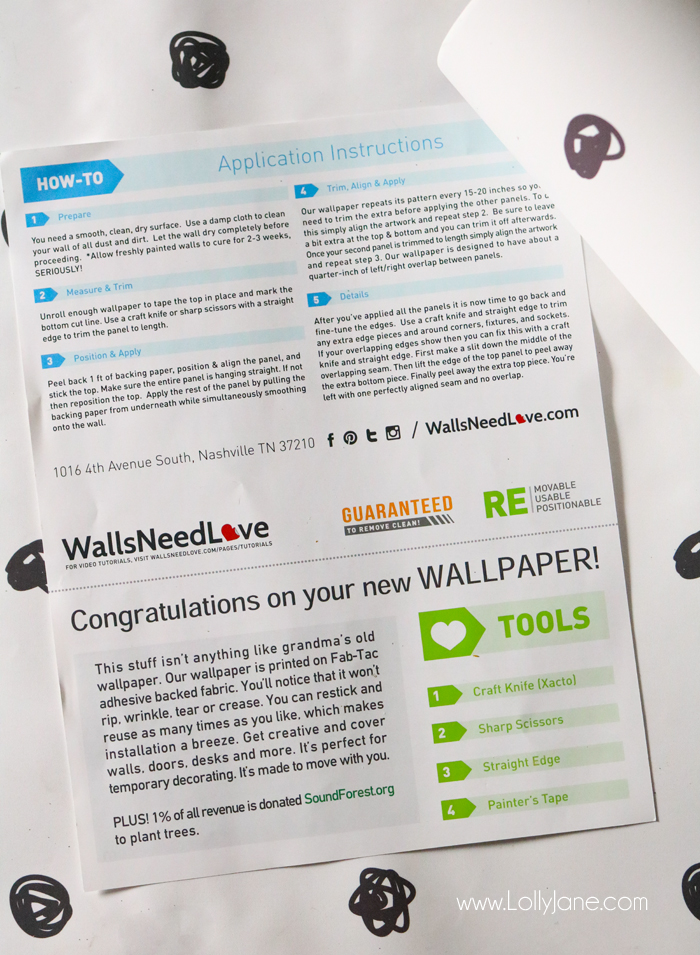 Since I was tending a fussy 3 month old on the only free day I had last week to hang the wallpaper, my fab blog partner and twin showed up armed with a fresh Diet Coke fountain drink and ready to work! (She is the best, for real!) She got to work and hung the first strip in the center of the wall and worked to the right, then the left. Just peel and apply; no fancy steps in between!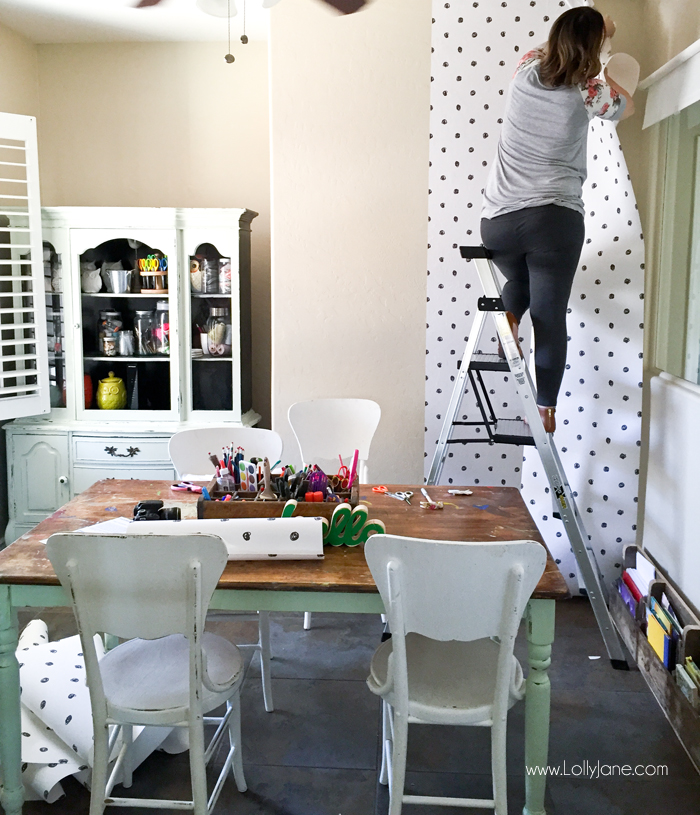 We wallpapered right over the outlet and cable then used an Xacto knife to cut around it. So easy!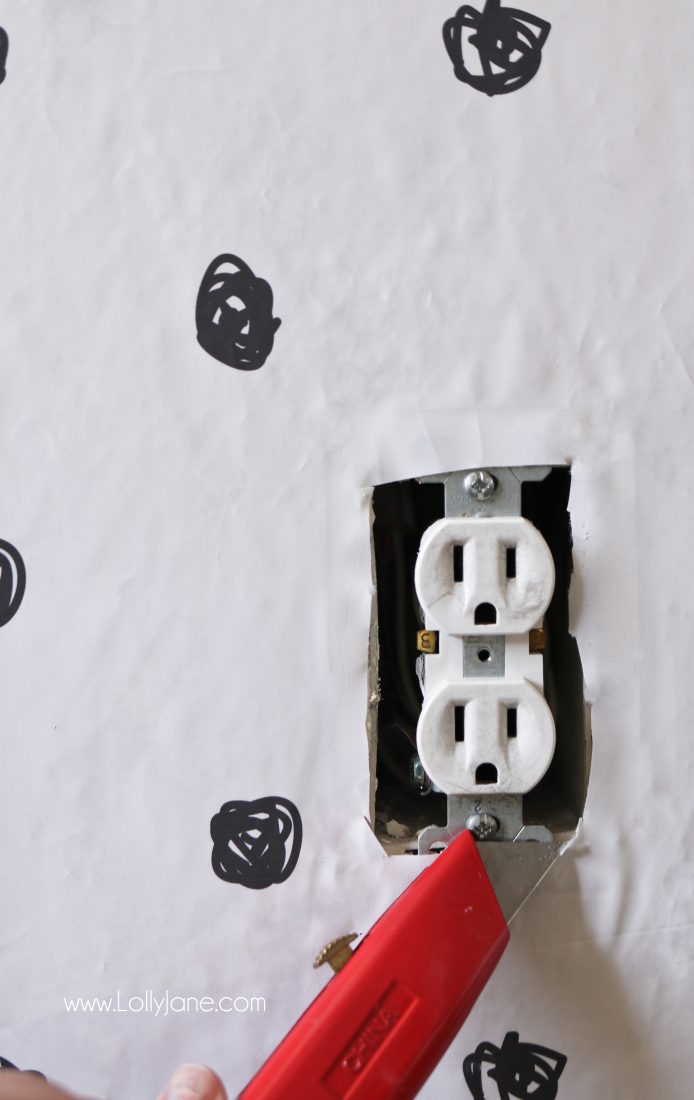 I am impressed with how natural the wallpaper looks against the floorboard; it's all about cutting a straight line. (A new blade is the key!)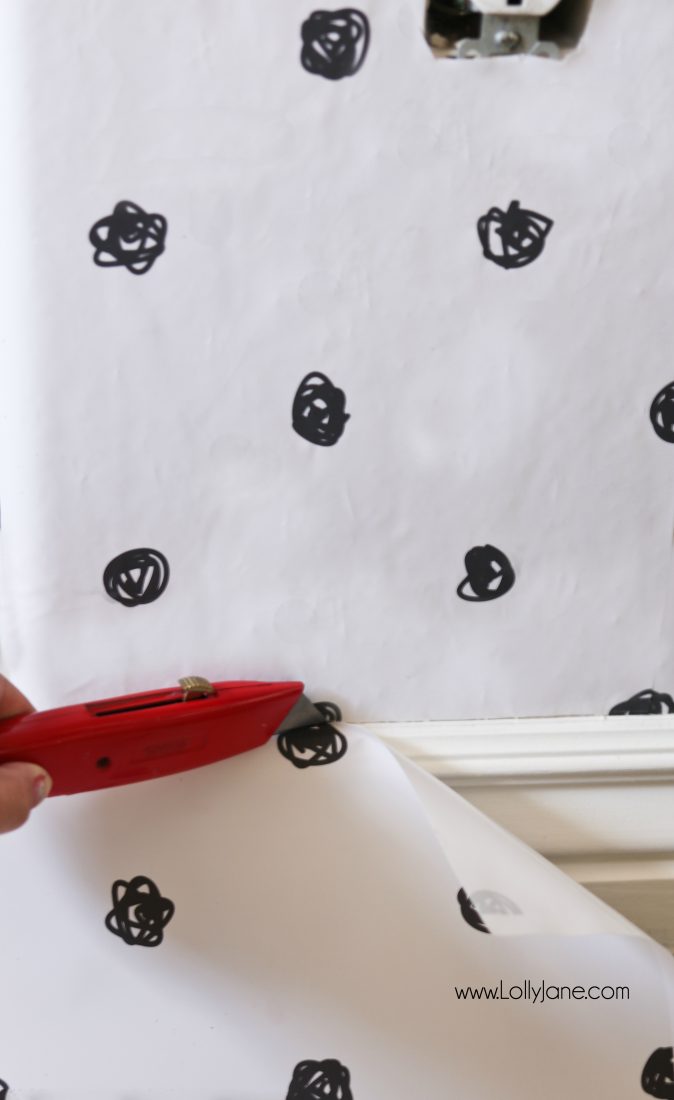 We just put the plate covers back on over the wallpaper and admired our work. 😉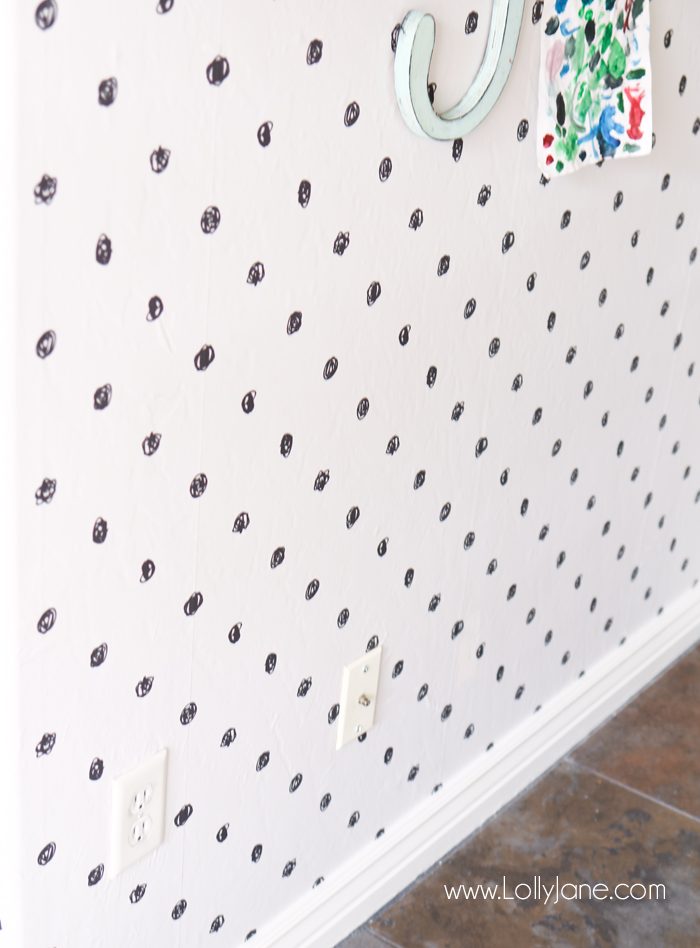 Here's a little peek! (Sorry for the iPhone quality… my sleep deprived mom brain deleted some of the steps off of my DSLR…. insert crying face emoji here!) The newly painted mint hutch pairs much better with the bright wall than the black and tan… am I right or am I right? lol!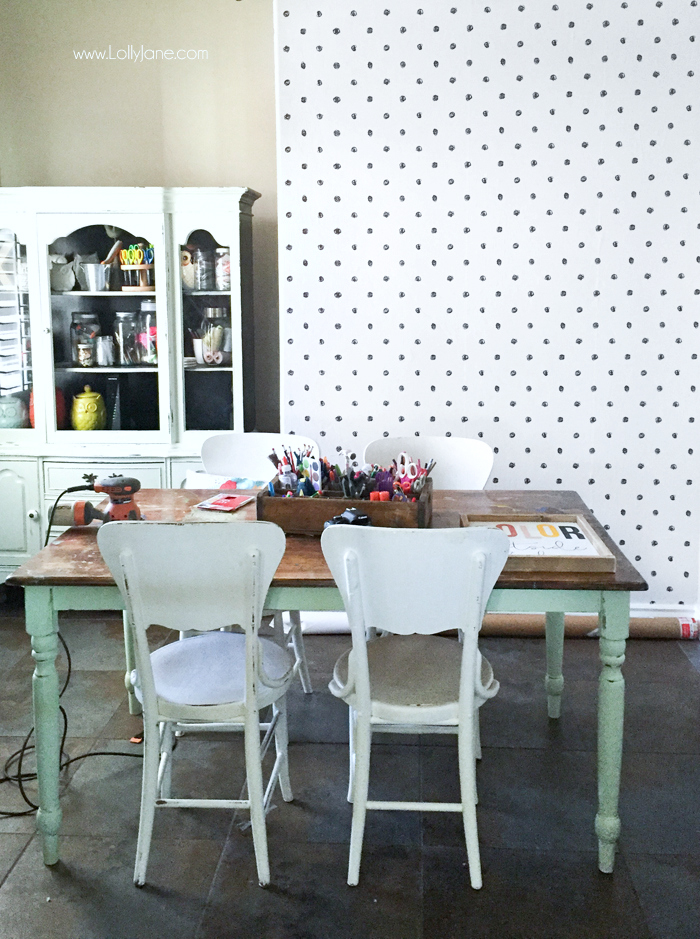 Wallpapering over the corner was a breeze! I started from the top and just smoothed it out, pulling a bit here and there, until it was nice and tight with little to no air bubbles.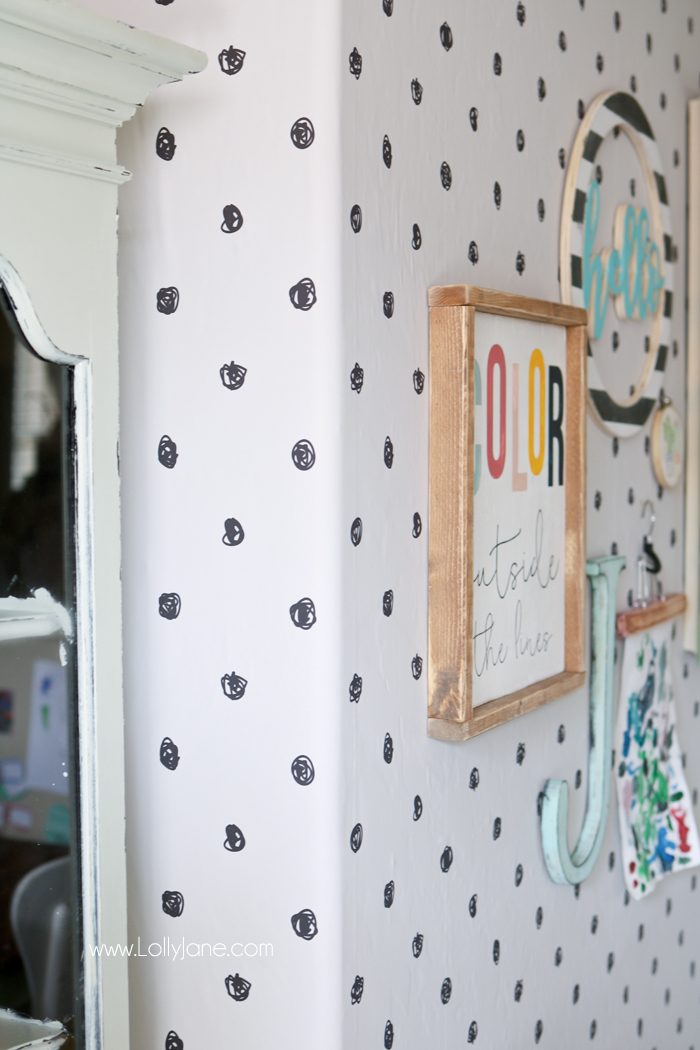 I can't wait to share the entire room reveal soon! Here's what's left on my to do list:
Wallpaper back wall behind hutch
Add rug underneath table
Paint tan walls (suggestions on color now being accepted, haha!)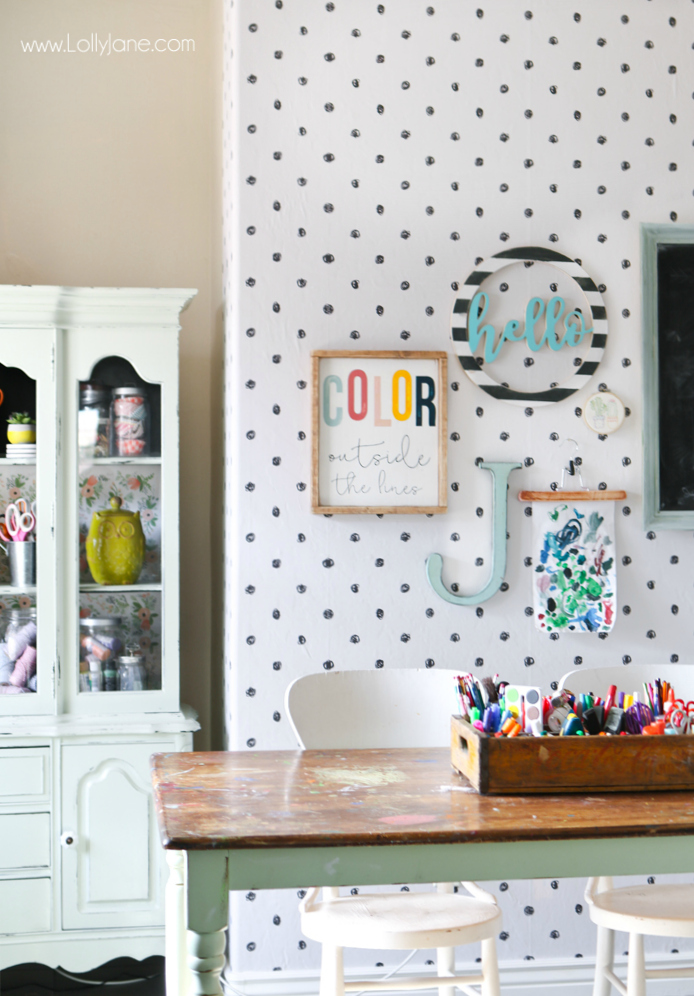 So far it's coming together and I am so happy to have a fun area for my creative littles to draw/color/paint in!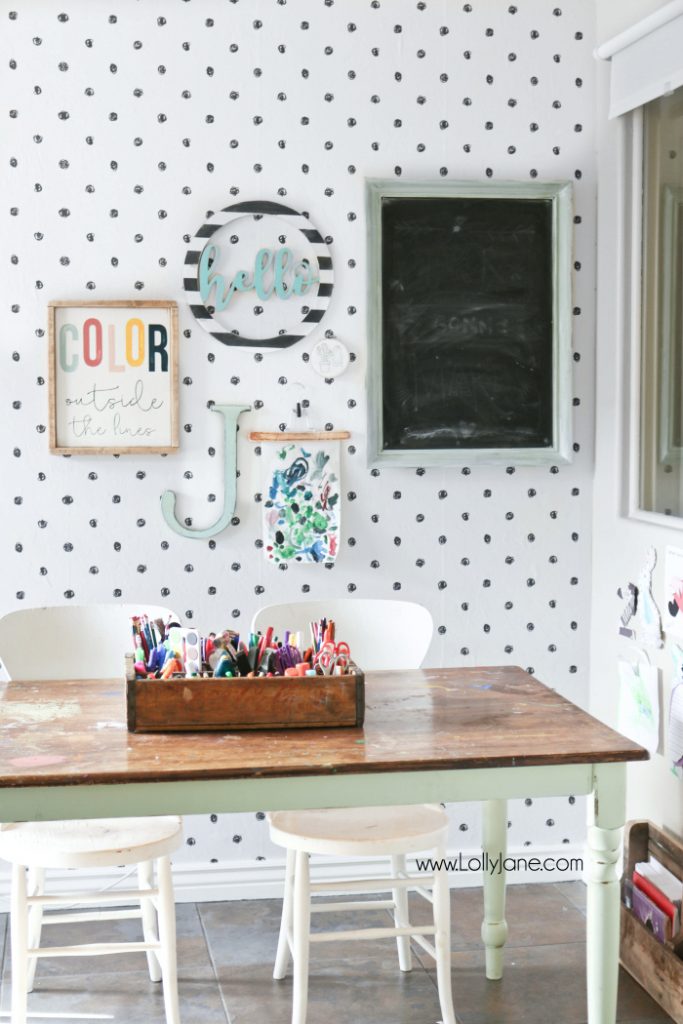 Follow along with Walls Need Love to see all of their gorgeous patterns, textures and NEW home decor line!
Facebook | Instagram | Twitter | Pinterest | Vimeo
FREE EMAIL COURSE
5 Low Cost Tricks to Make Your House Look Like $1 Million
It's Lolly Jane's 5 FAVORITE Tricks to spruce up your space affordably.

Don't miss these!