13 Mirrors Gallery Walls Ideas to Copy
gorgeous mirror gallery wall ideas you'll want to copy! Gather thrifted mirrors then group them together for a stunning wall statement.
I've been wanting a gallery mirror wall for years.
I even thrifted a set of 3 for $75 years ago in a sketchy part of SLC, Utah.
I dragged those mirrors back to Phoenix, so excited to hang them.
They sat in storage for 4 years before I sold the set to a nice lady a few months ago who was creating a Harry Potter wall for her grandkids.
I regret not creating that wall. What a great way to create more light in a room! Argh.
I keep putting off ideas for our upcoming remodel but need to live in the moment. I could have had 4 years of enjoying my imaginary gallery wall full of mirrors but instead, I'll oggle all these ideas we've seen on Instagram…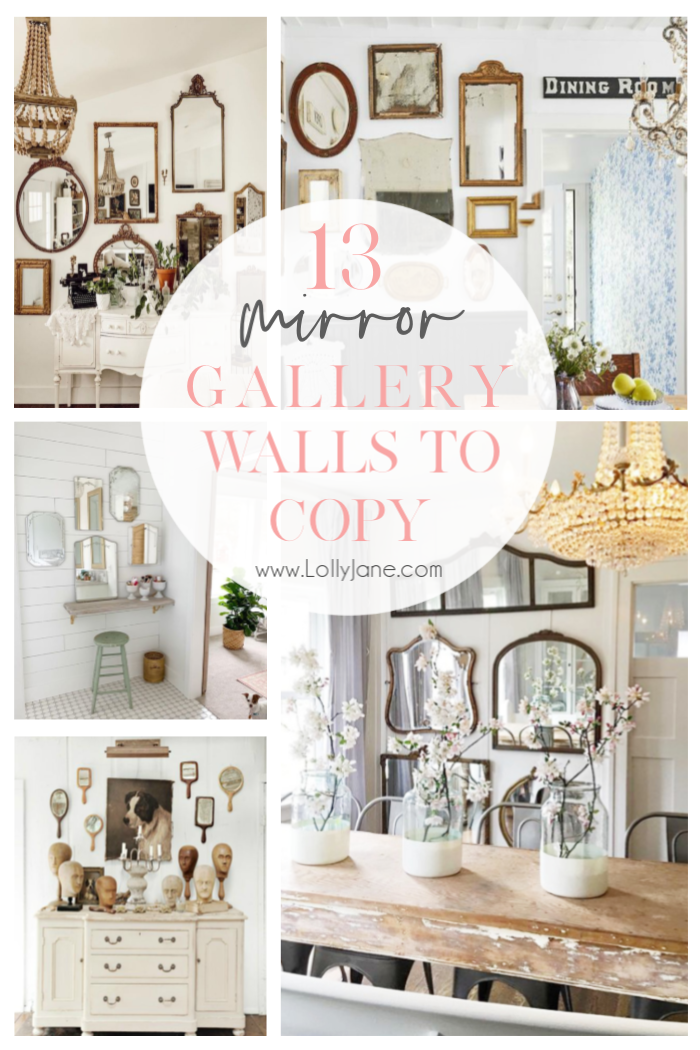 Check out more gallery wall ideas:
gold mirrors for any gallery wall


BEDROOM
Hallstrom Home created this darling bedroom mirror gallery wall for her daughter's space. So pretty!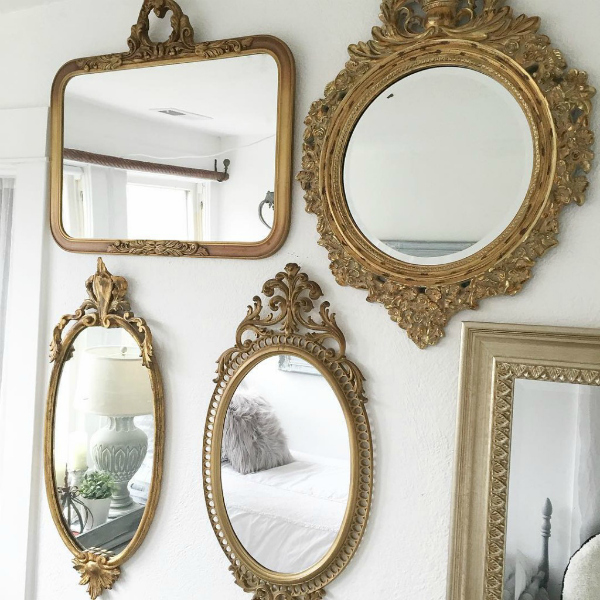 Wondering what to put above your bed? Mulberry Lane added mirrors above a bed for a pretty bedroom mirror gallery wall decor idea!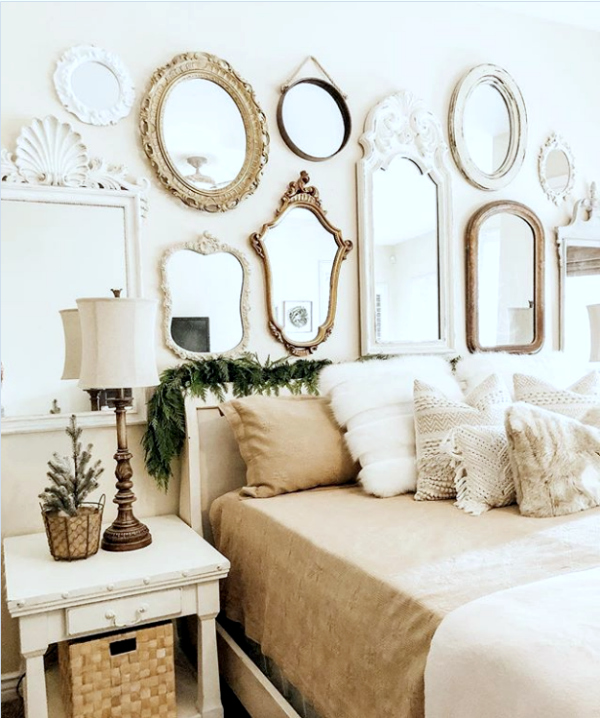 FAMILY ROOM
Check out this mirror gallery wall family room decor from Patina and Pine, so pretty! Add mirrors and frames to fill a large wall.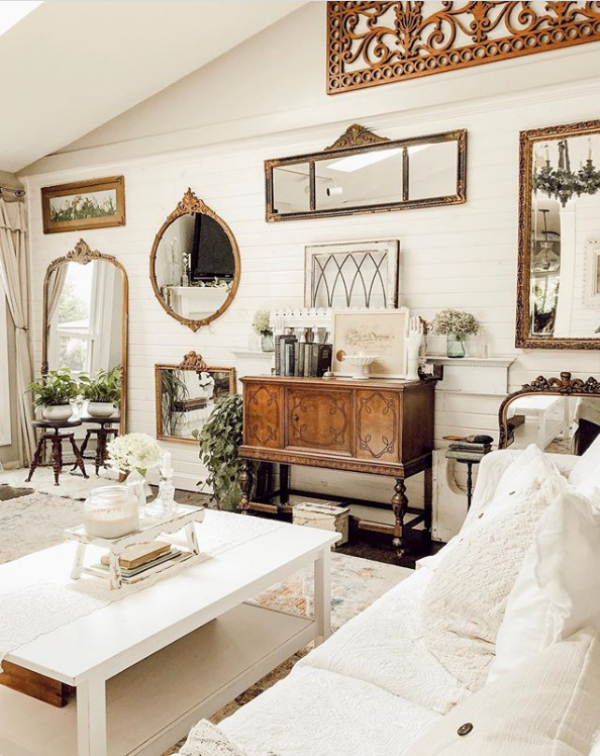 Looking to decorate a large wall in the family room? Gather 5 thrifted mirrors like Vintage Pickin did to create this pretty family room gallery mirror wall behind a couch.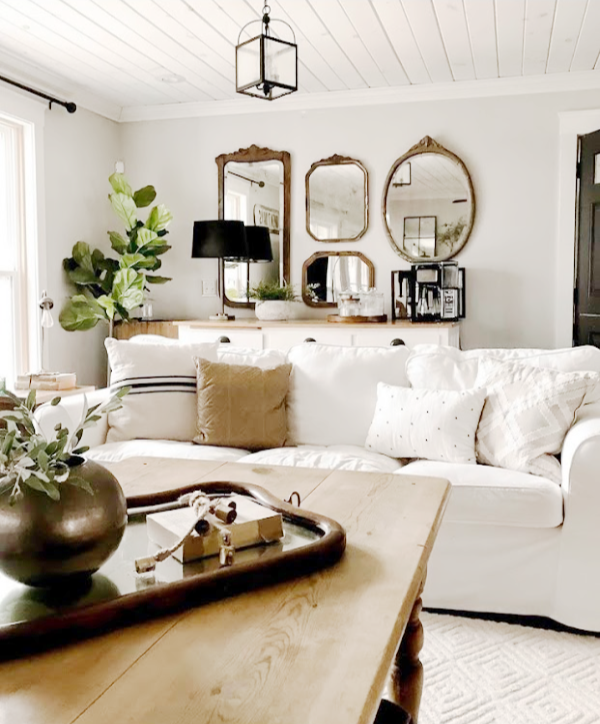 Something Painted White just finished a mirror wall in her family room and it's so pretty with all her white decor!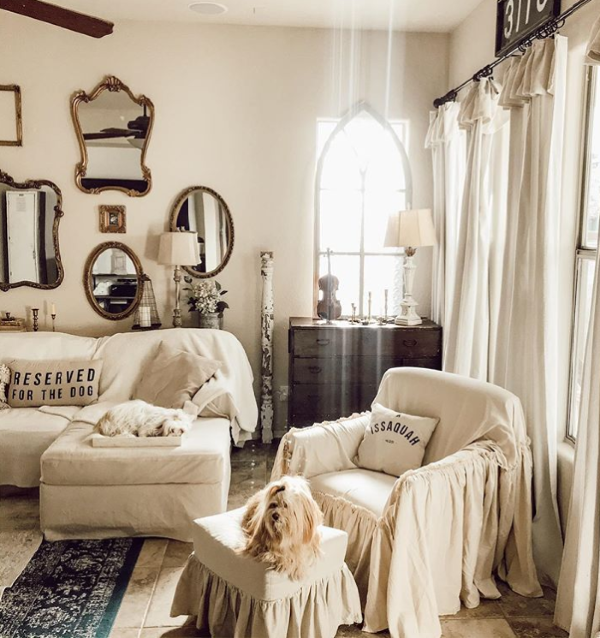 entryway
Would you love a mirror wall in your dining room? Signs of Hope
Rustic Wild Arrow's family room mirror gallery wall with collected gold mirrors is simply stunning! Classic decor with these grouping of mirrors.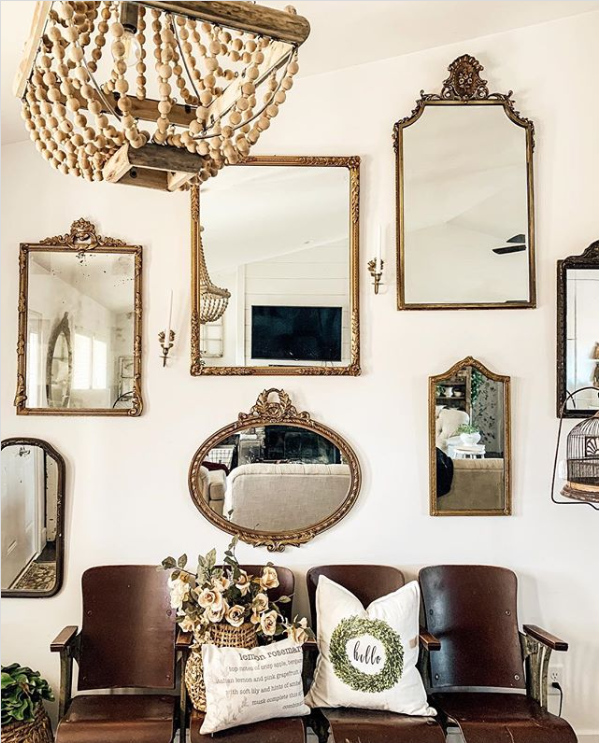 Rustic Wild Arrow changed up the  same space with a white buffet under this mirror gallery wall entryway decor. Same mirrors but an easy way to change up the look. Gorgeous.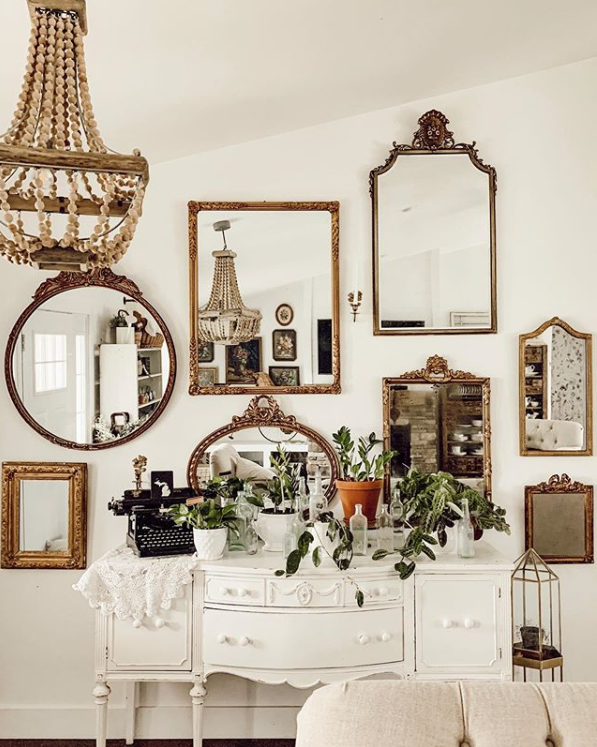 This antique hand mirror gallery wall from Chris Mead and Zoe Hoare is an interesting statement to welcome guests into your home. Love these antique hand mirrors hanging above a dresser!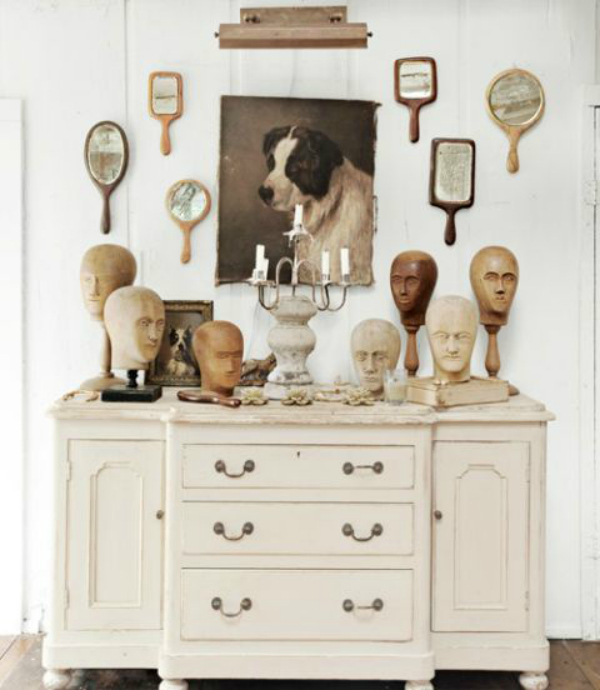 DINING ROOM
We're loving how Holly Williams made her dining room feel bigger by grouping antique mirrors together to create this gorgeous dining room mirror gallery wall.
Have you wanted to learn how to create a gallery wall with mirrors but don't want to spend too much money? We're loving this gorgeous mirror gallery wall from thrifted frames that Bless'er House created. Stunning!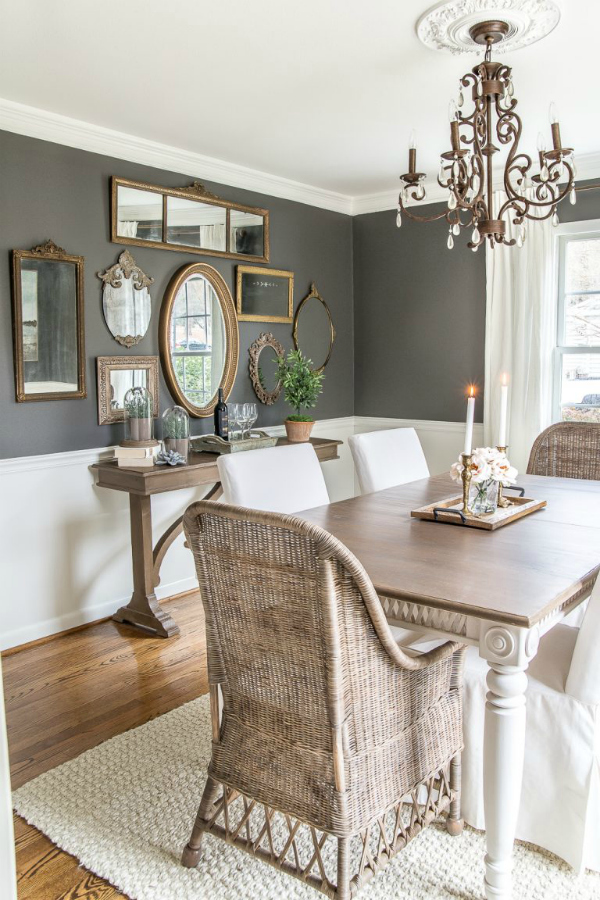 dining room mirror gallery wall from Kindred Vintage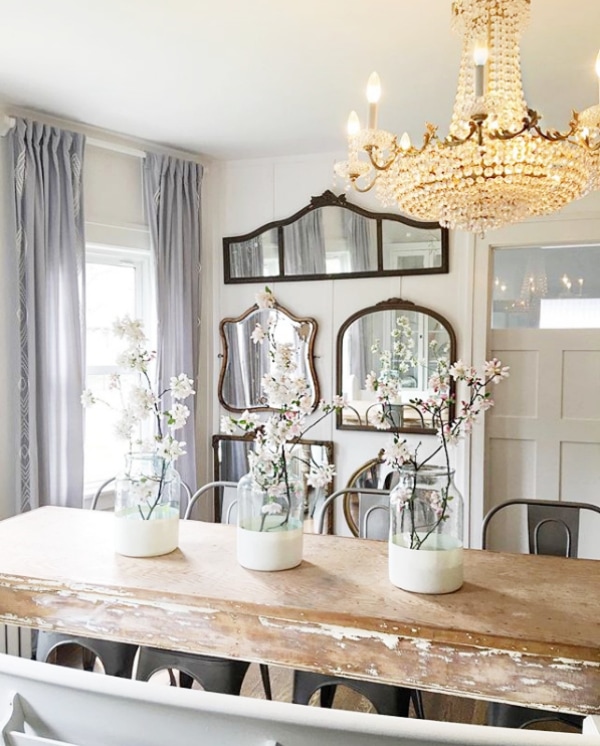 BATHROOM
And lastly…the bathroom is the perfect spot for a frameless mirror gallery wall! Dying over Whimsical Treasure Decor's multiple mirrors in her bathroom above the sink instead of just one. Isn't it so darling?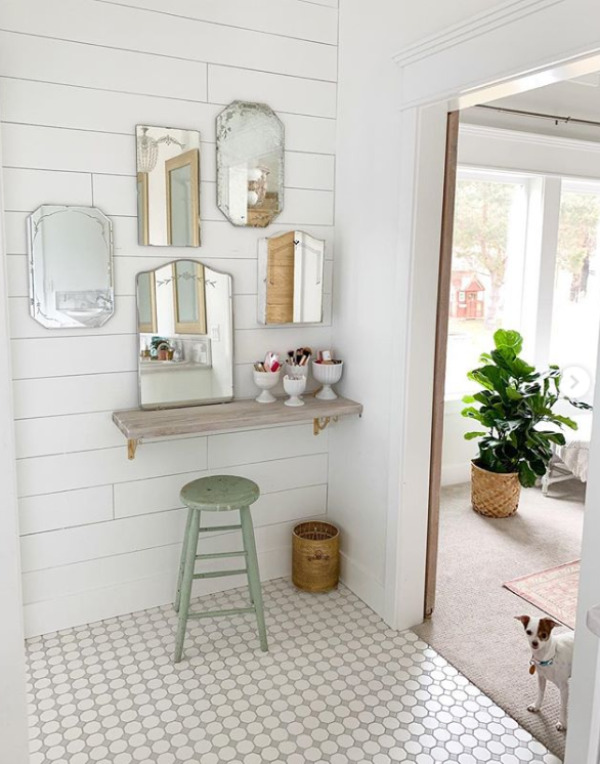 please pin
So you friends can make their own wall, too!