painted triangle accent wall tutorial
This post is in partnership with BEHR® , all opinions are our very own.
Create a bold focal wall in no time at all with quality paint and just a few supplies! this easy Painted Triangle Accent Wall turned a boring nursery into a work of art… just look at how quick it was to do!
We are over the moon to be on Behr's Color Clinic team of designers. We had so much fun creating this painted triangle accent wall tutorial!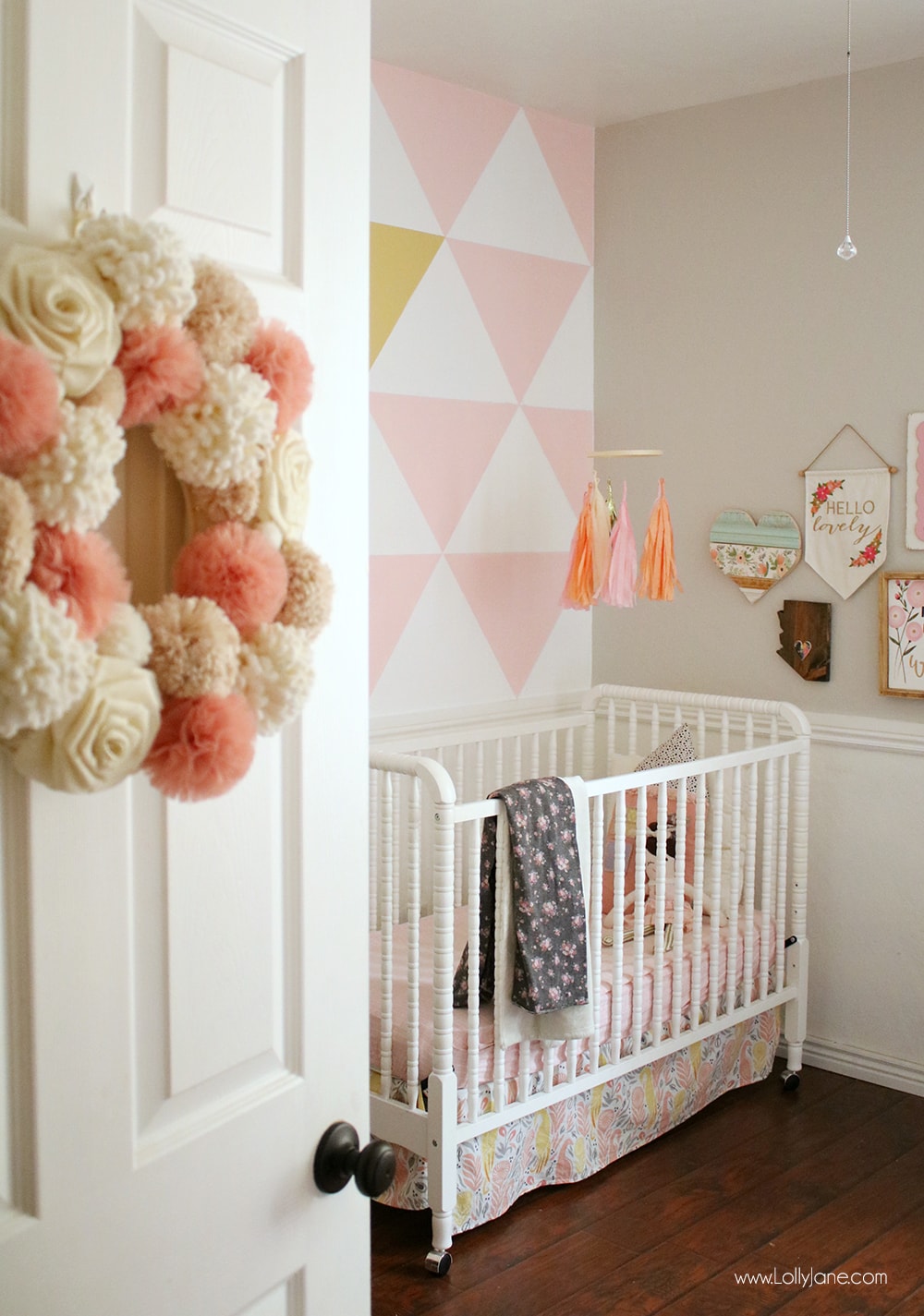 Our custom paint palette was filled with some of our favorite hues: pinks and mustard gold and a little gray, of course.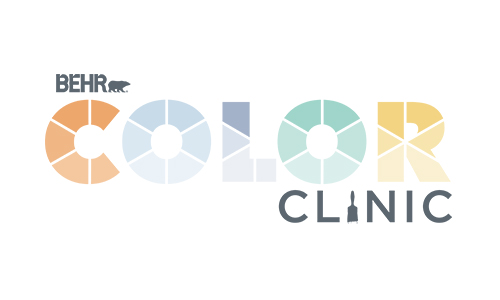 Start painting with our custom colors now, such fun colors for any room in the home!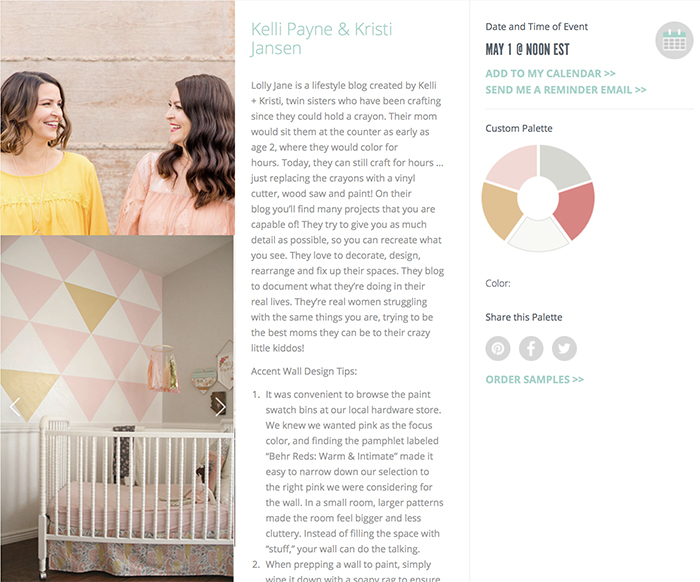 When decorating a nursery or children's room, we try to be conscious of the future.
Babies grow so darn fast and their rooms need to reflect the stages they're in. Baby Annika is now a gibbering toddler and the little stinker started peeling her vinyl dots from her wall after nap time! When we were considering colors for her accent wall, we loved the idea of keeping pink in her room, especially since she has two older brothers so this is the only girly space in the house! We spotted this gorgeous triangle accent nursery wall, created with wall decals, and knew we could recreate the look with paint! Gold is still trending so the pops of the deep mustard are one of our favorite parts of the wall.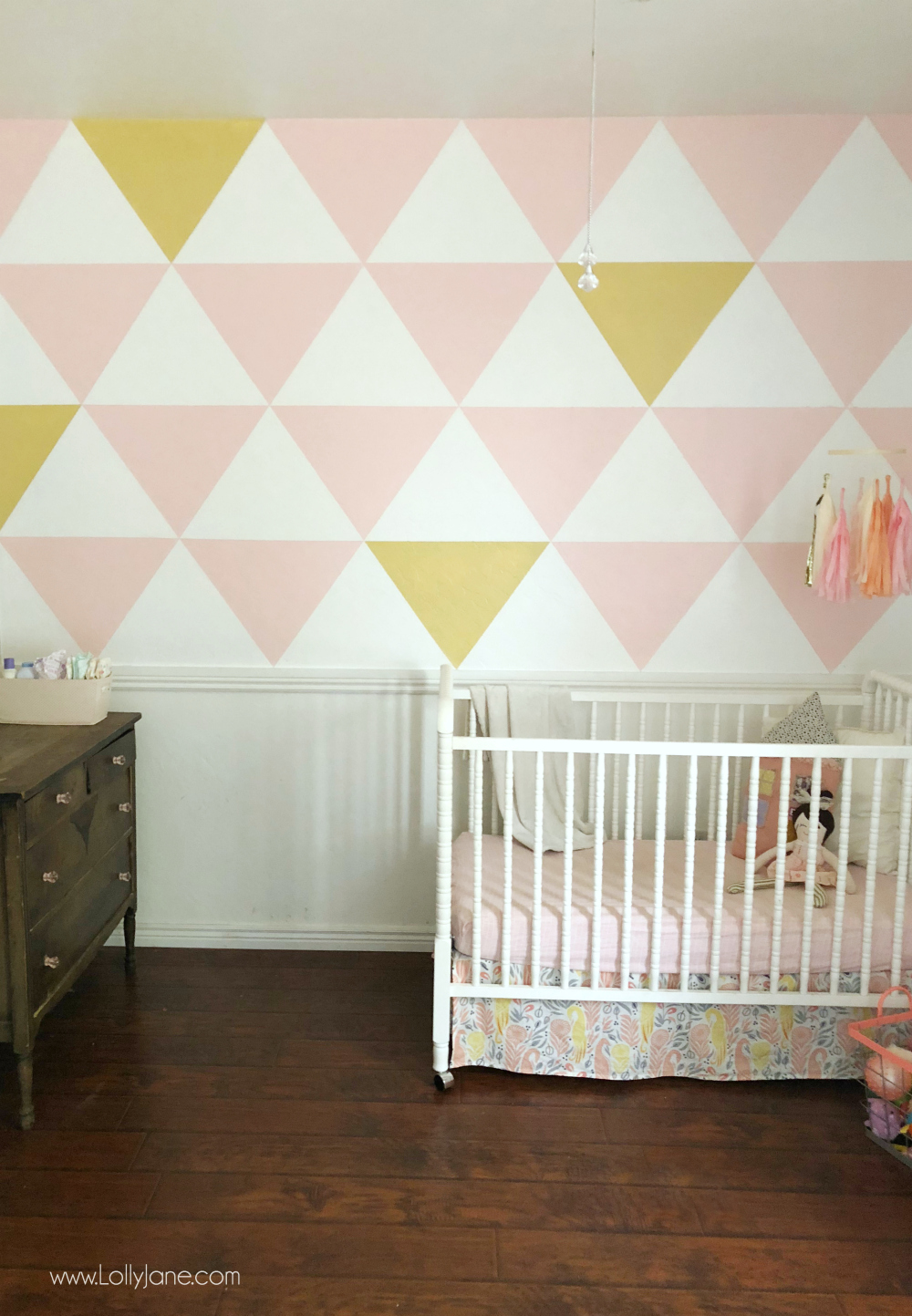 Five colors for our BEHR Essentials palette
We ended up narrowing down our color palette to five which was pretty good consider Behr has 1,000's of colors to choose from, literally.
Cupcake Pink
Mortar
Gold Hearted
Ultra Pure White® (plus 2 oz pigments of white)
Sugar Poppy
Cupcake pink is coincidentally the same color as Kelli's front doors, totally unplanned when Kristi was choosing pinks! We must be twins 😉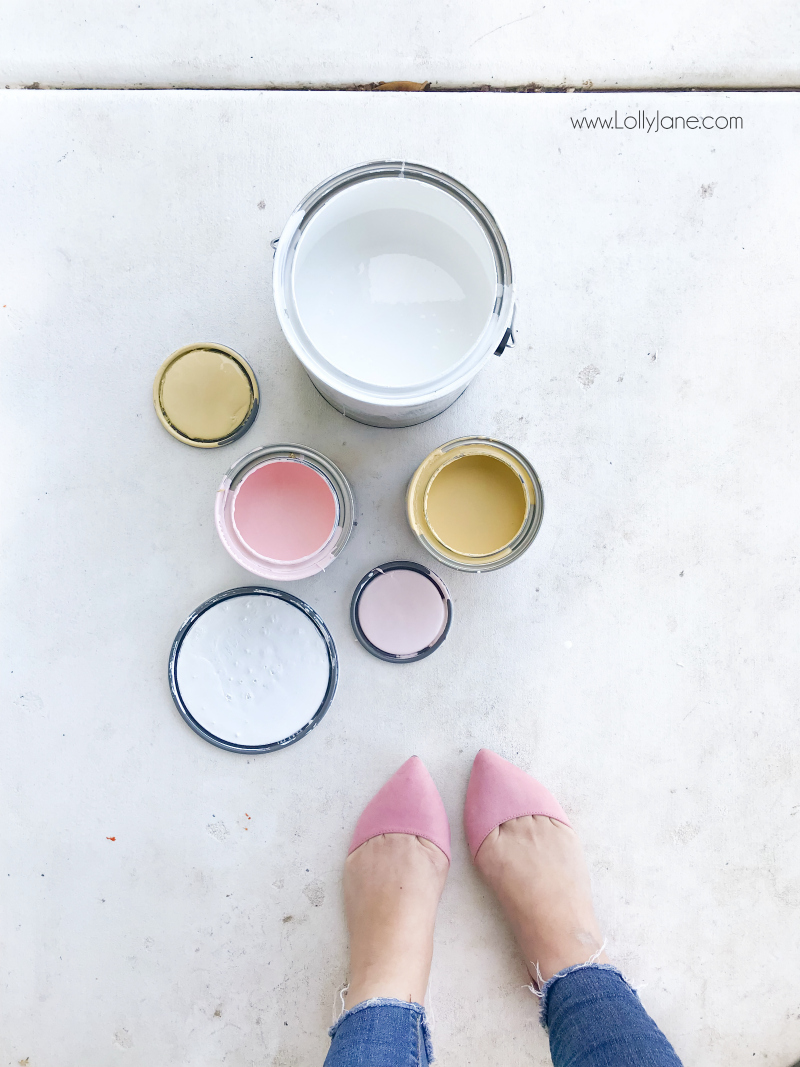 Four design tips for your challenge:
Trust the experts. It was convenient to browse the paint swatch bins at our local hardware store and Behr's color pamphlets make it easy to pair the right hues together. We knew we wanted pink as the focus color and finding the pamphlet labeled "Behr Reds: Warm & Intimate" made it easy to narrow down our selection to the right pink we were considering for the wall.
In a small room, larger patterns made the room feel bigger and less cluttery. Instead of filling the space with "stuff", your wall can do the talking.
When prepping a wall to paint, simply wipe it down with a soapy rag to ensure you're not painting over grime or fingerprints. Quality paint is key for any room, especially a child's room. We love the high gloss sheen versus satin, personally, it acts as a repellent to dirt and wipes down without removing any of the color.
We really wanted a fun accent wall that could be duplicated in any room in the home. We decided on a baby-nursery-turned-big-girl-room as our final choice. When accenting a wall, choosing more than 2 colors can end up looking too colorful and juvenile. By choosing colors that play off each other, you're complimenting them instead of having them compete.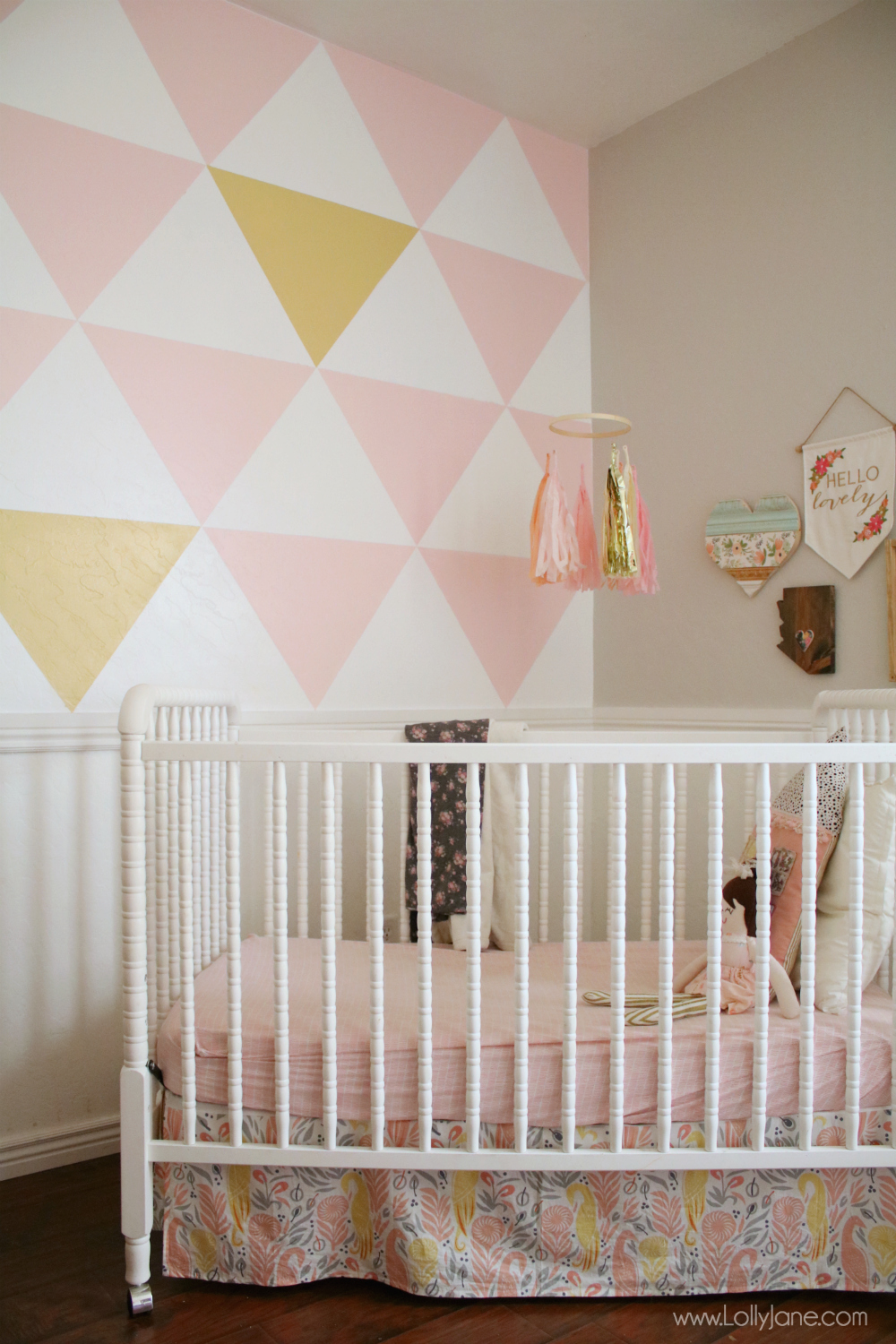 The how-to for this Painted Triangle Accent Wall is SUPER easy!
After a little math and painters tape, we were able to complete it (including paint shopping!) in just under 6 hours. Phew! We followed this easy tutorial by Between Carpools for measurements… math is NOT our forte and we don't want to lead you astray so just follow her instructions when it comes to numbers, mmmkay. 😉 Haha
Our only tip is to have patience! Okay and to paint one color at a time before you move onto the next color so you don't have a handful of wet paint brushes. It's a really quick project and by nap time, my daughter was able to sleep in her room after a busy morning of painting! Love the coverage Behr has, I can't say that enough! A good quality paint is key. 😉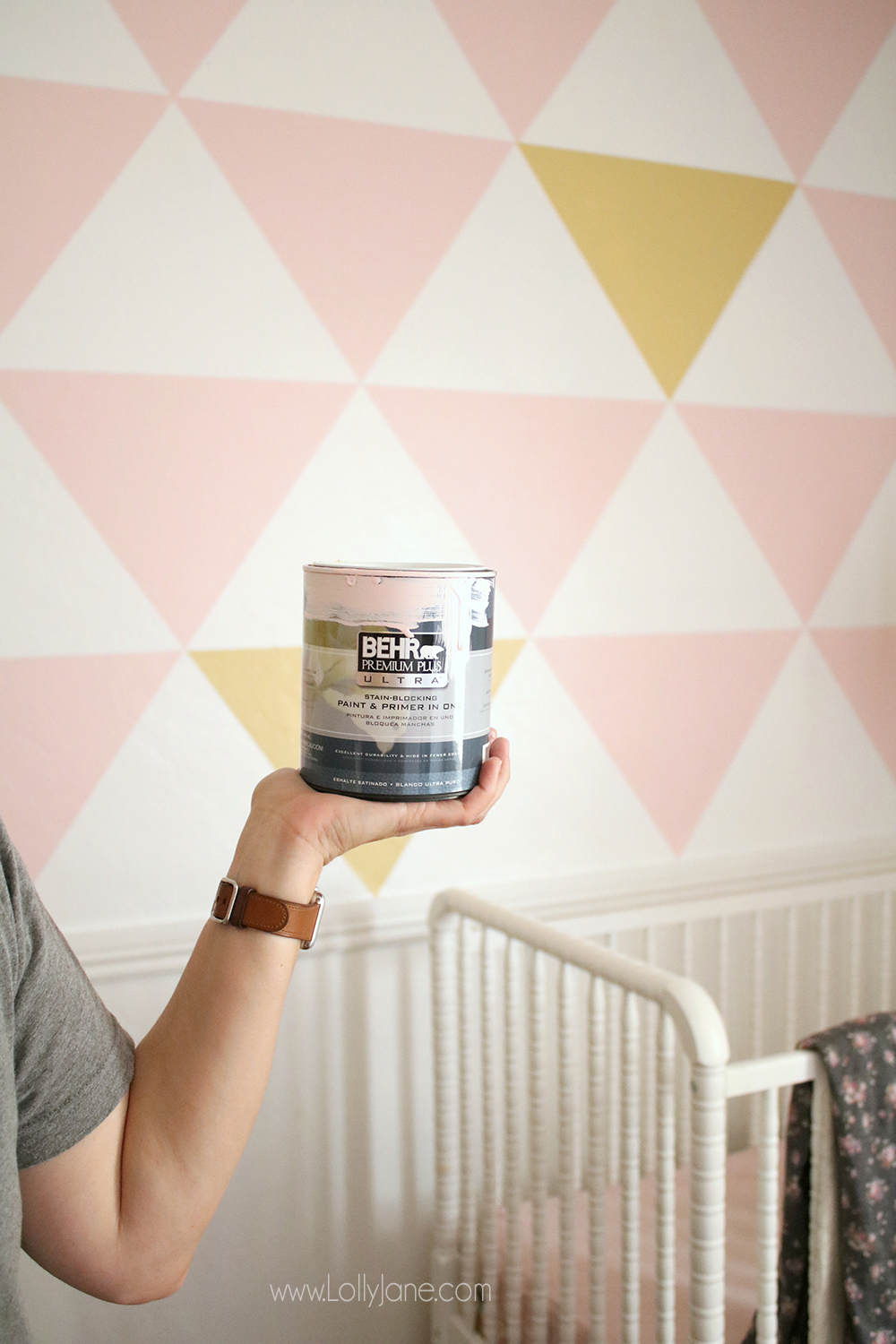 PLEASE PIN so your friend's can paint an easy accent wall too!

Visit more of our painted accent walls like our gray and white striped wall: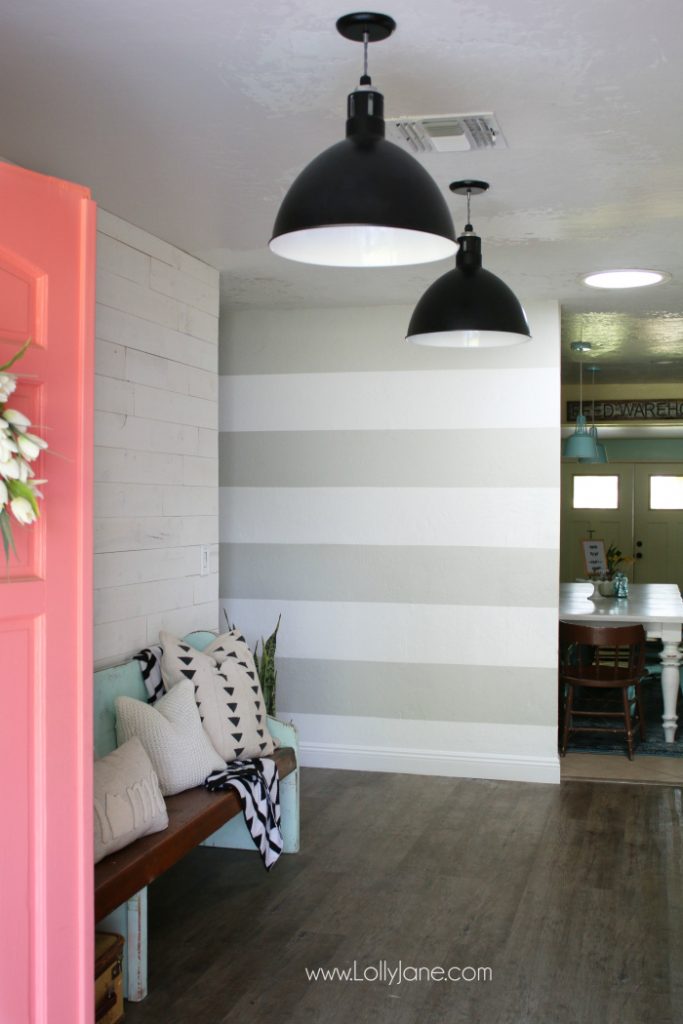 our herringbone bookcase wall,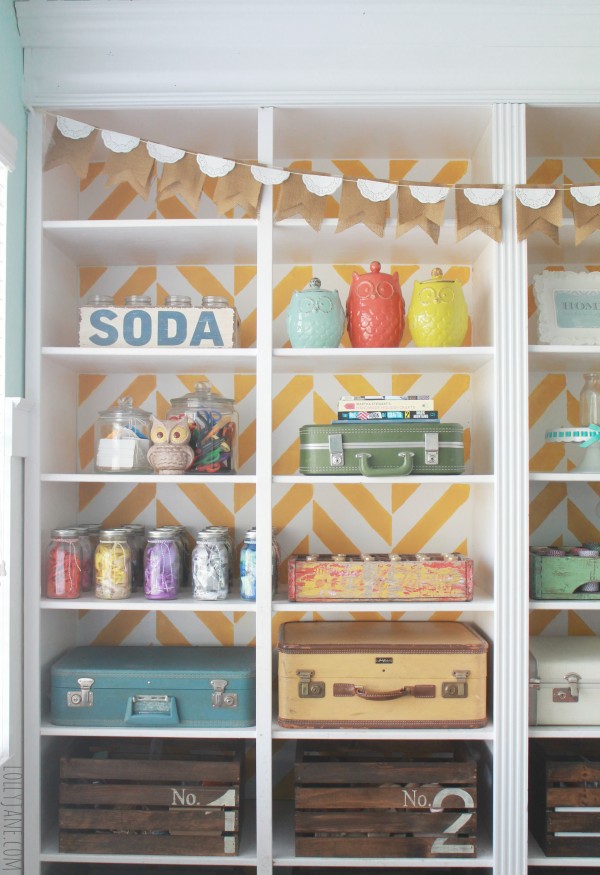 and our painted ombre wall!