how to style a small entryway
This post is sponsored by The Home Depot in partnership with Feit Electric. As always, opinions are our very own – on how to style a small entryway.
I'm slooooowly crossing off spaces in my house to decorate (after living here for almost 2 years!) and my latest area tackled is the entryway. I came across this Vintage Nickle Shade Pendant at Home Depot and knew it was "the one" to replace the current outdated light fixture. Well, after the light was installed, the white door looked outdated so I rummaged through my current paint stash and found the prettiest hue of pink. I mixed it with white chalk paint to lighten it up then gave my front door a quick makeover, shopped my house, and now my small entryway is styled and chic! Viola!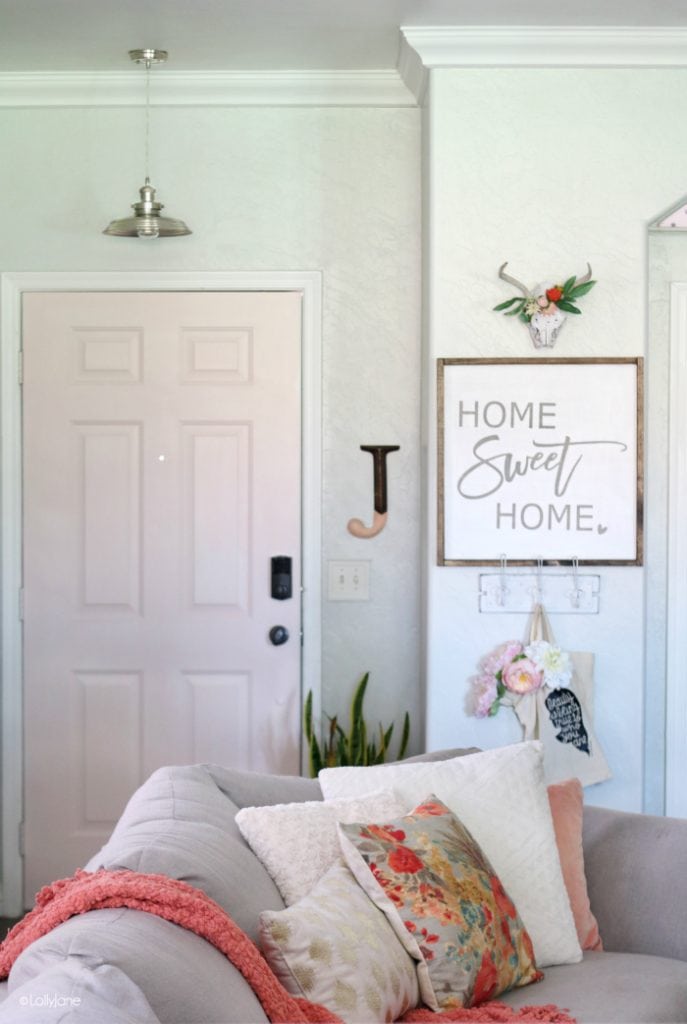 Take a look at the before, a tad on boring and bland side.
How To Style A Small Entryway – The Light Fixture
The first order of business was to update the light fixture and this Vintage Brushed Nickle Pendant is not only pretty but the long cord offers height. In my small entryway, anything I can do to make it seem larger is a plus!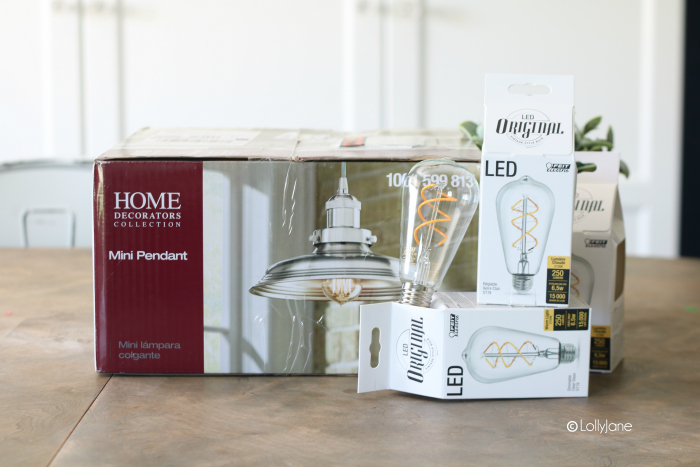 Let's just talk about this mini pendant for a minute, and those vintage Feit bulbs… what a pair! I love the look of old things in a home but really don't love older things as much… the vintage feel is just perfect for my home and both of these nail it.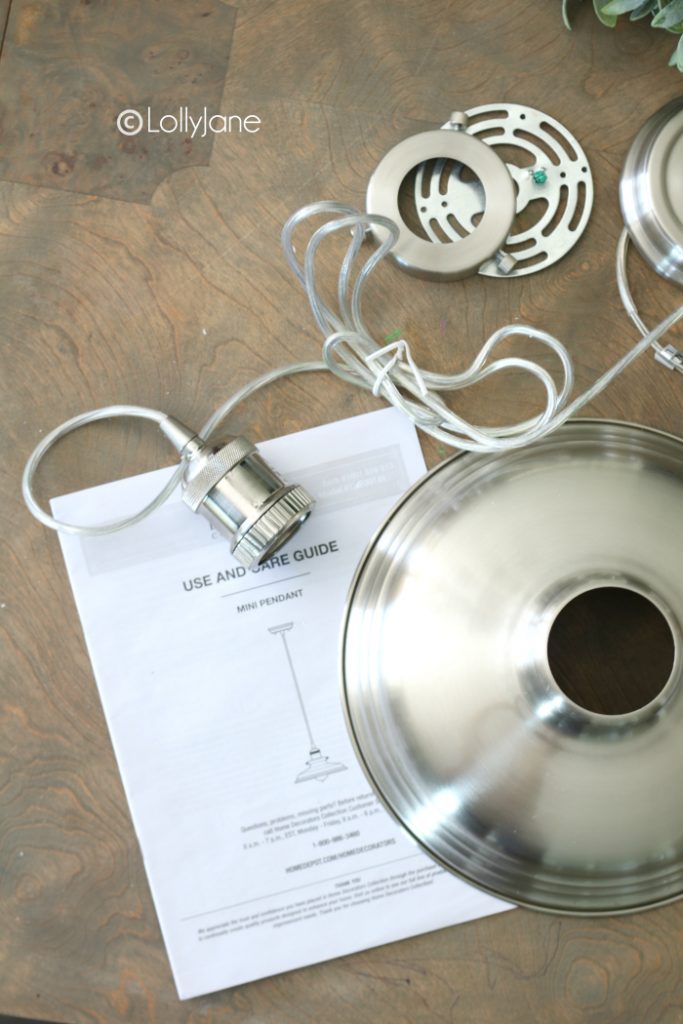 The pendant was super easy to install as it came labeled and took a few minutes to swap out. What a difference, right?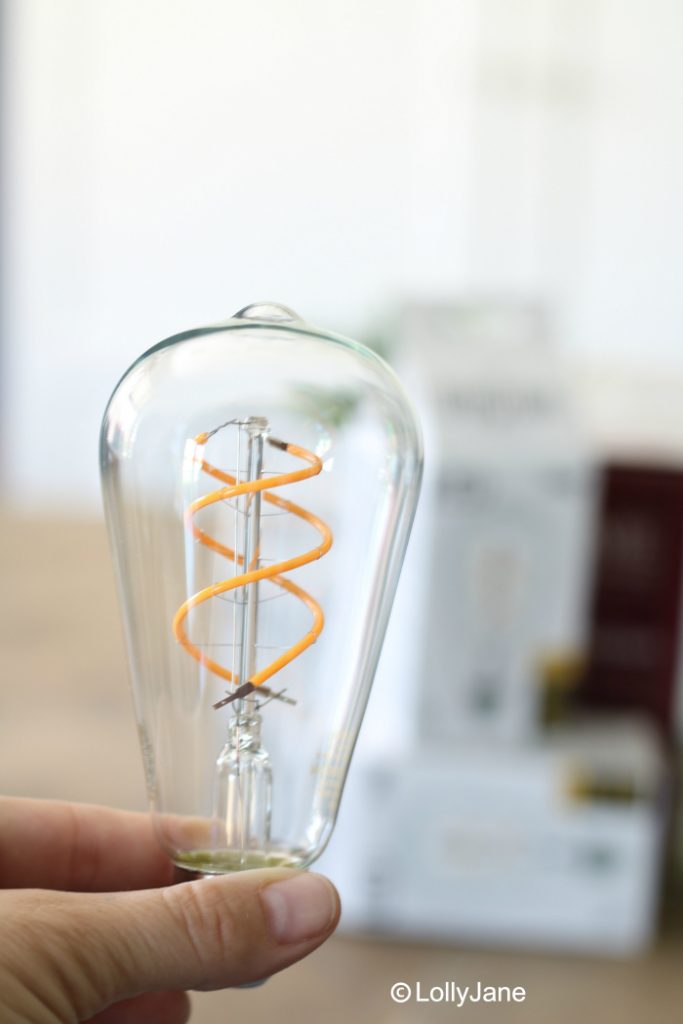 The soft glow of these bulbs is just dreamy!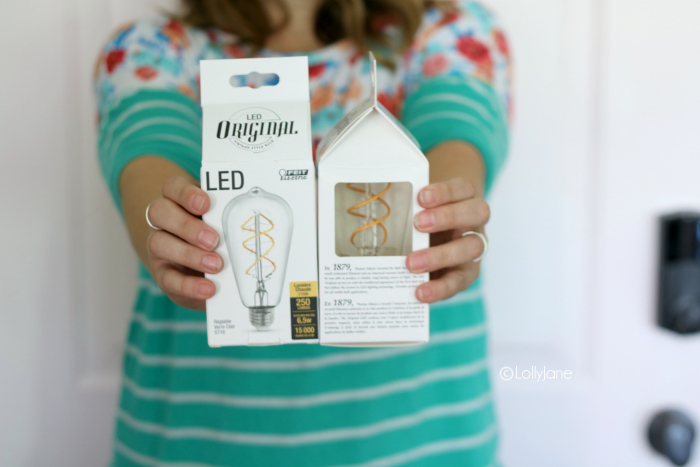 And the packaging is just darling… we are suckers for cute packaging!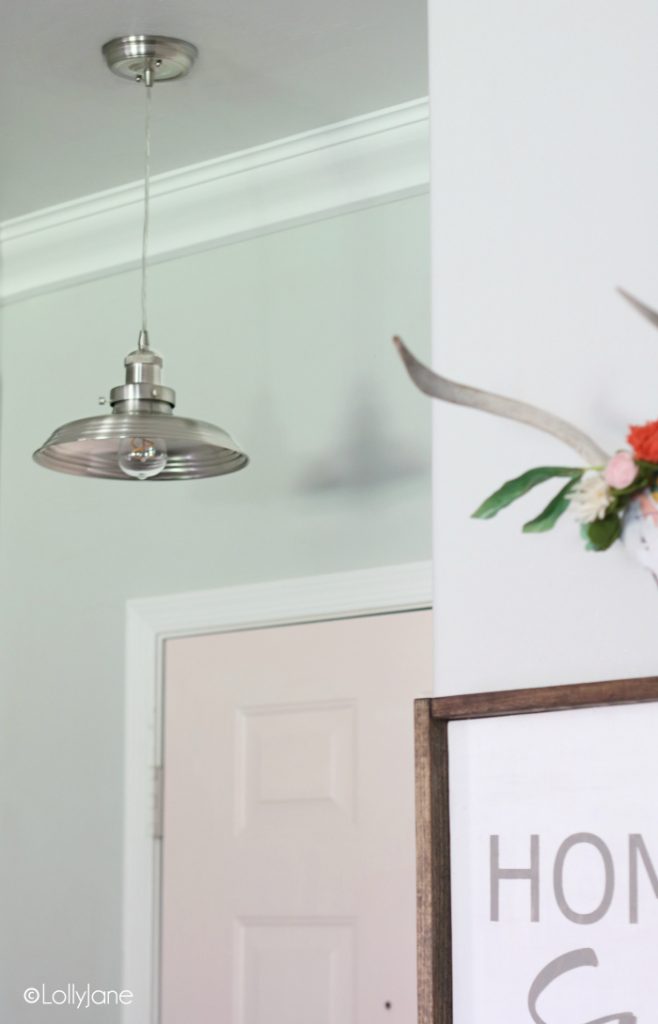 To make this entryway really pop, and to show off the new pendant, try painting your door a new color so everything doesn't blend together.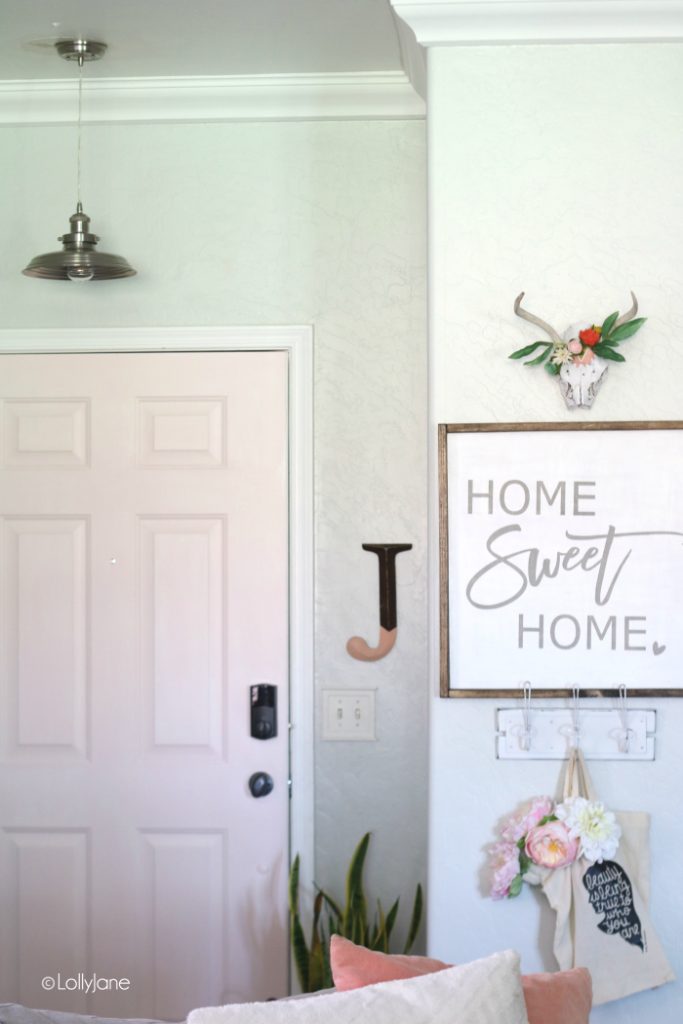 How To Style A Small Entryway – The Accessories
From there it's all about the accessories!
The letter "J" added some texture and dimension to this little entryway.
Adding a houseplant to the space makes it homey and inviting.
Sinage is always a good idea to personlize the space… other options are "Stay awhile" "Welcome" or "Sorry for the mess, but we live here." (Ha! That last one is what my sign should really say!)
Flowers (real or faux) soften the space and brighten it up.
A fun piece of decor (the floral skull in my case) makes this small space stylish!
Hooks are not only pretty but practical, from keys to coats, umbrellas and purses, they're functional and add texture.
I have my couch really close to my entry so I didn't include a stool but a small chair or stool is great for somewhere to park it when putting shoes on and off.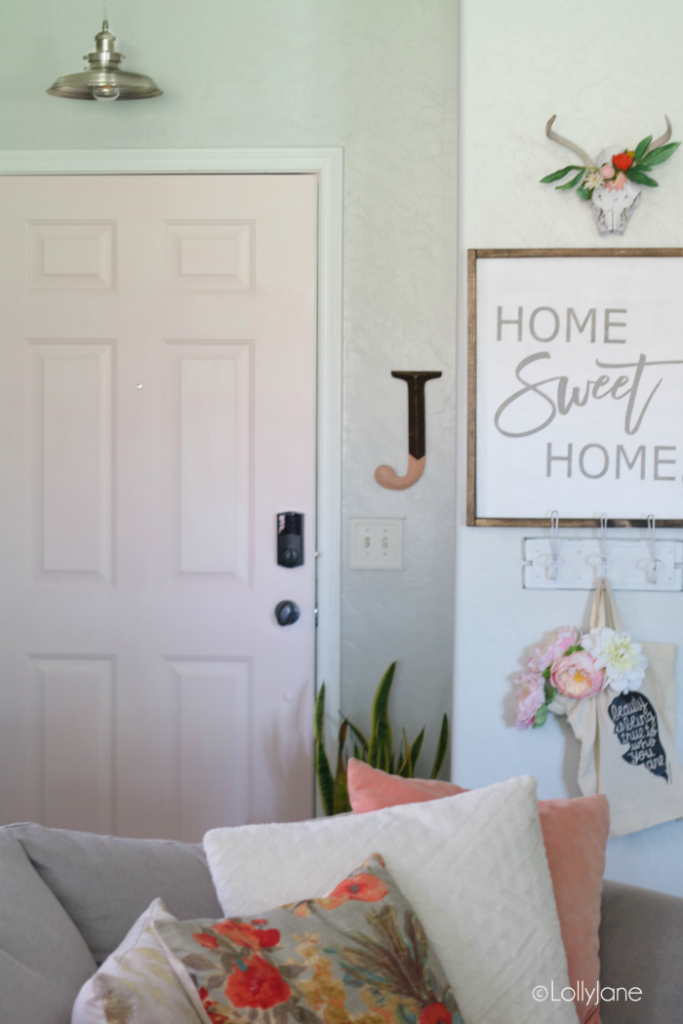 I also love mixing metals… the brushed nickel with the black hardware on the door and the white metal hooks allows for more variety when decorating and everything is able to flow!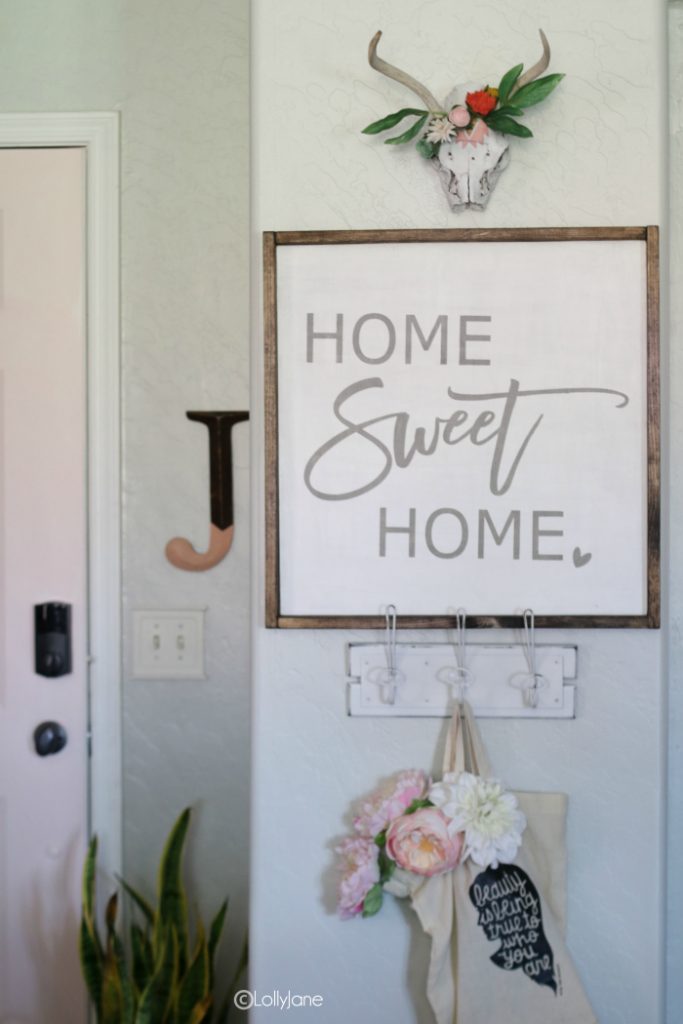 One last peek at that pretty pendant + vintage bulb because it really pulls the entryway together, love it!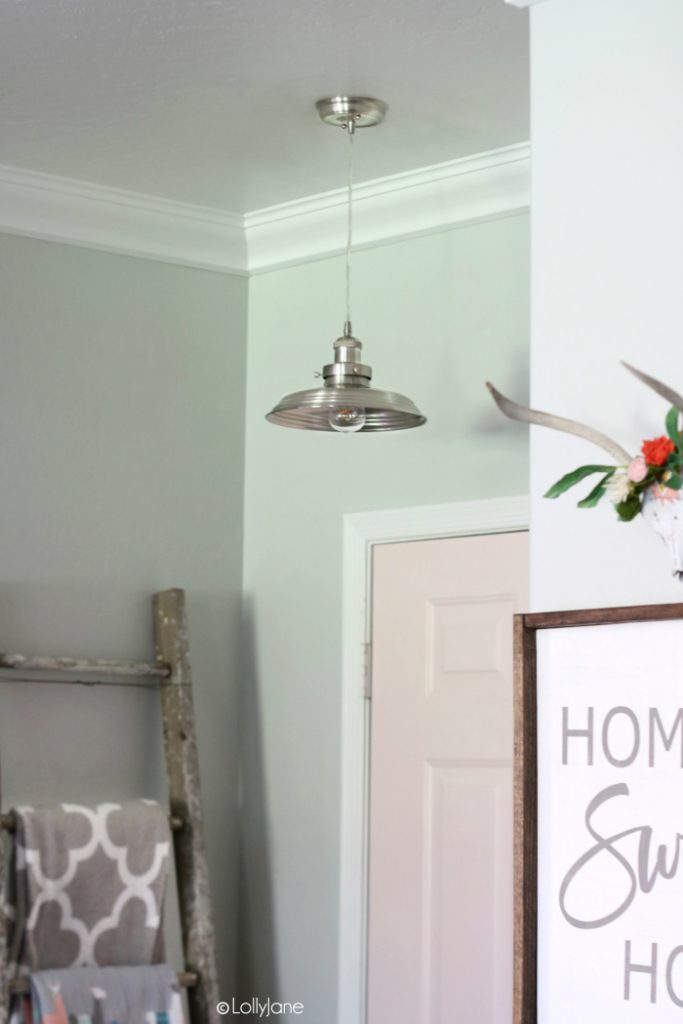 Do you have a small entryway? What are some tips YOU do to make it look larger or style it?