How to Get Rid of Dog Smell Once and For All!
Does your dog rule the roost, too? We love our dogs but not the odors they bring with them. Check out these tips on how to get rid of dog smell, how to keep your dog from smelling like one plus how to keep a fresh smelling home.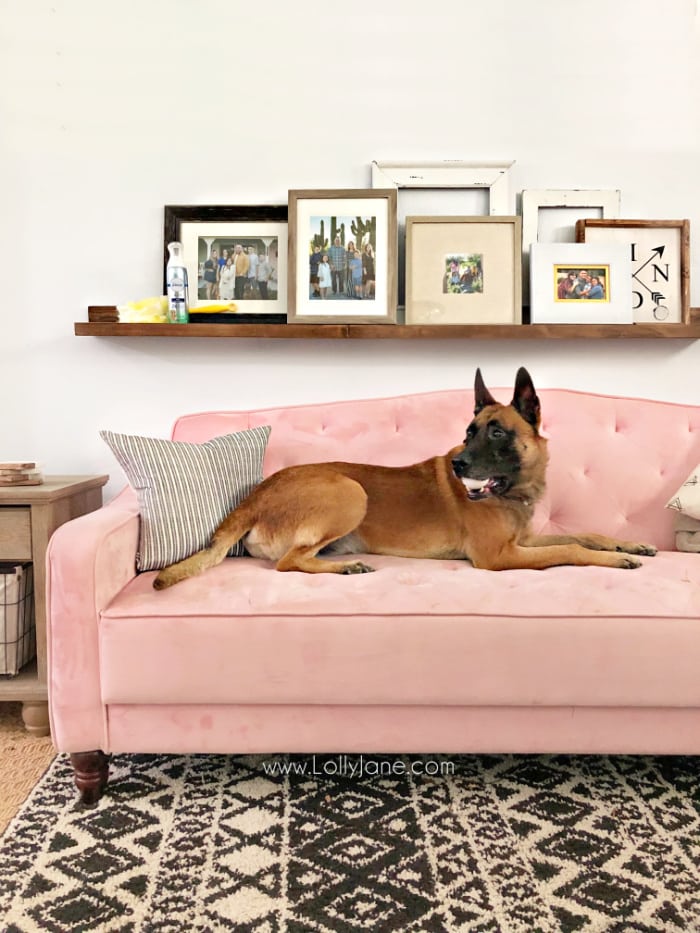 Meet Mav.
It's a long story but let's sum it up and say we're fostering him for the time being. He's a sweetheart and loves his ball! He's a lot more drooly than Hannah and even our new pup, Bruce! Sgt Mullins (aka my hubby) says Mav is known as the smelly dog on the unit, ha! I personally don't think that's the case but my mom walked in and said, "Oh, he's kind of stinky, isn't he? I've never smelled Hannah".
I was MORTIFIED.
She lives next door and is the B I G G E S T clean freak. After we clean up after Sunday group dinners at her house, she's known to wipe up after us and re-wash the floors behind us.
As soon as she left, I immediately got a fresh Diet Coke and went to work scrubbing all the things. Of course I used Febreze because it's the freshest smell everrrrrrrrrr. So glad Swiffer + Febreze are married because I needed their double power.
Mav didn't stand a chance 😉
Tips for Keeping Your Dog Smelling Good

We've shared ways to keep your house from smelling like a kennel but let's talk about home remedies for stinky dogs, too. That's where the problem starts, after all.
Bath your dog regularly
Regular bathing and grooming can minimize odors not related to health problems. Most dogs should be bathed about once a month.
Dry shampoo isn't just for humans
We've been using waterless dog shampoo and love it. Simply apply it, brush out the fur then enjoy the fresh smells. Think of it like dry shampoo for humans. It's helpful between baths, especially for spot cleaning.
Groom your dog weekly
Make sure to brush or comb your dog when they're shedding since dead hair and skin cells can lead to odor. We have 7 popular, tried and true dog shedding home remedies, be sure to check them out.
Absorb Odors
Baby power or simple cornstarch helps to absorb odors, place a box next to the kennel. You can lightly sprinkle it on their coat too, be sure it doesn't clump up. We recently starting using placing bamboo charcoal air purifying bags next to the kennel to absorbs odors, bacteria, and moisture from the air, as well.

Tips to keep your house smelling good
We shared a detailed post on how to get rid of the dog smell in your home earlier this year but thought we'd delve a little deeper today. Keeping up with your daily housekeeping will help you minimize smells. When you clean room by room, be sure to take extra care around the areas your pets spend the most time.
CLEAN YOUR HOME REGULARLY
Dusting daily with Swiffer Dusters: With Dust Lock Adhesive™ is our number one tip on how to eliminate dog odor. Dogs drop skin cells daily just like we do, but they're constantly shedding, as well. These dusters have 50% more fibers than regular dusters but their design cleans deep into grooves to trap and lock up to 3X more dust than a feather duster. Just dust and throw away, easy elimination of dog odors!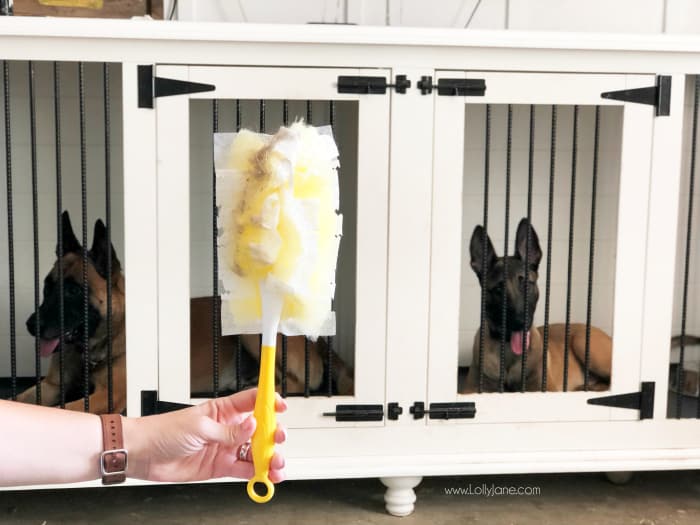 Sweep floors daily or at least every other day. Keep it easy with the Swiffer WetJet Wood.
I keep a can of Febreze Air Pet Odor Eliminator next to my front door and spritz a little whenever I hear the doorbell ring. It's such a light and airy smell and masks any dank smell that may be lurking.
WASH COVERS OF ANY SURFACE DOG HANGS OUT ON
I wash my sheets weekly, thanks in large part to Hannah and all her hair!
In between washing, use Febreze FABRIC Pet Odor Eliminator to remove odors from hard to wash fabrics like your couch, pillows and blankets.
If your fur baby is often on your couch and snuggles against the pillows, be sure to launder those weekly as well to prevent the smell settling in too deep and lingering.
Get a removable cover dog bed for easy washing.
Don't forget to wipe down the kennel, dogs toys and even the plastic crate bottom.
What are your tips to a fresh smelling, pet friendly home?
This post was in partnership with Swiffer and Febreeze. As always, opinions are our own.