Make this Photo Display from a Hula Hoop!
Looking for creative ways to display family pictures? This DIY Hula Hoop Photo Display is so easy to make. We love the gold accents and faux florals and you'll love how easy it is to put together.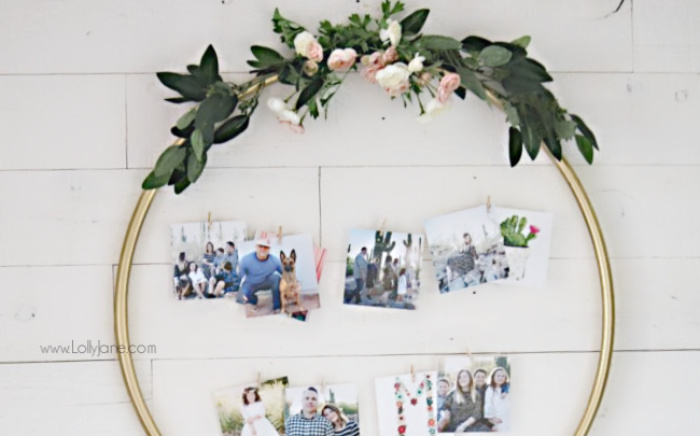 I have hundreds of pictures on my phone and am always looking to get them off there and onto the wall! We've shared several gallery walls in the past but this is fun stand alone project. We think it would be a super cute idea in your home, to gift to a friend or even display at your wedding.
Read on for the easy how-to then scroll down for more DIY wedding ideas from some of our favorite bloggers.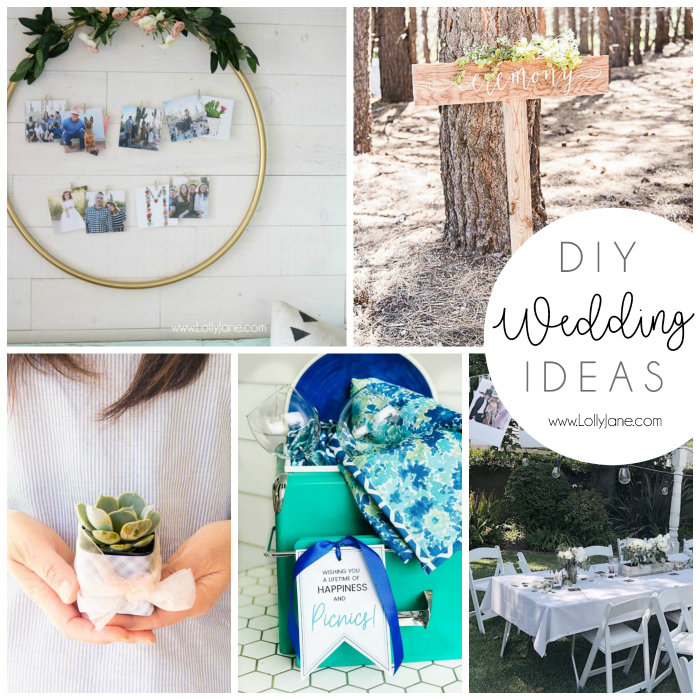 We love sharing pictures of our loved ones around the house so when we saw this hula hoop photo display on SMP's site, we had to replicate it with faux flowers and clear fishing line, it's so pretty! It's so fun to stop and look at an old picture and recreate the memory of what was going on when it was taken. I have one picture on the wall of my sweet one year old baby boy, holding tight to two rocks, one in each hand. We were playing outside that day so I placed them there to help him balance himself as he was learning to walk. He had the biggest smile on this little face, proudly sporting the 8 teeth he had. I took that picture of his fuzzy little toddler hair it takes me back to that winter day, I can still remember how soft his sweater was.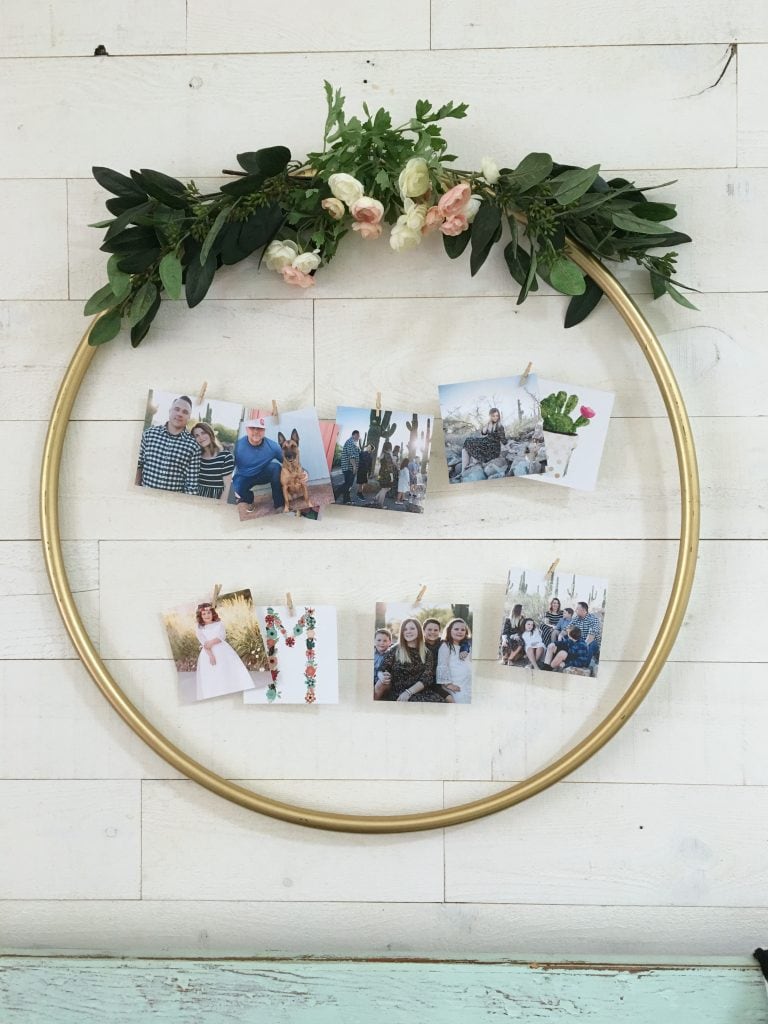 That same little guy is now a lacrosse player at age 12, scootering around the neighborhood when he isn't swimming or riding motorcycles. I'm so glad I have that special little moment on my wall to remember another 12 years from now when he's potentially starting his own little family. Funny how pictures can take you back in time and stir up feelings you may have forgotten.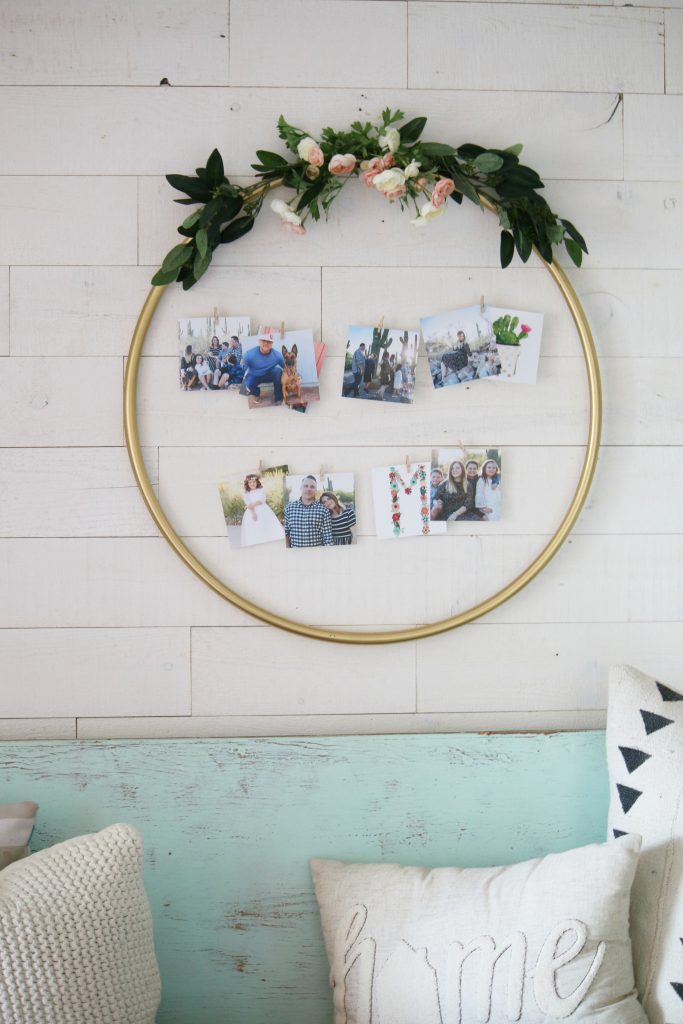 You probably have all the supplies on hand to create your own unique hula hoop art! If your kiddo doesn't have a hula hoop in the garage, check your local big box store, they're usually a couple bucks. I've even seen them at my dollar stores during the summer months. I was only able to find this lime green hoop but knew when I spray painted it, it would totally change the look. We love how this pretty gold and floral project turned out. We also adore how it looks on our shiplap walls! It's become quite the conversation piece with friends as well.
DIY HULA HOOP PHOTO DISPLAY
Gather your supplies and we'll walk you through just how easy this creative picture display is!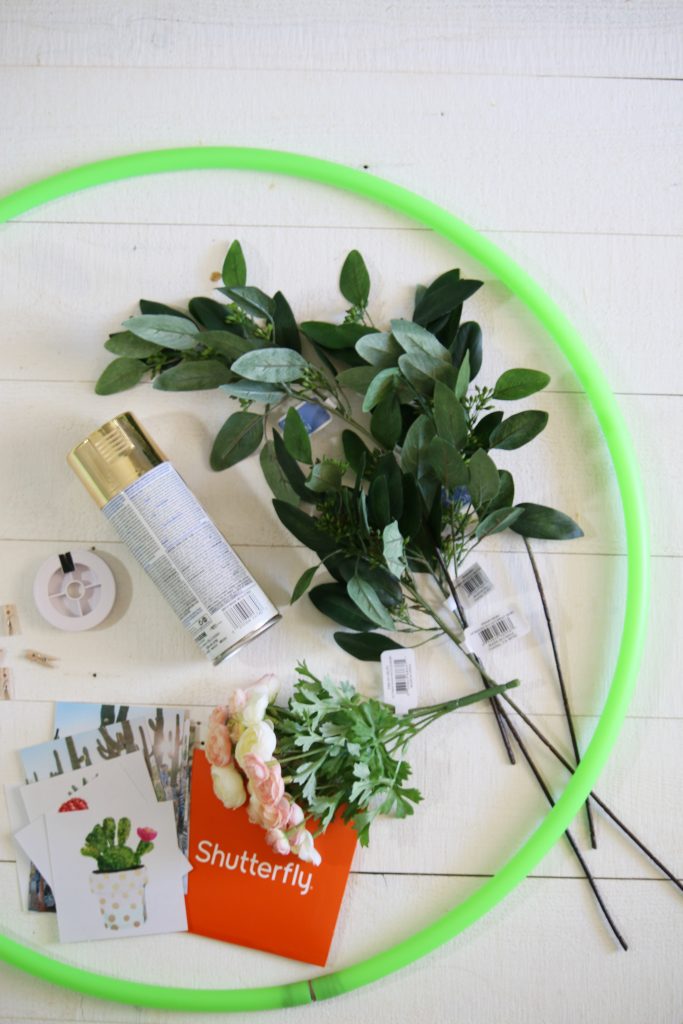 Supplies Needed to make a hula hoop photo display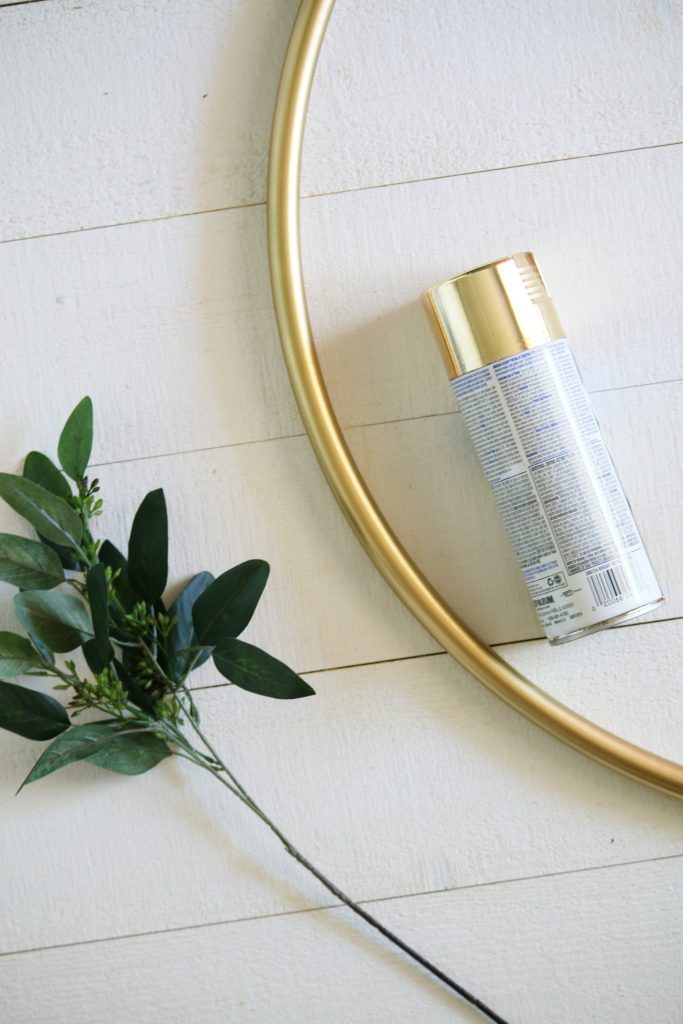 HOW TO MAKE A HULA HOOP PHOTO DISPLAY
To create your project, you'll start by spray painting your hoop in your desired color. Gold is so on trend right now so we stayed with the original idea. It would be pretty in silver or even a fun color like coral too!
I sprayed mine with one good coat, let it dry for 30 minutes then flipped it over and repeated the process.
I found a pretty faux floral company on
Instagram
one day and fell in love with how realistic their blooms are. I ordered a bundle of their mini ranunculus along with some seeded eucalyptus stems. After the hoop was dry, I tied on the flowers with the fishing line until it wouldn't budge. I repeated it with the stems, letting them drape over the hoop and tying it in inconspicuous knots on the backside of the hoop.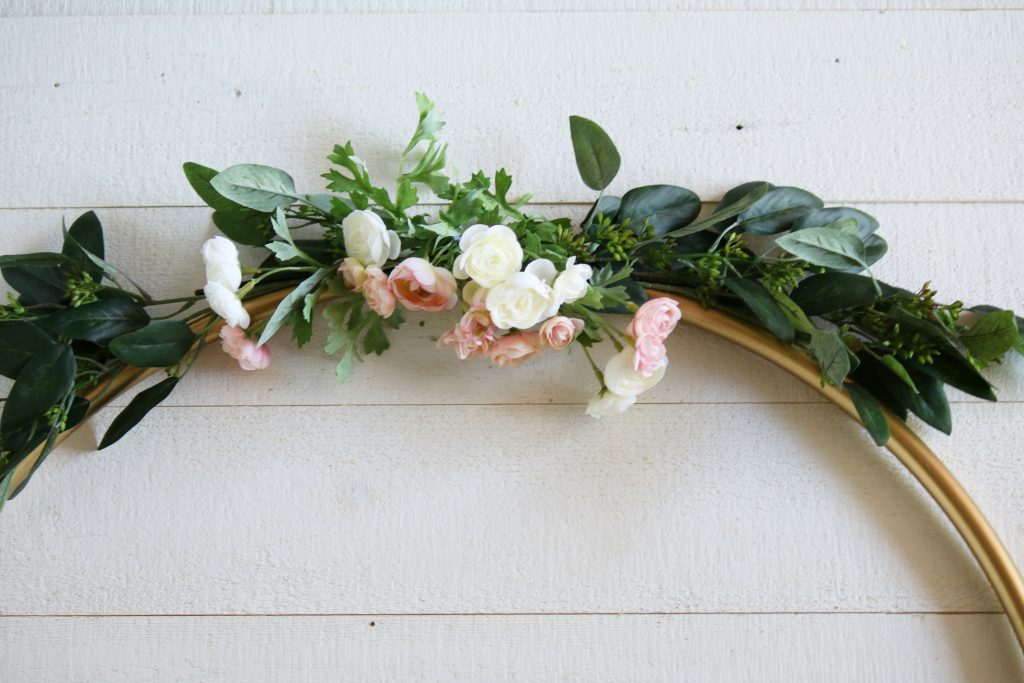 To tie on the rows for the pictures to be displayed, lay the hula hoop on a flat surface, it's easy to work with that way. Tie a knot on one end, string across then tie a knot behind the hoop to secure. Repeat until you have 3-4 rows.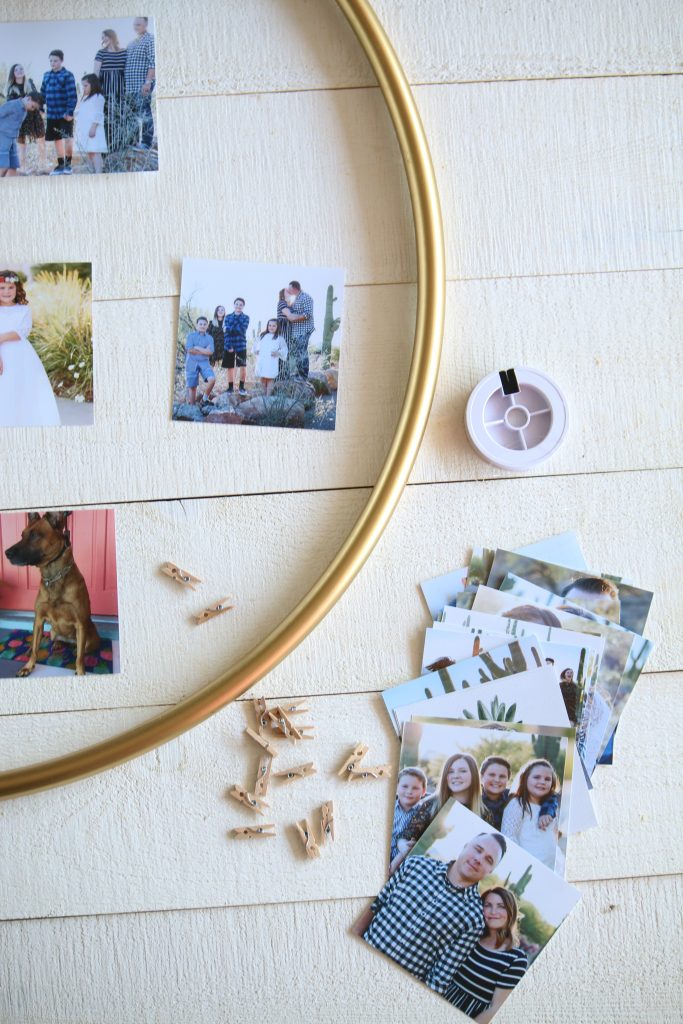 The original tutorial suggested using hot glue. That didn't work out for us, it pulled the paint off and melted the plastic. We found that the fishing line is very sturdy and is nearly invisible which was a great solution for us.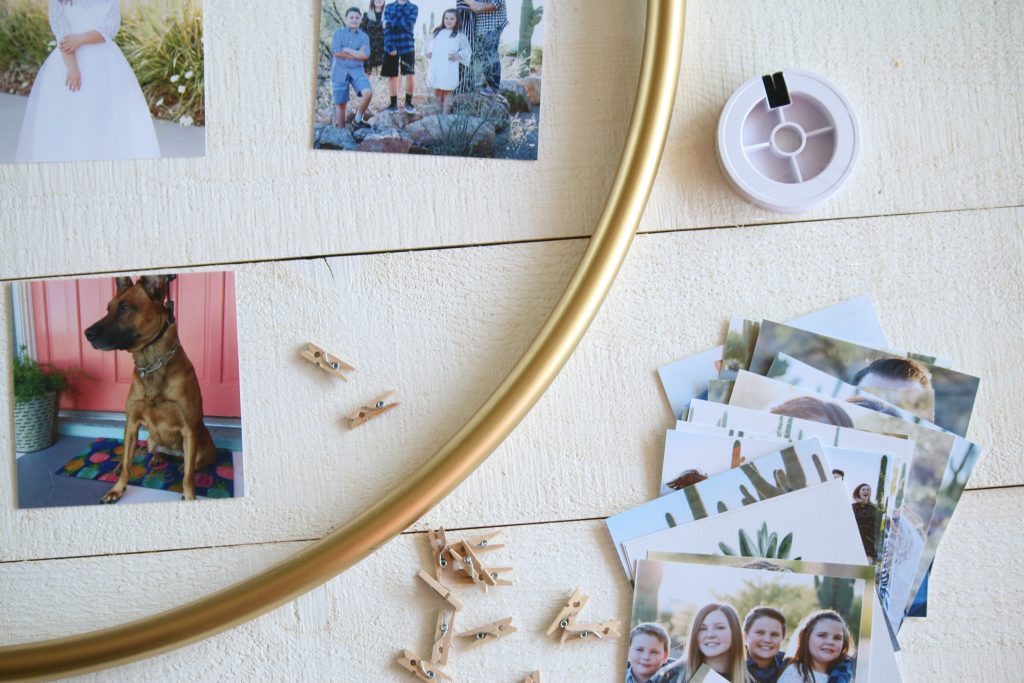 Now that your photo hoop is done, clip on your favorite pictures!
We added a couple of
free printables
onto our hoop, a monogram for our last name and a picture of our sweet dog.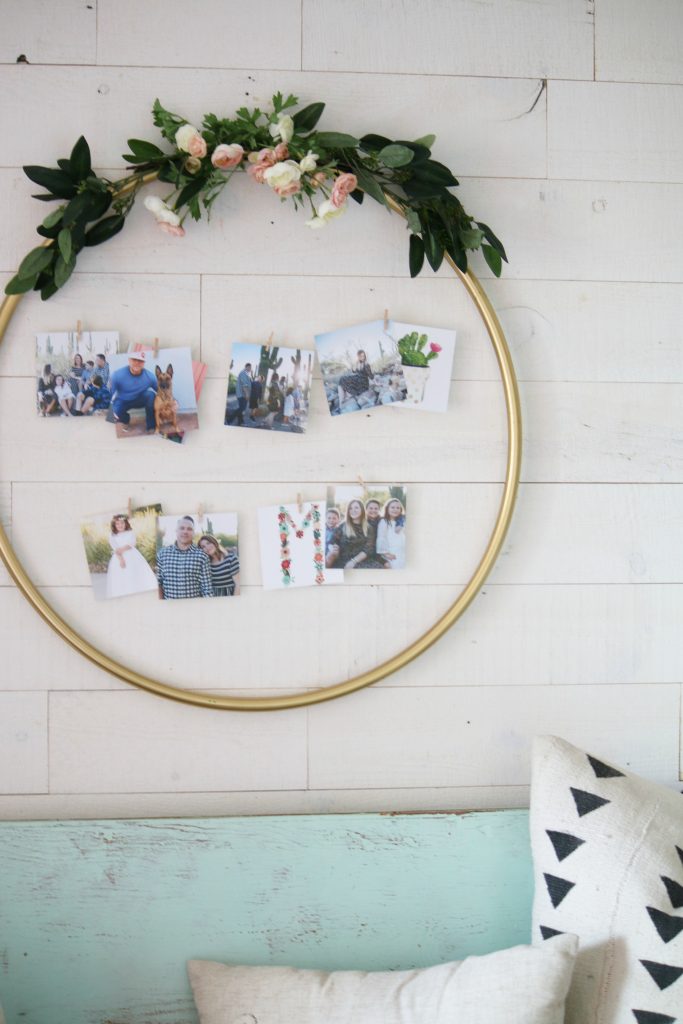 When creating gallery walls or picture displays, the key is to use the same tone of photo paper so it flows well. We were able to order all of our prints from
Shutterfly
all at once. Since we wanted to make 4″ squares instead of the traditional sizes, we were able to select them all at the same time to do it all at once. What a time saver! It did all the work for us! They turned out SO pretty and are great quality!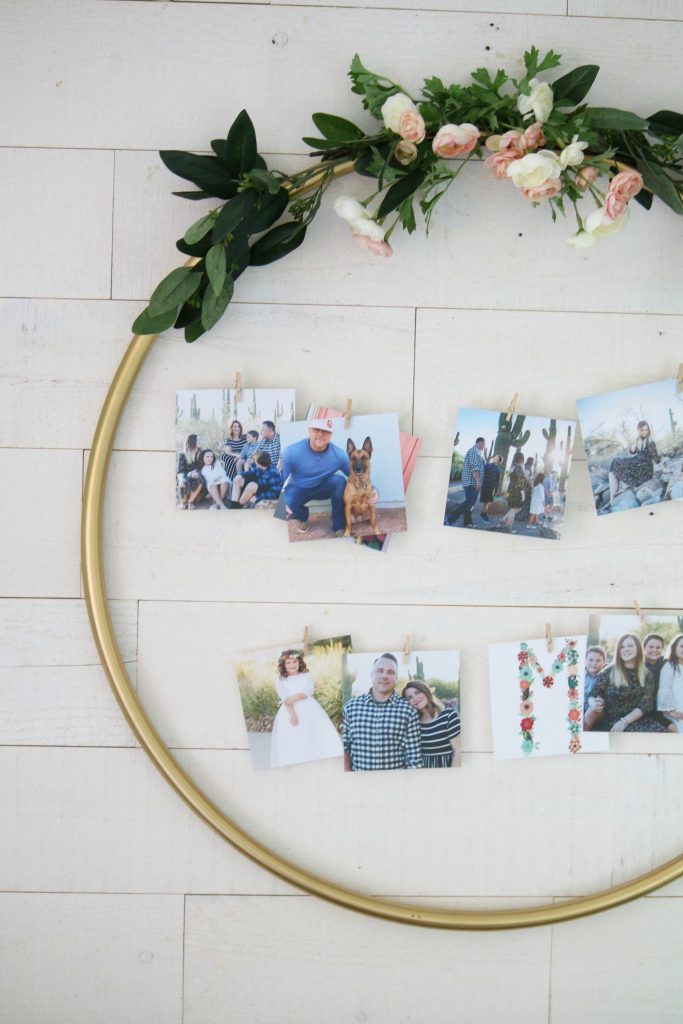 It's been fun for the kids to move their favorite pictures around since we printed the whole photo shoot session.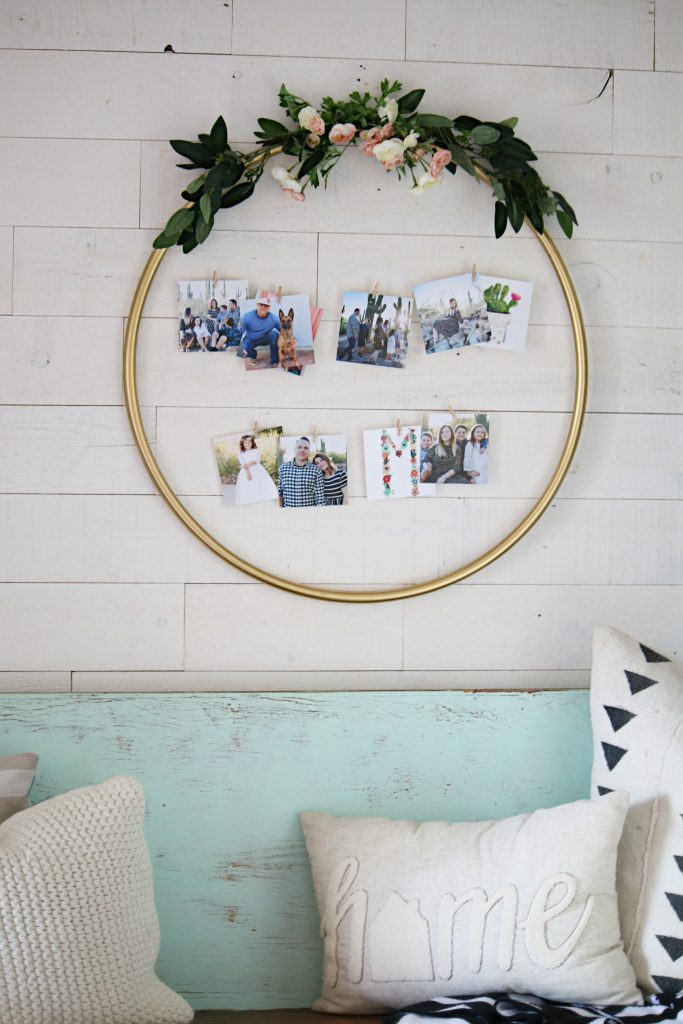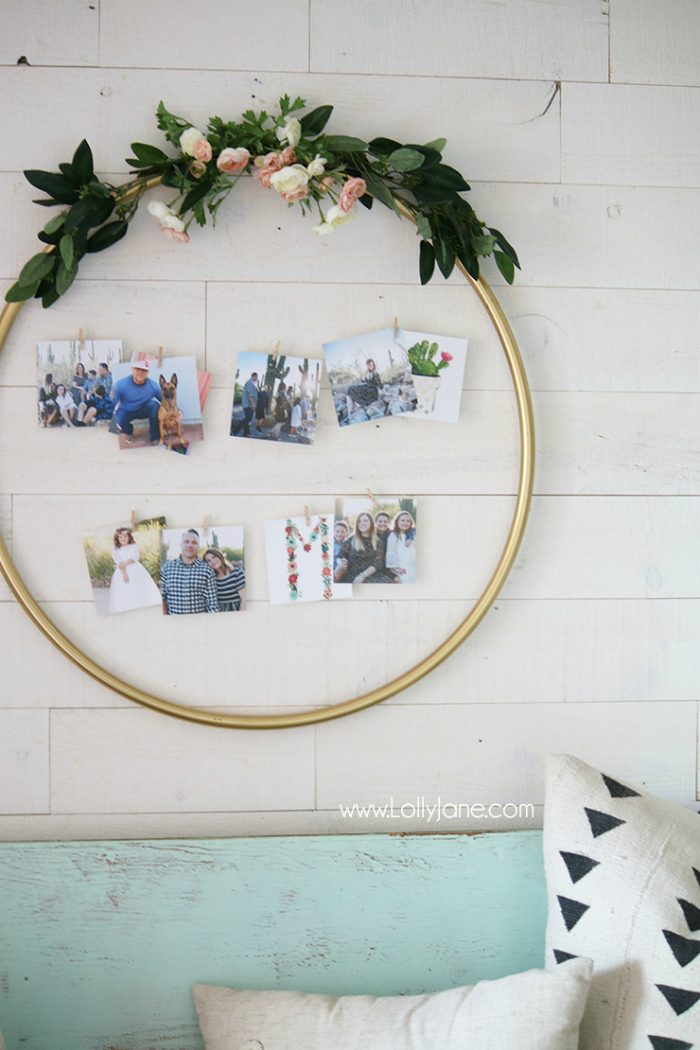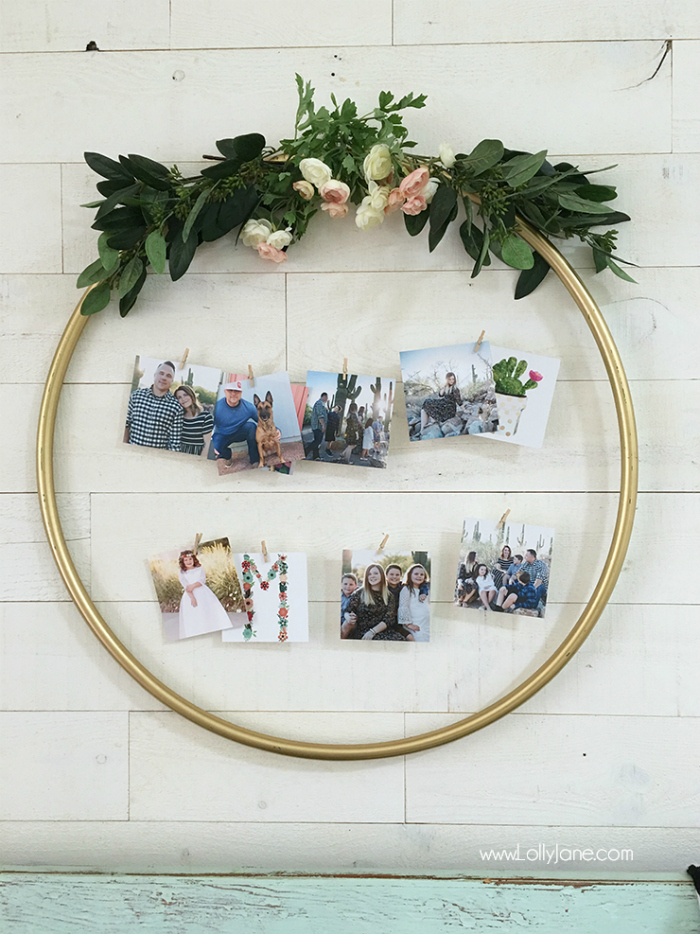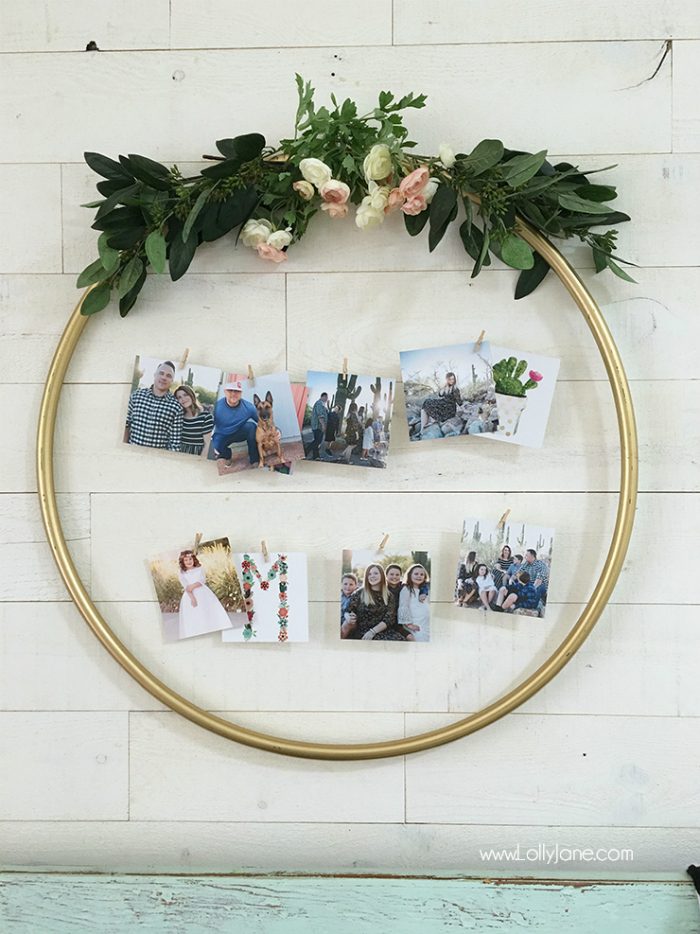 More DIY Wedding Ideas
We hope you've enjoyed our easy to make photo hoop picture display! Check out our friend's wedding ideas that you can easily create yourself for your special day.
DIY Succulent Wedding Favors | Happy Happy Nester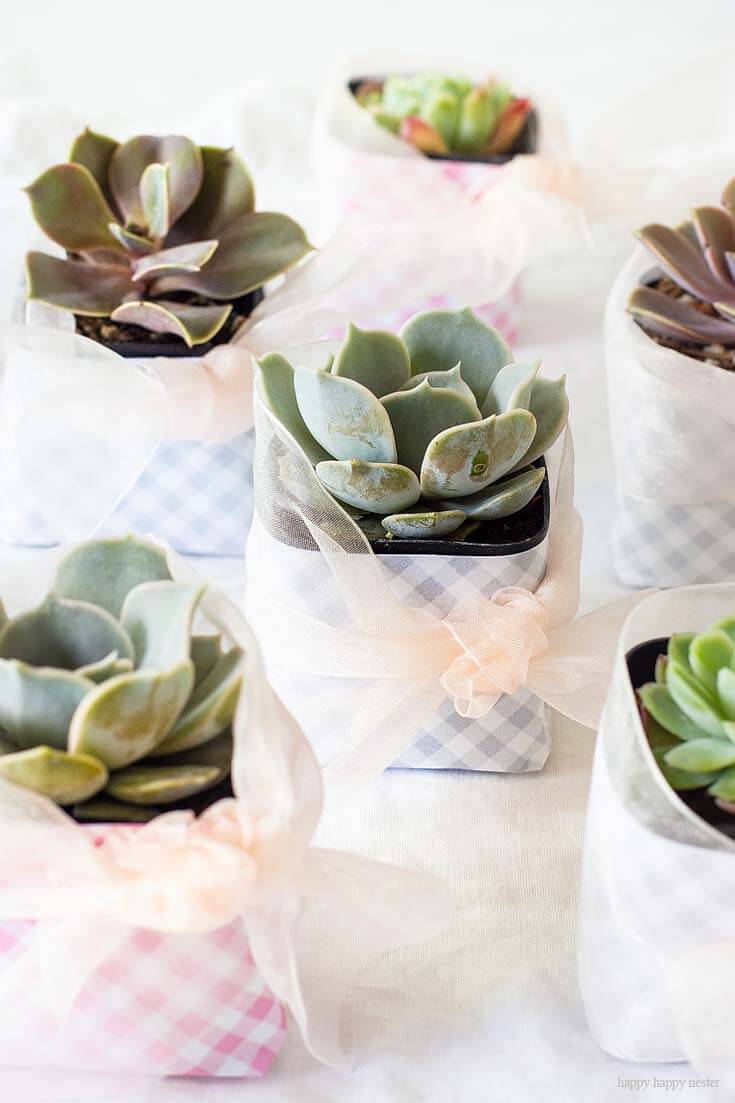 DIY Wedding Ideas | My 100 Year Old Home
Picnic Basket Wedding Gift Ideas | Tatertots and Jello
DIY Rustic Wedding Sign | Twelve on Main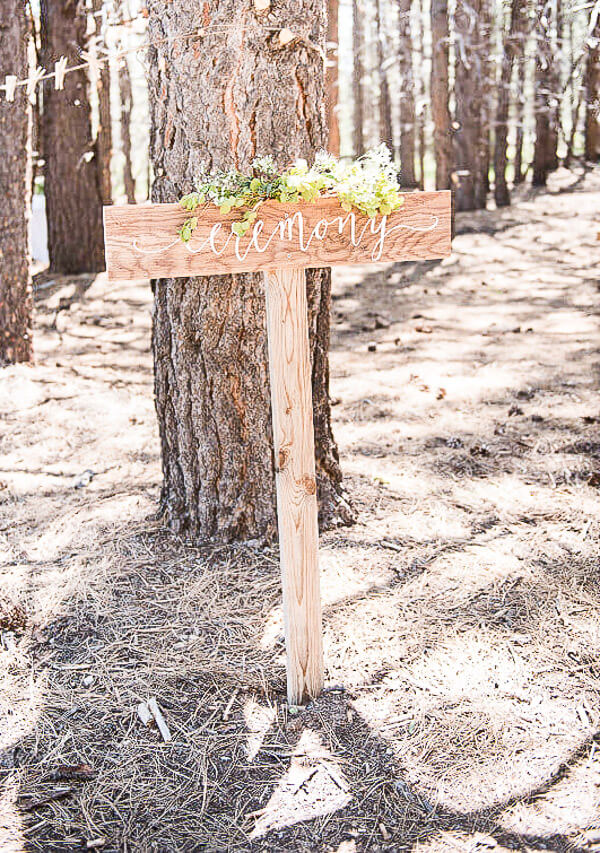 We hope you've enjoyed these ideas! Please pin so your friend's can make some pretty goods, too!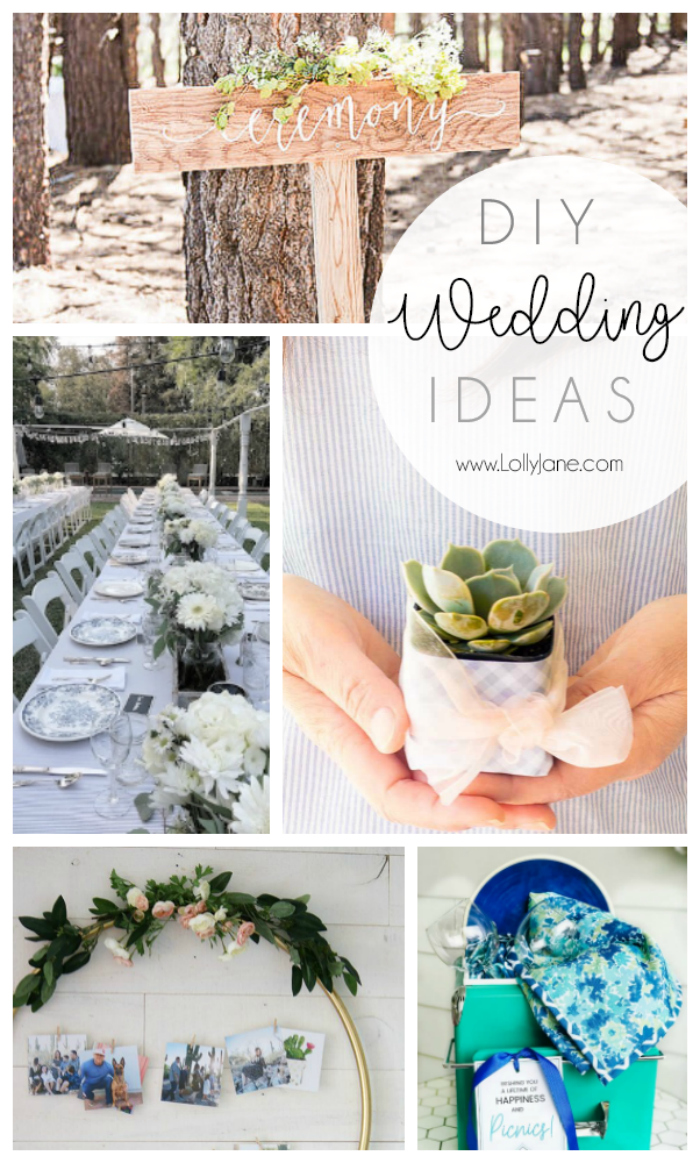 *Please note: some links may be affiliate links at no added cost to you!