FAQ: DIY Vinyl Flooring Install and Reveal!
Do you want to update your floors without breaking the bank? We love our easy to install, click in vinyl flooring. It's durable, waterproof, scratch proof plus its kid and pet friendly! Transform any room in the house with this gorgeous vinyl plank flooring!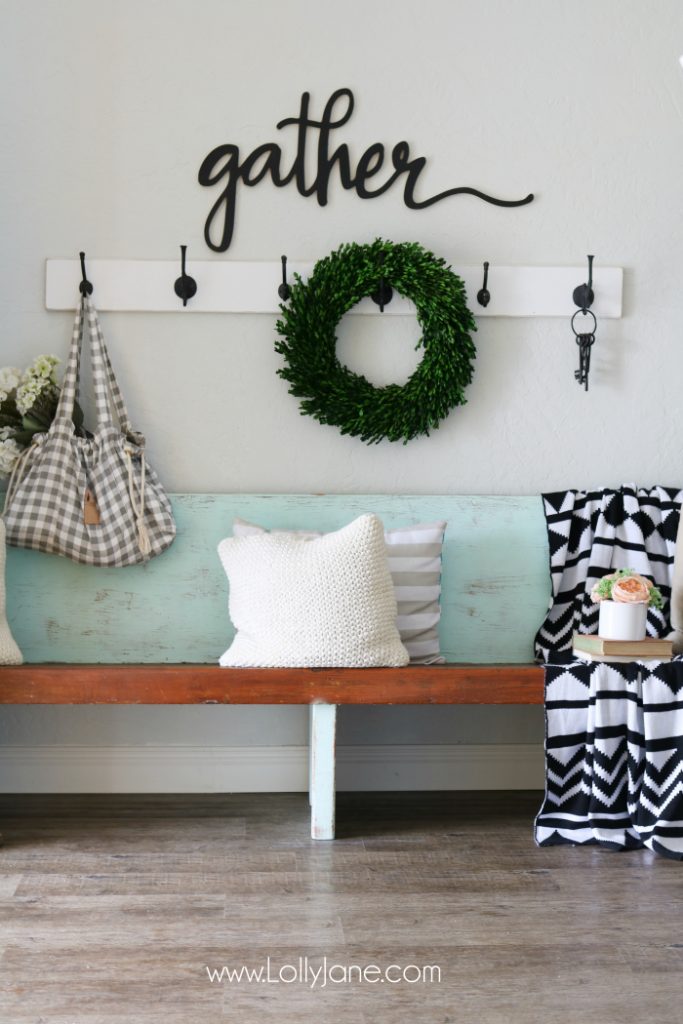 This summer was a crazy one. My husband was recently promoted to sergeant of his K9 unit for his city which meant 6 weeks of training in California, a six hour drive from our home here in Arizona. His departure date was the kids first day of summer break. His date to come home?-the last week of summer break. Of course.
Fortunately, this mama is a well seasoned law enforcement wife and is used to being a solo parent as my husband has been on the SWAT team for 8 years, which meant frequent call-outs.
Over the 4th of July weekend, I decided to road trip to CA to visit their dad, hit the beach and just spend a quiet weekend together. After sitting in the car for 5 hours, plus a 2 hour delay to cross the state line, we finally made it Cali.
Just as I sat down on the bed, my brother called to inform me that my house had flooded. WHAT!
Apparently the hall bathroom toilet valve didn't shut off when we left, so it ran for our 7 hour car drive. My dog sitter came in to feed the dogs that evening and stepped into an inch of water at the front door. Long story short, we are currently living on cement floors and can't wait to replace the ruined carpet.
vinyl flooring series: from start to finish
I decided to write this series on vinyl floors since a) it's a new process to me b) it's big investment and c) I'm a first time floor buyer so hopefully this is helpful to those who are as well.
I hope this process of choosing vinyl floors all the way through install and living on them (((bonus: a 4 year later update)) is helpful to you!
Leave any questions/comments in the comment section so we can all glean information from each other.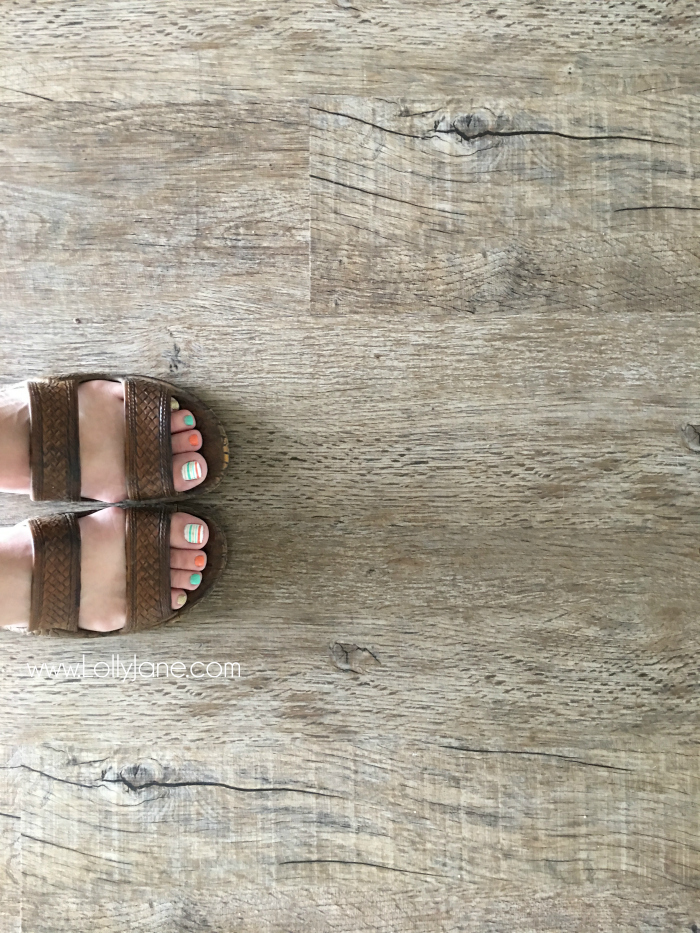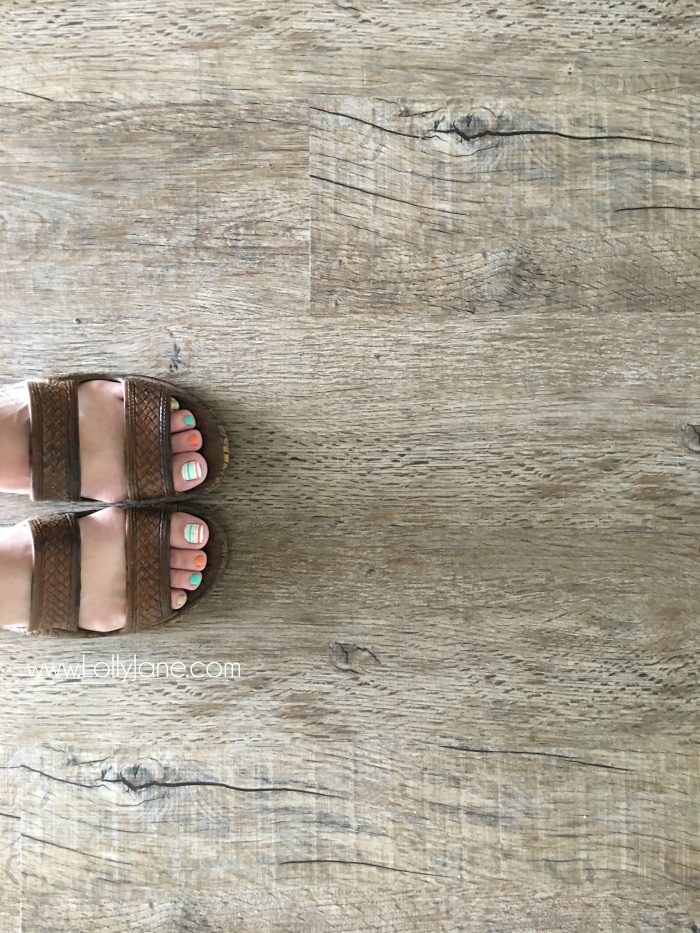 where to get vinyl floor samples
If you can get your hands on samples, I would recommend that as your first step.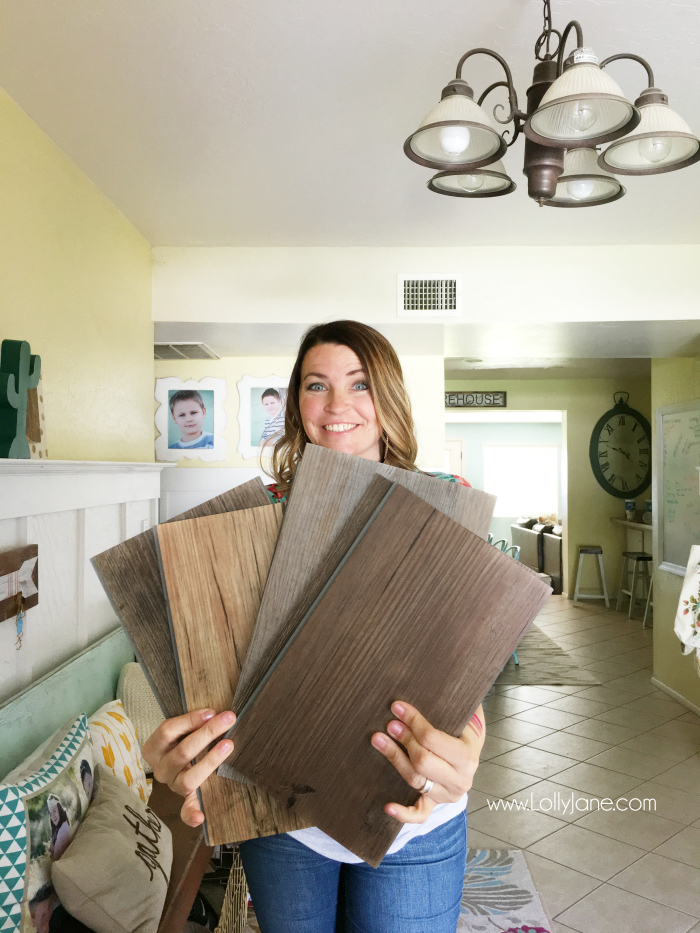 It wasn't until my husband (the vinyl naysayer) had the vinyl in his own hands that he changed his mind about them.
Back in the day, vinyl had a bad rap but the new stuff looks like wood floors but IS DURABLE. (You'll see that word so many x's in this post because I have NO TIME to babysit flooring.)
Where you can find free samples:
Back in 2016 when we had our floors installed, we loved the company we used but they went out of business. Bummer.
Home Depot: big box stores are always a great route to go because they buy in bulk so their prices are usually reasonable and competitively priced.
get to know your flooring
We're slowing renovating on a realistic budget.
We're updating our flooring in stages (as much as it kills me aesthetically!) and wanted the look of gorgeous hardwood floors but I know how crazy our lifestyle is so I was sold on vinyl.
My husband, however, was not. He felt like it was a cheap alternative.
the Difference Between Vinyl and Laminate
Vinyl and laminate are both durable.
Vinyl can dent with heavy furniture, laminate can scratch or chip.
Vinyl is waterproof, laminate is not.
Vinyl can be cleaned with a steam mop and most cleaners. Laminate has to use laminate-specific cleaners.
Both are pet friendly as far as scratch resistant although urine will ruin laminate.
Both have a variety of styles available.
After learning about these differences, I was feeling confident with my choice and was able to make my spouse feel good about it too.
It's not like it's a quick paint color, this is a big decision!
pros and cons of vinyl flooring
PROS:
100% Waterproof
Commercial Grade Wear Layer
Anti-static
Easy to Install It Yourself
Low Maintenance
Easy to Clean
CONS:
Difficult to Remove If Glued Down
Can Be Punctured with Sharp Objects
Can Dent with Heavy Furniture
Can Possibly Fade with Excessive UV Exposure
Dogs and kid resistant = SOLD.
A major concern is our furry friends so we needed to be sure we were getting the best flooring for dogs.
We love the vinyl because it's easy to keep clean, stain resistant, scratch resistant, low in allergens and quiet to walk on.
difference between click vinyl and glue down vinyl
Glue down vinyl uses adhesive to seal the vinyl to the sub-floor. Click vinyl uses a click and lock system, to keep the floor secure and connected.
We went with the click product since it doesn't have as much floor prep which is an easier process to install it time-wise.
The only prep we had to do with our floors (they were placed directly onto our concrete) was to make sure the concrete was level and clean. We did have to do a little bit of patching but it was minimal.
INSTALLING VINYL FLOORING
Our total install was 3 days for 3 bedrooms, a small hall closet, the hallway, large entryway and giant craft room (former formal living room).
And that included tearing out loads of ceramic tile, wow.
Just click away, trim as needed.
We put in 8 hour shifts per day, to give you a time frame.
You can rent a vinyl cutter but honestly, a box cutter works well too.
The neat thing about vinyl is that you can scour it with a box cutter then snap it. No saw required!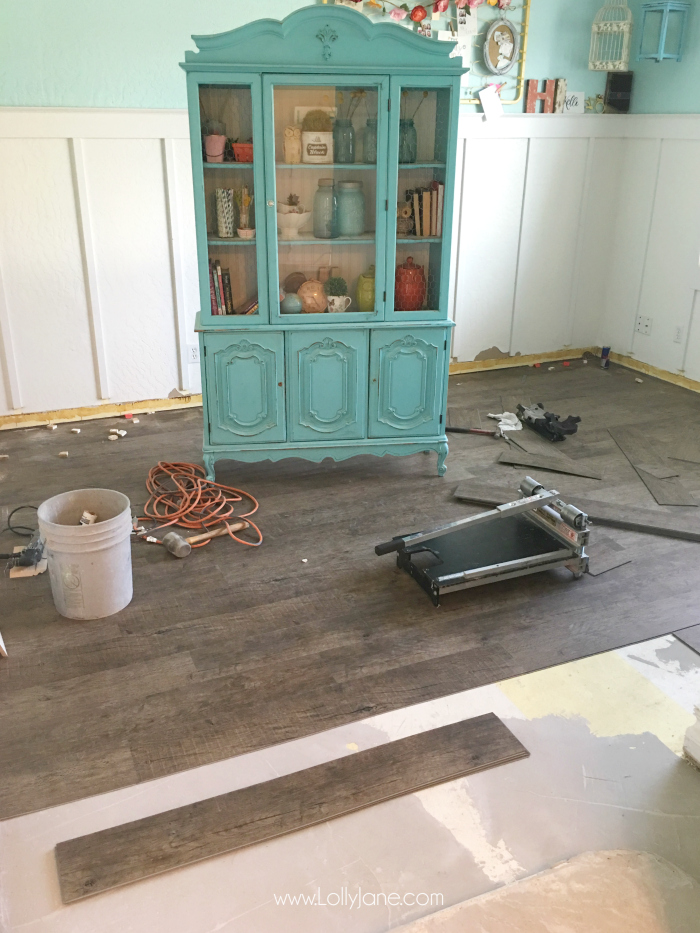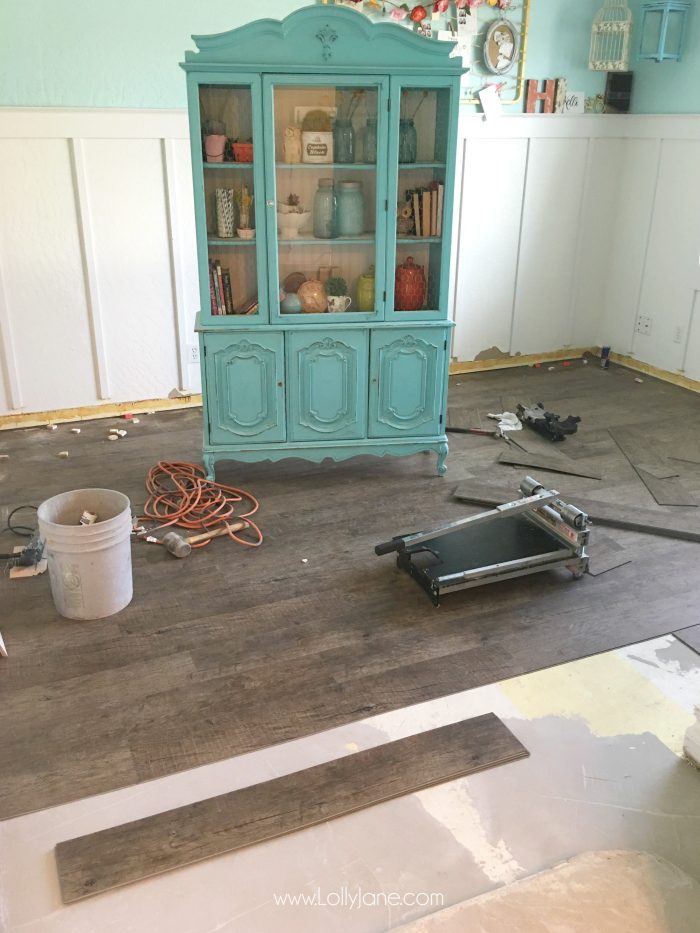 Here are pictures during the installation weekend.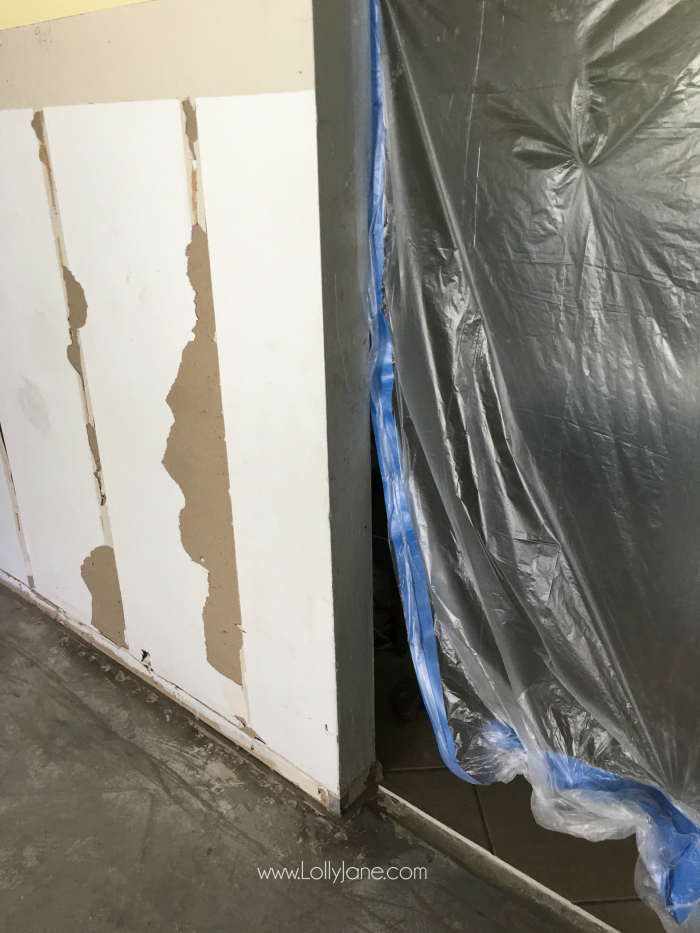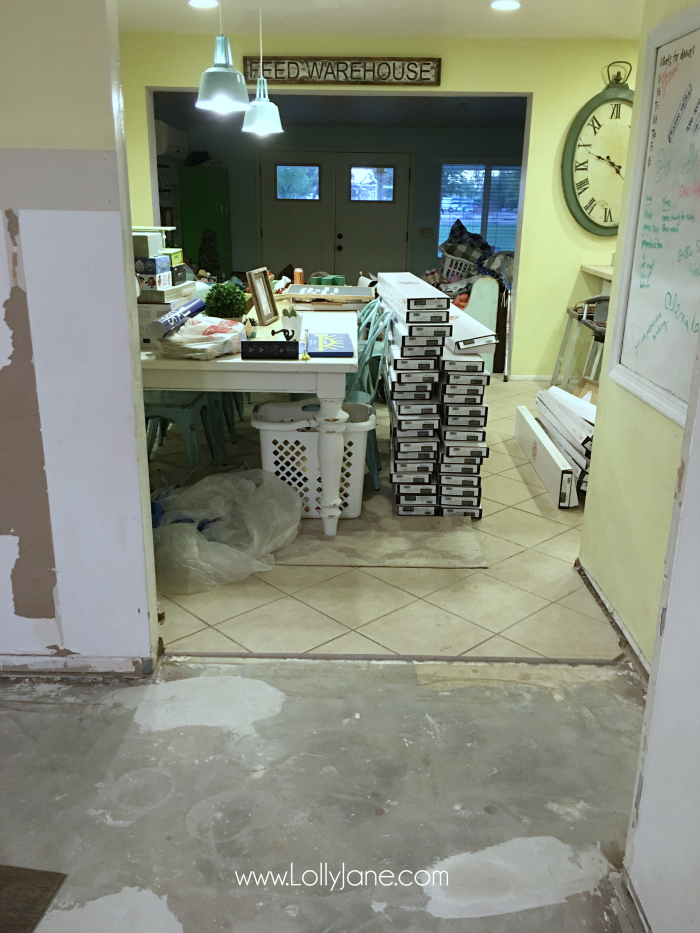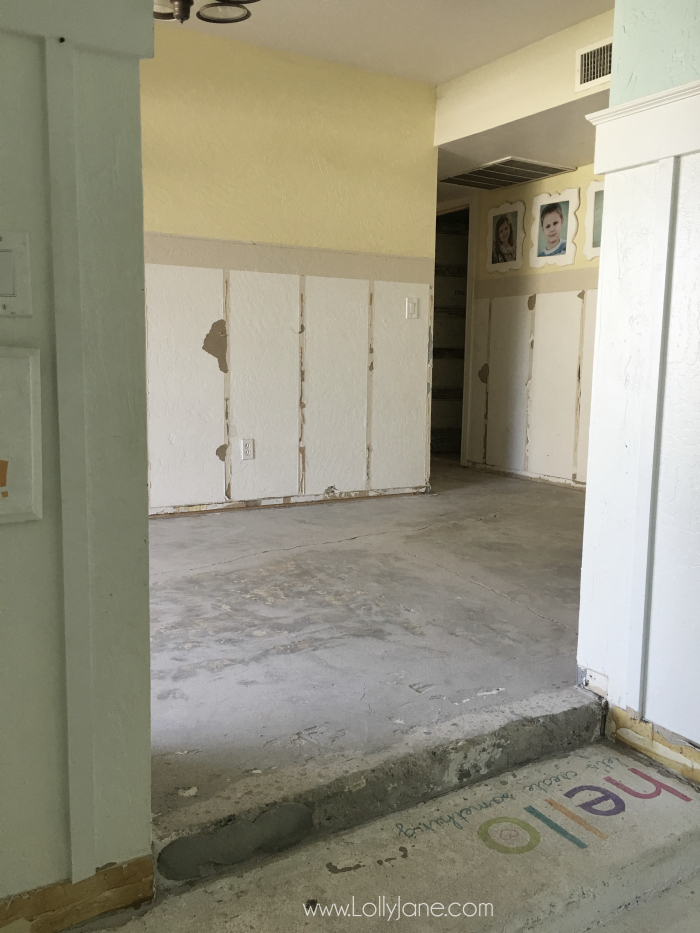 Let's start with my craft room. We painted the floors back in 2014 as a temporary solution to get rid of the low grade carpet. We've since had a dozen questions on the wear and tear of concrete paint. The bottom line is, it's great for a quick fix but we wouldn't recommend them long term for interior. Others may have success if they didn't use white like we did since the daily scuffs don't come out, no matter how hard you clean (or even bleach). Although it was only temporary, I was a little sad to see them being covered up…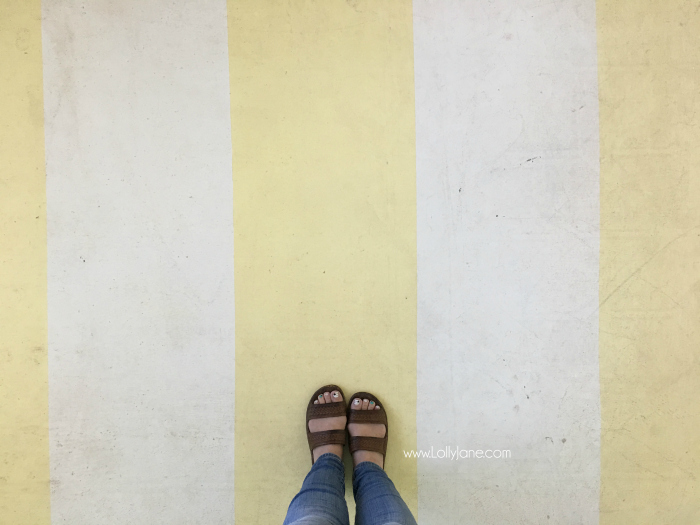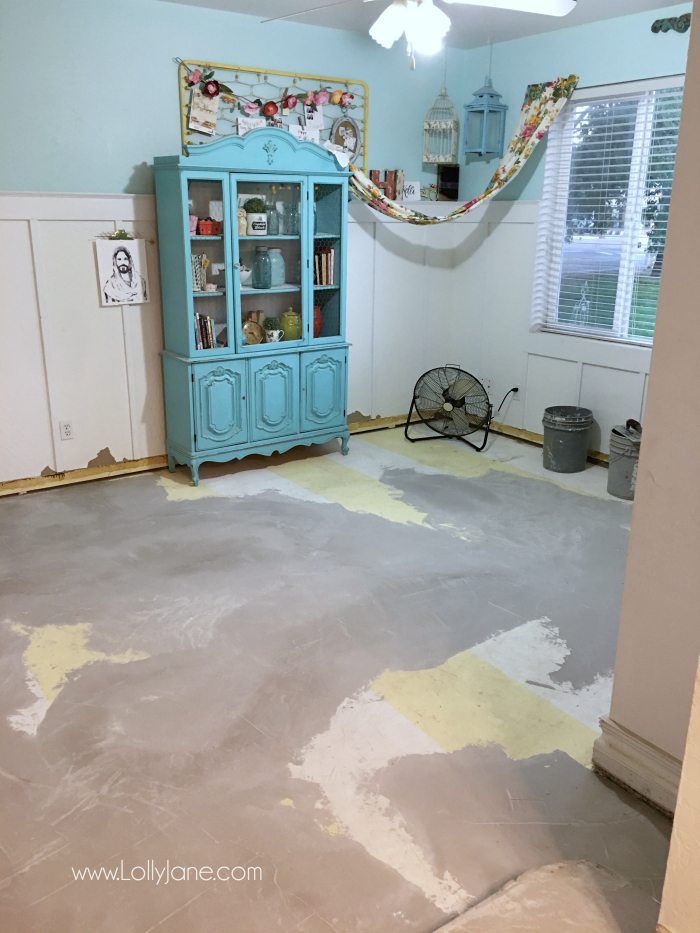 The craft room vinyl floors are so pretty but they made me a little sad to lose all the color.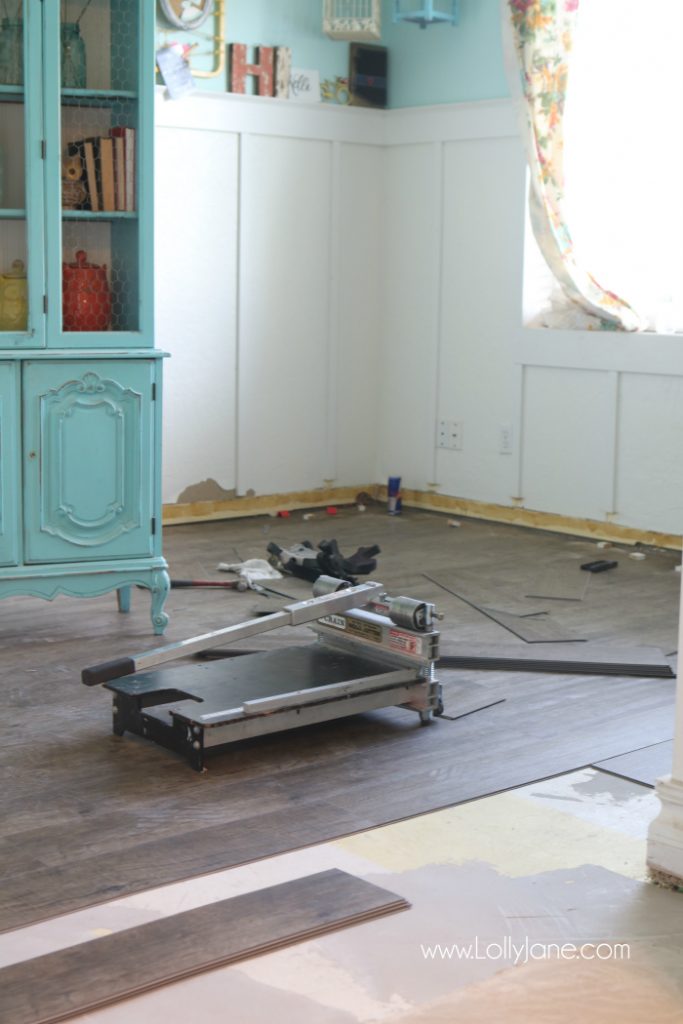 But I wasn't sad for long because how gorgeous are these vinyl floors!?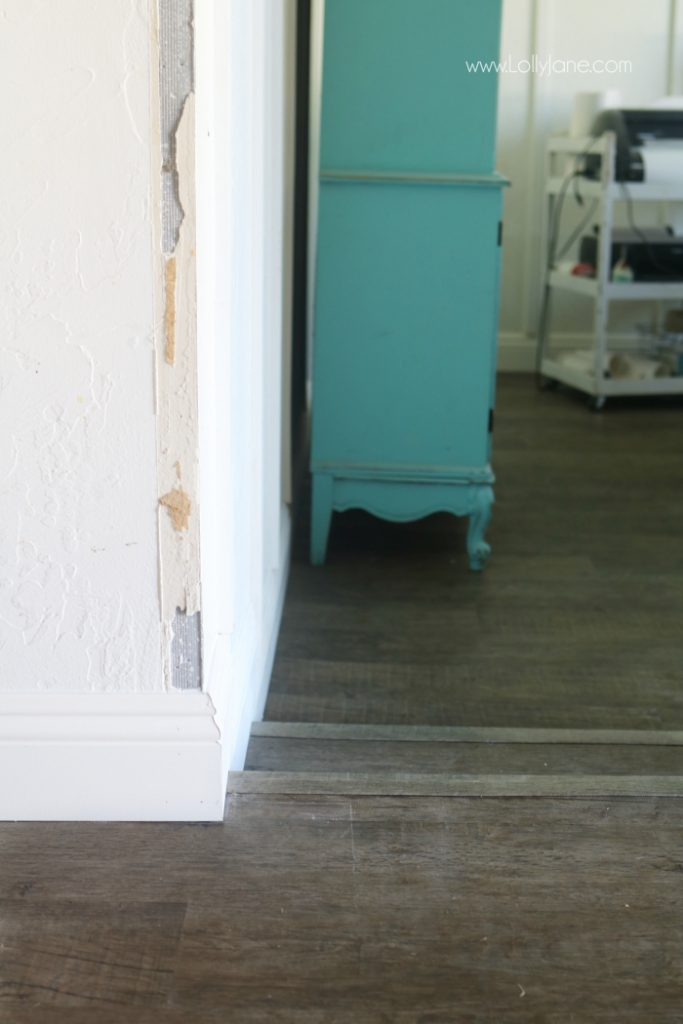 We added 5″ molding from Discount Door and Trim. We love the instant charm.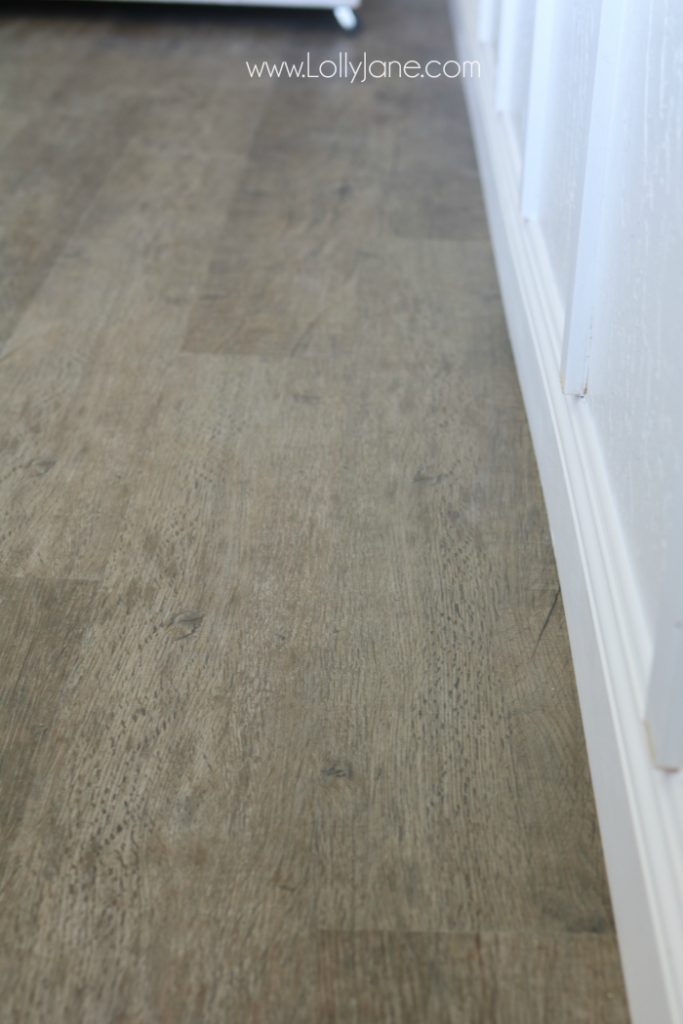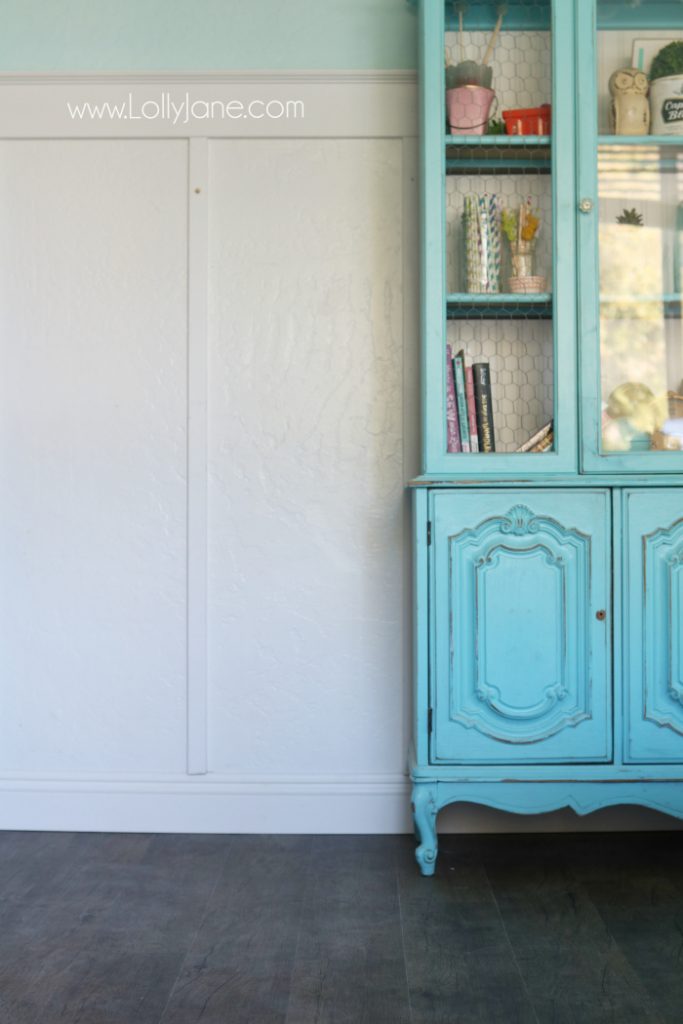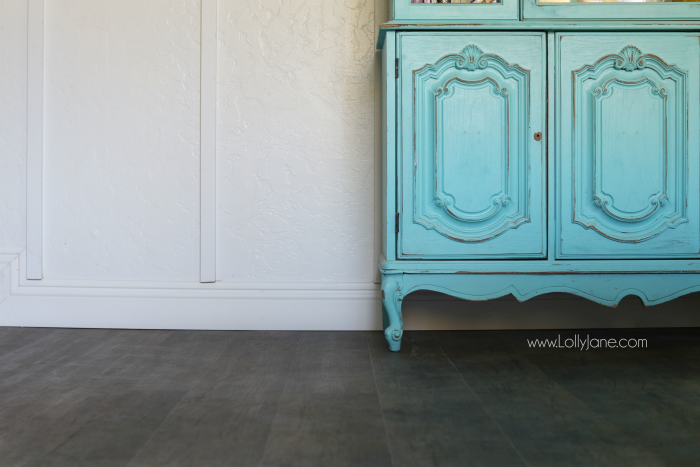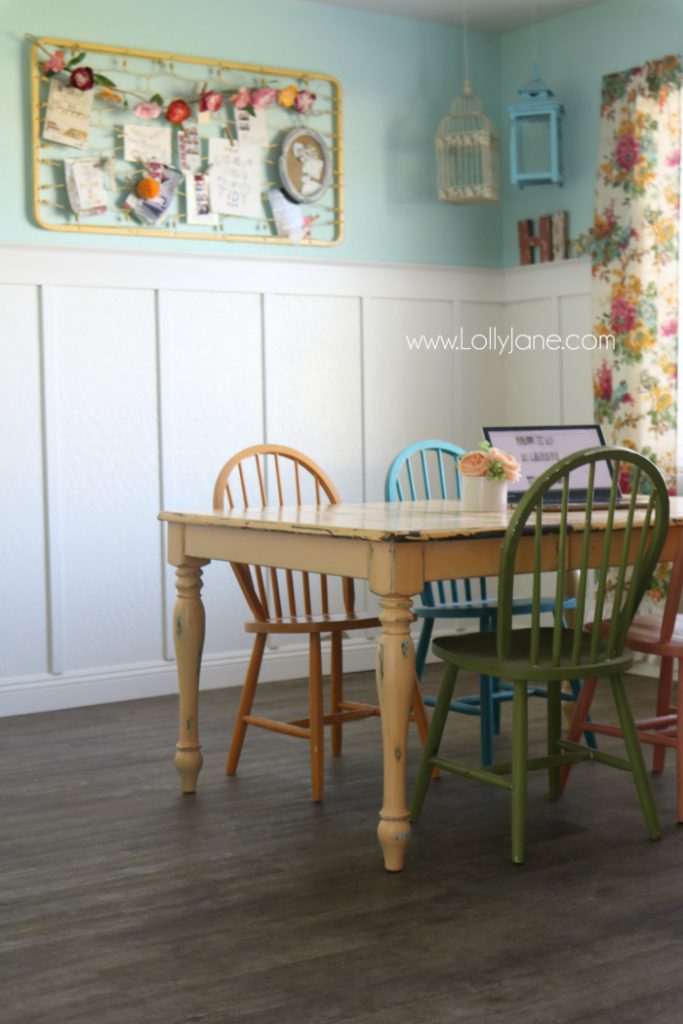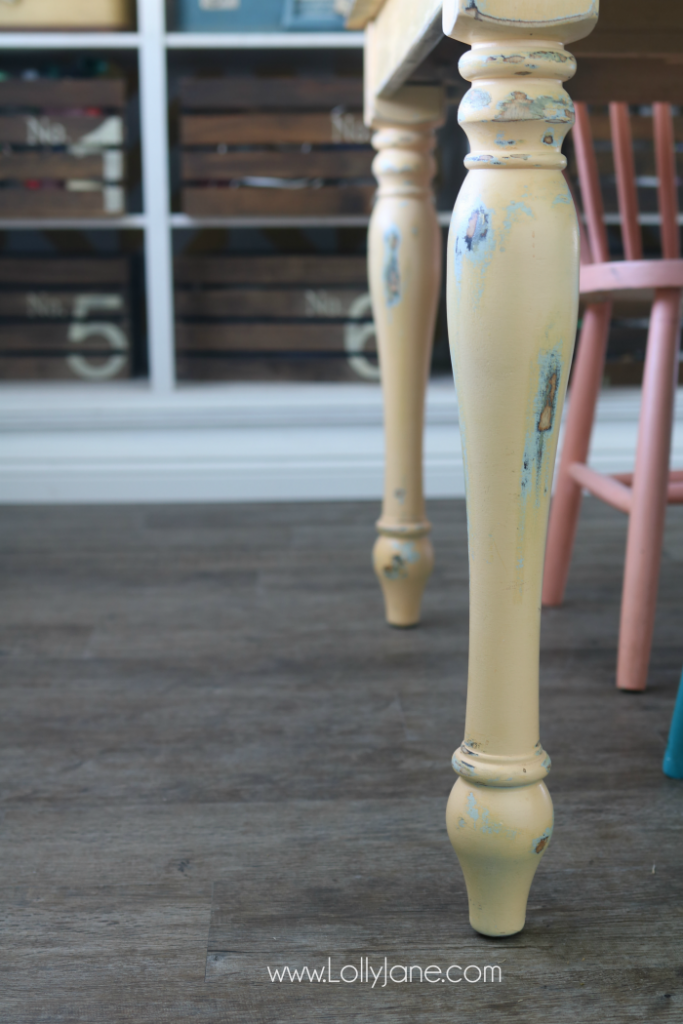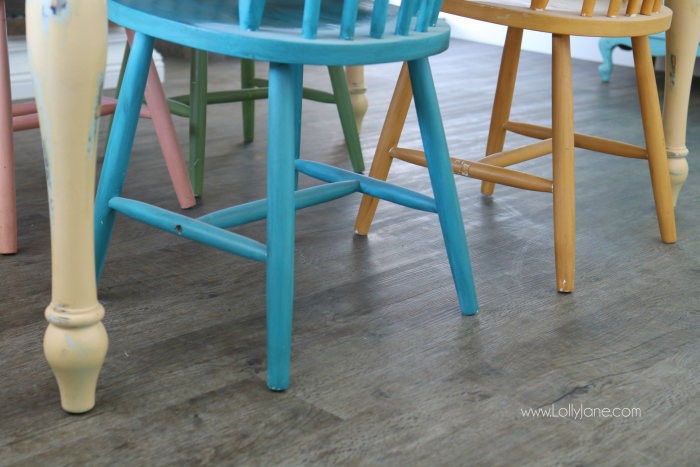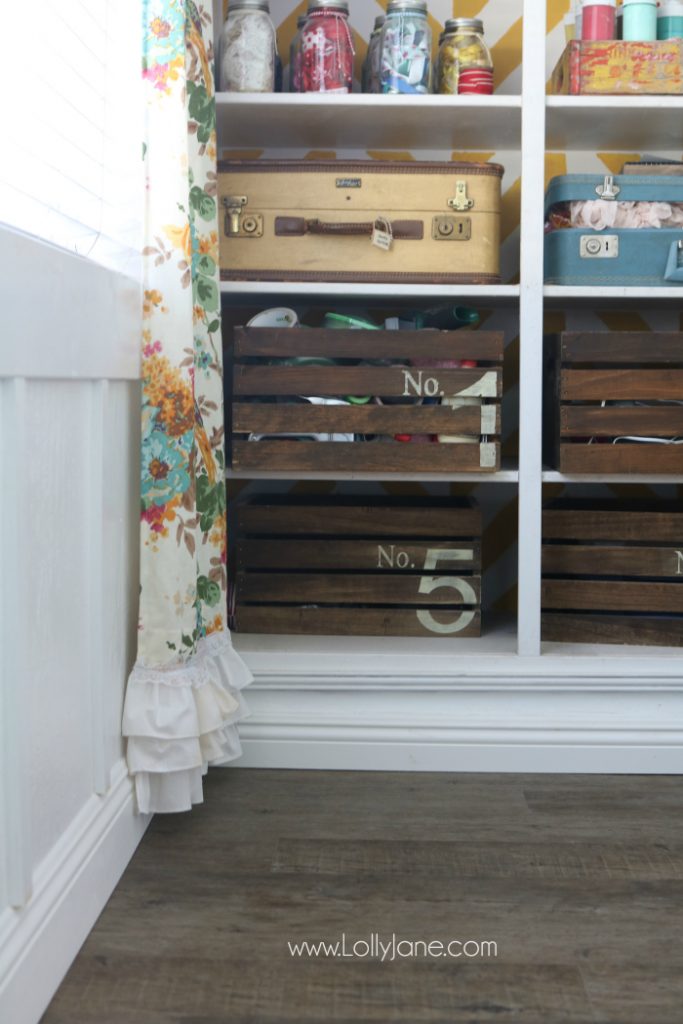 Let's venture through the rest of the house during the install.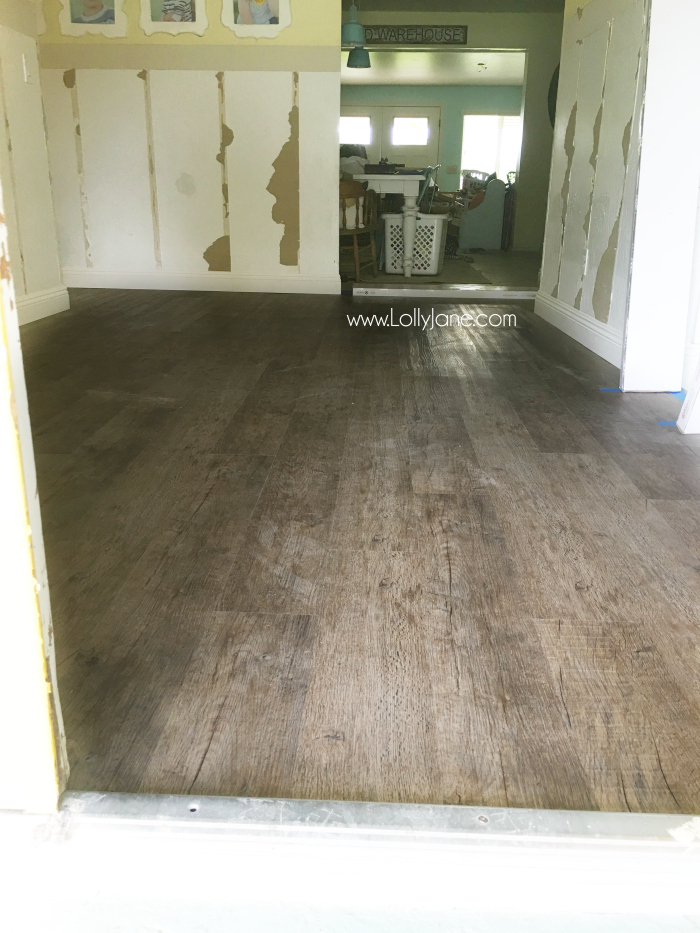 This hallway is right off the entryway.
It may look a little messy but it's because we took down our board and batten which was damaged in the flood. The wall treatments that are en route are going to be incredible…it's always messy before it looks amazing, right?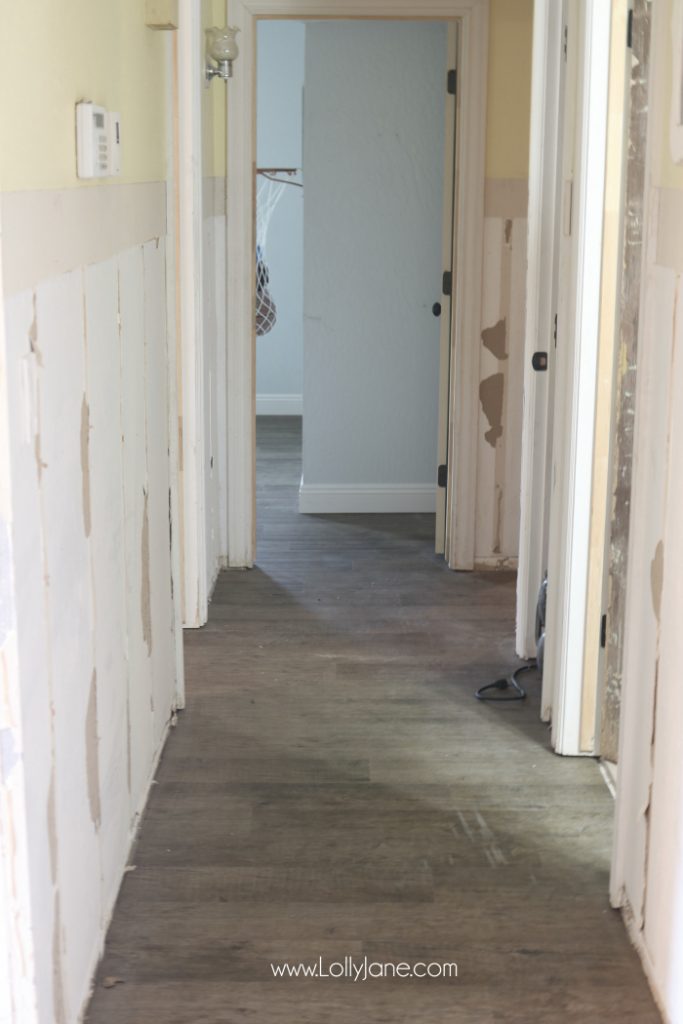 To the right of the hallway is the kids' bathroom.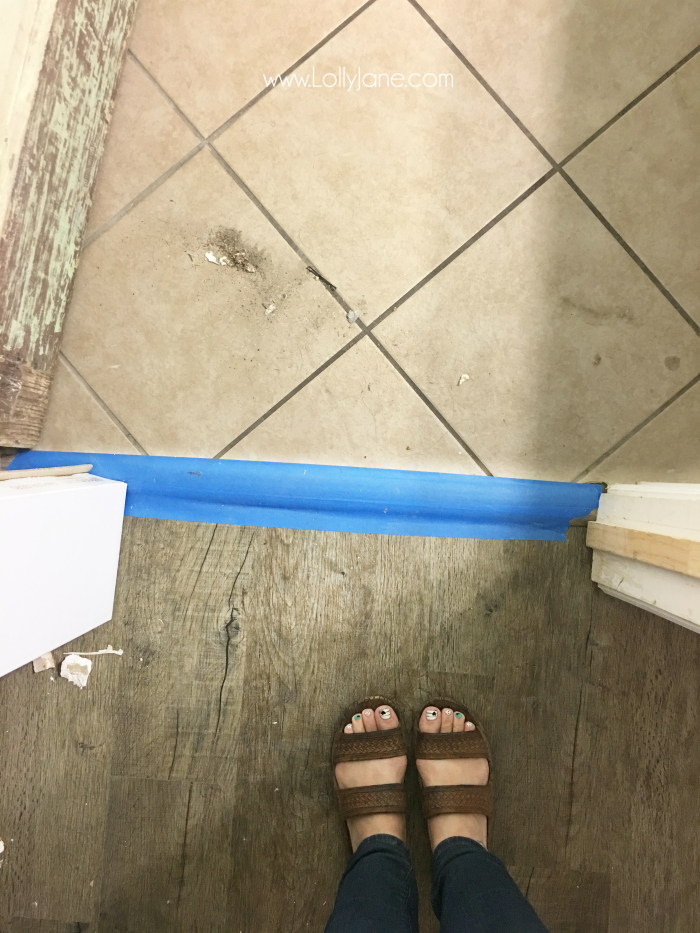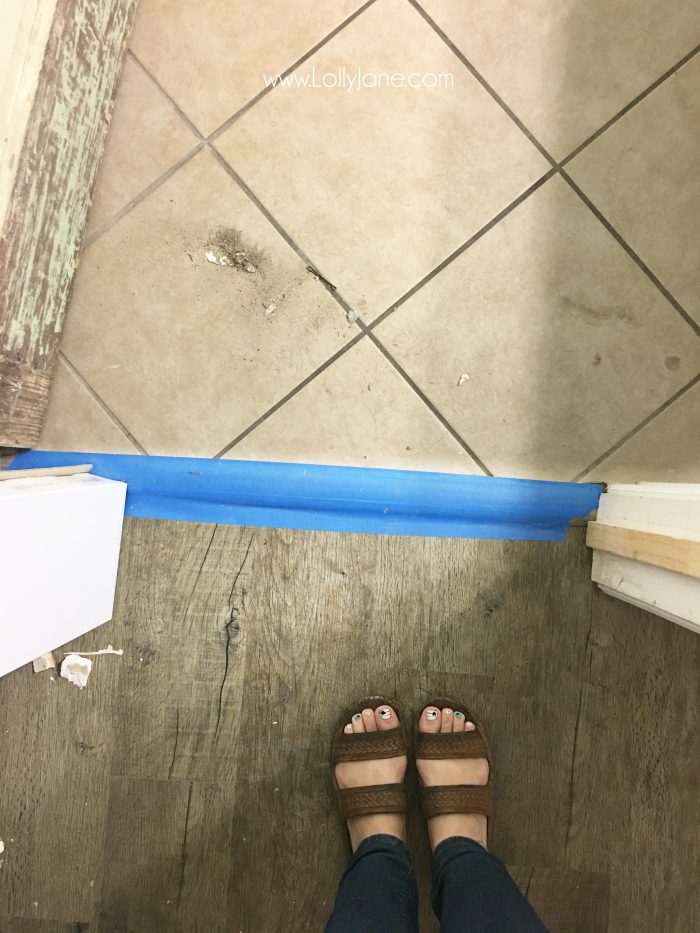 Here's my daughter's room after the install was finished, so clean!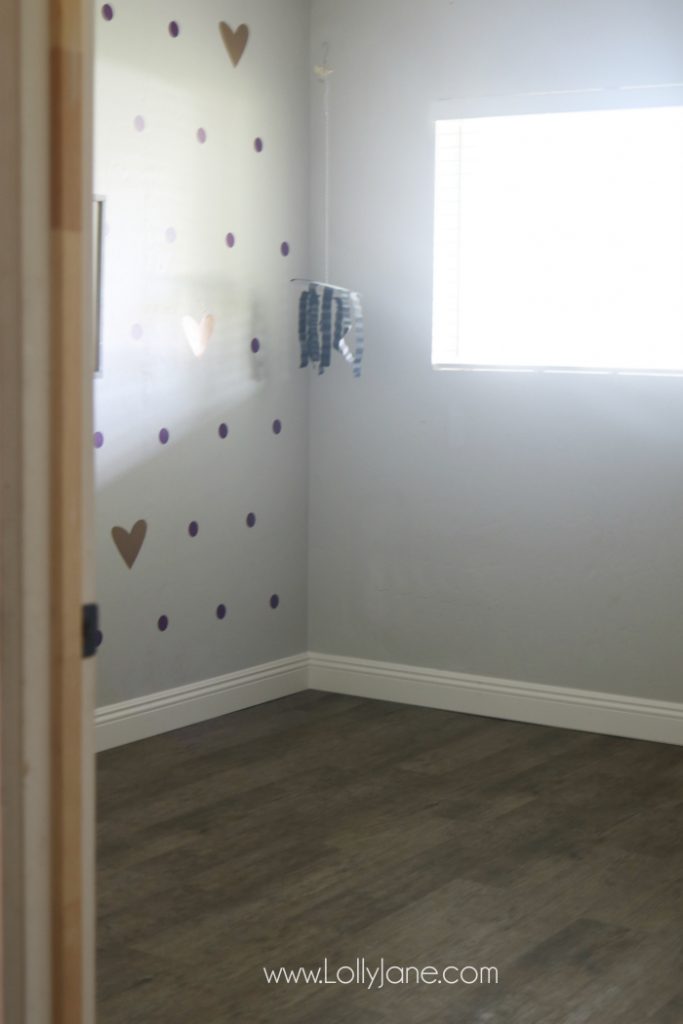 There's a reason I cut off so much of her flooring in her last pictures…the carpet was a rental for about 6 years and no matter how many times we cleaned it, it never looked great. We were so happy to replace it! She absolutely loves it!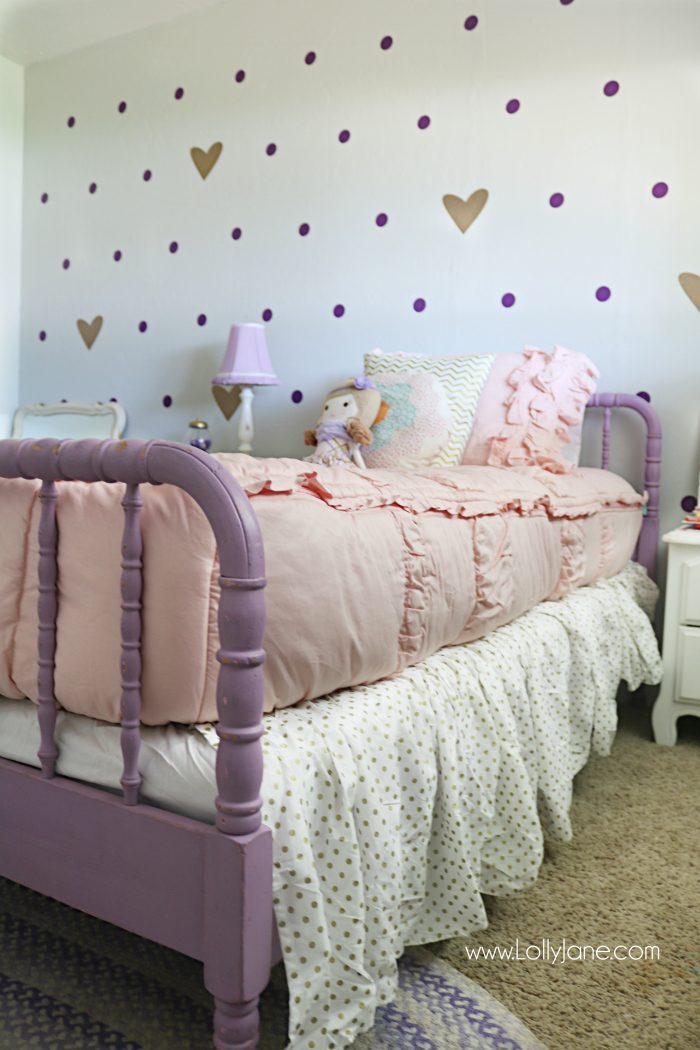 Ahhh, much cleaner!
We're moved her room around a little and it feels more organized and put together with the new flooring.
And she doesn't mind vacuuming now because it's so easy to push around for her little 7 year old self.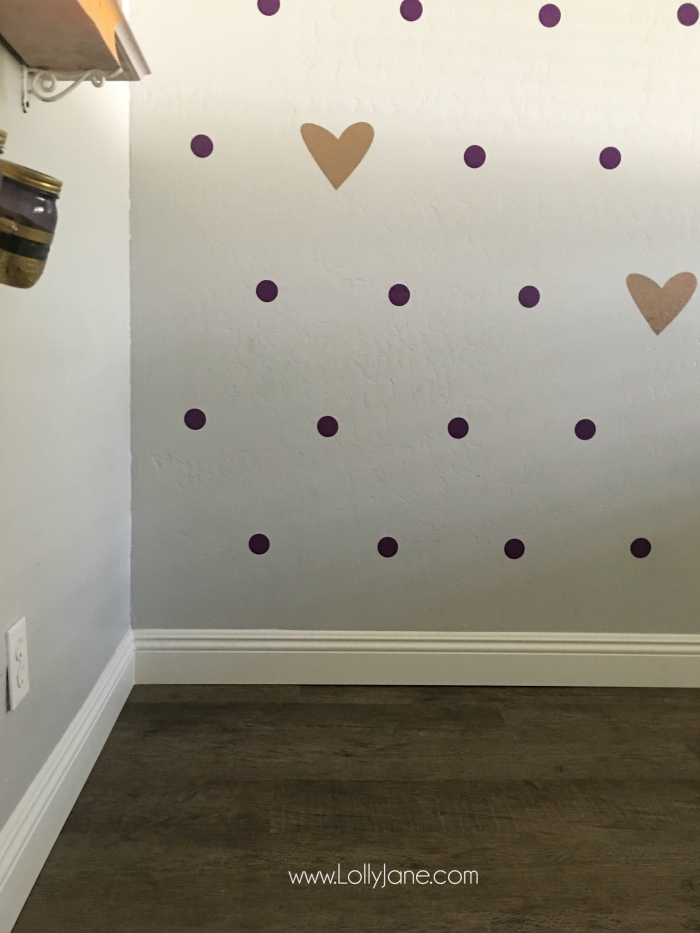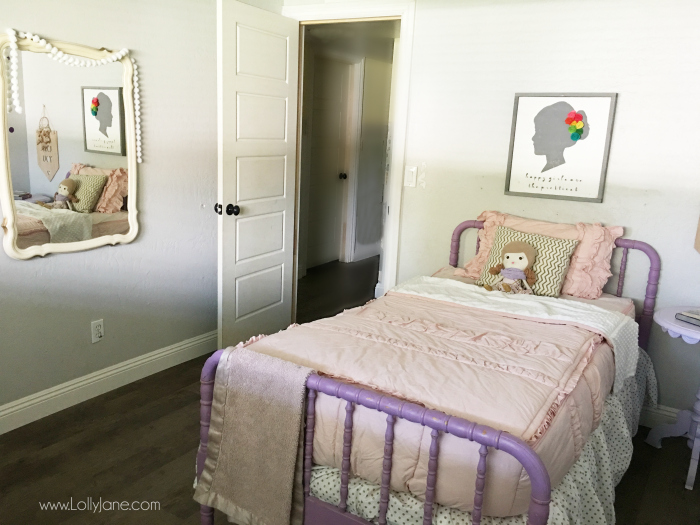 My son's love their new flooring, you can see why in the after and before pics!
We used a rug to cover up most of the stains that time had caused. They actually vaccum their room regularly now, what!? It's been awesome.
Can't wait to share the rest of their room soon! They're transitioning to full size beds and we're currently building the bed frames, they're going to look amazing against the vinyl floors.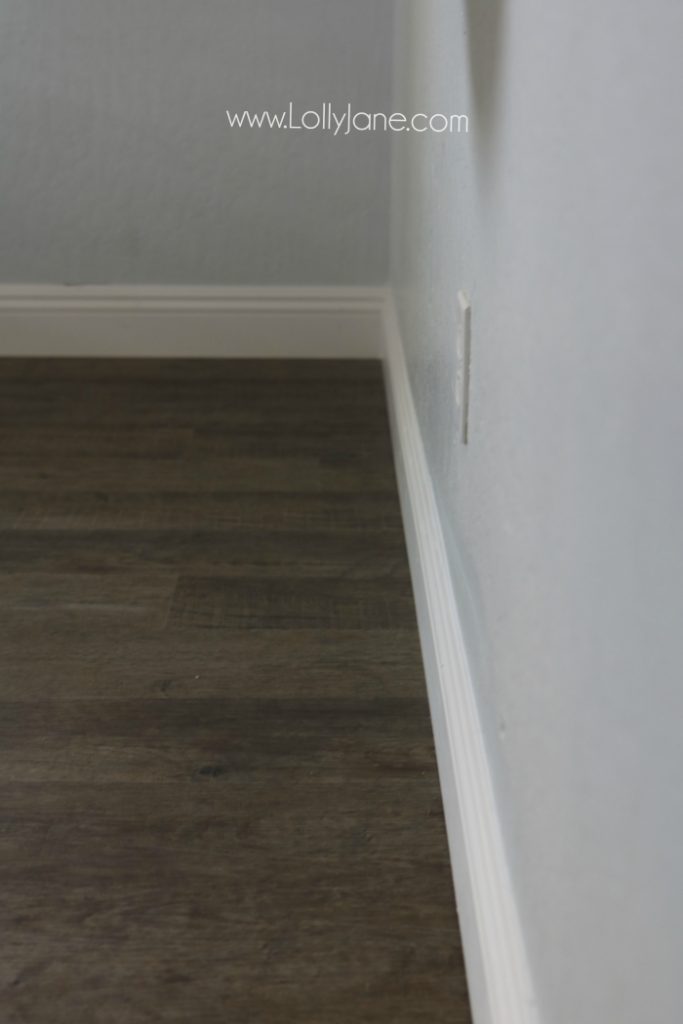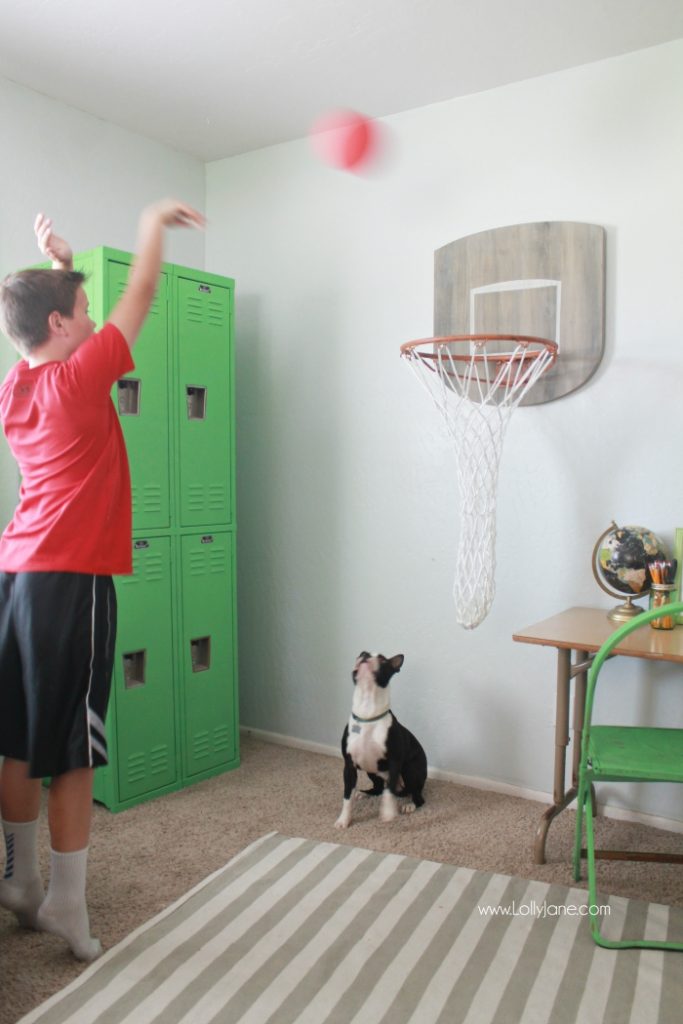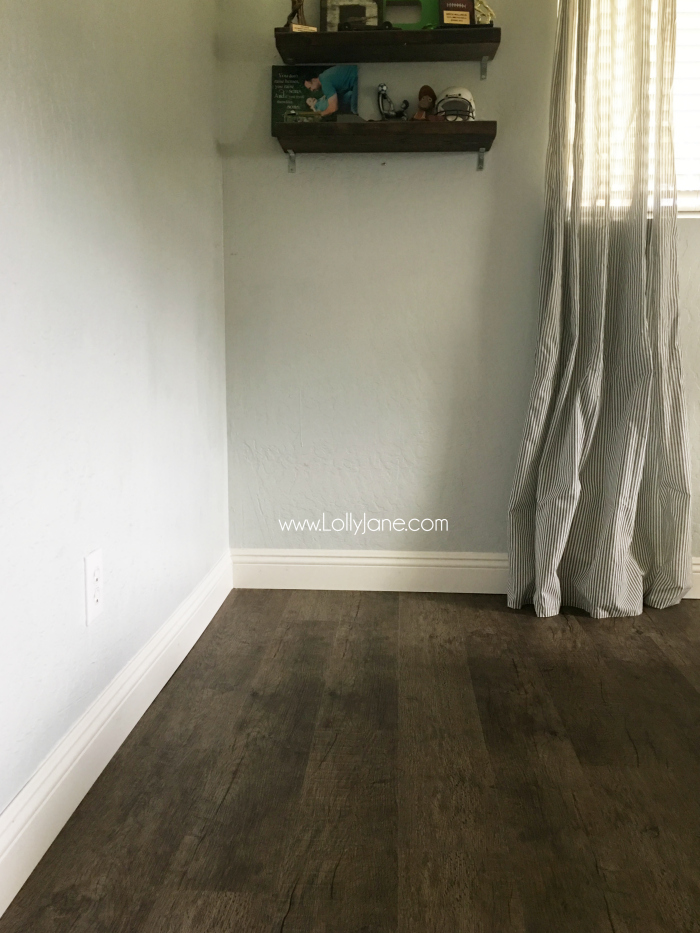 I haven't publicly updated my daughter's room since 2012 but she is also adoring her floors.
Our friend built a brand new 6000 square foot house down the street recently. My 13 year old came home and commented on how giant their home was and how much she loved their floors. I told her she must be a blogger daughter to notice floors at the age of 13, ha!
She's been asking if she could upgrade hers and I told her we needed to wait to pay cash.
The flood gave us the nudge we needed and my silly little teenager has been so excited to move her room around to showcase her new vinyl. Too funny.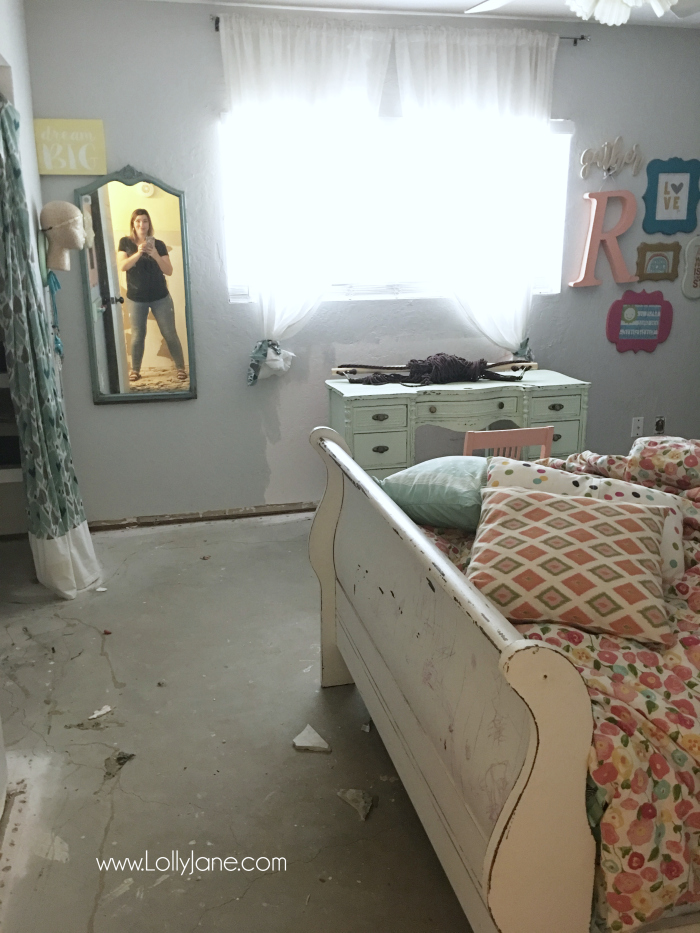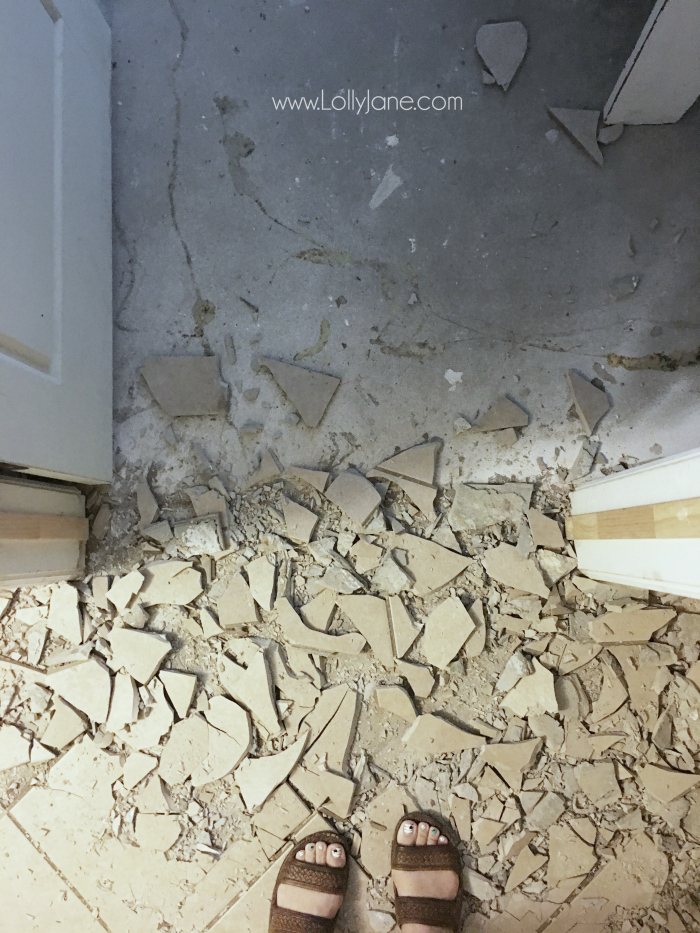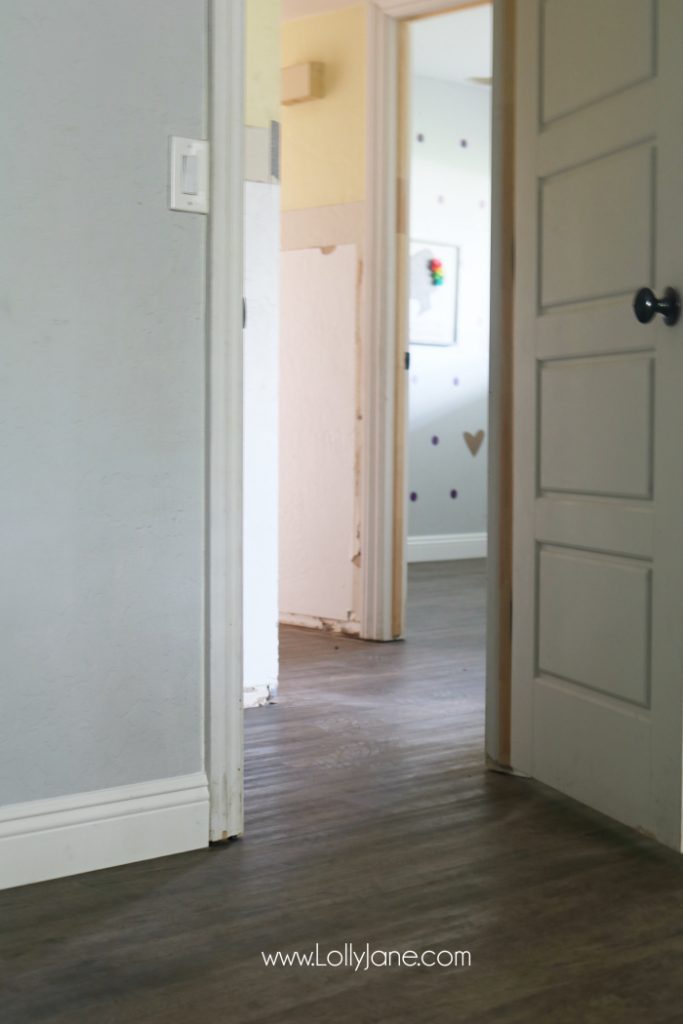 We had actually started turning her bedroom into a more mature teenage room versus a little girl room weeks before the flood. We had just chalkboard painted a whole wall and were  making plans for the other walls when the flood hit.
It was good timing because the before and after will really be a wow factor now! I love the new molding in her custom closet I built last year.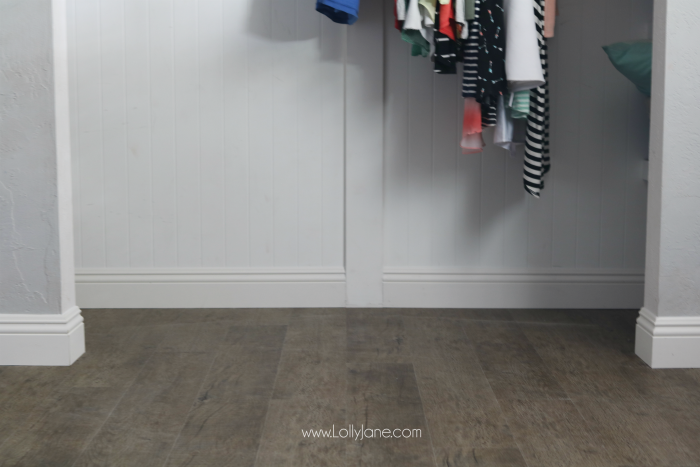 vinyl floor reveal
ONE MONTH UPDATE LIVING ON VINYL FLOORS
We are loving our early Christmas gift of vinyl flooring!
We've been living on these floors for nearly a month and can't recommend them enough.
They're durable (there's that word again!), hide dirt well, they're easy to clean and friends constantly ask if they're hardwood or ceramic tile.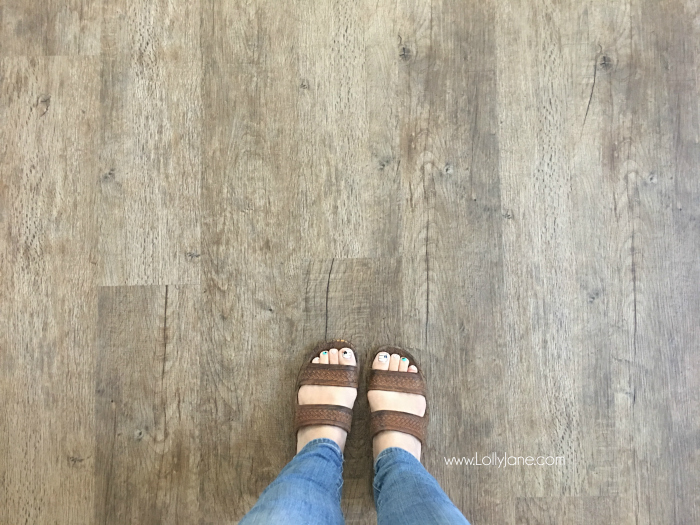 I can't believe how different flooring changes a home. Here is my current entryway: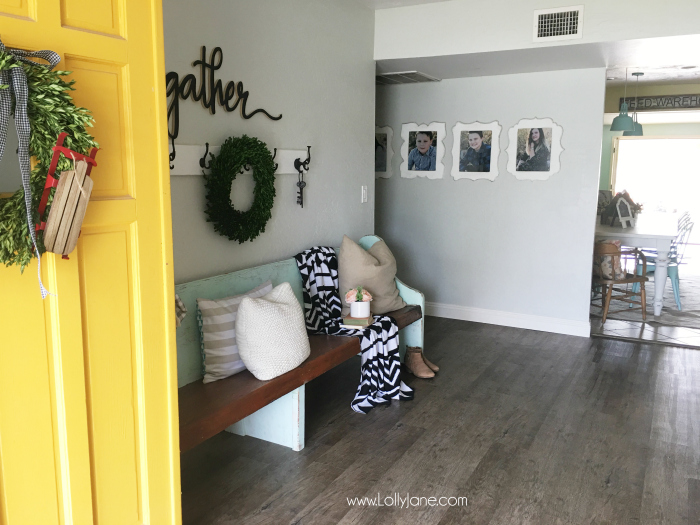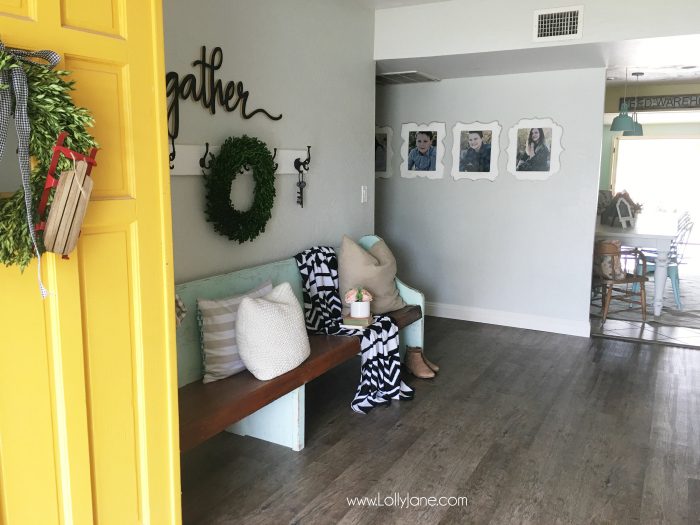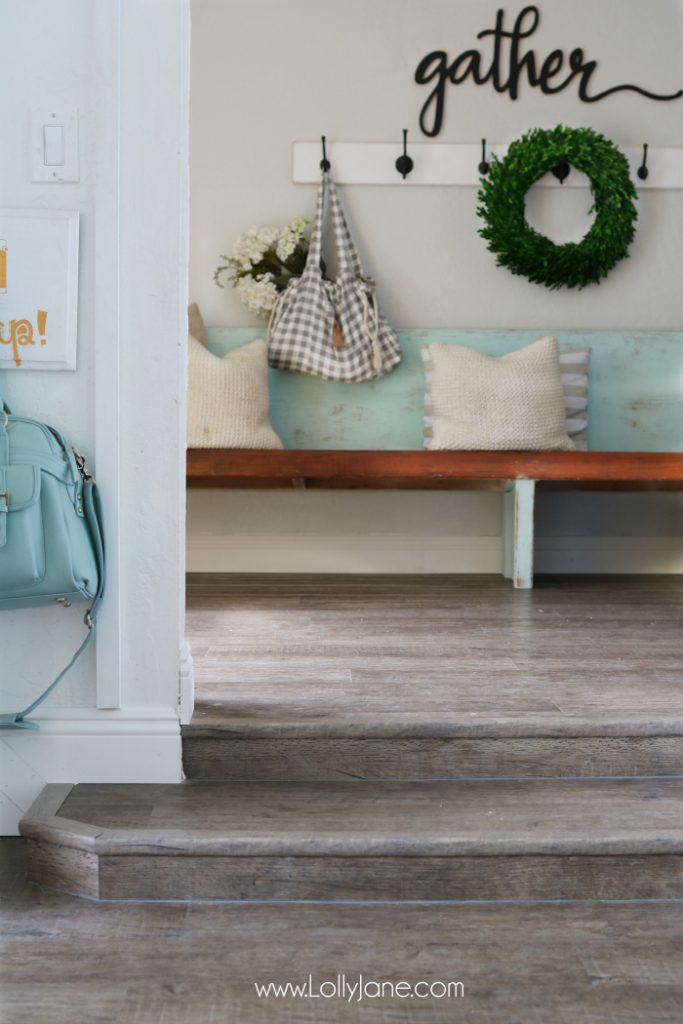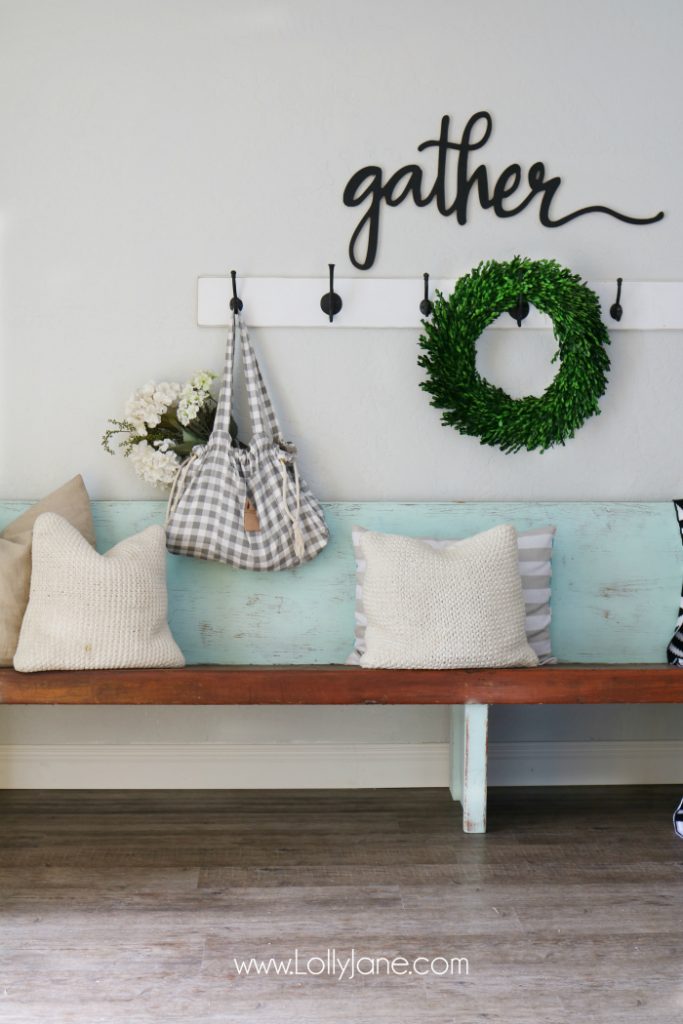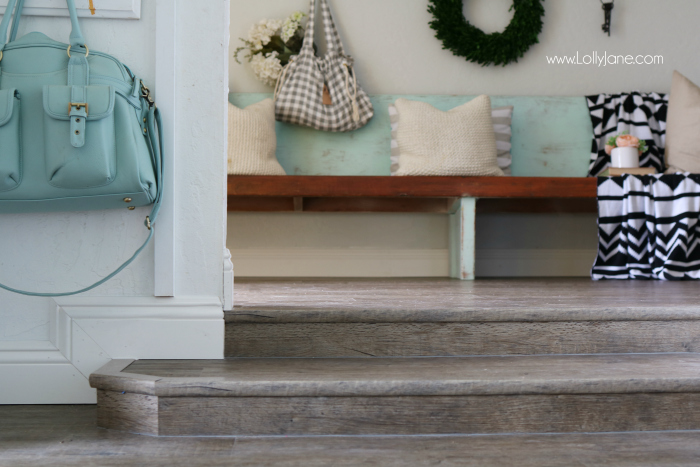 And the entryway before…like, WAY before:
Then more recently: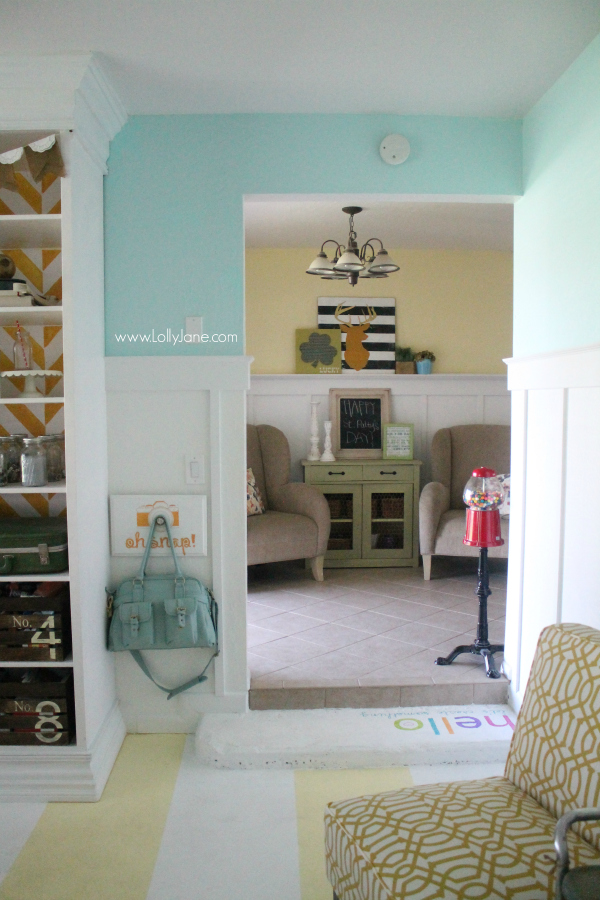 During the install process: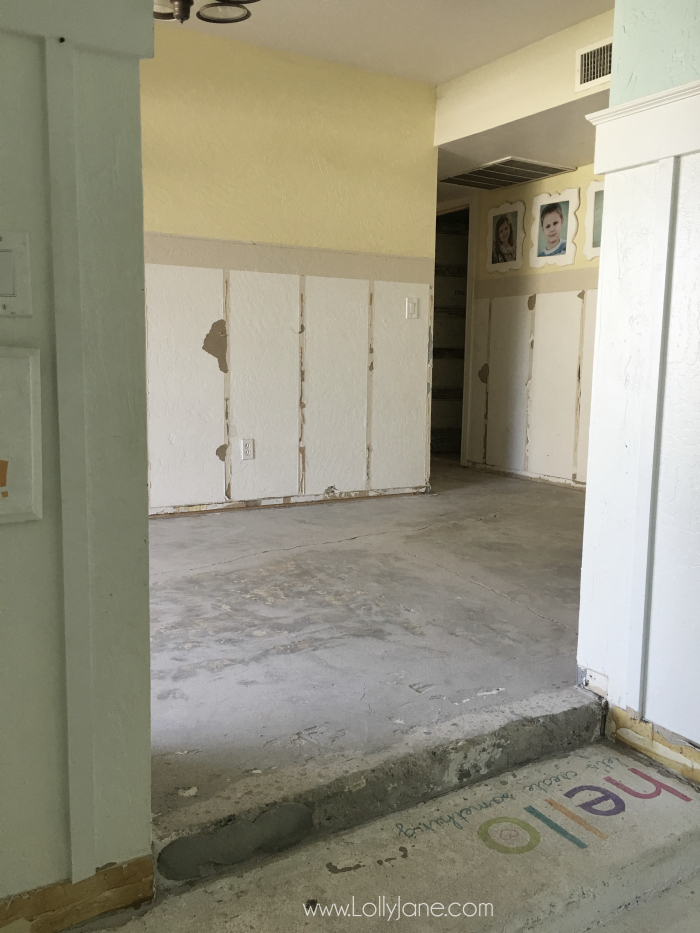 What a change! The entryway is just off the craft room.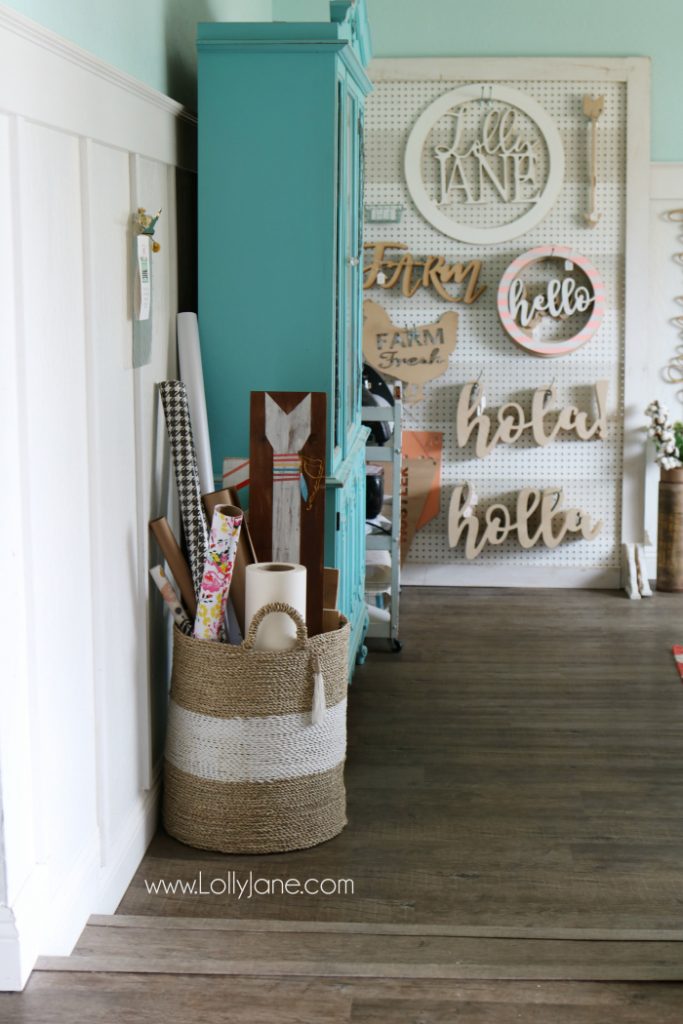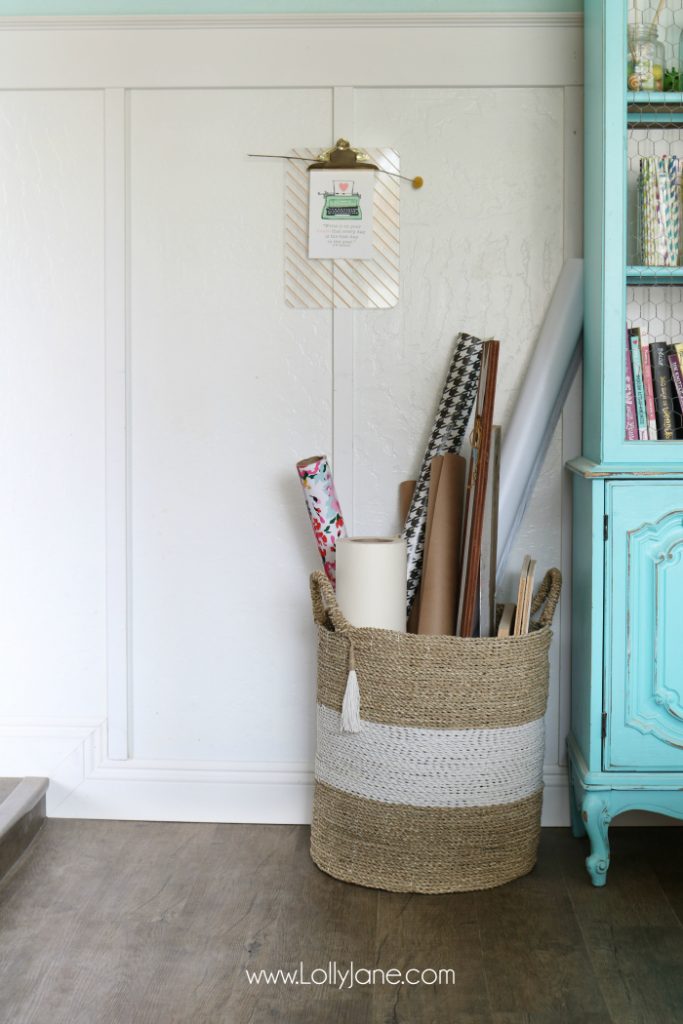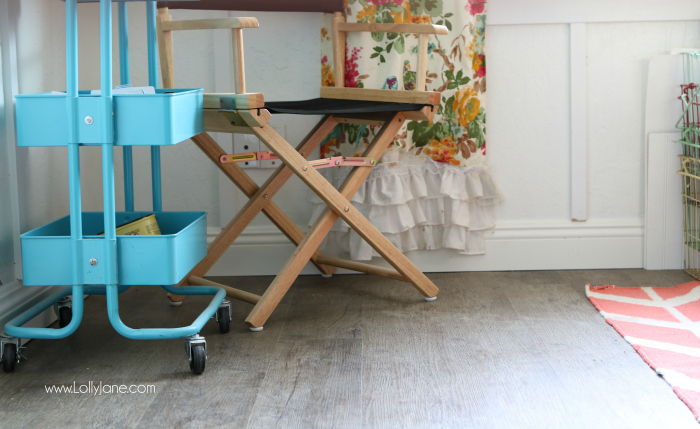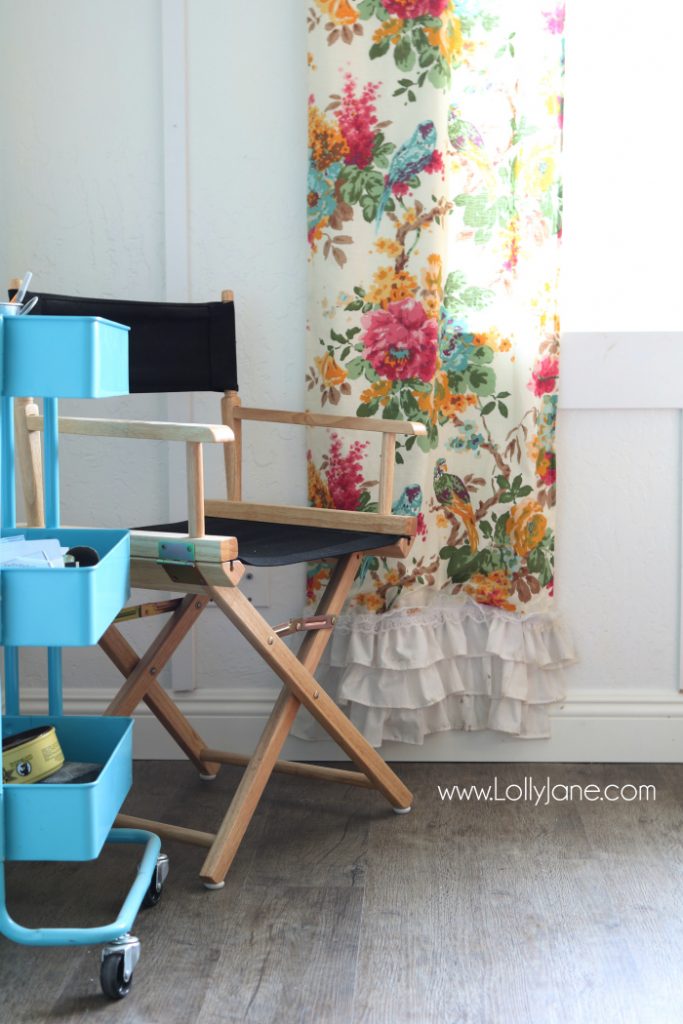 Head through the entryway to get to the backside of the house where we replaced the rest of the floors.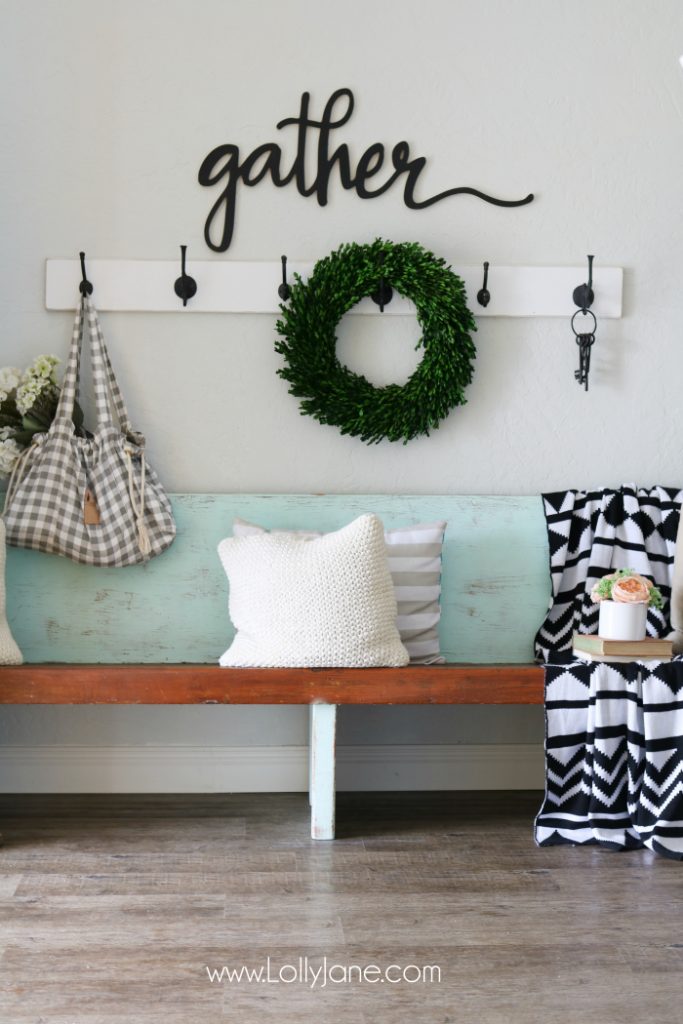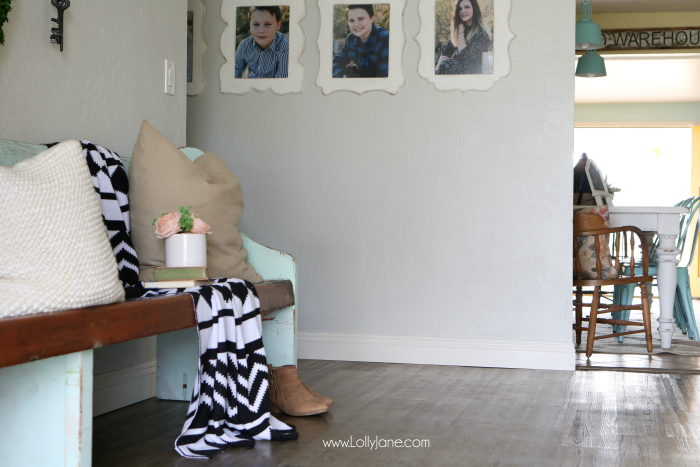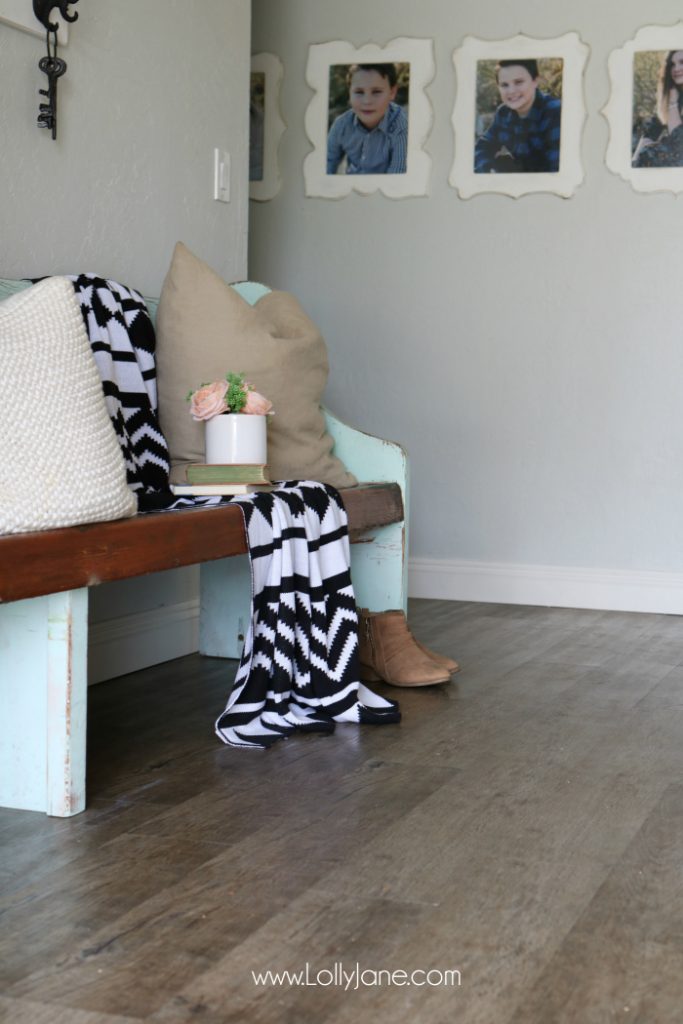 My bathroom is getting gutted soon, I cannot WAIT!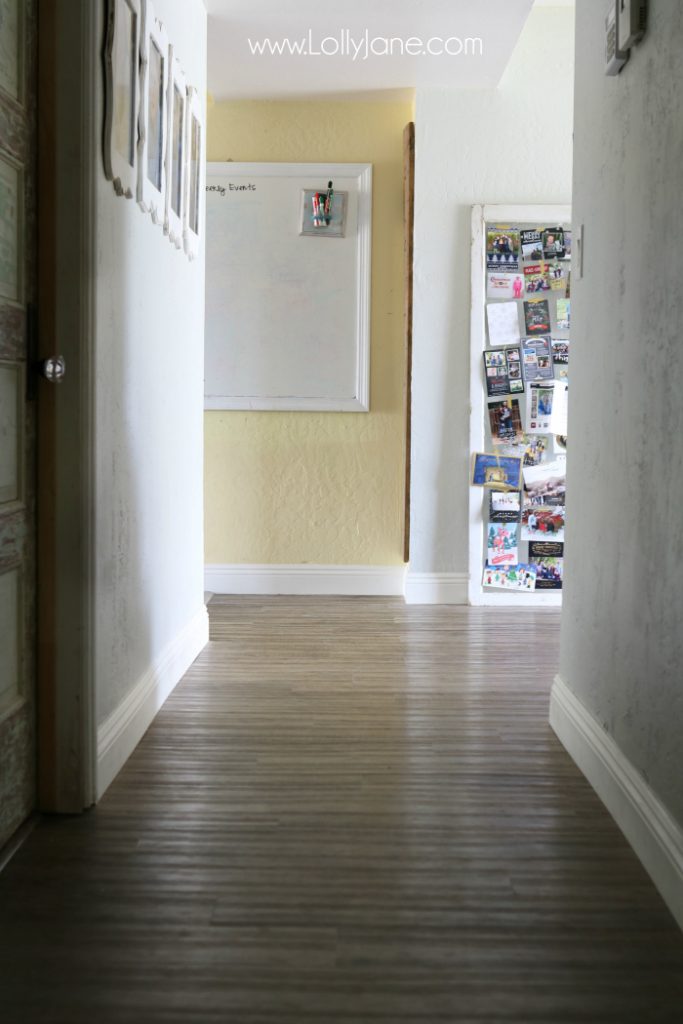 The hallway after and during: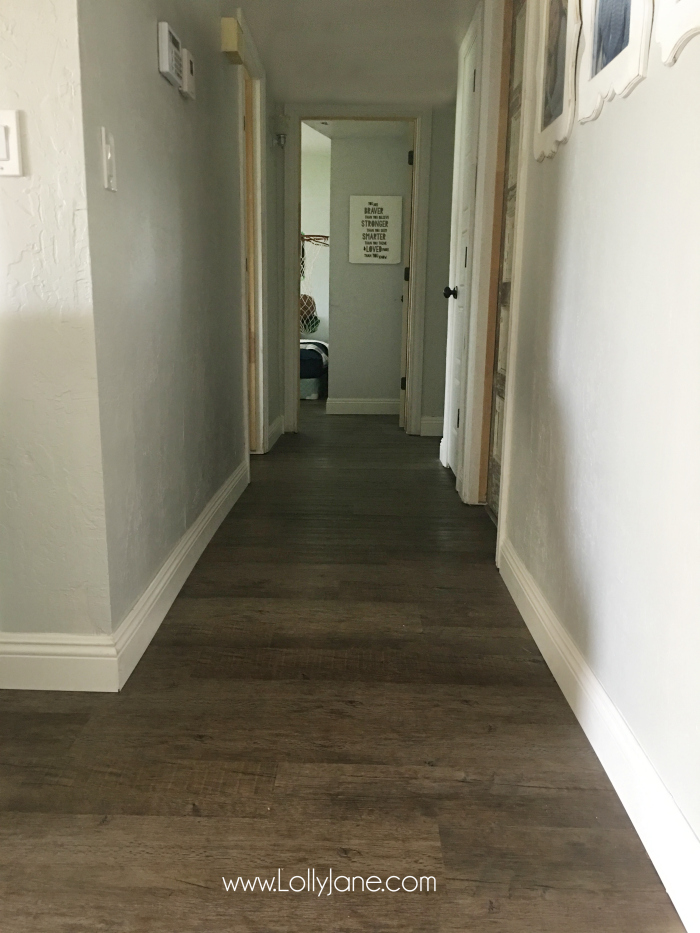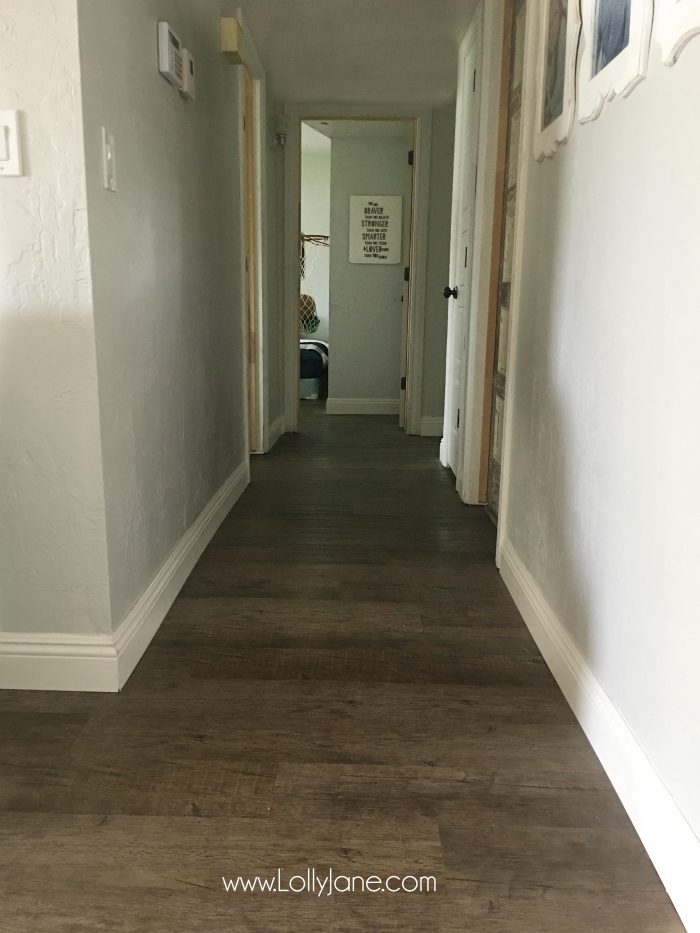 When we removed the board and batten wall treatment, it ripped off several pieces of drywall. It took half a day to sand and patch then another 24 hours to dry. We lightly sanded it down then painted the walls Moonshine by Benjamin Moore because I love Anni's nursery colors.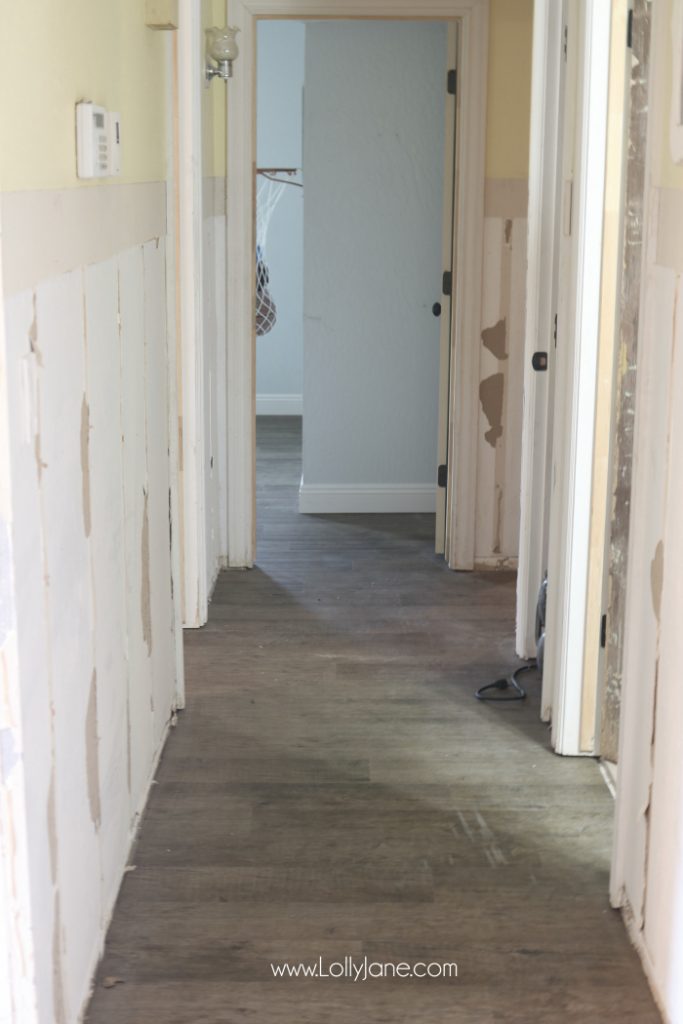 My younger daughter's room is the only of the three bedrooms that is 100% put back together so far.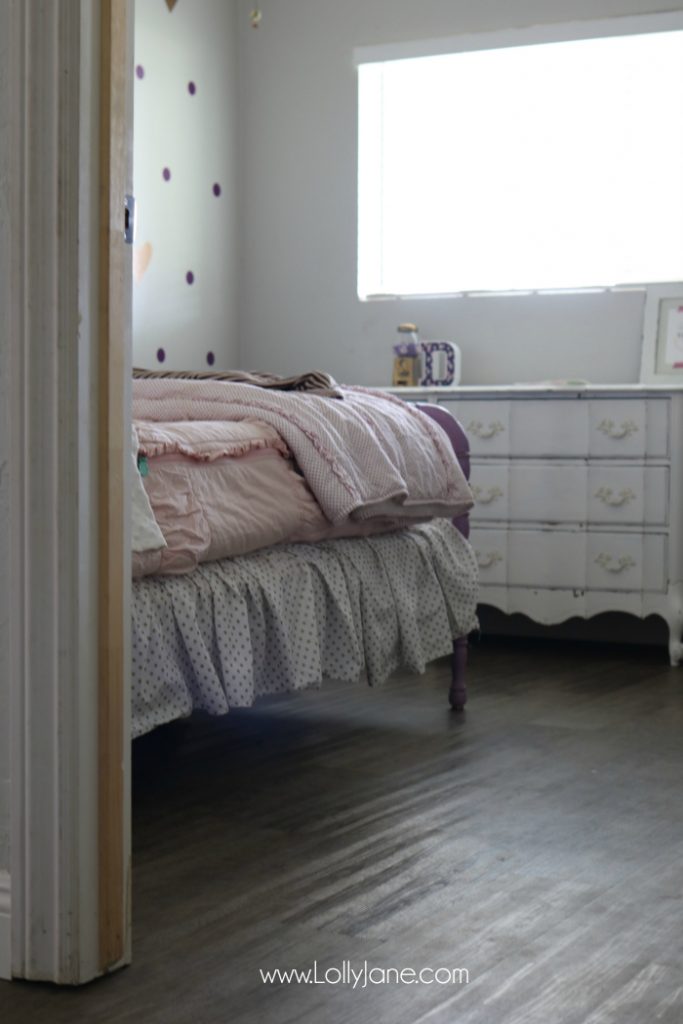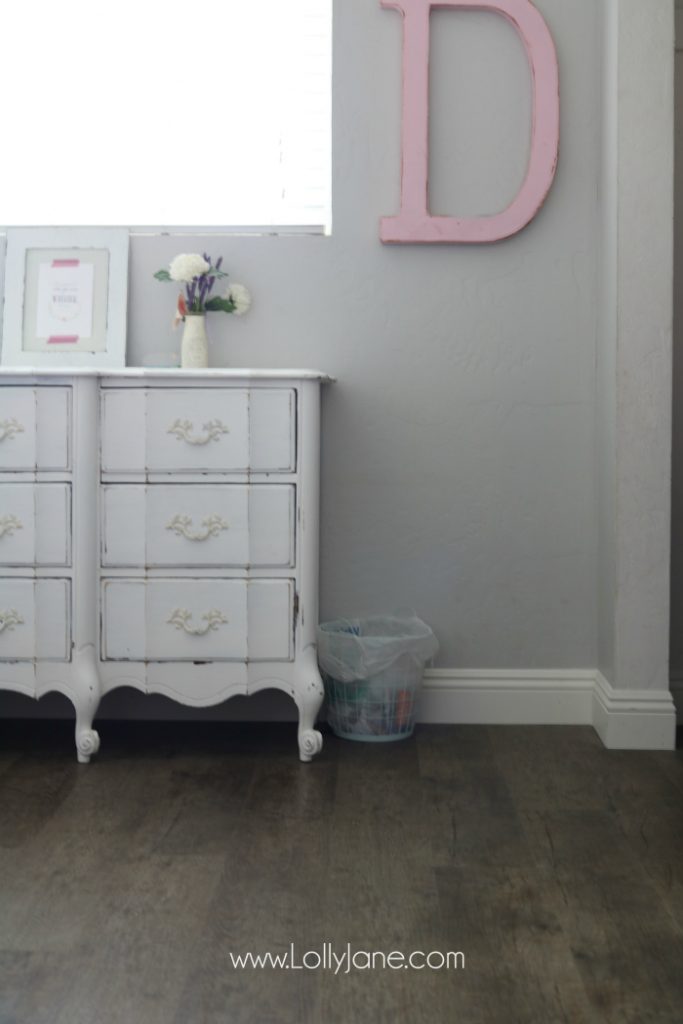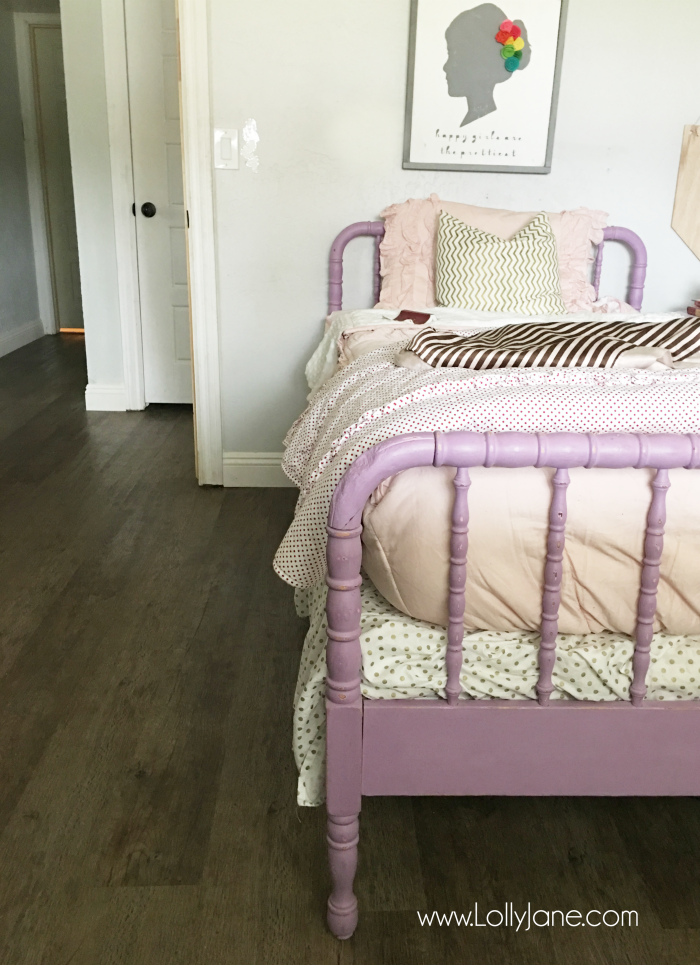 I've showed my son's shared room before but doesn't it look amazing with new floors? Their new beds are being custom built (by my husband) and aren't finished so look for a grand reveal of this room soon. It's coming together nicely!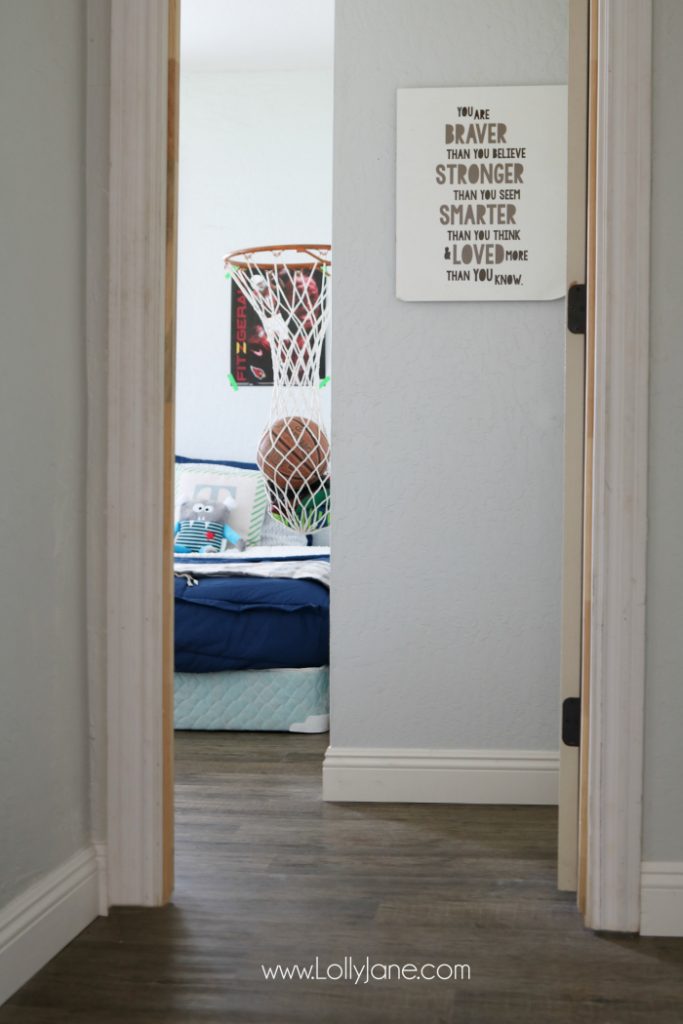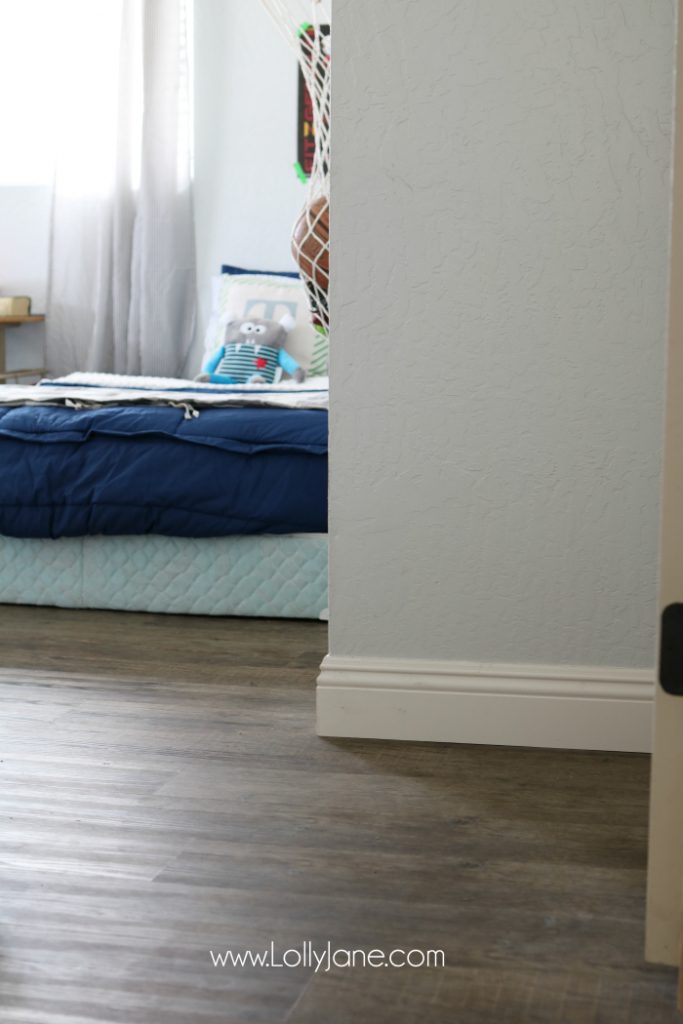 My oldest daughter's room is partway done as well. That's what happens when you renovate in the middle of the holidays, I suppose. The floors make a major difference! She is in LOVE with them. We're going to hang more string lights and style her walls then share the rest of her space.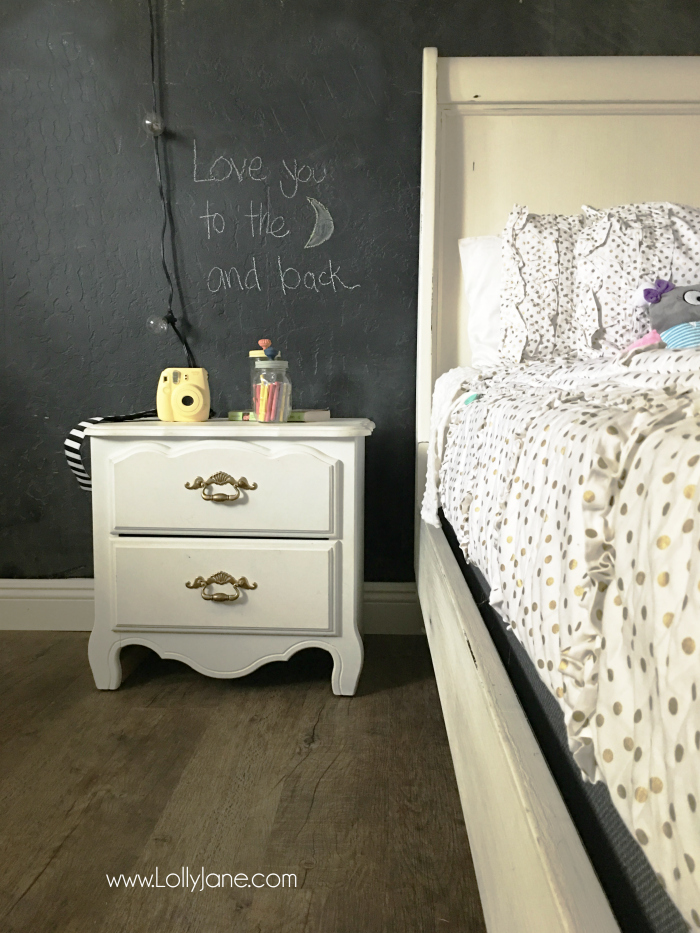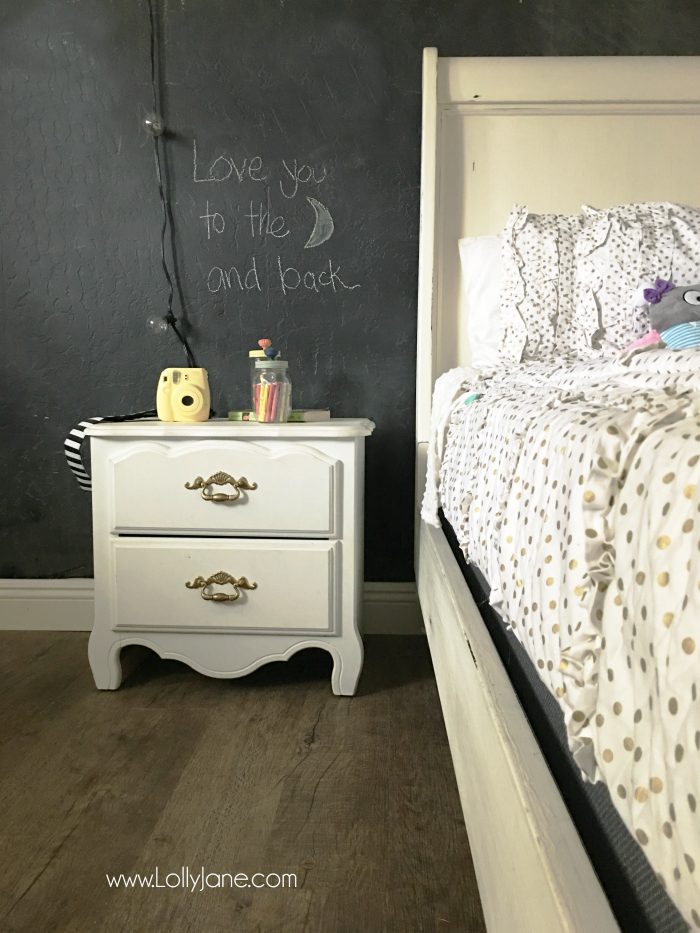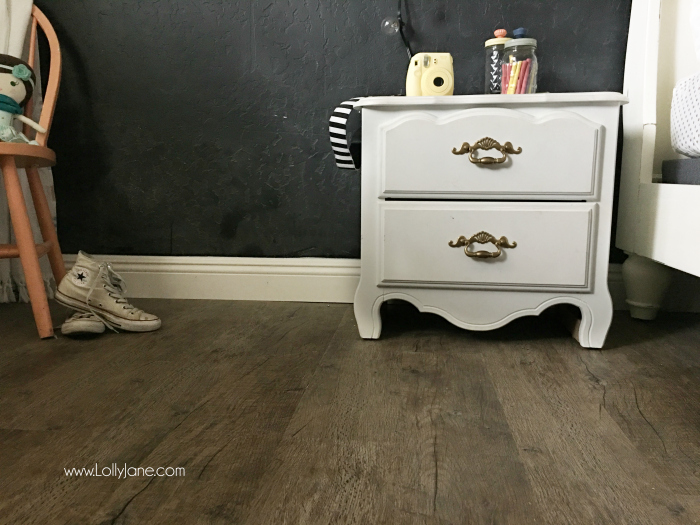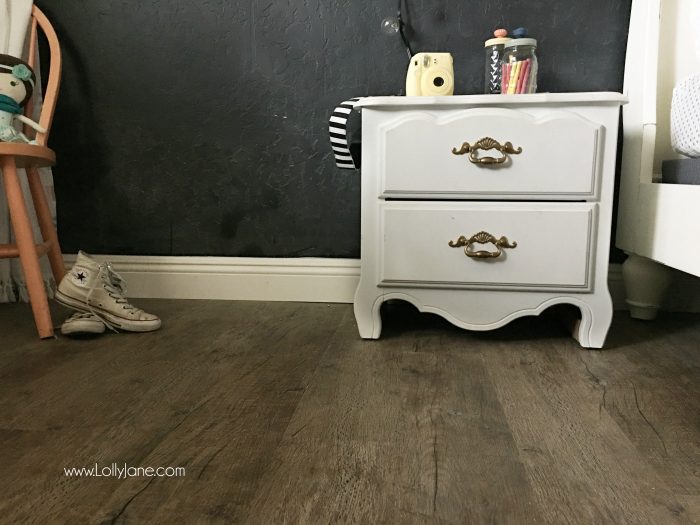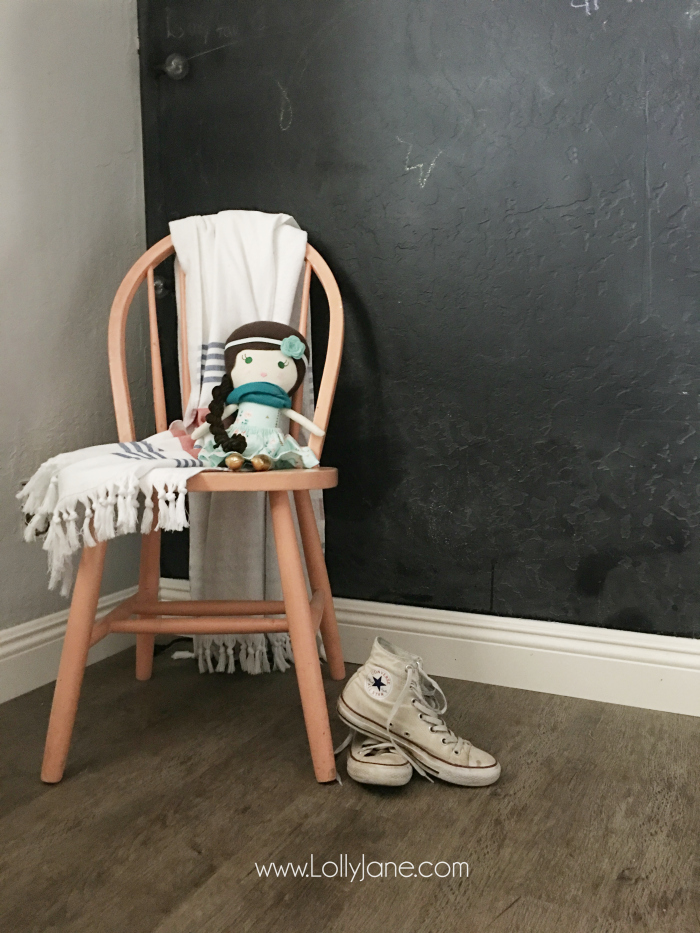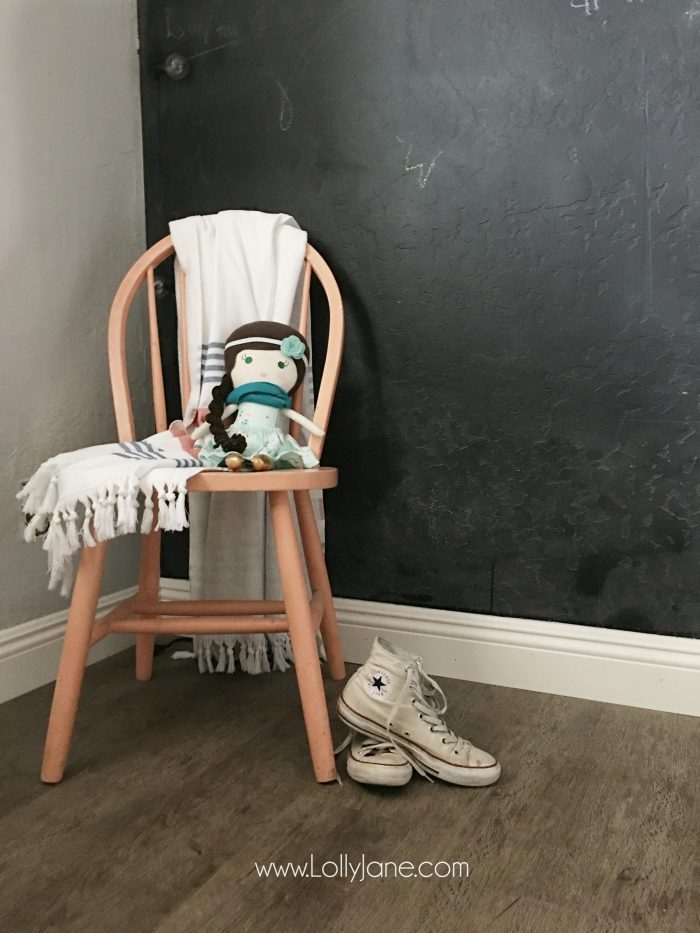 We're hoping to tackle the kitchen and beyond in 2020. Stay tuned! ?
additional questions we've been asked since this post went live
what color is your flooring?
It's called Silver Sage but is no longer in production ?
how long did it take you to install?
It took us 3 days for 800 square feet.
how do they hold up after time?
We've had them in for four years now and they look as new as the day they were installed. Honestly. I spilled a quart of latex paint on them and let it dry completely then it PEELED UP! *Mind blown*
how long do vinyl floors last?
Typically 10-20 years but as with all things: they'll last longer if you take care of them. We're pretty hard on ours (dogs, kids, irrigation, dirt, we wear shoes in the house) and they're doing terrific.
Do you have any space that is direct sun?
Yes, 3 rooms have direct sun and the flooring shouldn't affect it due to the high quality; no fading thus far!
Are they slippery?
Not at all! They are smooth but have a wood-like texture to them so they're not slippery and in case they come in contact with water they won't warp. (That's why we got them in the first place, our other floors were ruined from a flood. Aaah!)
Do they have a texture that feels similar to wood?
Yes, they feel almost carved, or have a hand scraped feel to them.