2017 circular wall decor diy
Hello Lolly Jane readers, it's Jaime from
That's My Letter
and we're nearly to the New Year! Today I raided my scrap wood bin to make this sparkly and festive 2017 circular wall decor and I'm sharing all the details down below so you can make it, too!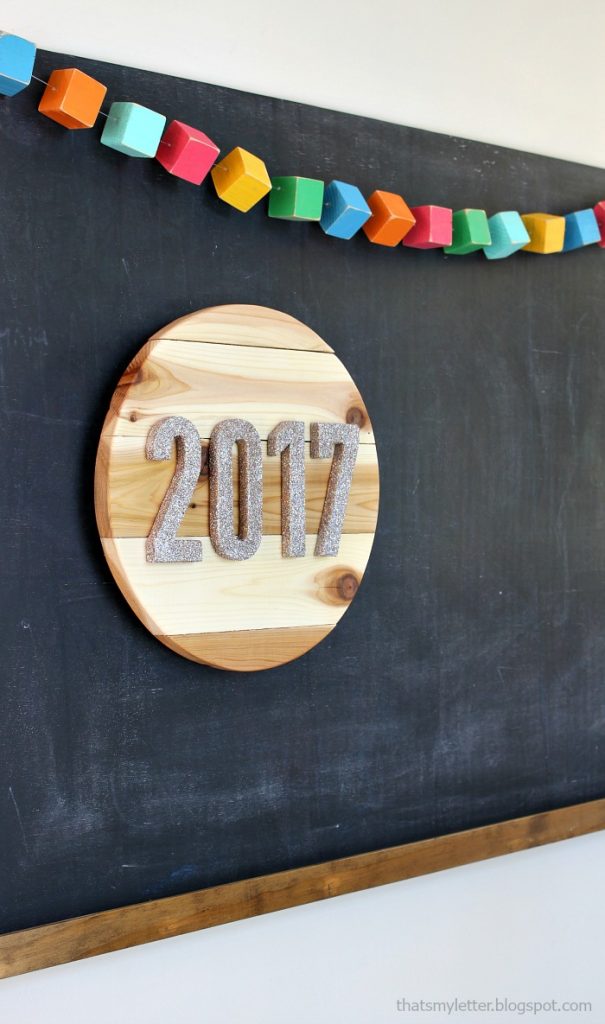 Dig through your scrap wood pile, any size will do, just enough to make a 14″ circle or go bigger if you like! I often find myself wanting things simple by the time New Year's rolls around. After all the Christmas decorations come down we want some breathing room so this circular wall decoration fits the bill.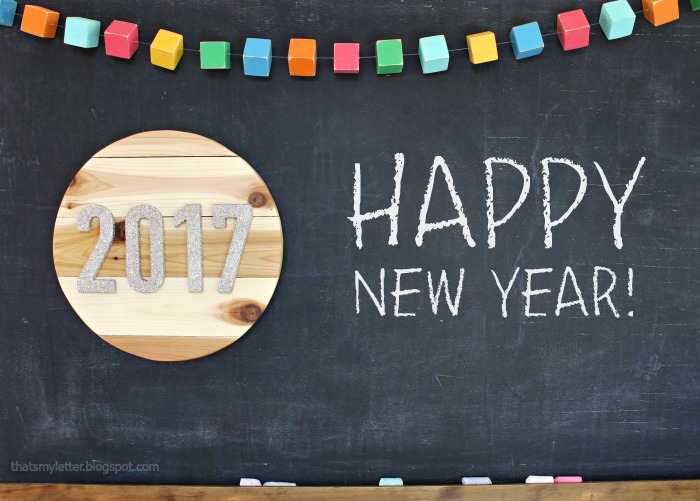 It's simple and concise with a bit of shimmer to get the party started!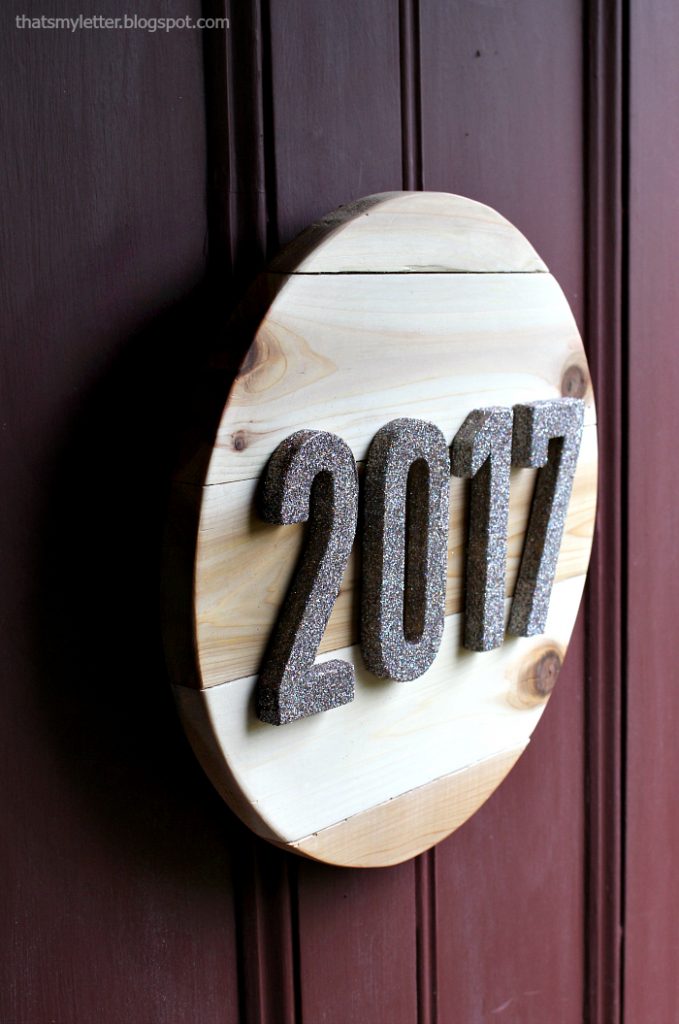 I used 1/2″ plywood scraps to cut out the numbers but you could easily grab pre-cut numbers from the craft store too.
Supplies:
1×4 cedar scrap wood (5 pieces minimum 14″l)
circular shape (I used a grill grate about 13 1/2″ diameter)
pencil
wood glue
1/2″wide moulding (4 pieces minimum 12″l)
finish nailer and 3/4″ nails
jig saw
sandpaper
wipe on clear satin poly & rag
2017 letters print out (link to free printable here)
scissors
1/2″ plywood scraps
scroll saw
gold spray paint
craft glue and foam brush
glitter
E6000 adhesive
Directions: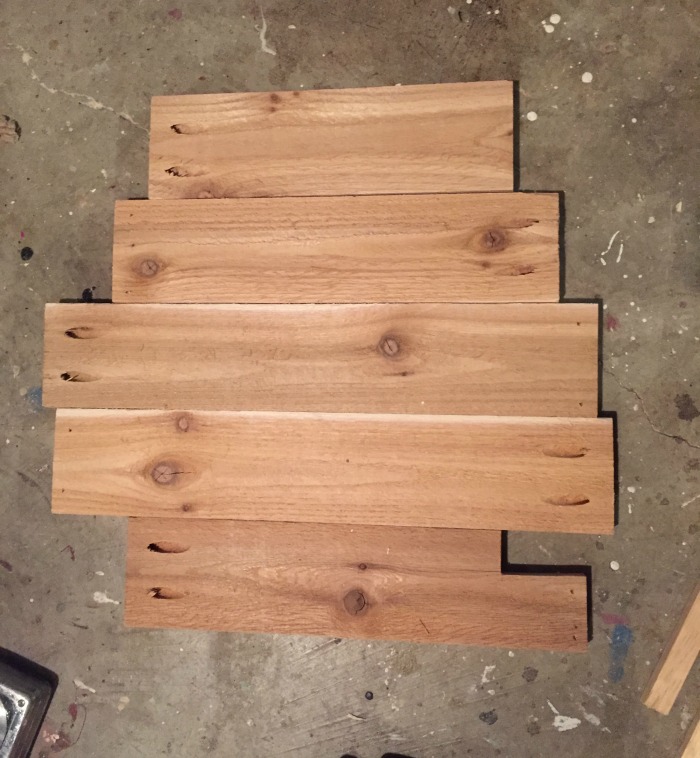 Step 1: Lay out scrap cedar pieces face down.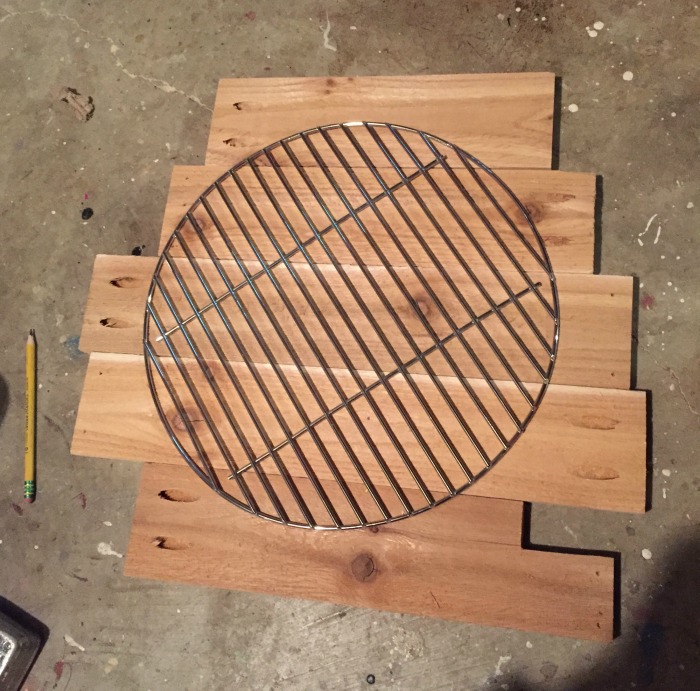 Step 2: Place circular template (grill grate) and trace around outside.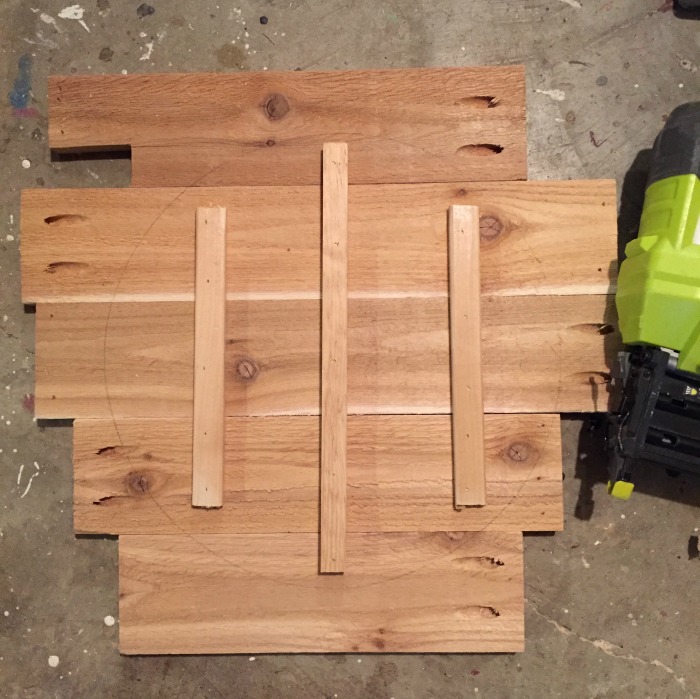 Step 3: Cut 4 (I added one more not shown in the photo above) flat moulding pieces to fit inside the drawn circle. Attach using wood glue and 3/4″ finish nails.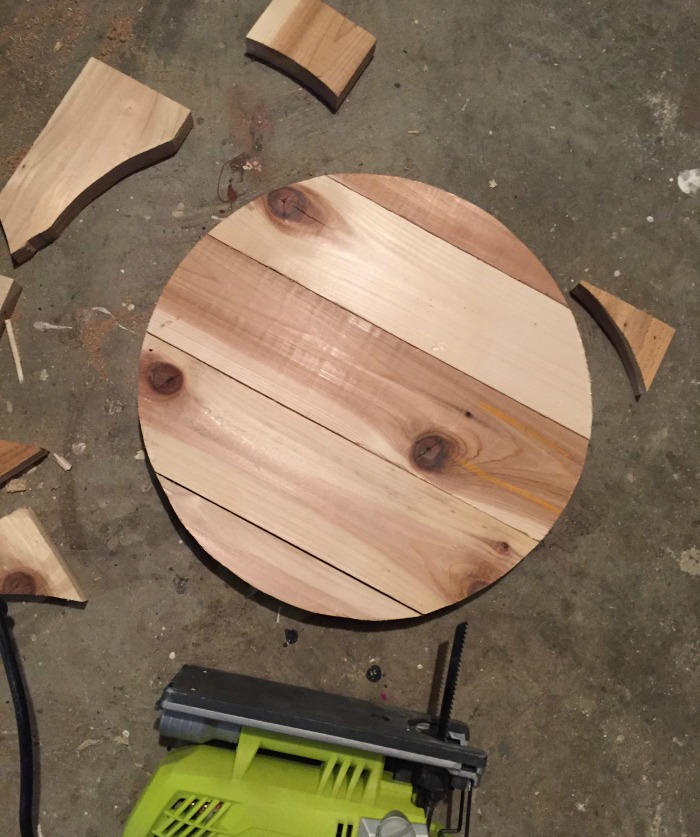 Step 4: Flip wood over and trace circular template again then cut out using jig saw. Sand edges well.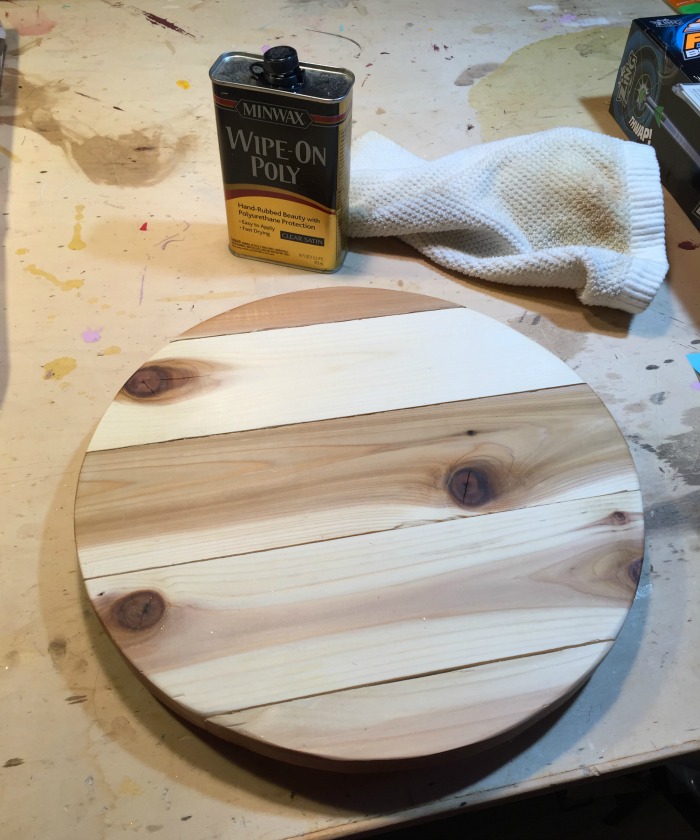 Step 5: Apply wipe on polyurethane using a cloth.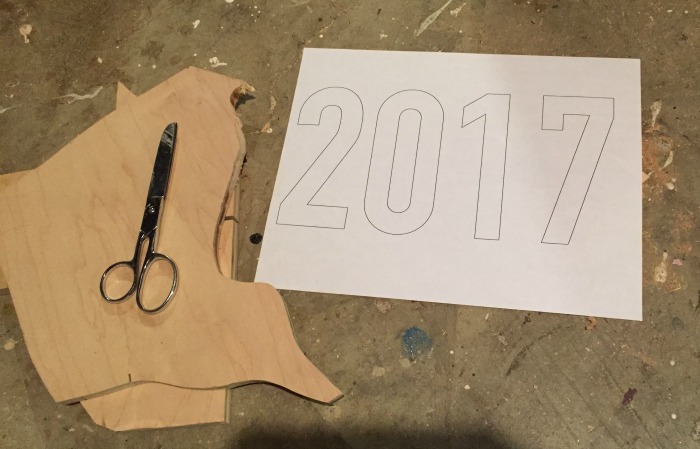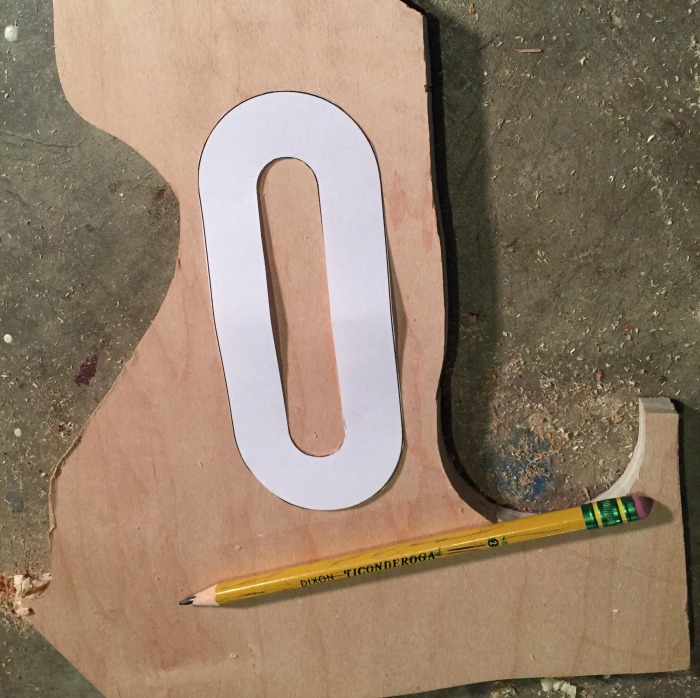 Step 7: Place paper number template on scrap plywood and trace around outside.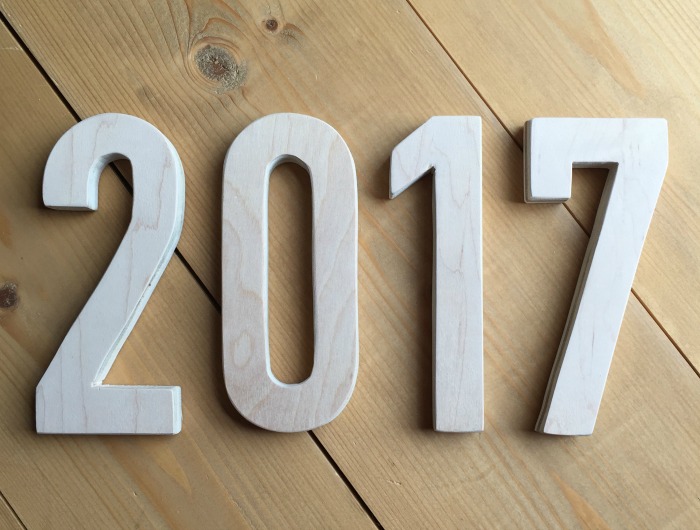 Step 8: Cut out numbers using a scroll saw. Sand smooth.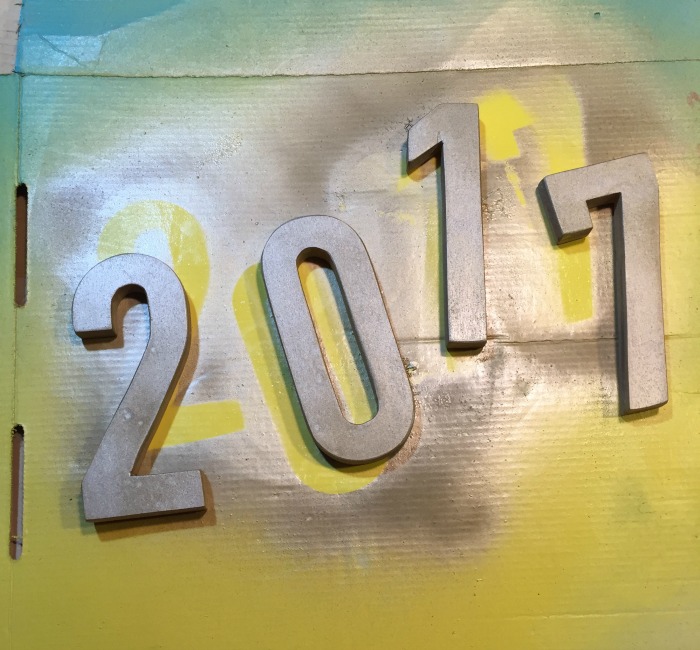 Step 9: Spray paint wood numbers using gold.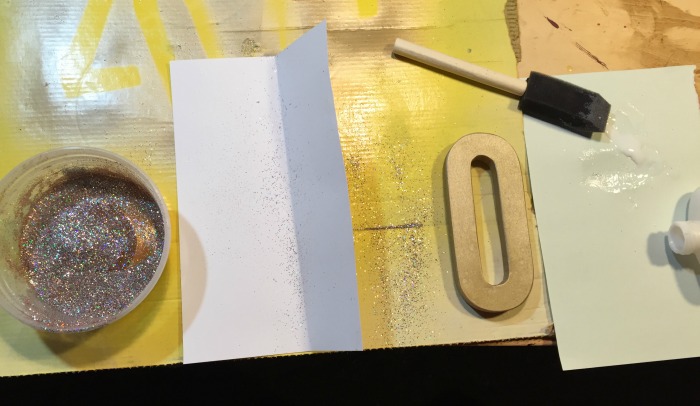 Step 10: Use white craft glue and a foam brush, cover entire number with glue then sprinkle glitter onto number. Let dry.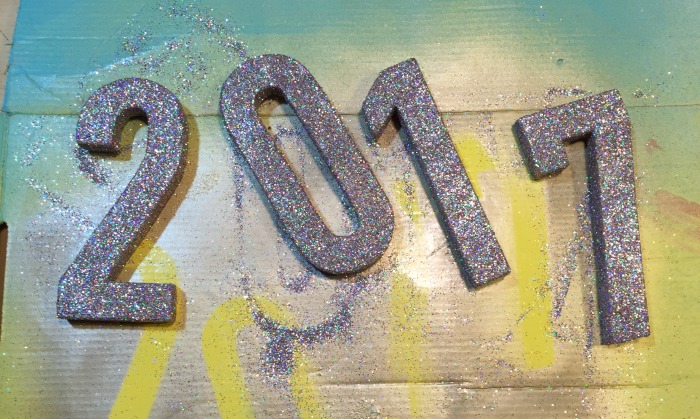 Step 11: Attach numbers to cedar circular board using E6000 glue.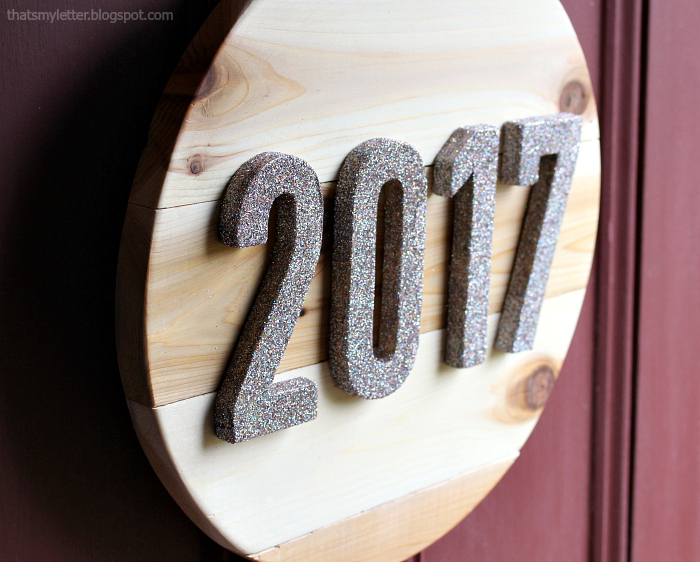 Hang and enjoy! I hope you have a little fun planned for New Year's this year and consider making some 2017 themed decorations too!