tips on how to paint concrete flooring
So y'all remember when we were invited to share our craft room in a magazine? Of course that crazy herringbone bookcase caught their attention. Well Kristi got a little ambitious and told them we'd have new flooring before their photographer came by to snap some pics. Uhm, hello… what?? We knew wood floors were out of our budget soooooo, we ripped up the carpet and painted the concrete. It was definitely labor intensive and we finished the night before the photo shoot but we got it done and it looks great! We're here to share some thing we learned along the way, if you ever feel like painting concrete floors, ha! And if you follow us on Insta, you'll have seen a lot of our journey already, a fun journey it's been!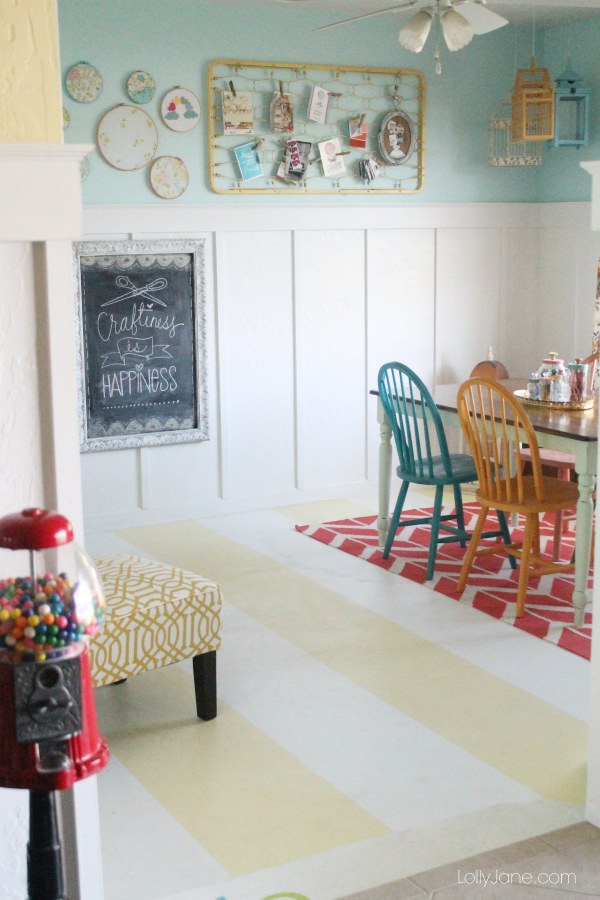 Here's the carpet before. It wasn't in good shape but it was a cheap carpet, rent quality since the house was a rental for nearly thirty years before we moved in.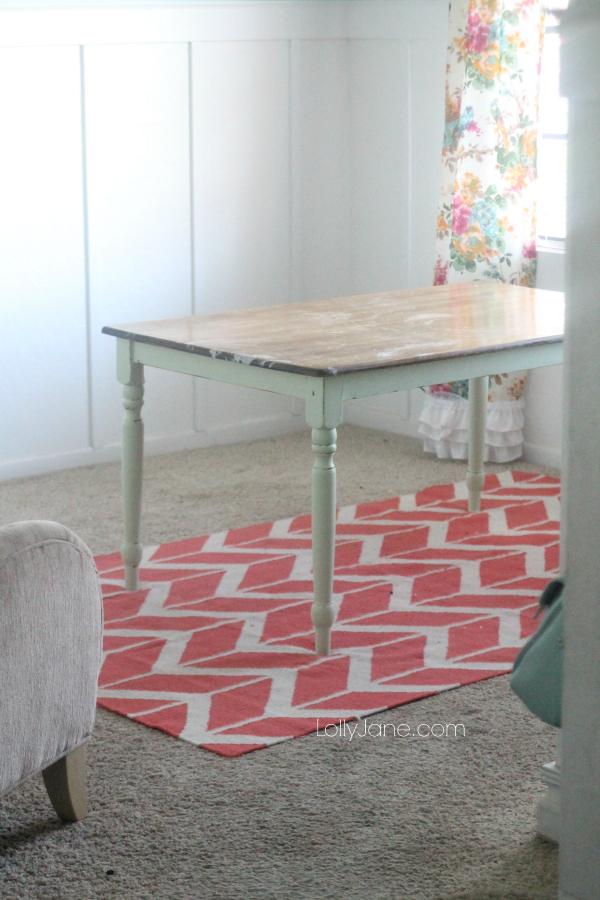 Funniest part was when my hubby said from the next room "I guess you guys are ripping out the carpet…thanks for consulting with me first!" Ha!! He knows we'll do the grunt work so he truly doesn't mind (:
Ripping out carpeting is really fun! All you need is a crowbar. Start by prying your bar under the center of the wood strips, in between the tacks. Lift up.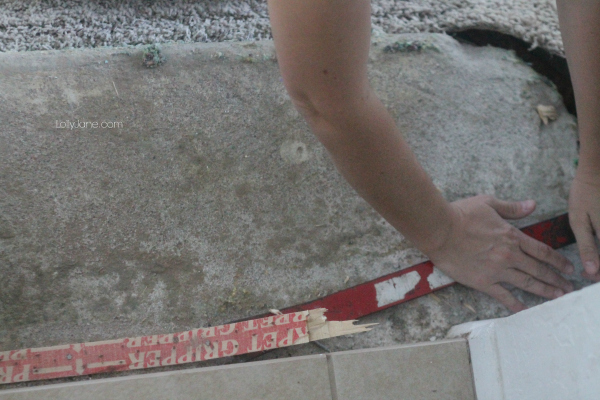 For the actual nails, get your bar underneath them and they'll pop right out. Use added pressure if they don't.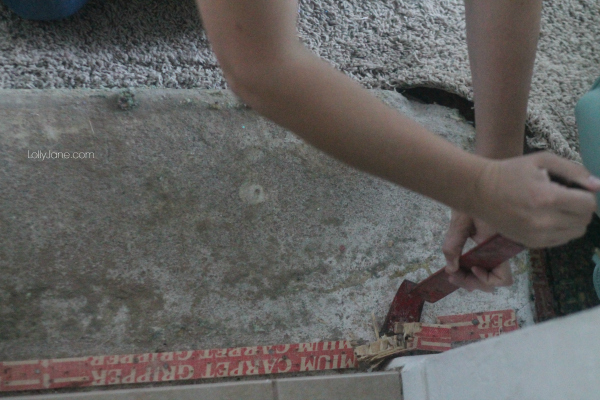 Next up is filling all the nail holes with Quikrete. It's a small amount of pre-mixed concrete, to use! Only a few bucks, we grabbed ours at Home Depot. Fill in the holes with a putty knife and let dry overnight. The next day, sand sand sand with an 80 grit piece of sandpaper. I missed my workout that day so this sufficed, I was a sweaty mess when I was done. Then is the fun part: Painting!! Behr paint sells concrete paint, we used the standard white and love how bright it is. To paint it, we just poured straight from the can and rolled it on. SO FAST!! We touched up the corners of the room with a small foam brush. SO EASY!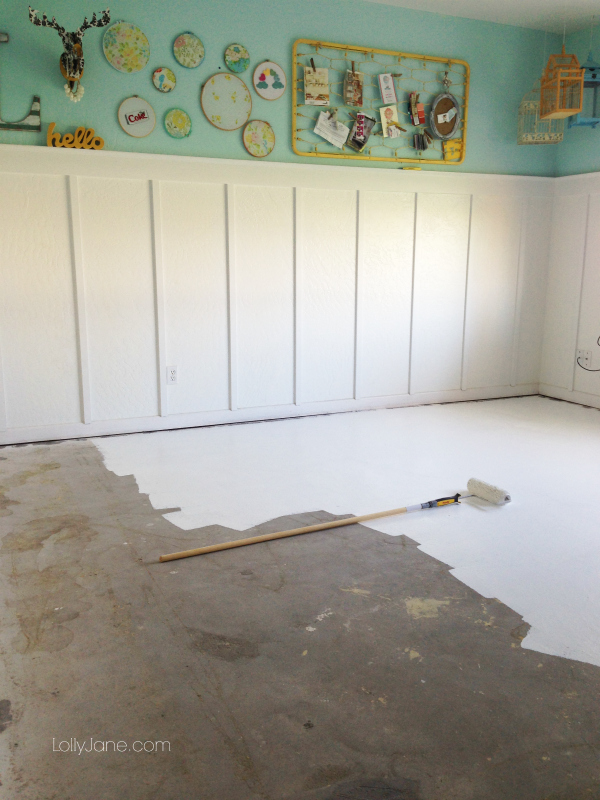 For our stripes, we bought the same can of white and had them tint it yellow. $60 for paint for the whole room, it's a good size room too, 12′ x 15′. For the stripes, we chose 18″ for the size. We just measured from the wall 18″ and marked it across the whole room, one stripe at a time. It was a little time consuming, we probably could have chalked it, but since we only have 5 stripes, it went pretty fast.
We then sealed it with concrete sealer, high gloss, available at Home Depot. Tip: It's in the concrete section, not the paint section. Only $6 for the whole container. I have a TON leftover which is good because I'm going to do my front porch next (;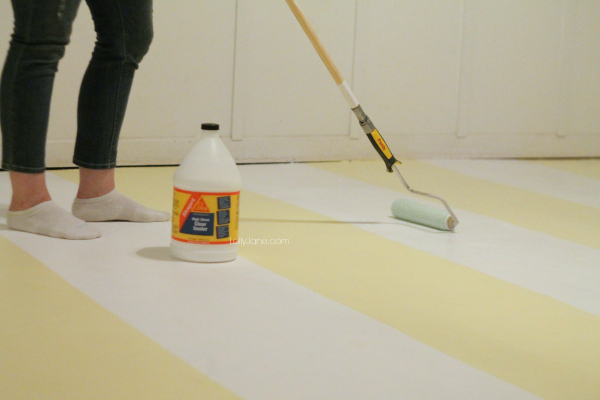 And there you have it, painted concrete floors! An inexpensive version to gorgeous hardwood floors which is on my future list!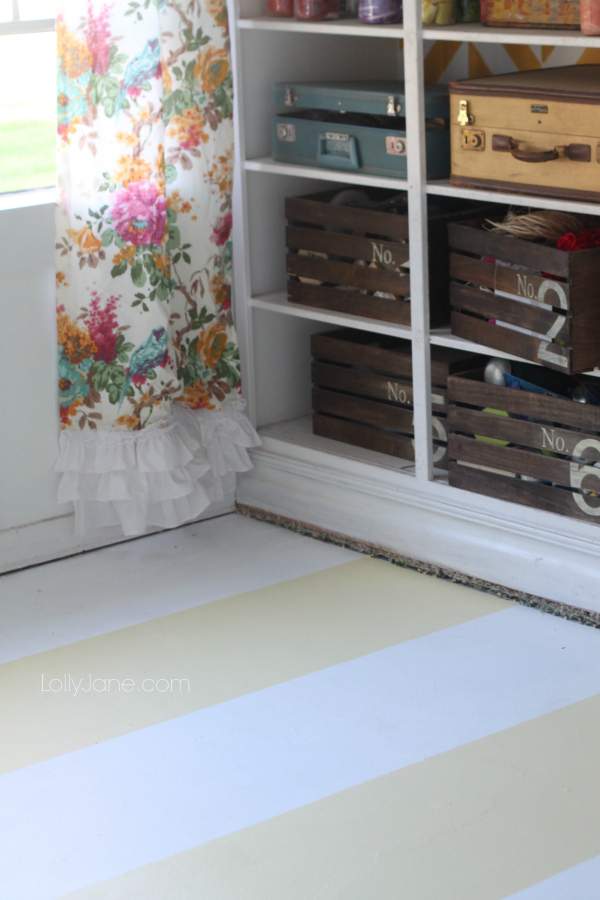 Since we were in such a rush to finish, we didn't snap pics of the baseboard install process. For that we used quarter round molding and just brad nailed it into place using our air compressor. We then caulked for hours and freshened up the 30 year old existing baseboards. Many many many hours were spent on those baseboards, can't believe we didn't get a picture! Here's the flooring all finished and the room put back together though.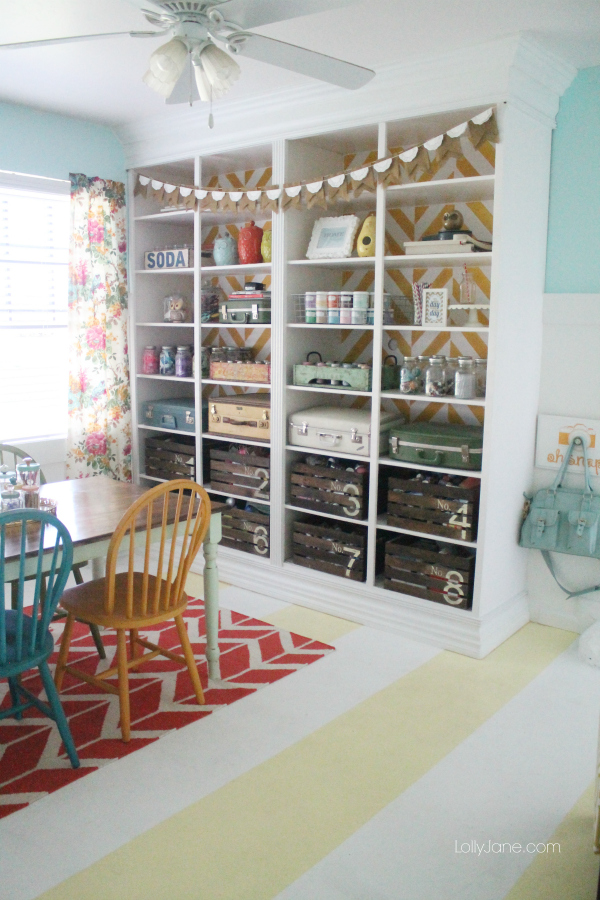 Look for this room in Creative Spaces magazine Volume 3! Want more of this fun craft room? Check out the fully finished tour,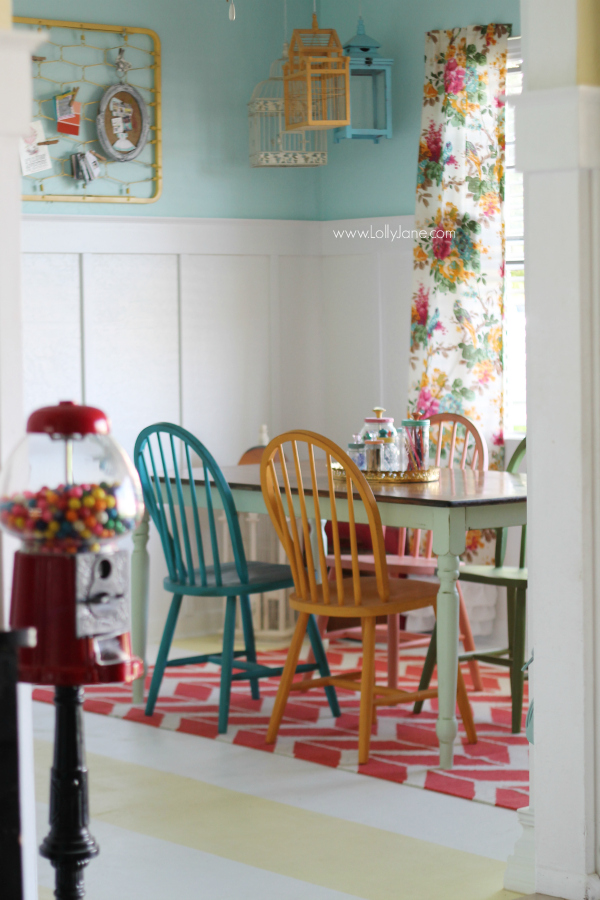 the herringbone bookcase how-to,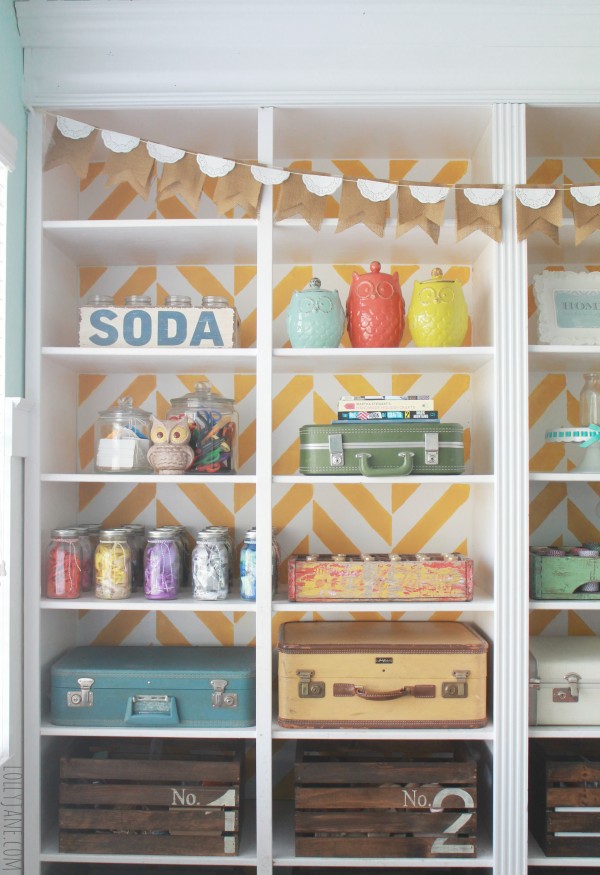 plus all the details like the DIY vintage crates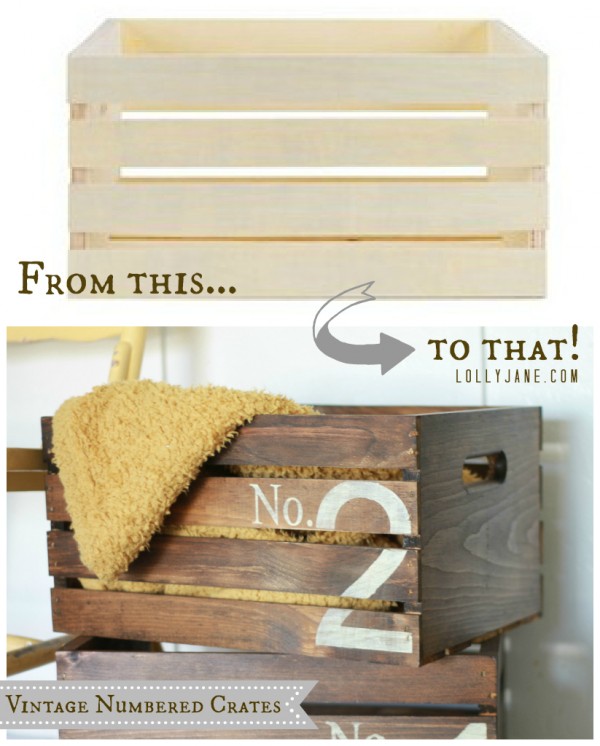 and Kelli's matching striped painted concrete porch!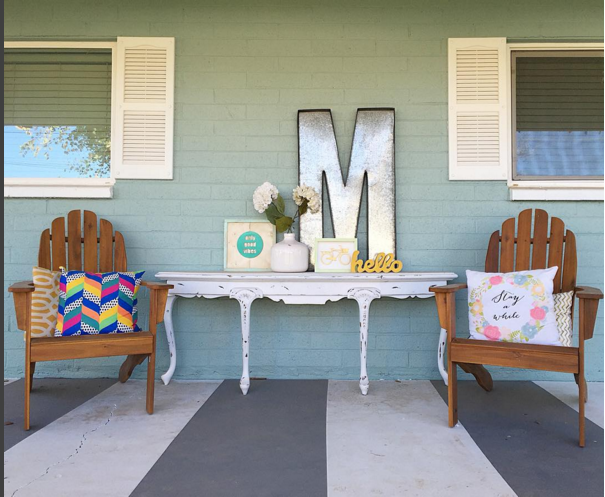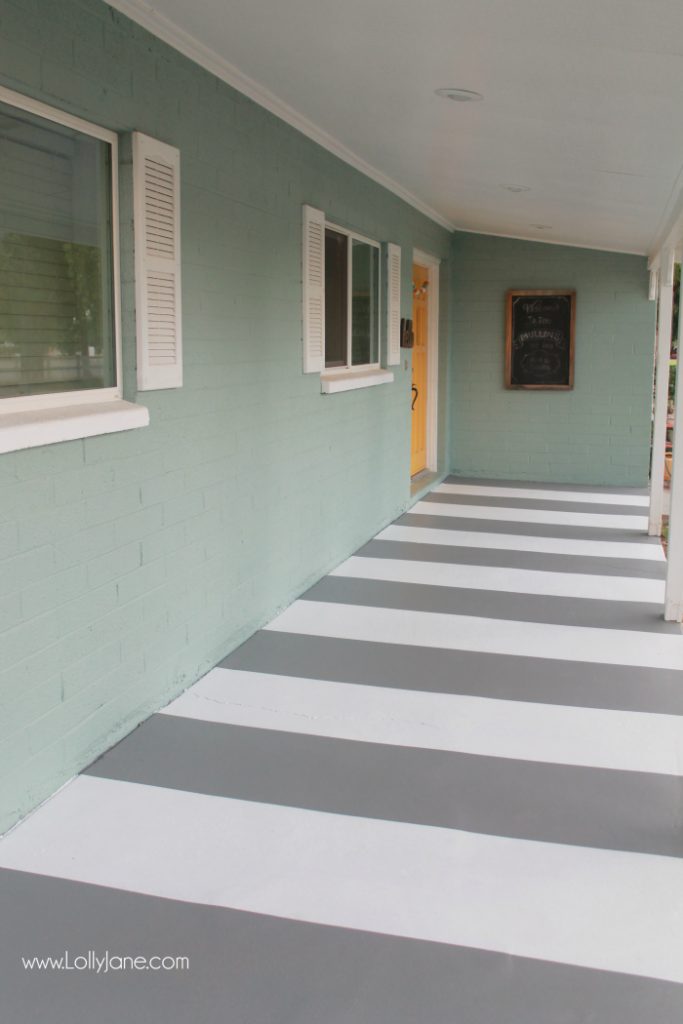 Note: One of our readers told us she read paint won't adhere to mortar if you're planning to put tile over. Haven't checked it out to see if that's accurate but something you may wanna check out! 🙂 In the meantime, mine have held up strong for 2+ years! xoxo