I've been designing my 9 year old daughter's bedroom in my head since we moved in last year. I knew I wanted it to be fun and eclectic yet mature enough for a 9 1/2 year old going on 12! What we ended up with was a coral tween girl bedroom that I'm in love with!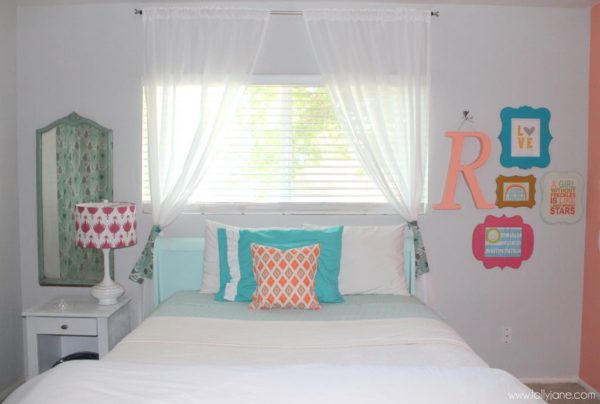 I put together a Pinterest board with lots of ideas for this room specifically, love the mix of random colors and patterns I ended up with.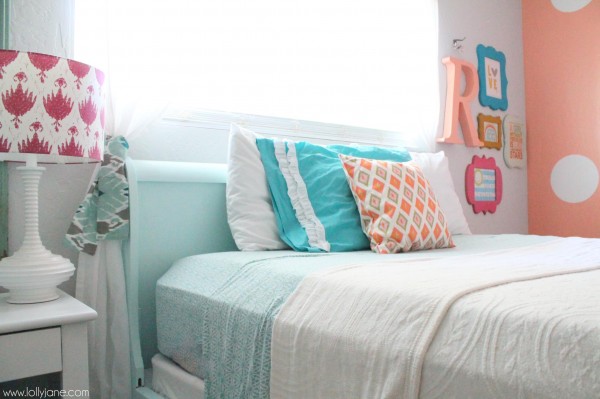 Sadly, I lost all my before pictures in a sudden hard drive crash last week. However, if you follow us on Instagram [@lollyjaneblog], you'll have seen progress pics along the way! We started off with the blue sleigh bed as the inspiration. My girl loves blue but I didn't want it to overpower the room. Ry agreed an accent wall with giant 20″ polka dots would be fun so we painted it a fun coral color (Coral Bliss by Dutch Boy.) She helped me apply the vinyl polka dots and she painted the whole wall while I did the edging, so proud of her!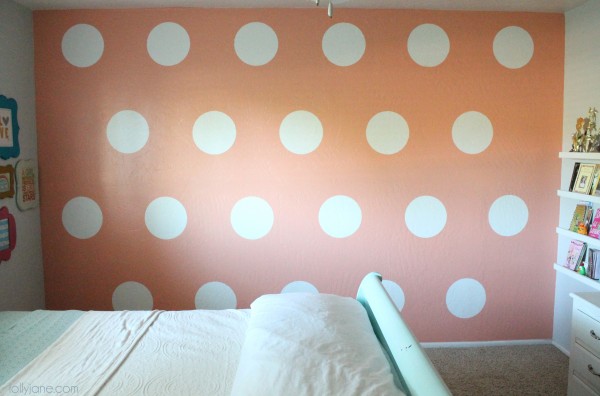 For the rest of the walls, I decided a pretty gray would be perfect and wouldn't take away from the pops of turquoise and yellow I was using everywhere else. Dutch Boy Paint has the perfect gray shade, Timberwolf. Best part? I used Dutch Boy Refresh which is low VOC paint, meaning it's less harmful to my family and the environment. This paint uses Arm & Hammer odor eliminating technology to reduce household odors. It is the ideal paint for beautifying rooms—like kitchens, bathrooms, and basements—and locking out odors. I'm in love with it!
Next step was furniture and placement. I got this desk from my late grandmother and gave it a fresh coat of white paint with elegant silver knobs. My personal style would be an oil rubbed bronze but my daughter likes silver and clean lines so I tried to respect her style. [She constantly tells me she hates my "old" looking furniture and cringes whenever she sees me distress it, lol!!]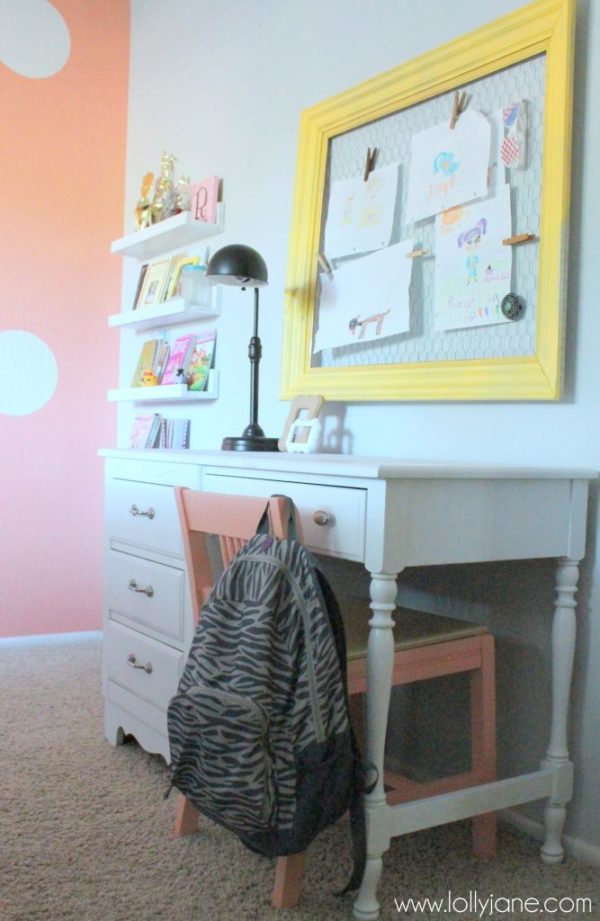 I love the shelves. They're Ana White creations, she's brilliant. I made all for for $8!!!-insane. They house all Ry's trophies, books and knick knacks that typically junk up her small desk.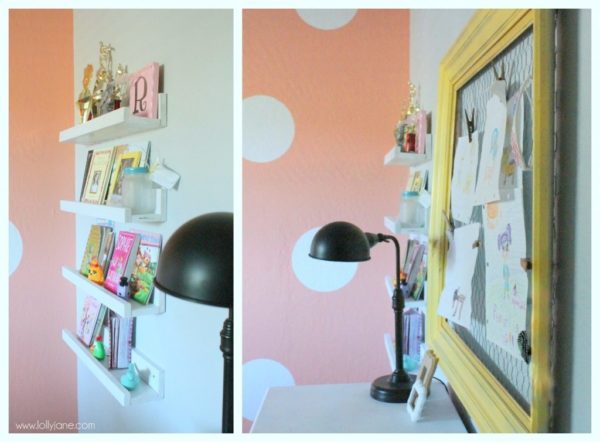 The only other furniture in her bedroom is an end table. Ry is my pack rat kiddo, it's difficult for her to keep it clean so I'm hoping less is more! Any tips to keep her organized, btw?! Her end table houses her cd player and her lamp and her journal is in her top drawer and that's it.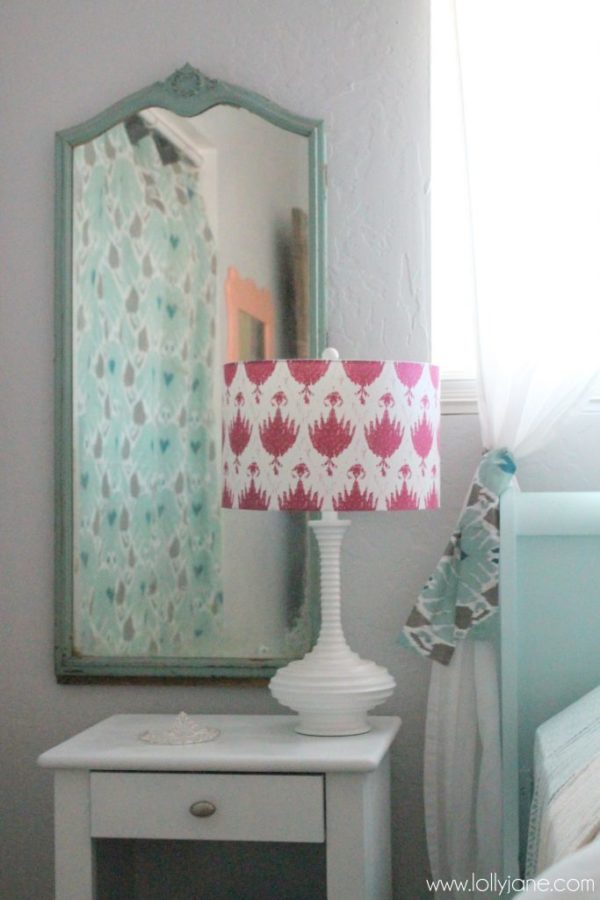 The closet for this room came with ugly gold trimmed sliding mirrors doors. Of course I replaced them! I found this shower curtain at World Market on this visit along with a clearance shower curtain bar for $5, score! I had my talented sis Katie sew a white band on the bottom for extra length. And since she cut the strip that held where the slits to hang the curtain are, I recycled that by cutting in into 2 pieces and made tie backs for the curtain. Reduce, reuse, recycle, baby! The awesome mirror was a find in Virginia cleaning out my late grandmother's house. The coral frame is a 16×20 from Cut it Out Already.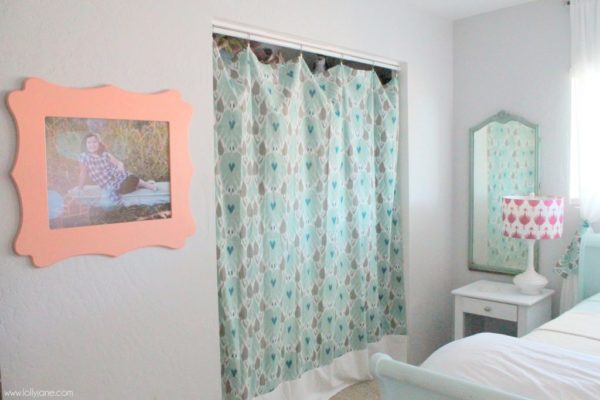 My sweet girl Ry is so kind to others. I knew I wanted display a small gallery wall full of inspirational pictures so I was really picky with what I chose. [All of these cute prints are available to purchase in different Etsy shops mentioned below.] The 'Love' one is because she's just that, so loving. The 'A girl without freckles is like a night without stars' is because she hates her freckles, even though she has a light sprinkling across her nose like her mama…and they're not even obvious, silly girl. The 'Find Your Rainbow' lets her know to find her own way in life. And the 'You are my Sunshine' was made by yours truly, get it free here. Frames: urquoise and pink frames are from Cut it Out Already, the other 2 were half off at Hobby Lobby, score! Love the lamp from TJ Maxx, too!
Etsy shops// LOVE print similar to Briz Designz , Freckles quote by Art Print Chic Boutique, Rainbow print similar to Rosy Hues Art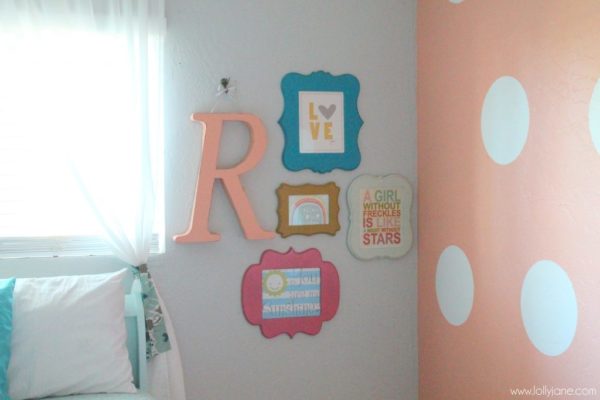 Hope you enjoyed her coral polka dot bedroom tour! It's a fun and cheery room, now let's hope she keeps it clean!!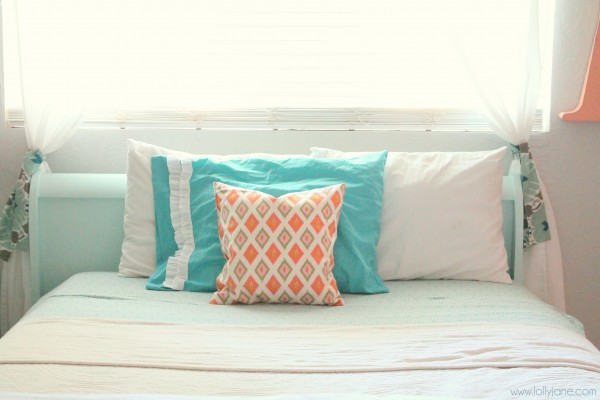 I have to give a GIANT thank you to Dutch Boy Paint! They hooked me up with this beautiful shade of gray for the walls that got me motivated to finish this room!
Cost breakdown for the whole space:
Bed $40 from craiglist, refinished it.
Dresser and night stand and mirror: free.
Bulletin board: painted and chicken wire'd it: free.
Already had all the bedding but the sheets were from Target last year, $19/sale.
Curtains from Ikea, $9 for both panels.
Closet curtain from World Market + rod: $20
Frames, all from Cut It Out free from a review, $14 for the other 2 on sale from HobLob
Shelves: $8, I built them myself.
White spray paint for dresser, end table + shelves: $12 (wall colors both free)
Total cost: $122, not too shabby!
ps: If you like what you see, subscribe so you don't miss out on our latest and greatest (: Check out more room re-do's like my craft room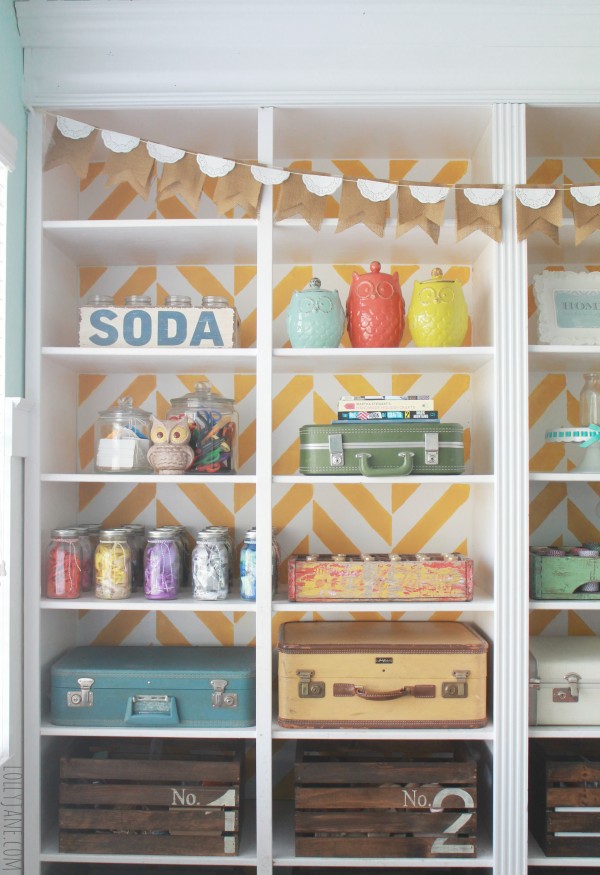 and my coastal master bedroom.