Transform your living space with the perfect great room area rug! Elevate your decor and create a cozy, stylish atmosphere great room with this stunning rug and decor ideas.
We finally got rid of the "cultural hall" as my dad nicknamed this room. We couldn't afford to outfit it right away so it was an empty (and echoey!) space for a couple of months.
But now it's cozy and warm and was worth the wait!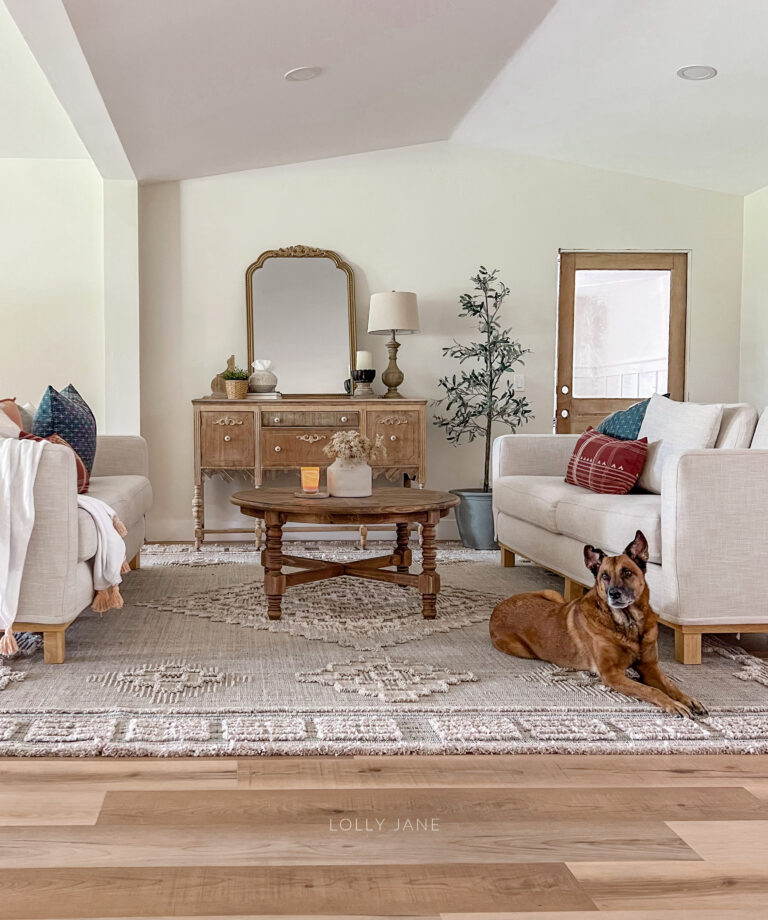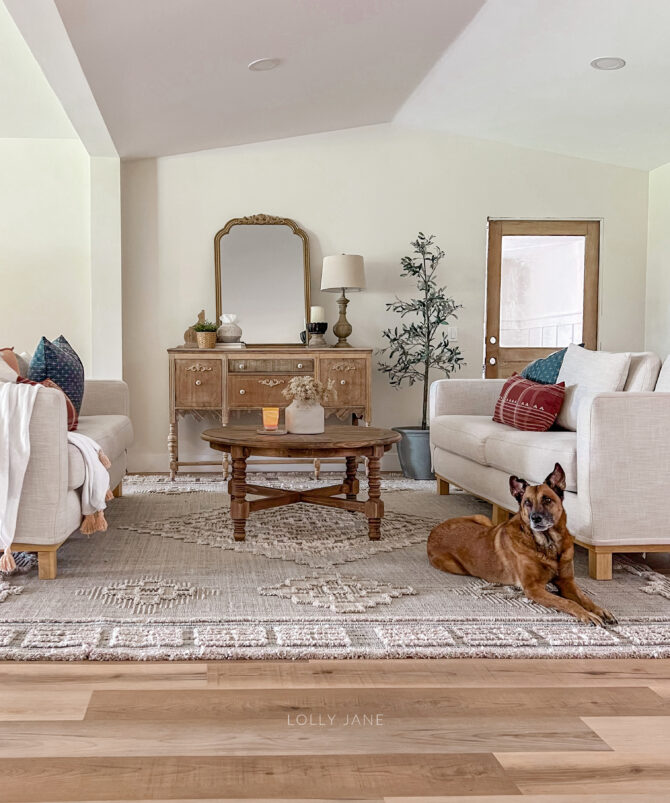 Take a look at the before! The "cultural hall" was fitting, Dad, lol!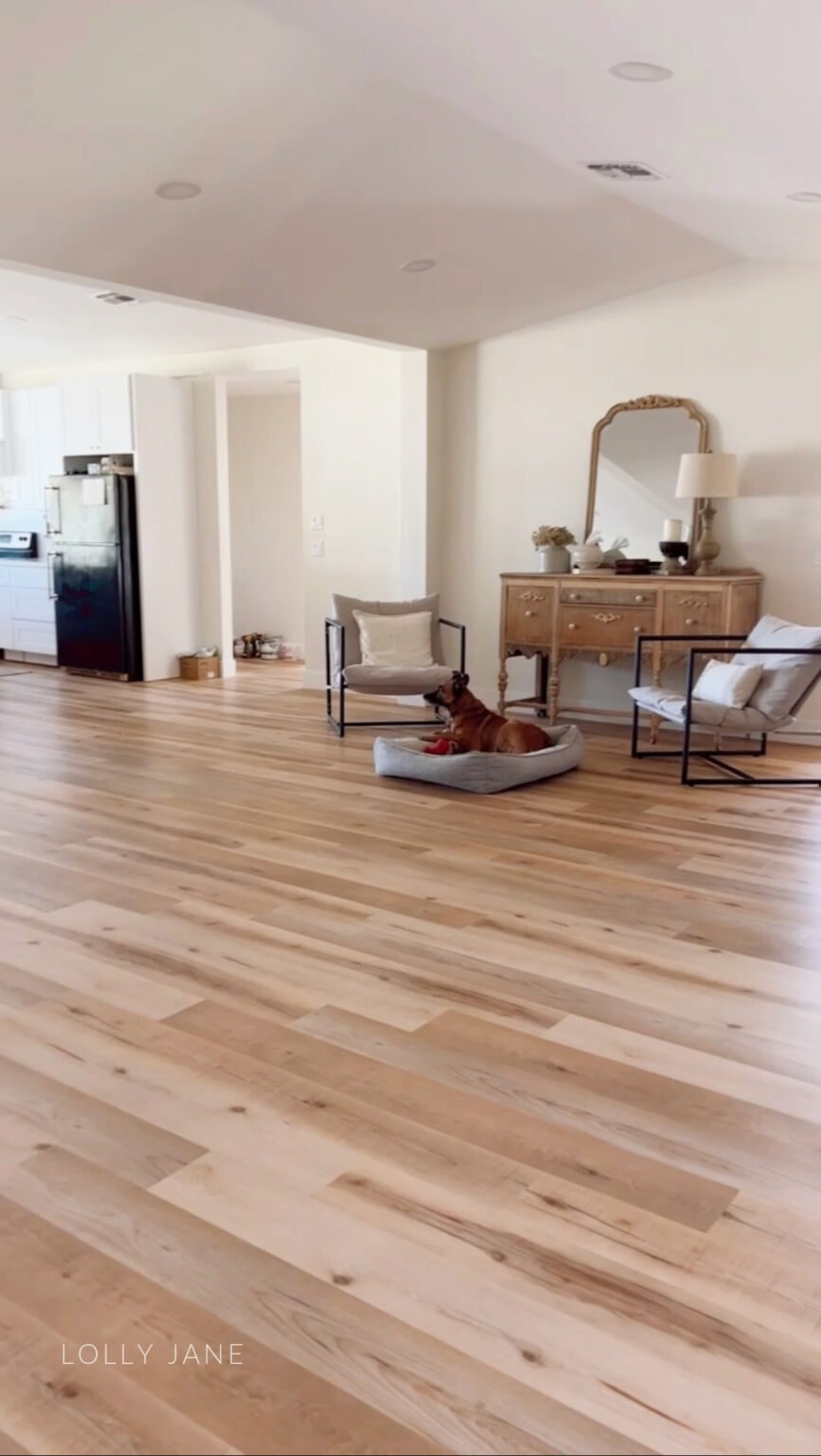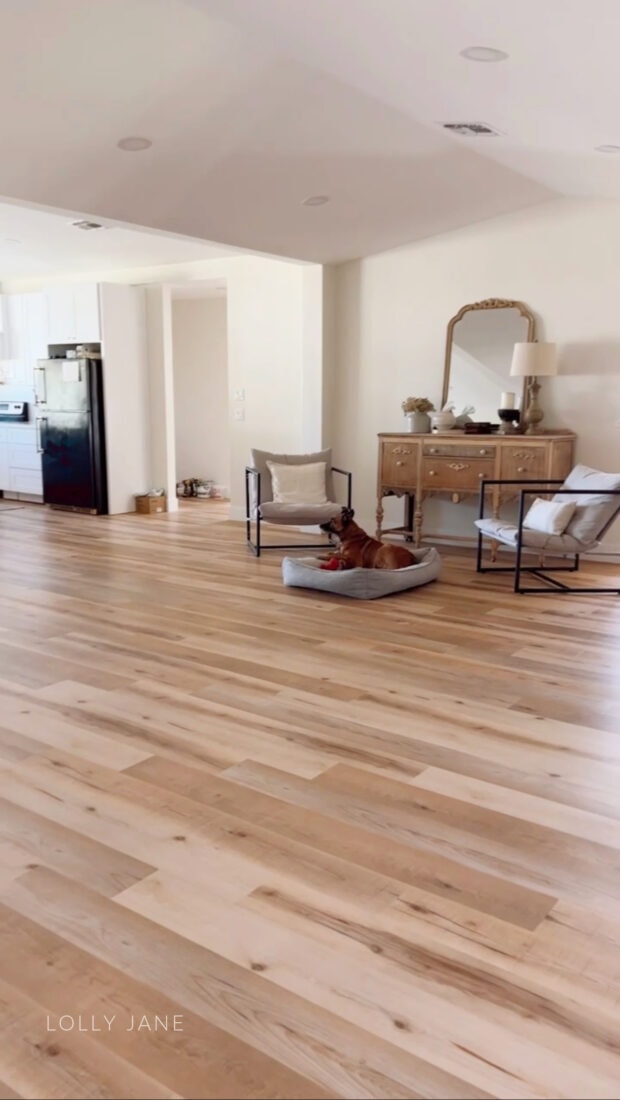 What's the difference between a living room and great room?
We officially have a "great room" and we love it! The difference between this and a regular family or living room is that it's attached to the kitchen and dining room in an open concept style.
A "great room" is basically a large and open space that combines multiple functions into a single, spacious area within a home. Great rooms have become increasingly popular in home design for their versatility and the sense of openness.
Great rooms tend to be open spaces that combine multiple living areas whereas a family room or living room is a more casual, dedicated living space within a home, separate from the formal living or dining areas.
We opted to keep the tv in our family room and do games nights in there but left the great room for conversation only. It's been such a blessing to sit and chat with our growing teens/young adult children to be distraction free in this space just off the kitchen.
Visit more of our home decor ideas with cozy rugs below!
How to Decorate a Great Room
Sprucing up a big, versatile living space is all about some thoughtful planning and a balanced touch to make it cozy and welcoming.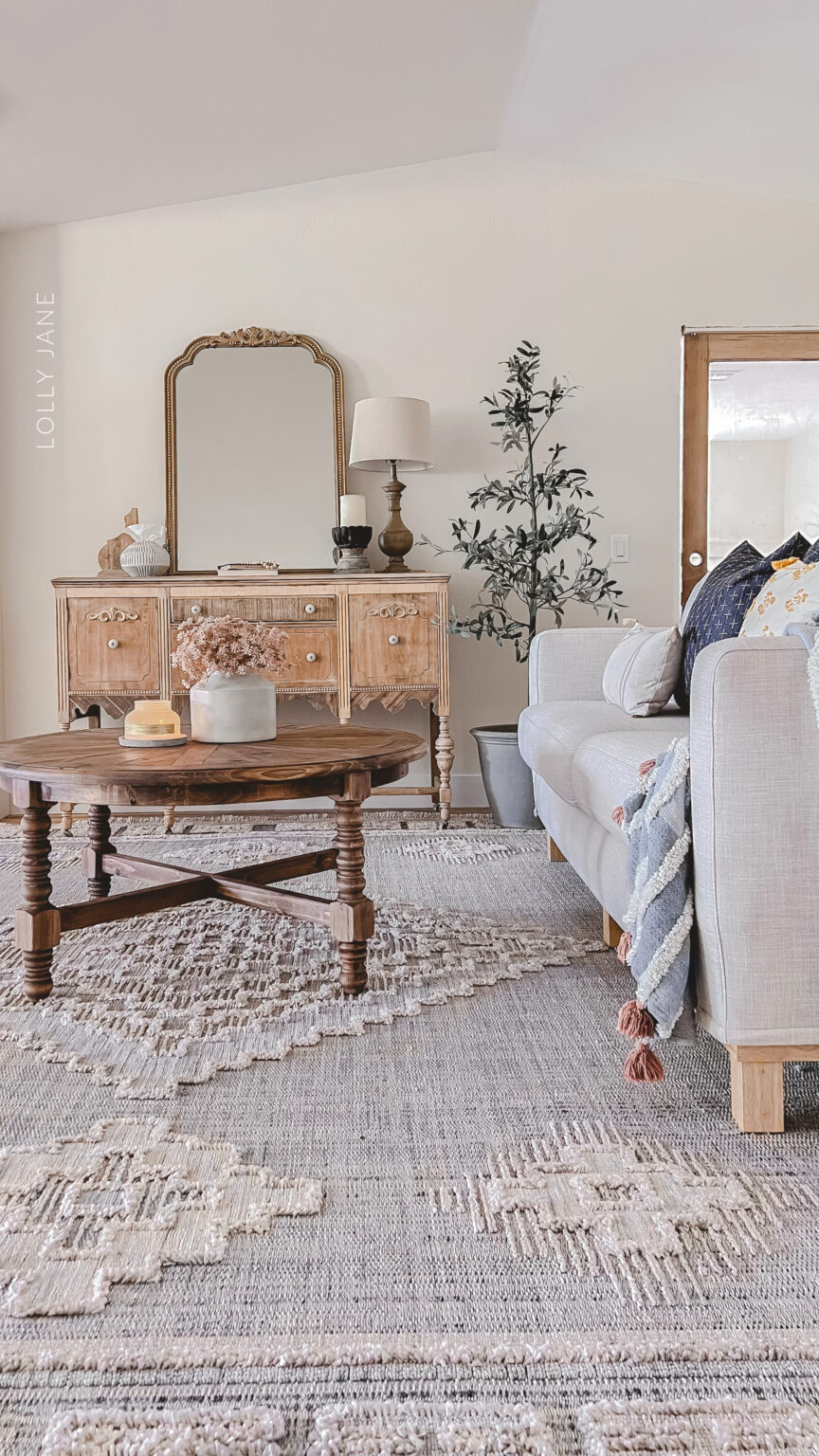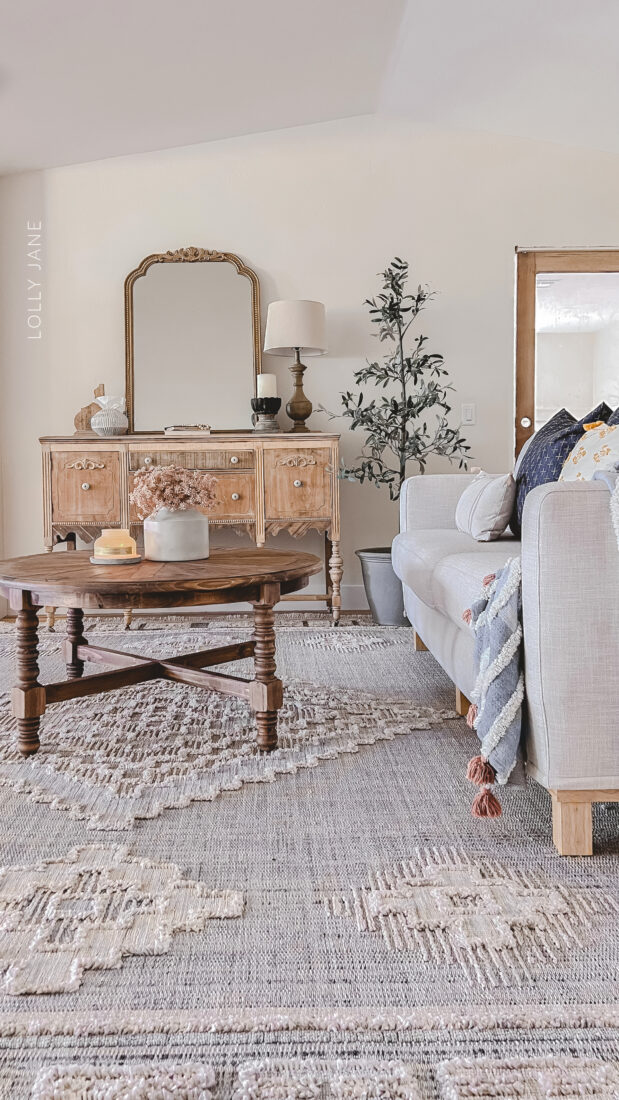 Here are some easy tips to decorate your great room.
Choose a Color Scheme
Start by selecting a cohesive color scheme that ties the different areas of the great room together. Consider using a neutral base with pops of color or patterns to add interest. We painted all the walls in the home Soft Chamois from BM to evenly flow throughout the home.
Define Zones
Use area rugs, furniture placement and lighting to define distinct zones within the great room. Common zones include a seating area, a dining area, and a kitchen area. Note: We'll be focusing only on the sitting room section of a great room in this blog post.
Furniture Arrangement
Arrange furniture in a way that promotes flow and conversation. We seated 2 couches across from each other, added a round coffee table between then faced 2 arm chairs toward the coffee table to promote conversation. Ensure that the seating area is comfortable and that seating pieces face each other to encourage interaction.
Lighting
Incorporate a mix of lighting, including ambient, task and accent lighting. Pendant lights, chandeliers, floor lamps, and table lamps can add both function and style. We skipped ceiling pendants purposefully to not define the space so we can move furniture around for different gatherings. We have canned lighting during the day and use our lamp for nightly ambiance.
Use Accessories
Decorate with throw pillows, curtains, artwork and decorative items that complement the overall design. Choose items that reflect your personal style and the theme of the room.
Personalize Your Space
Incorporate personal touches, such as family photos, heirlooms, or custom-made items to make the great room feel uniquely yours. We love our gallery wall on the back wall of the great room, it's the perfect spot to update our annual family pictures.
Plants and Greenery
Add indoor plants, artificial trees like our favorite olive tree or even flowers to bring life and freshness to the space. They can soften the overall look plus plants improve air quality. We love our live pothos!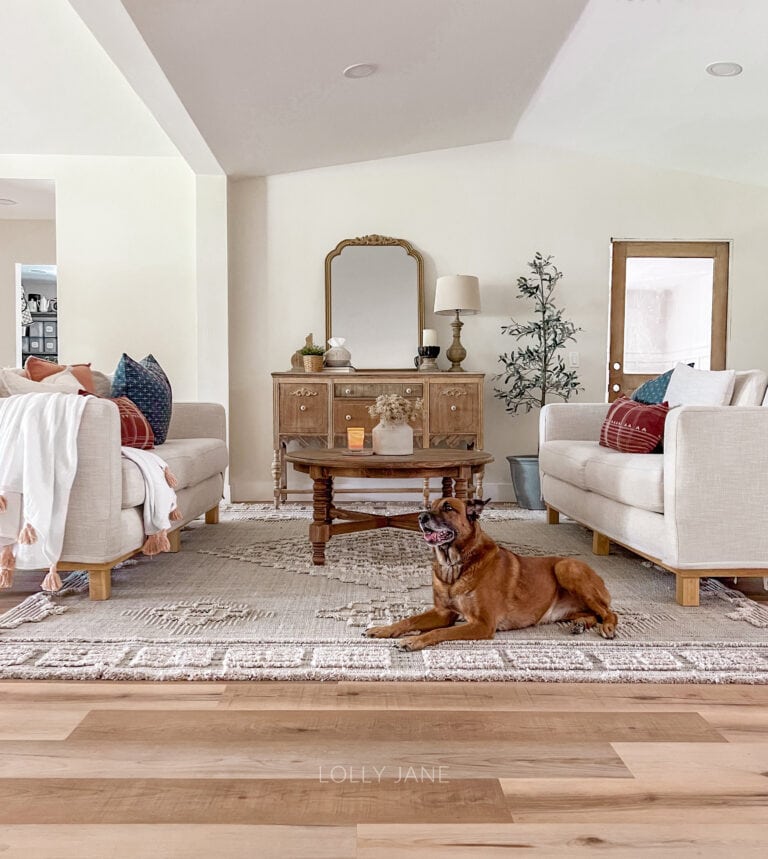 Ultimately, the key to decorating a great room is to create a space that reflects your lifestyle, personal taste, and the functional needs of your household while maintaining a cohesive and visually appealing look. The right rug will help set the tone for the whole space.
What size rug do I need for my great room?
The size of the rug you need for your great room depends on the dimensions and layout of your space, as well as your design preferences. To determine the appropriate rug size, consider the following tips below.
Tips for Picking A Rug Size
Room Size and Layout: Measure the dimensions of your great room, and take into account the layout of your furniture. The rug should be large enough to accommodate your seating area and define the space. In most cases, it's a good idea for the rug to extend under the front legs of your major furniture pieces, such as the sofa and chairs.
Leave Space Around the Rug: Allow for some bare floor space around the edges of the rug. A common guideline is to leave approximately 18 inches of flooring exposed between the rug and the walls. This creates a balanced and visually pleasing look.
Furniture Arrangement: Consider how your furniture is arranged in the room. If you have a central seating arrangement, choose a rug that fits within the perimeter of that arrangement. Ensure that the rug is large enough to accommodate the main furniture pieces without feeling cramped.
Ultimately, the right rug size for your great room will be a balance between the room's dimensions, your furniture layout, and your personal preferences.
Measuring the space, considering the layout, and allowing for some space around the edges of the rug will help you make an informed decision on the appropriate rug size to enhance the overall look and feel of your great room.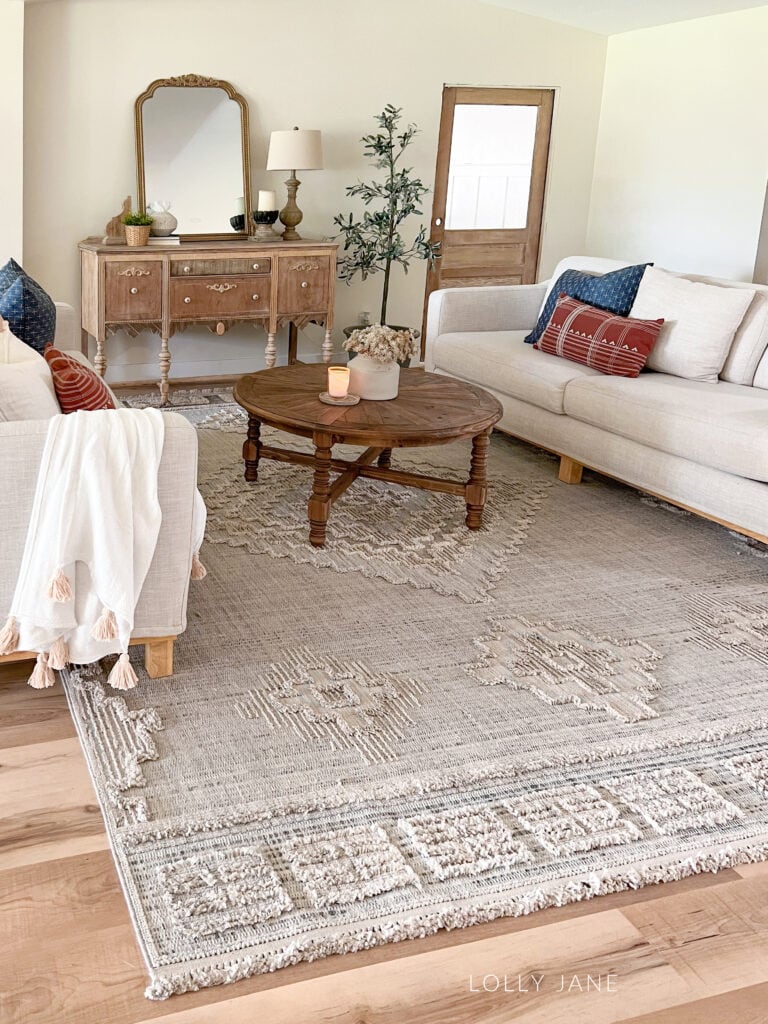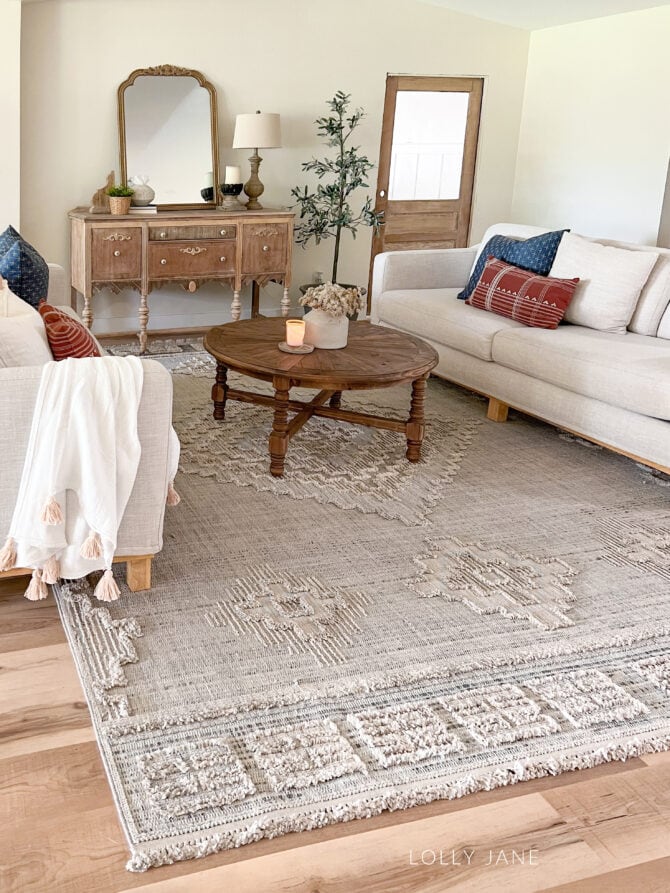 We hope we've help inspire a space in your own home. Shop this room below!
PIN FOR LATER
Please pin so your friends can get inspired, too! xo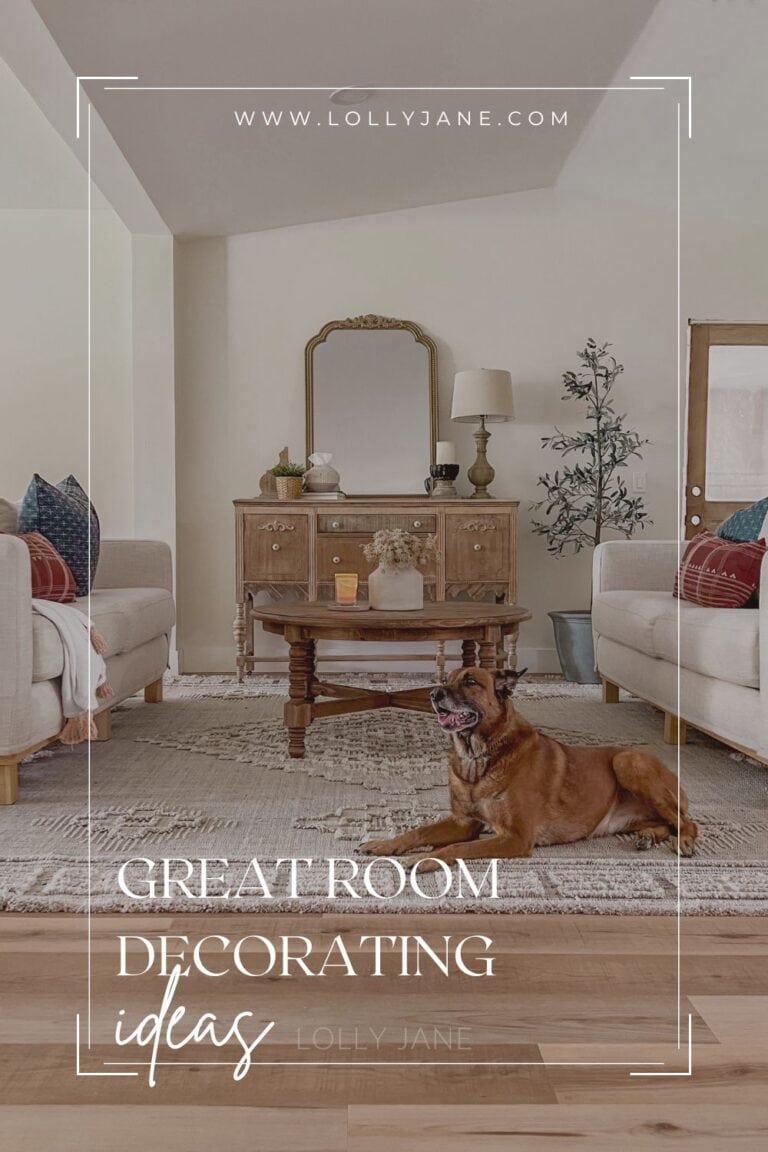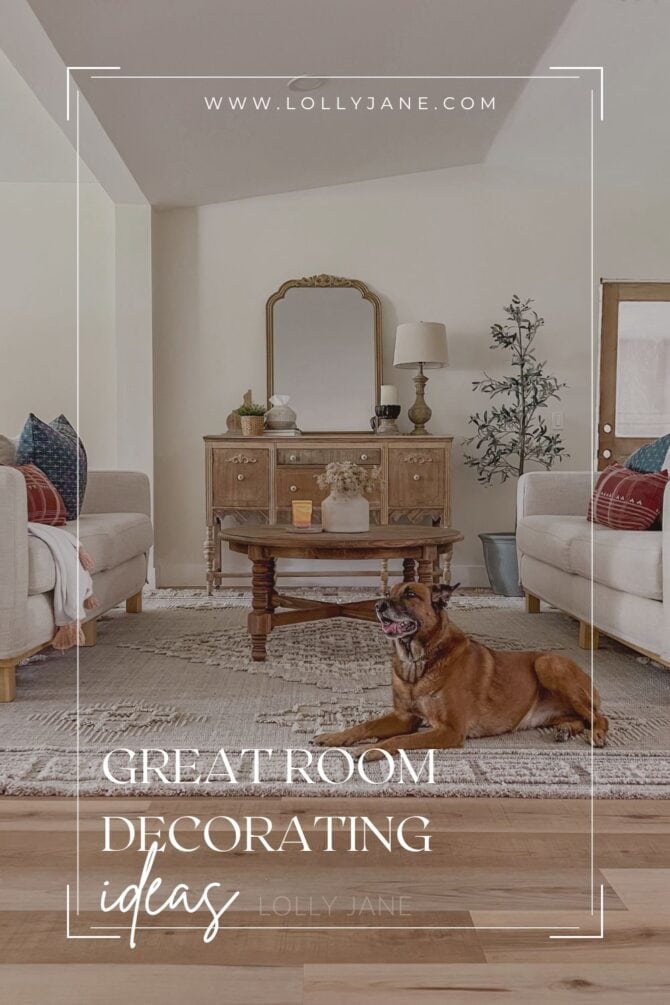 Boutique Rugs Discount Code
Don't forget to use code LOLLY for an extra 10% off any Boutique Rug!