painted striped concrete flooring
Update your concrete floors with painted stripes with these step-by-step instructions at LollyJane.com. Love how these DIY painted striped concrete flooring turned out, So easy!
Before we get started on our easy to follow tutorial on how to paint stripes on your concrete porch, I must address a question we get asked over and over. And every time we get asked, I'm always so flattered!! 😀
My husband spotted an old table and bench patio set on the side of the road in a junk pile while he was on duty.
He shoved it into his squad car and brought it home for me, true love! HA!
I loved the aqua color of it so much that I painted my whole house the same color.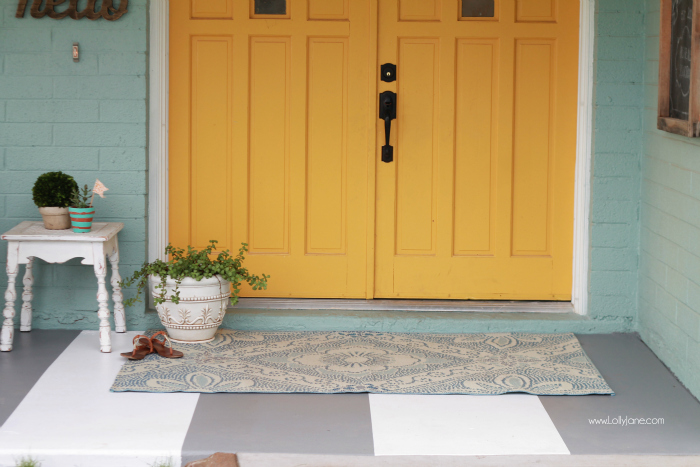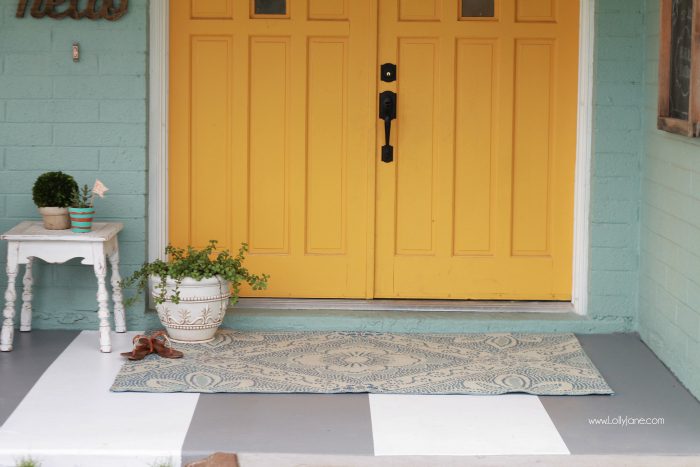 So…to answer this must asked question:
What is the color of your exterior paint?
Aqua Exterior Paint Color
Here's the color of my exterior aqua paint: the paint code is 417152525780 and I had it mixed at Home Depot via Glidden Paint. Update: I've had some who've been able to duplicate it with no problems but others who said their paint store couldn't make it happen. Argh! Good luck to you!! I'd love to be house twins with ya!
mustard yellow door color
When I was choosing a door color, I knew I wanted it to be a happy shade of yellow. I loved how my mustard yellow buffet turned out so I used the same color: Jackson Square via Valspar. Isn't it so pretty?
Onto the tutorial!
how to paint stripes on concrete
I really wanted to make sure each nook and cranny outside is decorated as fun as the interior! Creating painted striped concrete flooring on my front porch has been on my to-do list since we painted my craft room concrete floors last summer.  We live in our forever house so making the outdoors feel like an extension of the home is a must for me.  I want to have friends come over and grill on the back porch, neighbors to sit on the front porch with me, sip soda and watch the kiddos play.  I love how my painted porch turned out, it feels more homey with just $100 and couple days of elbow grease.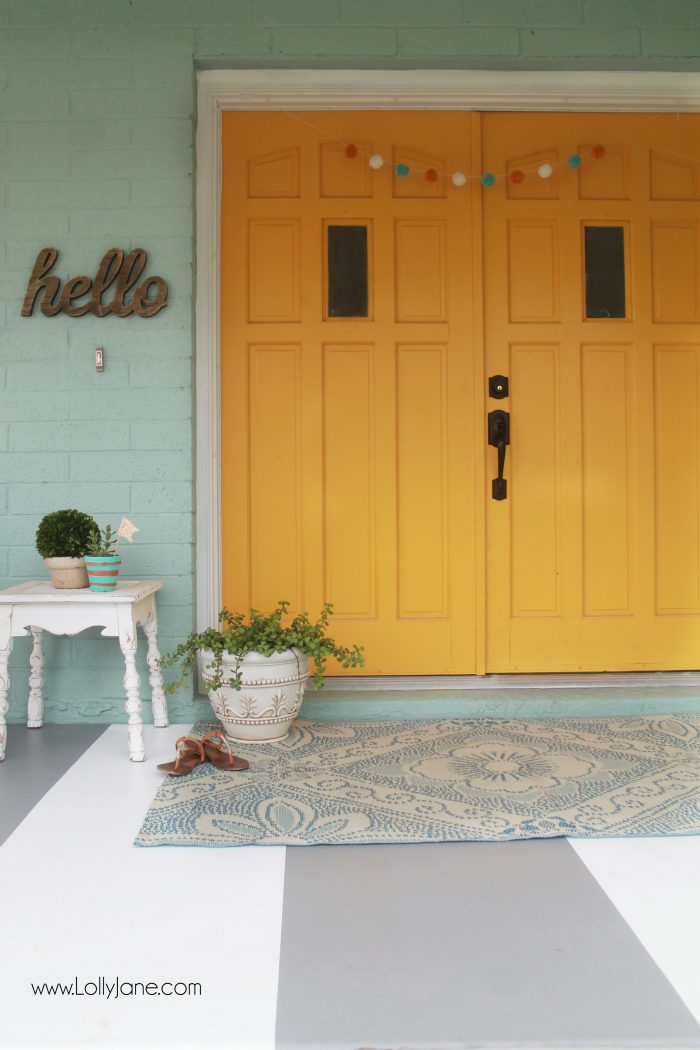 We used a water-based concrete degreaser and cleaner. After letting it sit for 20 minutes, we scrubbed the concrete down with a stiff brush at full strength and then power washed it.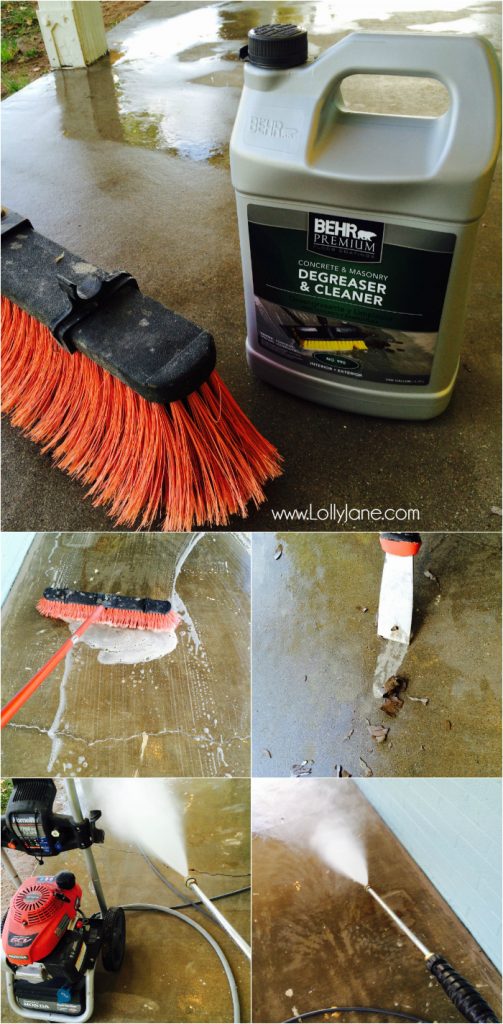 We used a fan to dry the concrete completely then taped off the house to protect it.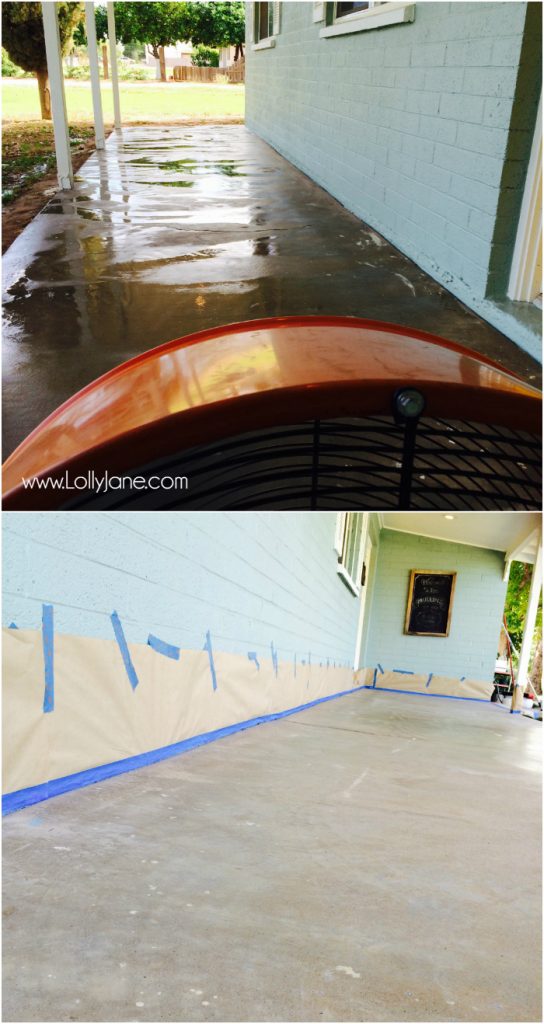 Next step is painting! We used a specific porch and patio paint plus then used a 3/8″ nap roller for complete coverage.  We painted two coats and used the full gallon on our 30′ x 5′ porch.  Be sure to allow full drying time (4-6 hours) in between coats.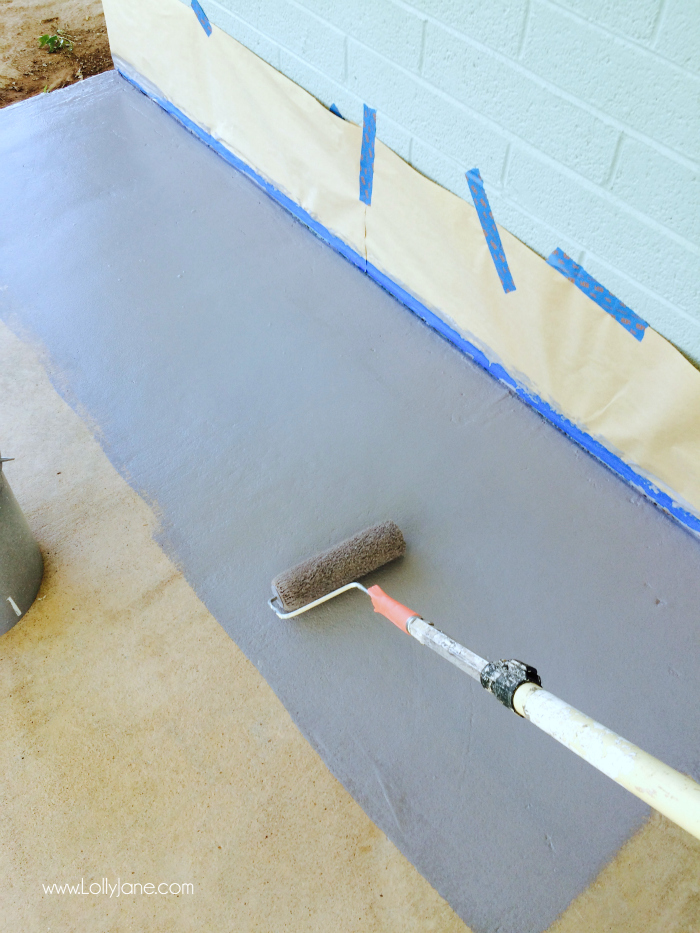 As far as colors go, we used the standard Slate Gray and white that came right off the shelf.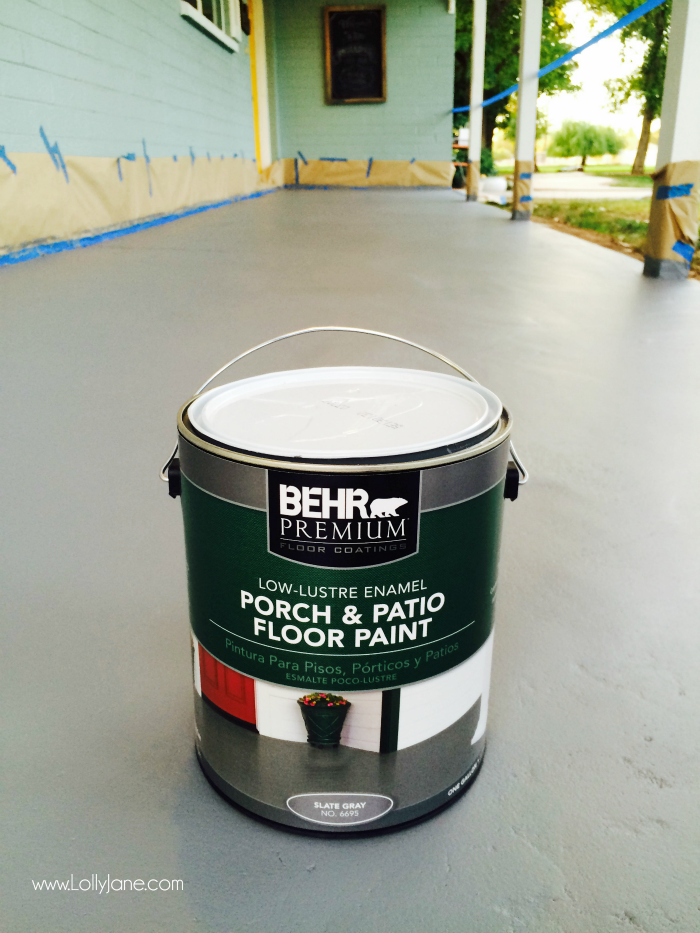 After waiting 3 days for the paint to cure, we used delicate surface tape to create stripes.  We taped 24″ stripes by starting in the center.  We taped one line making sure it was straight by measuring from the wall.  We placed the second piece of tape 24″ across from it.  To make sure you have even stripes, measure from the inside tape so you don't mess up your 24″ increments.  I had my hubby measure along with me to double check I didn't make a mistake since you're doing so many at a time.  We drew arrows on the tape pointing to the lines that would be painted white.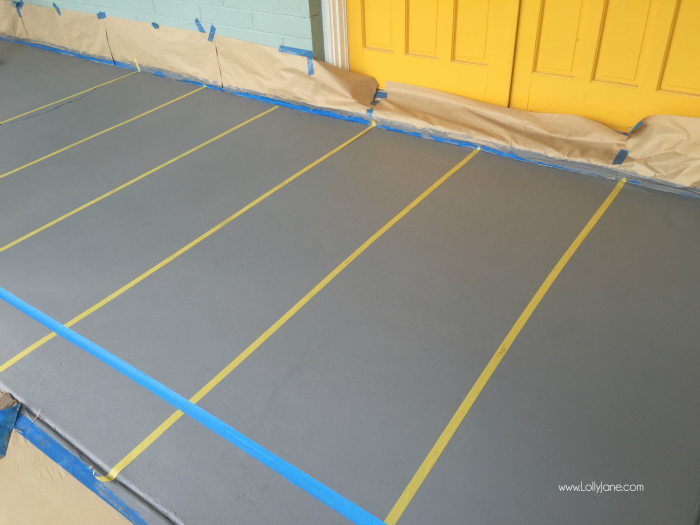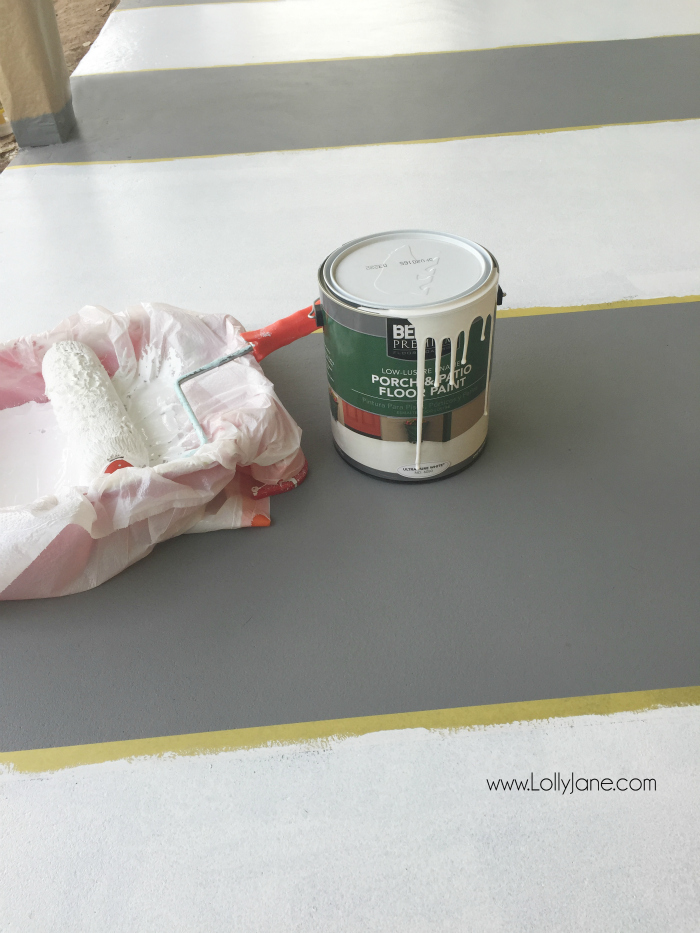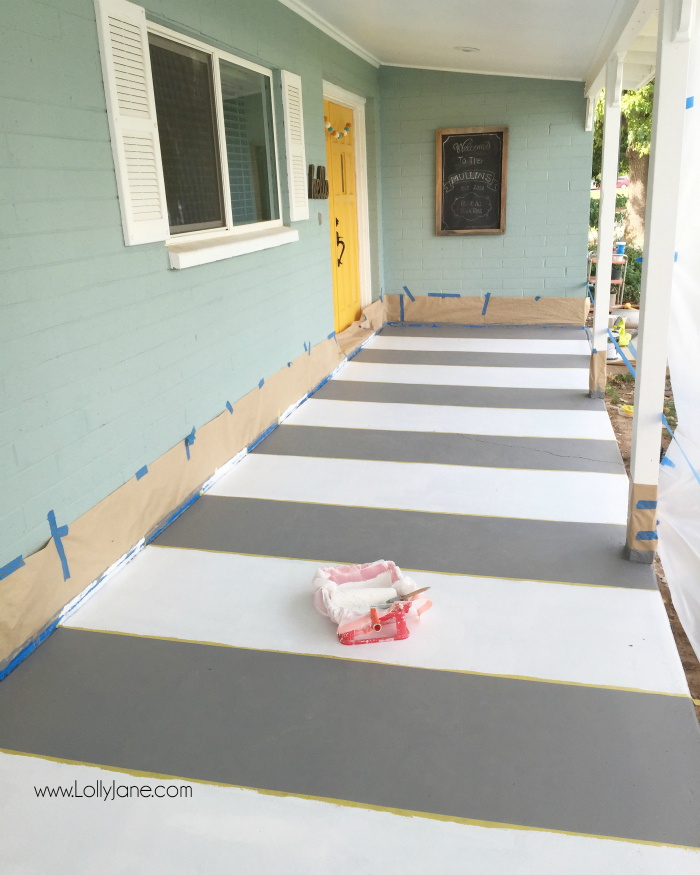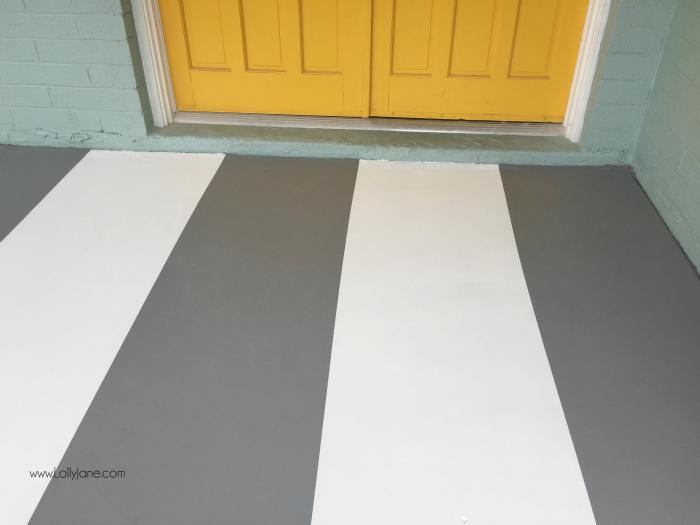 After 48 hours, we used a protector and waterproofer to seal the paint.  We rolled it on with a 3/8″ nap roller like we did with the paint.  After 2 days, we put our furniture back on the patio and love the new look.  We had an unexpected rain storm the weekend we sealed the concrete and appreciate how the water puddled up and didn't penetrate the paint.  Success.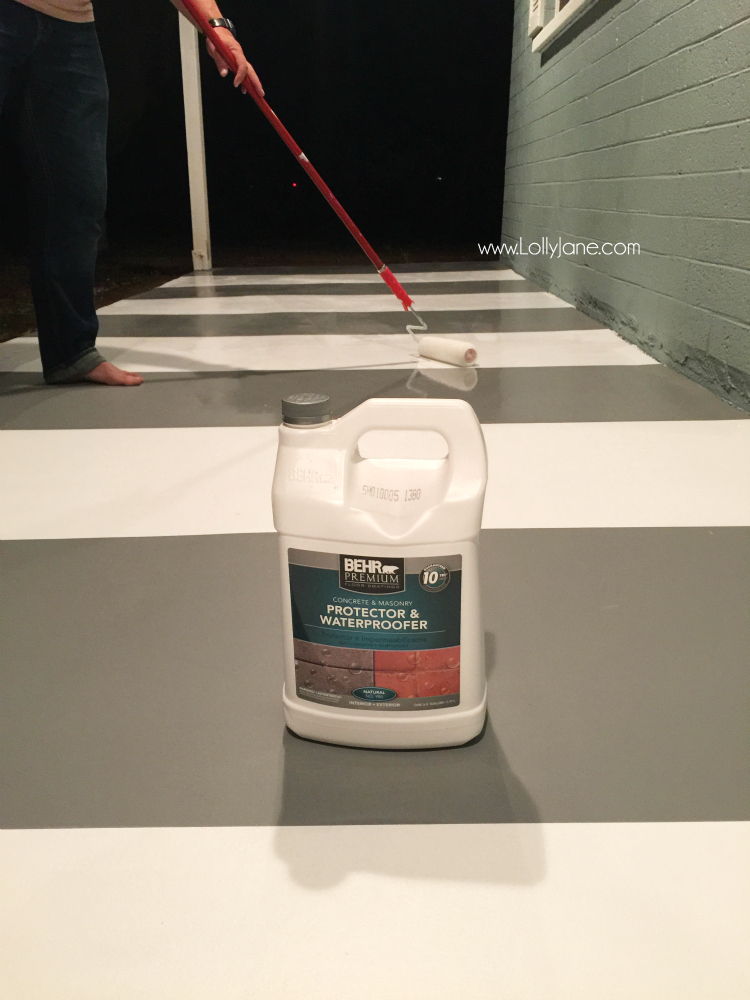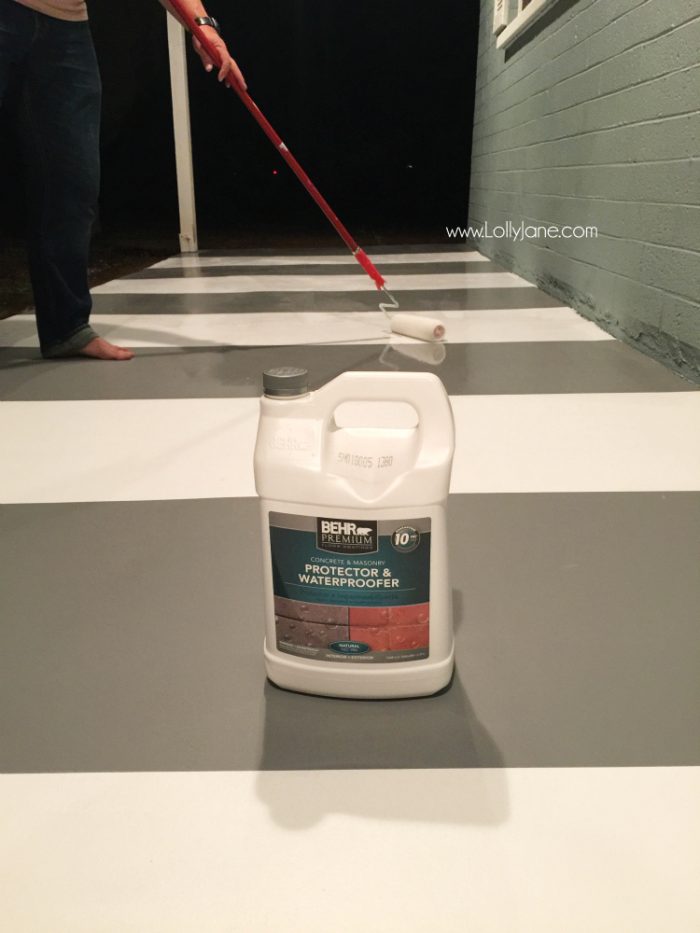 We love the final look!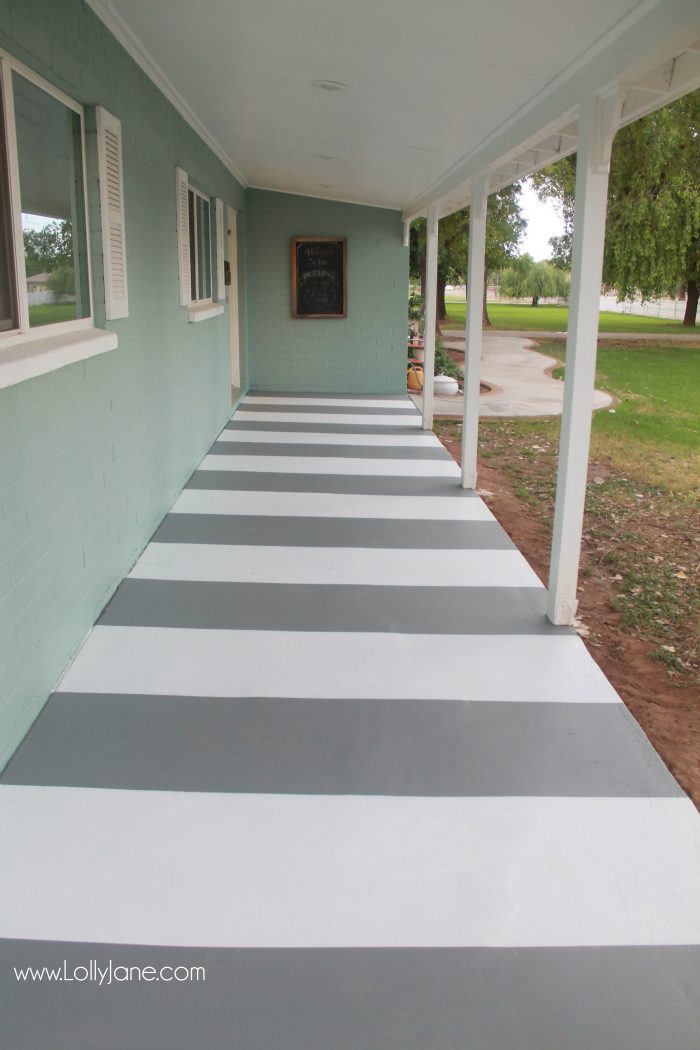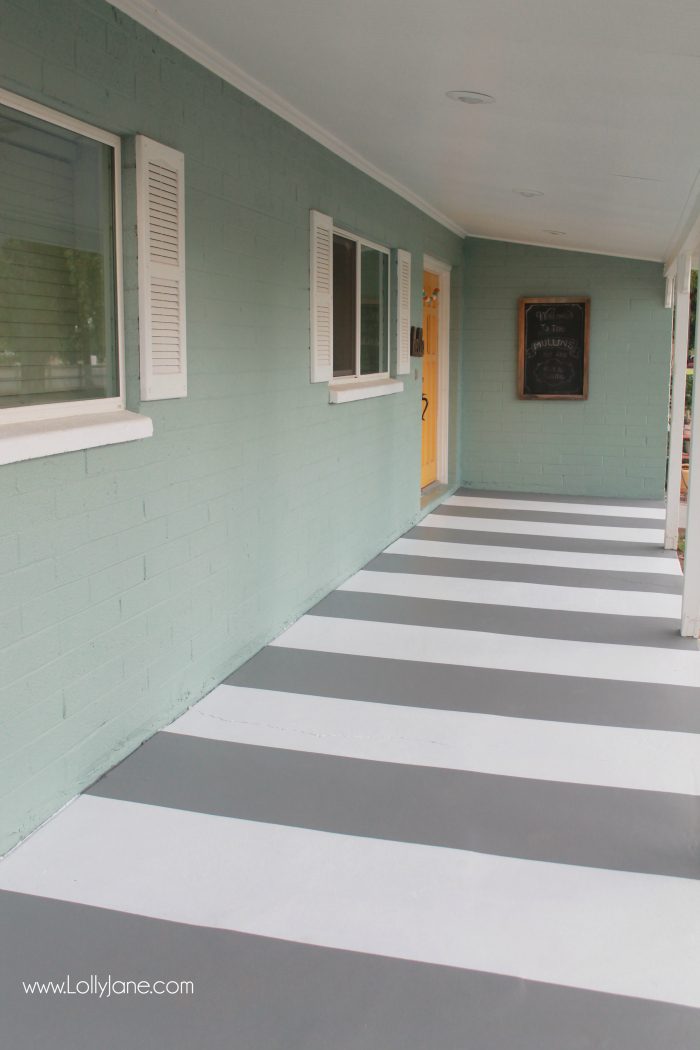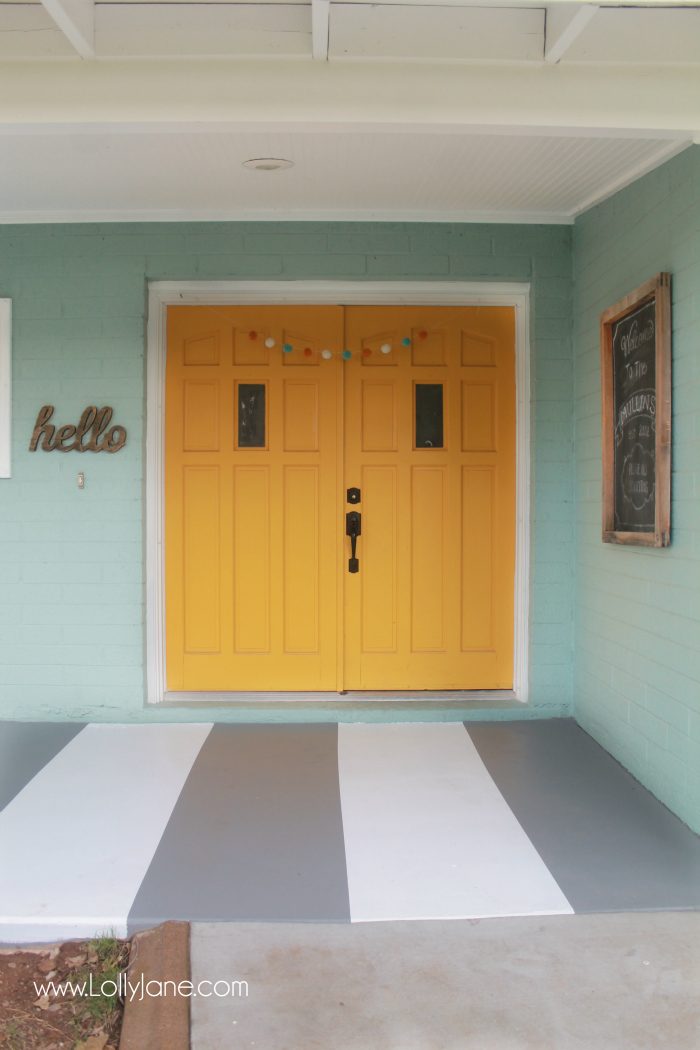 Here she is with a little furniture back in place.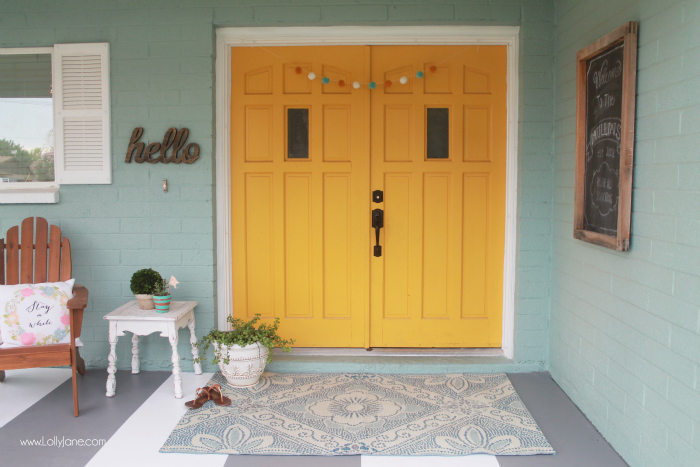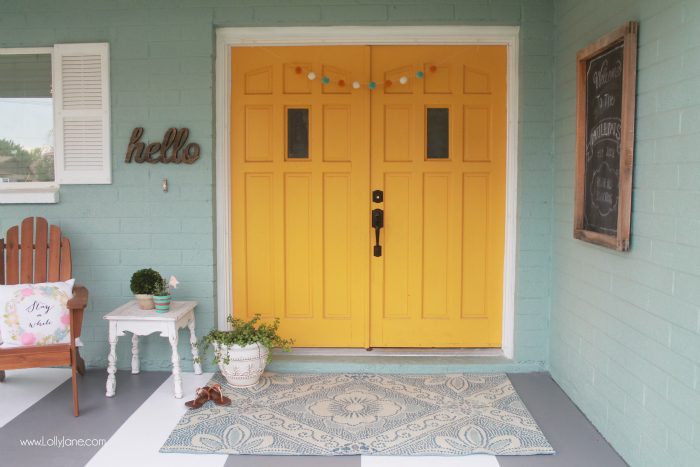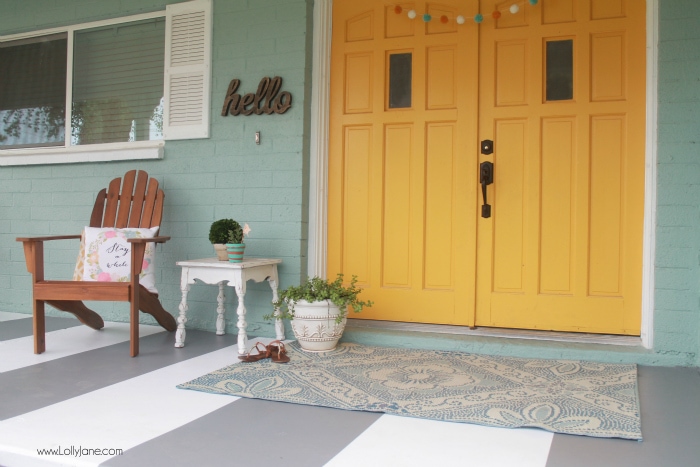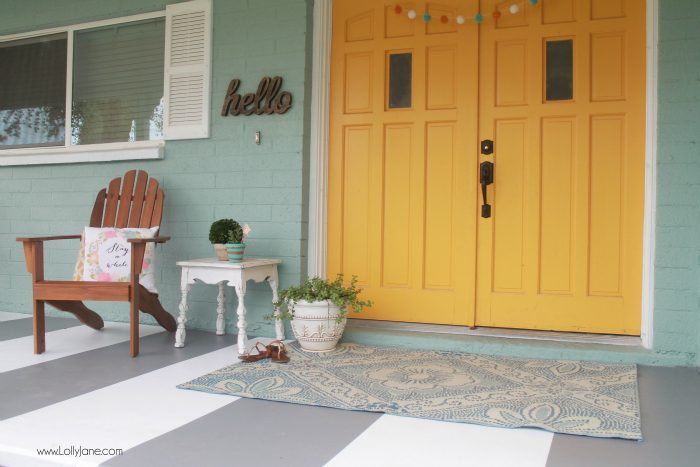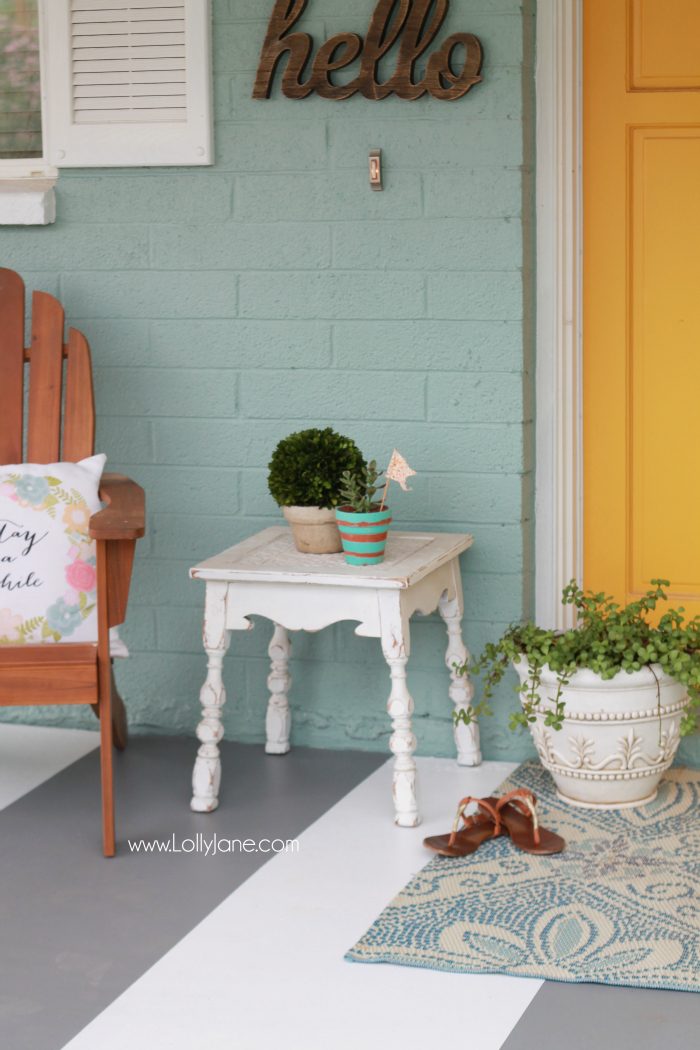 Please PIN so your friend's can paint some pretty stripes too!

It's been 4 months since I painted the porch and so far I've only had to wash it two times (both times after a good rain storm where dirt kicked up).  To wash it, I use my hose and dish soap, that's it. It's held up beautifully and hasn't chipped at all.  I personally won't mind if it does chip over time, I love the distressed and worn look. I'll share some more pictures soon when I finish the other side. So far I have my family room table from my gallery wall post. Under the two windows as you can see here in my fall popcorn bar post. I got a new couch from my La-Z-Boy trip that I'm excited to share soon as well. It's gorgeous but the table didn't make the cut and I love it on the front porch. I've always said I believe the outside of your house should be an extension of your home and it's shaping up this way so far.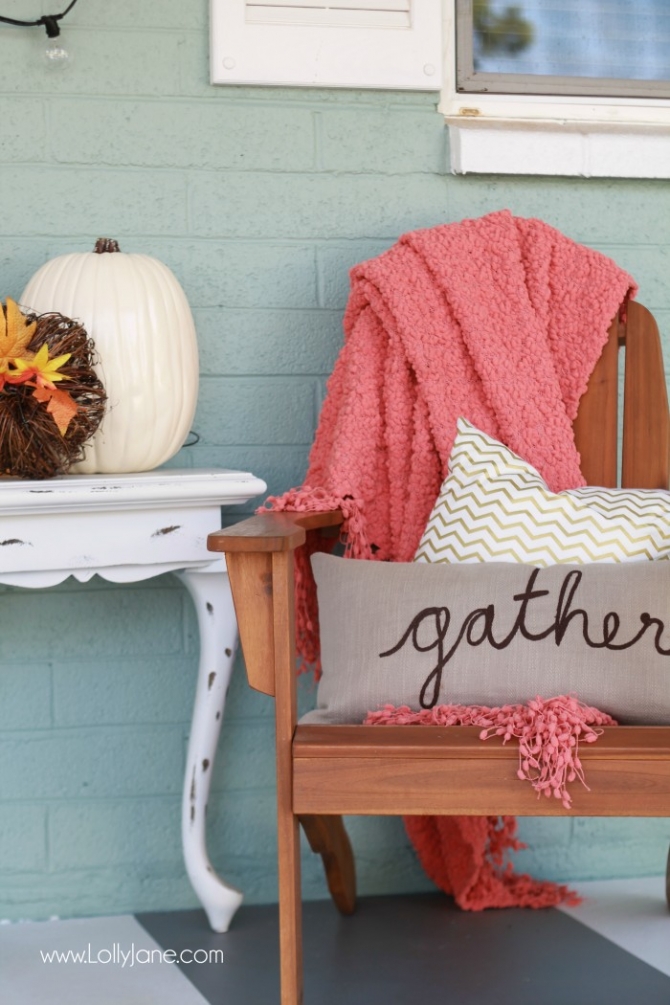 Here's a junky iPhone picture of it..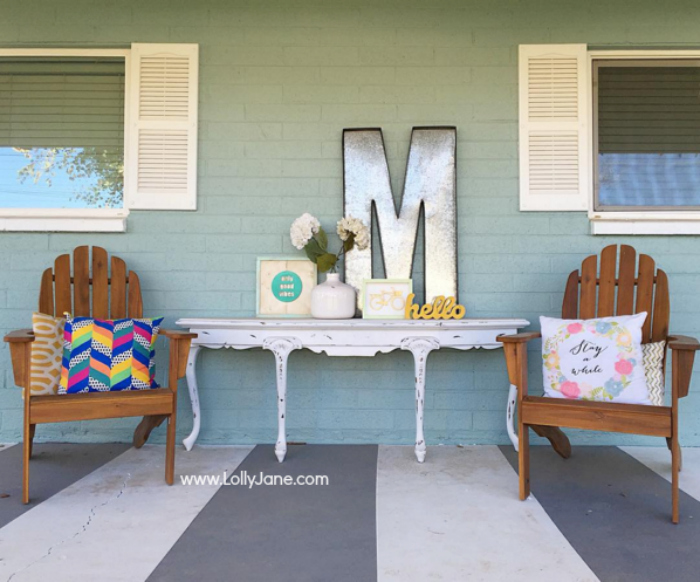 and my family pictures this year using this fun M monogram I found at Ross for less than $30!
Check out our painted concrete floors in my craft room tutorial too!