farmhouse bathroom remodel + sources
We've been working hard on this bathroom renovation for MONTHS. We gutted it down to the cement and drywall then tore out the old bathtub/shower combo that was original to the house in the 70's. We decided on a walkout shower in this bathroom since it'll be the boy's bathroom in the future (as soon as the next bathroom is done this year for the girls). A walkout shower makes for easy cleanup plus when we're old and fragile, we can wheel ourselves into this open space. Sounds weird maybe but we never plan on moving again and just experienced our grandfather's hospice experience in our parent's house next door and his walkout shower was pretty and convenient so it's the best of both worlds: design + functionality. Check out my little bathroom tour and check out all the sources at the end! Enjoy!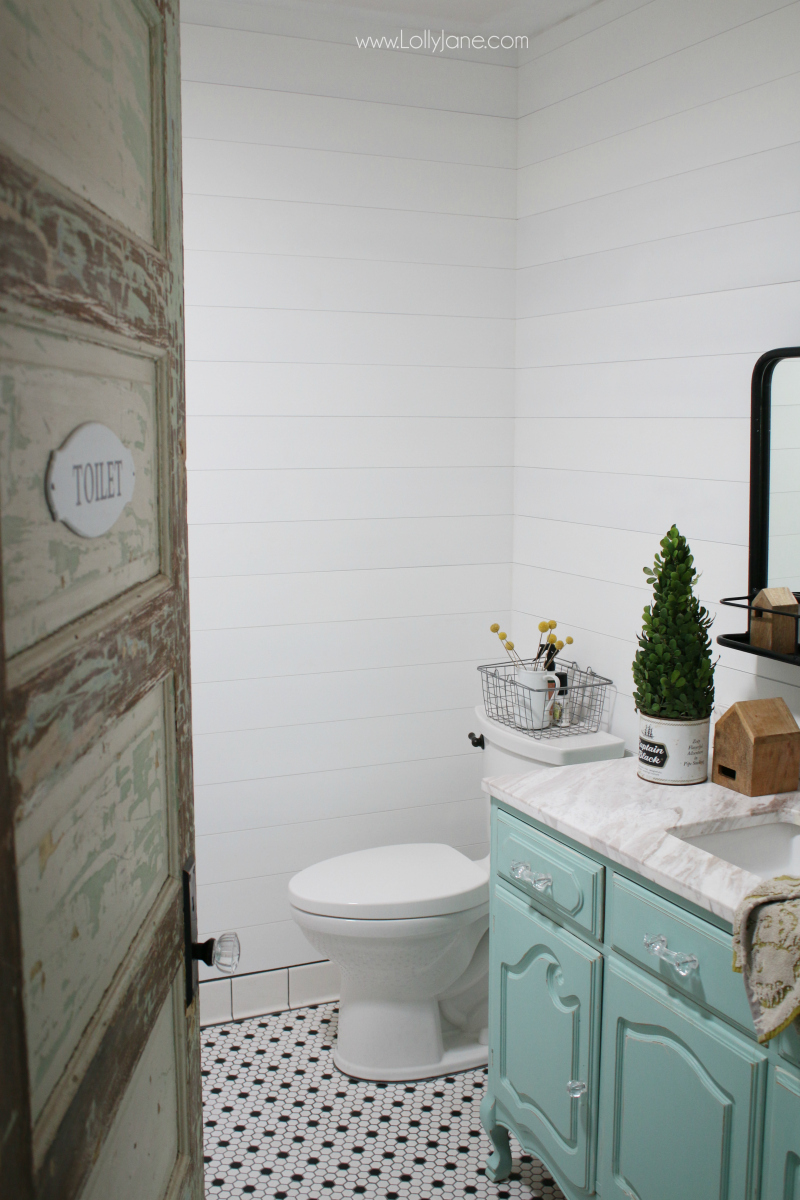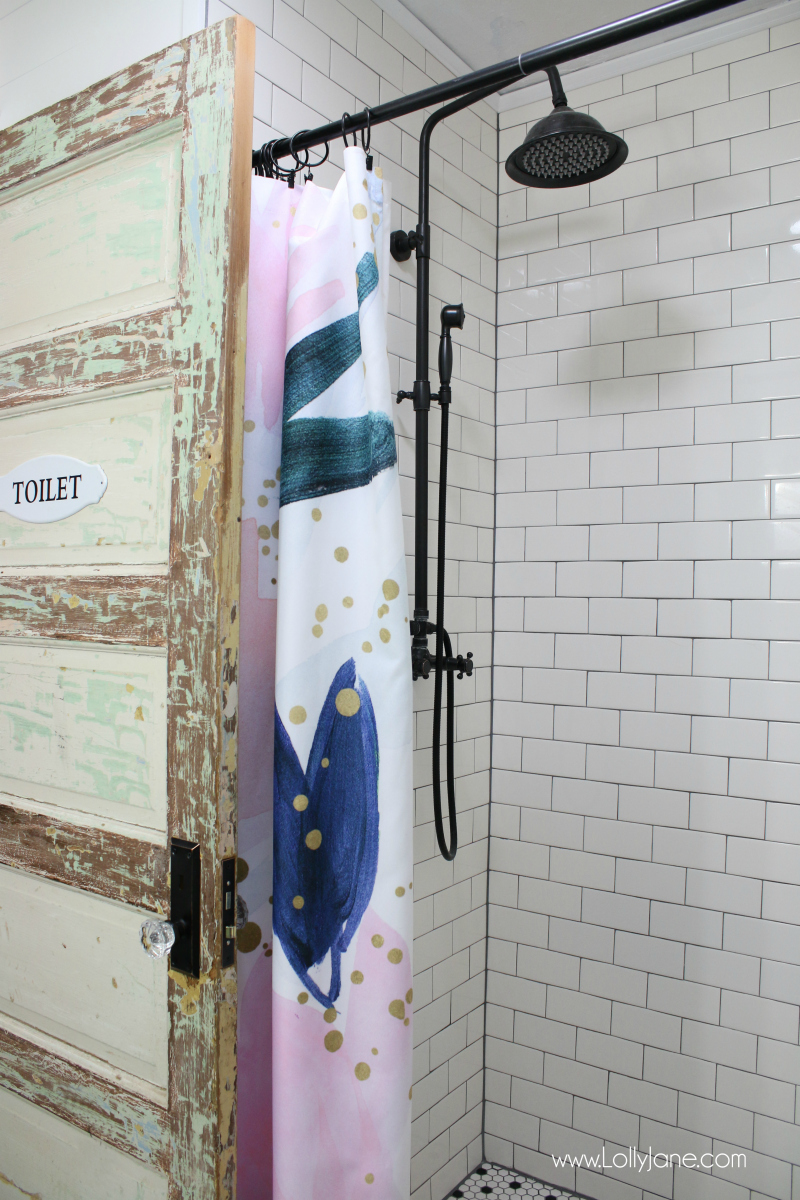 I found this shower head on Amazon for several hundred dollars cheaper than I could find in-store. The handheld sprayer is super convenient for washing Miss Hannah and for quickly cleaning the floors. Honestly, I just spray and rinse, can't get any easier than that!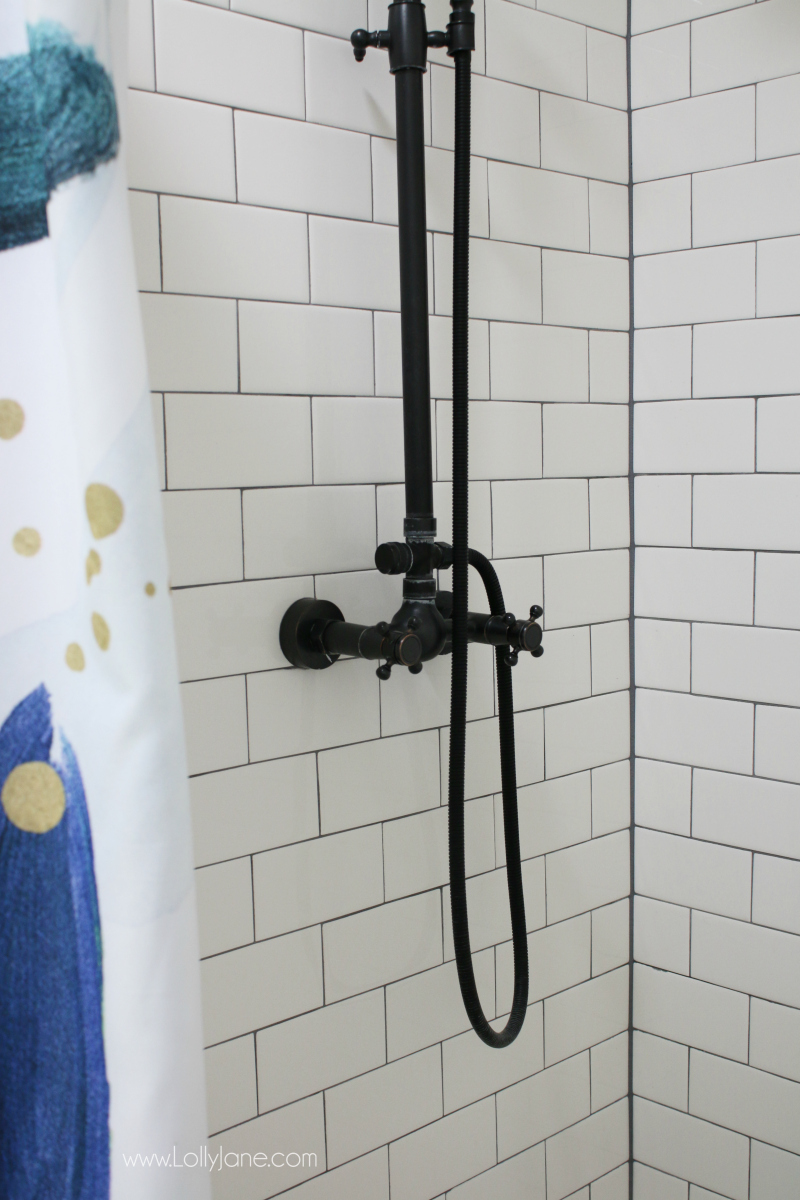 I'm a big believer in not having to baby your home. I chose tile baseboard in here so there won't be any damage to the new shiplap. If it ever runs onto the vinyl flooring in the hallway, that's waterproof as well!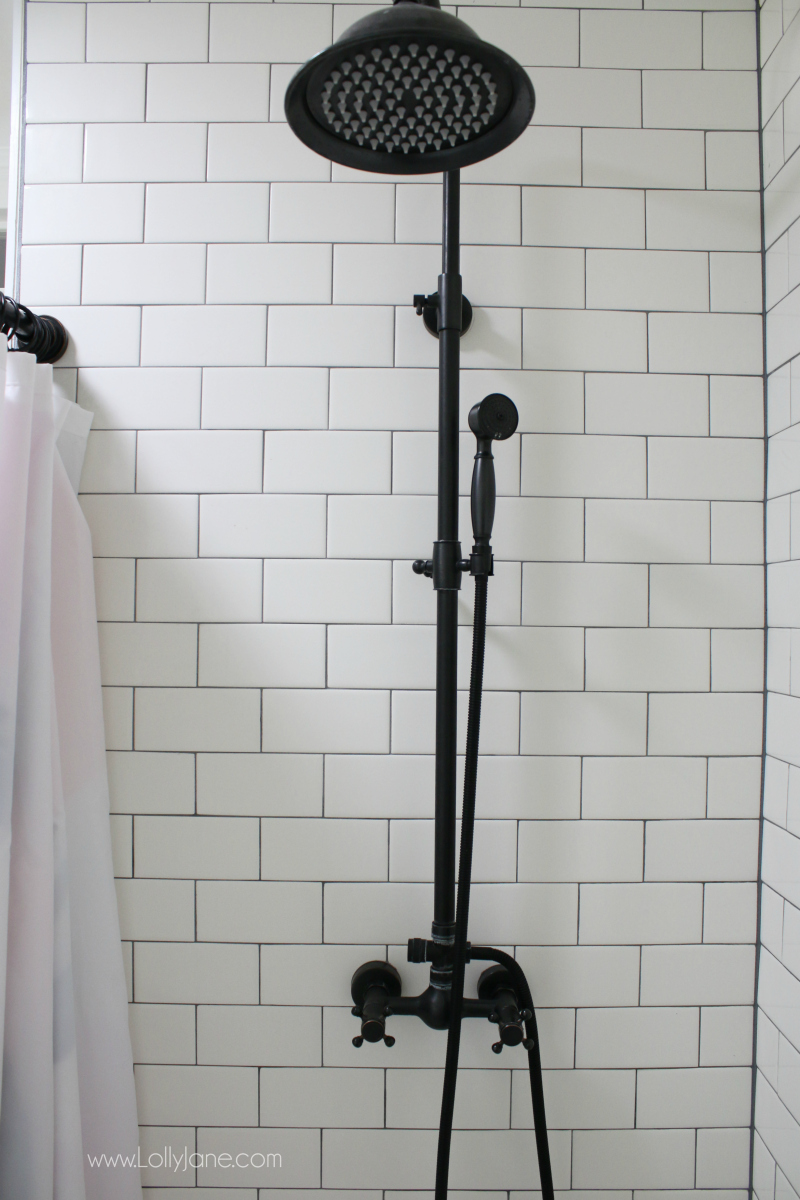 I'm loving the honeycomb tile inset in the built-in shelves from the floor with the bright white subway tile and matching gray grout. It was a simple way to tie the tile patterns together. I filled the shelves with these pretty amber bottles (following Almost Makes Perfect's diy) and vinyl from our shop. (I forgot the body wash was in there while taking pictures but we're pretty obsessed with our monthly shipments of Mrs. Meyers from Grove, see more details here.)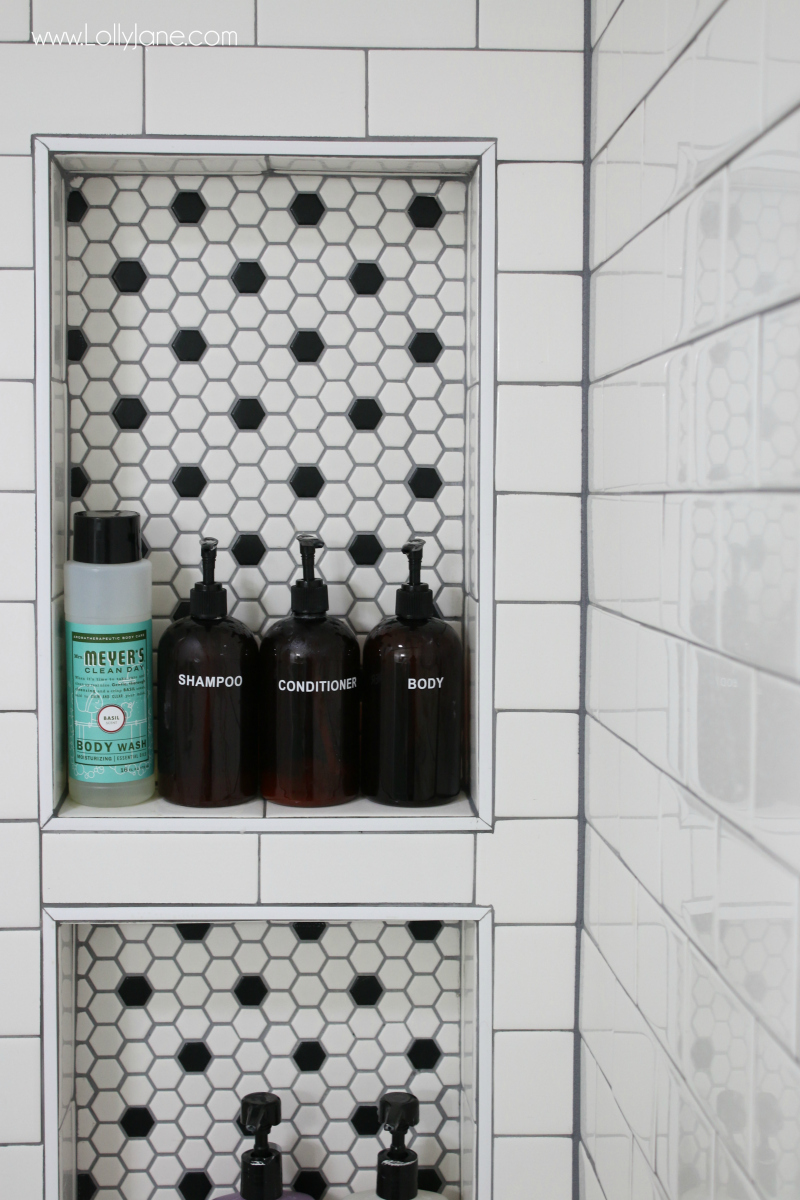 I love this cozy little space behind the bathroom door. It's not seen a lot but I love the layers of molding and all the textures going on. I'm going to replace the kids' towel since these are nearing two years old and I'm also creating a new sign for this space. It'll be a play on showering since 'save water shower naked' seems a little inappropriate considering it's the kids' bathroom, lol!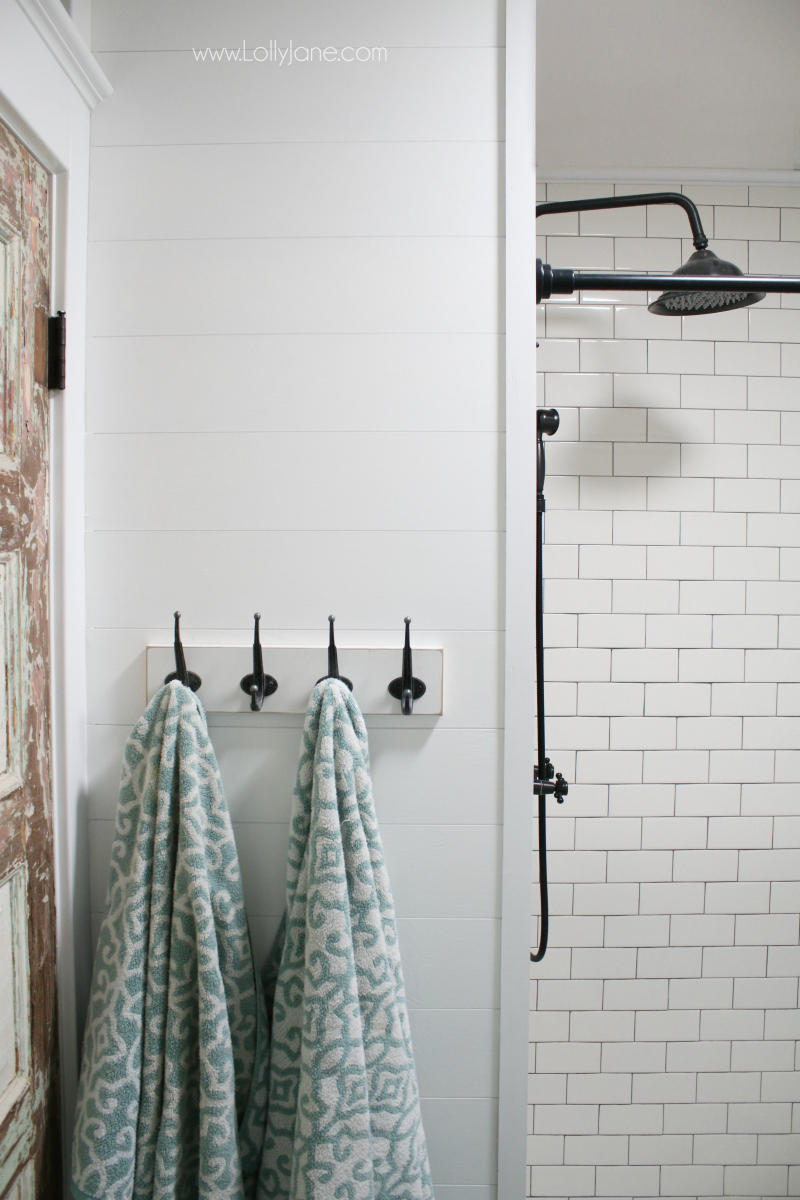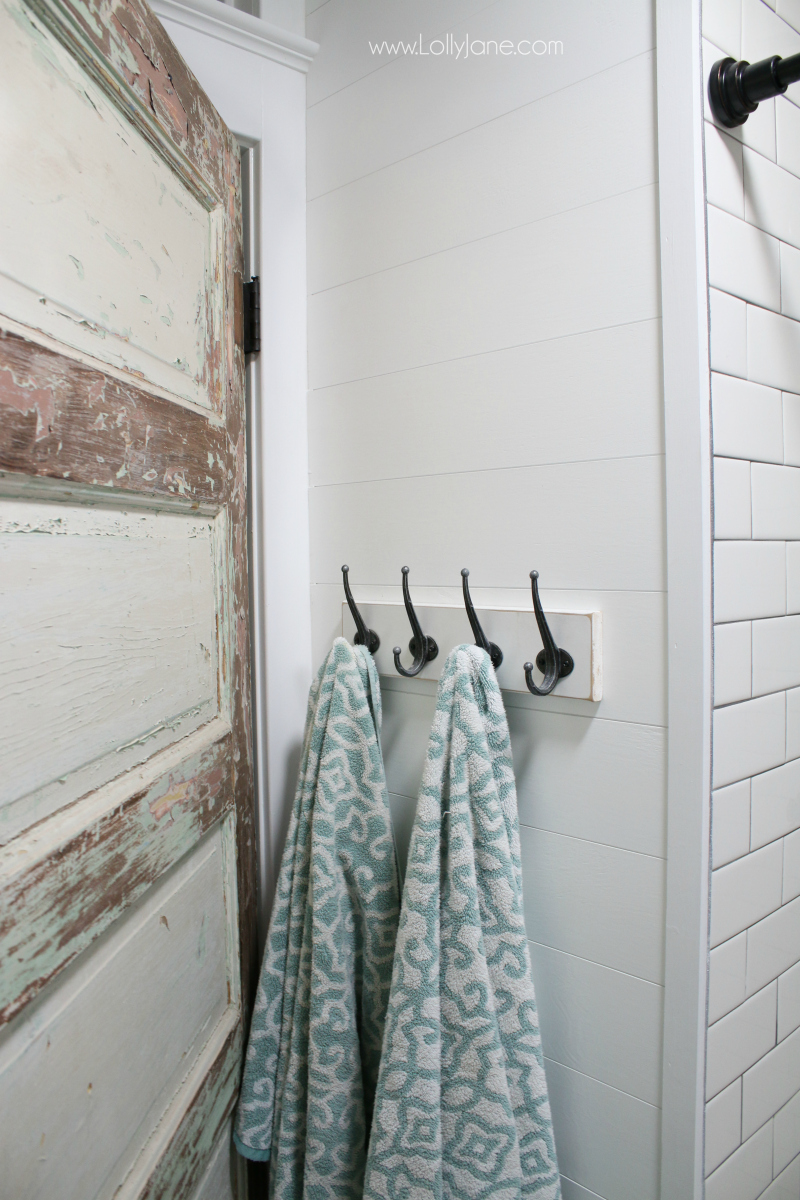 I looooove this old door. It's around 100 years old, solid wood and in amazing condition. When I had my handyman install it, he was so confused. He said, "Don't you want to sand it down and paint it?" I laughed and told him I actually did sand away any existing lead paint then sealed it so it's safe. He didn't get it.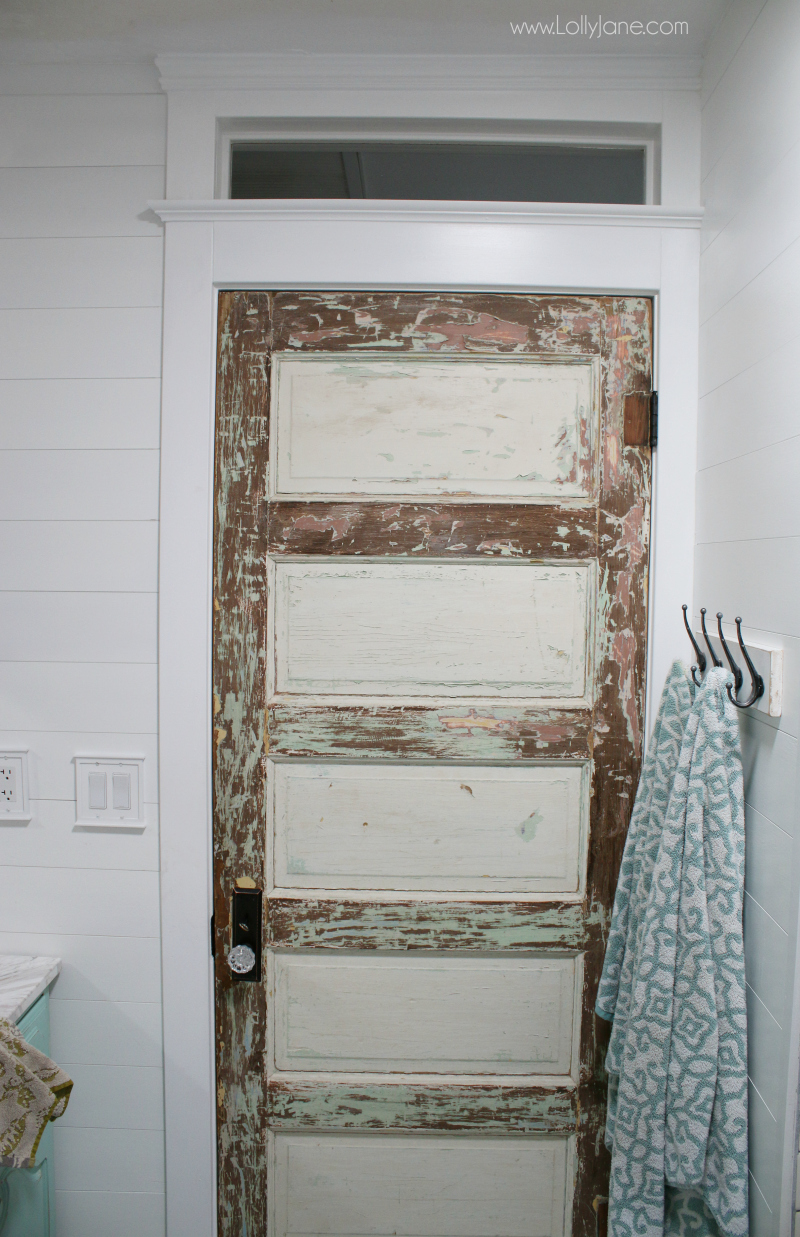 Again, I'm not sure what to add in this blank space. My kids still love the idea of mason jar toothbrush holders for organization so I may create a little display or just set them in the pharmacy mirror. Still deciding.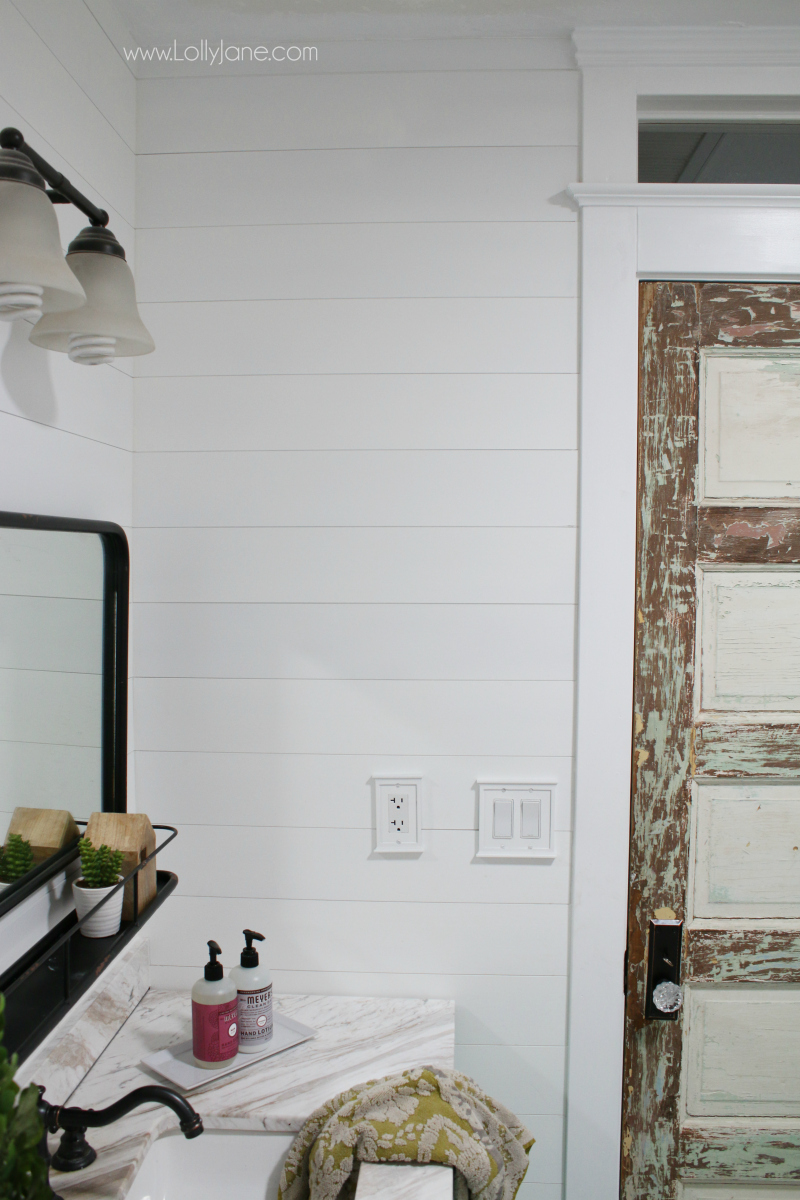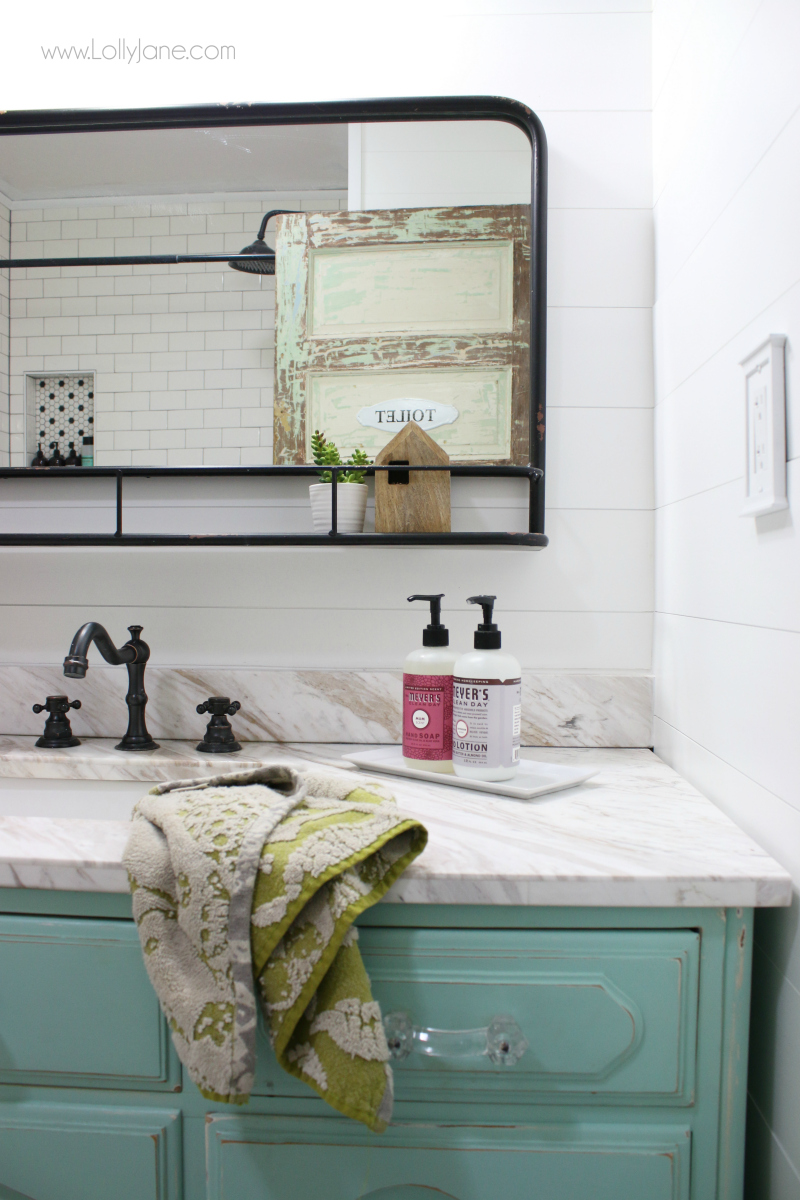 I didn't realize I bought a matching faucet to the shower but it's the same brand and again, super affordable by at least $100 compared to the name brand faucets. I love the little x shapes on the handles.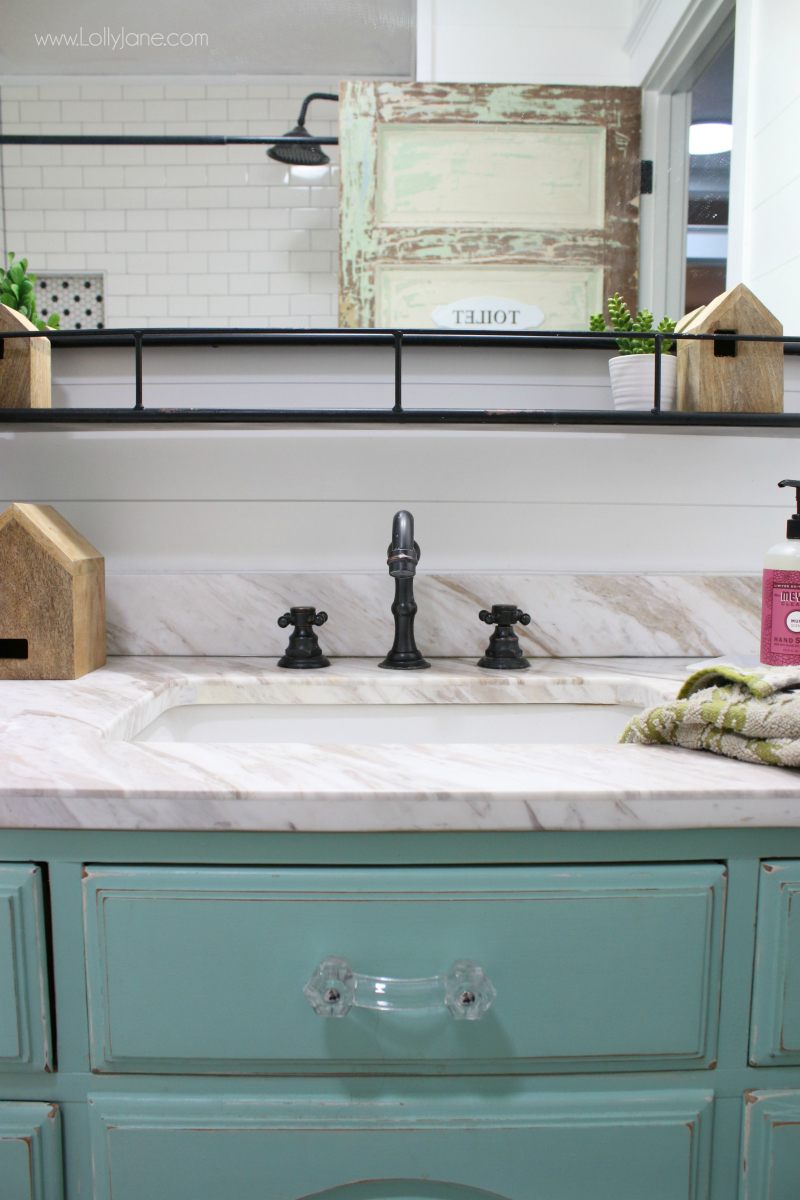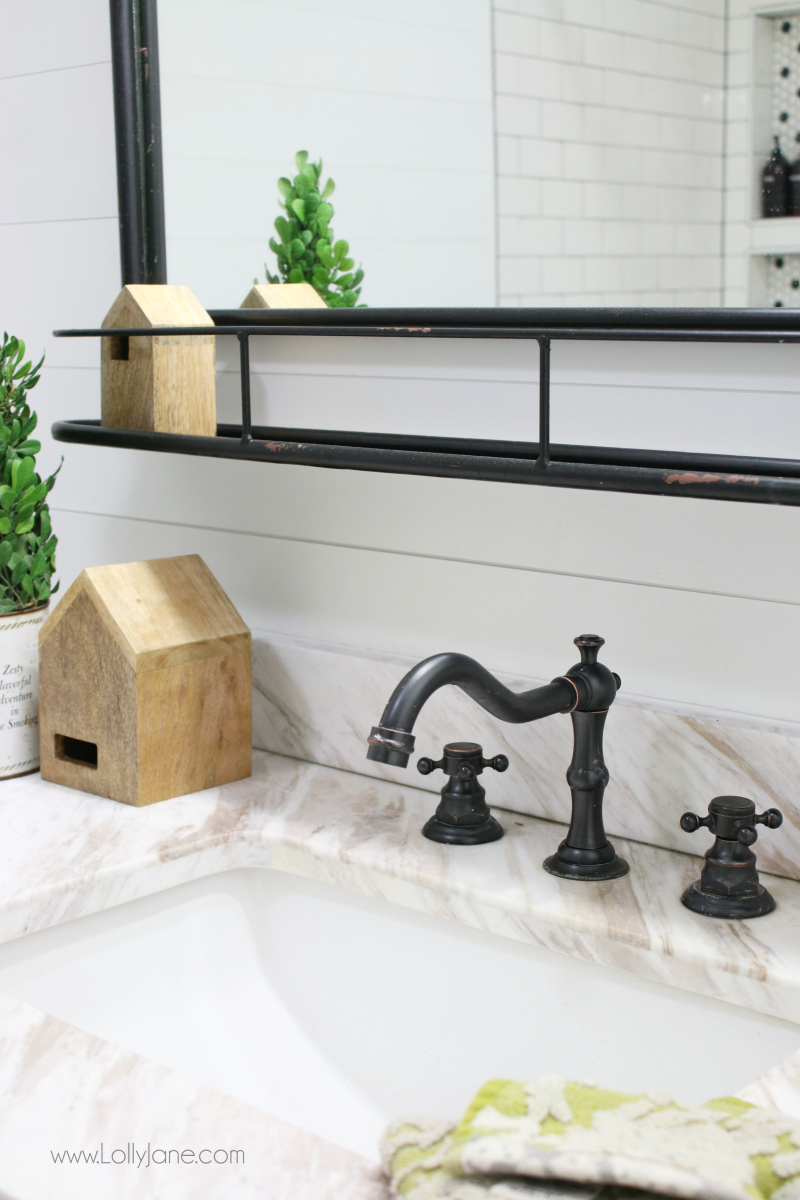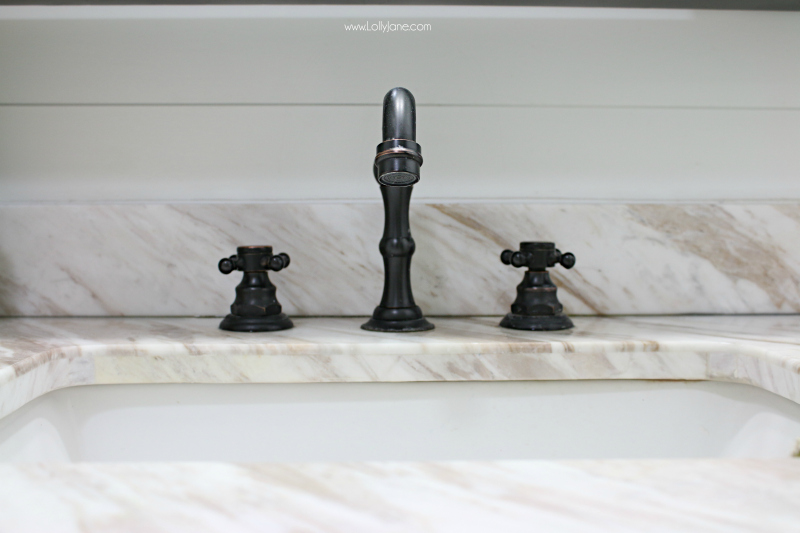 My first plan with the "backsplash" piece on the vanity was to not include it. But after thinking through how unaware children are with water, we decided to add it on last minute to protect the shiplap. We added a bead of gray silicone caulk to seal it then used white caulk along the top of it to blend it into the wall for a seamless finish.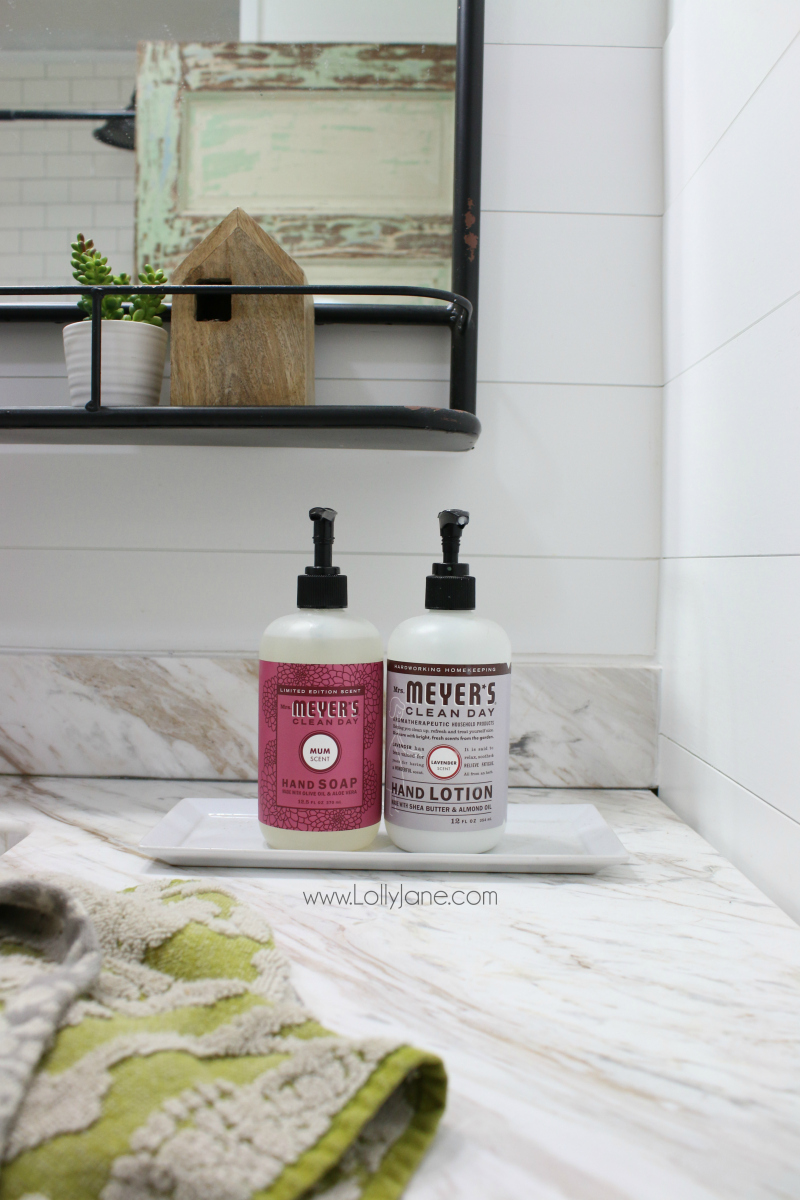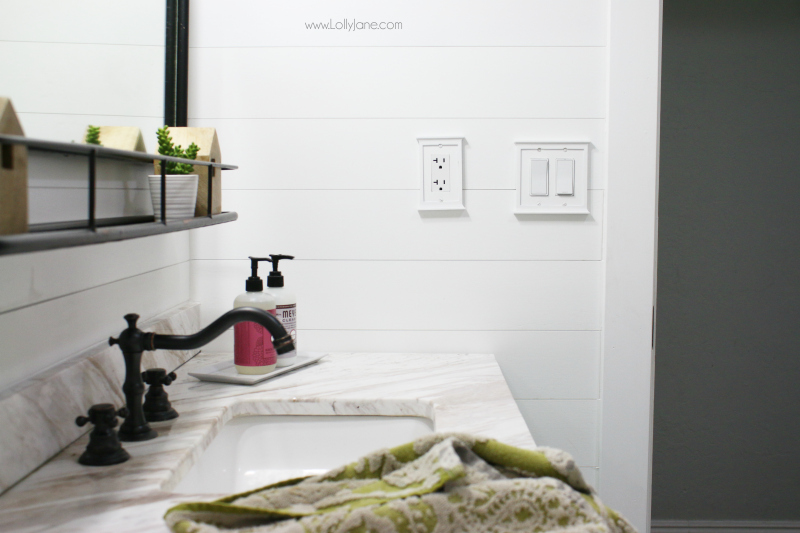 We scored this dresser for a couple hundred dollars at an antique mall then added a marble undermount vanity top (including the built in drop sink) for a few hundred dollars more. The cheapest vanity I could find online (that seemed like solid wood/sturdy) was anywhere from $800-2000+. There was no way I was going to pay that much for a simple guest bathroom so when I found the perfect dresser size, I was determined to create a vanity from it. Check out the full how-to on transforming a dresser into a vanity, it's easier than it looks!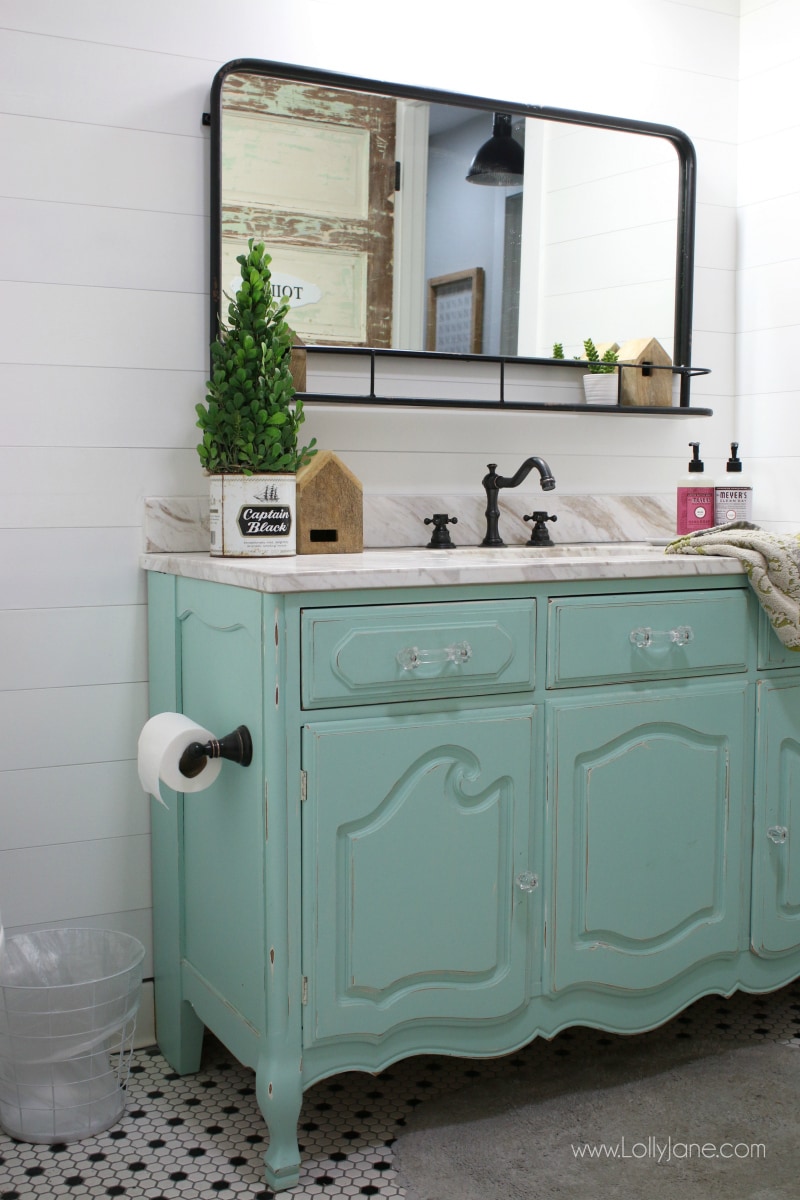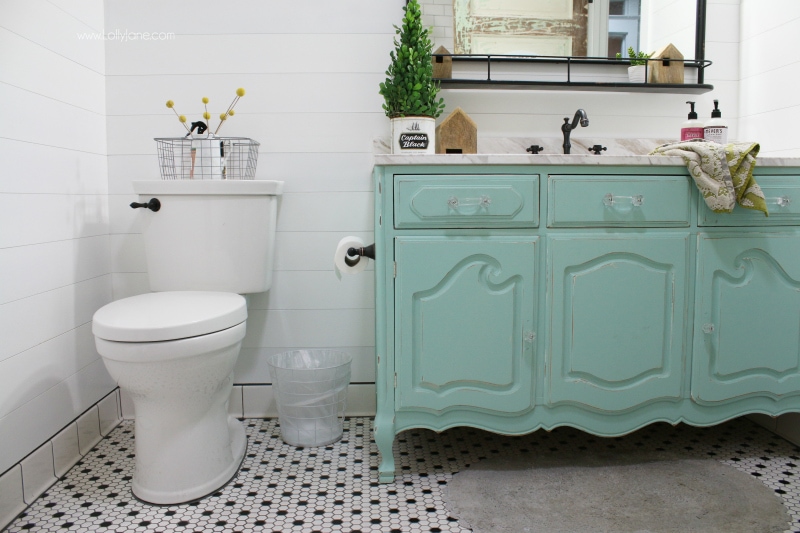 That space above the toilet…I'm thinking I'll add some shelves?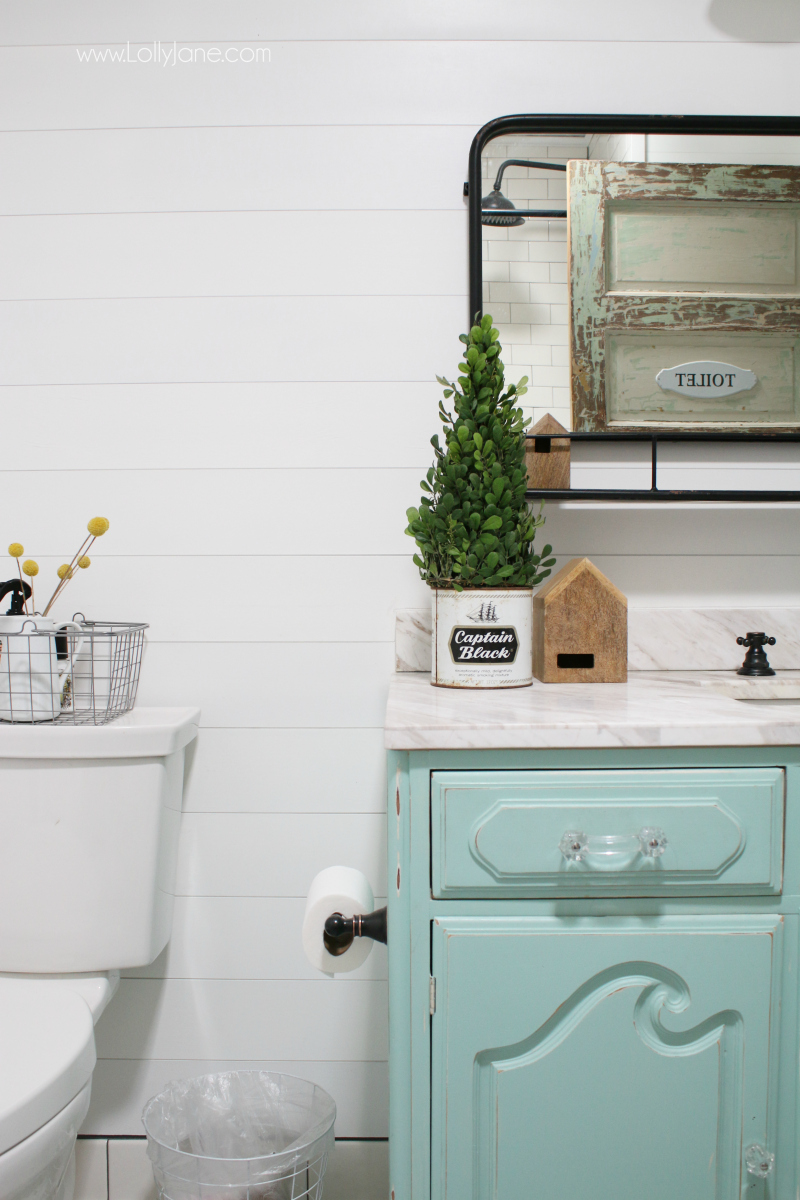 Or should I hang the old cabinet that was there before? Decisions, decisions!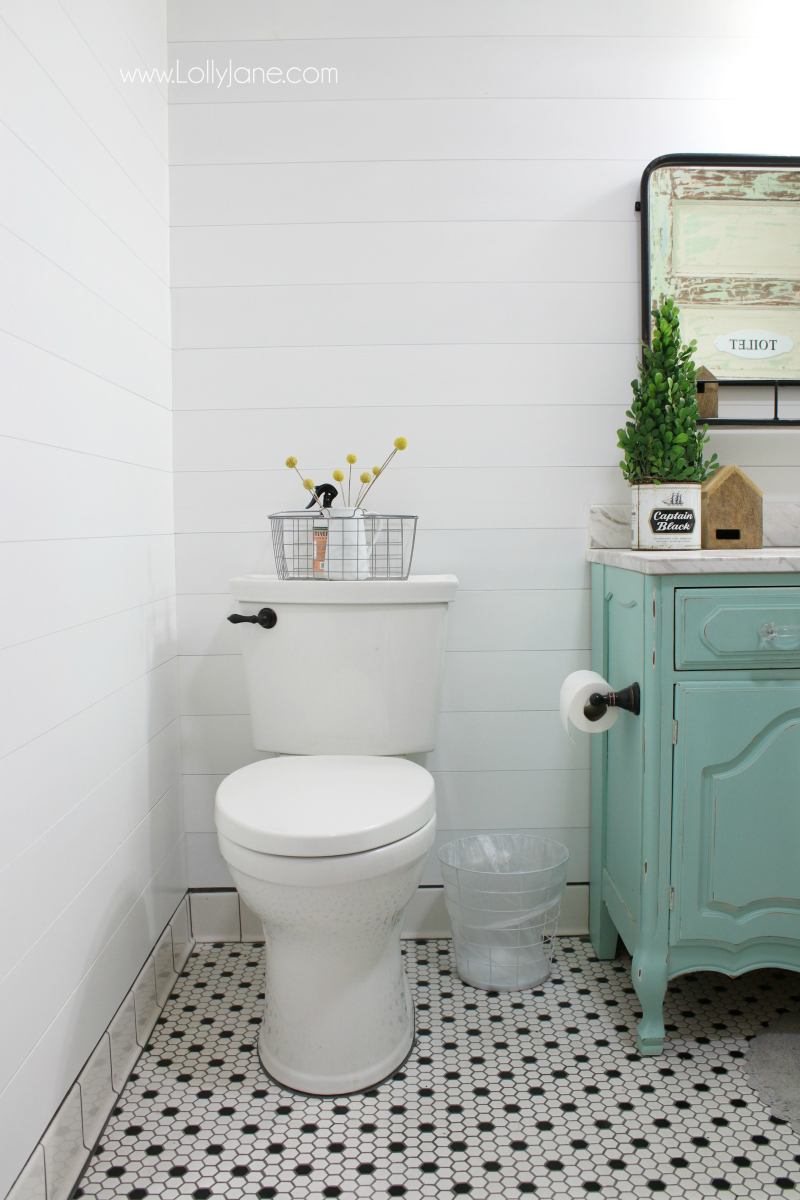 This may sound weird but I love this decorative toilet tank handle. It's the little things that make your home feel cozy. I told my husband I don't want a big house (ours is around 2500 sq ft) but I do want all the charm we can stuff into our modest home.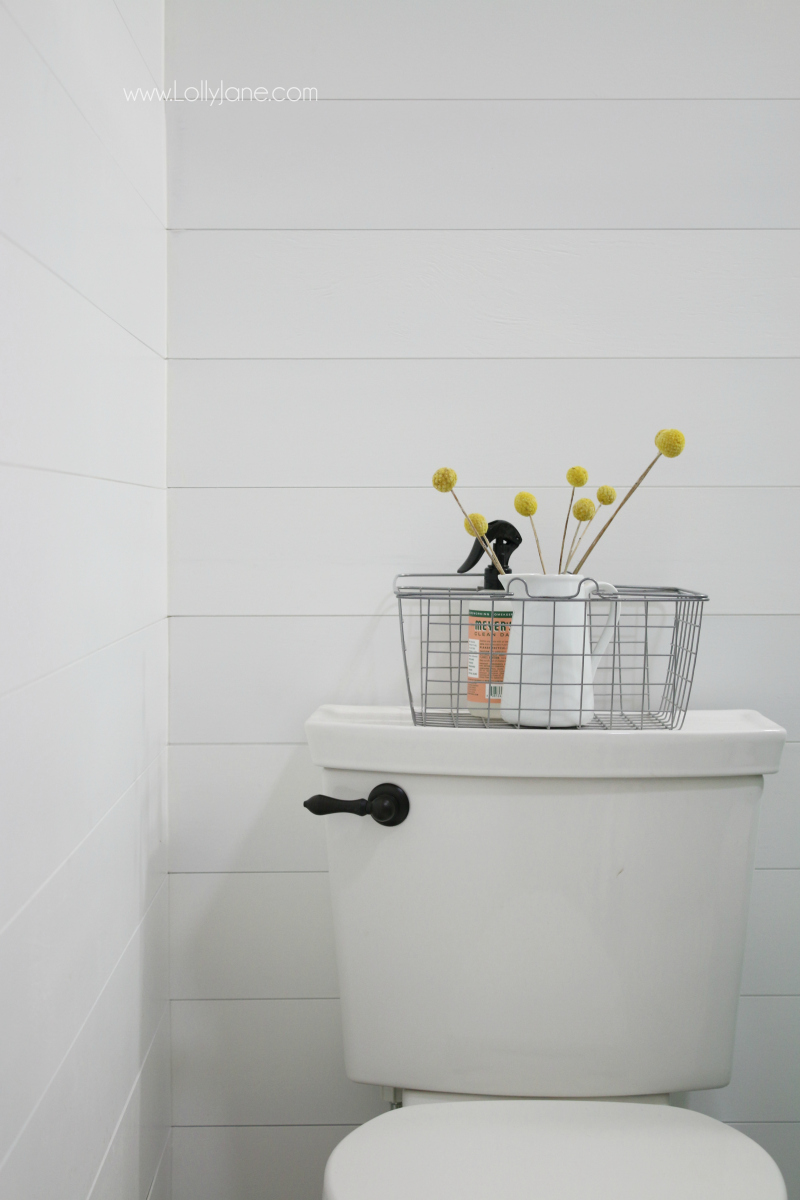 That's as far as I got for now. I have a few things to finish (the shelves above the toilet and a toothbrush storage solution) then we'll call lit good and move onto the next room. Below are all the sources for this space. I read that the average bathroom remodel costs $16,000 which is absurd to me! We spent half that (a lot going to our tile installer since the walkout shower was over our head, no pun intended) so if you shop around, you can find good deals. For example, while researching tile, I drove to Home Depot and Lowe's to a couple of local tile companies then went online then drove to back Home Depot and Lowe's about 6 more times each. I was determined to find pretty tile without spending several thousand dollars. Mel pointed out to me that the big box stores are often cheapest as they buy so much in bulk and she was correct. Lowe's had a bigger selection of the farmhouse tiles. Anyway, hope these little tips help you save a ton of money. I truly believe you don't have to spend top dollar to spruce up your space!

Check out how to install peel and stick shiplap on the wall, such an easy wall treatment option!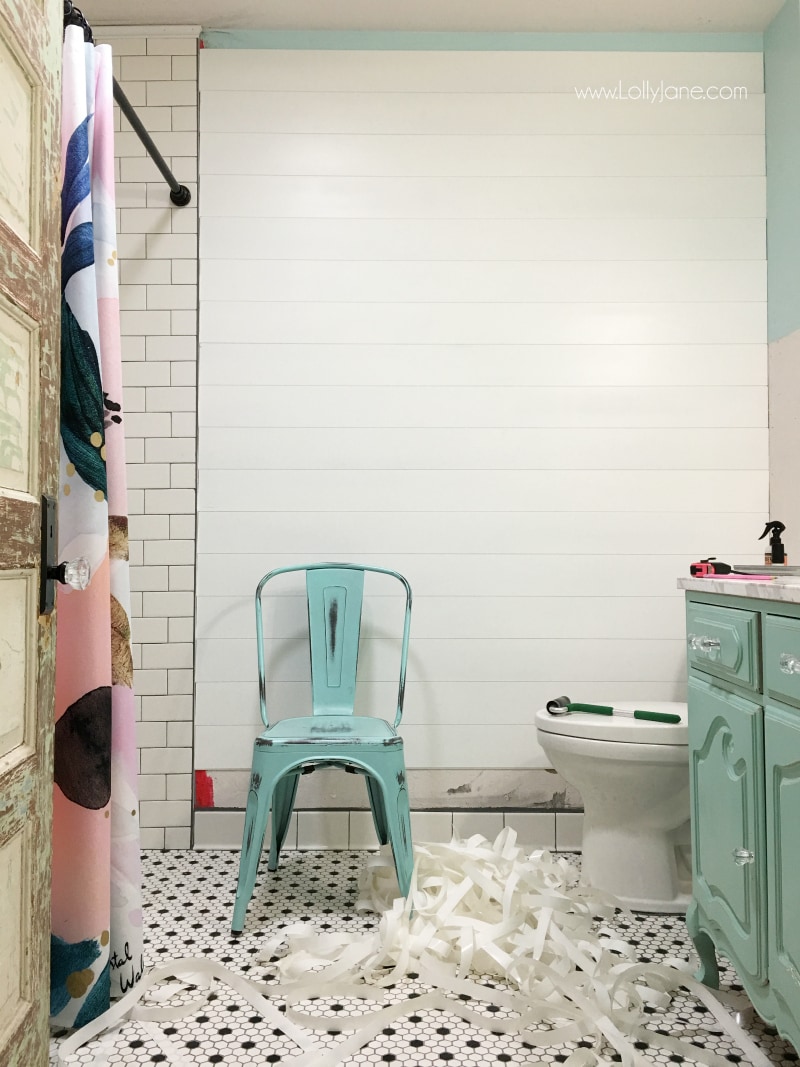 Want to save more money? DIY your vintage dresser turned bathroom vanity tutorial. Lots of tips and questions answered.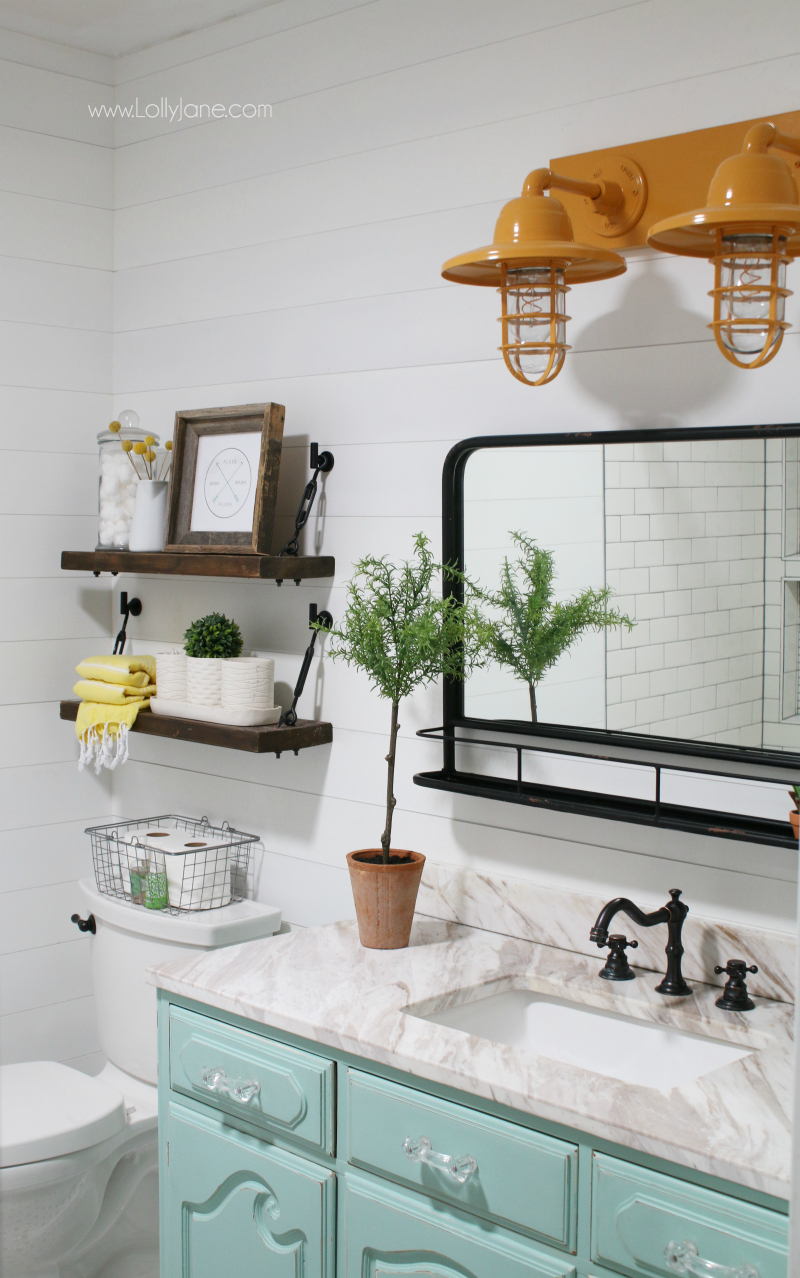 UPDATE: Visit our updated bathroom with the added barn light bathroom vanity and DIY turnbuckle shelves!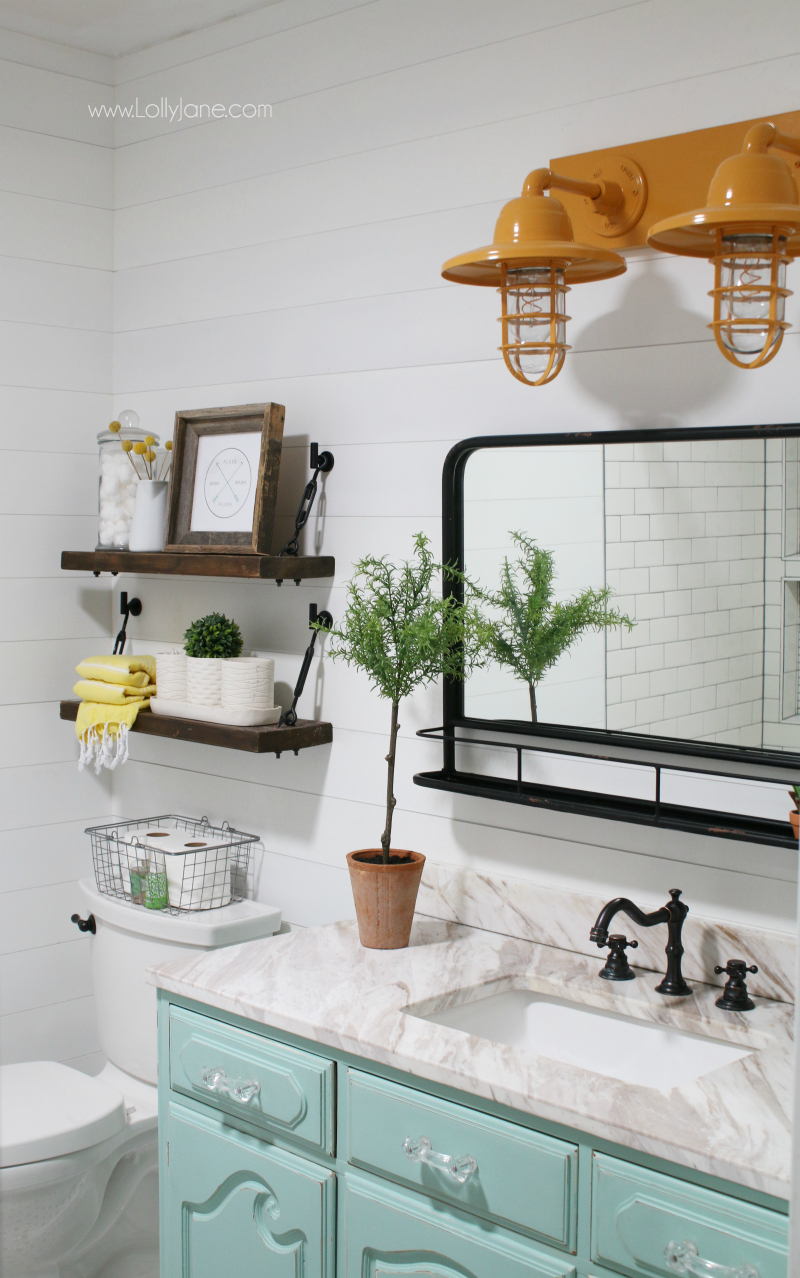 So whatcha think? How do you like our bathroom remodel?