Barn Light Electric farmhouse bathroom vanity lights
The final jewel to our long awaited bathroom remodel is here! Meet our Barn Light Electric farmhouse bathroom vanity lights that make this farmhouse bathroom pop!
My husband surprised me for our 16th wedding anniversary and installed this Barn Light Electric Double Atomic Vanity while I was running kids to lacrosse practice. It's gorgeous! I chose these darling farmhouse bathroom vanity lights from our favorite light company after installing their Wesco pendants hanging in our entryway and down the hall. We love the character they add to our old farmhouse.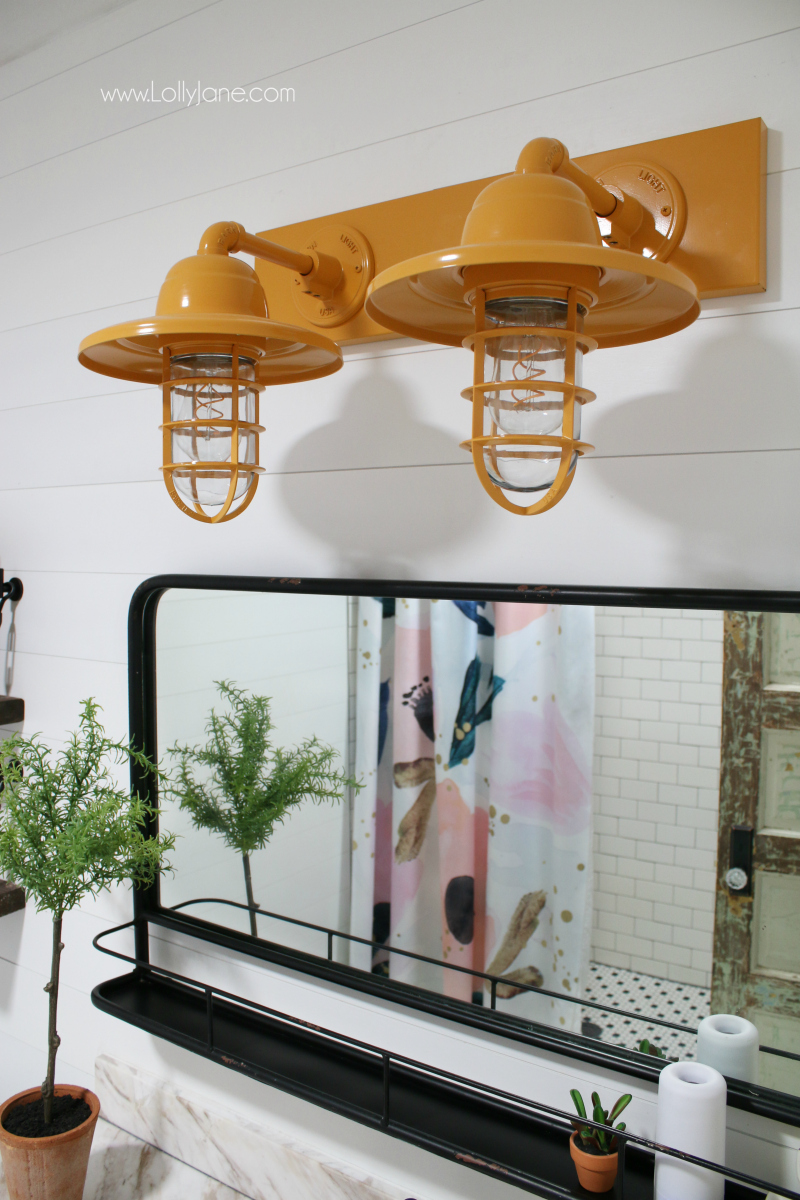 We chose the Industrial Guard Double Vanity lights above our DIY Bathroom Dresser Vanity.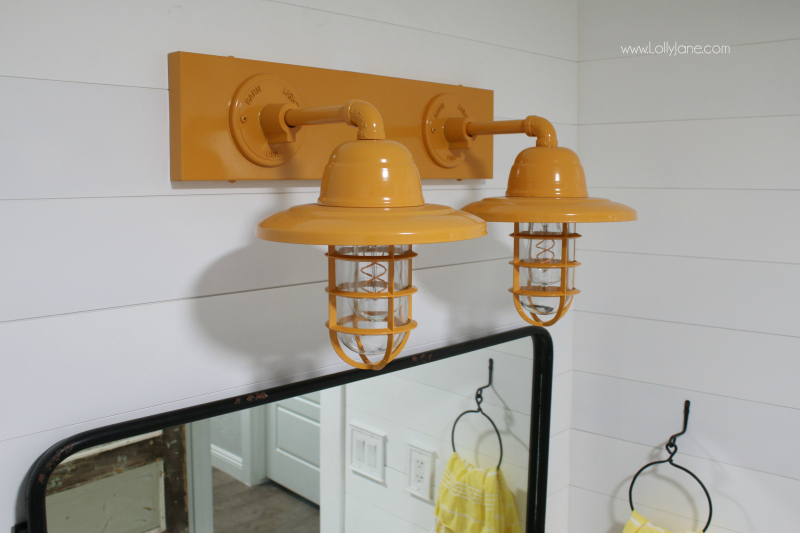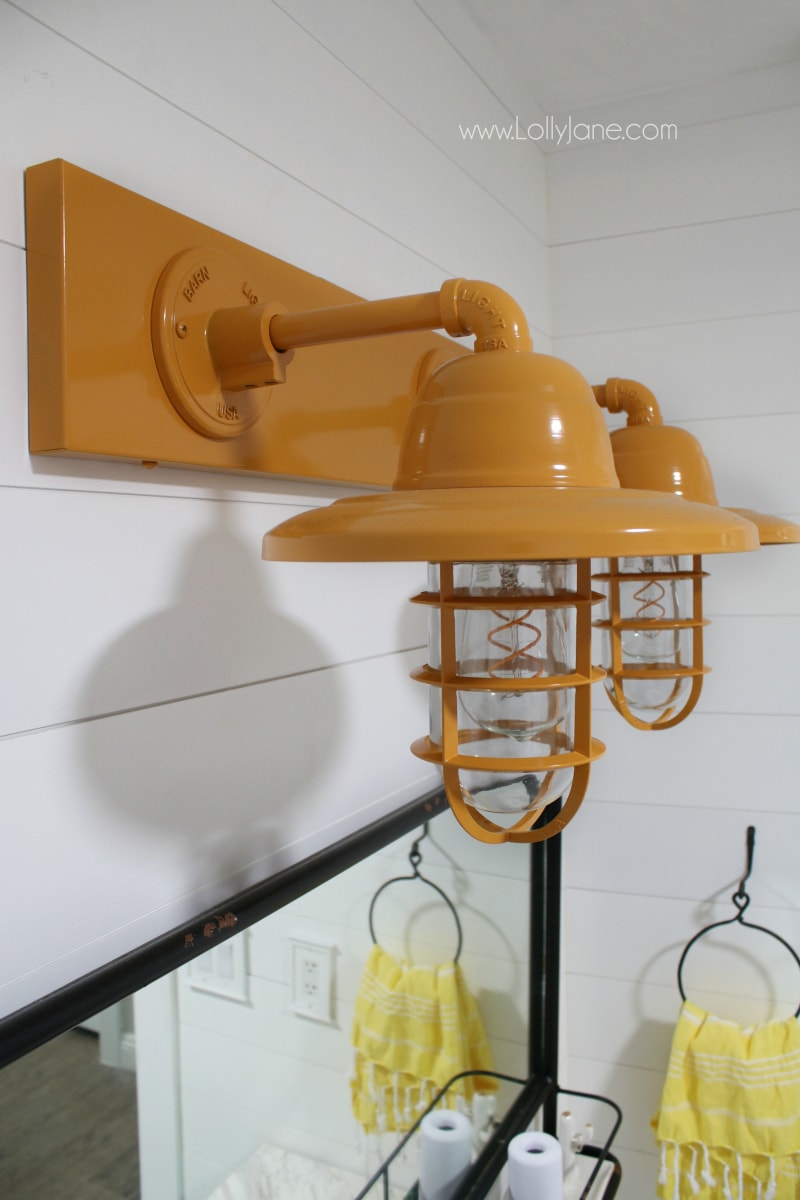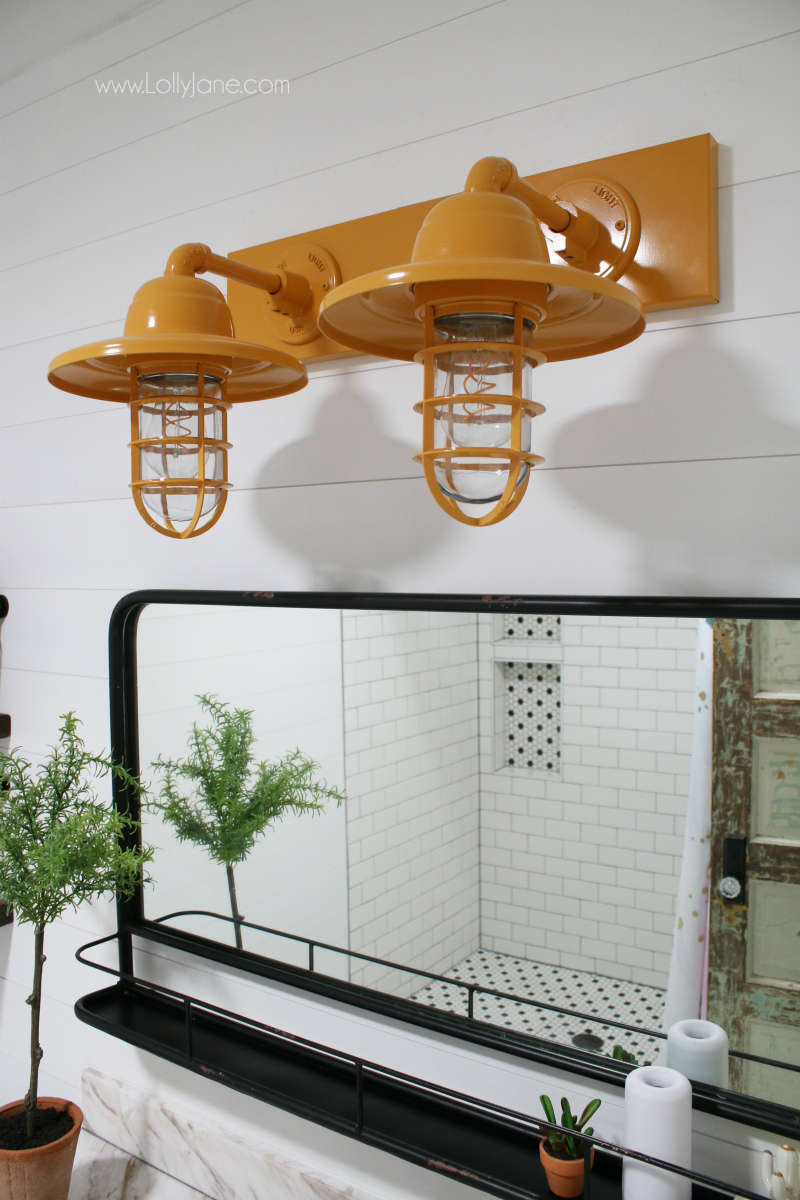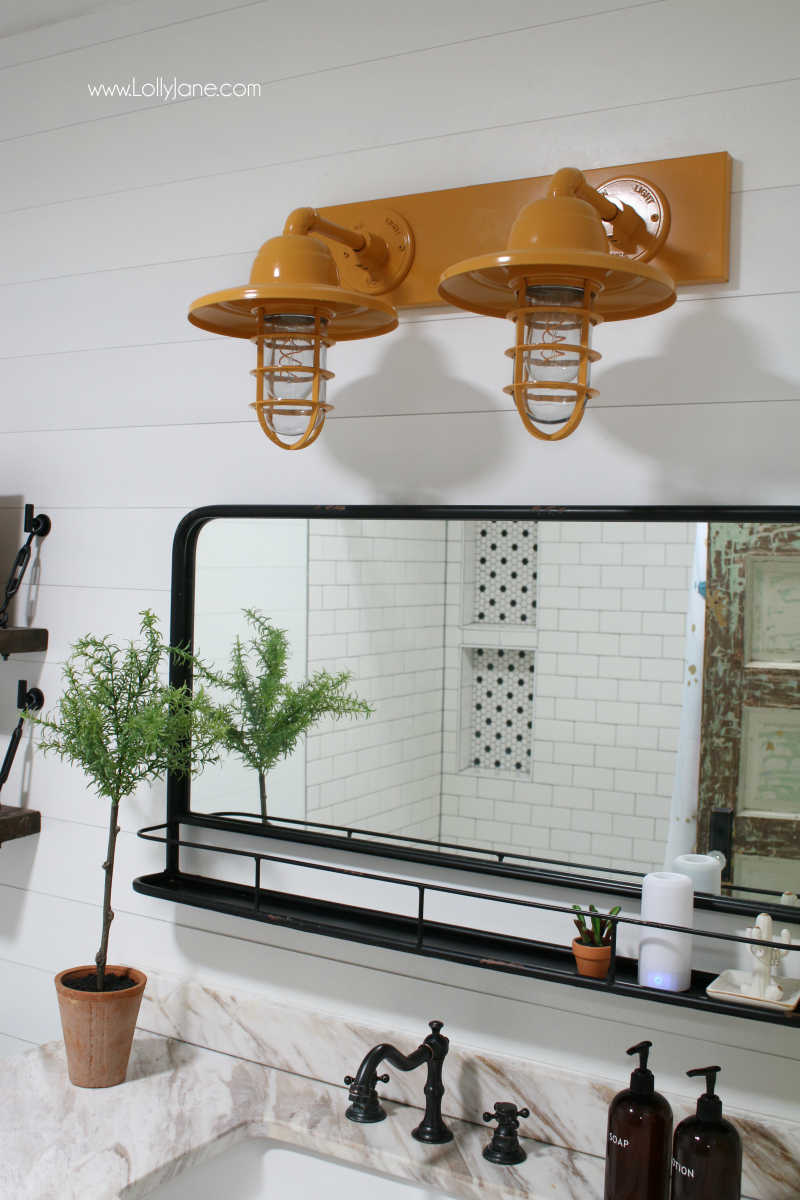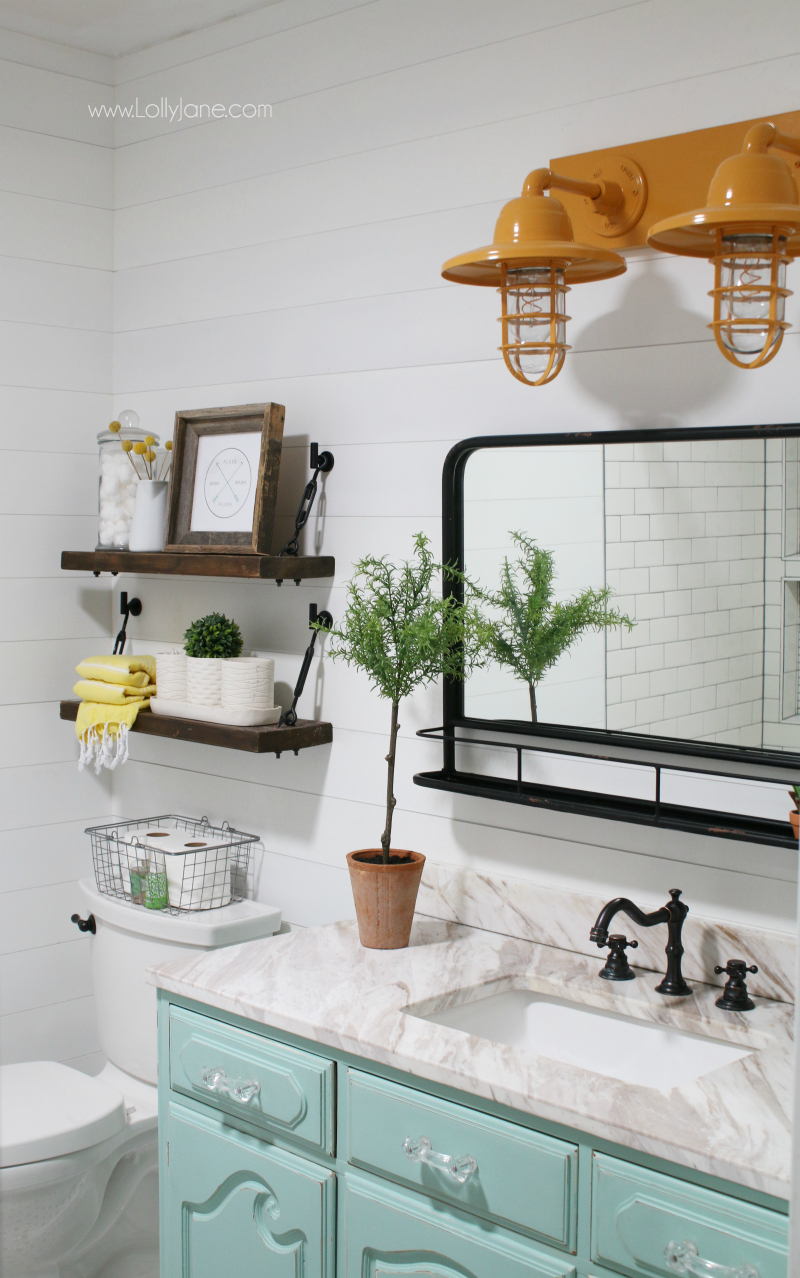 Tips to hang farmhouse bathroom vanity lights
When you're renovating a bathroom, you learn a lot of details like what are the correct measurements to hang the bathroom vanity light above the mirror. The standard height for vanity lighting above bathroom mirrors is 75" to 80" from the finished floor to the center of the light fixture. Keep in mind that these are just the standard measurements and it's okay to adjust them to fit your space and play around with what works best for you. If you're looking to hang sconces rather than a vanity, they're typically hung 64" off the finished floor to be at eye-level.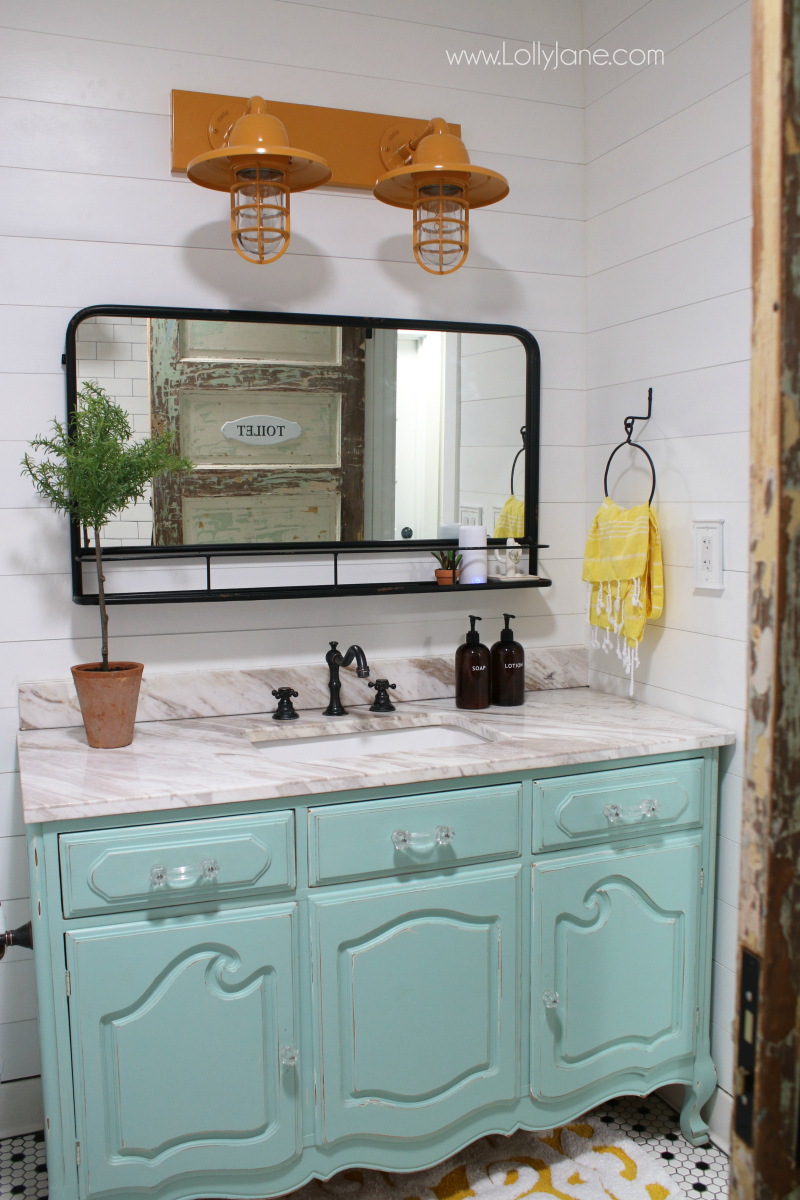 So now that you know the right height to hang bathroom vanity lights, what should your bathroom vanity light bulb wattage be?
Farmhouse Bathroom Vanity Lights – Which wattage is right for your light fixture?
Typically, you'll use fixtures that provide 75 to 100 watts. If you're looking for stylish bulb, BLE's selection is killer.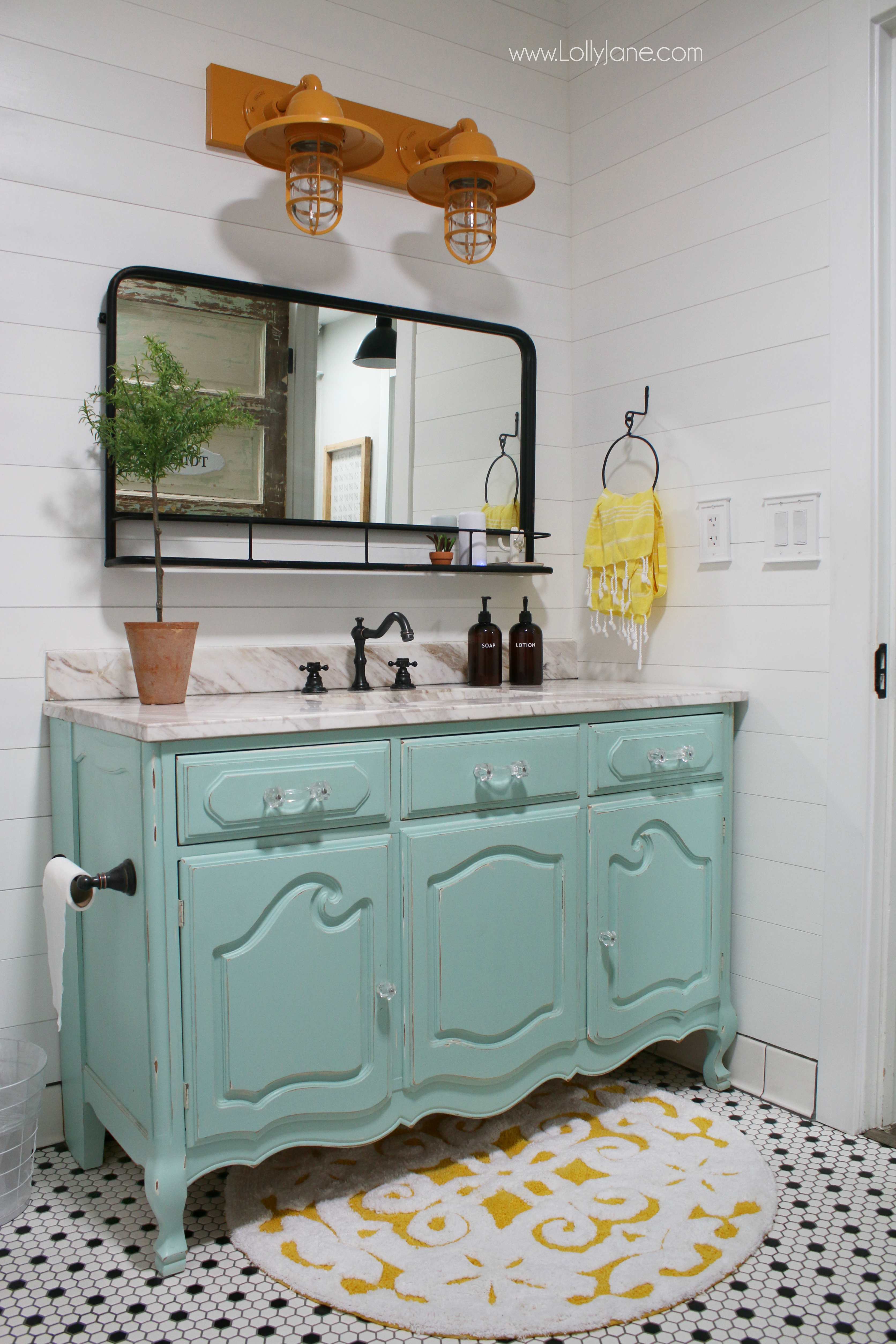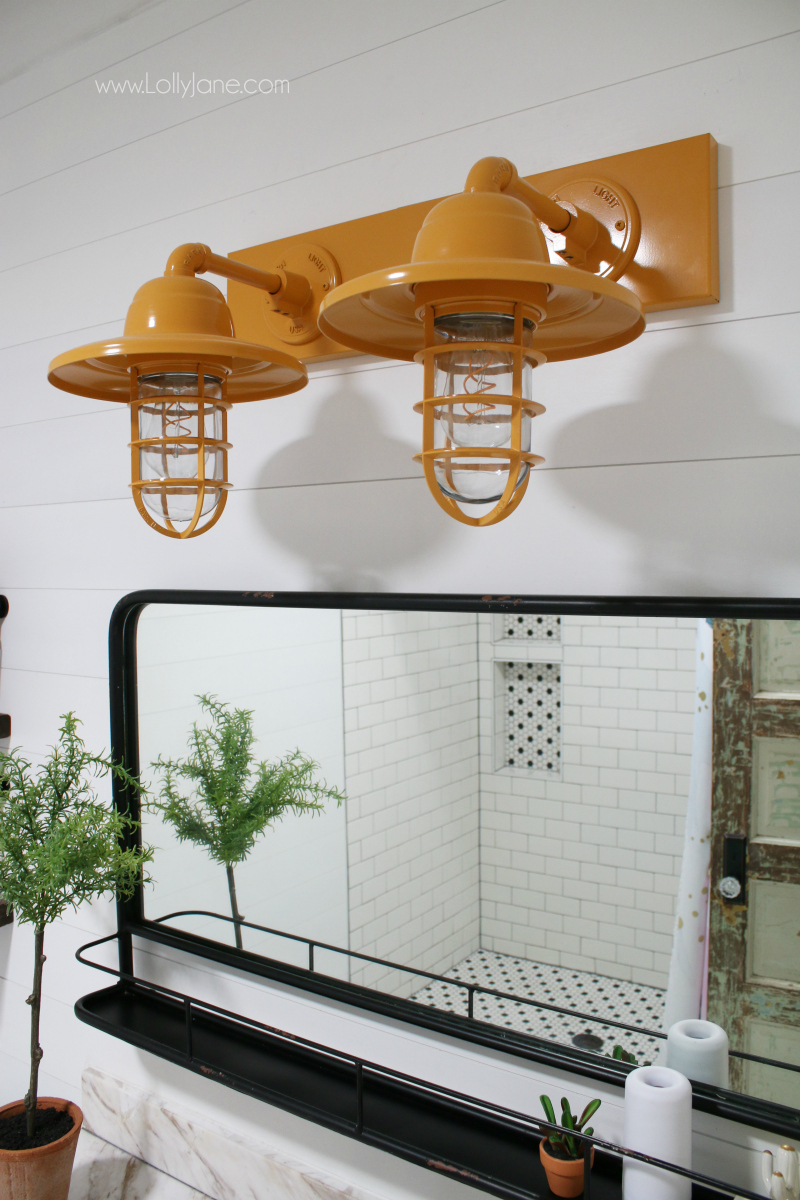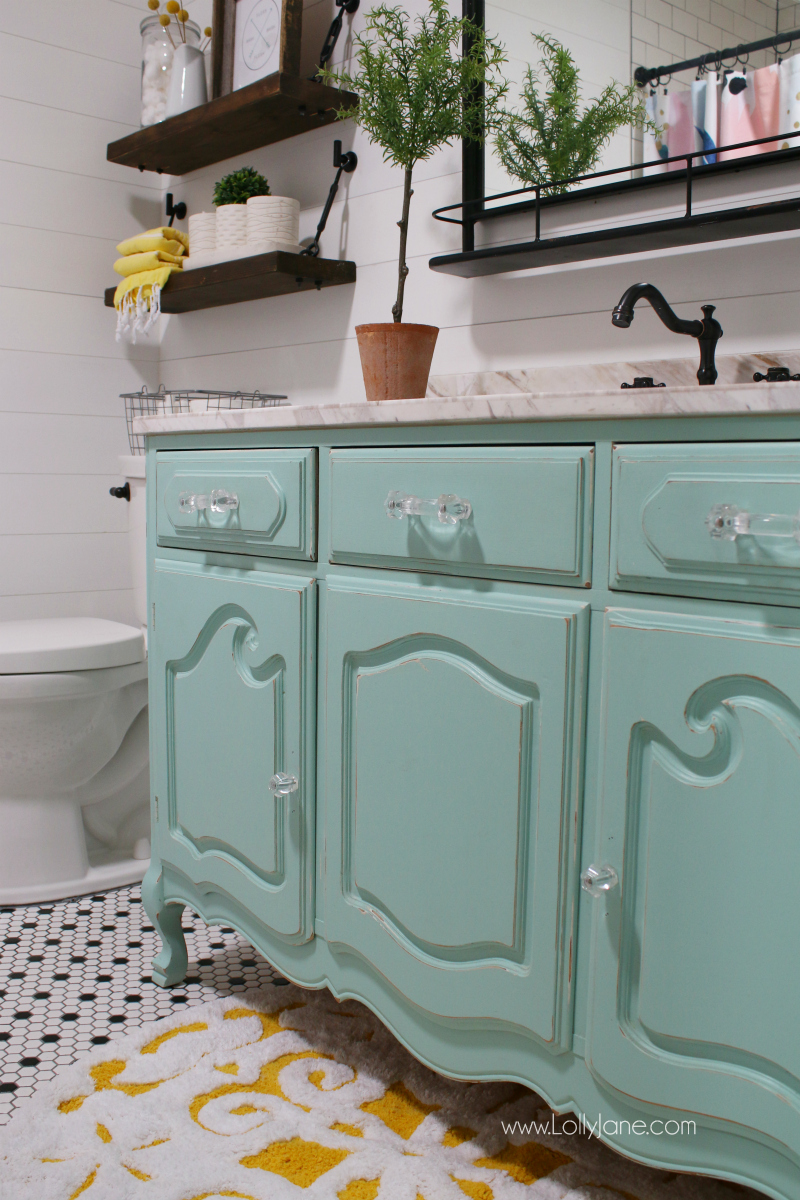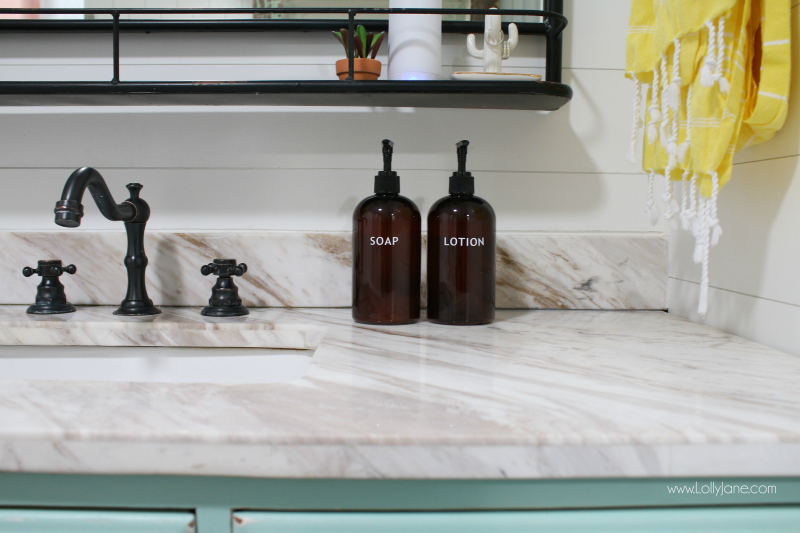 Did you see our cute little AirMoji peeking out? Our secret weapon to a fresh smelling bathroom! No wax, no heat, no mess!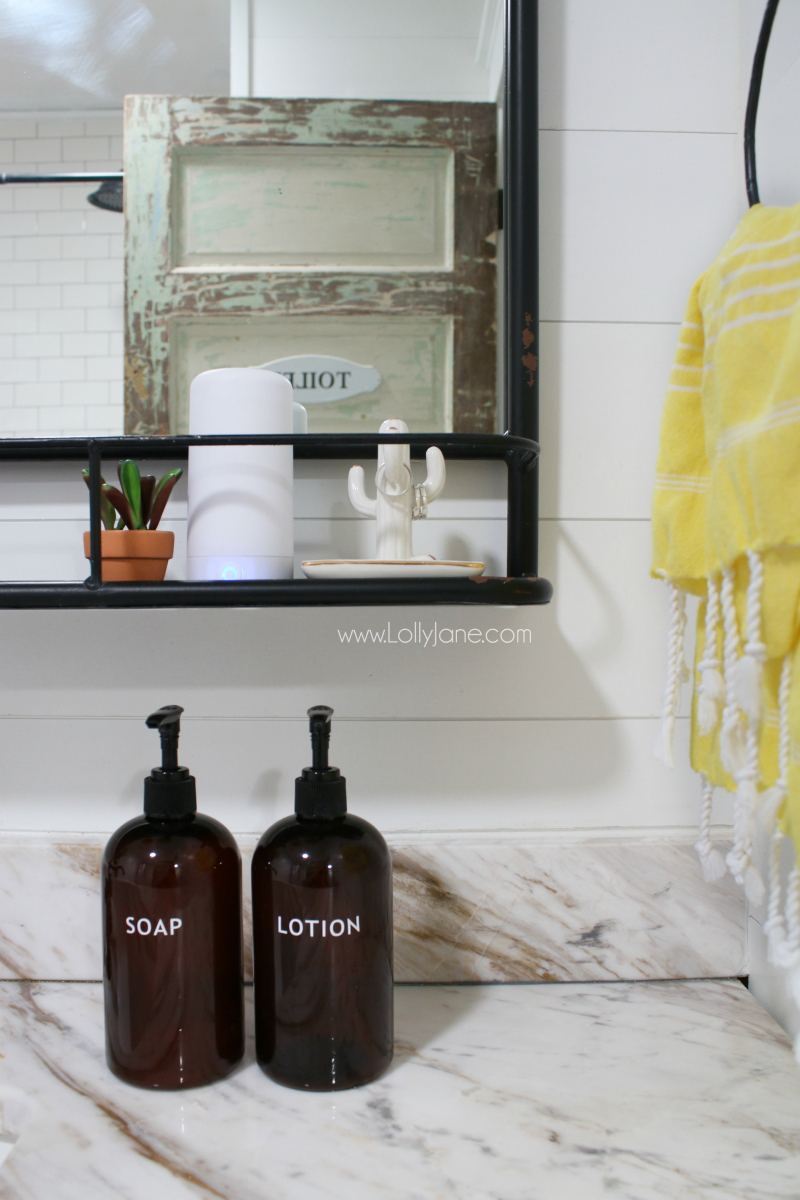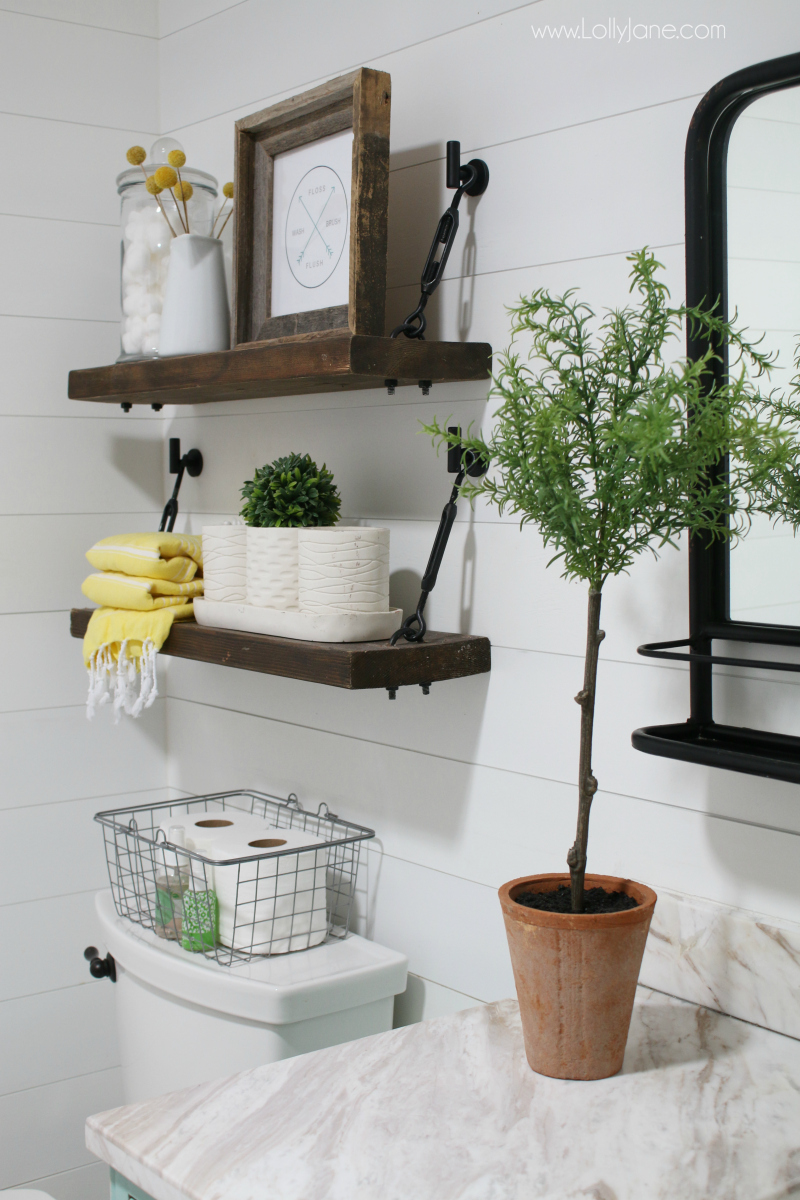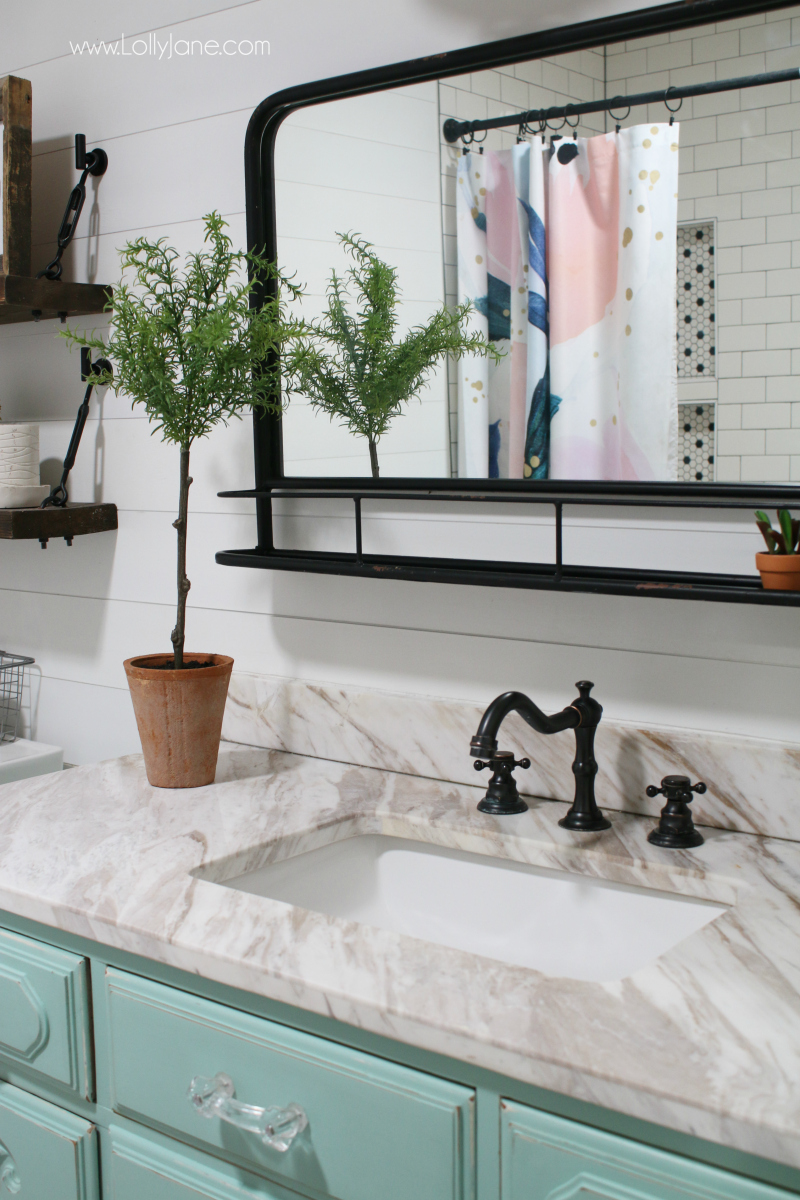 Once you use MojiLife's linen spray, you'll never go back to anything else.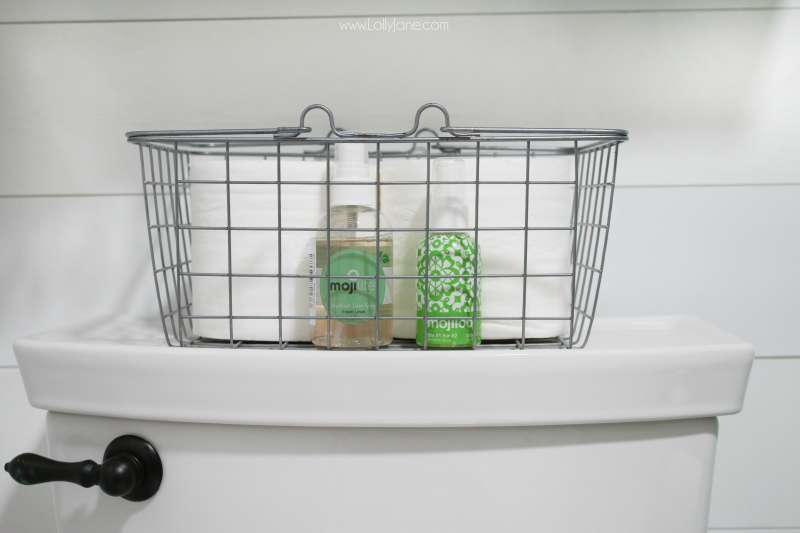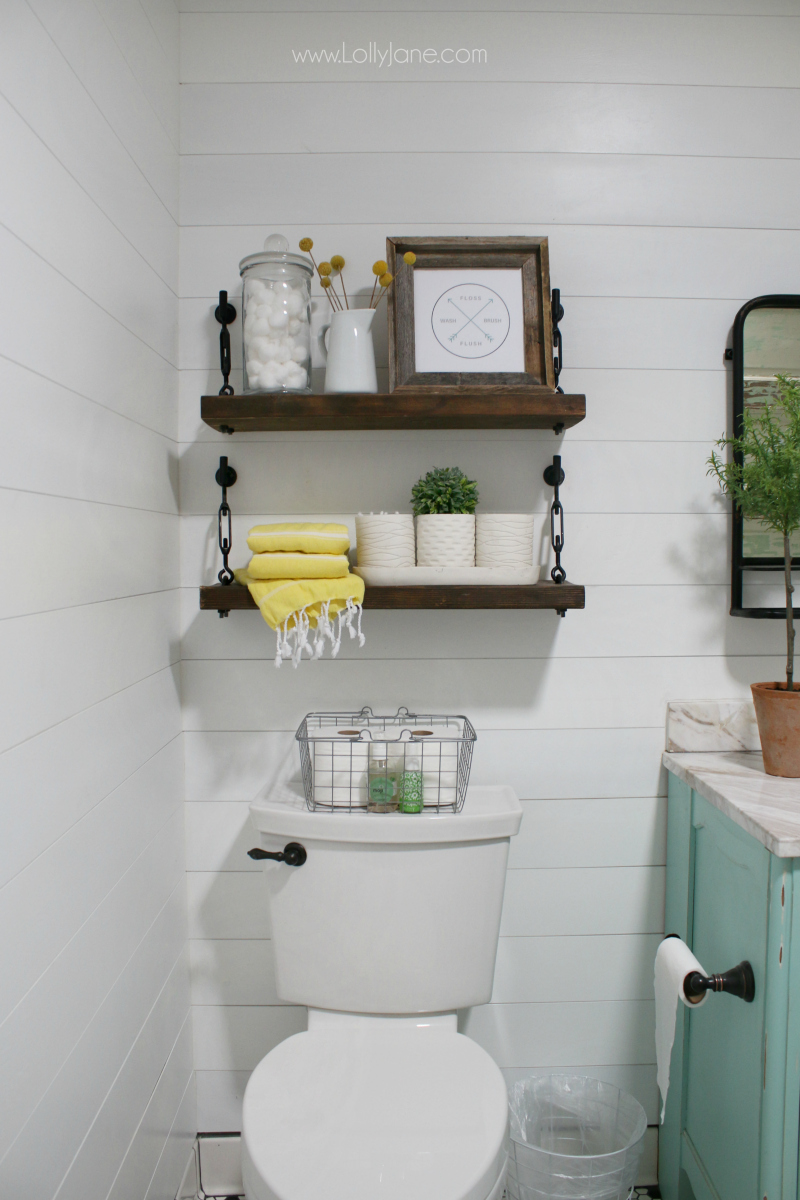 So what do you think? Are you loving my mustard barn lights as much as I do?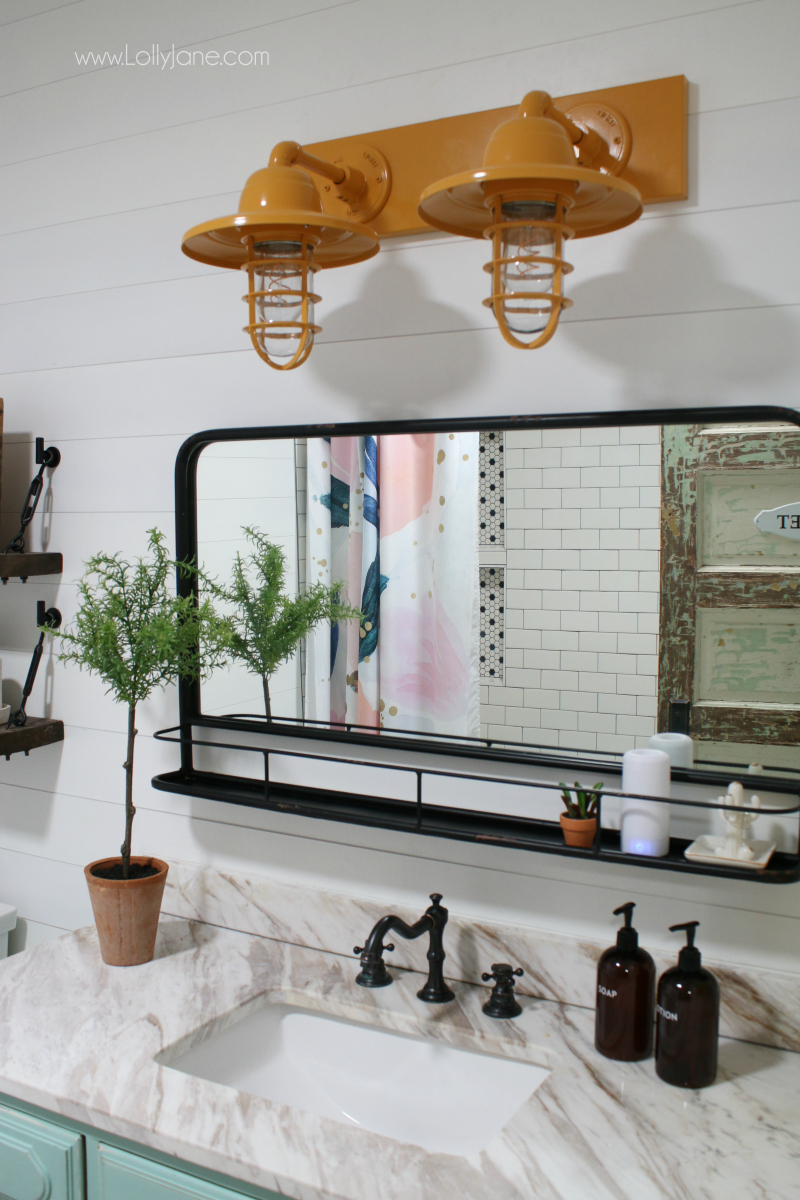 Get caught up on all our bathroom sources here. We've added some fresh linens to match the mustard vanity, grab the yellow and white medallion rug and Turkish bathroom linens on Amazon. My 35″ topiary tree is from Pottery Barn, scored it at their 20% off friends and family sale last month. Everything else is sourced here. Leave any other questions below, we'd love to give you tips on your own budget-friendly bathroom renovation!
*This post contains affiliate links. They don't cost you anything extra but helps keep our blog running with free ideas for you 🙂