How to Create a Girl Boss Small Home Office
Turn a boring beige space into the office of your dreams! Learn how to create a small home office, Keep it organized, maximize efficiency and our tips to create repeat business!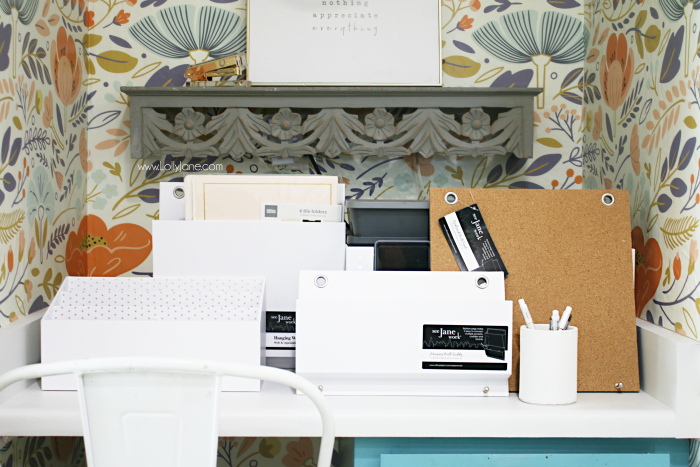 I've lived in my current little farmhouse for 8 years now and haven't touched our small home office nook in the kitchen. Have you seen how older homes would tuck a small office space next to the fridge? That's what I'm working with, this little spot homes our printer and laptop charging station.
office organizing must haves
This space is tiny and neglected therefore tends to be a drop spot and overall, a waste of space. I'm excited to show you how to create a girl boss small home office with the bulk of your supplies in one spot!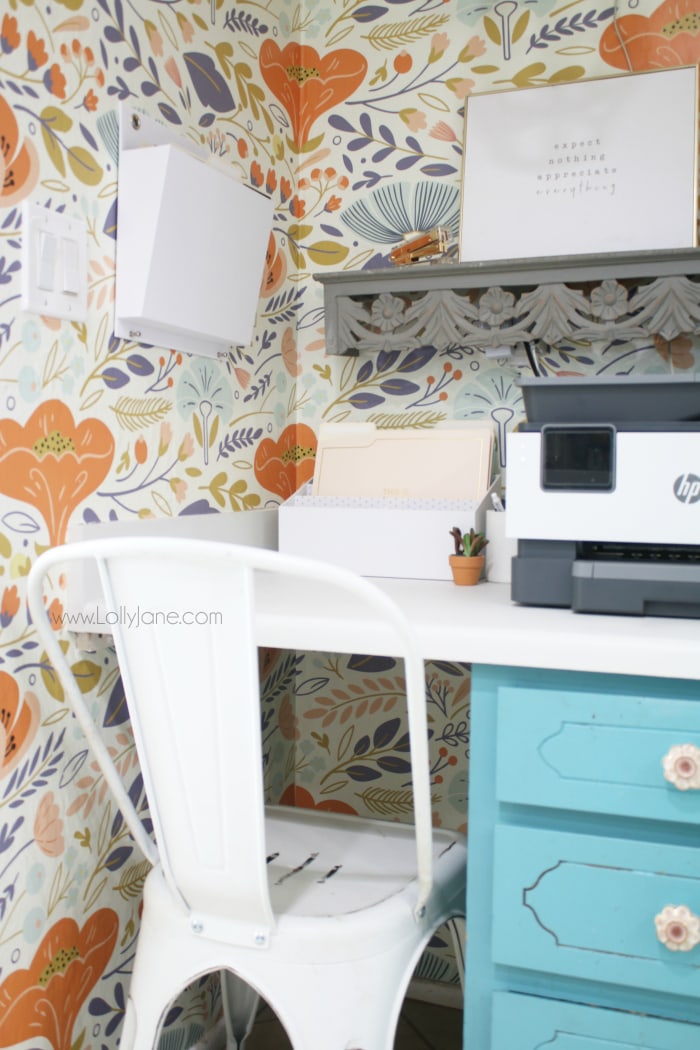 (GET FLOWER STYLE WALLPAPER HERE )
We love how organization is trending right now which means you can have fun with accessories! If your office items don't spark joy, upgrade them 😉 I've gathered some of my top picks to create a functional office that'll take my sad space to top boss with just a few quick changes.
small home office accessories
One thing that's difficult about working from home is that my space often becomes the place for allllll the paper in the house to rot and die.  I've actually been excited to work in this bright space!
6 must-have accessories to help you get the office of your dreams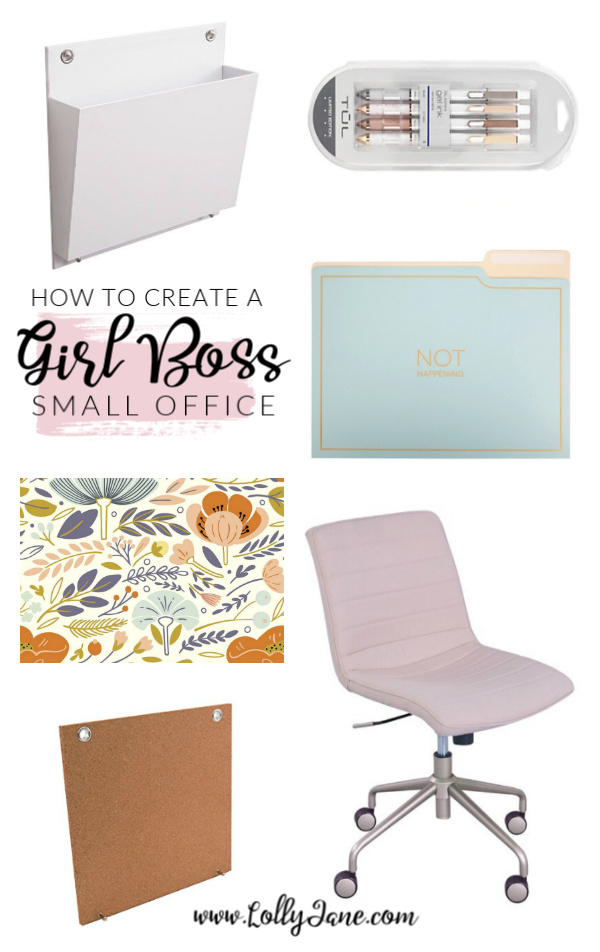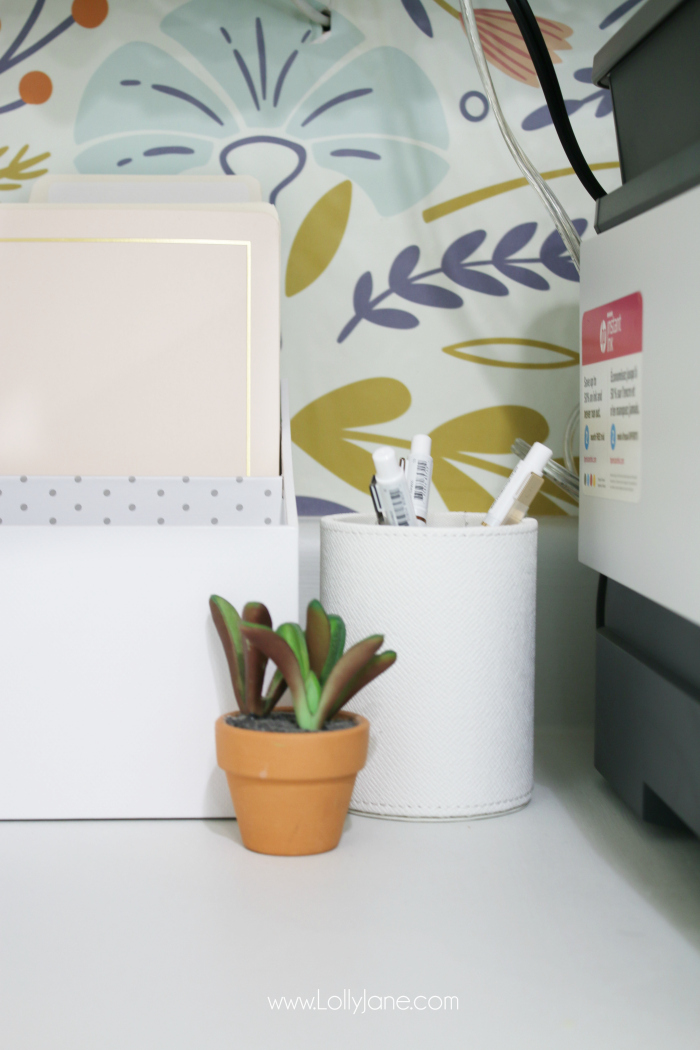 Organizational TooLS USED
Without realizing it, we picked up a few pieces that were designed to build off of each other and were so thrilled with that happy coincidence!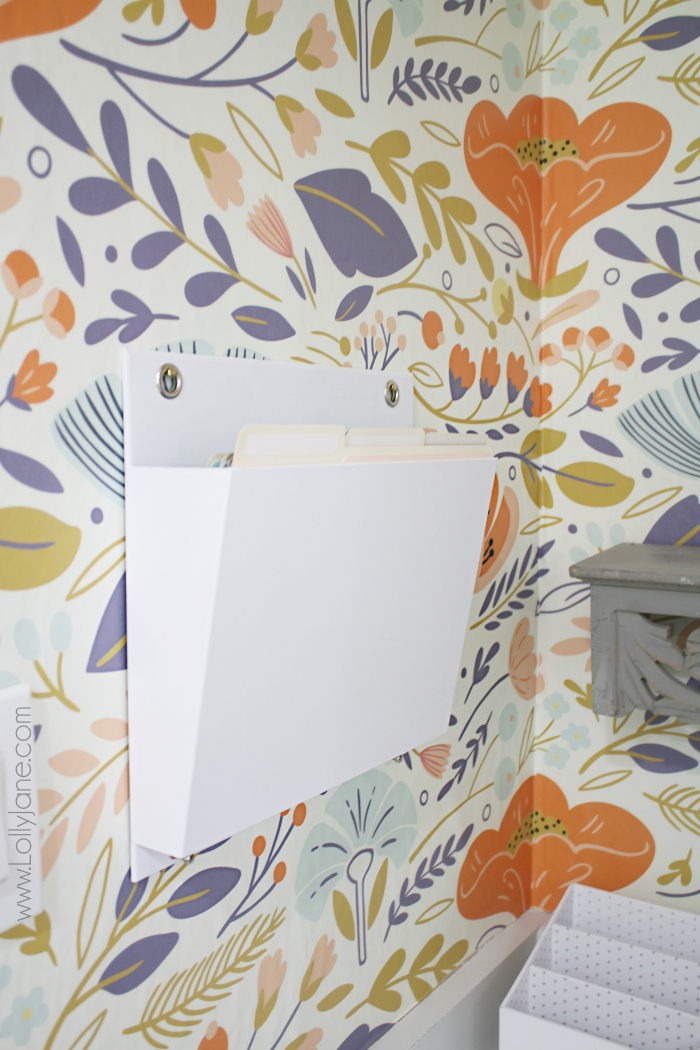 The wall file, pocket and cork panel each have grommets in the top with hooks on the bottom so you can customize your space. Brilliant! We ended up separating the file from the other two but if I need more file space in the future, I'll simply grab a 2nd wall file and hang it from the first. No extra hardware required!
Extra Organizational Office Supplies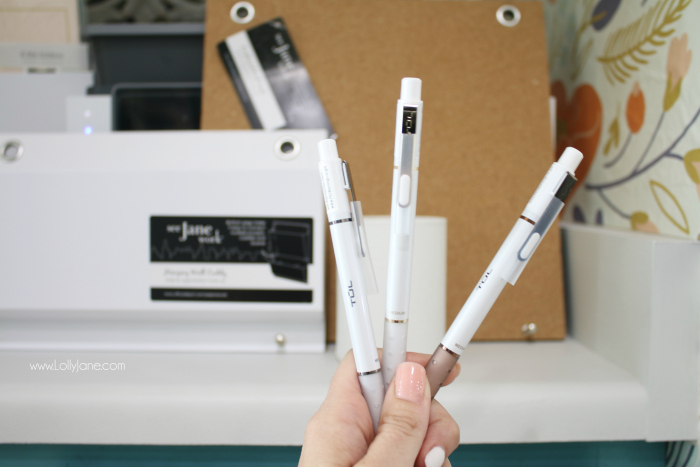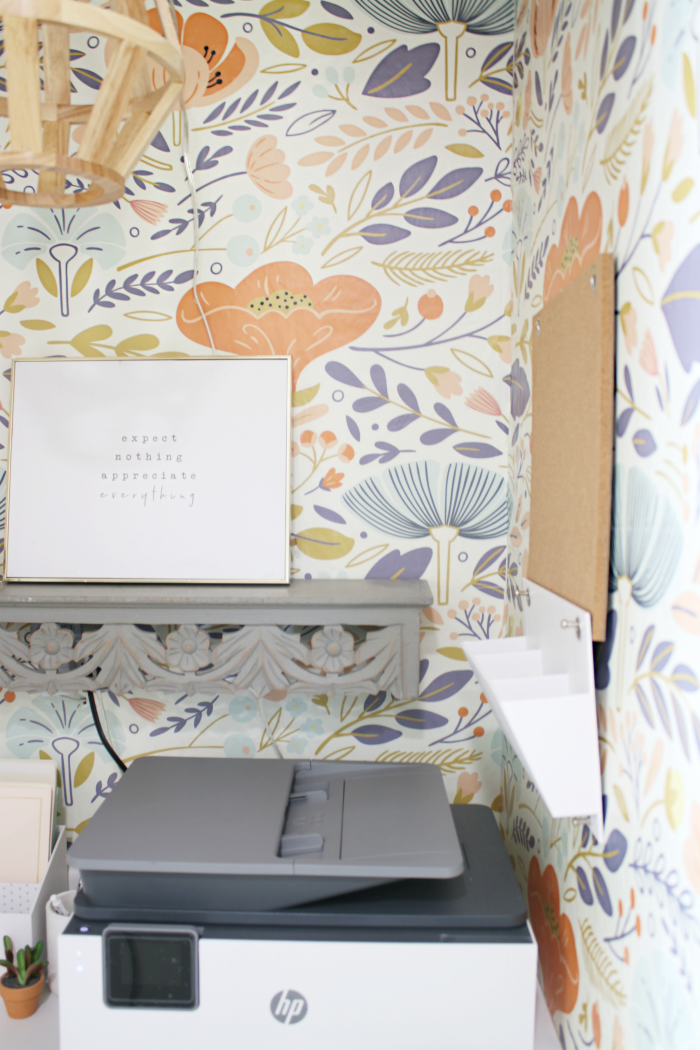 Ways to maximize efficiency in your home office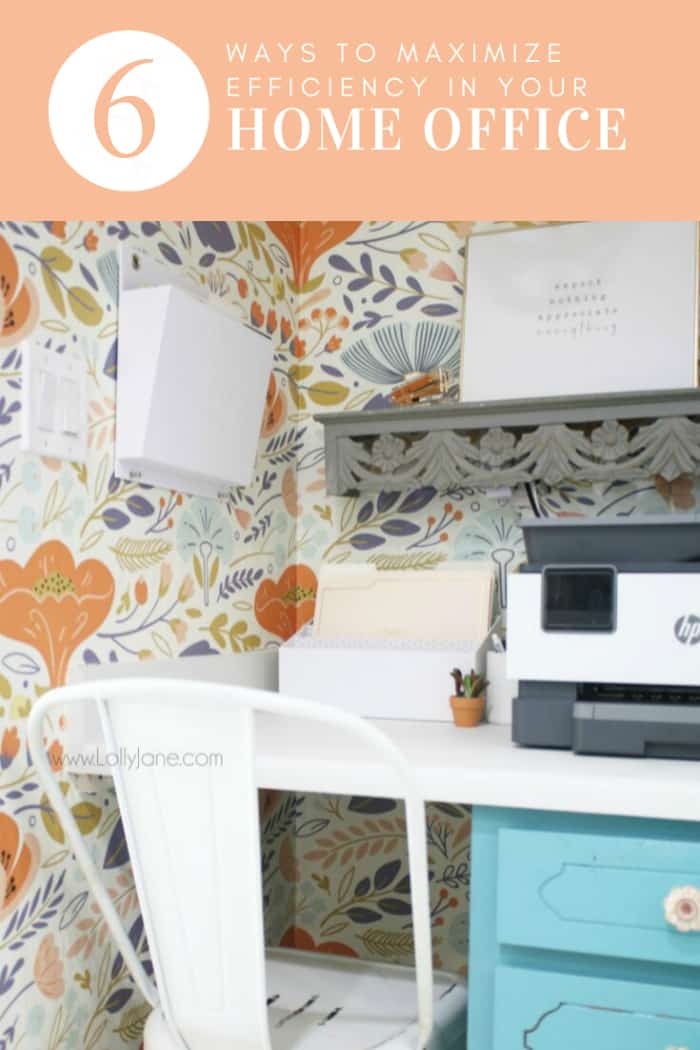 We're proof that running a business from home can be successful but it's takes a lot of discipline. It's still a daily battle to want to watch TV while working, but if you focus and follow these tips, you'll be set for success…and don't worry, we won't tell anyone you're killing it as a small business owner while working from home in your pj's! 😉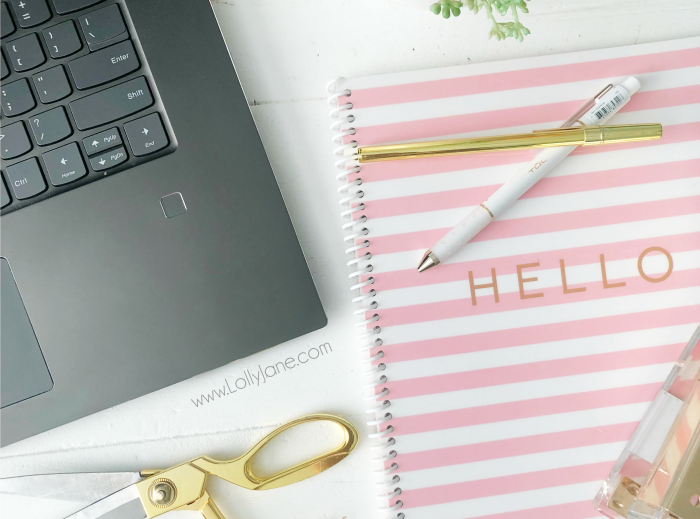 Establish a Routine
This is the basic rule of thumb for working from home. Setting a block of work time has helped us stay focused. For example, our ideal schedule is that from 9am-noon, we turn off our phones and don't check social media. We break for lunch and get caught up with house chores, dinner prep, etc., then hop on for another hour from 2-3pm before the kids get home from school.
Another way to establish a routine is to create set tasks on certain days: Monday is your blog post writing day, Tuesdays are for accounting, Wednesdays are for team meetings/client calls, Thursday you are creating content for the blog, Fridays are for tidying up your week with organizing, for example.
Write out your daily own ideal routine and stick to it. Within 2 weeks, it'll become a pattern and you can get in the habit of scheduling other events around your day.
Organize Your Computer Files
This is time consuming at the beginning but important. Searching for documents is a huge time suck! Last week, we had a nationally syndicated decor magazine ask us for a high-resolution image of a Christmas photo from 2016. We spent HOURS looking for one simple digital picture.
If we would have had my documents tidied, it would have taken minutes. In the end, we weren't able to locate the picture BUT luckily, they were still able to use the image from our site. We won't chance luck again…we nearly missed out on an amazing opportunity. Learn from us!
If Friday is your organizing day, for instance, block off an afternoon to de-junk your desktop and sort through your files.
Using our HP OfficeJet Pro 9015 All-in-One Printer as a scanner makes it easy to store documents on Google Drive or Dropbox, and we can print and scan from anywhere with the HP Smart App.
Set A Timer
When we were younger, our mom would set a timer and have us clean as fast as we could. Since we knew she set short amounts at a time, we were super motivated to beat the clock!
This similar method is still helpful as an adult. If we're feeling overwhelmed or dreading a task, setting a timer can help break things up or even remind us about other obligations like switching the laundry or sending a proposal by a deadline.
Use Online Calendars
We are huge fans of Google Calendars! You can sync them with your office laptop or PC, your phone, tablet, etc. We love to use the reminder tool feature, it makes sure we don't miss a thing!
Hire a Virtual Assistant
A virtual assistant is nicknamed a "VA". VA's are basically personal assistants. Consider hiring someone to alleviate your daily tasks so you can focus on bigger to-do's.
We trained several VA's for our company needs to free up personal time for ourselves. For example, we have a VA for Facebook, one for Pinterest, 2 for Instagram and 1 for our shop.
VA's are perfect for repetitive tasks like pinning in tribes for Pinterest or scheduling posts for Facebook. It requires some trust but when you find the right VA, outsourcing your busy work allows you to focus on what requires your personal time.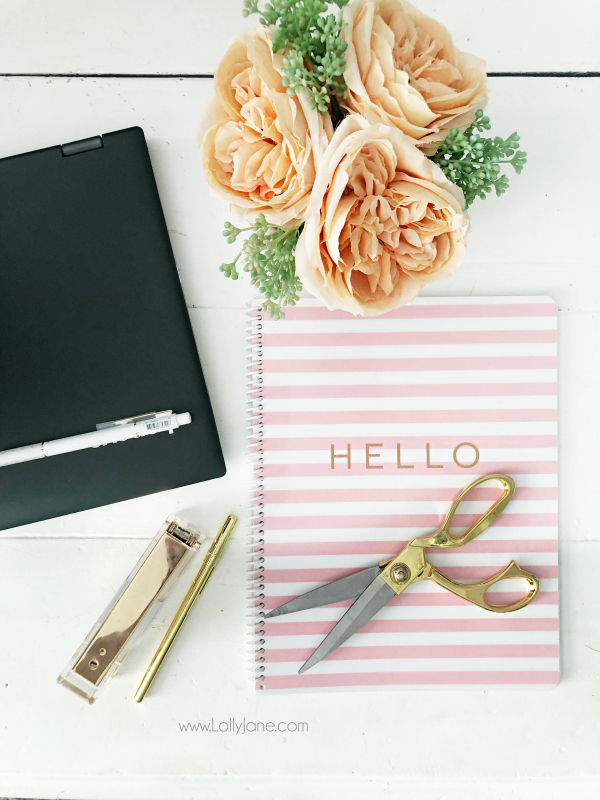 how to bring in repeat business
We just celebrated our 12th year running our online sign shop! It's been so rewarding and fun to see our ideas turn into product and then to have that product displayed in homes across the world! As seasoned shop owners, we thought we'd share why it's so important to have creative packaging ideas for small business owners.
Why is CREATIVE product packaging so important?
Compare big box store products versus handmade packages. They'll arrive in a plain cardboard box with a white label slapped on it.
Super efficient? Yes. Super boring? Very.
We try to make our shoppers feel like they're opening a handmade gift when our signs arrive. The "fluffy" accessories are what makes us stand apart from Walmart and Amazon.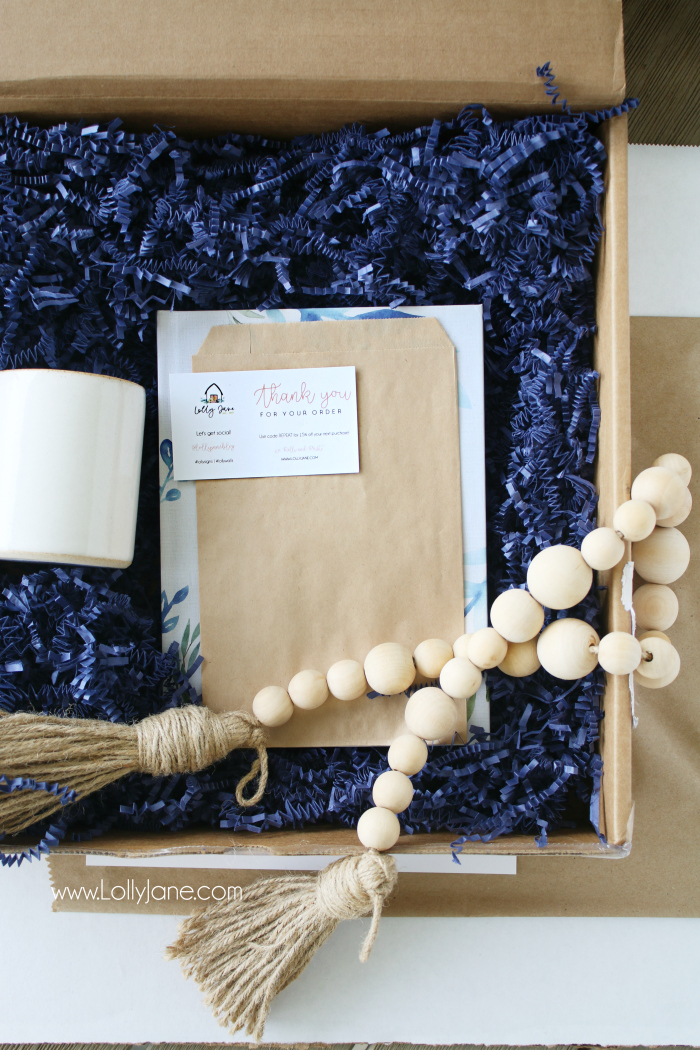 Which would you be more likely to remember?
Social media never sleeps. If your customer just spent money on your product and it arrives in a pretty package, chances of them sharing an unboxing video is higher than if it's bland and average.
order easily
Order online to save time! I needed to ship a sign this week and the client was especially nit-picky about the process. I wanted to be sure she was thrilled when her order arrived so I added an extra goody for her that I quickly whipped up: a simple year at a glance calendar with one of our popular humorous printables on top.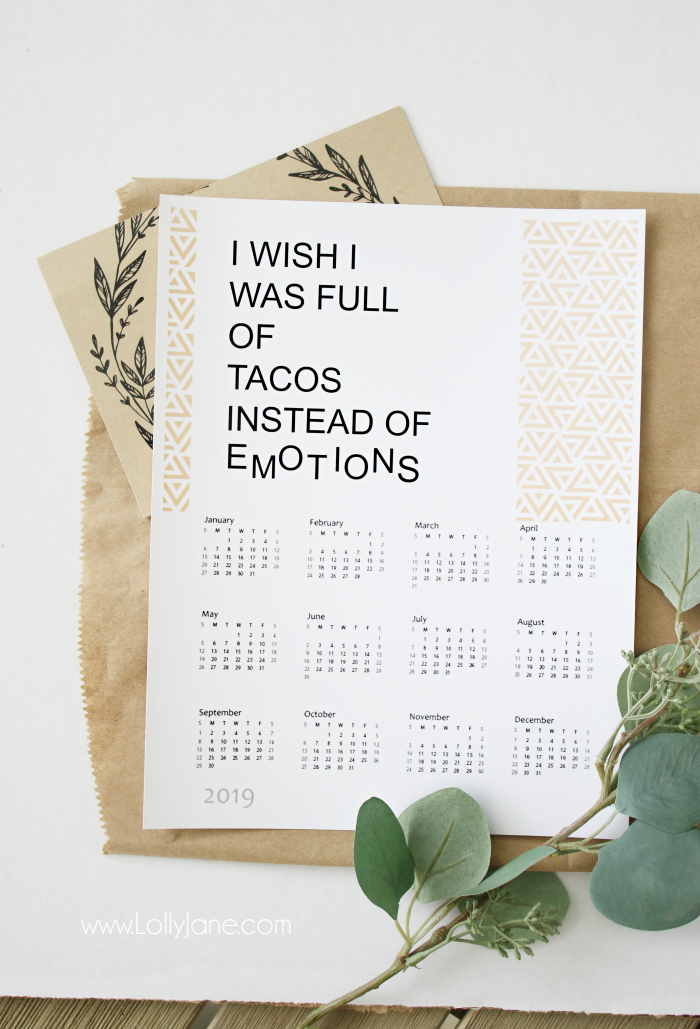 Label your product
I try to buy handmade before heading to big box stores. I can't tell you how many times someone has asked me where an item is from (usually wall decor) and when I flipped it over, there no label or branding to been seen. As a buyer, I surely forgot and now their opportunity for a sale from my friend is gone.
It's easy to add a stamp to the backside or a sticker with your logo on it.
Make it easy for them to find you.
Customize your shipping boxes/bags
I've been guilty of recycling an Amazon box to send to my customers to save a buck or because I ran out of my own boxes. Not okay! I'm helping another store's logo to be seen instead of my own.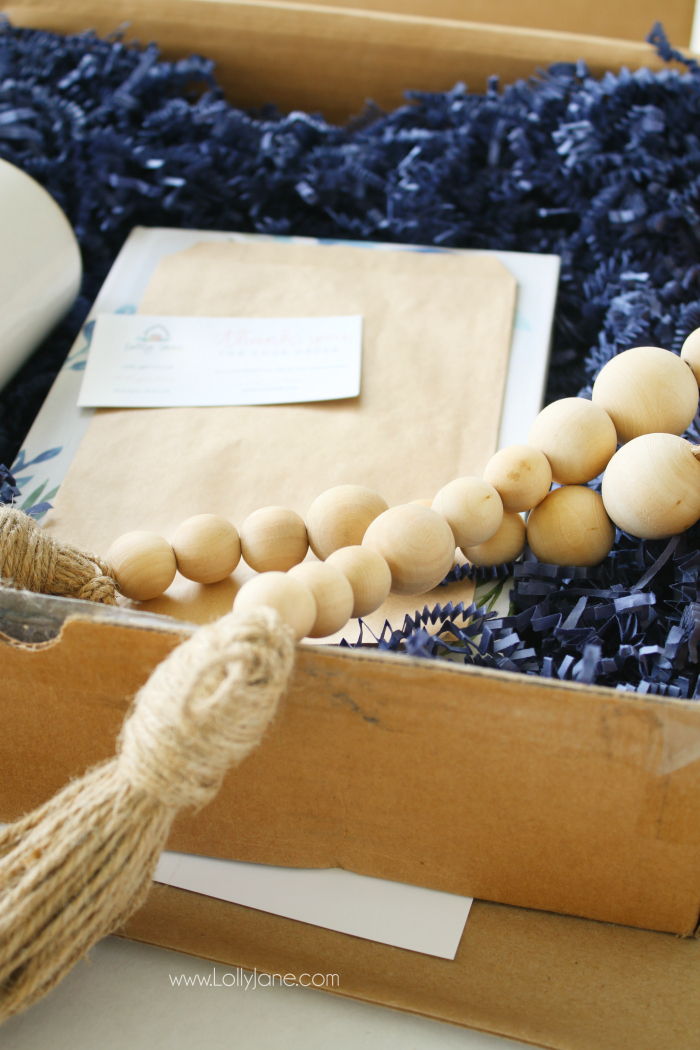 Again, stamp or sticker the box, easy advertising!
Gift Wrap
You don't need to wrap up your gift in wrapping paper if it's not in your budget. But adding coordinating tissue paper along with a sticker to hold it closed goes a long way!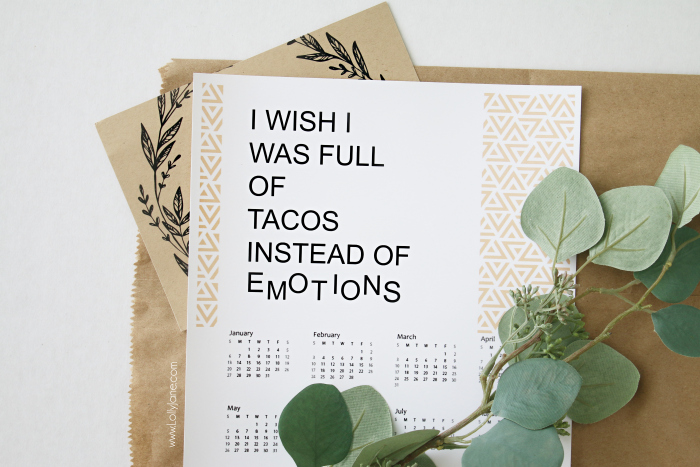 You can even use twine to tie your business card around your package.
Add a freebie
Because I have a high quality printer, I'm able to add a small version of our printables in with sign orders for a few pennies. It's a nice little bonus for my buyer which very little cost.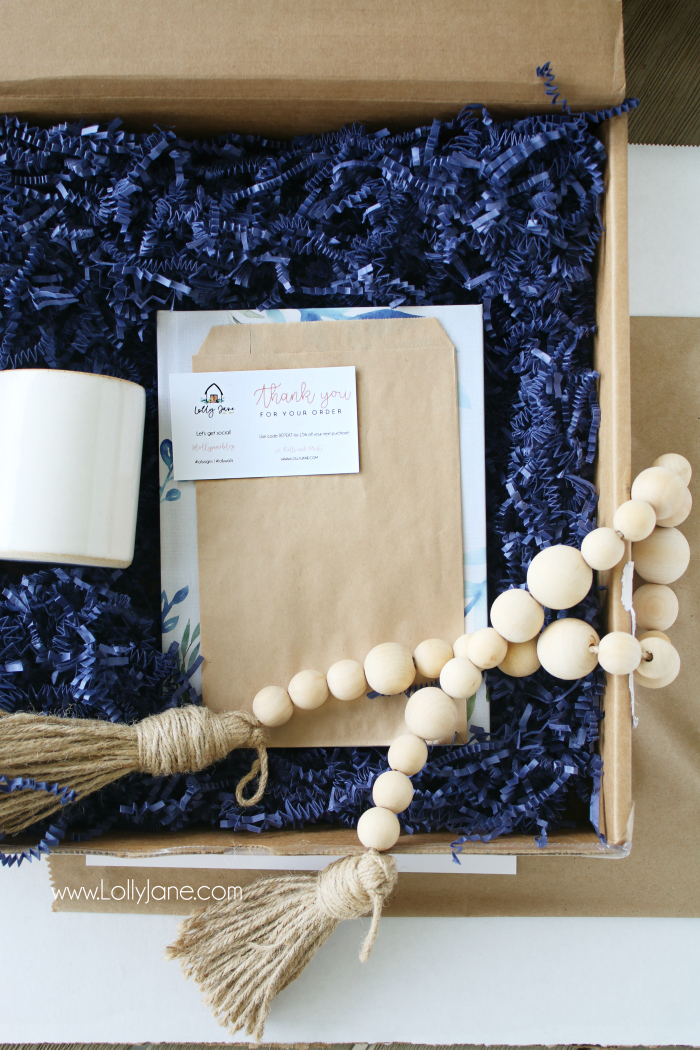 If you don't want to offer a free gift with purchase, that's okay! Create a loyalty card or discount for future purchases. I made my 15% off card for free then uploaded it to a local printer and picked it up same day.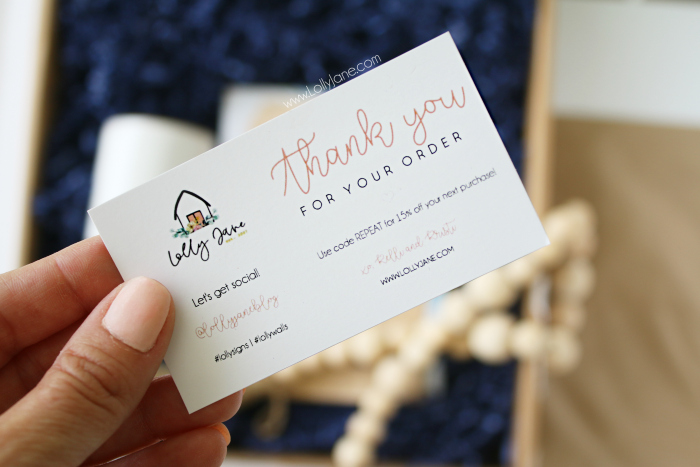 Super easy! My customer has an incentive to purchase from me and I'm more likely to receive future sales.
follow up
A few days after your product arrives, ask if they're happy with everything.
Don't be shy! Reach out again in 3-4 weeks asking them if they're loving their purchase now that they've had time to use it. Use this time to invite them to join your newsletter so they can stay in the loop for future sales, too!
If they love it, consider asking them for a picture of it in their home and/or using the product, too!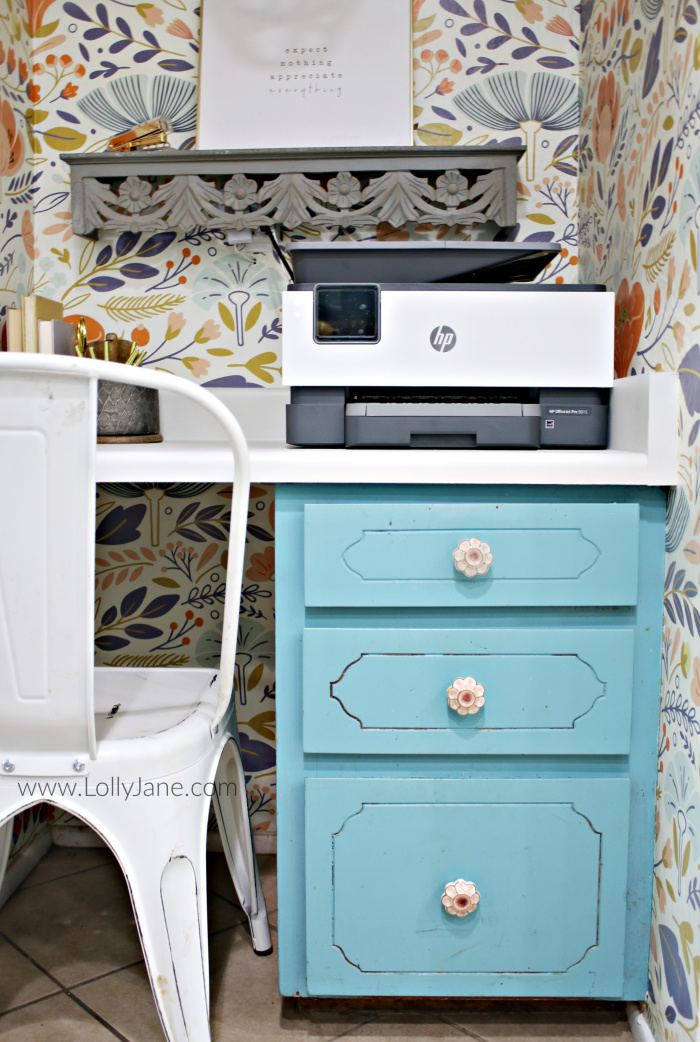 Do you have any extra tips that we missed? Leave any of your helpful tips for small business owners!
We hope these tips will help you have success in your own company! We'd love to hear from you!