Wooden Crate with Casters
We wanted to give our friend a darling baby shower gift that could double as storage. This wooden crate with casters was the perfect gift: handmade + nursery theme/colors = happy mama-to-be.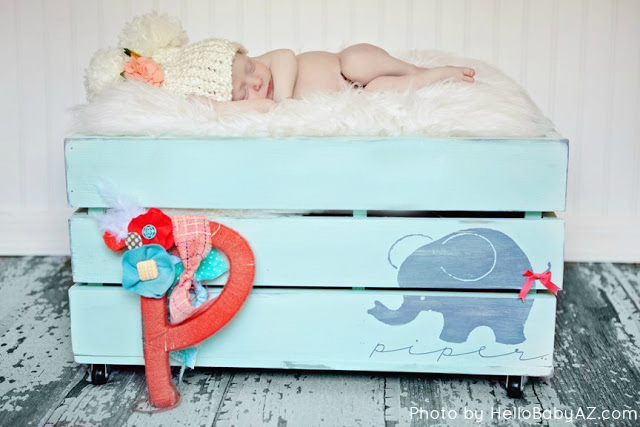 Truth: Not a very detailed DIY so I had a lot of learning on my own, sigh AND added sigh is a lot of my tutorial pics were deleted somehow so this is all I have but the verbiage is very detailed. If you find this is too hard to make head over to our EASY peasy Numbered Crate tutorial to see how to transform store bought crates in a snap THEN just slap some casters on them to copy this look! 😉
Okay so here are my measurements as the crate ended up being a roomy 24″ x 16″ x 11″ which easily holds plenty of books and toys.
Wood Planks: 40″ x 3.25″ [8 total]
You will cut each of the 8 planks into 2 sizes as follows:
Front and Back Slats: 24″ [6 total]
2 Side Slats: 16″ [6 total]
Corner Braces: 11″ tall
Middle Separator: 10″
Start by cutting all your pieces to size.
Using a brad nail gun, nail a front and back piece to a side piece, leaving the side pieces tucked in.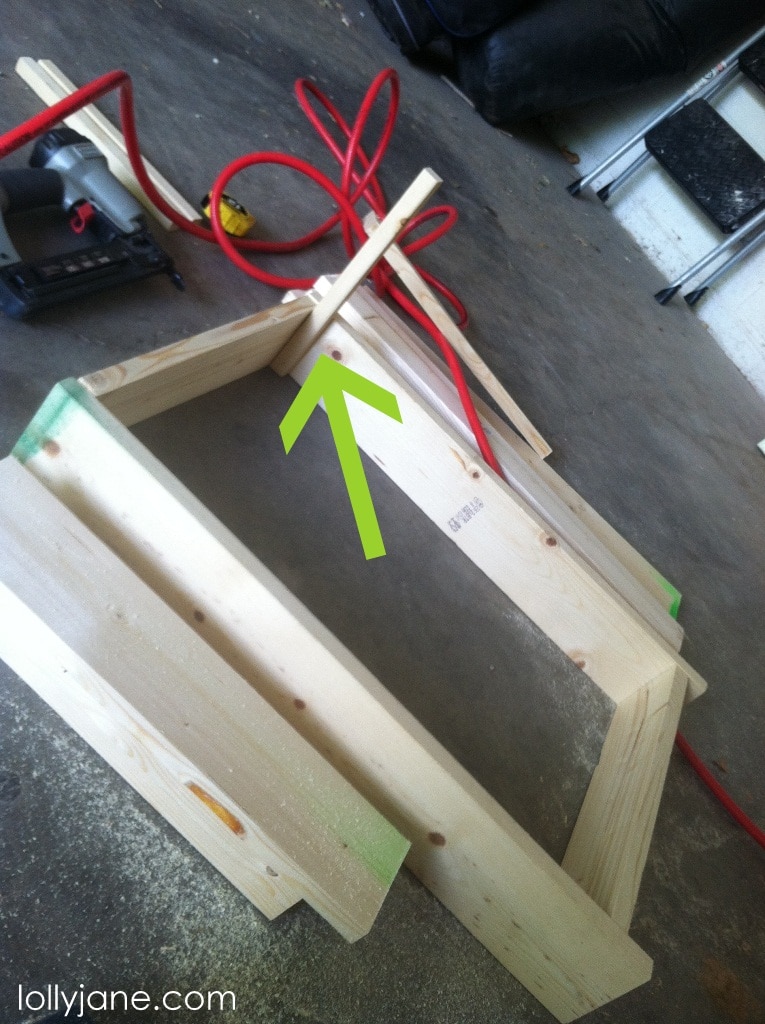 For the spacing between the planks, I put a small piece of trim in between for even spacing.
It also helped hold it in place while I nailed them to the corner braces. I'm sure there is a more appropriate method, I just worked with what was on hand with no adult supervision (;
Note on corner braces: Pain in the booty!
Also note that my 11″ corner braces didn't go all the way to the top of the crate. I had a good 1/4″ gap below the top lip since I was using what I was given by my older sister.
Easy to nail gun IF you have a helper. I should have asked my 2 yr old to help, or my dog :/ Seriously…get a buddy to help you hold it in place otherwise you'll be re-straightening it out a million x's before you can finally quickly nail brad it in place. You're balancing 3 pieces of wood which are SUPPOSED to be straight so lol, it's kinda important. Just a tip!
Bottom of the create: I used a piece of random MDF I had on hand. I lucked out that it fit, I only had to shave off a few inches. Final size: 24″ x 16″
We also wanted a shorter piece of wood inside to separate the toys from the books for the nursery. This was a cinch! Just cut another piece of wood to 10″ x 16″ and nail brad it from the outside AND bottom for added security.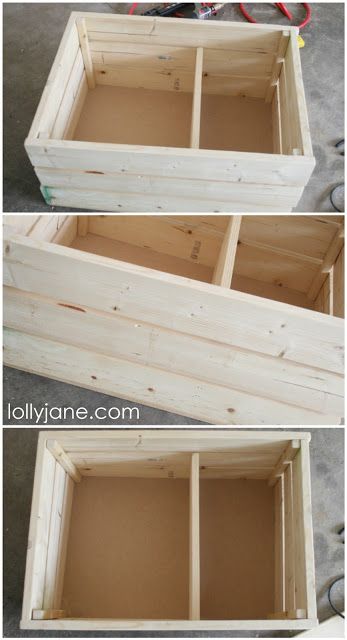 Are you still with me? This project is a beast! Hopefully it's easier for you than me since I'm including all the measurements. I had to draw it out then use my brain 😉
Want to see a quick pic of how messy I can be? It was madness in there at one point, but it was fun to create something from scratch with no plans, on a time crunch the day before the baby shower! I felt so satisfied when it actually held together, LOL! And it's heavy duty because it's pine wood so that's a bonus.
Moving on, at this point, the project turned fun! I handed it off to older sis Sandee (since the mama is actually her sister-in-law) to paint it the same color as the nusery walls.
I designed an elephant stencil with the baby's name on my vinyl program to paint directly onto the crate: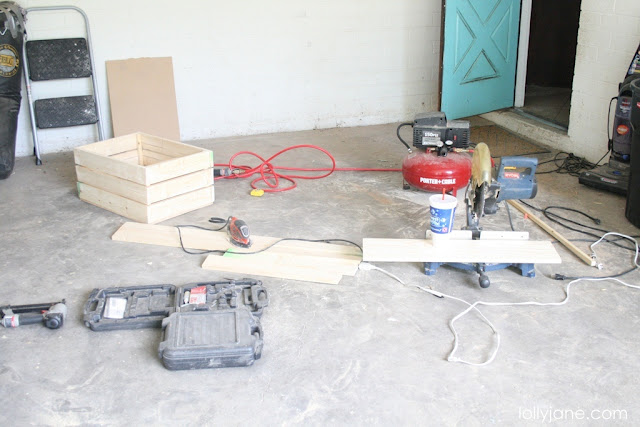 We screwed in 4 cute casters from Home Depot, added 2 cup hooks to the sides and the final result is a custom toy box/wooden crate storage.
And look how cute it is filled with baby shower goodies: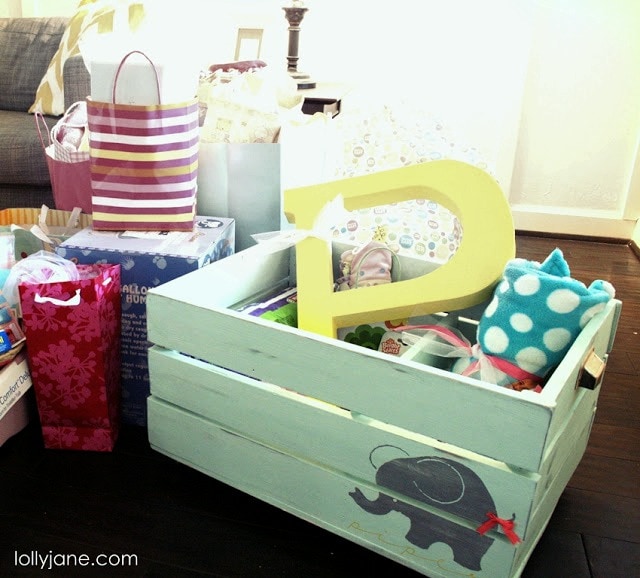 I will be making more of these for every room in the house!
NOTE: The top photo was taken by the talented Carlee Komar of Hello Baby Photography, who ended up taking pics of the darling baby after she was born. So happy to have our crate as a prop in the pics!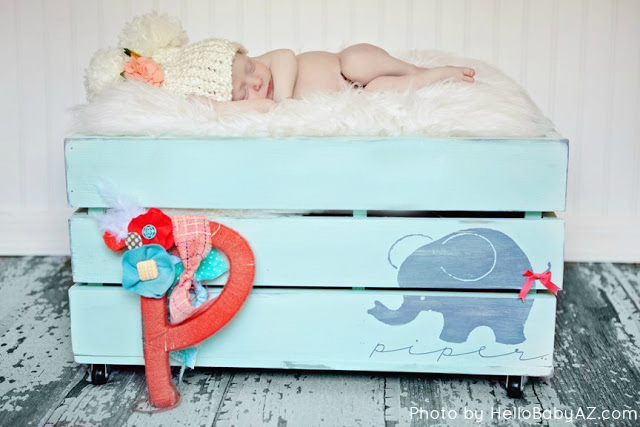 Also check out our popular Numbered Crates tutorial that are great for kids storage, craft supplies, tools, blankets or anything else you want to toss in there!