Pantry Organization Ideas
Easy ideas to organize your pantry that is both practical AND stylish!
With 3 boys in this house my pantry is raided on the daily for snacks and I was left with opened bags of chips going stale, empty boxes and mixed items as they just tossed this or that back on an empty area of the pantry. It was maddening so I decided to invest time into pantry organization items that are both practical and stylish as my newly refinished arched doors show it ALL!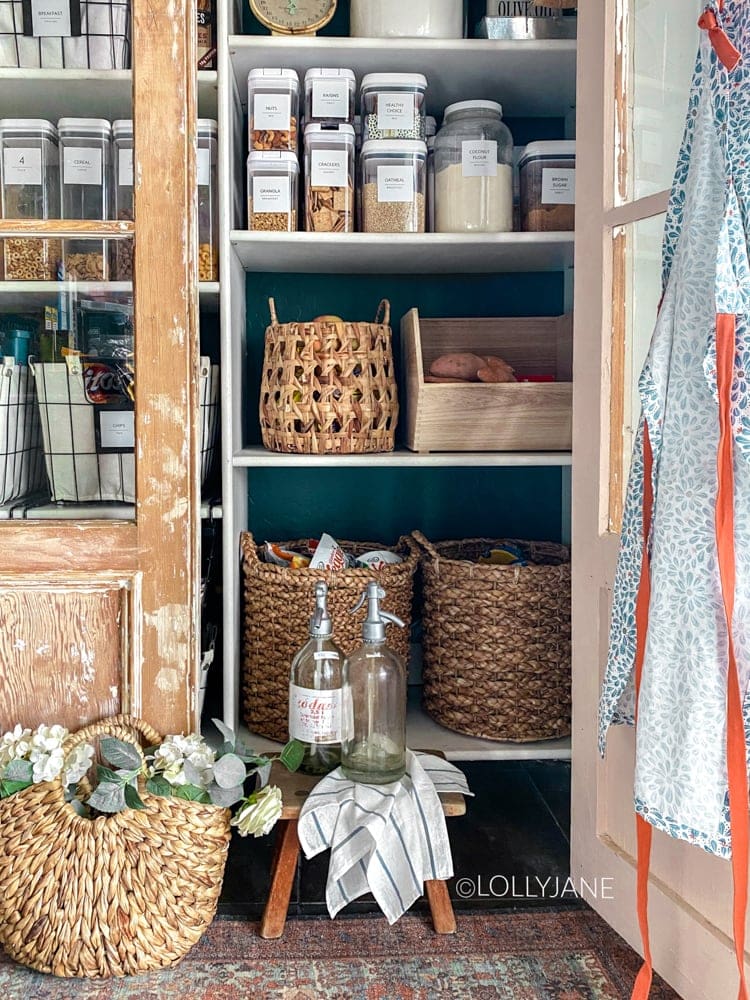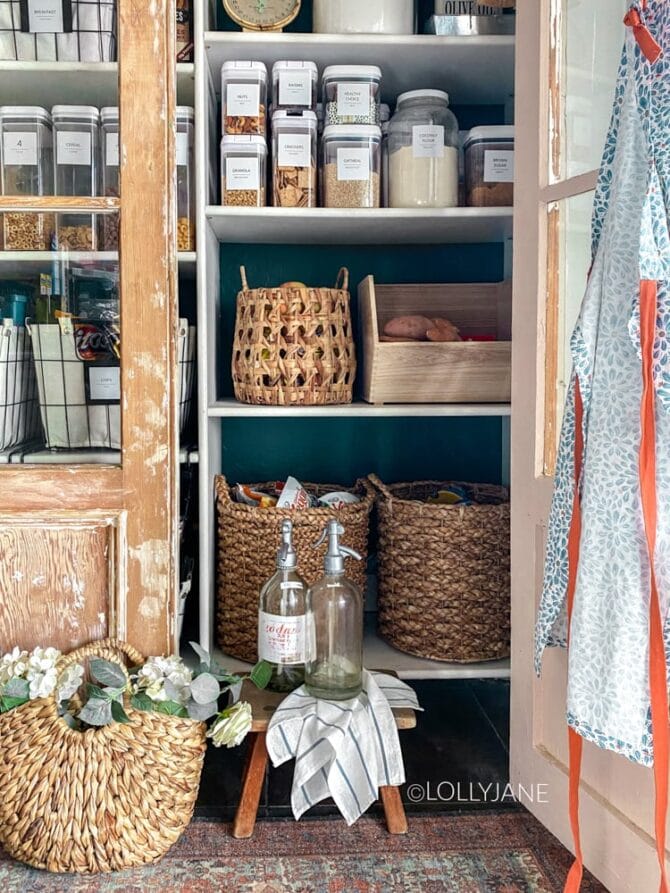 PANTRY ORGANIZATION IDEAS
Pantry organization doesn't need to be time consuming or expensive, it's simply about finding solutions that work for your own space and family. I'm going to walk you through my process to get this look so hopefully you are inspired to use them for your own pantry organization.
Shop your home first for storage solutions
Looking at empty shelves of a pantry can be a little daunting if you're starting from scratch. As a rule of (budgeting) thumb, we "shop" our home first and use what already have on hand THEN head to the thrift store before retail. I was able to consolidate toys in the playroom and found 2 baskets + a wooden stackable bin. I found a metal serving tray in my kitchen cabinets that had only used a few times and a 1-gallon wide mouth jar from the craft area that wasn't in use. Those were a great start already as I was able to fill them with go-to snacks for my kids lunch, corral my oils to prevent spills onto the shelves and I added coconut flour into the wide mouth jar.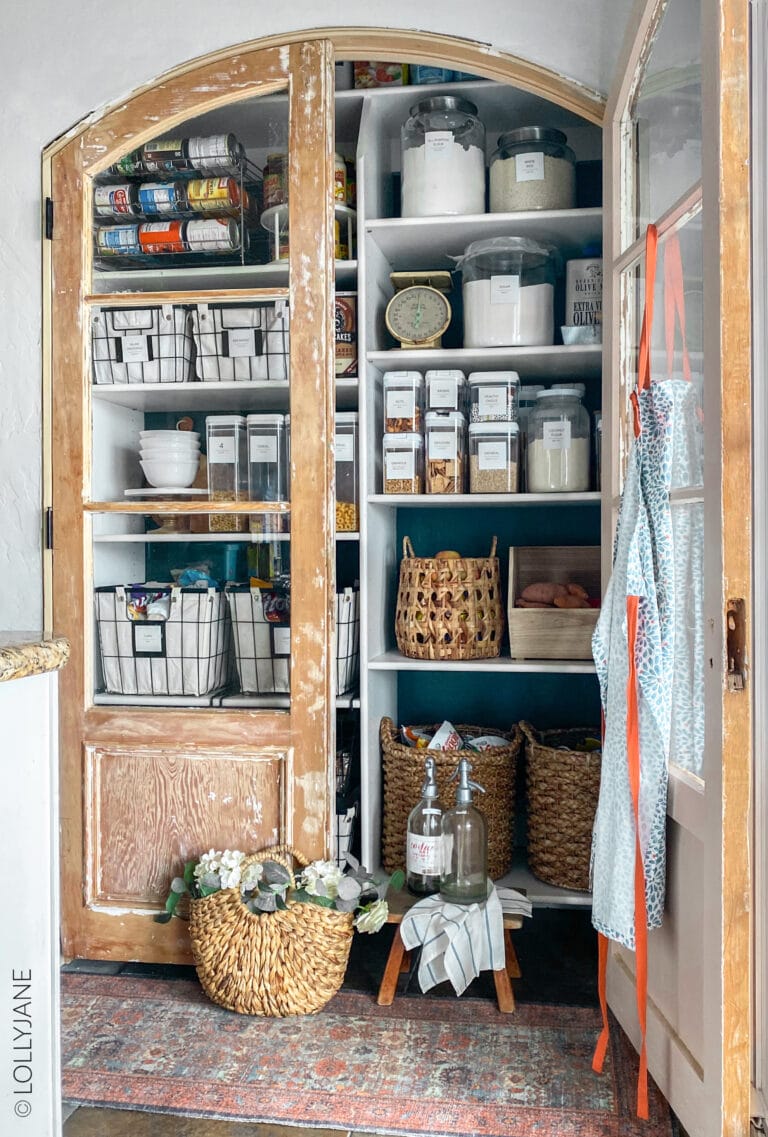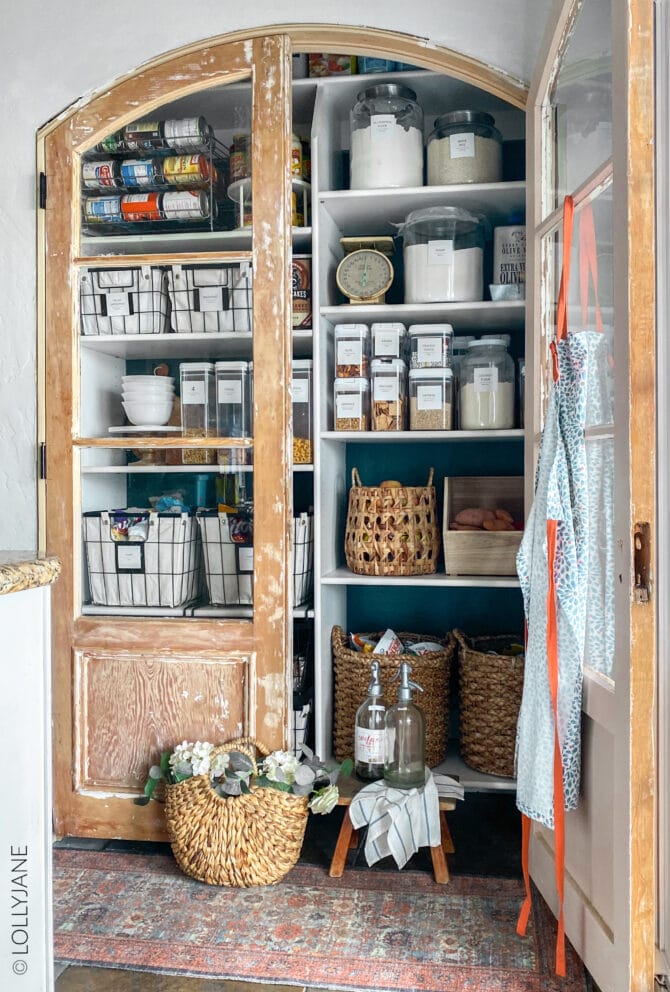 Shop baskets and bins at the thrift store
After shopping my home I head to the thrift store before retail. 99% of the time my local second hand stores (Deseret Industries, Goodwill, Savers, Salvation Army) have baskets and jars on hand, you can almost always find them on the cheap. I also scored my vintage scale and glass soda bottles there, yay! If you're lucky you can find lidded kitchen canisters there for baking items like flour, sugar and rice… don't be afraid to dig! Most items just need a good wash and it's brand new again. ?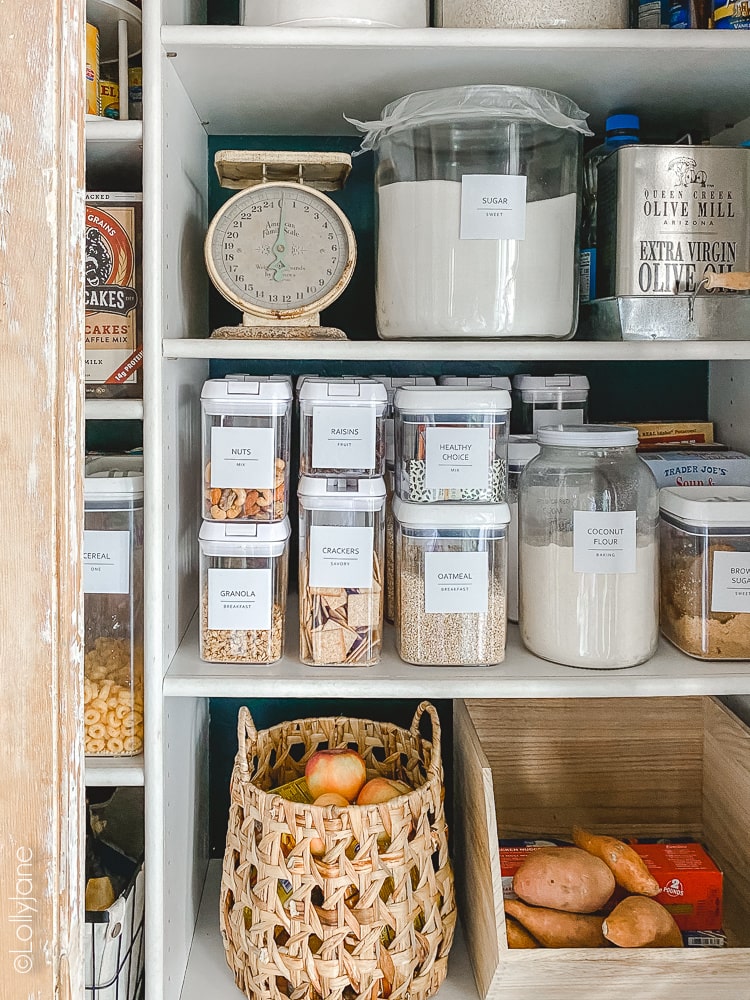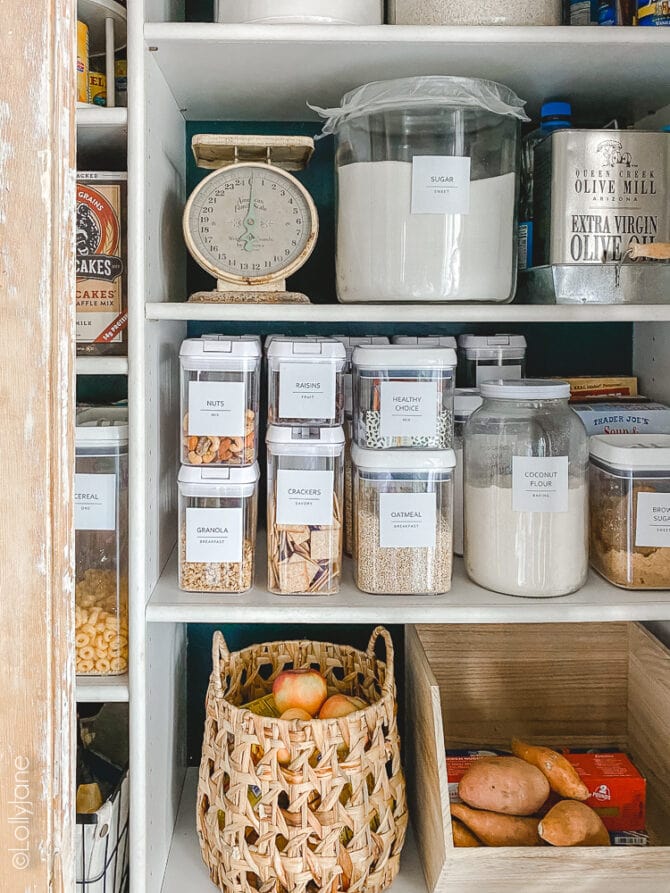 PANTRY ORGANIZATION Solutions
It is inevitable to shop retail for pantry storage solutions so here my own tried and true items that I highly recommend. Our favorite spots to shop are where we naturally shop anyway: Walmart, Target or Amazon. No fancy specialty container stores or high end storage here but simple, everyday items that WILL work for your space.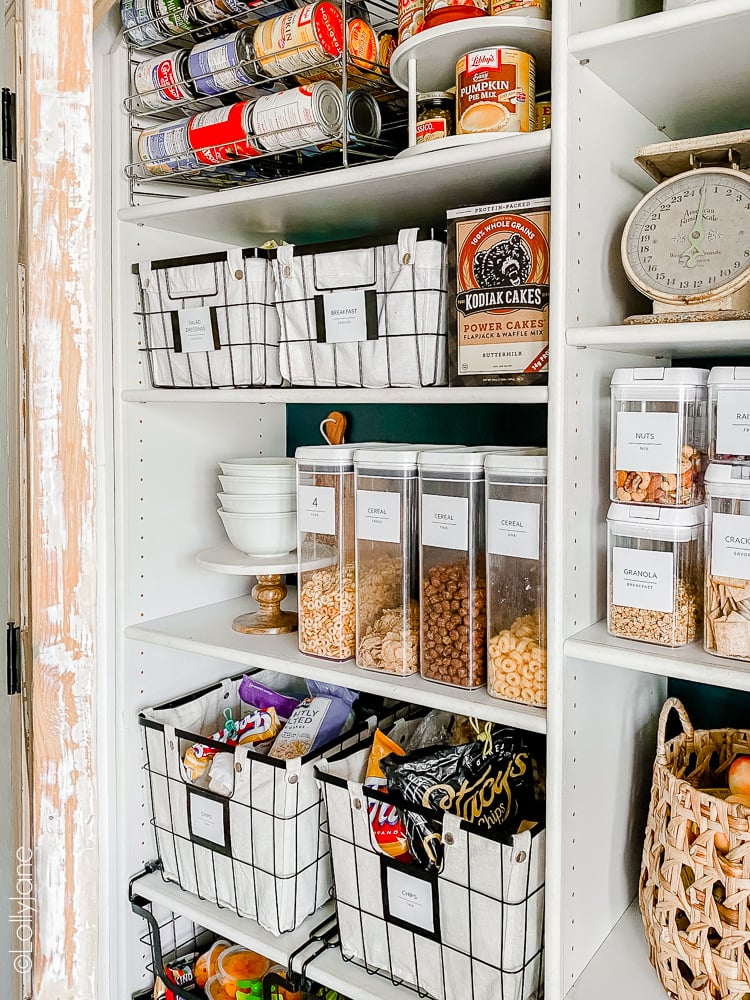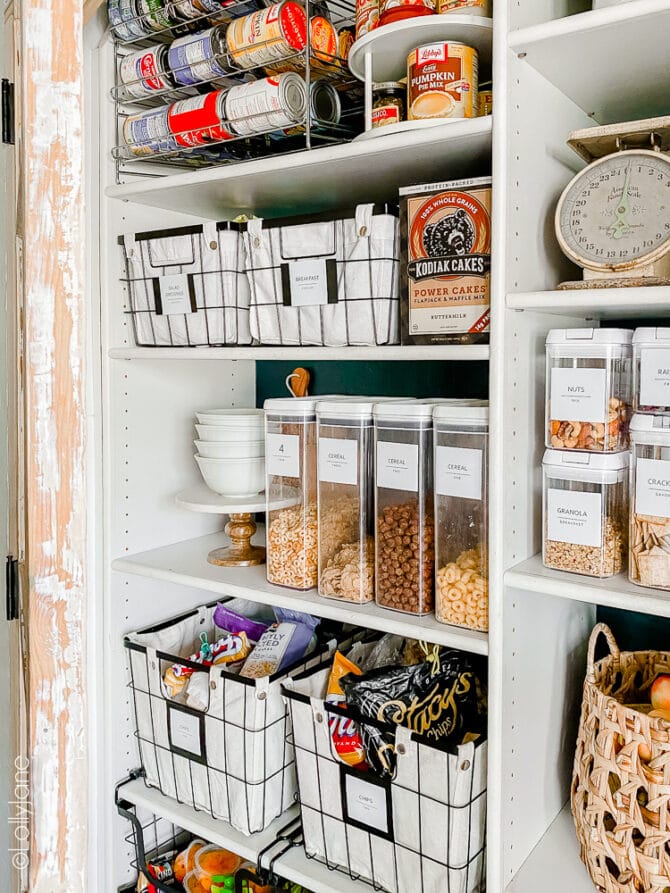 Most favorite: Air tight plastic containers. They are SO versatile and come in a million different sizes, they can store everything, from beans to pasta, popcorn to pretzels and dry cereal or oatmeal. The stackable ones are a space saver but also handy so you can see everything straight away. I added some wire baskets with a canvas liner (one for salad toppings, one for breakfast items, two for chips) and stackable wire storage bins that hold all the kid snacks like granola bars, applesauce squeezes, fruit cups, bags of popcorn and small boxes of raisins. Recycle boxes of food and show off what's inside. I love that my pantry FEELS stylish when in reality I'm still looking Cheerios. ?
I love that my pantry FEELS stylish when in reality I'm still looking Cheerios.
My can organizer is great for cans of a variety of sizes and is near the top out of sight but easily accessible with my foot stool. My "overflow" of food is on the very top shelf so I can easily refill my containers. I love the adhesive food labels over my plastic + glass containers so I don't mix up pancake mix with flours, plus it really gives the space a cohesive look! That's it for now, let us know your own pantry organization tips or storage items YOU love!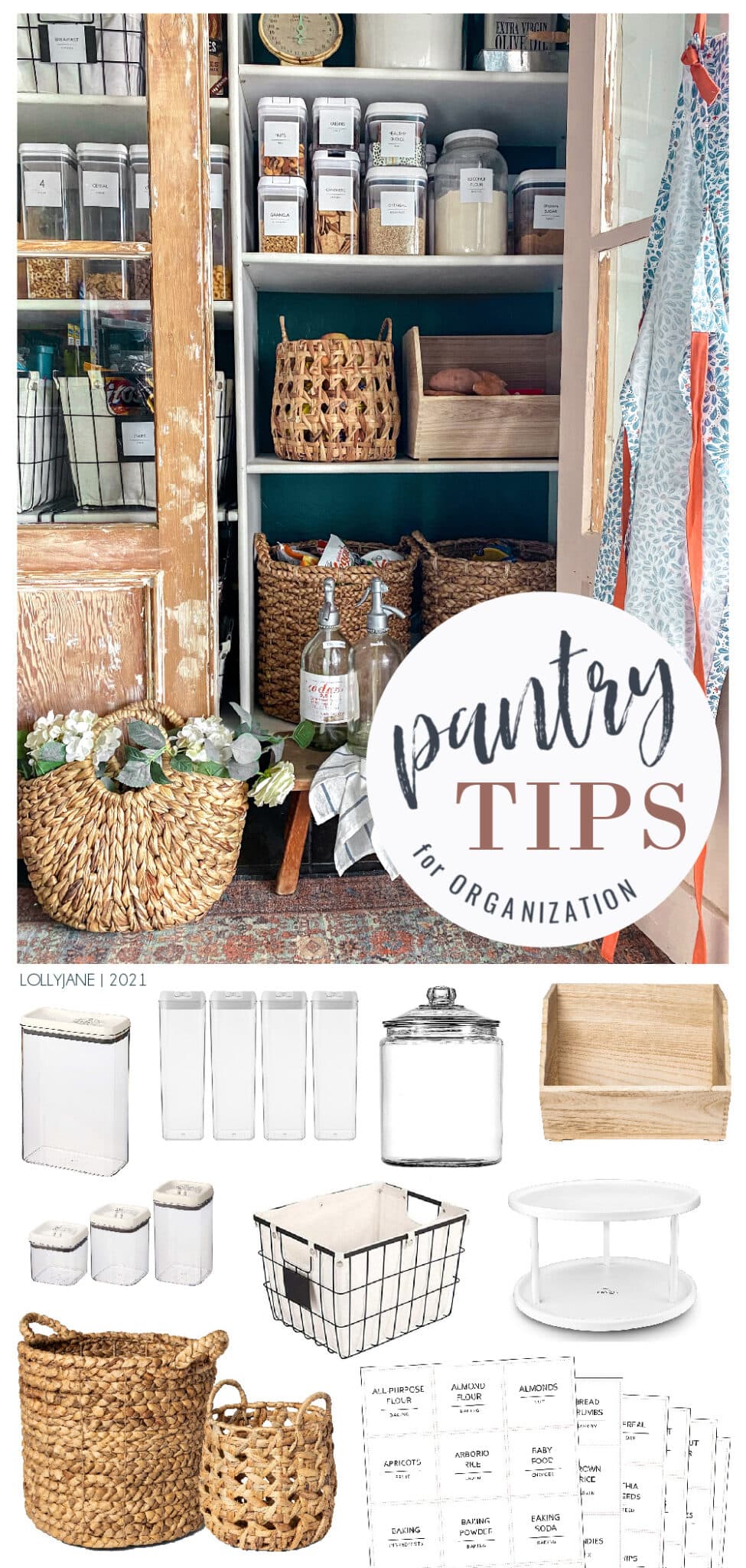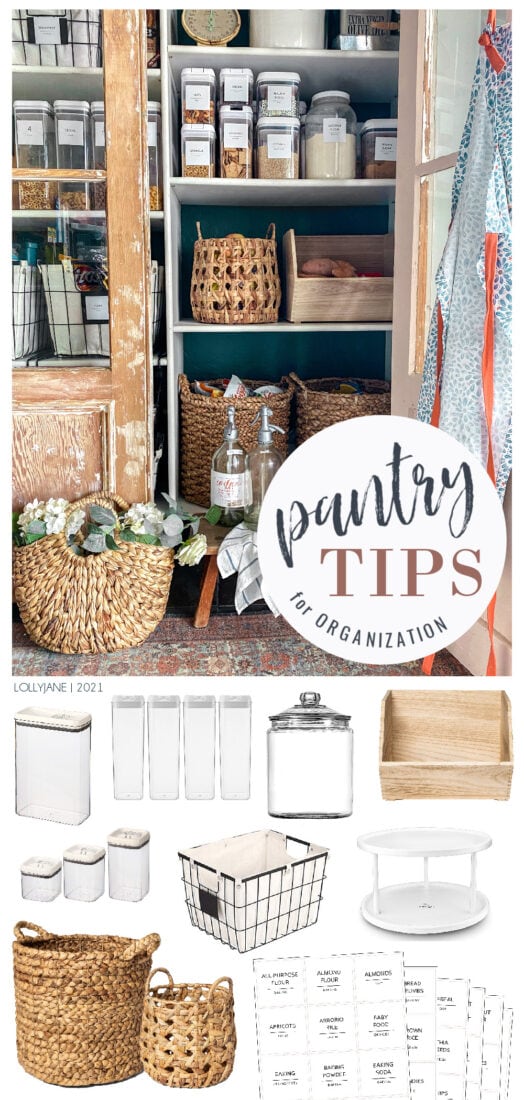 Here's a helpful list of pantry storage essentials to keep all areas of your kitchen organized and styled. Mix 'n match or settle one style but however you use them, these containers are all perfect for your own pantry! Similar items linked in our Amazon shop or the direct links are below: