Learn how to make these easy DIY Turnbuckle Shelves! They're the hottest trend in farmhouse decor with an industrial twist! We're loving how easy these were to build and the hardware is just $32 for two sets!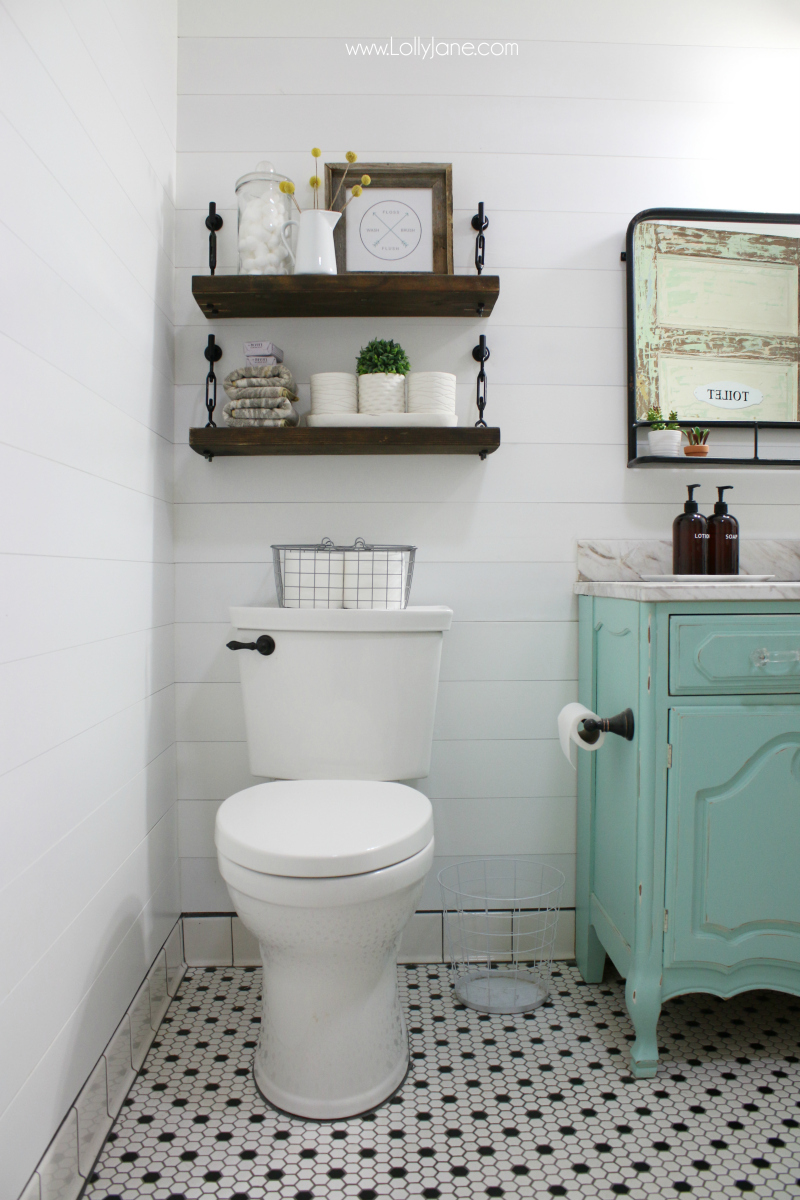 I finished renovating our hall bathroom last month and have been looking for the perfect shelves for storage above the toilet. I've been on the hunt for a good hanging shelves diy project and saw the prettiest turnbuckle wall shelf. It was linked to this darling turnbuckle shelf kit but because they're so darling, they have a small waitlist. I wanted to get mine done quickly so I headed to Home Depot to make my own diy turnbuckle shelf. Here's the bathroom after and before pictures to show you how big of a difference bathroom shelves make!
I'm pretty sure turnbuckle shelves are gaining popularity because there was a whole display dedicated to diy turnbuckle shelf brackets! Pro tip: look underneath the tempting display for less expensive alternatives, they're the same brand!!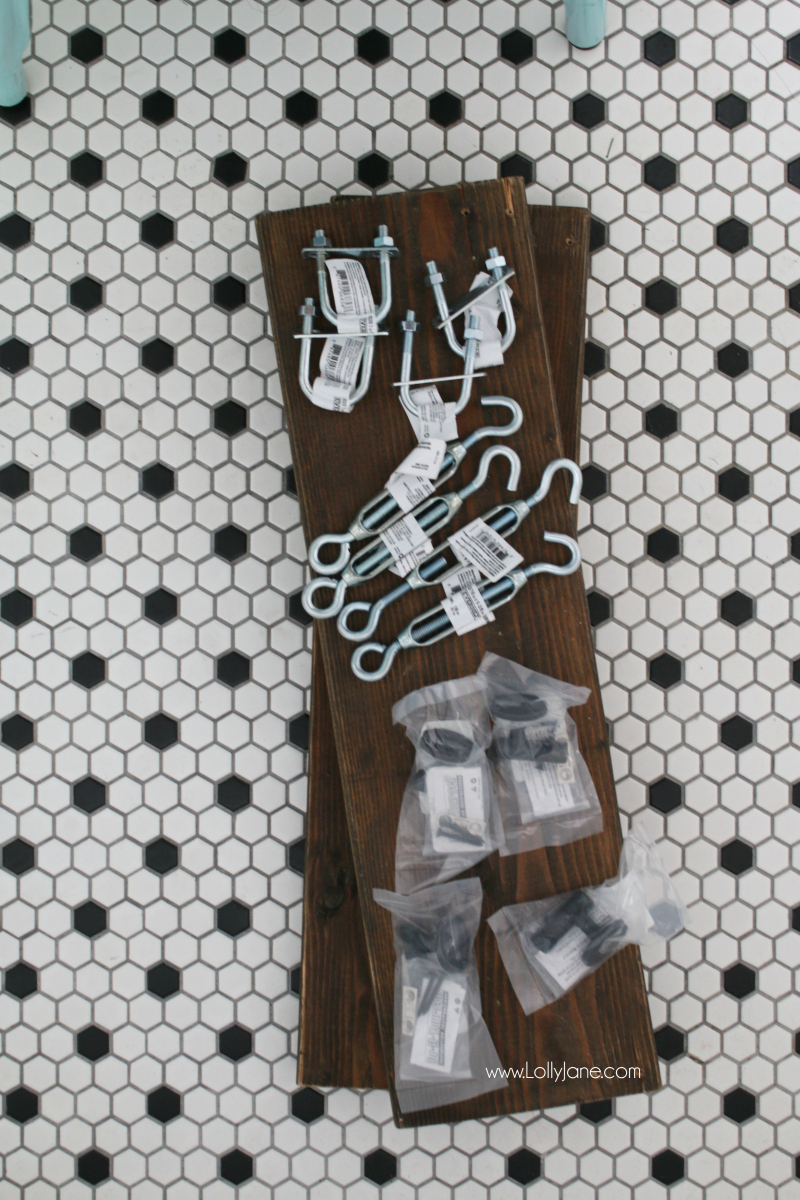 DIY Turnbuckle Shelf Supplies
Supplies needed to build turnbuckle hardware to create modern farmhouse bathroom shelves: *aff links to what I used
Follow these easy instructions to build turnbuckle hardware shelves.
Since my hooks were black, first I spray painted my hardware to match. Let dry for an hour.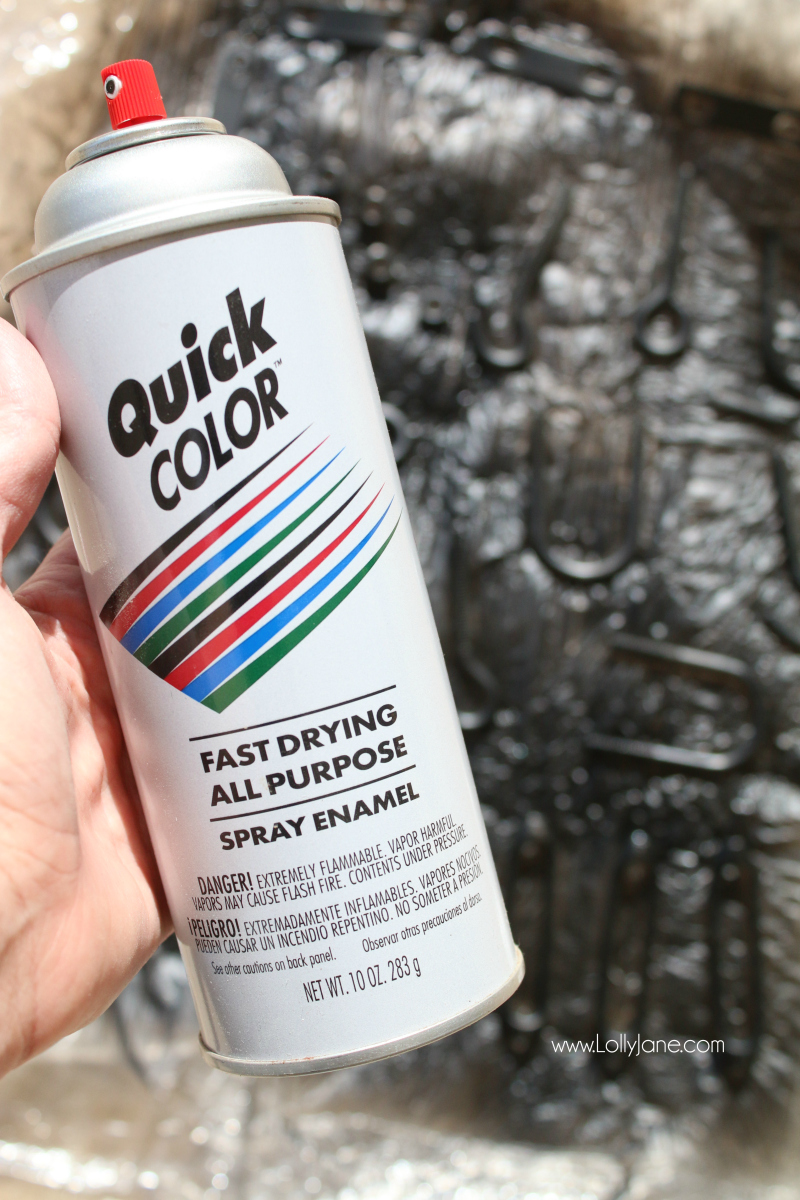 Measure where your U-Bolt will need to be pre-drilled. Mine was 1″ in from the end and about 2 1/2″ in from each edge.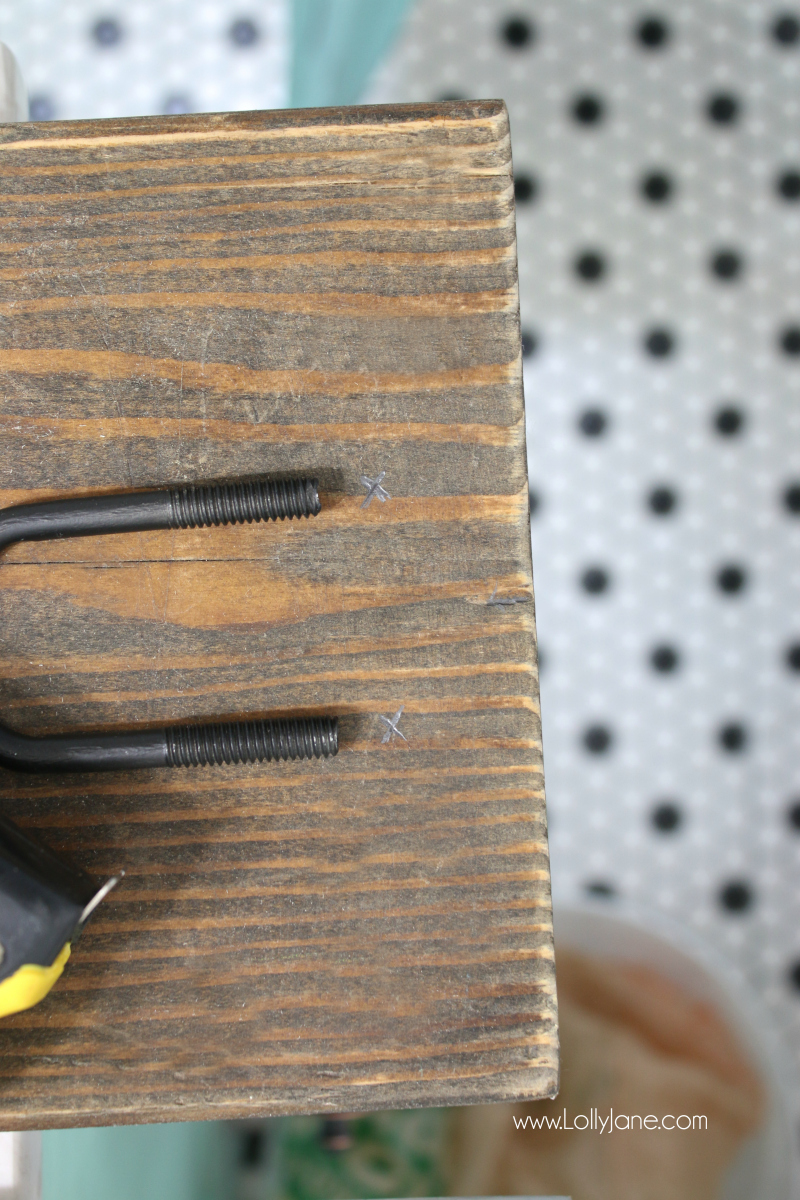 Place your eye hook inside the U-Bolt before you push it through.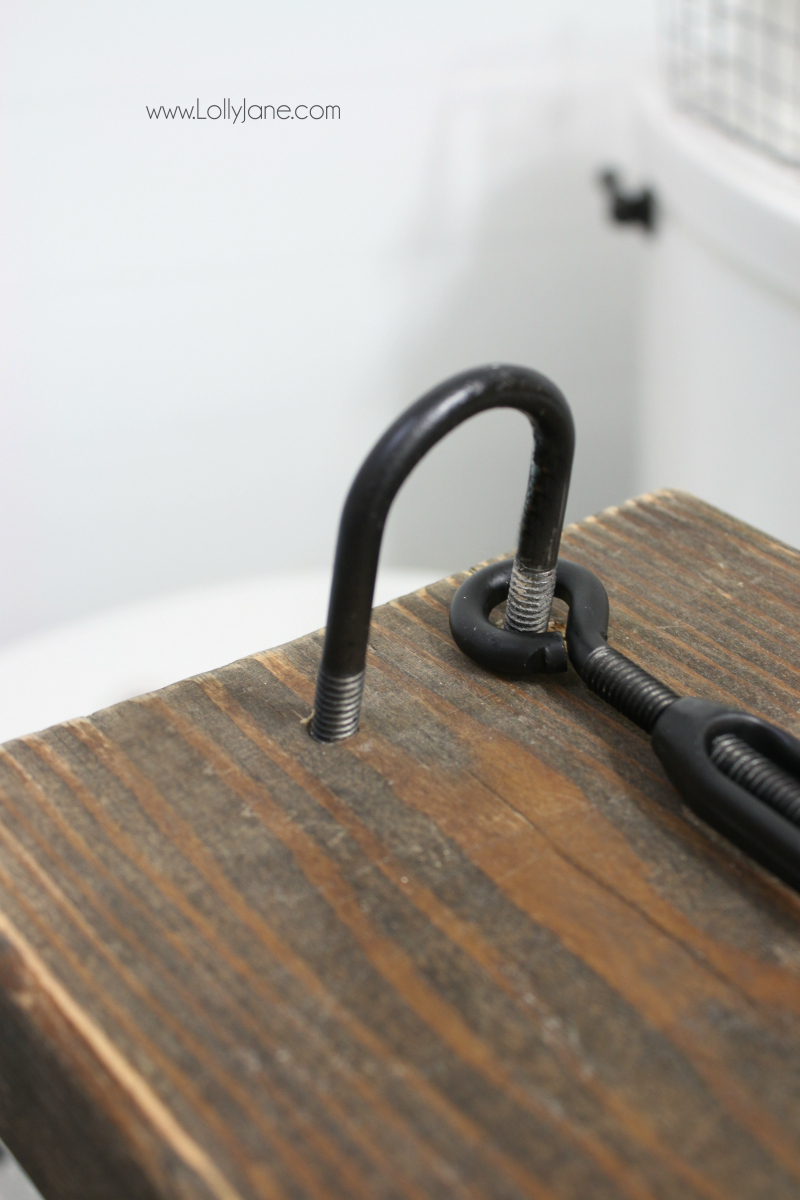 Push it down then tighten nuts onto the backside.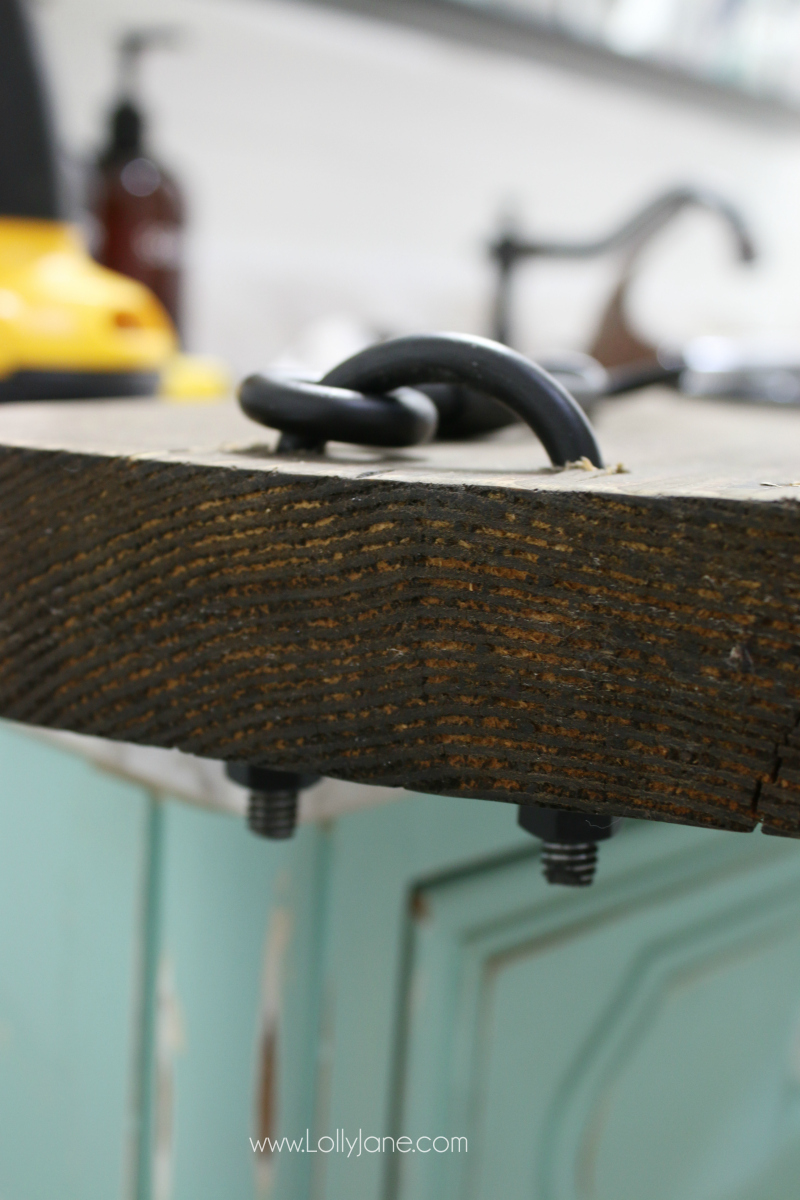 TIP: To push U-Bolt all the way down so it's nice and tight, you may need to hammer it. Just place a piece of wood or cloth over the top beforehand so you don't scratch or dent the top of the bolt. If you hit it too hard down, use the cloth to cover the hammer then pull the U-Bolt back up until it's the right height to secure the nuts on the bottom.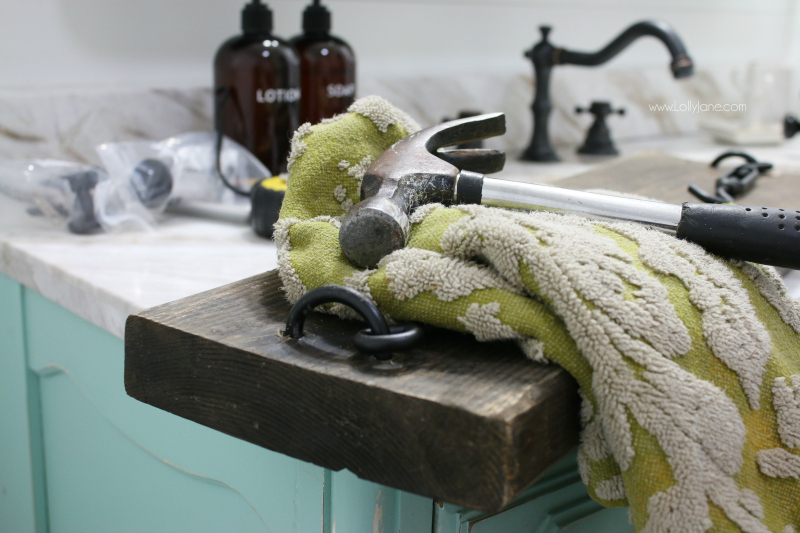 How to Mount Turnbuckle Shelves
This hardware was super easy to apply to the wall. I centered it over the toilet then added about 6″ above the bottom of the shelf. I like how the hardware slips over the inner screws for a seamless look without the screws showing.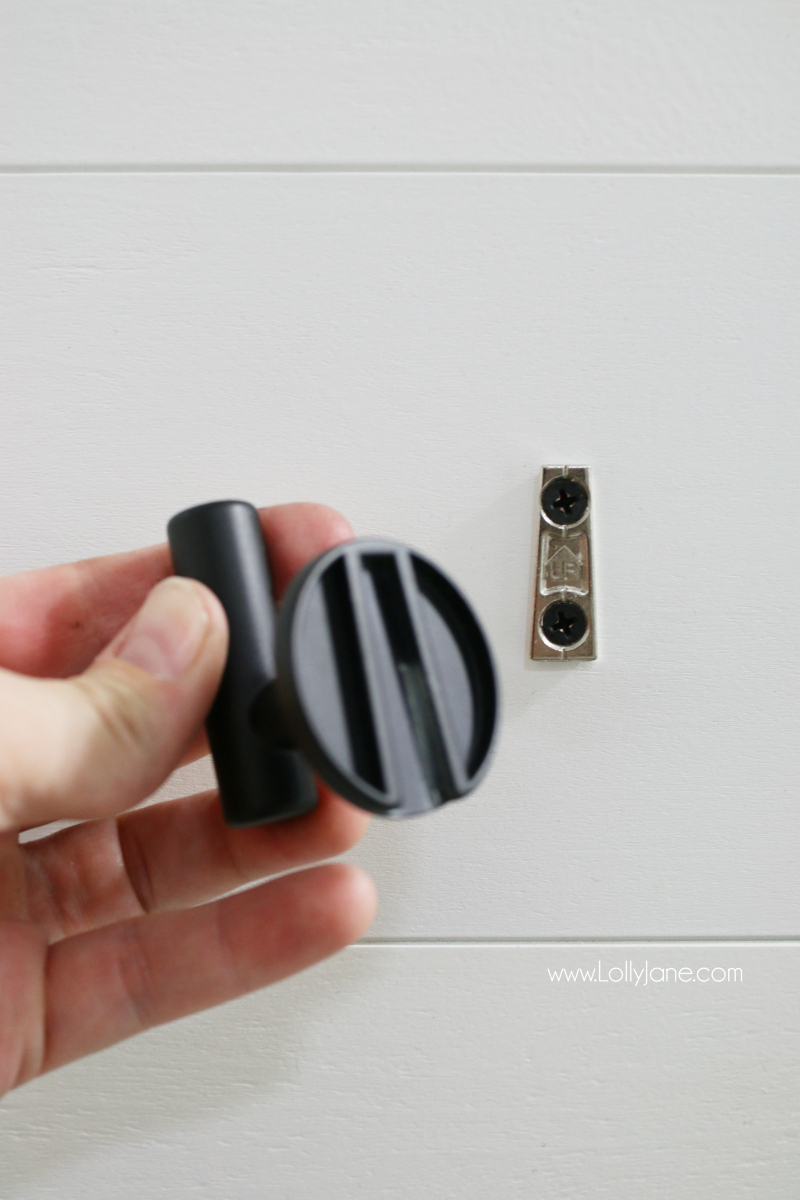 DIY Turnbuckle Shelf Screwset
To get the shelf to not shift around, we followed Kara Paslay's idea of screwing in a 4″ screw into the shelf on the backside and pre-drilling a hole in the wall opposite. Here are their words: "With all your pieces assembled, you are ready to start hanging the shelves. The cables will support the front side of each shelf, but you will need to support the side against the wall. I will show you what I did, but feel free to come up with your own ideas. I drilled two holes in the back of each the shelves that was large enough to accommodate the head of a drywall screw. Once I laid out where I wanted the shelves on the wall I screwed corresponding screws in the wall. I made sure there was enough screw in the wall to support the weight, but left about a 1/2″ of the screw sticking out so there was plenty for the shelf to rest on. We are lucky enough to have 1×6's behind all of our drywall so I didn't have to worry about hitting a stud or adding anchors, but most likely you will, so think about this before you start drilling the holes in the back of each shelf and plan accordingly."

This doesn't affect the weight but stops the shelf from flipping or moving around. Super sturdy! It took a little bit of muscle to get those U-Bolts in place and I'm horrible at math so I had to do a little wood filler, sssh! BUT this is what Lolly Jane is all about, getting things done and not waiting on help! (My poor hubby worked 60 hours of overtime so I was on my own!) What do you think?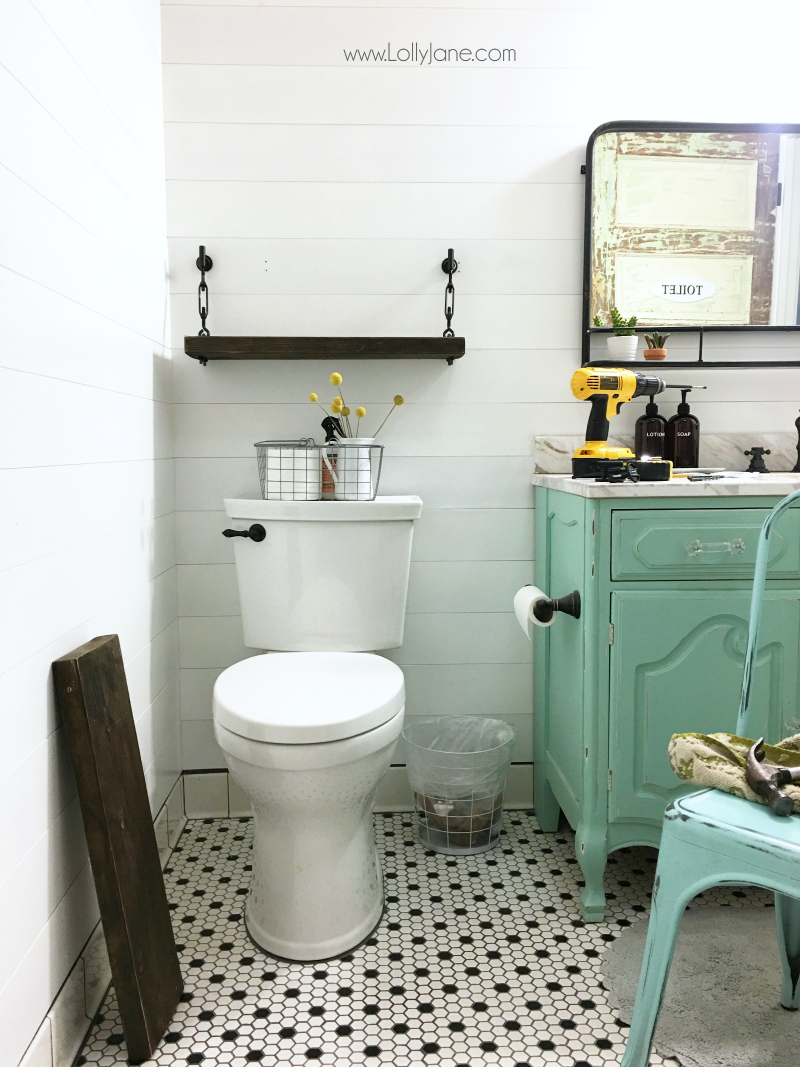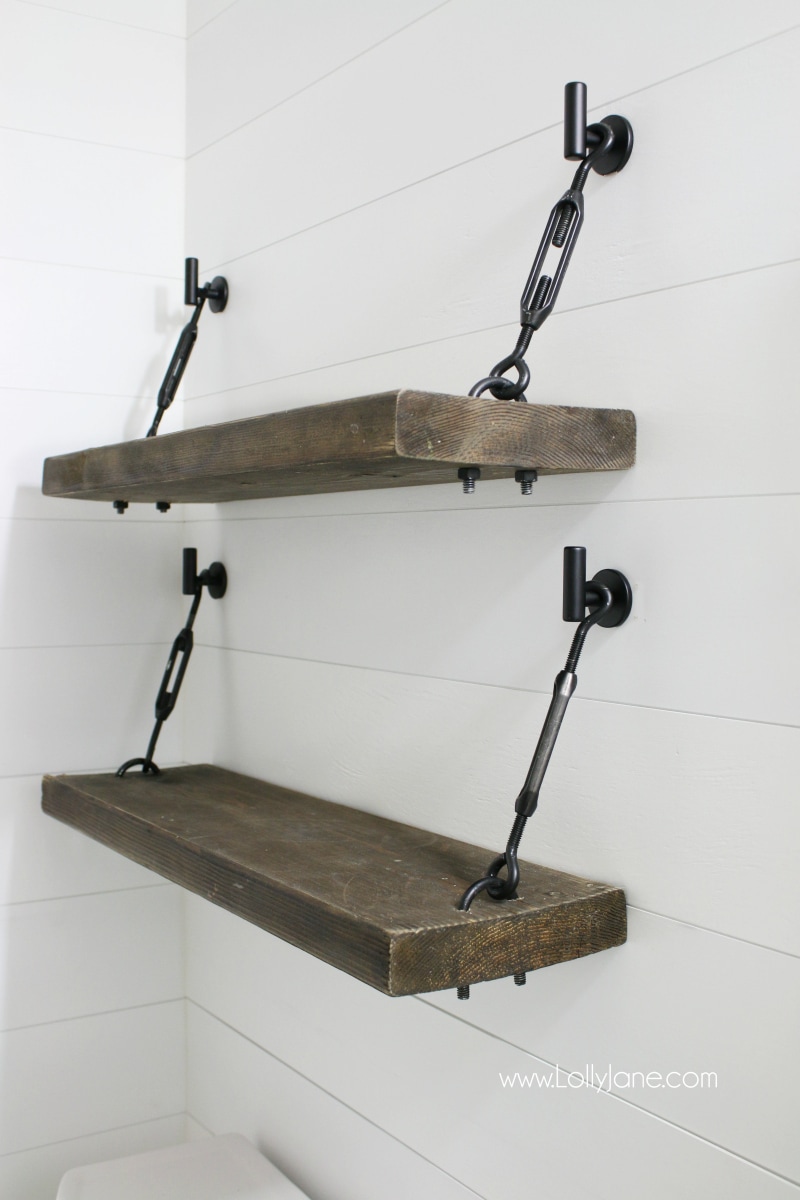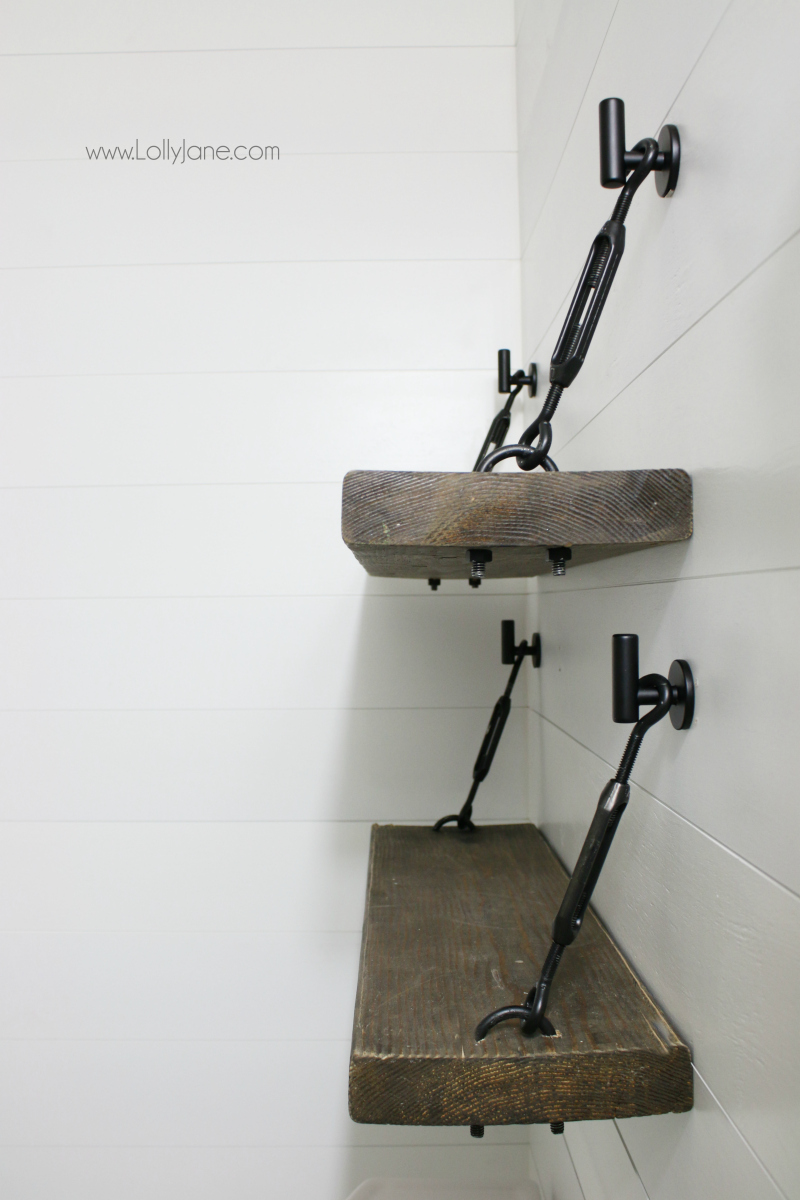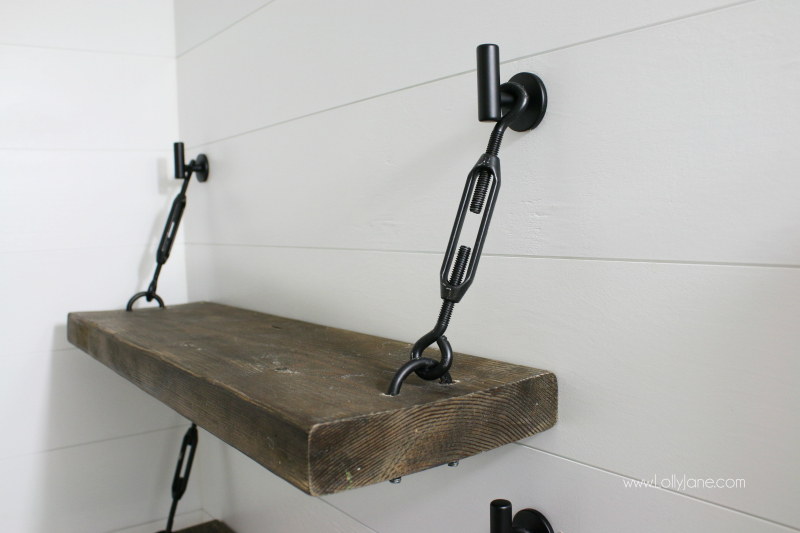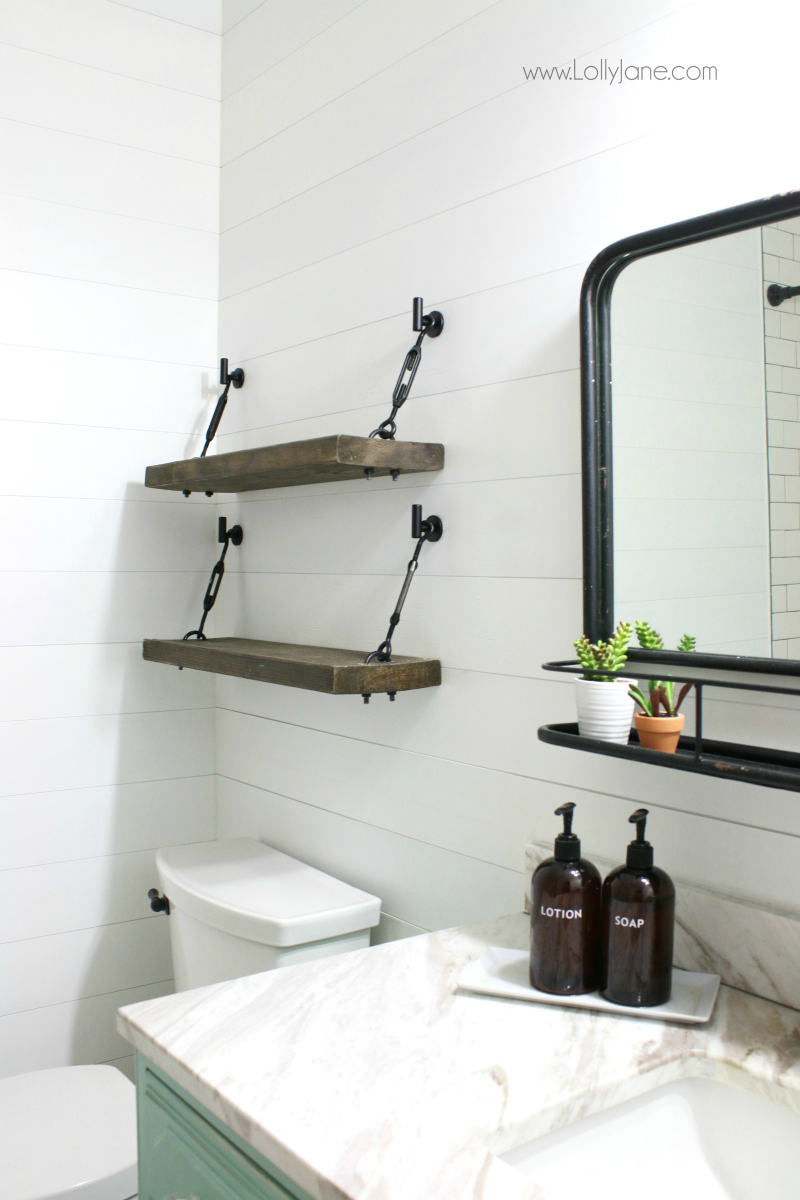 Here they are styled with things around my home.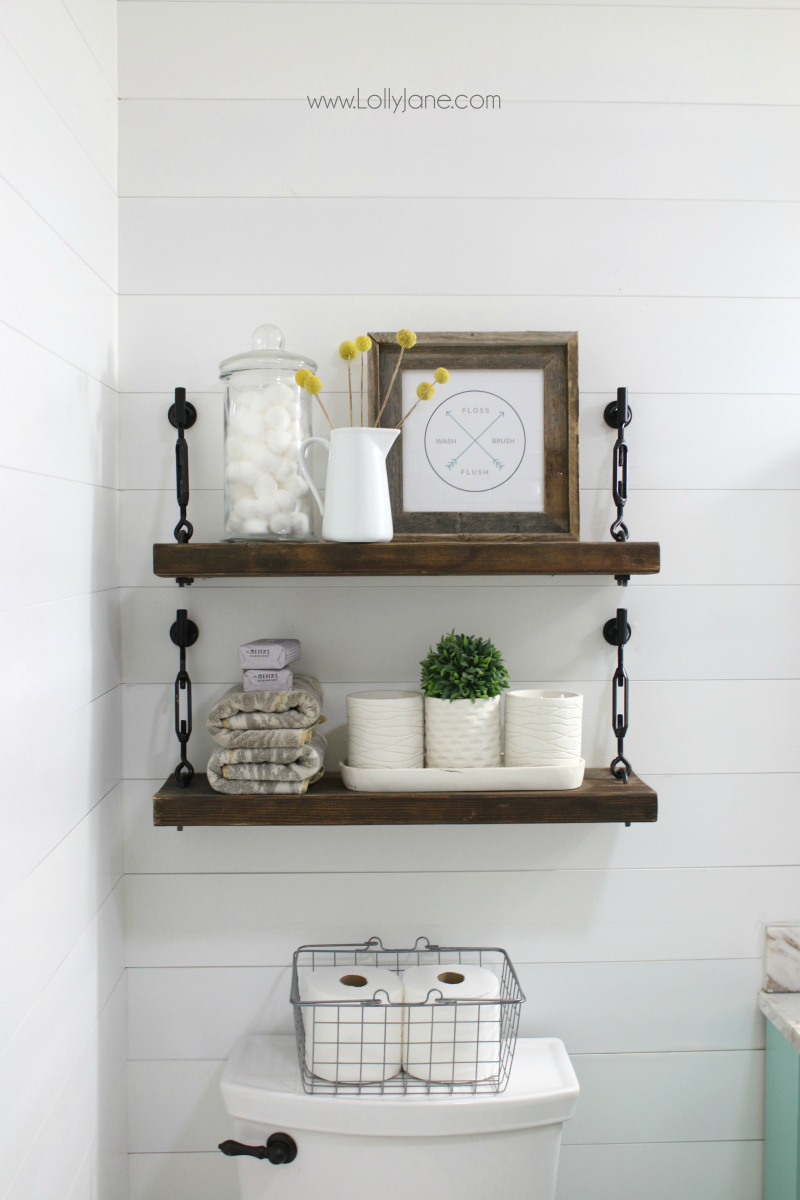 The apothecary jars, wood frame and triple white jars are from Hobby Lobby. The free floss brush flush wash printable is from us, yay! The wire basket is from Target, I think. The white creamer jar is from Walmart and the billy balls are from Etsy. The linens are from World Market and our favorite soap is from Grove.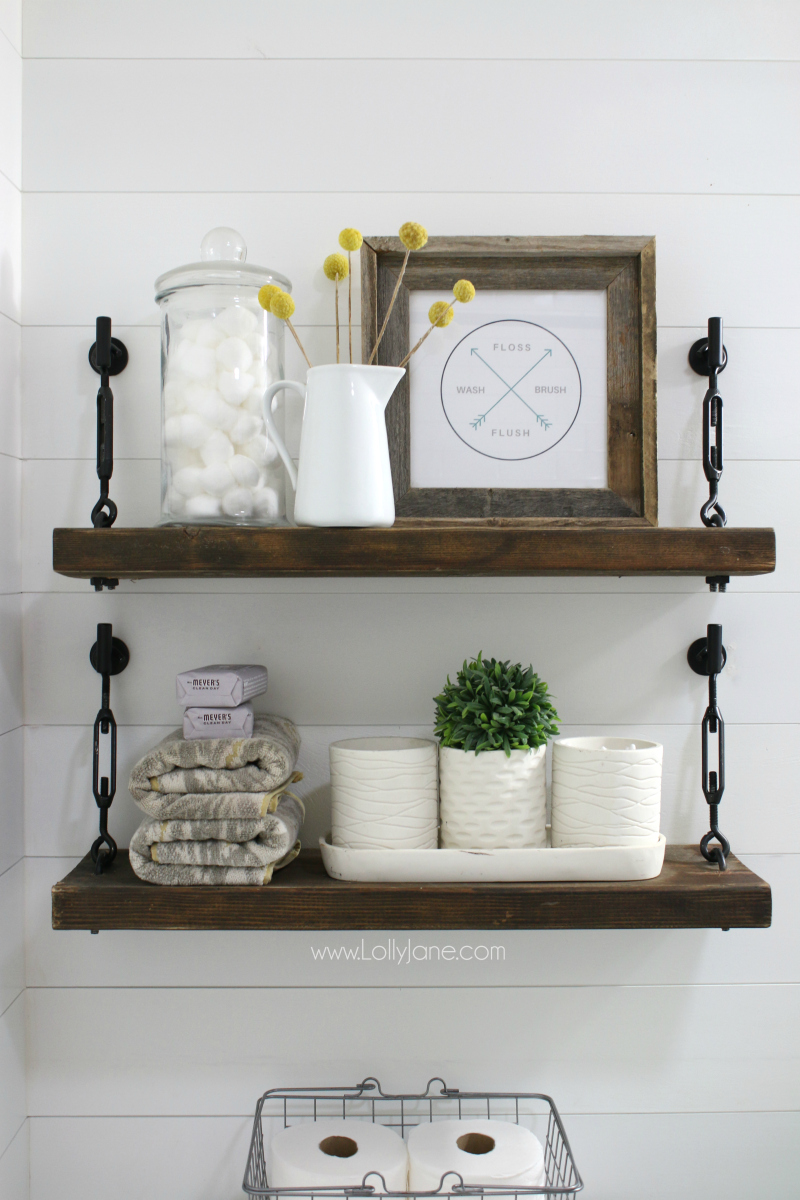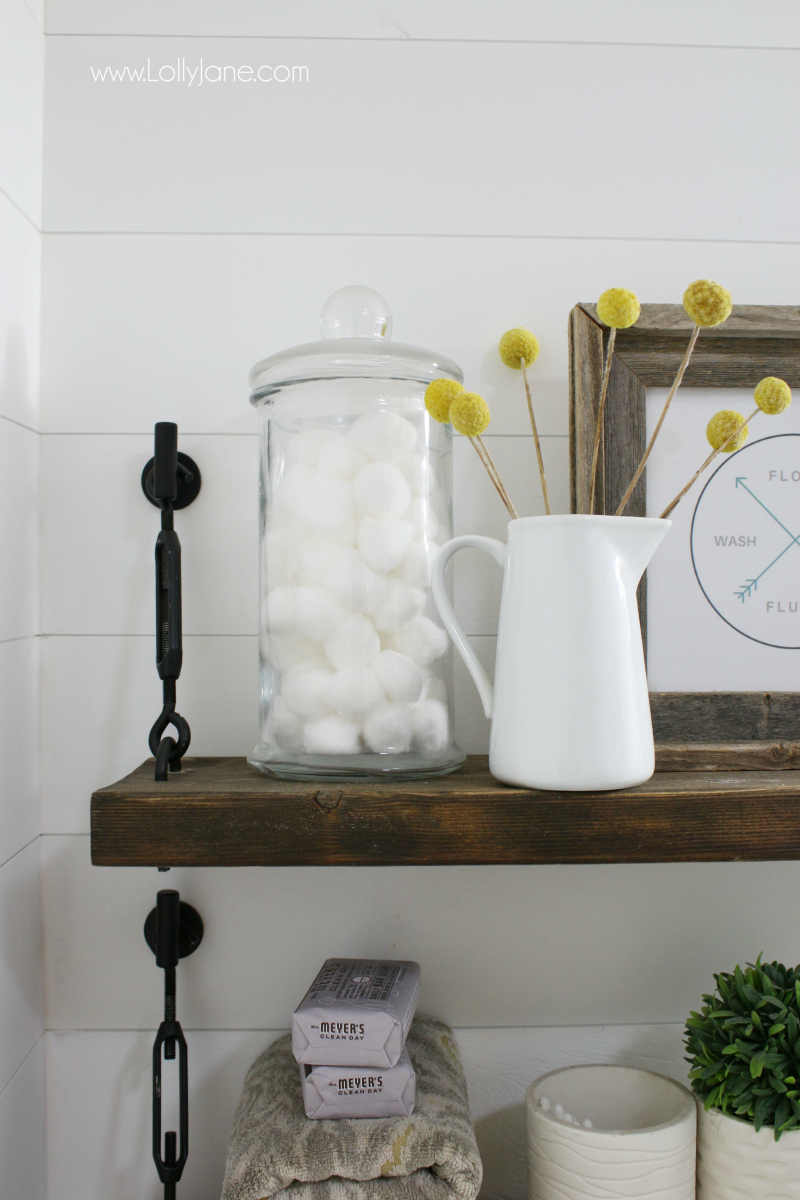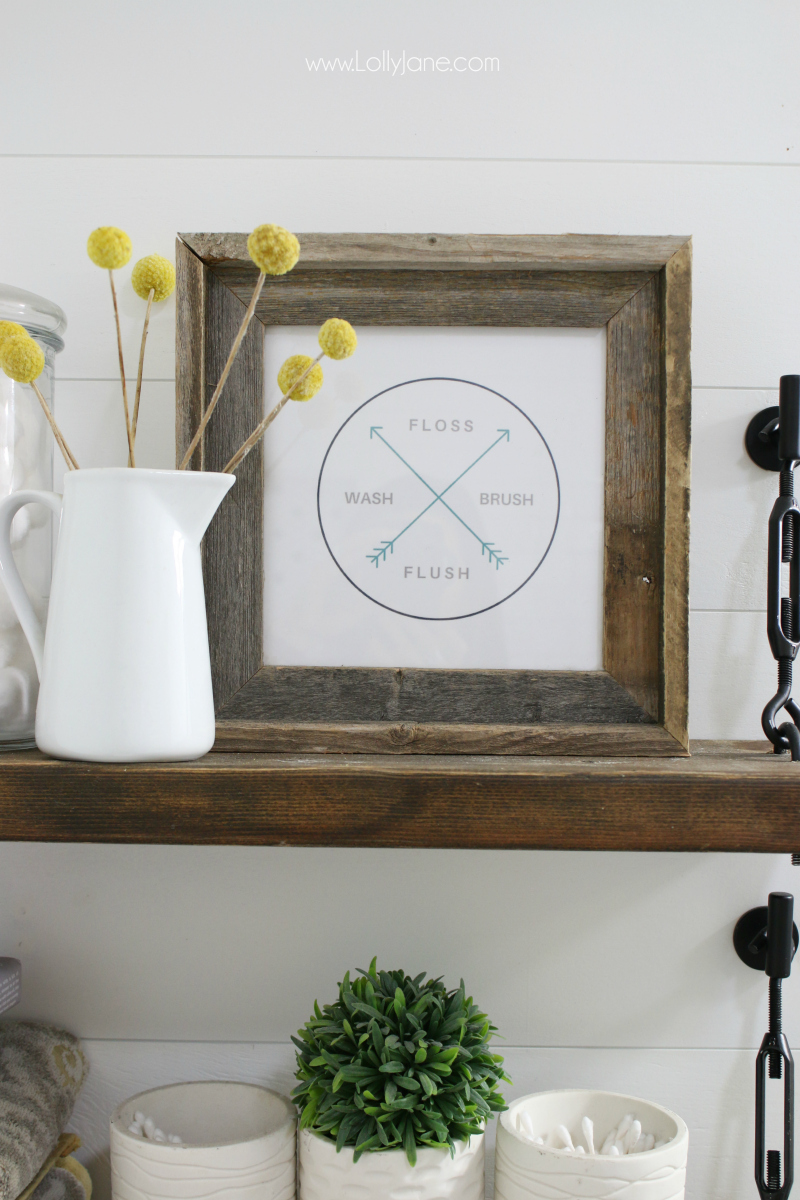 I mean, I'm just kind of in love with this view..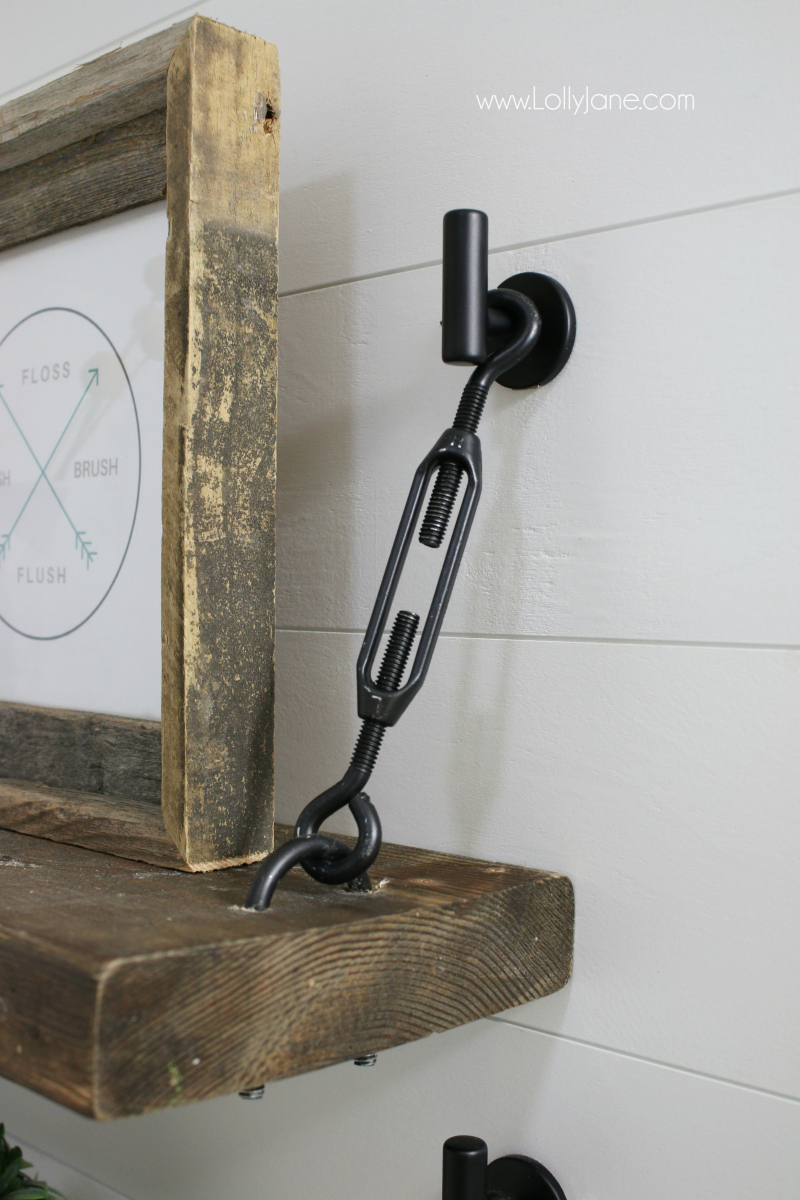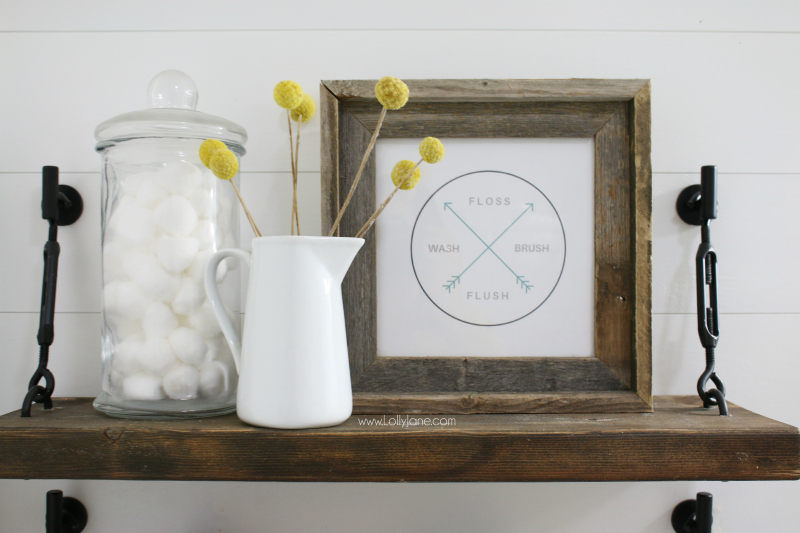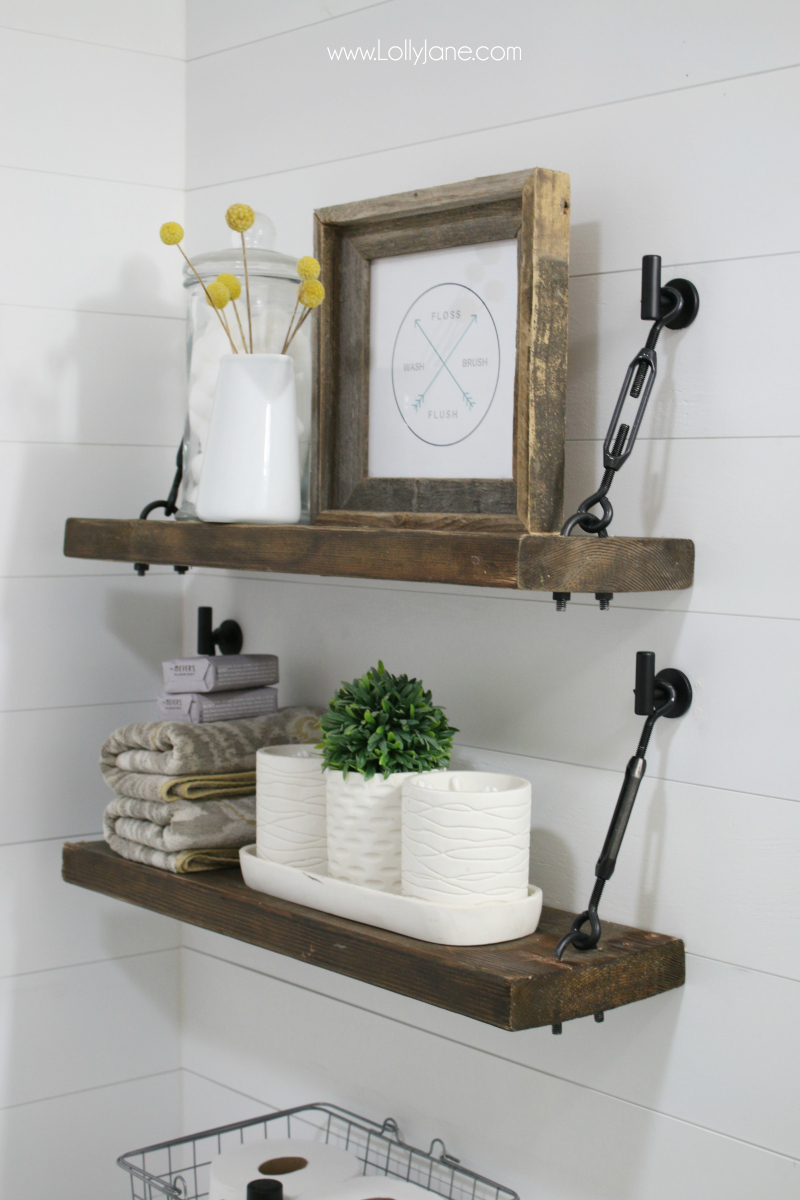 Please pin so your friends can build some easy to make turnbuckle bathroom shelves too!

Visit the rest of this bathroom makeover series:
We are LOVING your versions* Keep them coming! xo
*As always, per our terms and conditions, tutorial is for personal use only.
The raw wood turnbuckle shelves look great! Katie did such a good job!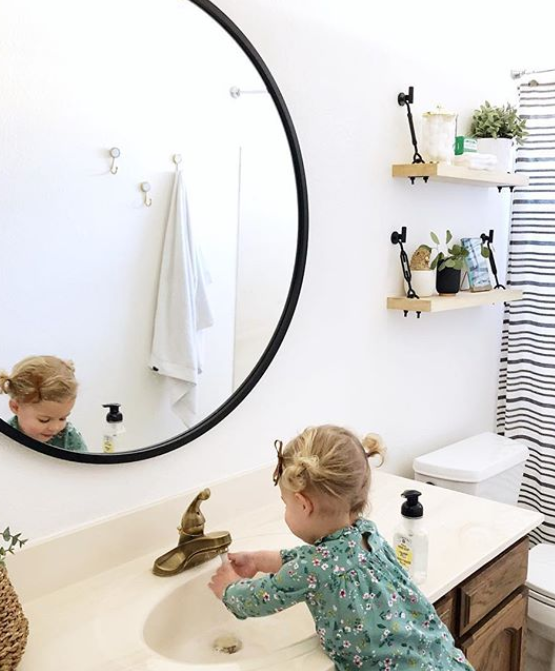 We LOVE how Jolene Apicella created our shelves with hangers instead of hooks like ours. CUTE!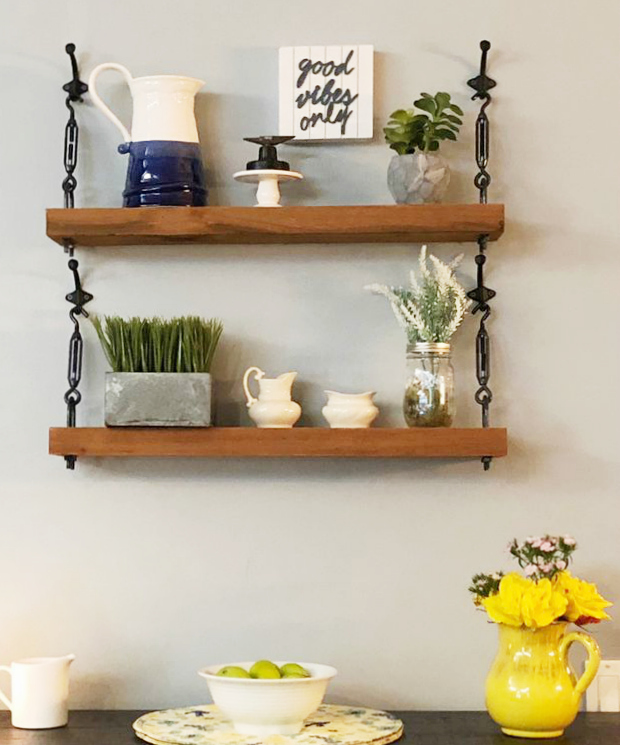 The white turnbuckle shelves with silver turnbuckle hardware from Lee Ann Husdon is a great twist on farmhouse, very modern farmhouse chic. Love it!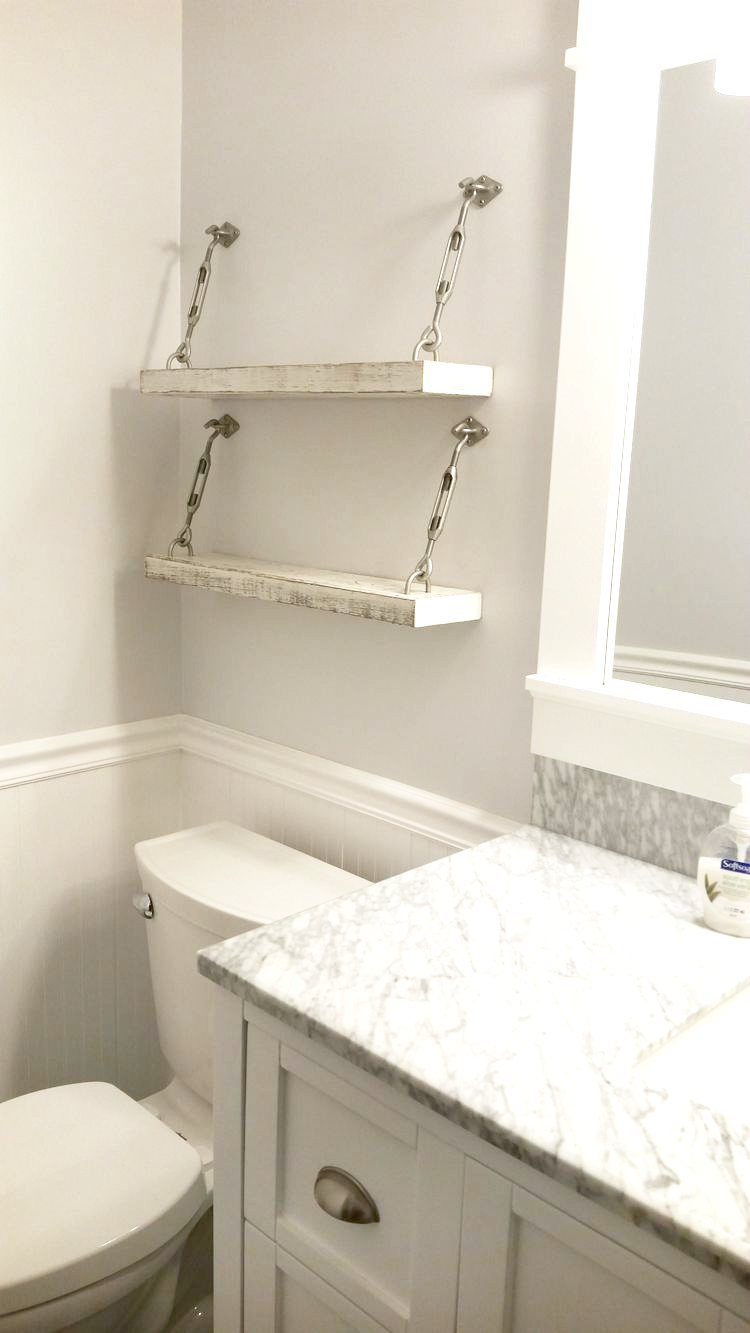 The eye hooks that Colleen Jarrell used to hang her walnut plank turnbuckle shelves look so good!