Raise your hand if you've ever misplaced your keys? (Ours are both raised, lol!) Well, my house has two main entrances to my house (I know! Kind of confusing!) so I whipped up this easy DIY succulent planted mason jar key holder to match my craft studio/entryway.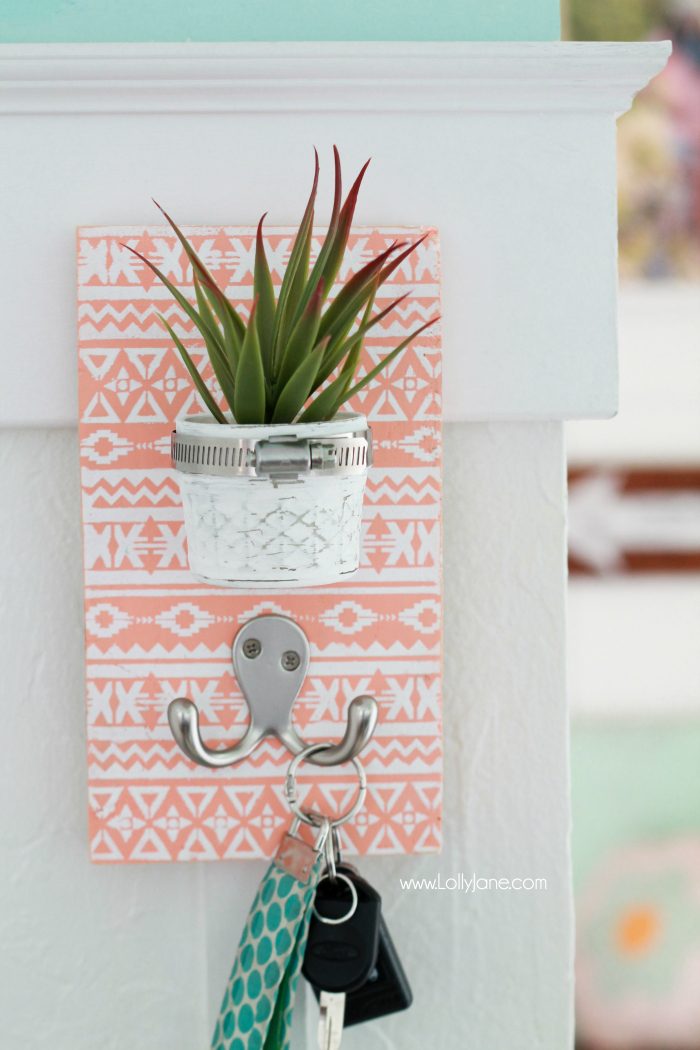 Now I can toss my keys on it and since the spare set is on the other hook by the formal entry, I am never running around looking for those suckers. LOL. Cute in DecoArt's Aztec stencil but also plain, right?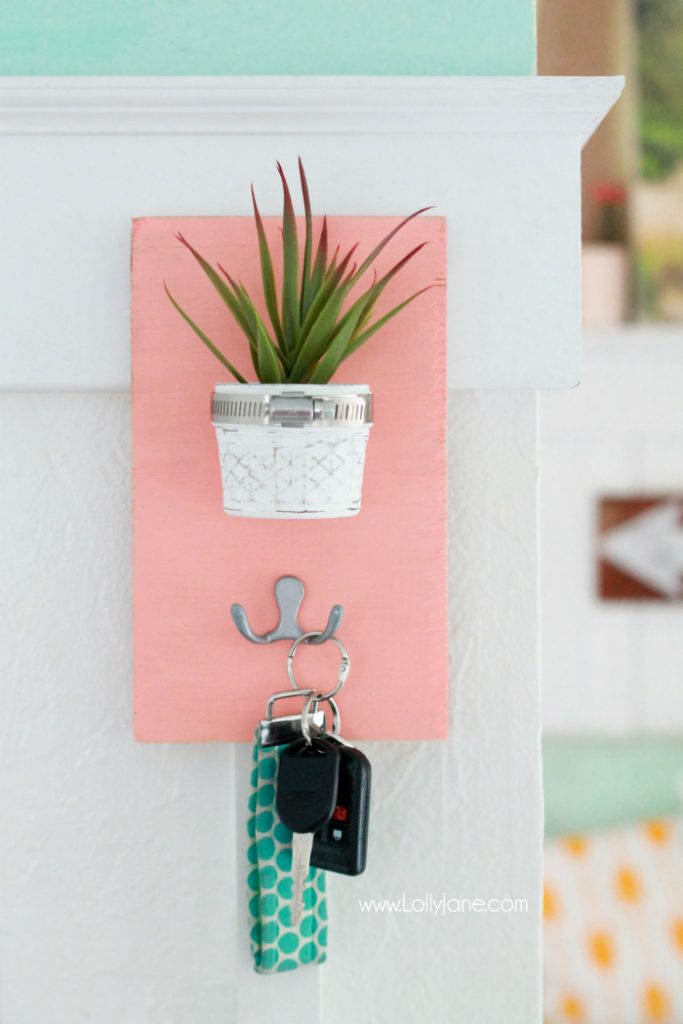 Side note: If you're in the San Diego area then you have the opportunity to get this DIY on with us in April at the Paint-A-Palooza event, yay! We are teaming up with DecoArt + Charity Wings, as well as creatives like Mark Montano and Traci Weinzapfel Studios, for a weekend of fun, inspiration and education. Join us April 10-12th!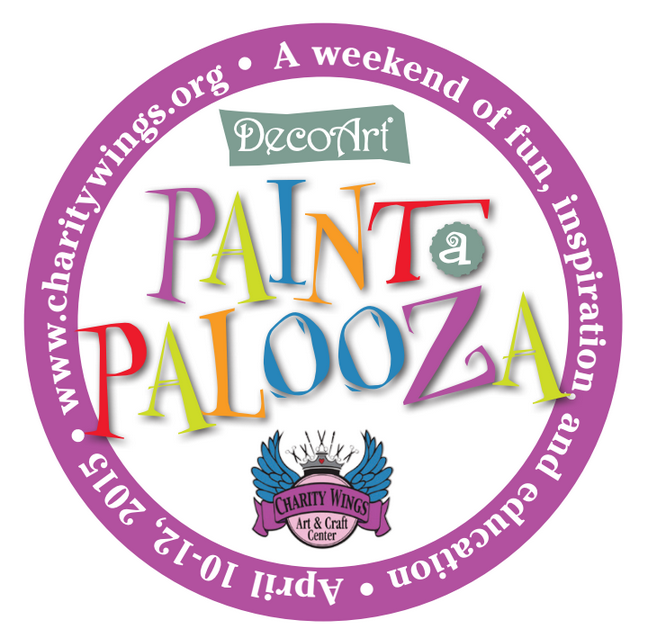 We know not everyone will be able to make it so let's get your DIY on right now instead, shall we? 🙂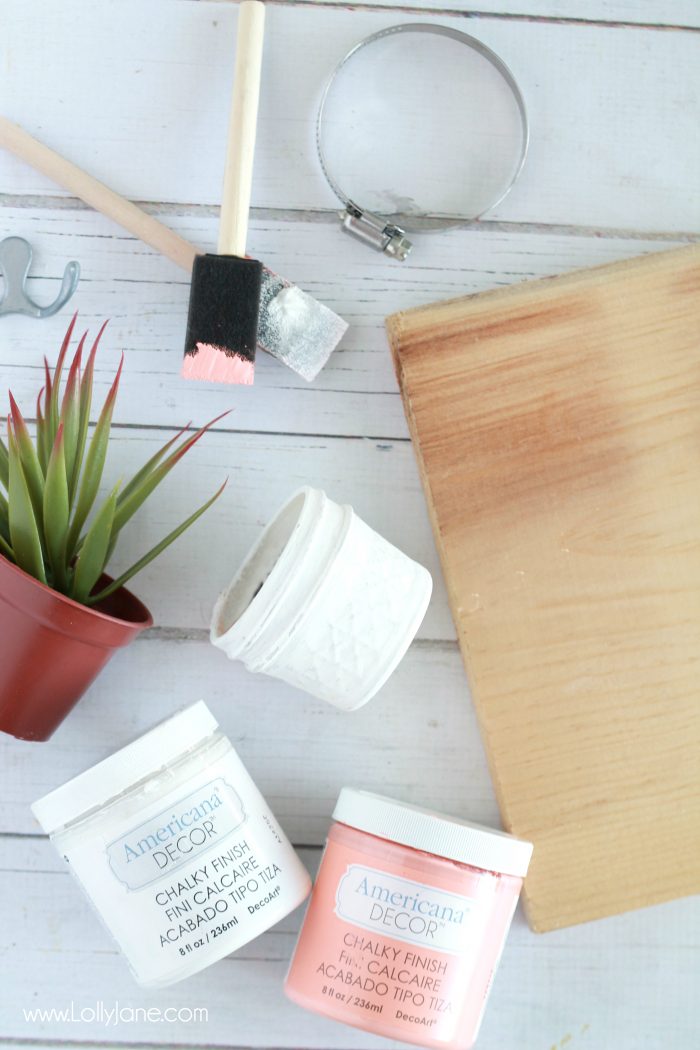 To make your own if you're not able to attend you'll need a handful of items:
Chalky Finish in white, coral
Faux succulent (Dollar Tree or FloraCraft)
4 ounce mason jelly jar
Hose clamp
10″x6″ pine wood board
Foam brush
Double prong robe hook
Directions:
1. Paint your wood. You can also decoupage your favorite paper onto the wood or stencil a cute design.
2. Unscrew the hose clamp and lay flat on a solid surface, (we used a log.) Hammer a nail through the clamp and remove nail so there's a cute little hole which will allow the screw to enter smoothly through the clamp and into the board. Learn from us, a screw will not go through the clamp solo. 😉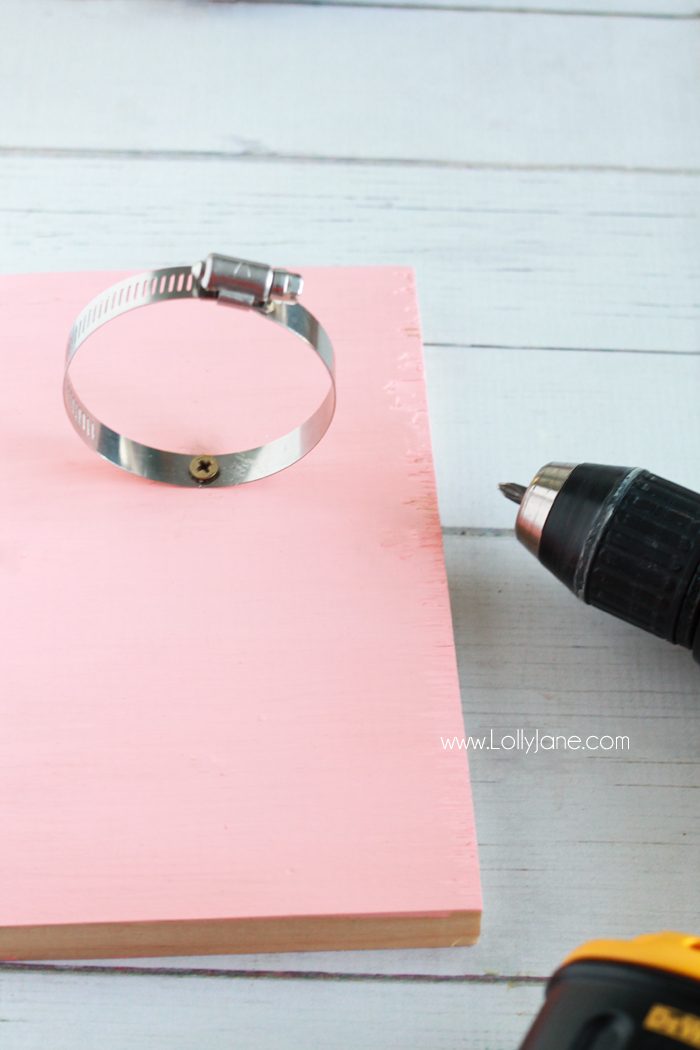 3. Paint mason jar. Distress.
4. Secure the mason jar to the board by tightening the screw on the clamp. Use a flat head screwdriver to make it nice and snug but don't screw too tightly as you don't want to crack your glass jar.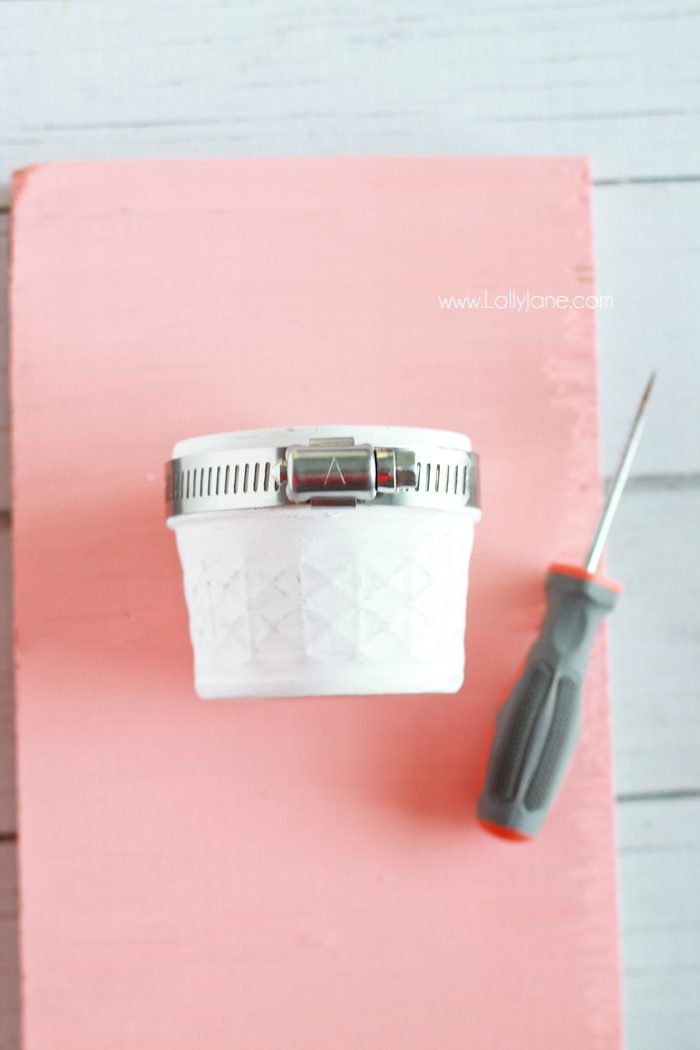 5. Remove succulent from its plastic pot (this one is from Dollar Tree) and "plant" into the mason jar.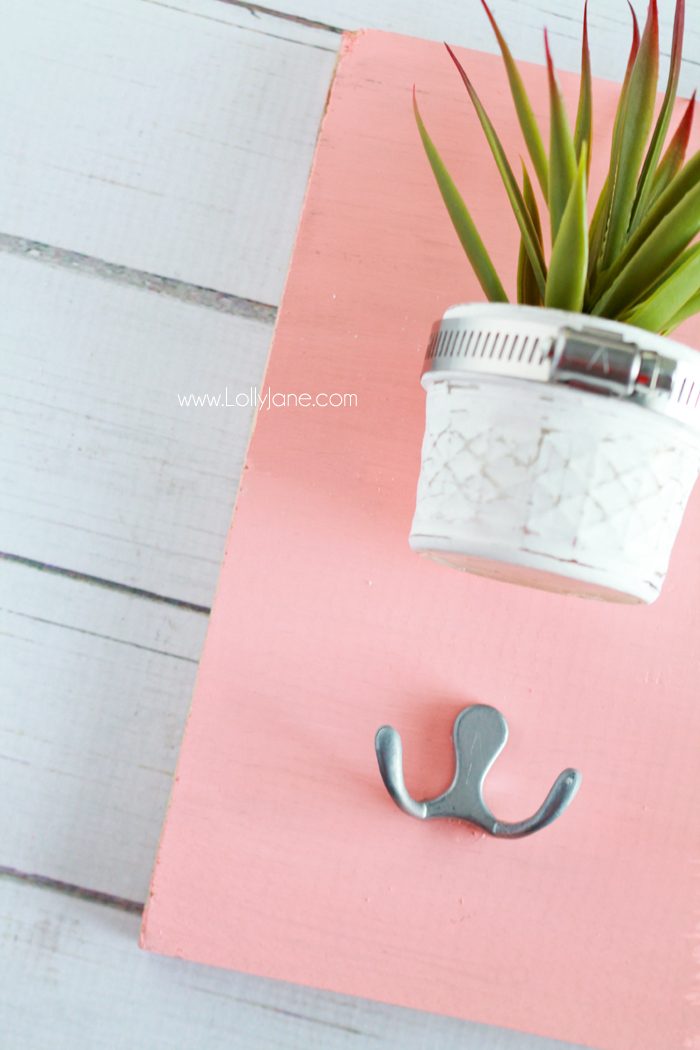 6. Add double prong hook hardware on the front and hardware to the back to hang (our pop tab trick works wonders!)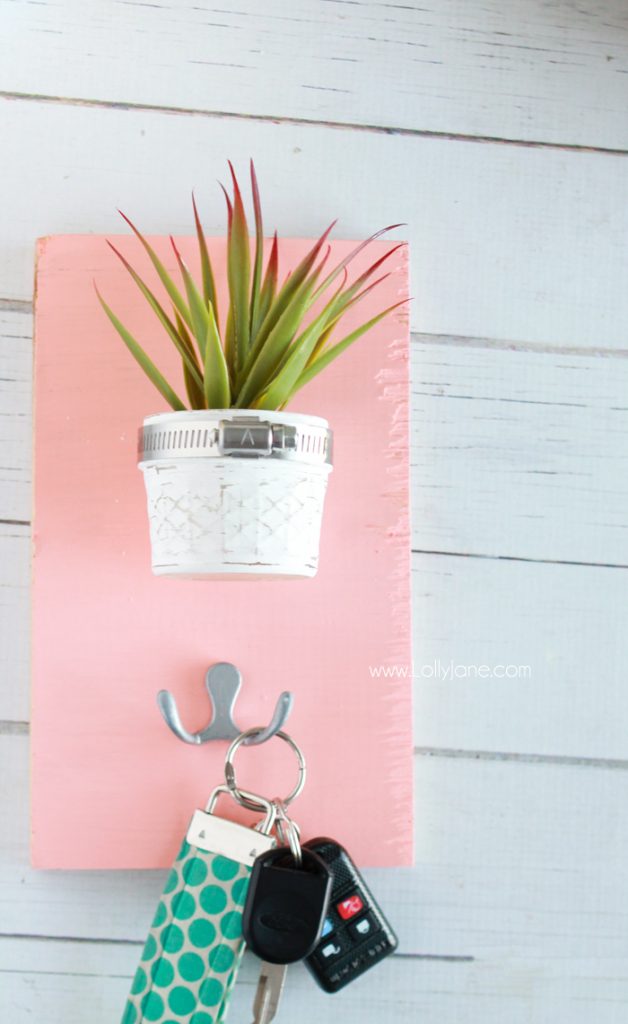 7. Hang and enjoy knowing where your keys are!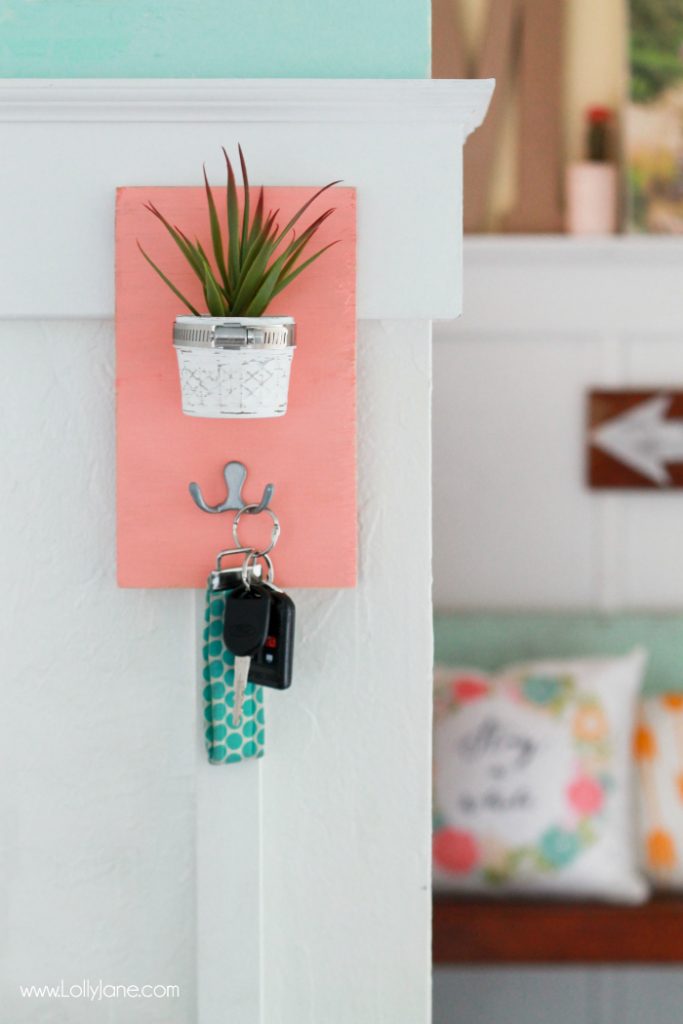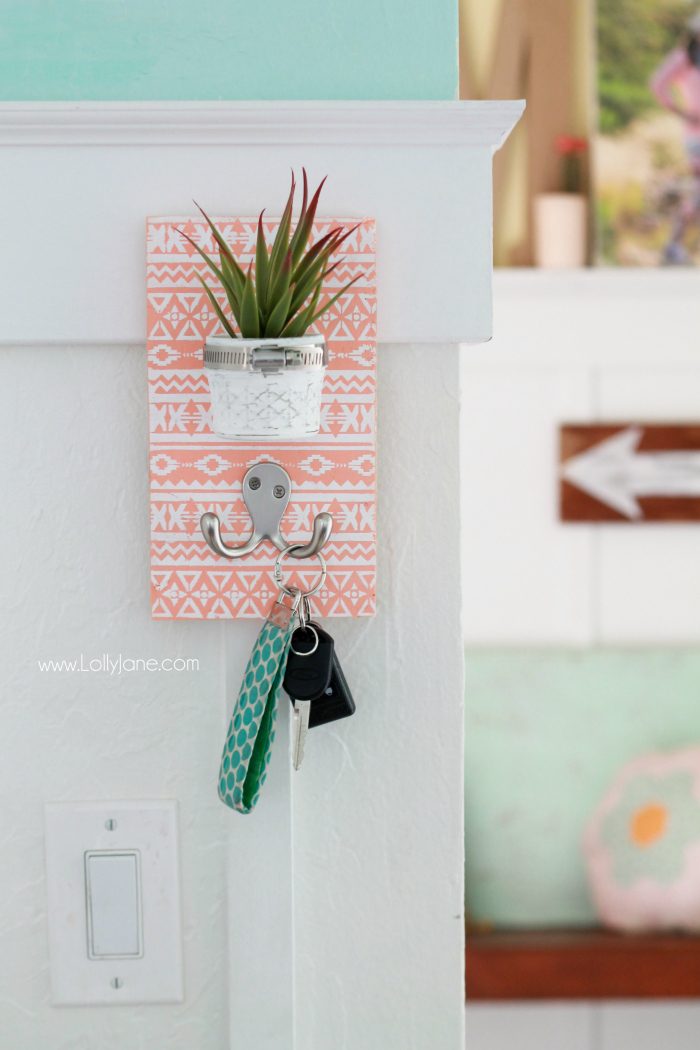 Please PIN IT so your friends can see it too!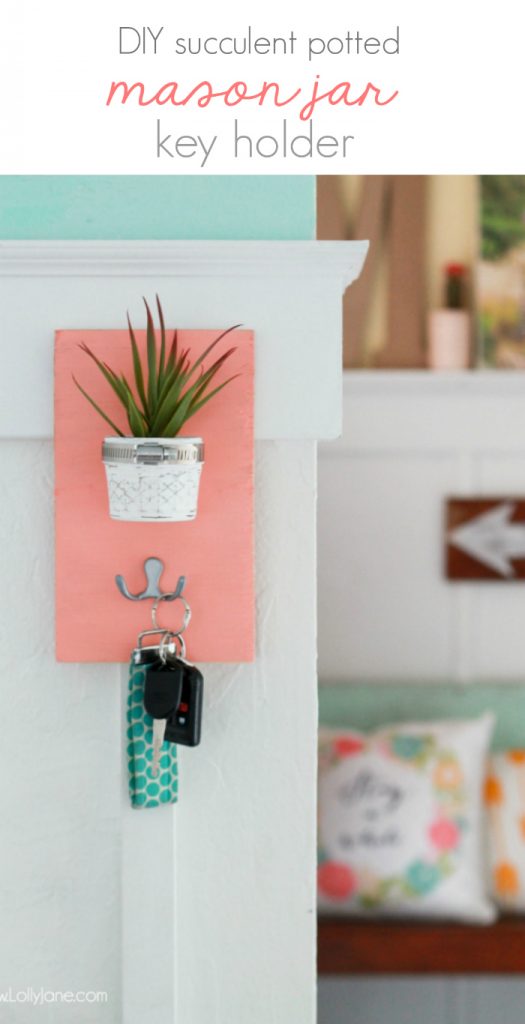 Remember that cute teal bench we redid? It's since been replaced with an antique pew Kelli recently restored. We love it paired with her hand painted arrow sign, stenciled arrow pillows, painted succulent mason jars aaaaand last but not least, a cute "Stay A While" pillow from Paint Me Pink shop. Hello gorgeous!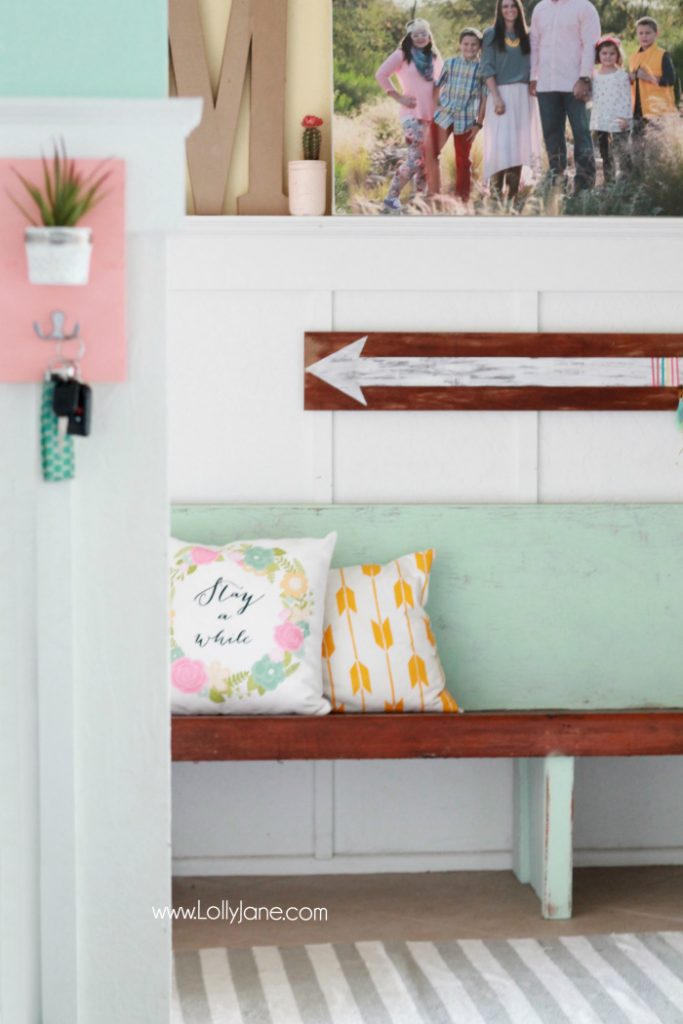 Are you also dying at how pretty that canvas is?! We are so lucky to have talented neighbors/owners of Tower Printing. They rock for t-shirts (apparel), announcements, invites, programs (printing) and yes, even canvas (design) orders + web design! Love those guys! Hi Cam! 😉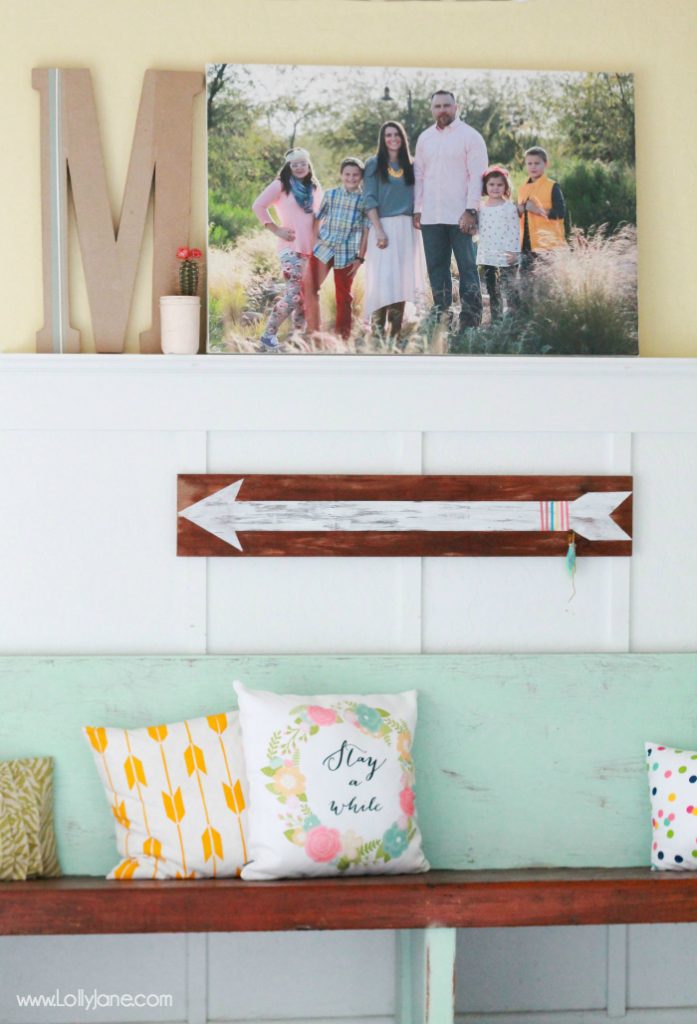 Well, we really hope to meet a few of you at the Paint-A-Palooza event but if not, hope you enjoy making your own without the company of these two crazy sisters! Haha! XOXO
Check out ALL of our MASON JAR IDEAS like our pretty bathroom storage idea,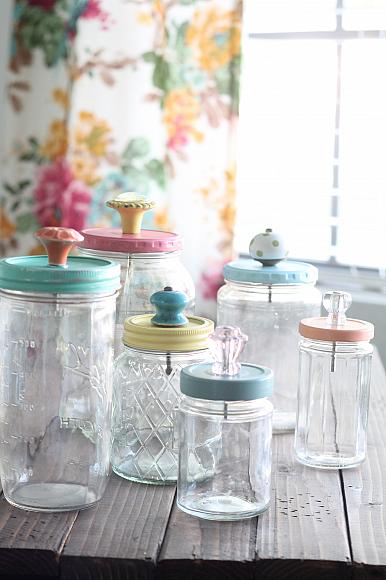 plus our mason jar bathroom storage solution,
and our popular mason jar succulents that make a great gift!