Our parents just renovated their kitchen. They spent nearly as much money as we make a year, lol! But having raised 9 kids and lived in the same house for 30+ years, they definitely earned it!! One of the upgrades were brand new, hand scraped, gorgeous dark wood floors. And molding…tall, luscious 8″ molding. Not even close to the yucky molding in my house…wah. So I snagged some of the scrap and wanted to make a sign for my living room/family room. But it was new wood…and if you're a regular LJ reader, you know I don't do new wood. I wanted my sign to look worn and authentic, the lettering to be on a piece of wood that looks like I found it outside and that it sat through many'a rainstorms…obv not here in dry AZ (; So here's how to fake weathered wood by layering paint to get that awesome vintage, chippy look!

//BASE LAYER
The trick is to start with a dark base. I stained my pre-primed scrap of molding with Minwax's gel stain, "Hickory". This will give you a rich bottom coat, glob it on thick on the edges. If you're using a pre-primed wood like it, it won't truly stain the wood since stain has to penetrate, but this is a GEL stain which acts more like a thick coat of paint. I let it dry overnight since I wasn't in a hurry. If you're using raw wood, a standard stain will penetrate it perfectly, I do recommend the gel to get this look, however and will explain why in step 3. And fyi, stain always needs proper dry time since it dries so darn slow…account for that when you're getting started. Note: I used a Purdy paint brush to apply the gel stain.
//MIDDLE LAYER
I have so many cans of paint in my stash from homemade chalk paint to latex but I prefer DecoArt acrylic bottles of paint since they're so convenient. And let's be honest, it's nice not to have to pry the lid off an old can o' paint cuz I'm lazy like that. So grab your middle layer color that you want to peek through. I went with mustard yellow since it matches my main accent color in my living room. I slapped it on, going heavier in the cracks and on the edges where I wanted it to show through just a little. This only takes about 20 minutes to dry and you can immediately apply your top layer. Note: I used a cheap, craft foam brush.
//TOP LAYER
This is the main color you'll see so coat it well but don't worry about the edges since you'll be sanding and scraping at them anyway. After your top layer is dry to the touch, again, only about 20 minutes, sand the sides and middle with your hand sander. Here's where it gets fun: you control how much you want the base coat to pop through. If you sand lightly, you'll take off patches here and there. The longer and harder you sand, the more the bottom coat will show through. I wasn't thrilled with how much the stain showed through, it started to overpower my white. So after I added my vinyl stencil (technique for that here), the saying came through but was a little too stark against the weathered background. So I sanded it down slightly and a LOT of the background came through. You may love that look and if you do, great!! I love the look too but it was taking away from the saying so I took my foam brush (pic 3 below) and blotted it back over the streaks until it looked like a natural wear. Then I used a plastic squeegee (a credit card will do!) and rubbed away pieces of the top layer so the brown showed through in chunks, giving it a really weathered look. I love the gel because it peels the top layer off (see bottom pic below) easily, it just sluffs off. That's why I recommended gel versus a standard stain, it's super easy to remove the top layer and you can control it.
Weathered Paints Used: Minwax "Hickory" gel stain, DecoArt "White Birch" + "Muted Gold" // Sign colors: DecoArt "Coastal Waters" + "True Red"
Here's how the final sign turned out and I love it. I don't think it looks like a pre-primed MDF piece of molding. Do you?? I hung it above my tv since I finally got hubby to hang it for me earlier this week. I added my vintage windows on each side and kept the coffee filter wreath in it from this post. The M is from JoAnn's and I painted subtle lines on it to mimic vintage grain sack.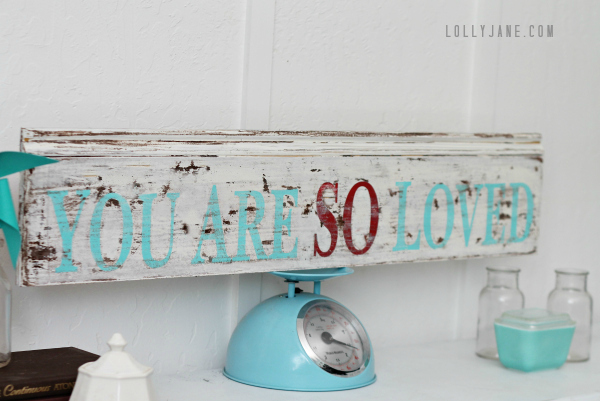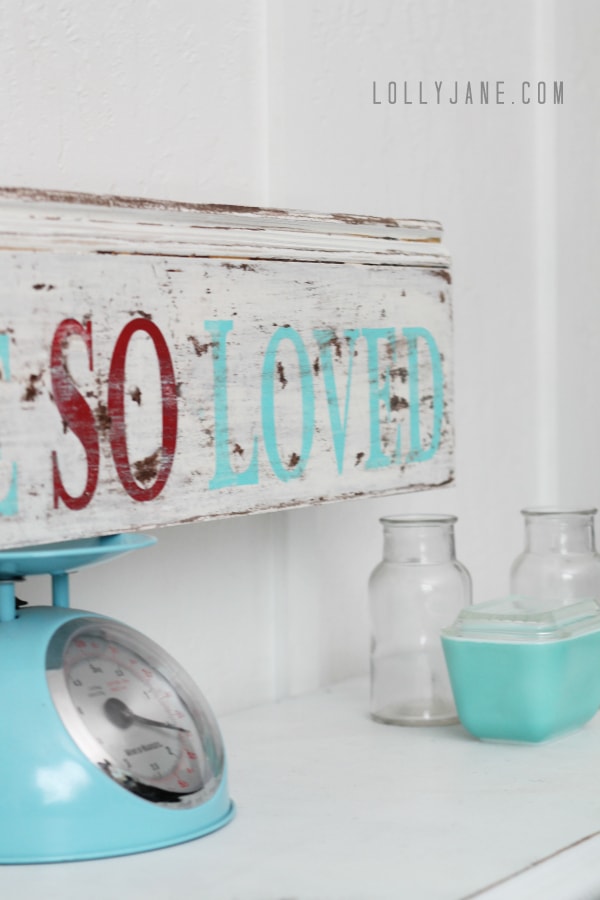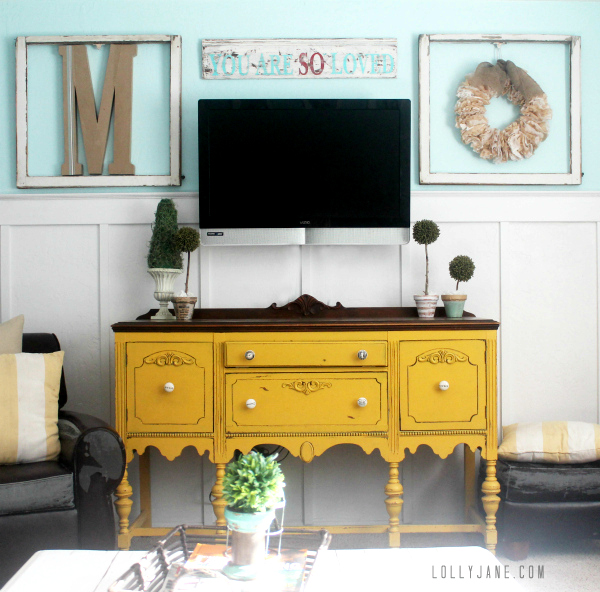 Loving the grain sack monogram? An easy painting tutorial!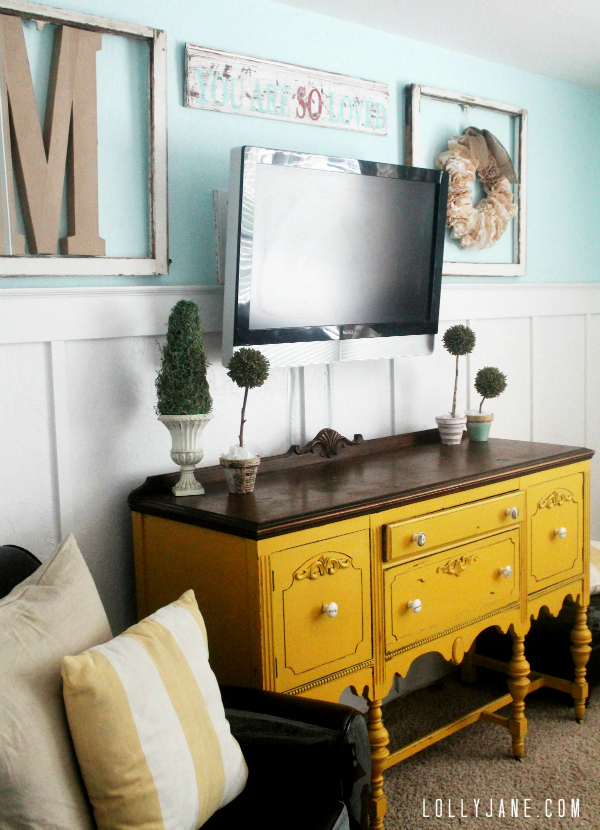 Read about my 100 year old mustard yellow buffet makeover and more shots of my living room here and my living room here too. I made the moss topiary on the left earlier this summer and more recently, the set of 3 topiaries. Should I do a tutorial for them?? They were really easy to make and way more cost effective than buying store bought versions. Like, I almost passed out when Marshall's was asking $26 for one the same size, just one! Oy!!
Check out all our DIY projects and tutorials. Happy weathering (;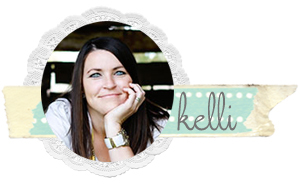 FREE EMAIL COURSE
5 Low Cost Tricks to Make Your House Look Like $1 Million
It's Lolly Jane's 5 FAVORITE Tricks to spruce up your space affordably.

Don't miss these!