I have been working on this craft room of mine for two years now.  What took so long!?  LOL!  When we moved into our thirty+ year old house, it was mostly white walls with icky baseboards.  A blank pallete for sure.  This room is right off the large entryway when you walk into the house.  It was originally a sunken living room yet the previous owner used it as a playroom and built these awesome custom bookcases.  We immediately ripped out a bay window in our dining room to access the previously unused space in the Arizona room.  It's now a homework station / playroom which left this room all to ME.  A craft room?  Why, yes please!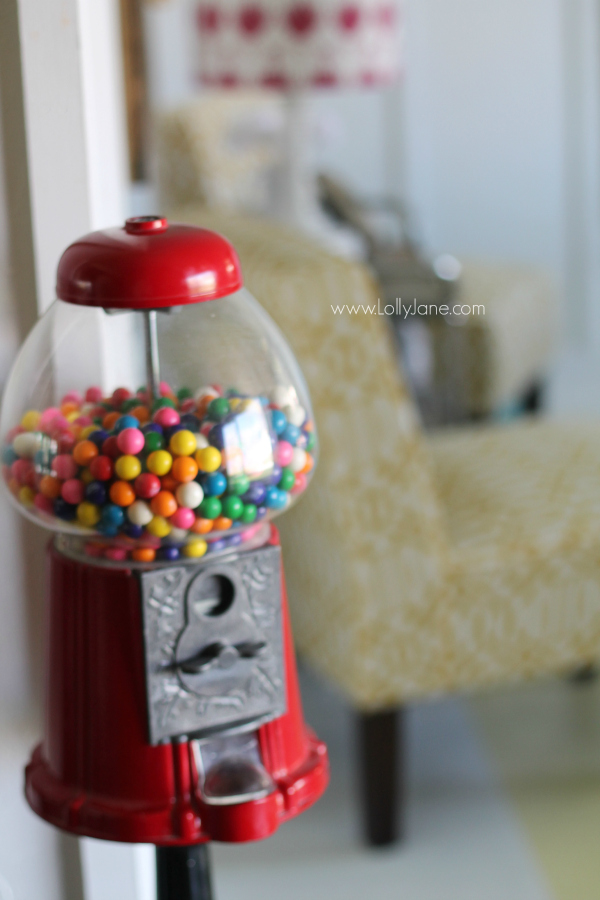 I scored this gumball + stand on Craigslist for twenty bucks, I love the vintage red and have been debating out painting it.  I asked my Insta friends what they thought and some were NOT happy about that idea.  Ha!  Don't you love the happy HELLO that welcomes you?  Makes you want to CREATE something right??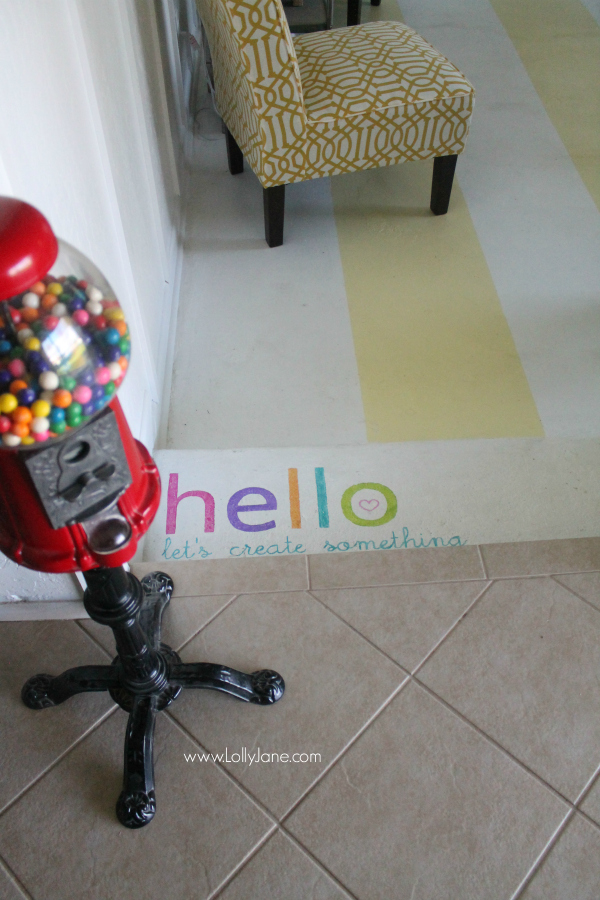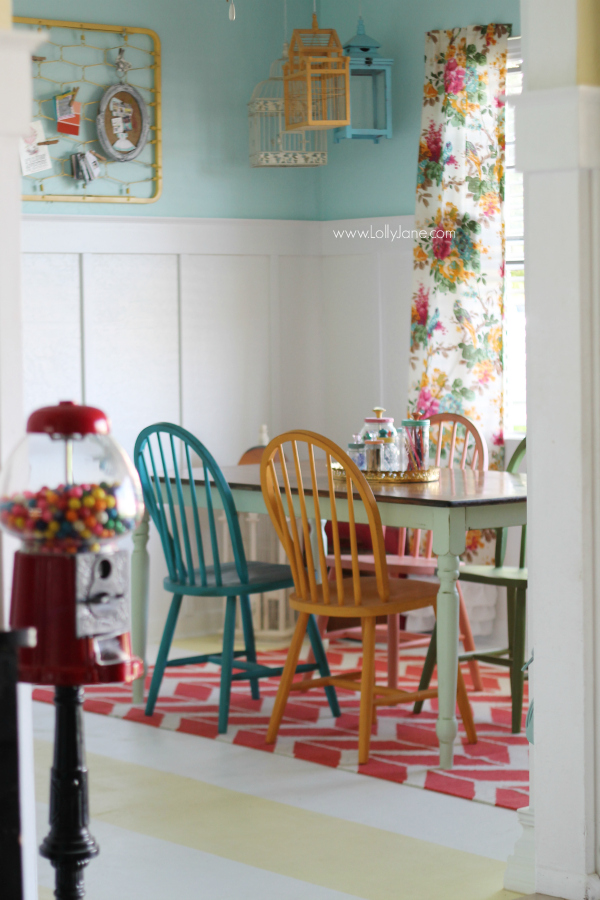 We love these painted concrete floors!  Creative Spaces magazine invited us to be apart of Volume 3 creative spaces that is coming out this summer so Kristi thought "they'll be here next week, let's rip out the carpet and paint the floors!"  Then she went out of town and I was stuck painting alone.  Typical.  Just teasin ya, Kris!  Good thing my math friendly hubby stepped in to measure the stripes, I'm easily confused, sheesh!! I'm happy to report the whole painted concrete floor process was fast, easy and affordable.  Tutorial coming soon!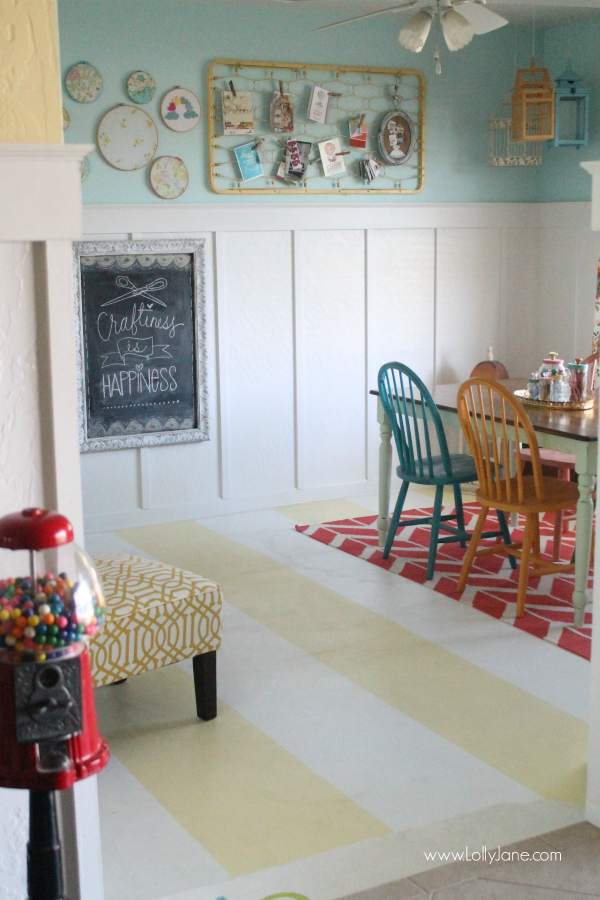 The monogram L is for Lolly Jane.  Read about why we named our blog that (;  Kristi borrowed this frame turned chalkboard from my ombre wall.  I love it in this space with her freehand chalk art!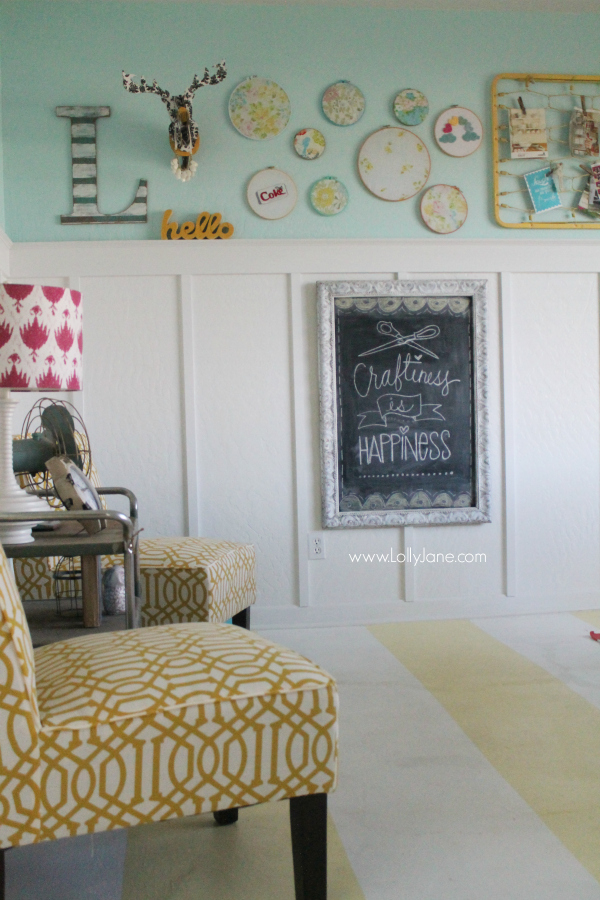 We nabbed these Target chairs on clearance for $30/ea.  We took them back to Target after the photo shoot, they were super cute but I love my big comfy ones (you can see a peek of them in my entryway) and we plan to paint them.  Yes, paint fabric chairs.  It'll rock, don't be worried.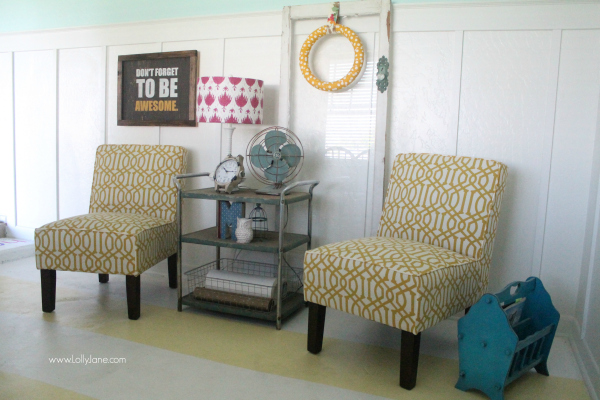 Accessories are a girls best friend!  I'd rather shop home decor over clothes any day!  I love the easy fabric wrapped wreath, fun to swap fabric anytime.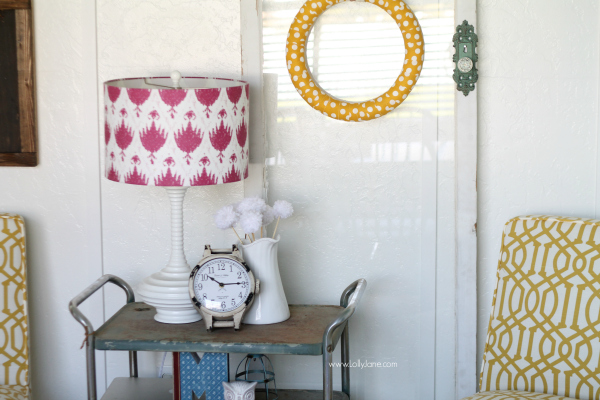 Got the vintage table for $40 from a garage sale, the lamp is from Marshalls (borrowed/kept from my daughter's coral room makeover), the vase from Michael's on cleaerance and the adorable clock was a gift from our pals at Pick your Plum!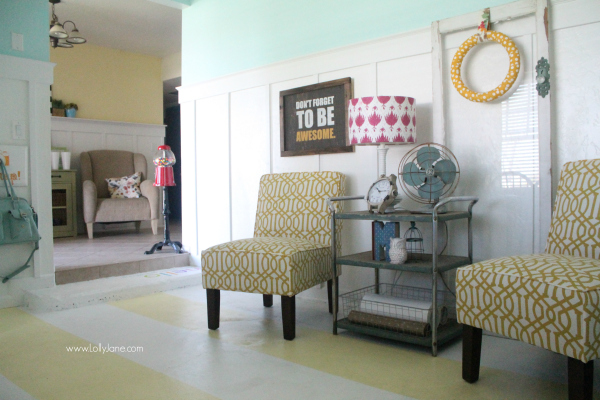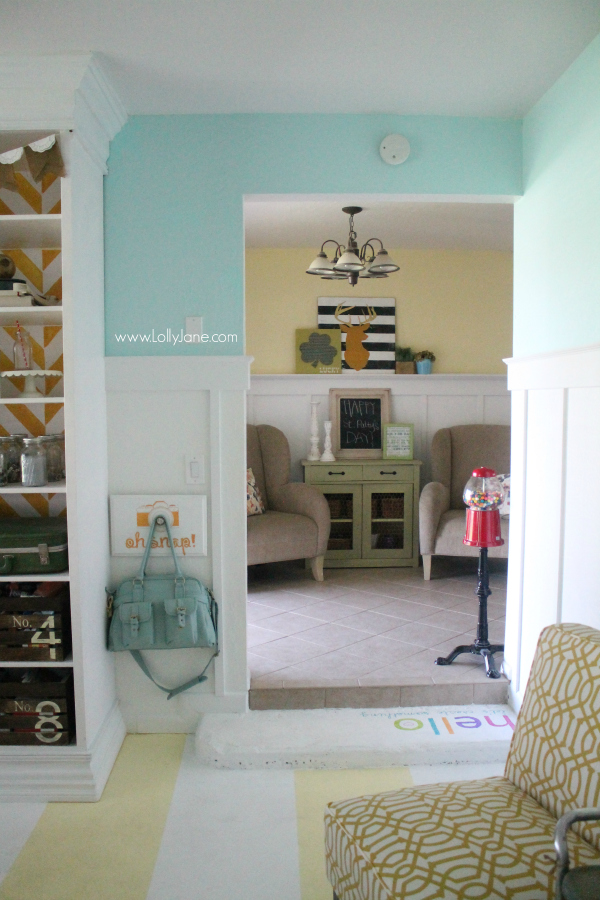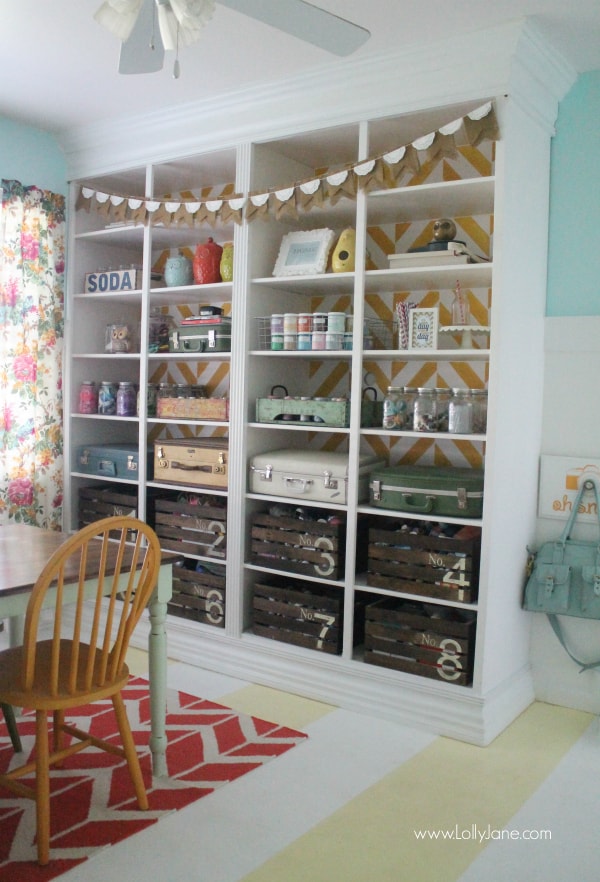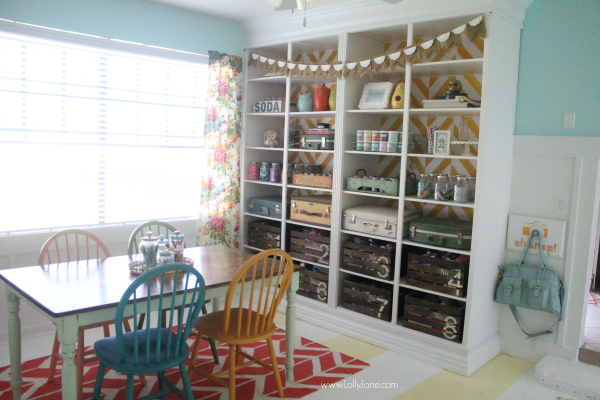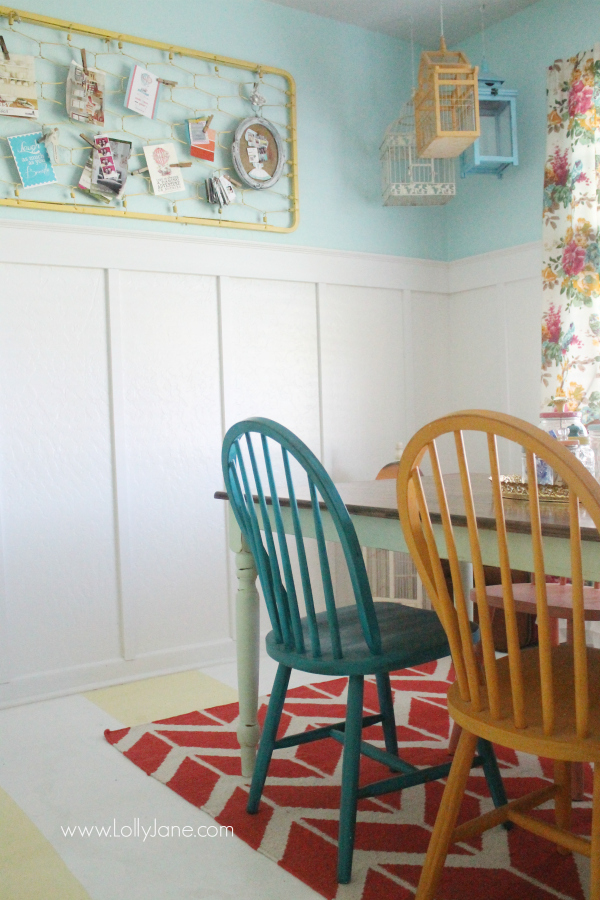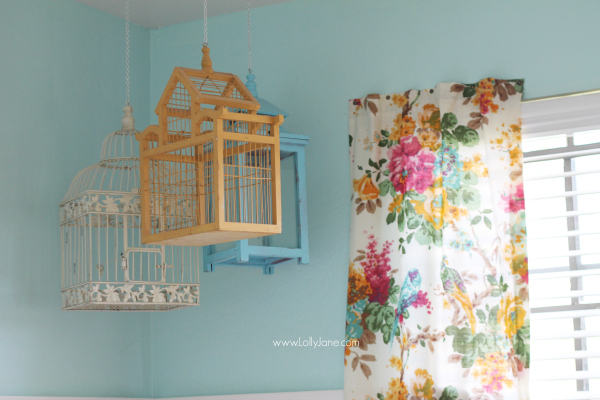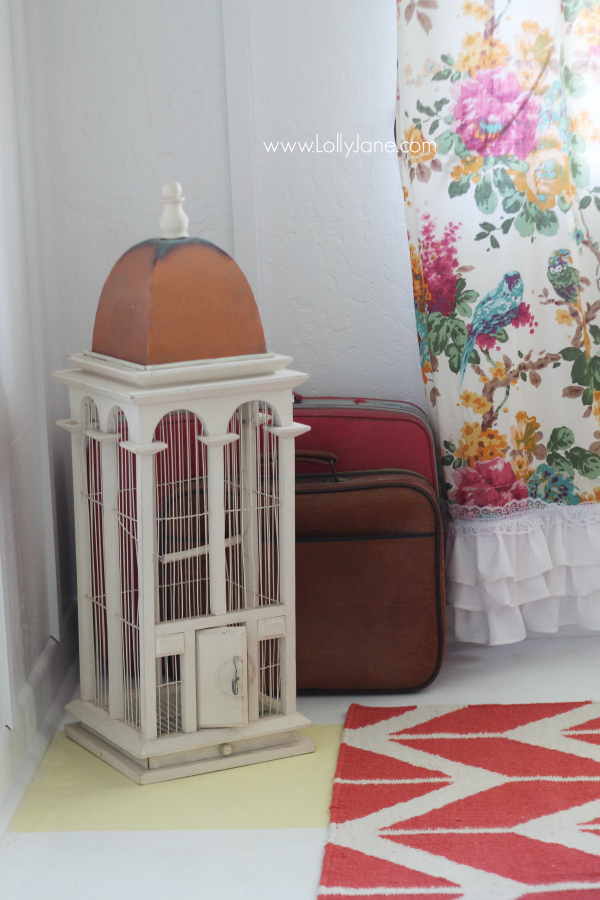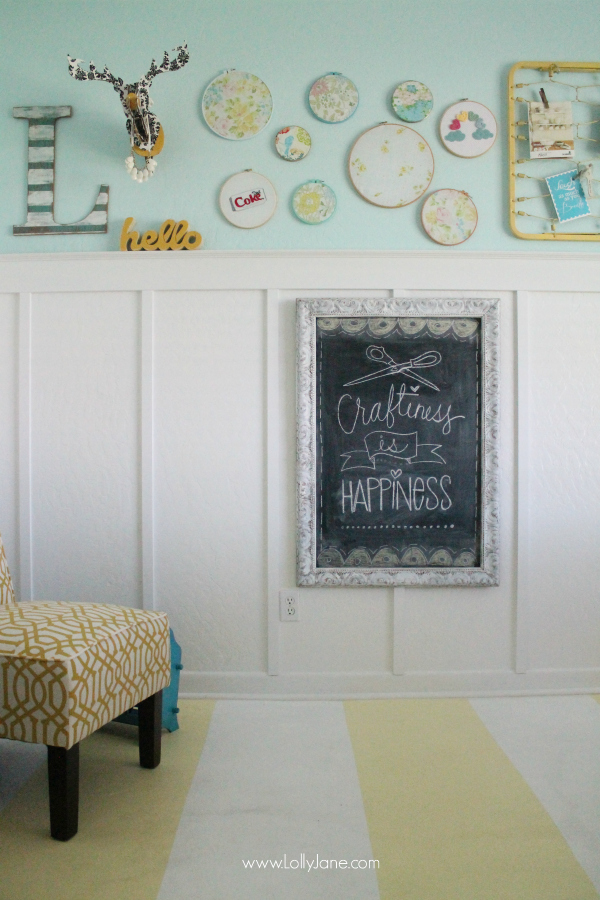 That's it for now!  I think I'm officially done with this room.  It's always moving around due to blog posts we have due and there's sure to be a pile of glue, bakers twine and random crafting supplies spilling out but I love this room.  It's my happy place and it's all mine!
Check out my first step in this process, the herringbone painted bookcase: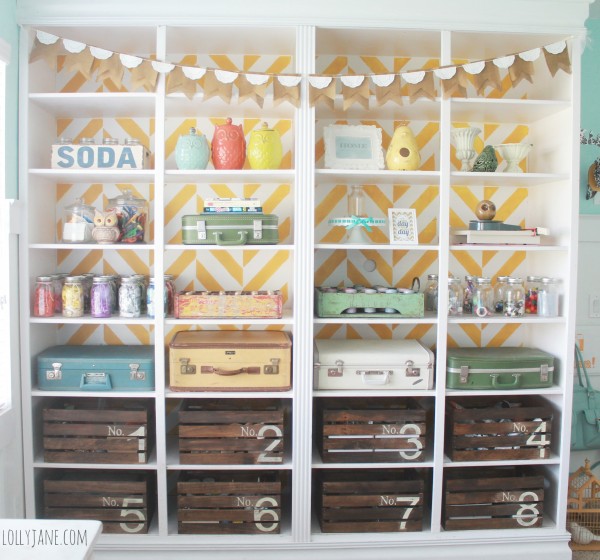 And for EVERY TUTORIAL relating to this room, click our CRAFT ROOM tag or the pic below (:

It'll take you all over from the doily bunting to the vintage numbered crates and beyond!  Big thanks to Angie from County Chic Cottage for hosting an awesome craft room series!!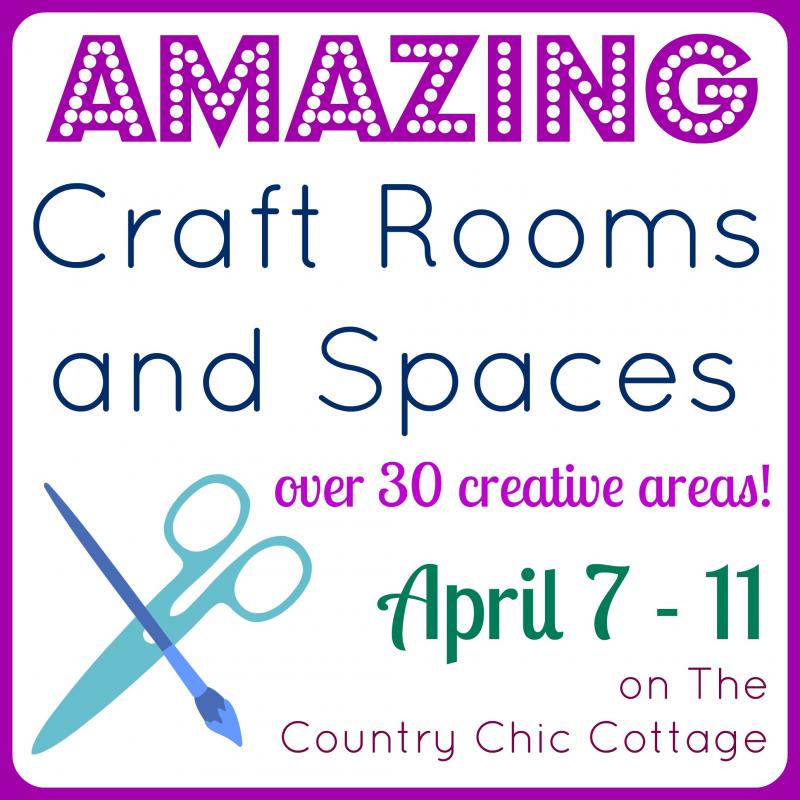 Check it out for loads of inspiration, you're sure to find a style that'll fit you!!  HAPPY CRAFTING!