Earlier this month we shared the perfect teal color, Teal Zeal by Glidden paint. It's part of their new simplified color palette and we just adore it. Check out our many color inspiration ideas, so much eye candy for the home! This bench has been in our marriage as long as our oldest daughter has been. My in-laws gave me a gift card to Pier 1 back in the day, nearly 13 years ago, and I was so excited to have a real wood piece of furniture in the house. It was $250 and the gc was for $200. I was so thrilled with the black beauty and red distressed undertones. Fast forward, I don't wear black. Ever. I don't decorate with cool colors anymore. I don't have 1 piece of black furniture in the house anymore either. It's fun to find your style as you age and mature. I love the farmhouse, shabby look. It works perfectly for the cheapskate in me…thrifting is so fun! But this teal bench makeover doesn't look cheap! In fact, it looks like a million bucks and now I'm set on keeping it in the family a little longer.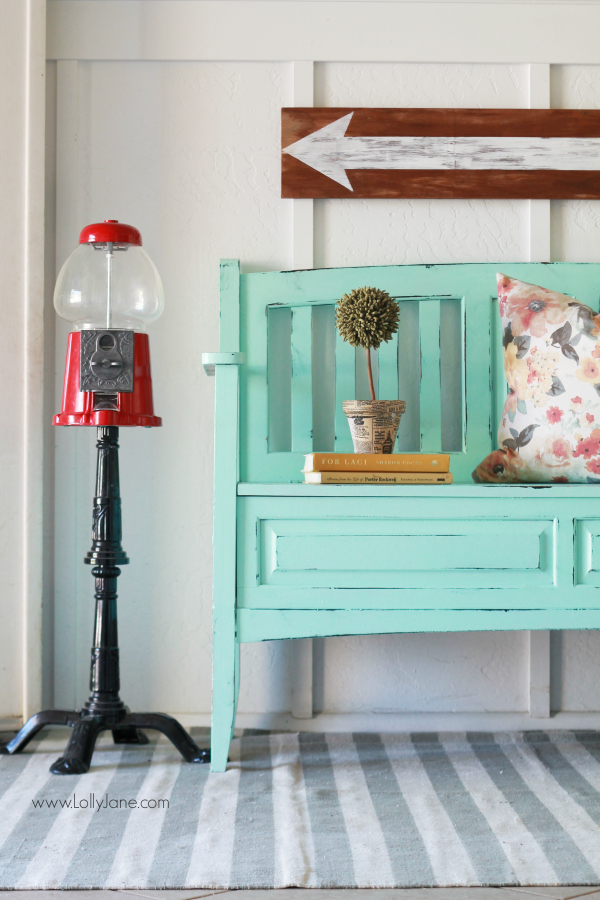 Here's the before shot (when we shared how to make that handmade arrow sign), still pretty but very dark.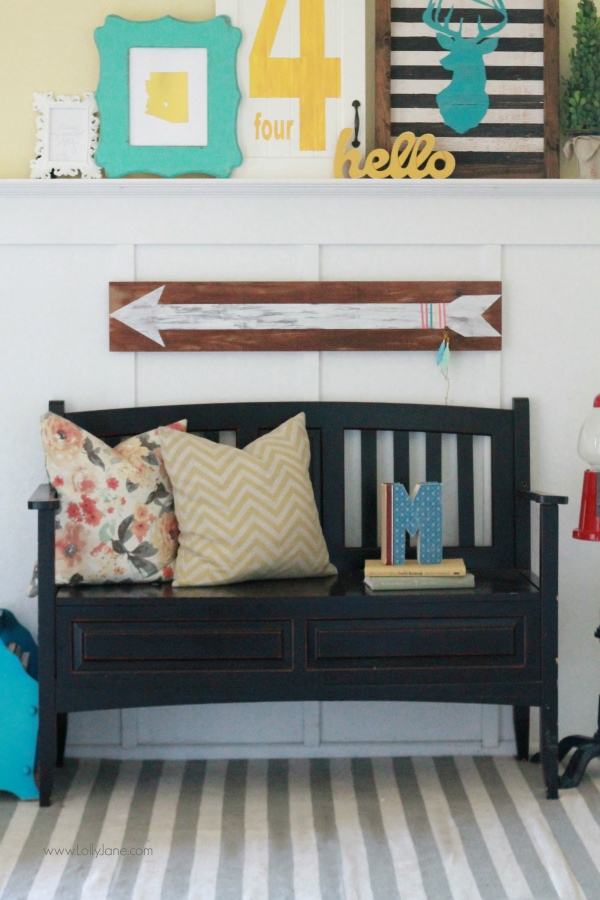 lollyjane.com" width="600″ height="900″>
We're new to chalk paint powder and ADORE it. It dried so much faster and coated thicker so we saved TIME. Much needed when you have 4 little kids running around. After applying a couple of coats, we quickly sanded it down with our mouse sander, our bestie. We couldn't resist bringing back a few of those dark edges.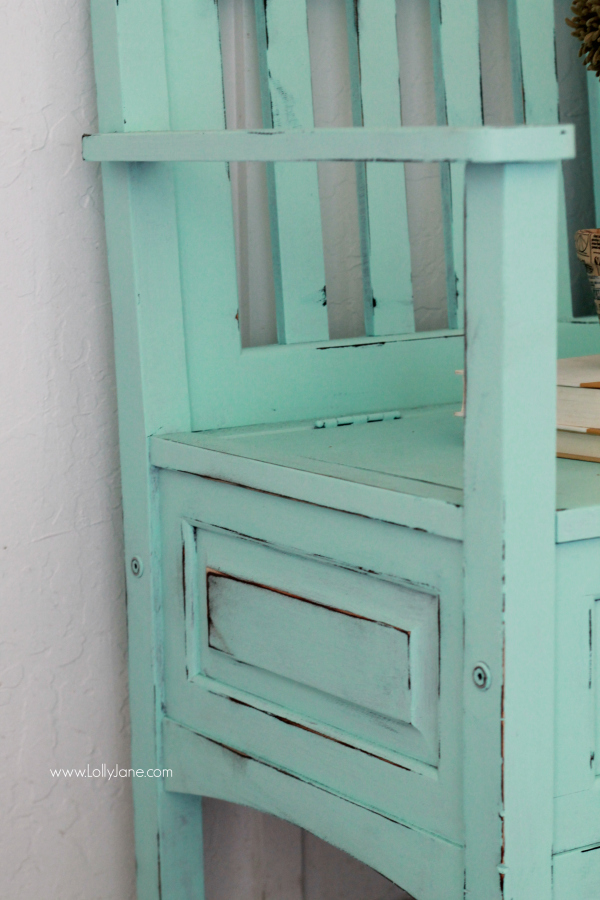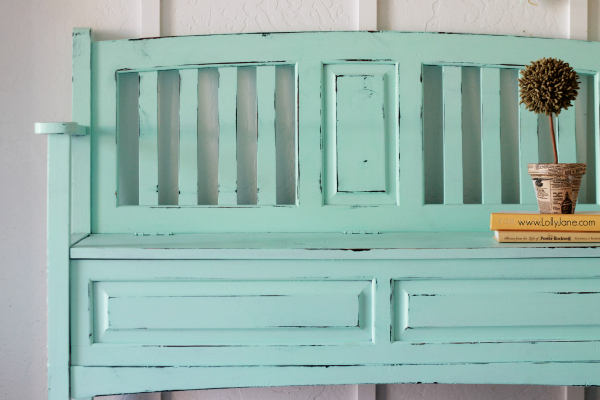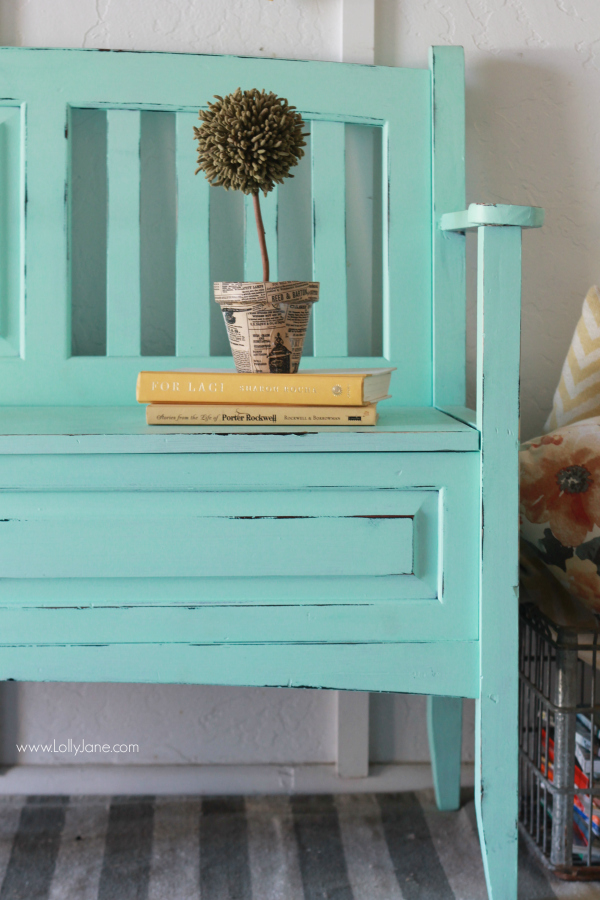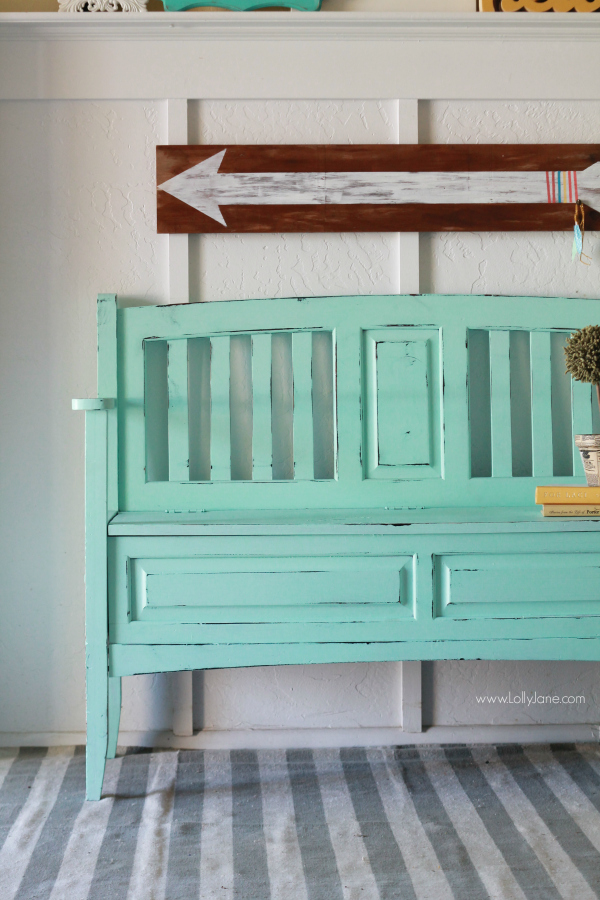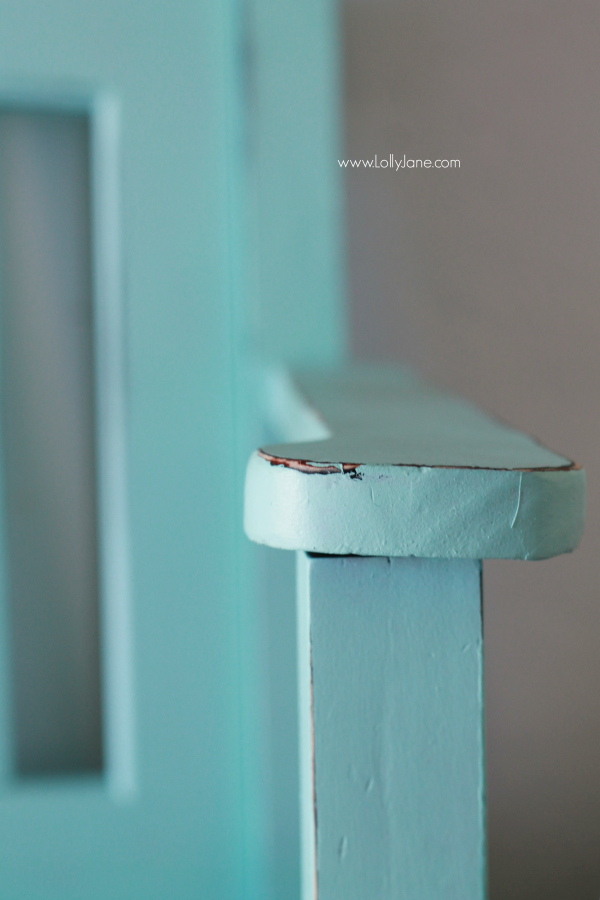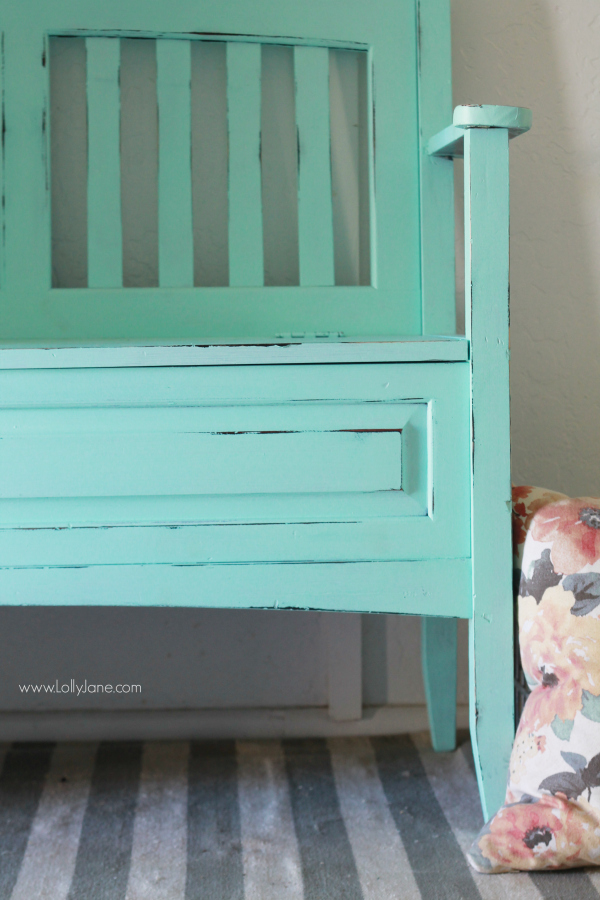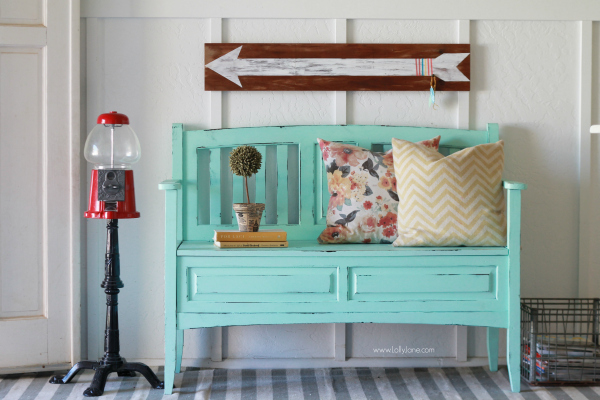 We have been sponsored by the Glidden® brand paint for PPG to write this post and get our DIY on…all thoughts and opinions expressed are our own.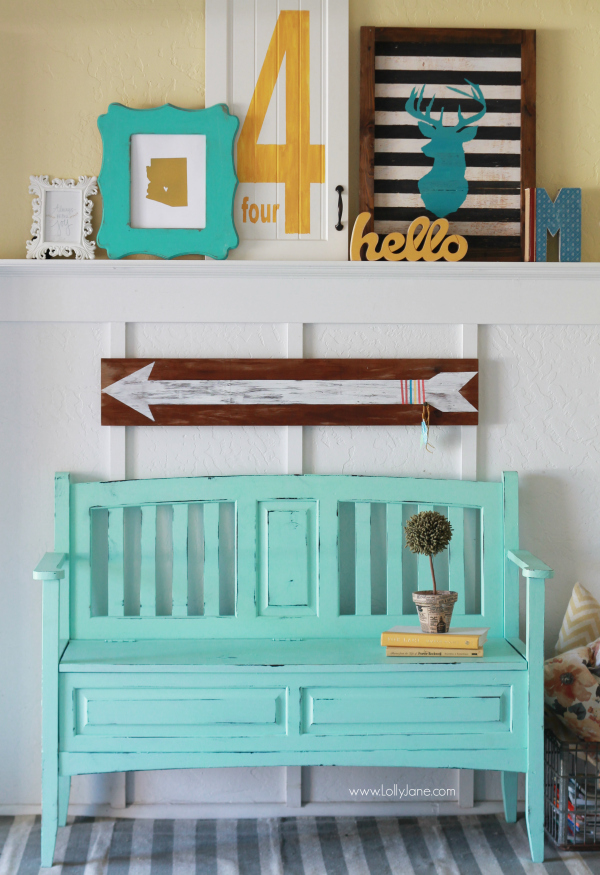 Please visit Glidden paint on Facebook, Twitter + Pinterest to keep up with their latest and greatest! And for MORE painting ideas, visit their awesome site My Colortopia and check out Color 101; Teal Zeal is in the blue family! Sure are happy to have this bench makeover checked off our list! Please pin so your friends can get inspired too (:

Visit all of our furniture revamps like our mint farmhouse table,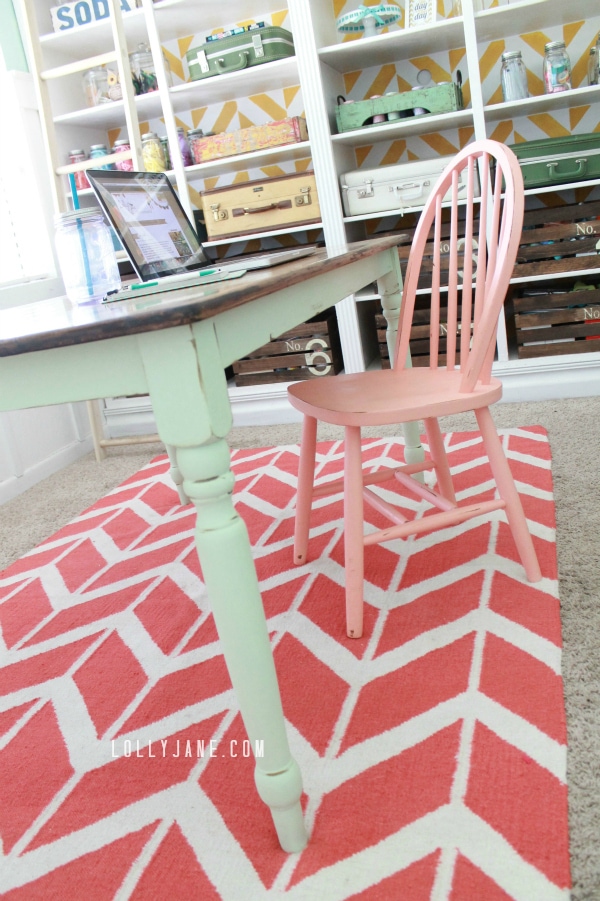 our easy two tone coffee table makeover,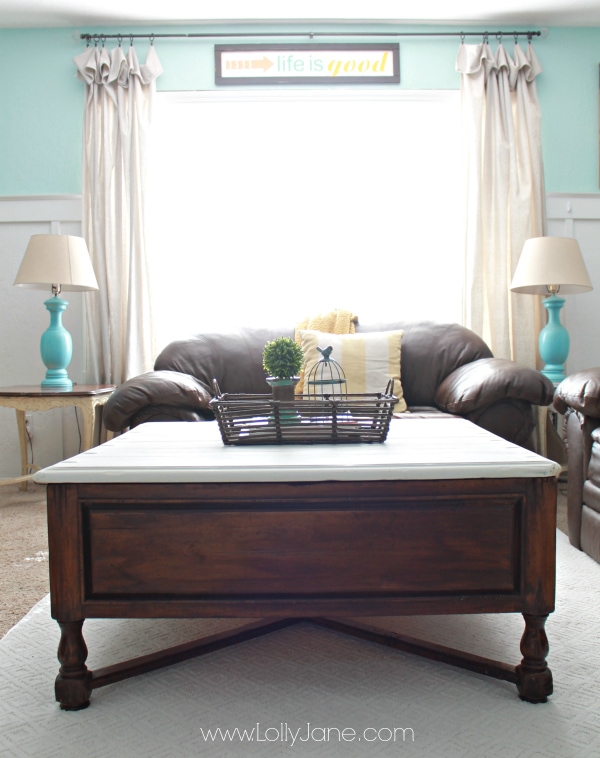 our kitchen bar stools before and afters.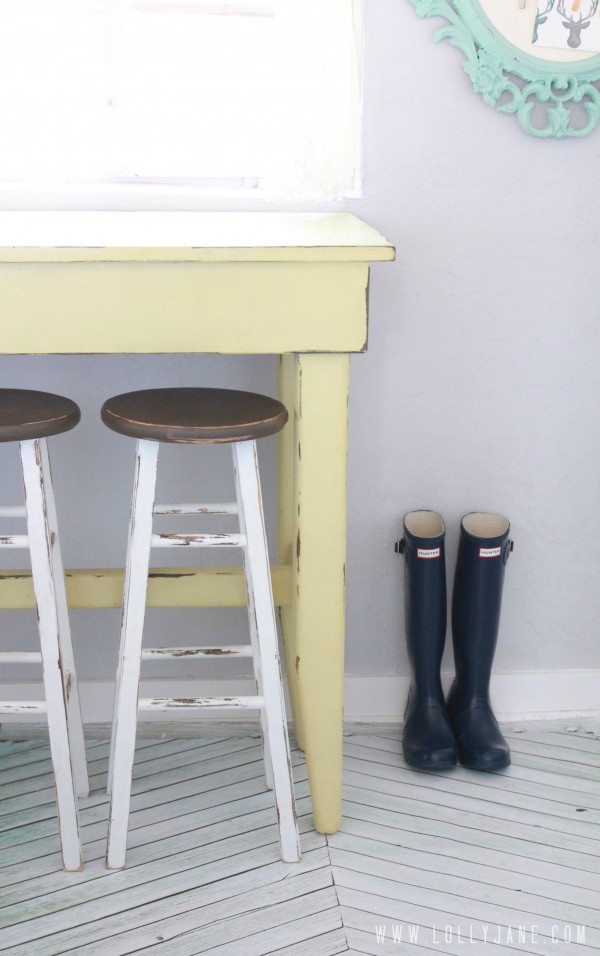 Look forward to our favorite painting tools post coming up…we swear by these paint brushes!! They are a killer price too!! Happy PAINTING!!