Learn how to build thse DIY farmhouse shelves! So easy to make your own from unfinished wood. Just add paint and stain! Lots of pretty farmhouse decor ideas!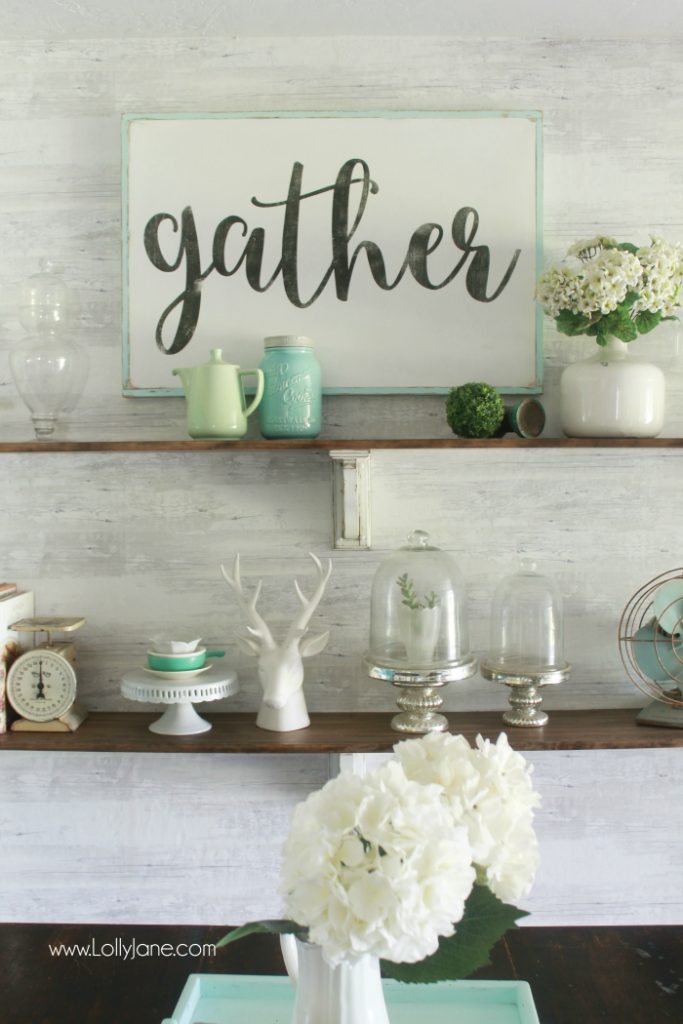 Hi there, are you following us on Instagram and Pinterest? We update daily and you'll have seen that I've been on the hunt for old, chippy corbels for a couple of years but haven't had any luck finding more than 2 at a time. When I started my dining room makeover, I became anxious to finish it (poor hubby was sick of our house being in disarray, lol). With a few bucks and a little more time, we were able to mimic the look I was going for and love how it turned out. Sure love our DIY farmhouse shelves in here on our newly wallpapered wall!
Supplies to make DIY Farmhouse Shelves:
These supplies contain affiliate links for your convenience. When you make a purchase after clicking an affiliate link, I will earn a small commission at no additional cost to you. I am disclosing this in accordance with the Federal Trade Commission. I only recommend products that I personally use and genuinely recommend. Thank you for your support!
How to build farmhouse shelves:
We took a trip to Home Depot together and browsed their unfinished corbels. We decided on these $13 plain corbels, I didn't want them to compete with the decor that would sit atop the completed shelves.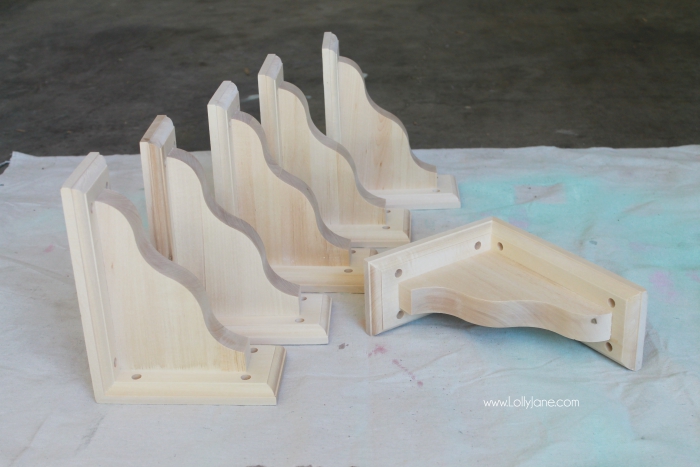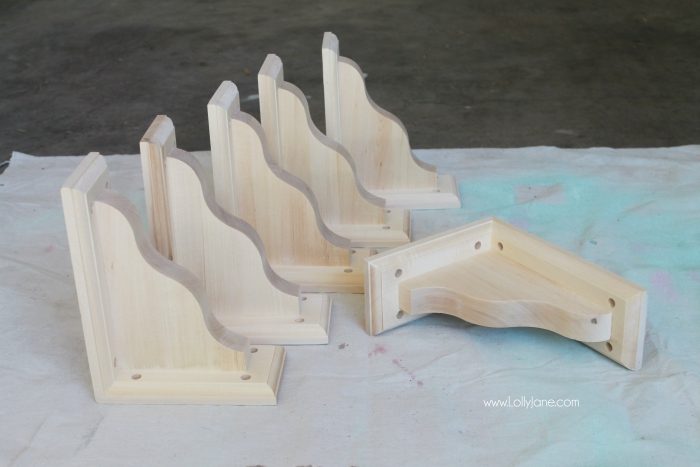 I stained the edges and corners with my fav stain, Minwax's Dark Walnut. I applied it with a small foam brush.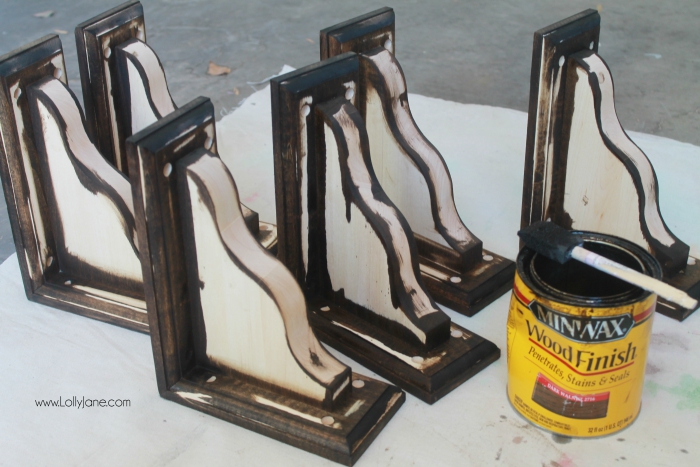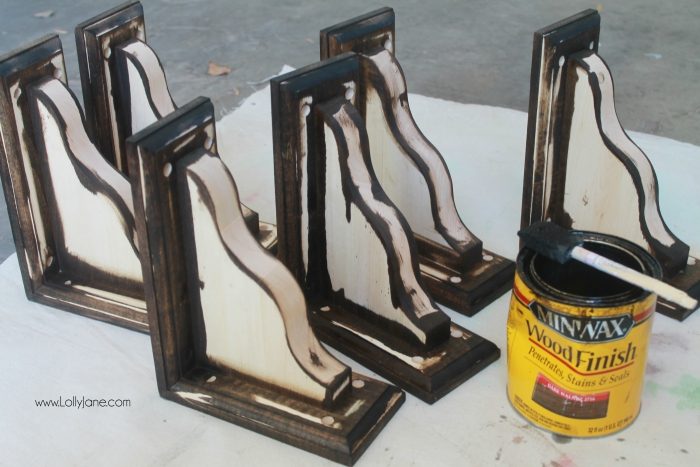 Using my finger (after the stain dried), I rubbed some petroleum jelly on the spots I didn't want the paint to stick to for easy distressing. I didn't want to chance the raw wood color showing through and the jelly acts as a barrier to preserve the deep color. (See another project we used with this Vaseline trick a few years ago!)
We mixed our favorite chalk paint powder into flat paint (we prefer not using the paint + primer in one but it's hard to find them separate nowadays) then brushed it on over the whole corbel.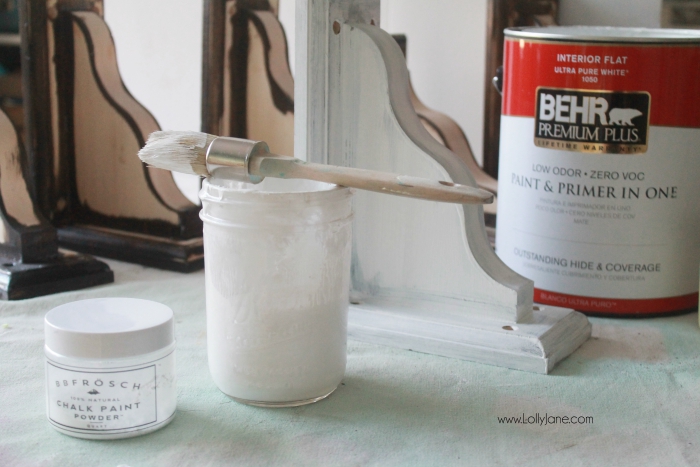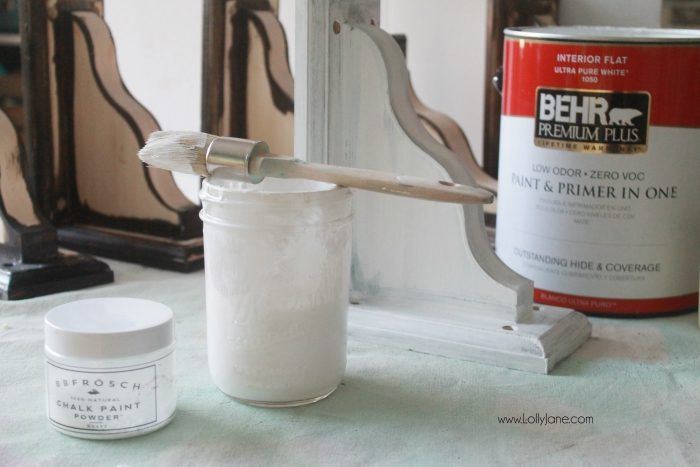 I didn't include the picture but I power sanded the edges until I liked the amount of dark showing through. The paint came right off thanks to the petroleum jelly barrier, whoop!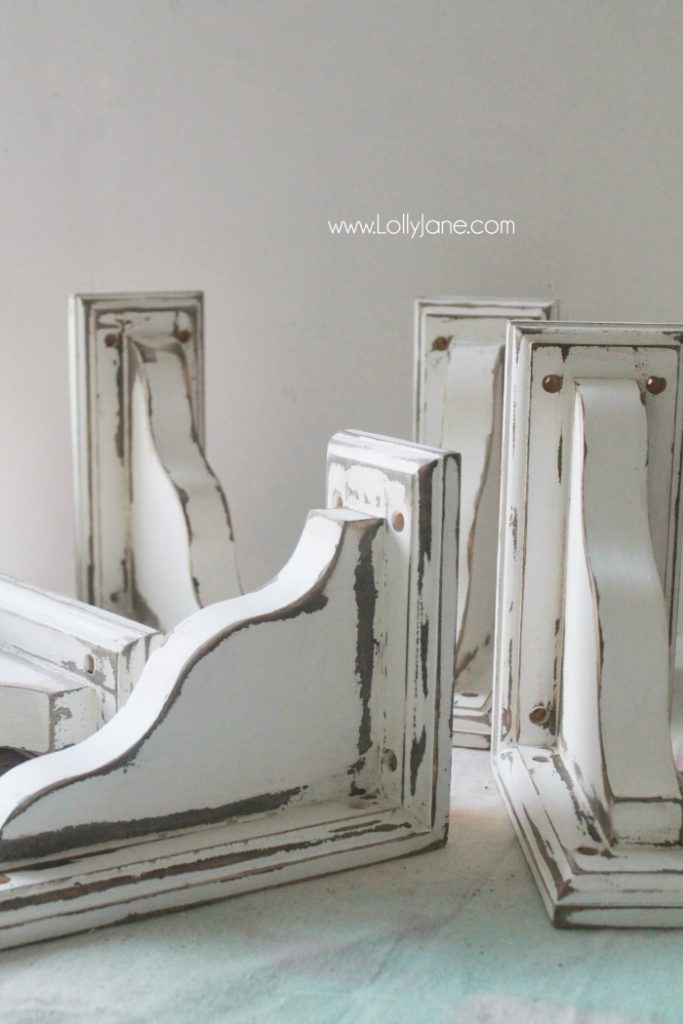 We then waxed it to seal them since they'll be near food in the dining room. If any particles manage to land on them, I'm now able to wipe them down since the wax is the protective barrier to preserve my hard work.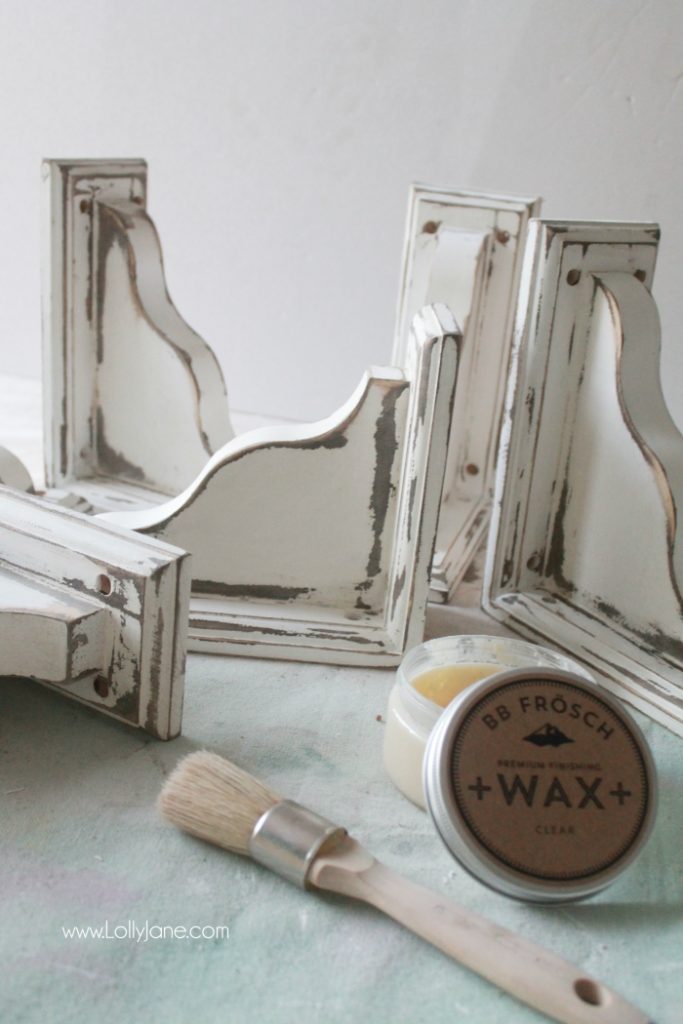 Do you like them? I adore how they turned out, super chippy!!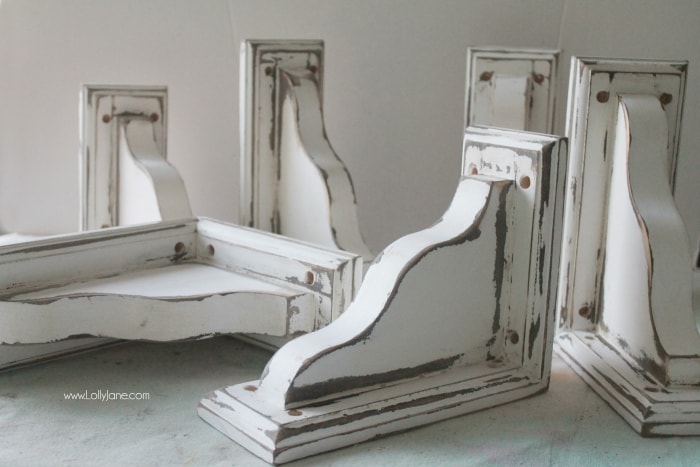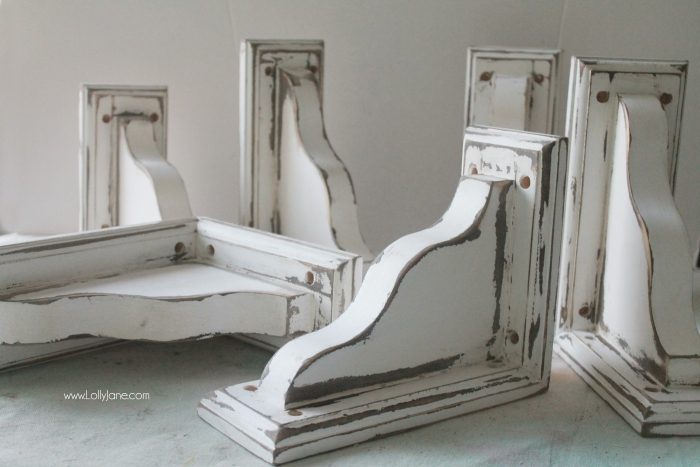 Earlier this week we posted the wallpaper process, check it out! Here's the blank wall PRE-shelves: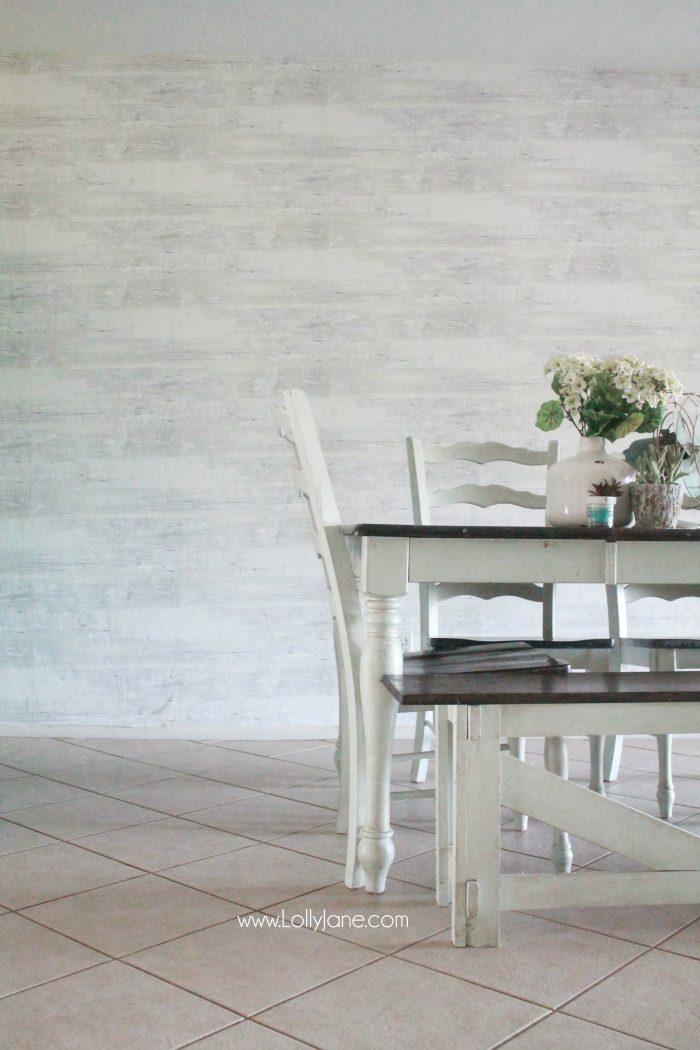 For the wood shelf, I'd have loved to score a giant piece of authentic barn wood but we're in Arizona, a newer state and there aren't a lot of options around. So we grabbed a higher quality pine wood from Home Depot with no knots or imperfections and brushed on some more stain. I sealed it with the wax as well.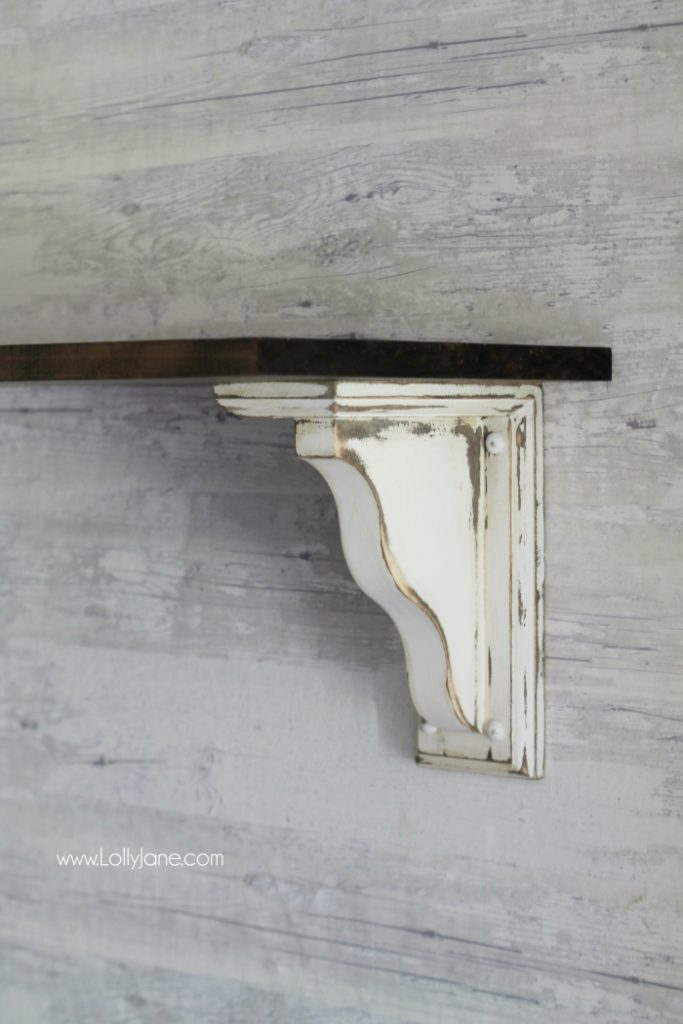 How to hang farmhouse shelves:
Anchor your screws into the wall (using drywall screws or directly into a stud) and set corbels onto screws, (my corbels were pre-drilled.)
Once corbels are secure, lay 8′ piece of wood (or the length for your space) over the corbels.
Drill 2 screws directly into each corbel through the wood.
Decorate!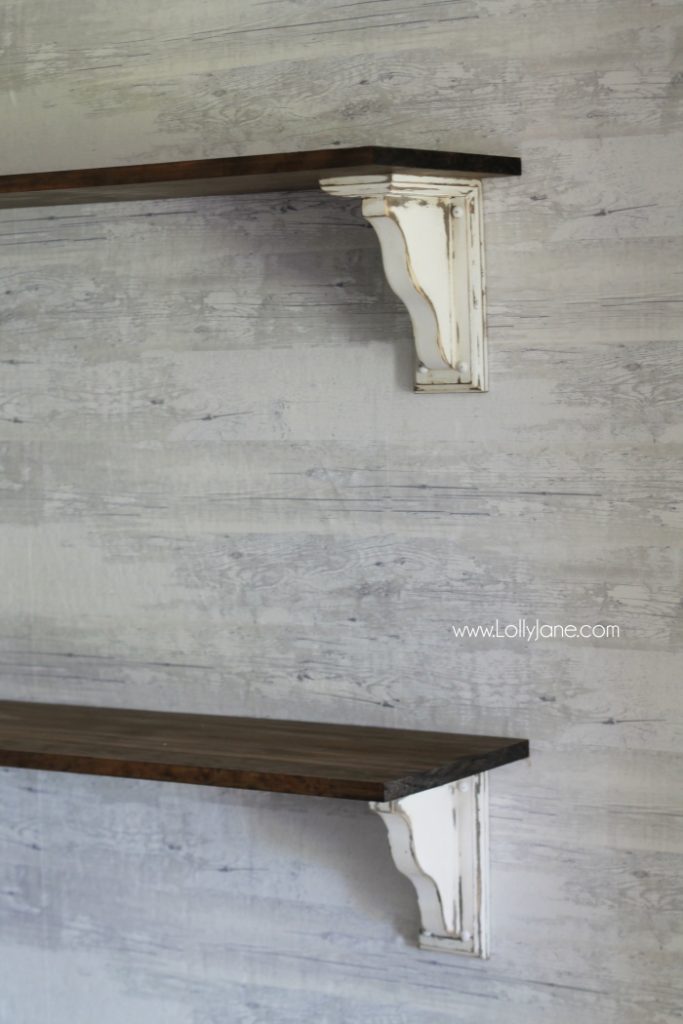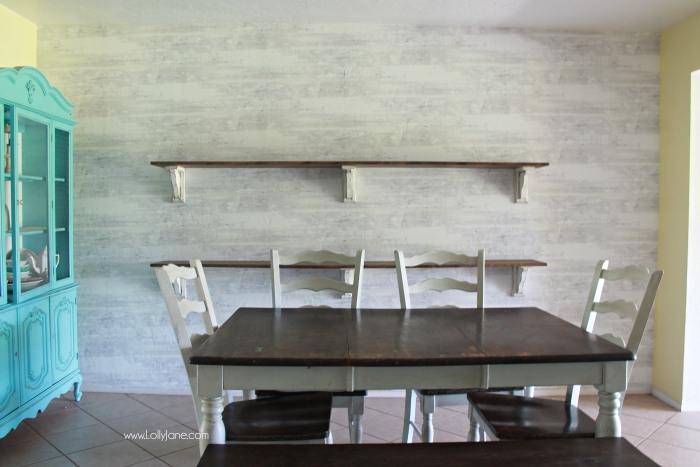 Time to start filling them up! We're sharing a final reveal after our lights arrive but here's a peek at what they're looking like, I love them!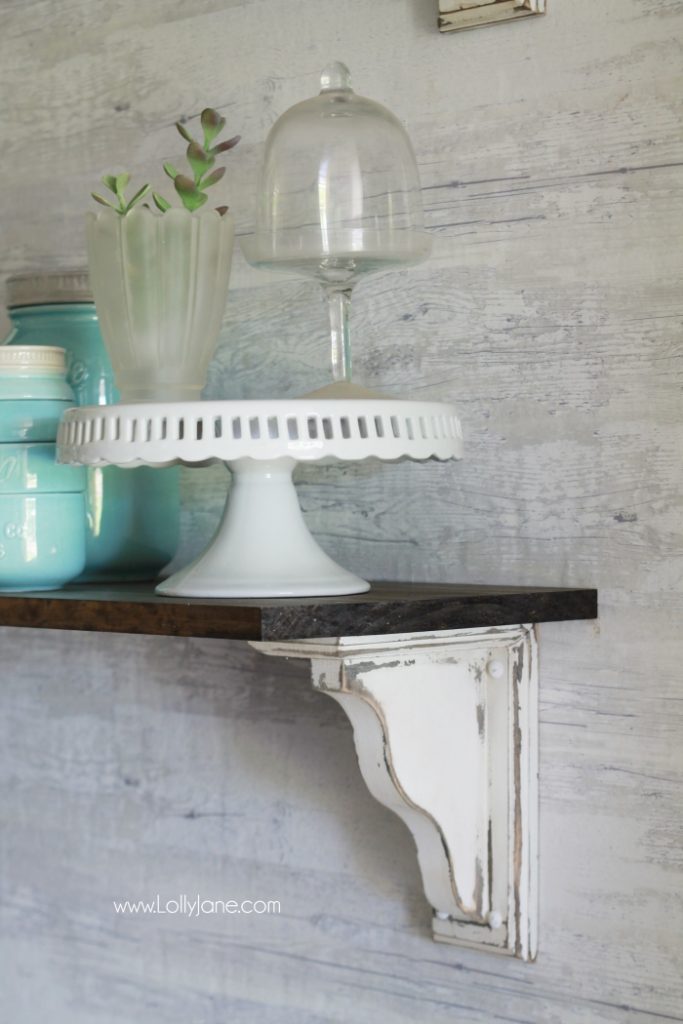 That's all we're sharing for now. We have some adorable pendants coming to finish the space off. Just wanted to share the how-to for these fun faux vintage shelf brackets since we shared a peek on Instagram and had lots of questions about the details (: See how easy they are to make?? Please pin so your friends can make their own!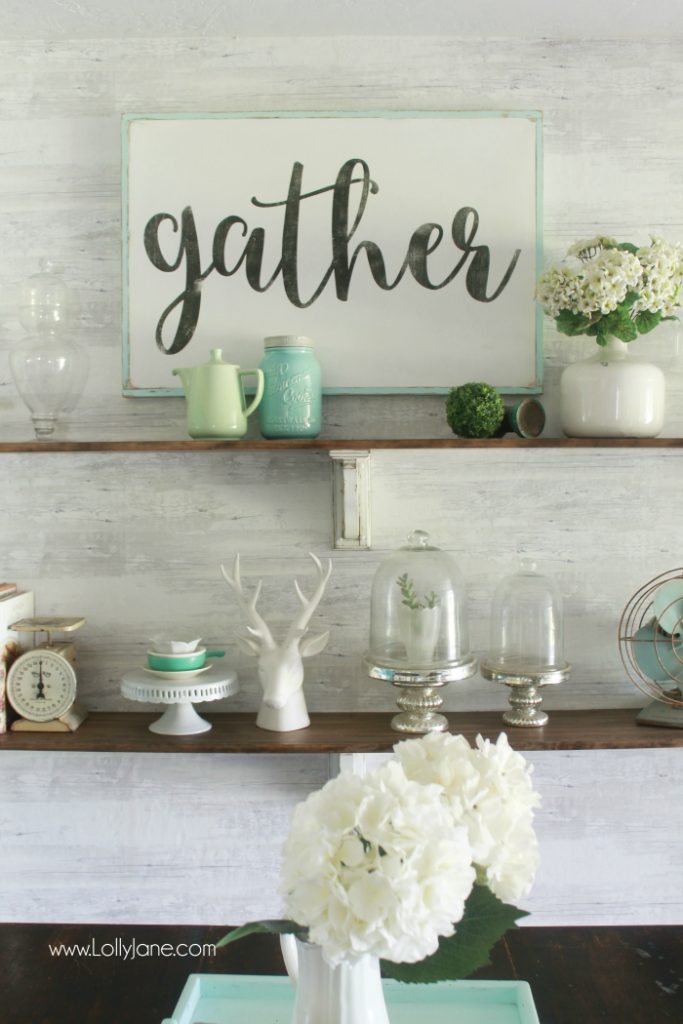 Update: Check out how our Farmhouse Dining Room is coming along!

Visit more farmhouse shelf tutorials:
Kristi did her own version for her farmhouse chic dining room shelves: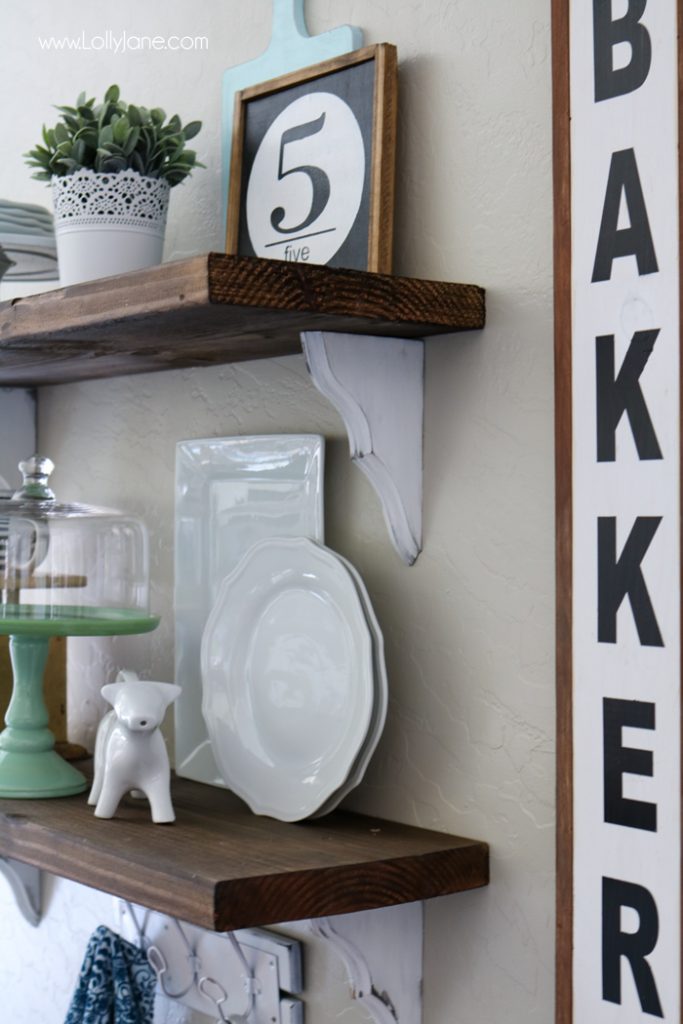 Here's the same concept in our laundry room: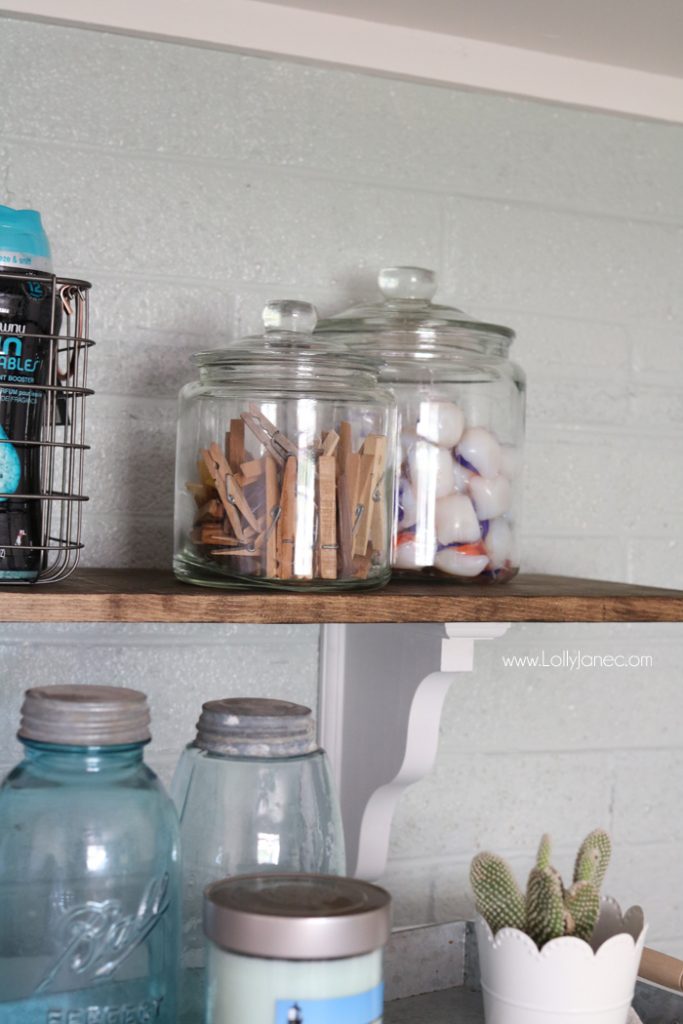 And our recent creation: DIY Turnbuckle Shelves! LOVE how they turned out in our newly renovated bathroom!