DIY Halloween Bat Marquee
Hello!! It's Megan Ballarini again from Sweet Lilly Doodles! I'm back to show you how to make a killer Halloween marquee for CHEAP!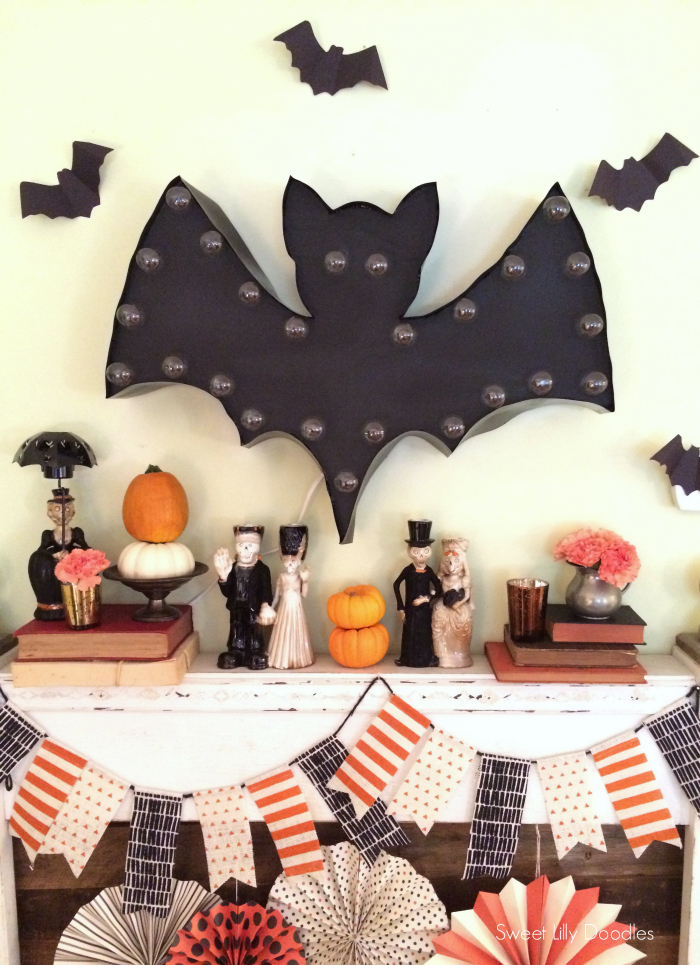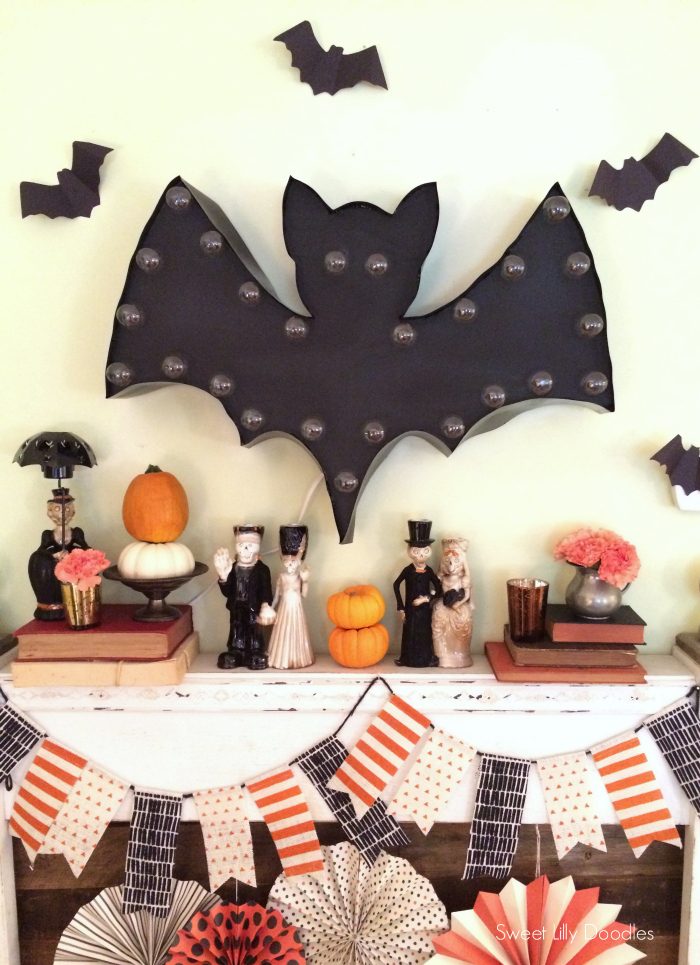 I like this method to make big marquees, it's lightweight and super affordable! You'd never find one this size in a store for less than $15 like this guy! I made this bat marquee from foam board, posterboard and a strand of Christmas lights!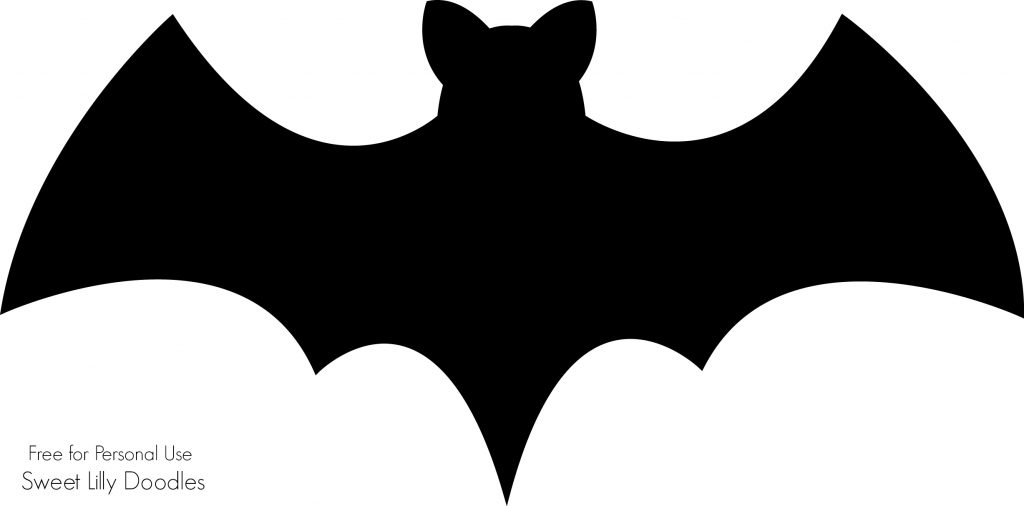 DIRECTIONS:
For my marquee, I decided on a bat shape. My husband and son love superheroes, so this was my subtle nod towards Batman! I found an image I liked online to pattern my bat after. I drew it out on my posterboard making sure to use a ruler to make it fairly symmetrical. Then cut it out with a razor blade. Do yourself a favor and use a new blade… I didn't.
Mark where you want your lights. My strand had 25 bulbs, I made sure to space them evenly and double counted to make sure I didn't mark any extra holes. I used the packaging from the box of string lights to make my circles. Be sure to place them in at least an inch from the edge, you don't want your bulbs to touch your poster board edging. Cut out circles with your razor blade. They don't have to be perfect! When your push the bulb through it will hide sloppy edges! Thank goodness!
Cut your poster board into 4 inch strips, I just used my scissors. Then mark a line one inch in from the edge. This will be the line you hot glue to the foam board. So you'll end up with a one inch overhand on the front of the marquee, and a three inch overhang on the back, this will allow us to hide all the wiring on then back!
Start hot gluing the strips on. When you get to a corner where you need a sharp edger, simple fold back your strip creasing the edge with your fingernails. Fold it back over and crease again, then keep glueing. Use masking tape to attach strips together.
You're almost done! Take it outside and spray paint it. Confession! I was overly eager and make a rookie mistake of dousing my marquee in spray paint instead over several light coats… I got big ugly ripples! ???? It is just paper after all! I'm so bummed. So don't do that!
When the paint is dry add your lightbulbs. Poke the bulb through the front and screw on the backs. I attached an extension cord that will hang from the bottom of my marquee that I will plug in to turn off and on. To hang this guy I added twine on the back, tying it around the base of a bulb. Easy!
Just a little note about safety… Always unplug your marquee when you leave the house. I treat this as I would lights on a Christmas tree, don't leave it on for long periods of time and never when you're not home ????????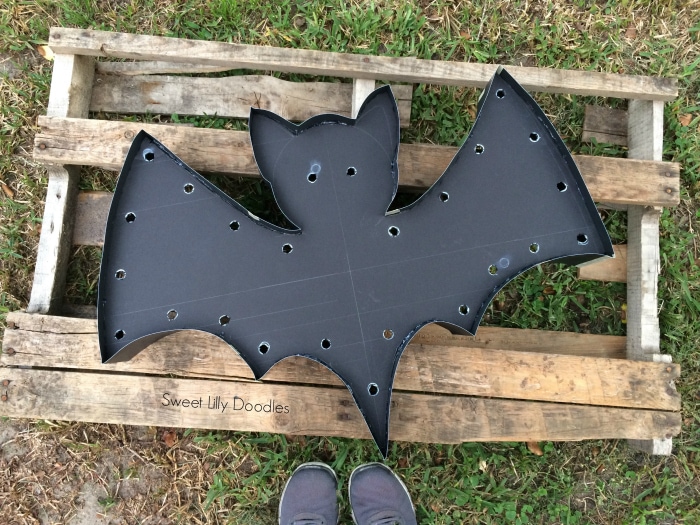 Now go make yourself a giant marquee!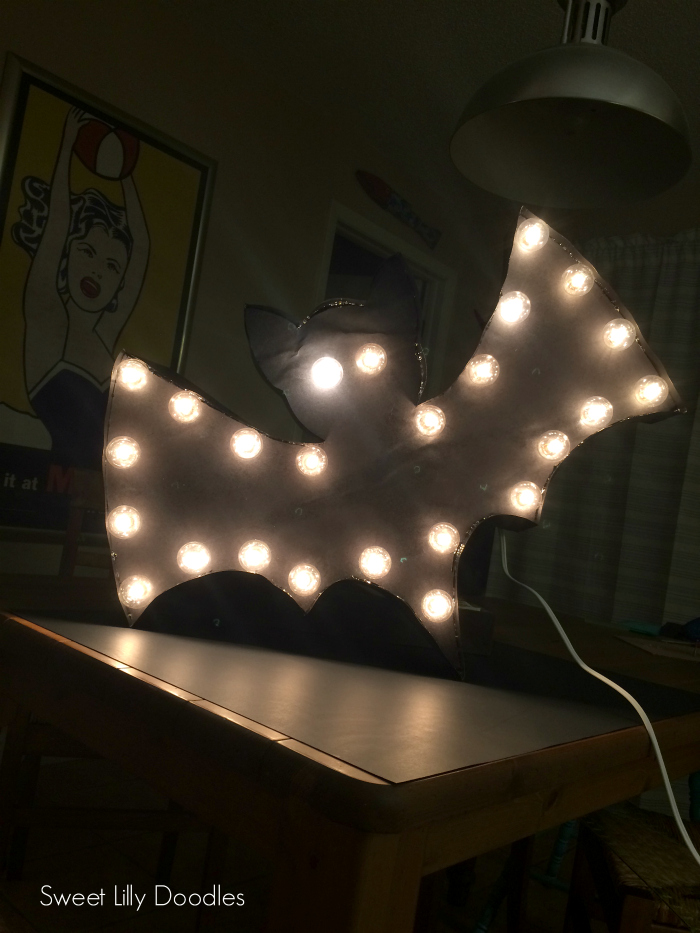 How cute is Megan, you guys?! Follow along with her for more awesome home decor DIY's!