floral deer head pallet art
Hello! It's Megan Ballarini again, from Sweet Lilly Doodles shop! I'm going to show you how to make this easy floral deer head pallet art, no wood cutting involved! Two things are in right now- wood signs ( trust me on this ????), and deer. Deers are still in, right? Well I think they are! Hopefully you'll adore this easy DIY deer head silhouette craft! I just love this Rifle Paper Co floral covered deer art, do you?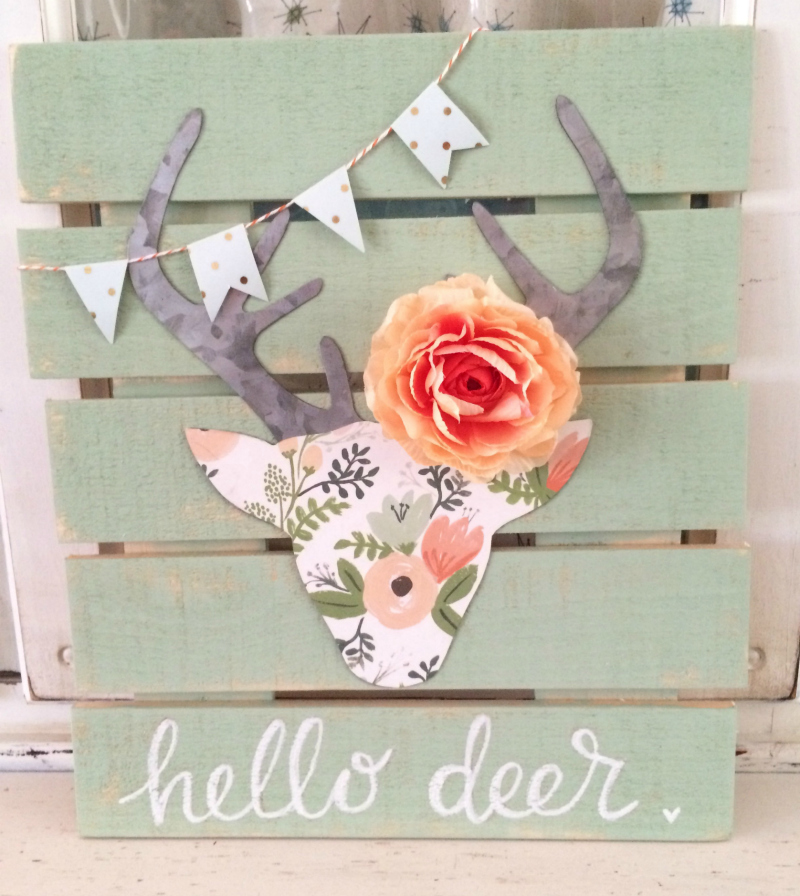 Supplies:
• ready made pallet sign from craft store
• deer head
• decorative paper
• paint for sign
• mod podge
• sandpaper
• flower
• glitter
• paint pen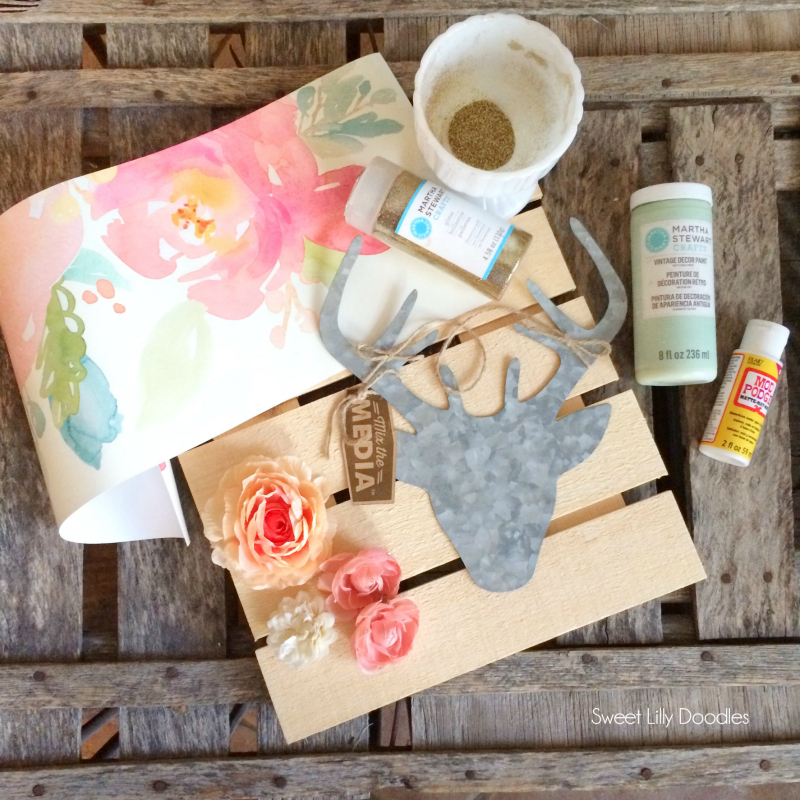 Wood signs are easy to make, but you might be intimated by a wood saw, or maybe you don't have a saw. Or maybe you don't want a saw! Well your problem is solved! I saw this already assembled "pallet" sign at Joann's and and then saw the zinc deer head there too, and naturally thought they should be united! To prep the sign, I lightly sanded it just enough so I wouldn't get a splinter if I touched it. Then roughly applied my paint. I used a Martha Stewart brand chalk paint in the color Antique Sky. I wanted it look a little rustic and distressed so I didn't apply it very evenly.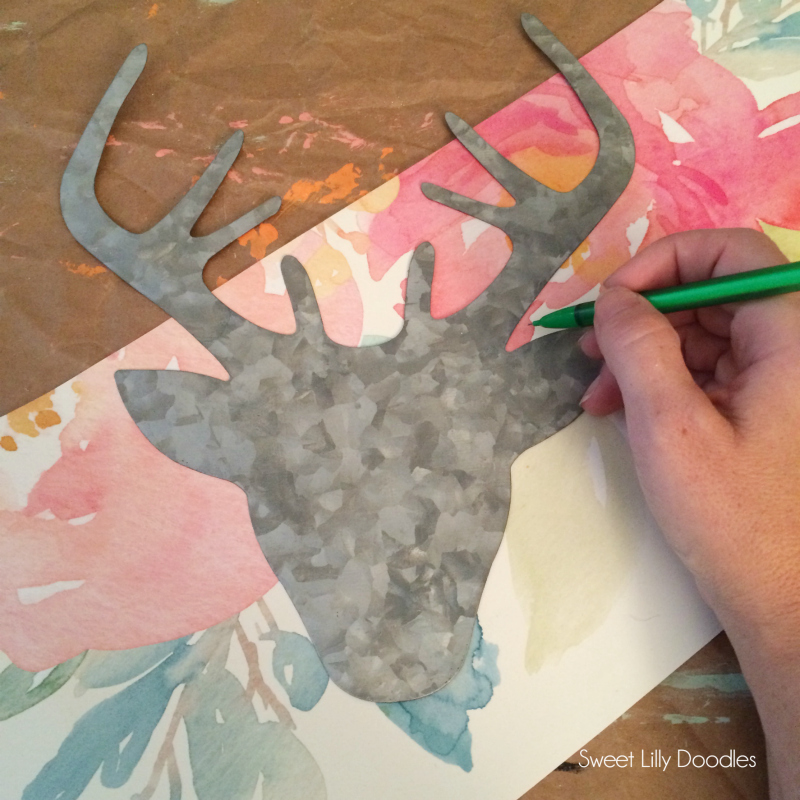 I decided to decoupage the deer head in a feminine pastel floral. To decoupage the paper on the deer, I'm going to tell you how I do it. I decoupage a lot, and I like to think I'm pretty good at it! It can be tricky not to get ripples and a clean edge! But if you have a way you like to do it, then please do it that way! I traced about half an inch out all the way around the head and cut that out. (Except on top by the antlers, I traced exactly around the edge and cut on that line. I find this the easiest way to get a precise clean edge).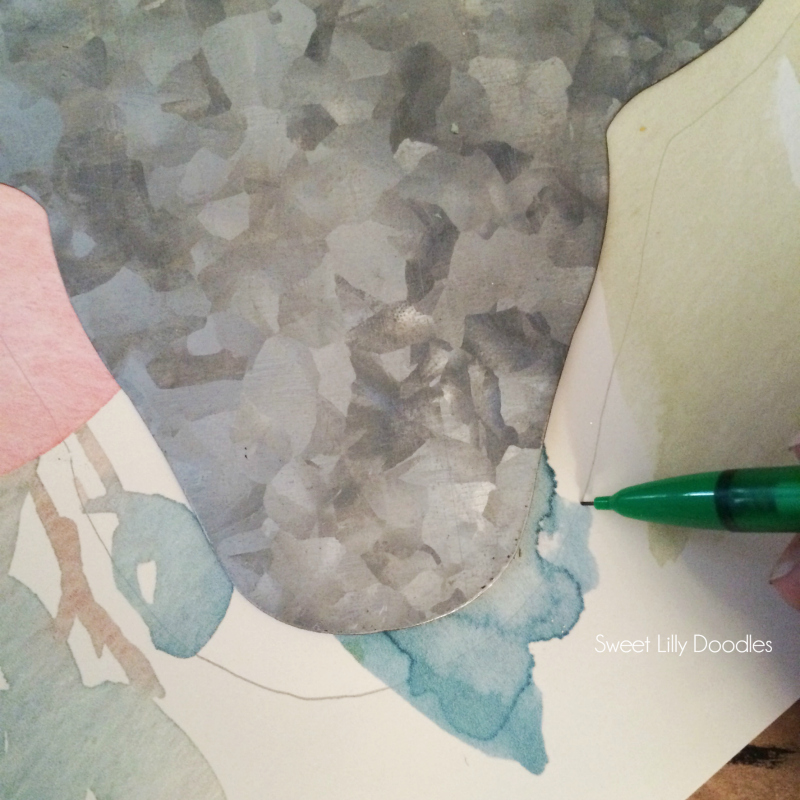 Apply a thin even layer of glue on the head careful to get the glue all the way to the edges, and place the paper on top. Line up the the precise bit at the top. Use a clean dry paper towel to firmly smooth and rub the paper down. Then flip the head over and snip the paper up to the edge, all the way around the head. This is going to help relieve the tension of the paper around the curves so it stays smooth. Wrinkles are the devil in decoupage!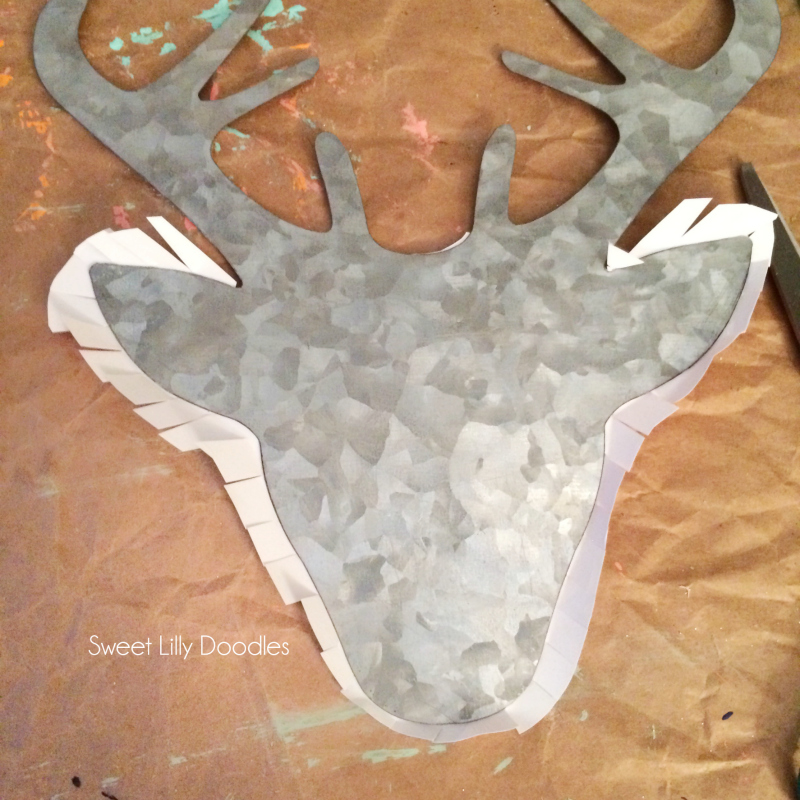 Now turn it back over and use a piece of sandpaper to "cut" the edges. Hold the sandpaper at a right angle against the edge and pull down. This will cut the paper so you'll have an exact clean edge!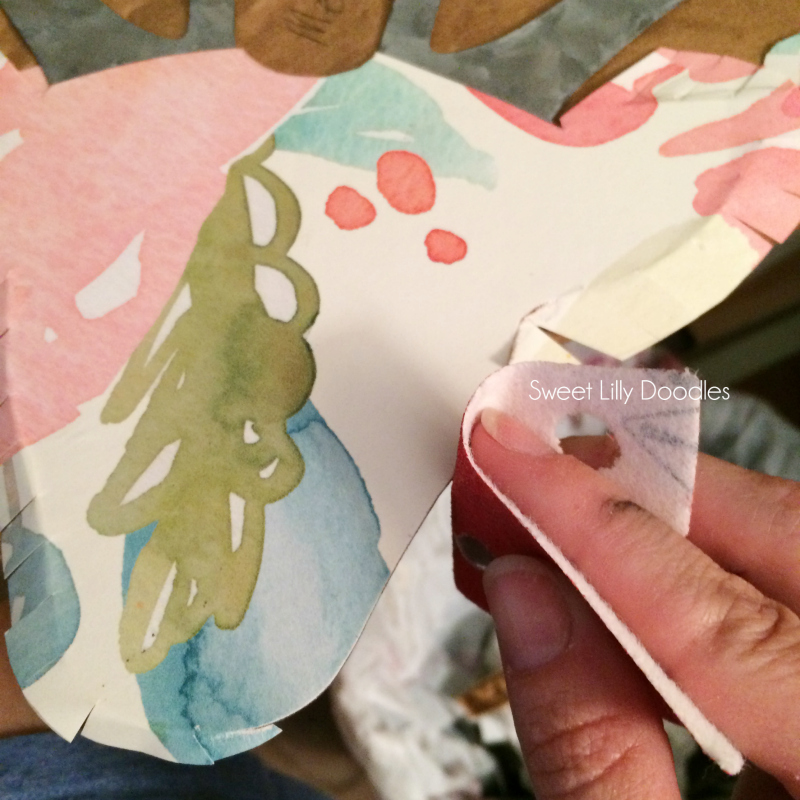 Do NOT go up and down with the sandpaper. Only DOWN.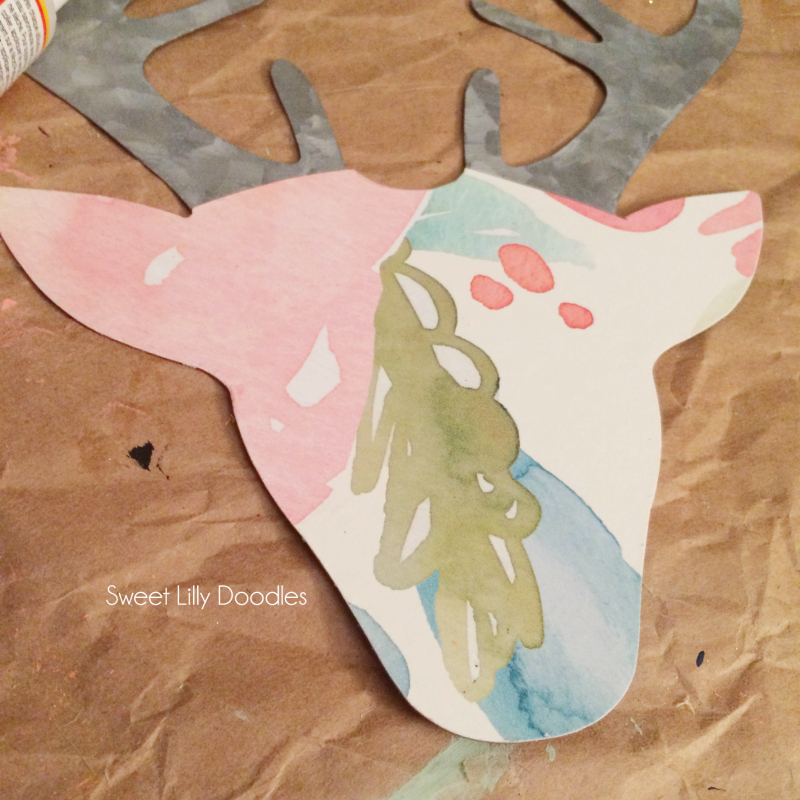 Glitter the antlers in gold. Martha Stewart has beautiful glitter, by the way. Gorgeous colors and very fine. Apply another thin layer of glue over the dried glitter to seal it. You'll thank me for this. Unsealed glitter is a mess!
I used a Painters Brand paint pen and wrote "hello deer" in my own handwriting.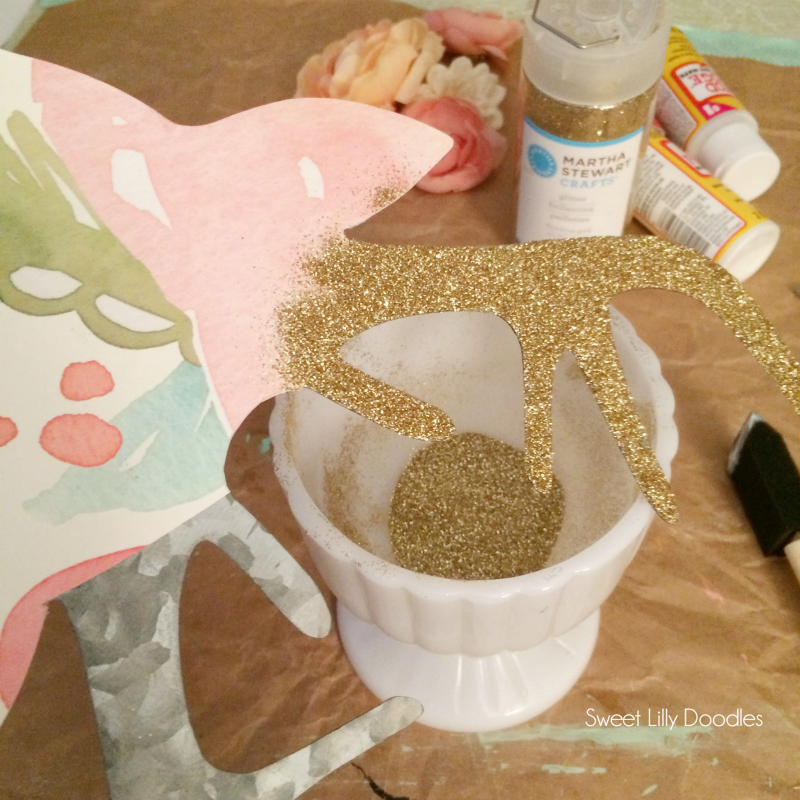 After auditioning the deer on the sign, I decided to use a different paper. Same process of papering the second deer.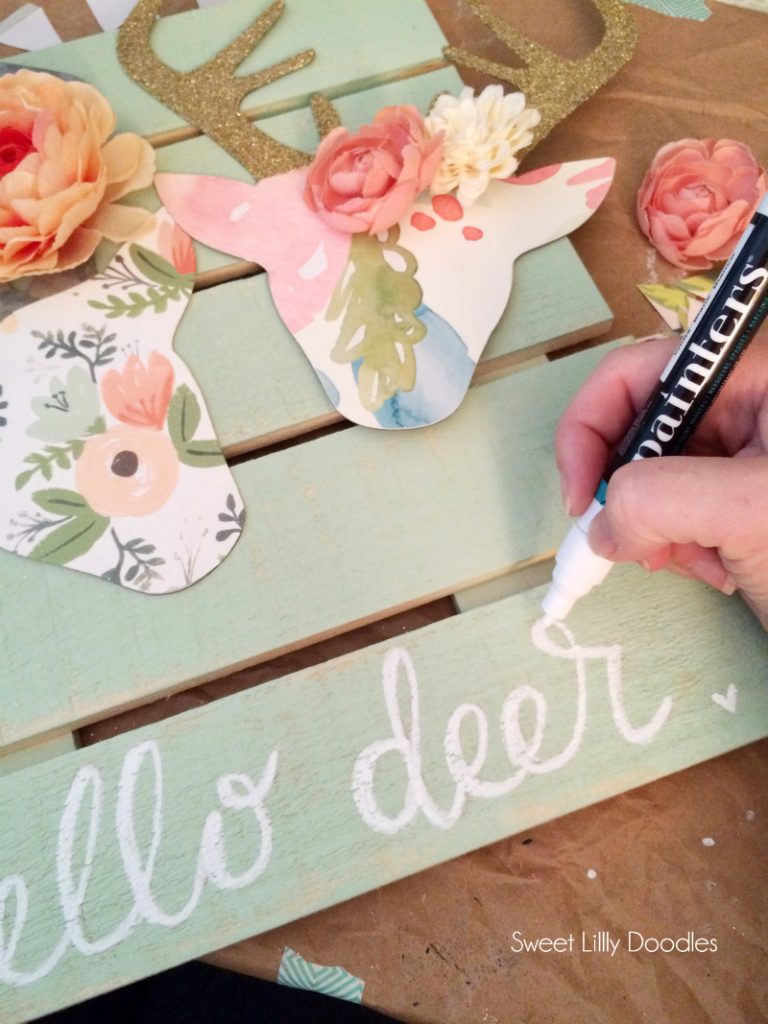 Attach the deer to the sign with super glue for the best hold. A glue gun works well for the flower. To make the bunting use any decorative paper or washi tape and bakers twine. I have this extra large roll of washi that I used ( from Hobby Lobby ). Just cut strips of paper and fold in half over the twine with a tiny bit of glue. Then cut the shape you'd like your bunting to be by snipping off the corners or a little triangle out of middle. Use your glue gun to attach the twine to the back of the sign. And you're done!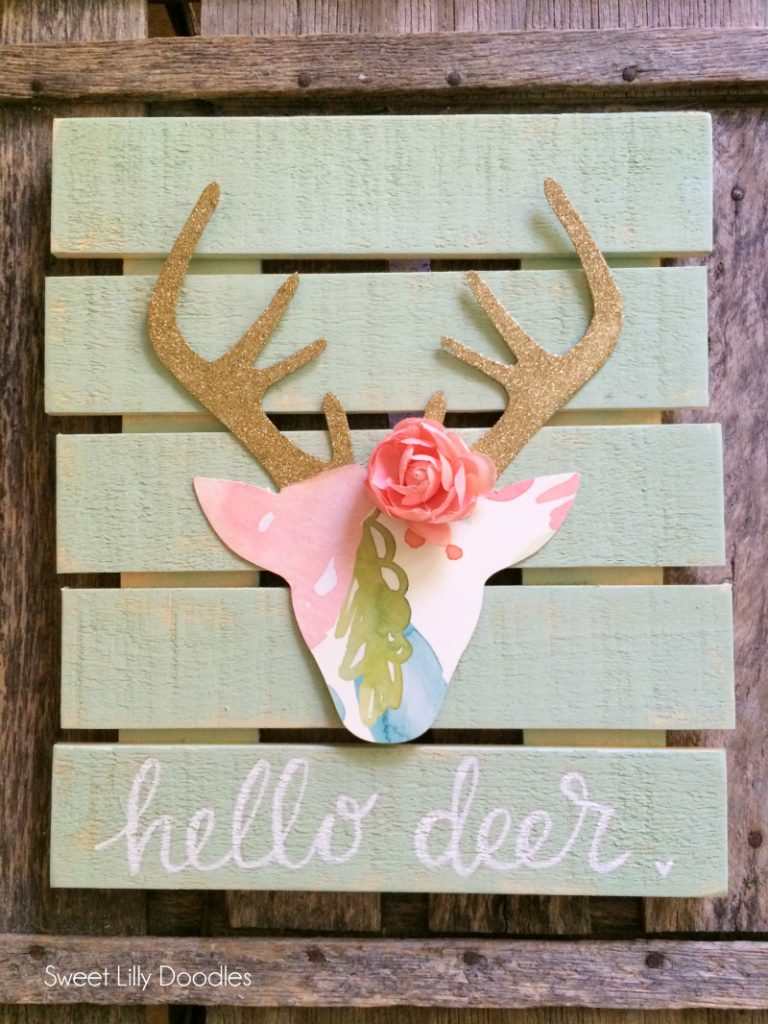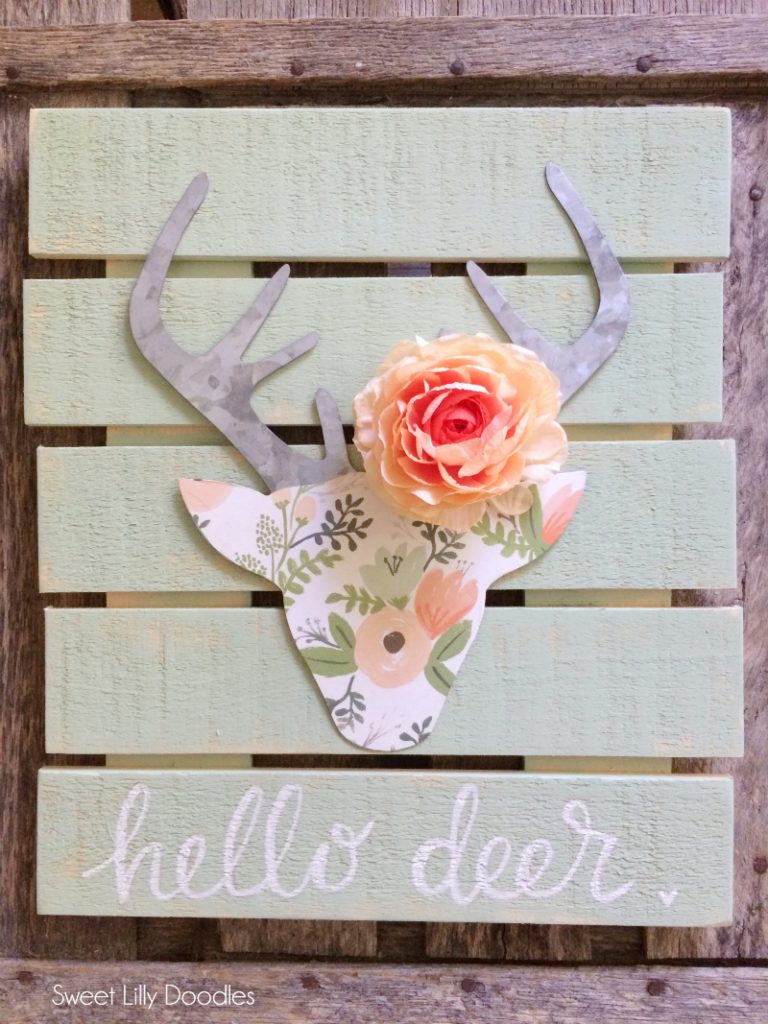 The color and paper possibilities are endless! You could make it more boyish with dark colors and geometric paper. Or for Christmas! Think of a plaid Christmas deer, that would be so cute! I do hope you'll give it a try!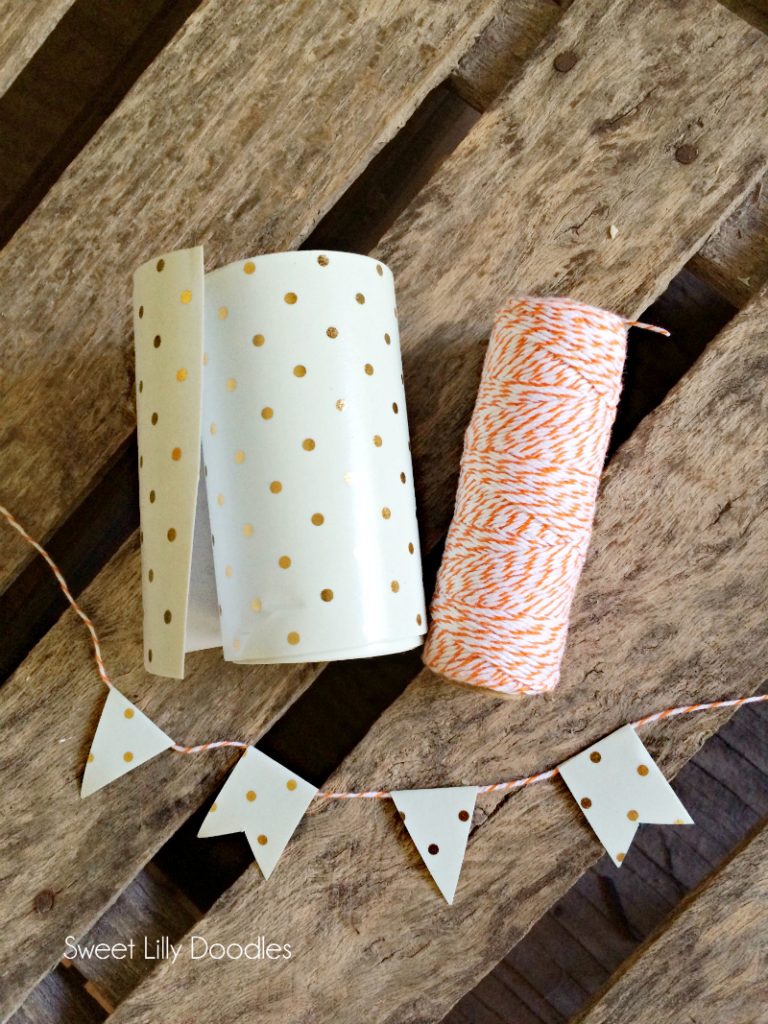 Love, Megan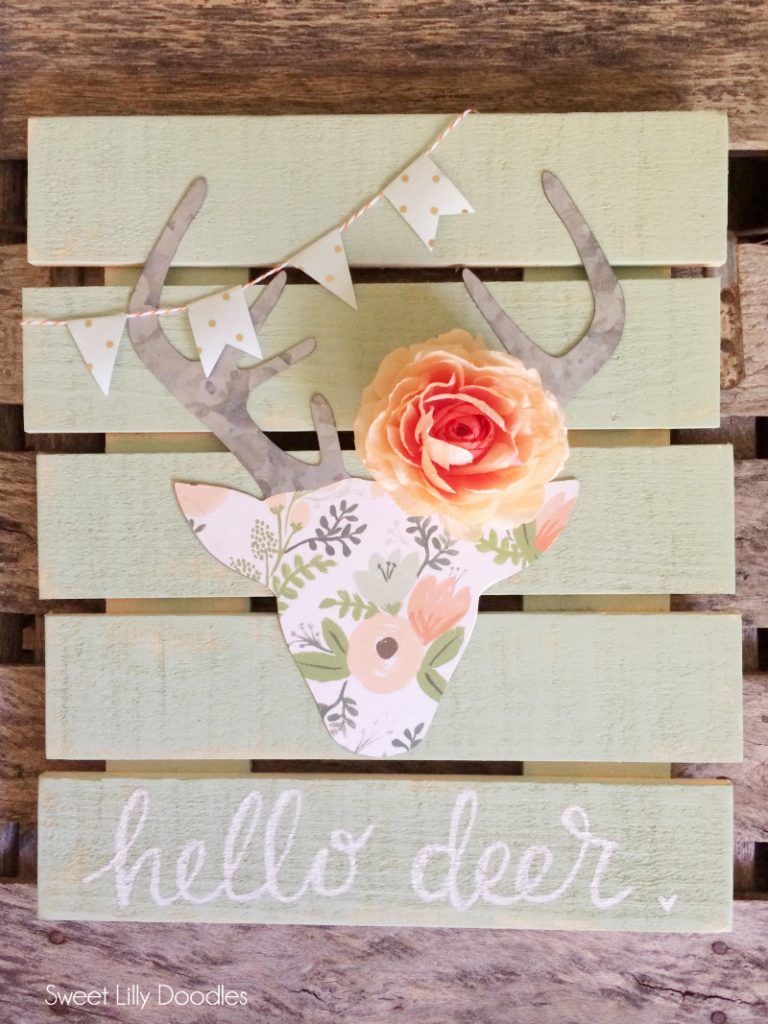 Please pin so your friends can enjoy it too!!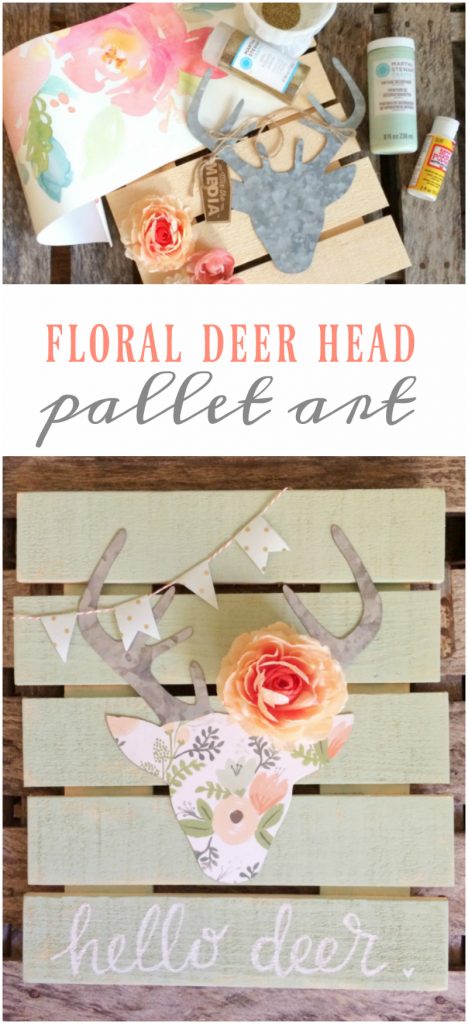 Visit more of Megan's work like her Painted Floral Faux Wallpaper, we love it!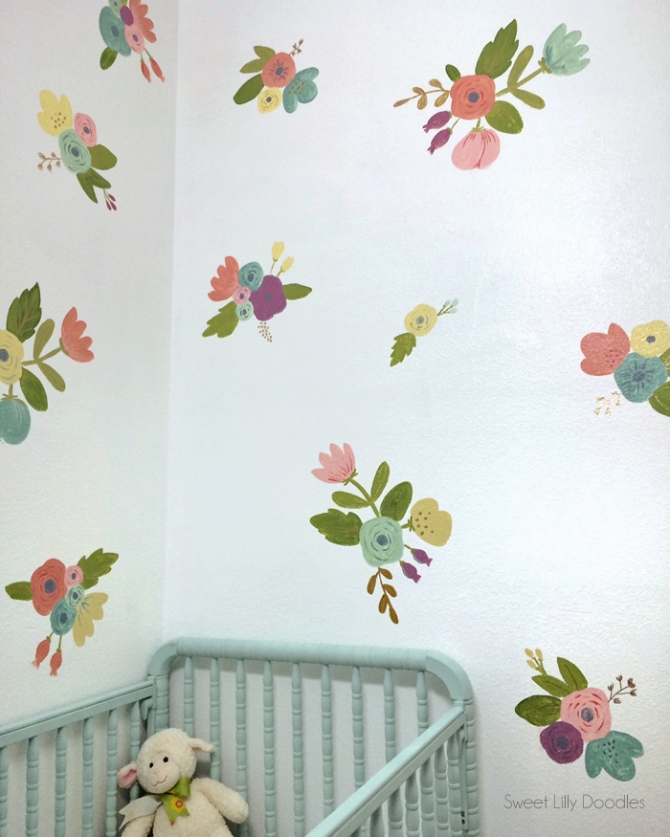 Don't forget to check out her darling etsy shop where you can nab cute decor like her Happy Harvest Vintage Truck!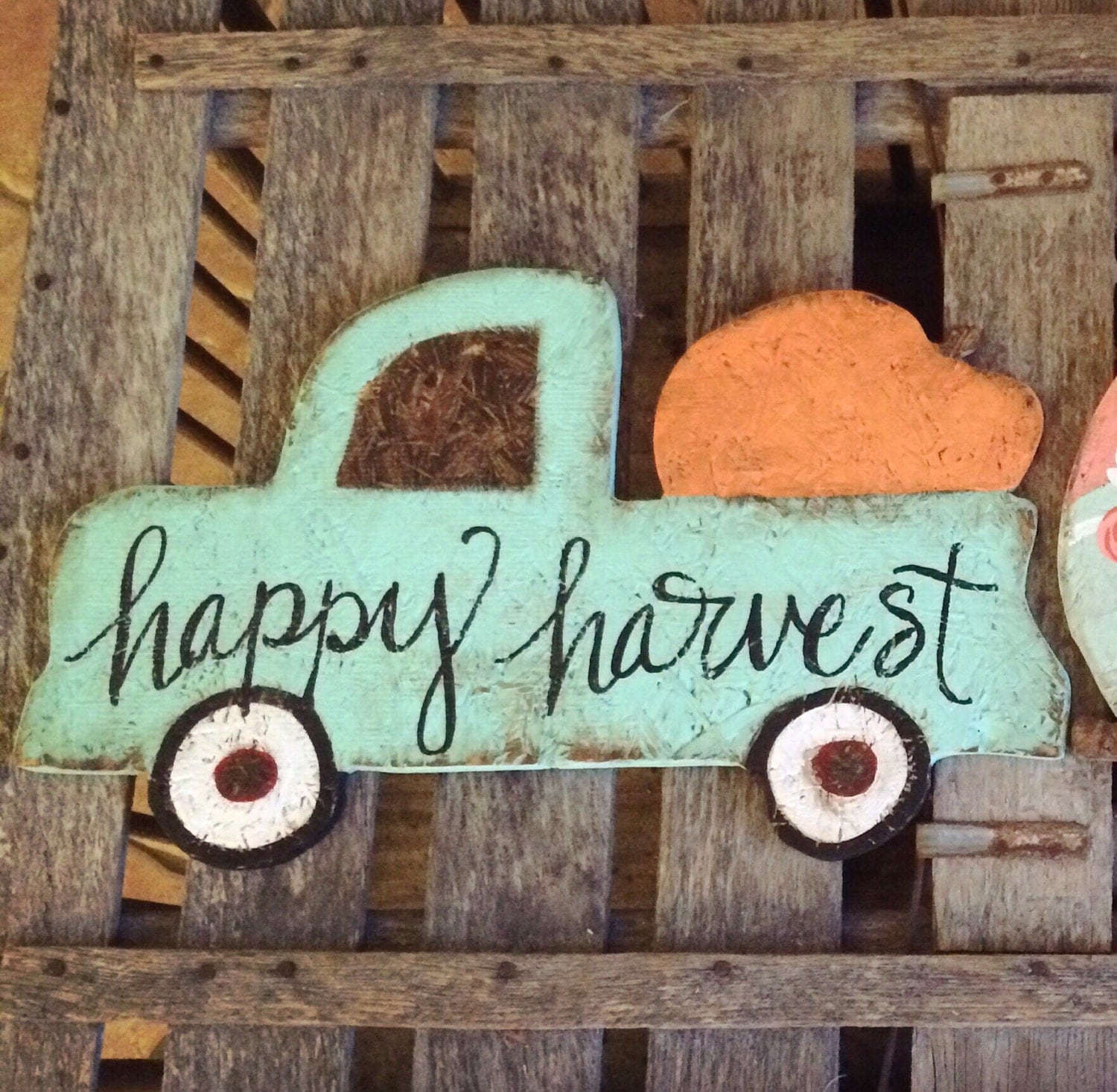 Need more Deer Head Art in your life!? We've gotcha covered with our Glitter Antler Reindeer Head,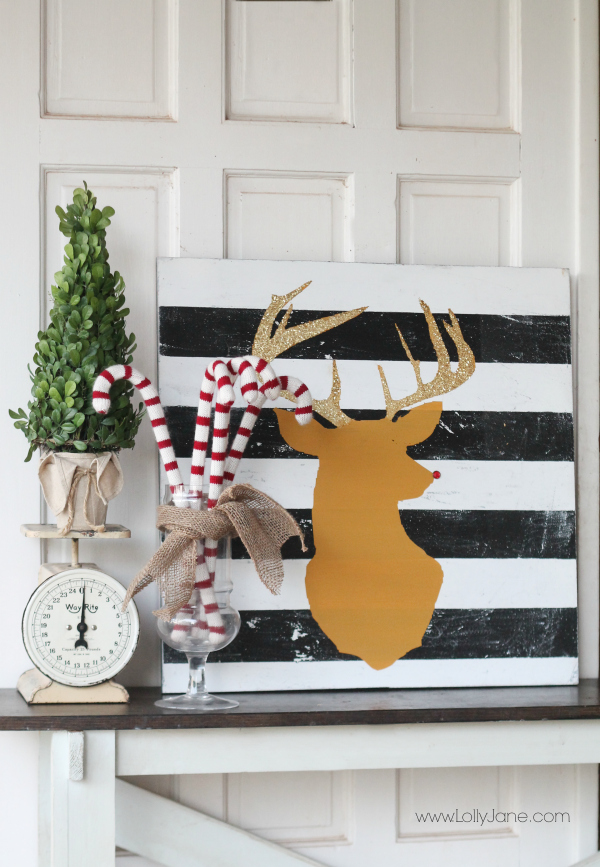 and our rugby deer head sign.