With 9 children and over 30 grandchildren,our parents were going crazy trying to keep all those birthday organized to deliver
birthday cards
and gifts on time. We thought we'd help out, the good daughters that we are! 😉 We created a way to have all the birthdays in one place while still being stylish & matching our parents home decor. Introducing the birthday board: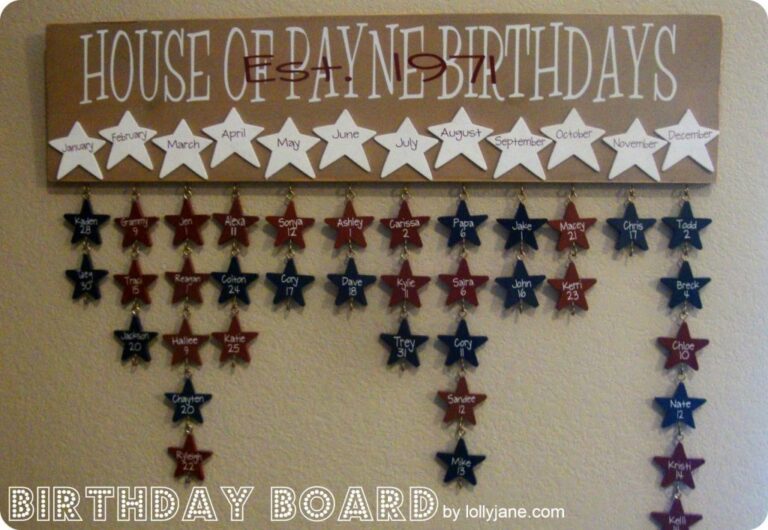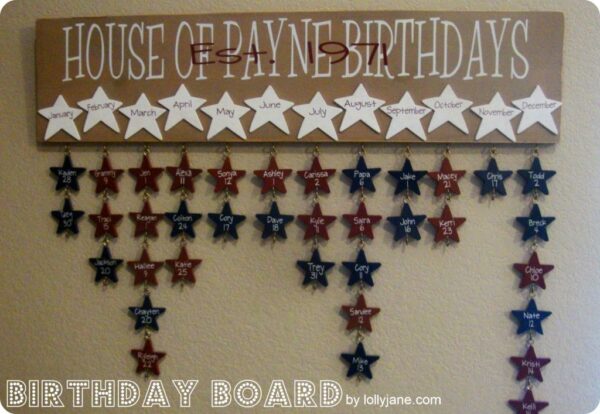 We've been making these bad boys for years but are simply BURNED OUT! Consider this your warning: this isn't a simple hour long project. It requires lots of baby steps and just as much patience (:
We've made over 100 birthday boards, here are a few that we loved most:

The great thing is these can be customized to your home decor style. Here's an up close shot of that popular M&M theme'd board made for our brother-in-law's mom: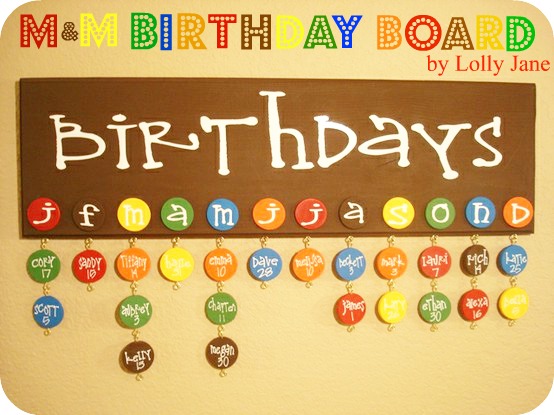 How to make your own Lolly Jane Birthday Board: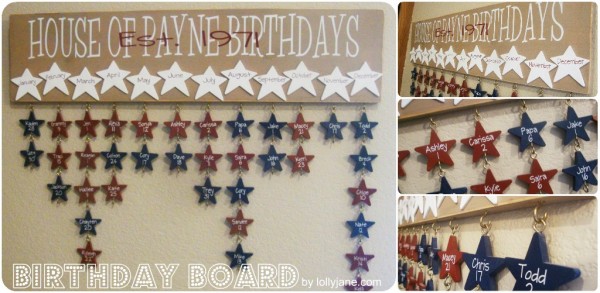 SUPPLIES
24″x8″ wood
Acrylic or Spray Paint
Vinyl lettering or Stencil
Drill Bit (We INSIST on using the smallest bit Home Depot offers: 1/16″)
Eye hooks (We ONLY use the #216 1/2″ from Home Depot, 8 for $0.99)
Hanging Pieces (Wood stars, circles, etc. We ONLY use 1″ diameter x 3/16″ thick pieces)
Note, here is what we prefer: Circles + Stars
Instructions
1. Paint your board & hanging pieces.
2. Apply vinyl lettering on board & hanging pieces (alternative: chalkboard paint/write names on with chalk pen for hanging pieces).
3. Center eye hooks under each month and screw into wood
[Starting 1″ in from left to right, screw 2″ apart, 12 hooks total]
4. Screw eye hook into center of each star, top & bottom*
*We've found it's easiest to a pack of eye hooks and open one side with pliers.
*You MUST pre-drill: We used the smallest drill bit from Home Depot, 1/16″. It will help prevent cracking!!!
5. Hang the specific hanging piece under each month.
6. Smile knowing you're never going to forget another birthday again! 😉
A sports lover in your house?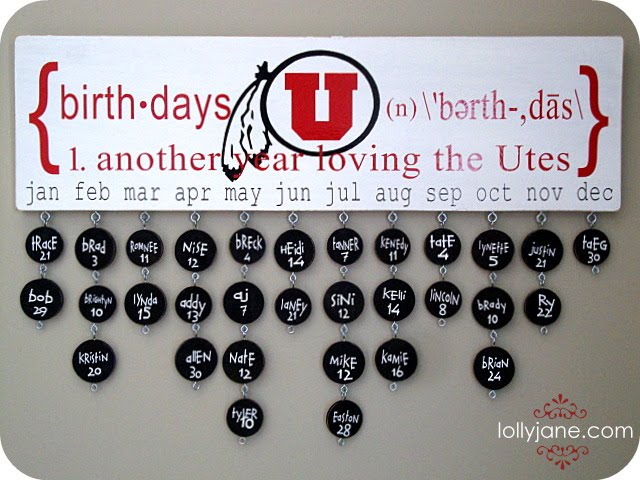 Updated thanks to all the inquires from Pinterest:
These 2 boards were recently made in bulk. Instead of the teeny-tiny vinyl lettering names on the hanging pieces, the names were simply printed on cute scrapbook paper then decoupaged in place.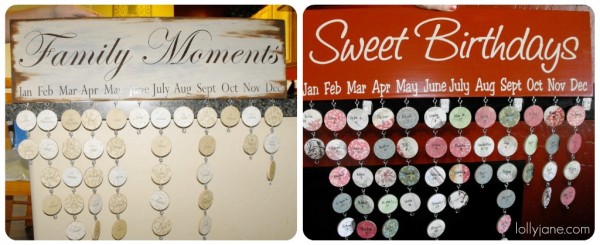 Quick solution and no more headache for all those itty-bitty vinyl lettering names. I promise it's not worth the time cutting + weeding all those names in vinyl, not when scrapbook paper is so cute these days (:
My newest sports themed birthday board used chalkboard stars! No more printing or cutting!
Most asked question:
Do you sell your birthday boards?
NO, we no longer sell the kits but instead shared our tutorial with you. We've seen tons of copy-cats out there along with girls even selling them. More power to them, they're so time-consuming! 😉 However…
We have a great friend who has taken over: Marni who is an AZ local. FAST turnaround and inexpensive pricing! [email protected] Also check out tons more tutorials like our embroidery hoop spheres,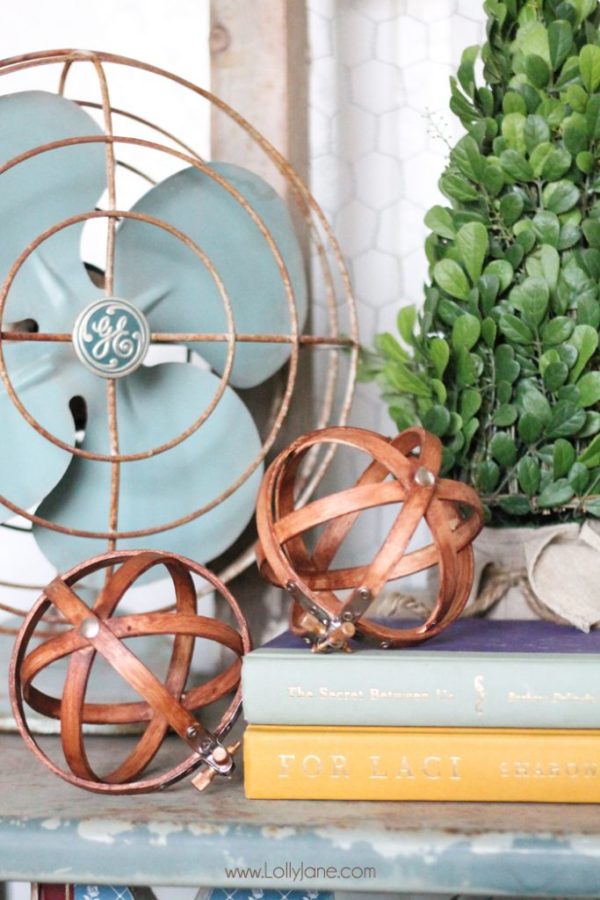 mason jar bathroom storage ideas,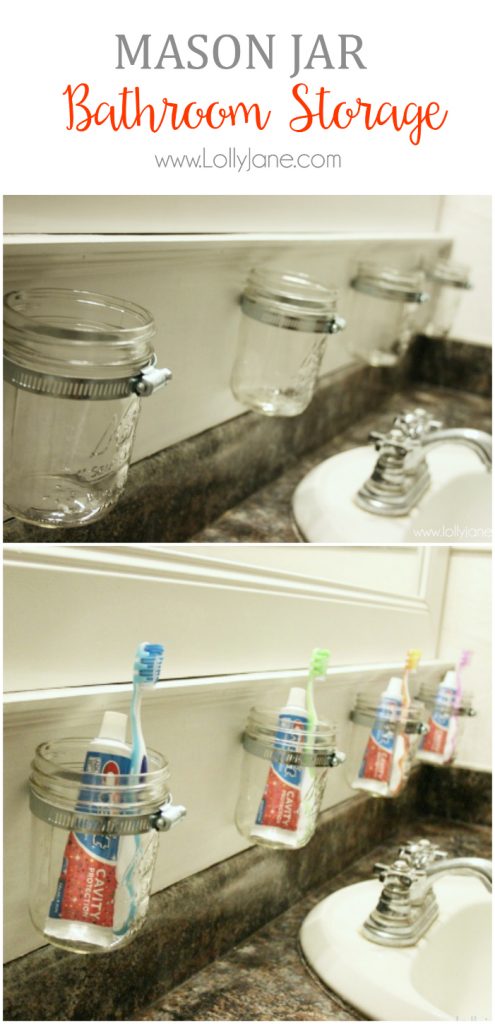 plus our mouse trap chalkboard calendar.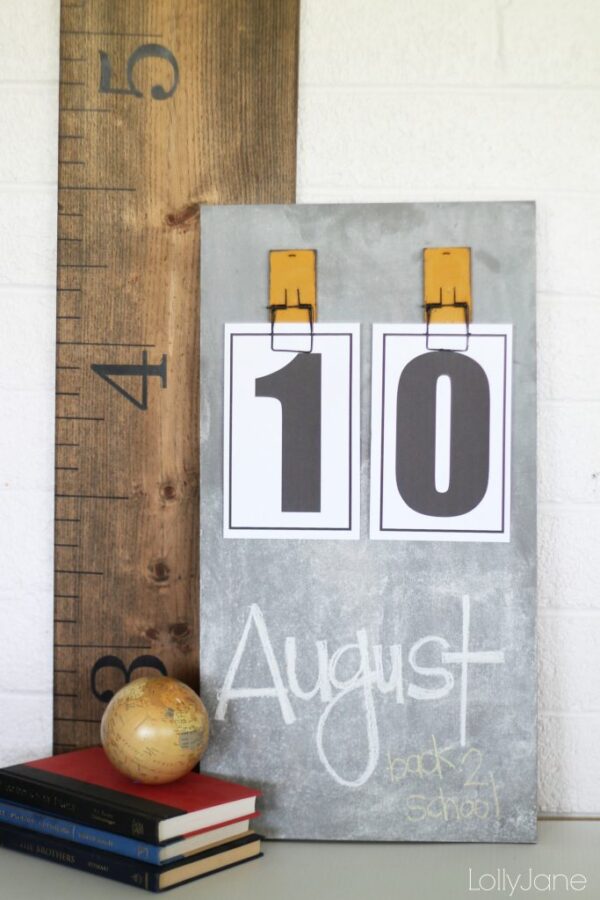 And we're always on Facebook, Pinterest and Insta! XO