What's that, you say? Thanksgiving is next week? Well better late than never with this easy fall wreath! 😉 I looooove Nest of Posie's pumpkins & posies fall wreath and decided to try my hand at my own. I'm so glad I did because it is so stinkin' cute!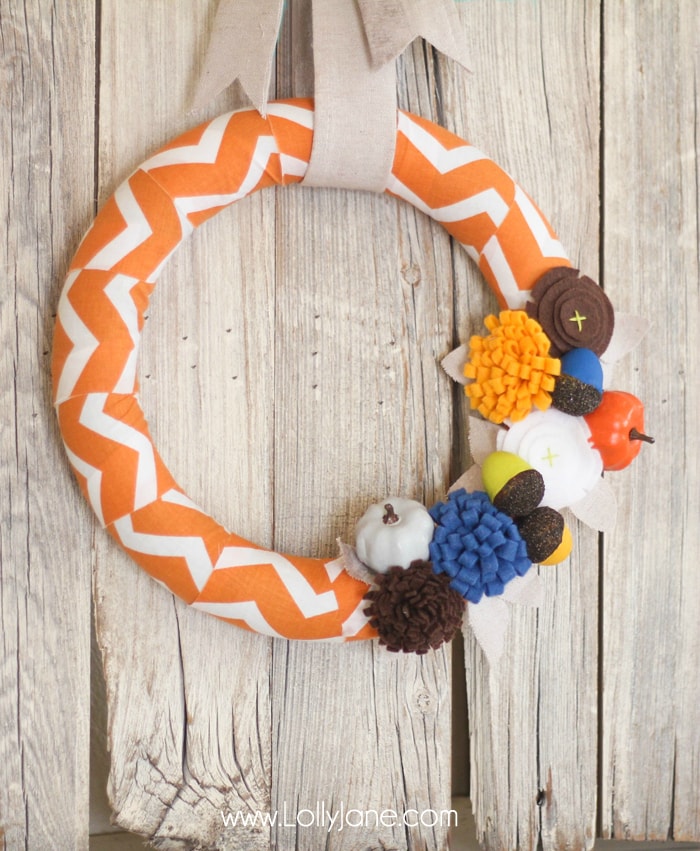 Living in a teeny town doesn't allow me much for craft supply shopping… no big box craft stores within 60ish miles of here so often times I need to improvise. I am lucky that Kelli and I are a part of the DecoArt team and I have a plethora of acrylic paint. I snagged a wreath form + felt from Walmart, a pack of acorns/pumpkins for $1 from Dollar General and some cute chevron fabric from my fabric hoard, (our oldest sis donated it to me- from Hobby Lobby.)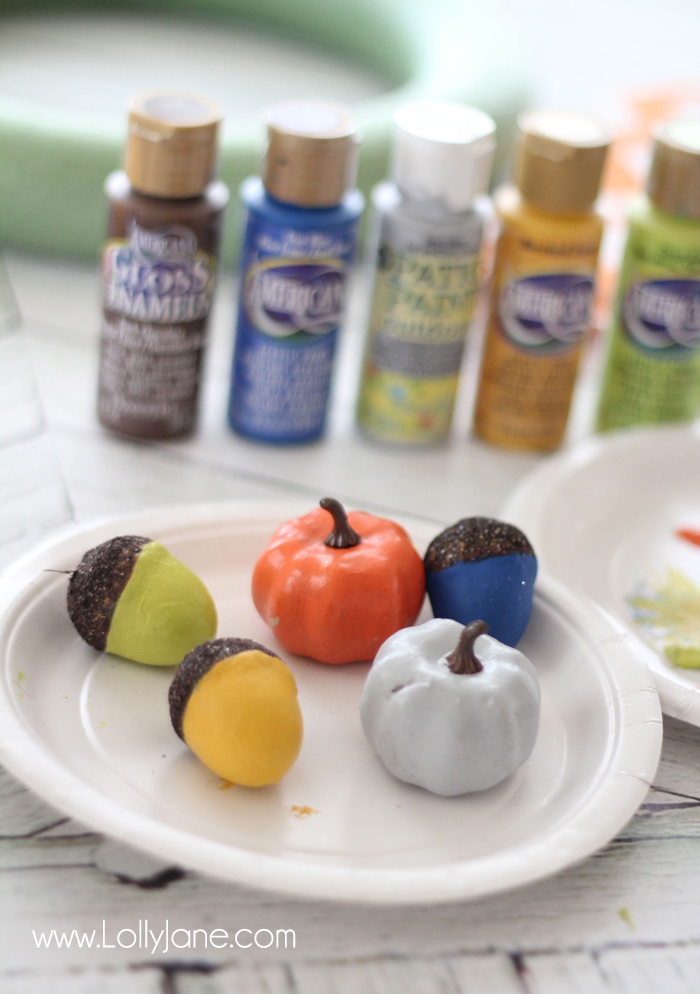 To make this easy fall wreath cut your fabric in scraps. I cut mine about 2.5″ wide and 4.5″ for a 12″ wreath form. Wrap and hot glue then repeat, repeat, repeat until it's completely covered.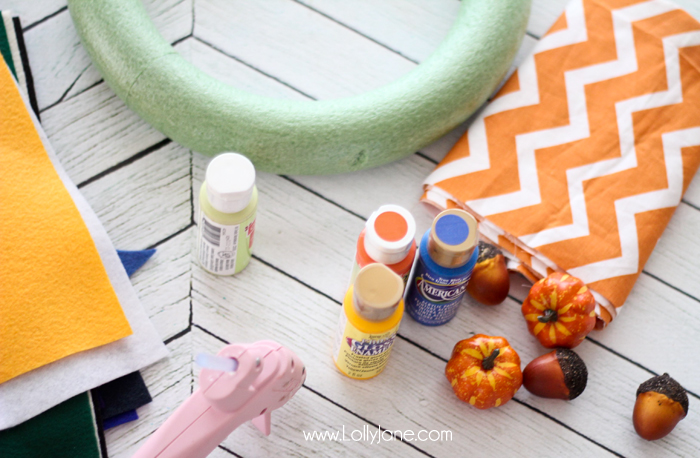 I chose a handful of pretty fall hues in acrylic paint to spruce up my package of acorns + pumpkins. I used DecoArt's Gray Skies, Mustard Seed, Tiger Lily Orange, True Blue, Dark Brown + Citron Green and gave the fall accessories 4 thin coats. (I have to admit it took fewer coats using the acrylic patio paint vs. the regular acrylic paint and it was an easy breezy smooth coverage!)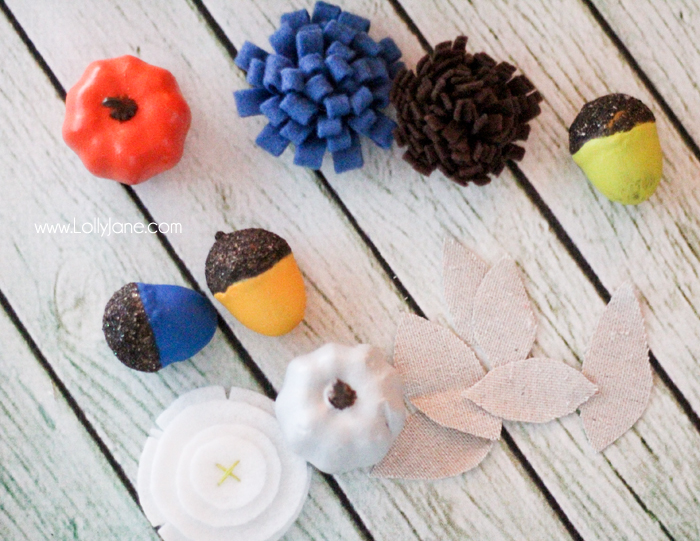 After the paint was dry I used some scrap fabric (drop cloth leftovers from Kelli's living room makeover) to cut simple leaves out and paired them with felt flowers (love Becca's felt flowers tutorial!) in matching fall hues. I added a pop of white + cream flat circle flowers with a pop of bright green stitching in the middle like Kellie's cute wreath has. Overall these little autumn accessories were a snap to make and very inexpensive!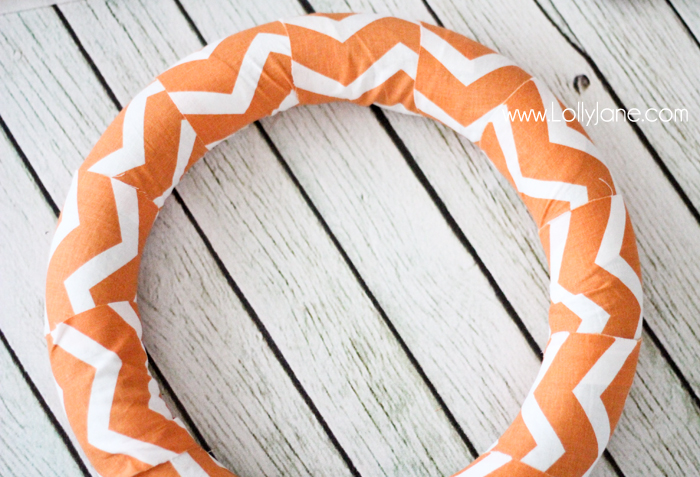 Add some hot glue here and there, bunching these little accessories together, and the wreath now has a little pop of autumn to it!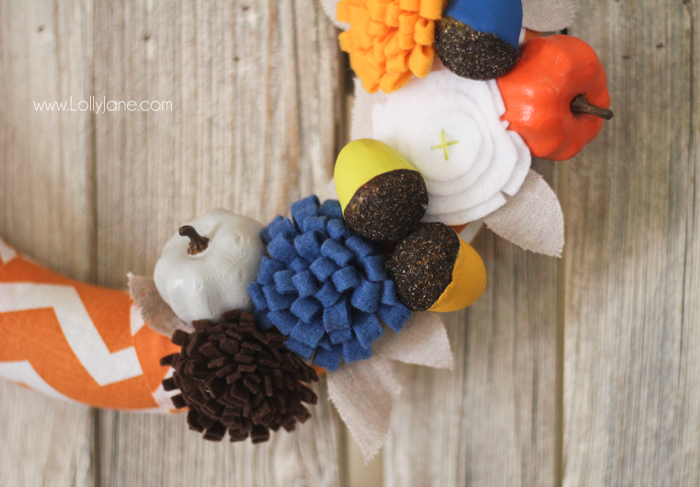 I used more scraps of the drop cloth to make a simple bow to hang it. Easy wreath, easy to hang. It brings life to my boring white door (renter problems!) and I love to be greeted by it when I get home!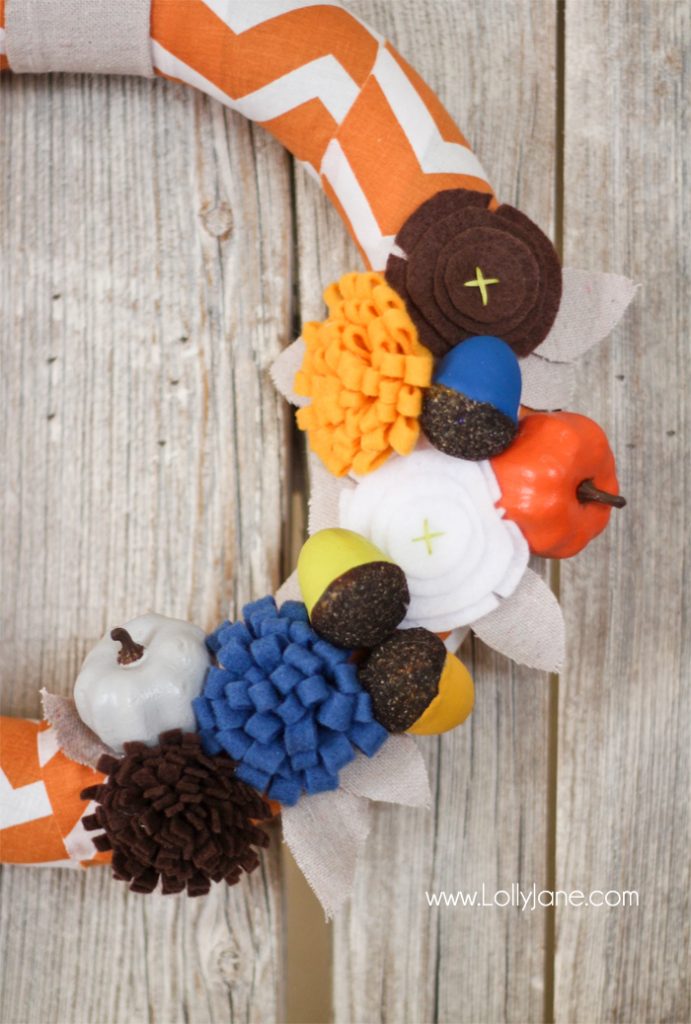 Here's another peek at the details of this cute bunch. 🙂
I'm sure a lot of you are already decorating for Christmas (poor neglected Thanksgiving! LOL!) but I'm glad to display this all week until it's replace with another easy wreath in green & red hues.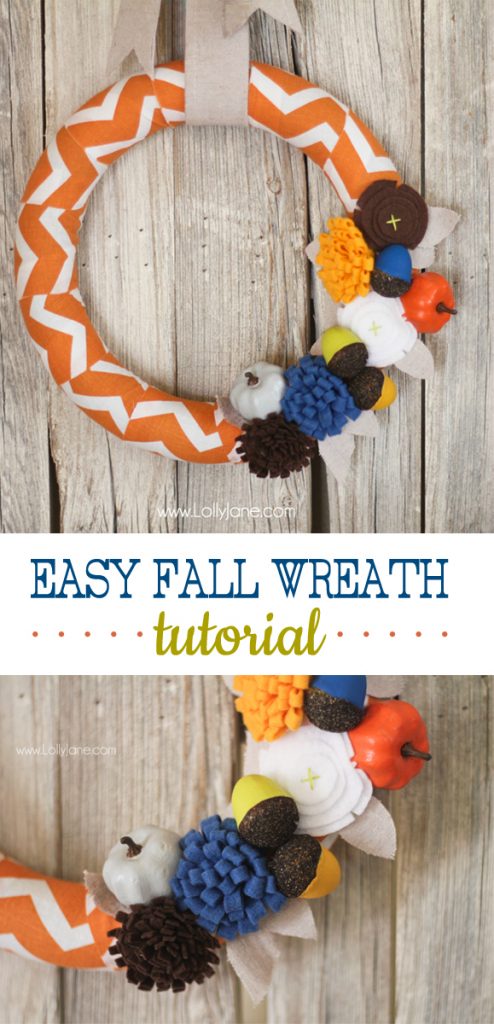 Happy rest of fall, y'all! Visit more of our wreaths like this cute summer wreath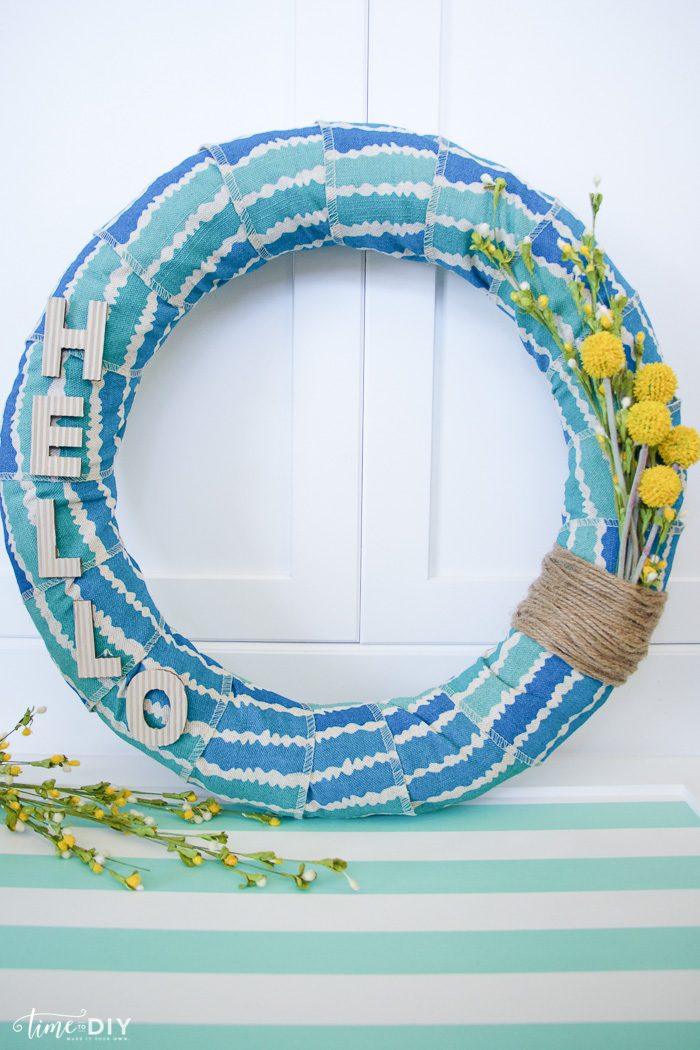 plus more fall decor ideas like our fall dining room decor,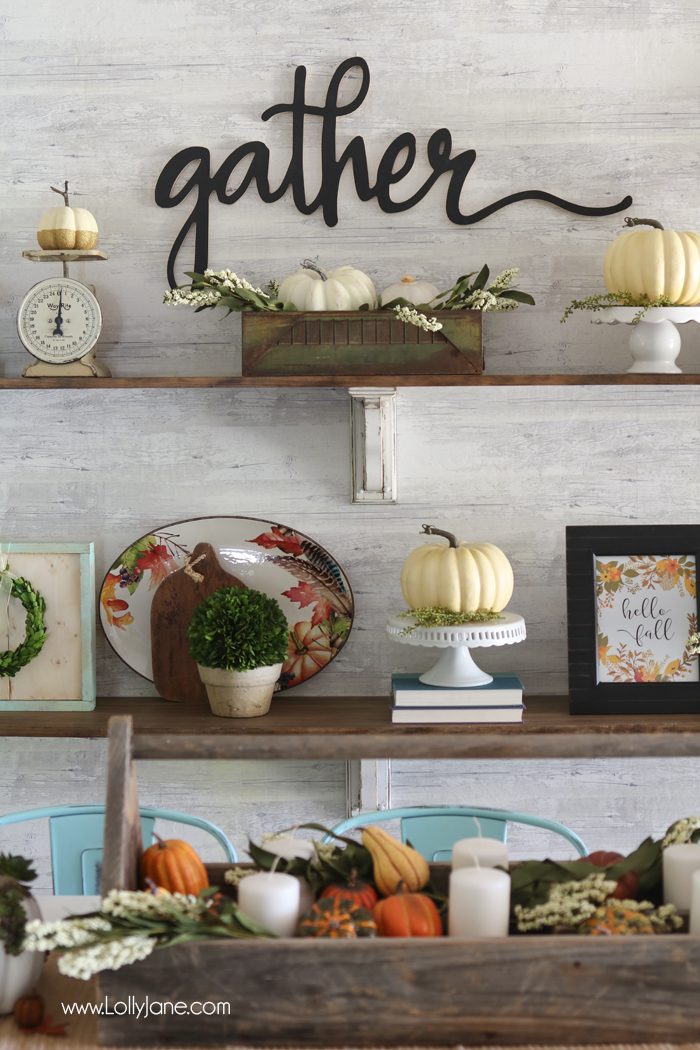 our fall porch decor plus free printable,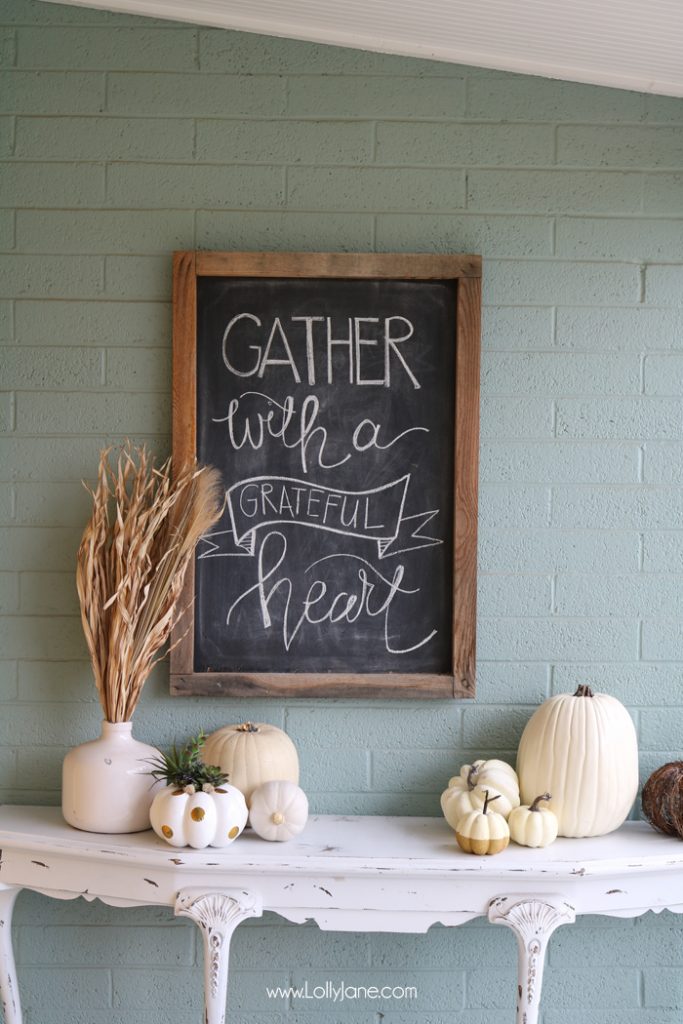 and our DIY Happy Fall sign.