farmhouse chic dining room shelves
This post is in partnership with Better Homes and Gardens and Walmart. We are proud members of the BHG Live Better Blogger Network. All opinions and ideas, as always, are our very own. 😉 This post contains affiliate links to sources we adore!
Whenever anyone comes over, I hear the same polite but curious question: So how long have you lived here? Why do they ask that? Oh, because there is hardly any decor on my walls! I know, complete blogger fail, right? Well I decided (conveniently when my husband was out of town for a week) to spruce up our dining room with some quick DIY farmhouse shelves and add a twist of modern decor (his preference) among my more rustic, vintage decor, (my preference.) I ended up with these easy farmhouse chic dining room shelves… which, by the way, he loved!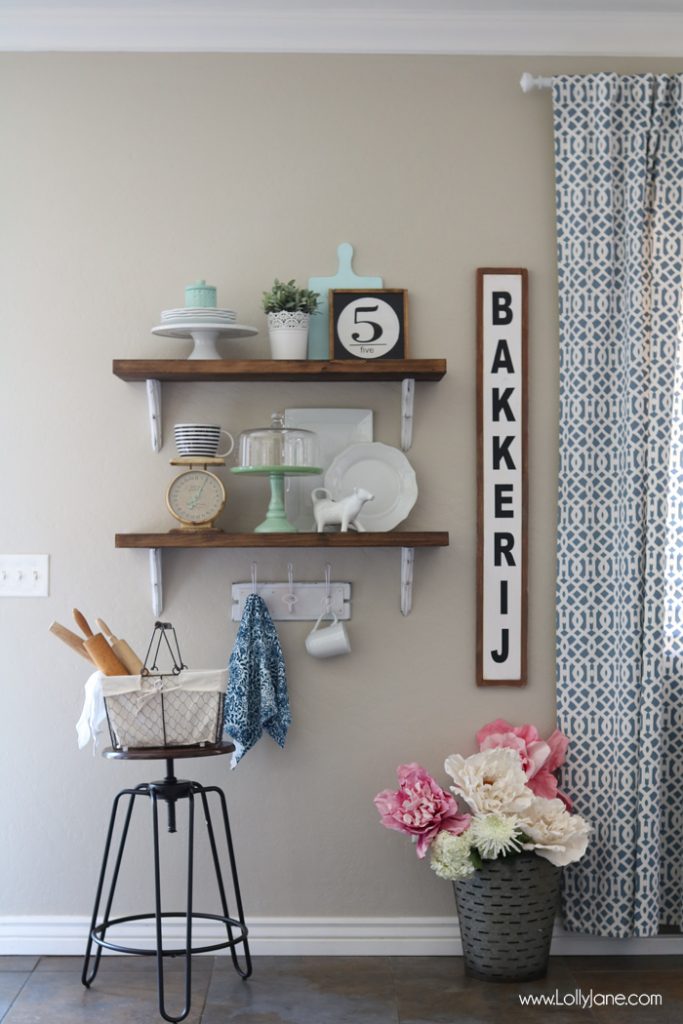 Before we had a single over sized clock that actually looked much smaller.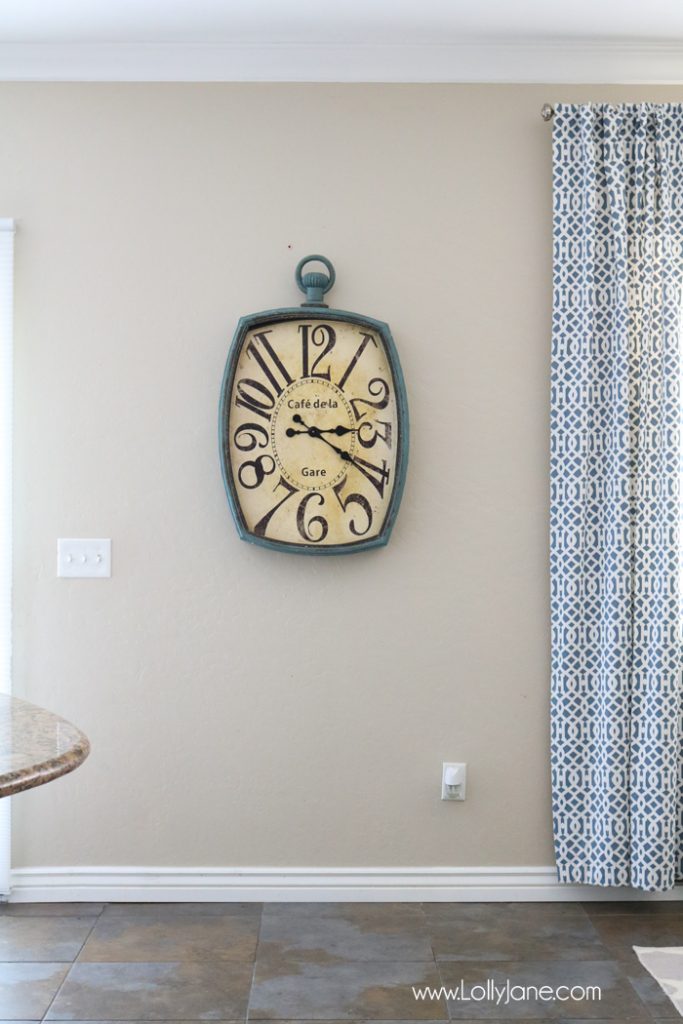 Before I could make the shelves, I added a fresh coat of paint within the same color family that has a more gray tone vs. tan. I spray painted the curtain rod white to coordinate with my thick molding and the white I wanted to incorporate throughout the space. Once the paint dried Kelli and I unsuccessfully tried at least 8 times, and filled up 2 pieces of paper, to do the correct math to space the shelves out evenly. Once her sweet husband took pity on us and calculated where to hang everything, we took over and had the shelves up and done within half an hour. Phew! Math is not our strong suit. 😉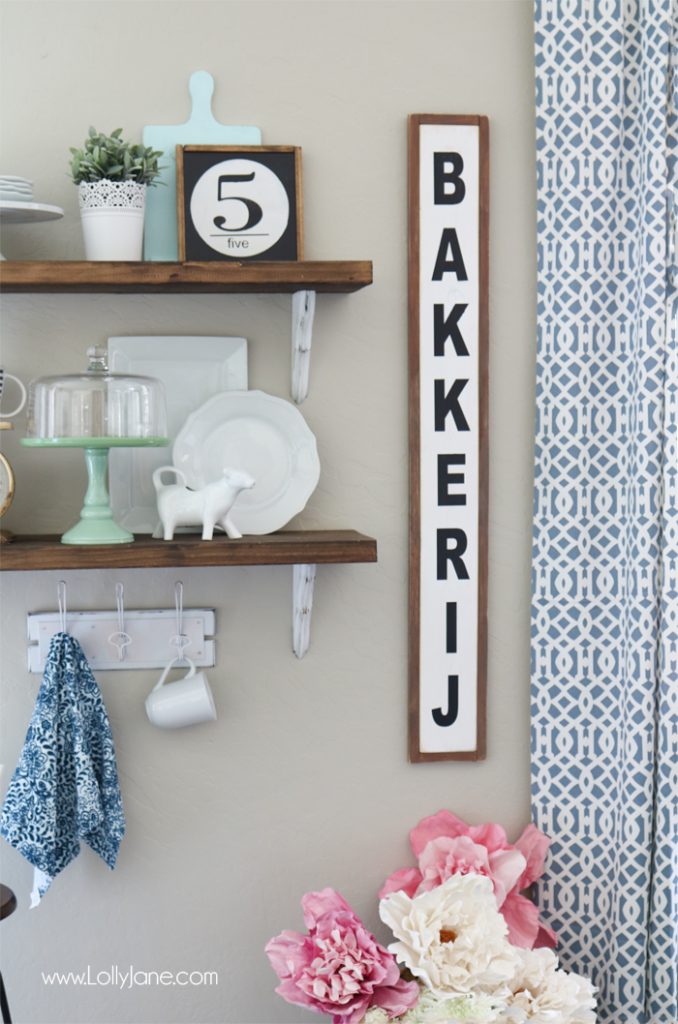 But signs are! Check out this custom sign Kelli whipped up for me. Do you know what is says? BAKERY in the Dutch language as my father in law is from the Netherlands and my children all have Dutch names, matching their father. Anyway, it is just a fun way to add a little bit of their heritage into our home. Besides, this momma bakes WAY more than she cooks! Haha. The rest of our signs are for sale in our etsy shop! This adorable 5 sign is from our good friend, Painted Confetti's etsy shop too! Happy shopping (;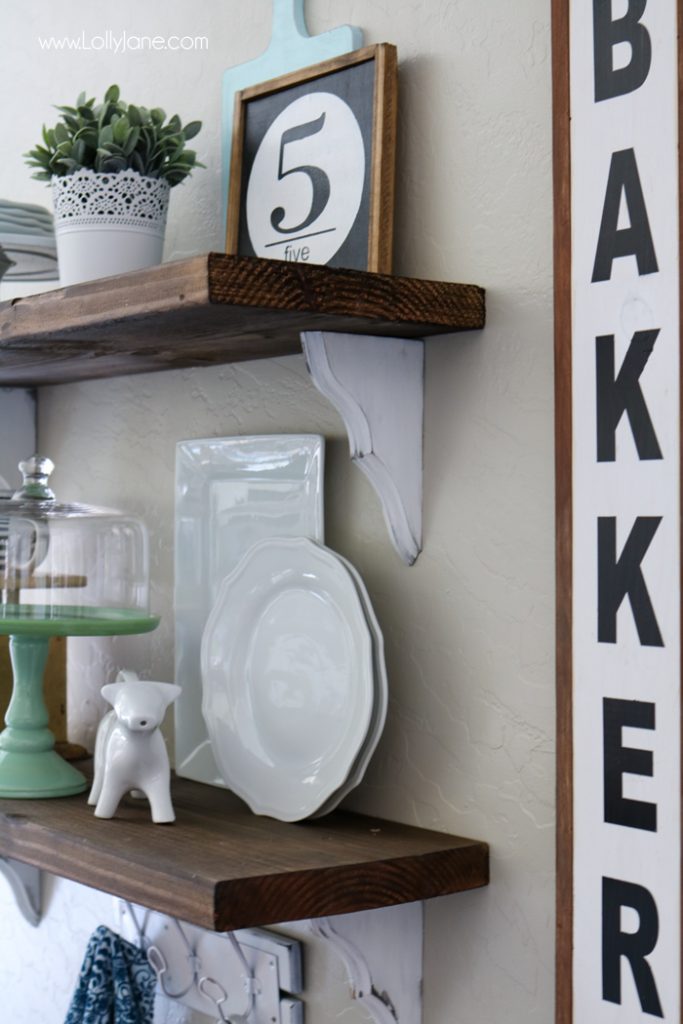 I love that the sign pairs well with the shelves, color wise. Did you know Walmart carries wood corbels? Their online selection is totally rad and I snagged these with a few clicks then had them delivered site-to-store within a few days. Here's what the shelves looked like before their hair and makeup… and by "hair and makeup" I mean paint and stain!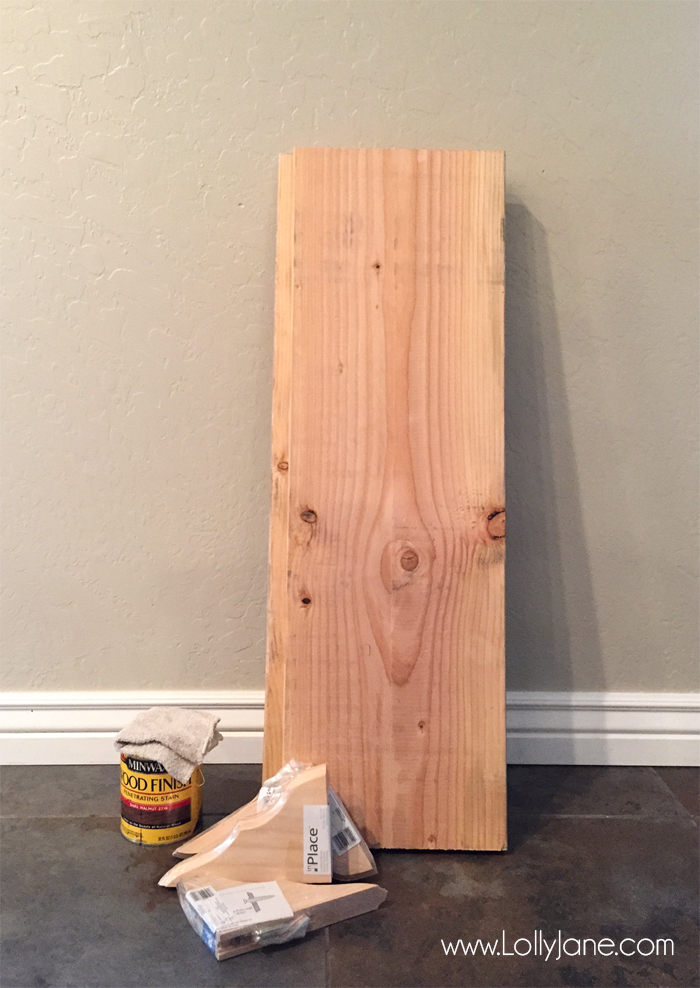 Snag the easy tutorial on these DIY Farmhouse shelves that were a breeze to refinish and were ready to hang in a few hours.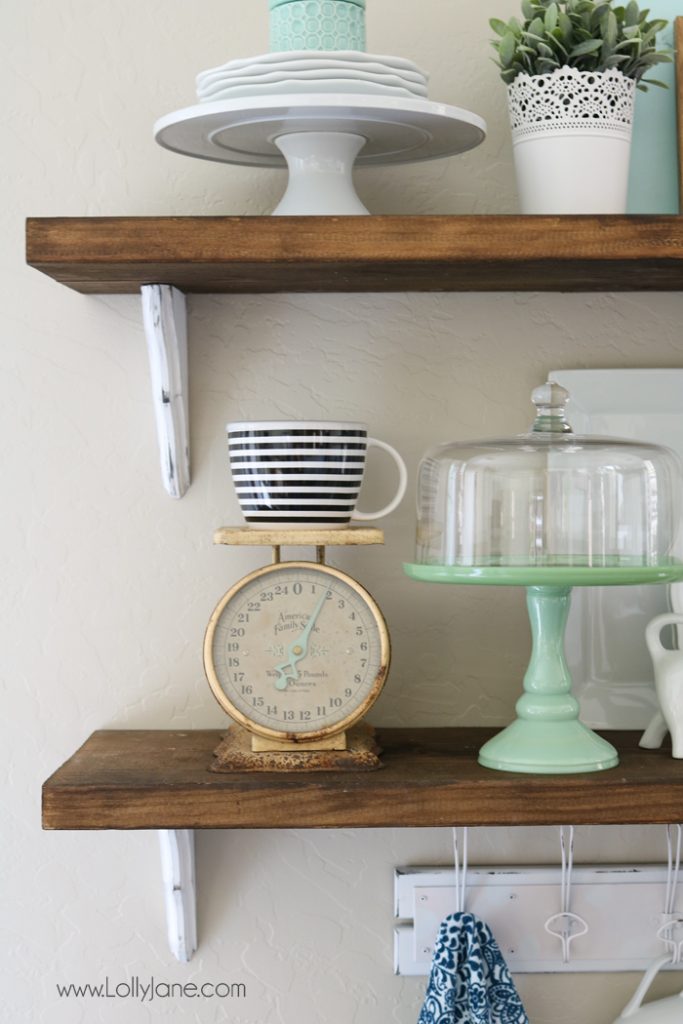 See that stain? Love!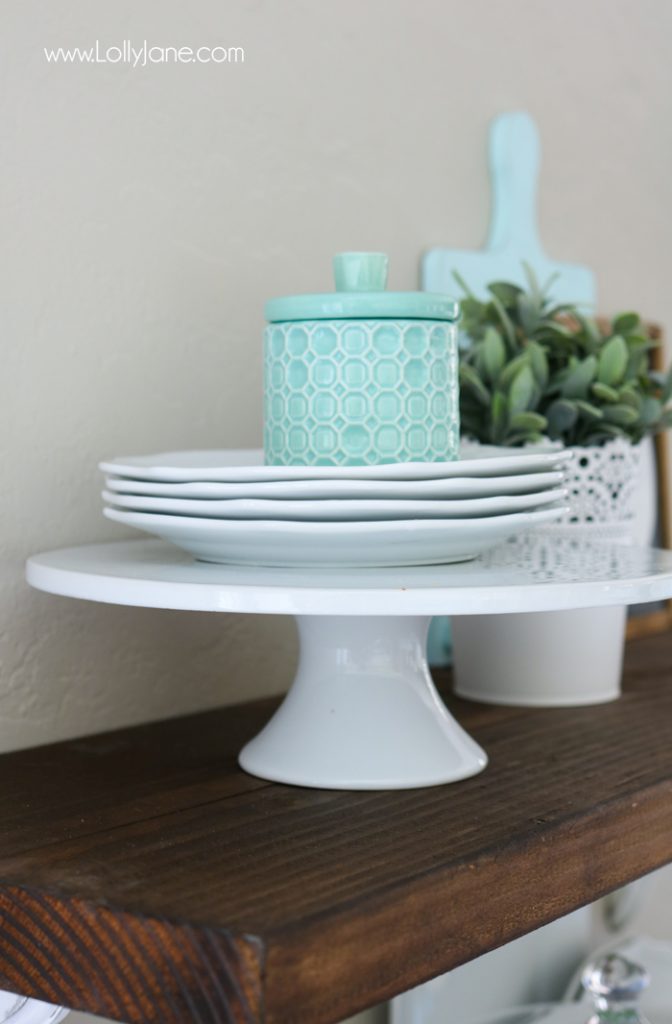 Confession: I am a lazy shopper. And, if you offer online shopping then chances are I'm taking advantage of it. In my defense, it's more out of convenience to not have to walk the aisles with a 7-month old and 4 + 6 year olds in tow. 😉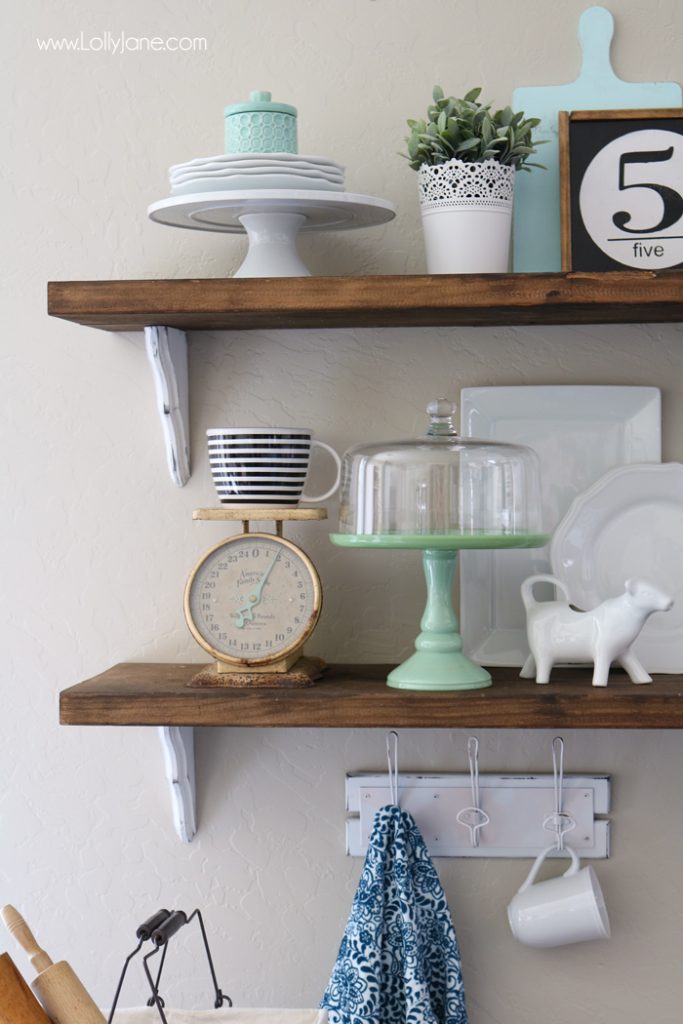 My go-to section of Walmart is decor; I love all of the cute knick knacks that really pull spaces together and make a house a home as they can warm it up with little touches of color. Better Homes and Gardens is my favorite brand at Walmart and I almost always leave with something or another with their label in my cart… and my wallet doesn't hate it! lol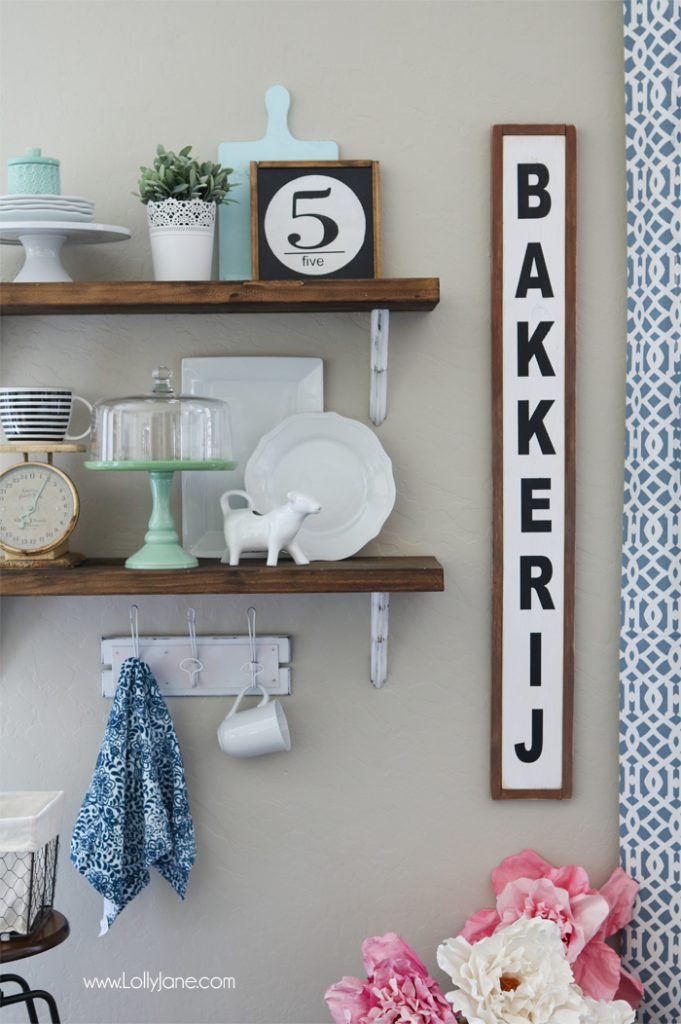 If you want to shop this look, here are my faves from the Better Homes and Gardens lines at Walmart: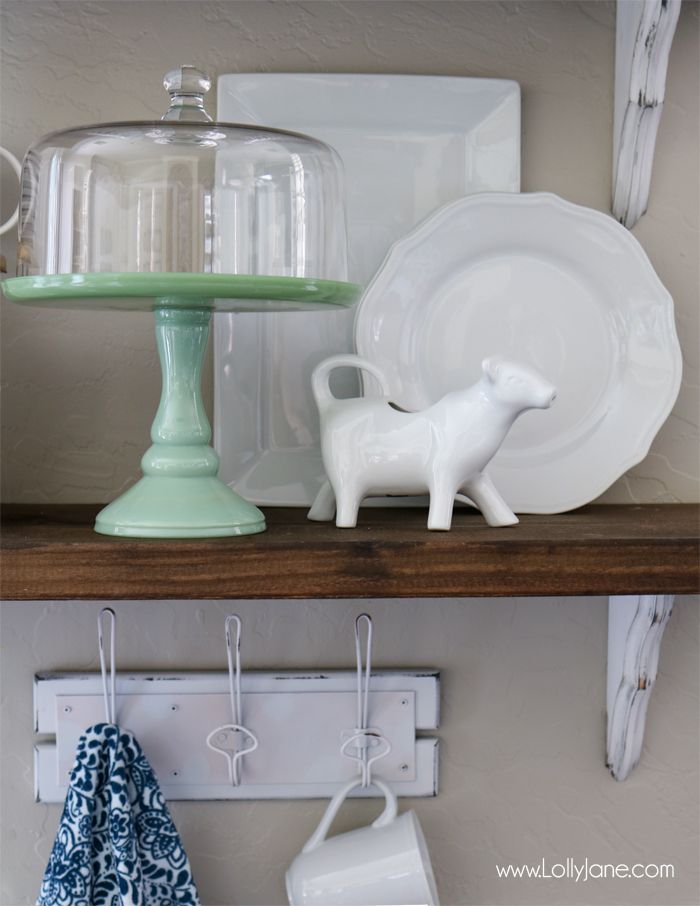 I love that pieces from the Better Homes and Gardens line can be farmhouse or modern alone but together they mesh into a beautiful decor pallet of farmhouse chic. It was fun to mix these pretty pieces with my rustic shelves and elegant prints that really pull this whole look together… I'm all about texture and this whole space has a lot of it!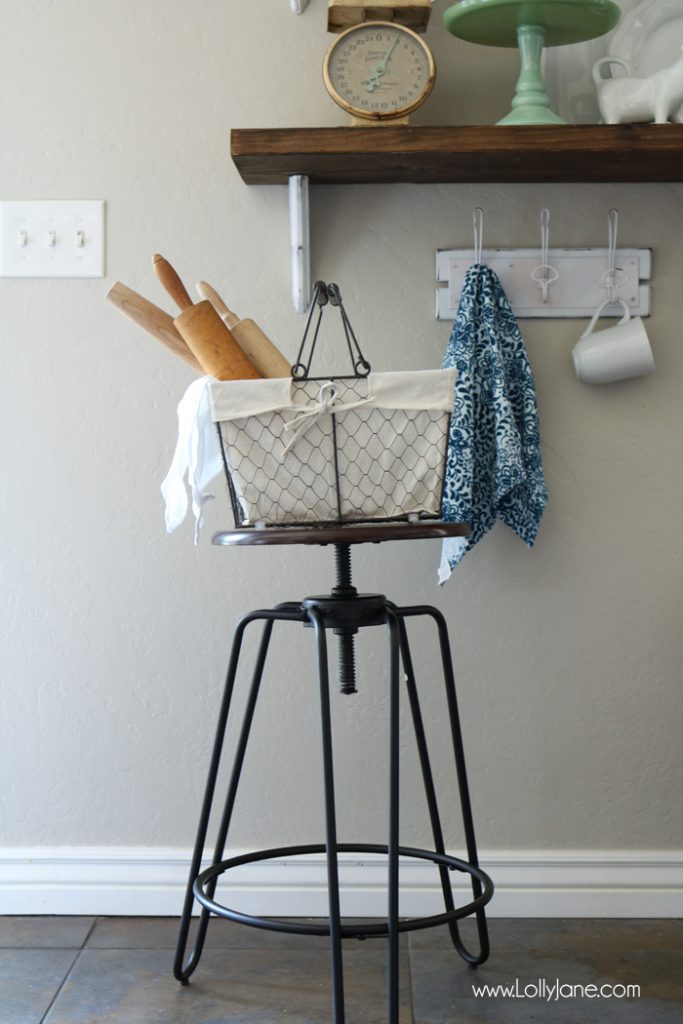 One of my very favorite things to do is to mix old and new so my thrifted rolling pins at a local antique shop here in Phoenix were perfect for this space, as is the vintage olive pail that holds pretty flowers. I was gifted the old scale from our older sister as a thank you gift when she was in Pennsylvania antique shopping and I can only imagine how many hands held this piece to make its way to its forever home!
In the meantime check out Better Homes and Gardens at Walmart and keep up with them here:
Facebook | Twitter | Pinterest | Instagram


Walmart Striped Mug (in store only), similar one here.
Walmart Aqua Ceramic Canister (in store only), similar one here.
Everything else was DIY'd or thrifted/tagged above 😉