So you may remember when we were prepping for a professional photo shoot in Kelli's bright & cheery craft room, (and went into panic mode which included tearing out the carpet, sanding down the concrete floors then painting them in chunky yellow stripes. Phew! LOL)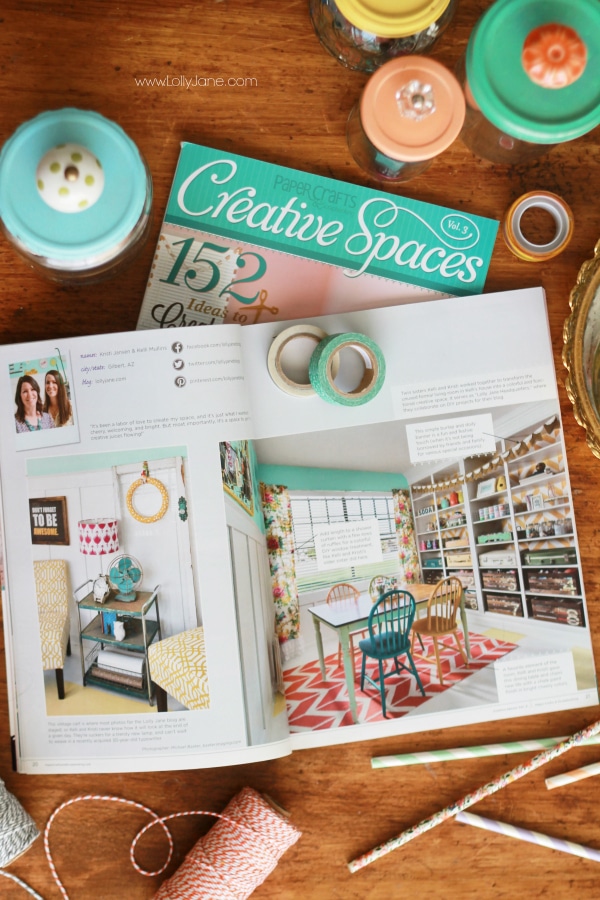 Well it all went off without a hitch and that mad rush to finish Lolly Jane's official headquarters once and for all was getting all gussied up for its recent publication in Paper Crafts & Scrapbooking's Creative Spaces magazine, Volume 3 this month:
This issue displays over 200 photos of 152 ideas to create an inspiring space that is jam packed with clever craft tool supply organization, storage solutions and even DIY tutorials to help you spruce up your own work area by these creative folks:
Kristi + Kelli at Lolly Jane (that's us!)
Lina at Fancy Frugal Life
Amanda Coleman
Stephenie Hamen
Jodi Sanford
Elle Price, Elle's Studio
Sherry Mendoza
Fancy Pats Designs
Simple Stories
Michelle at Chalkboard Blue
Hazel & Ruby
If you want a sneak peek of some of the gorgeous goodness inside Volume 3 of Creative Spaces, just take a looksie! 😉
Here's a peek at our craft room again, in case you've missed it…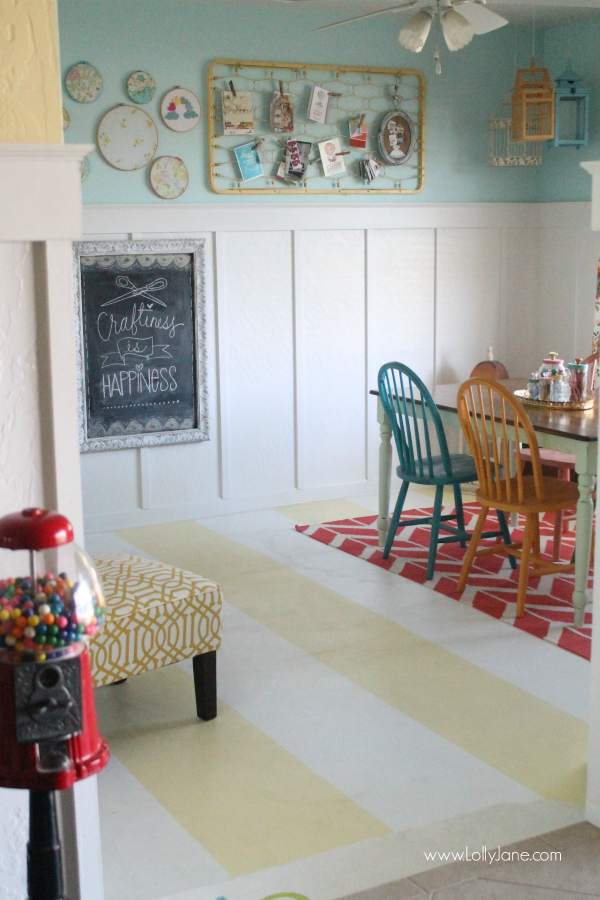 The monogram L is for Lolly Jane, I borrowed this frame turned chalkboard from Kelli's ombre wall and just love it in this space with my freehand chalk art!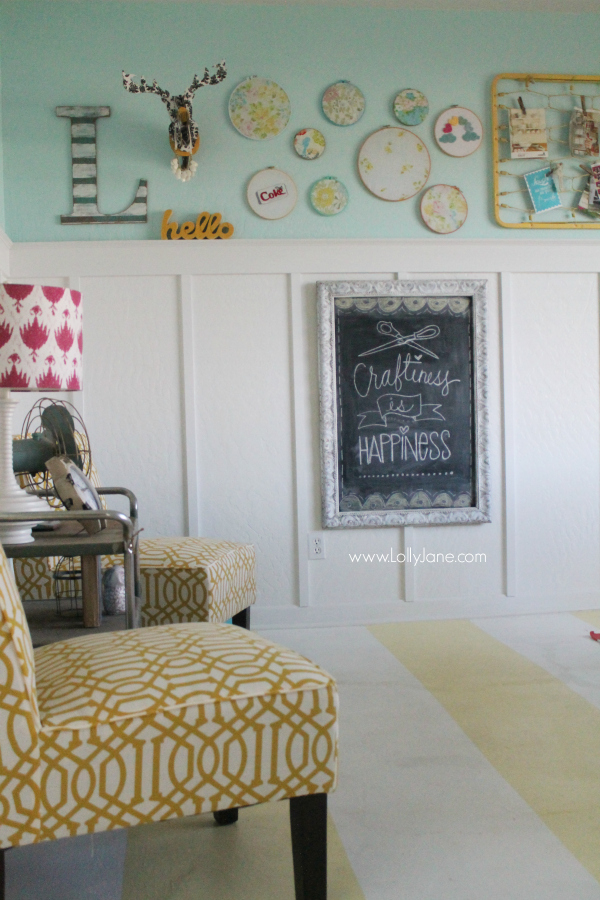 We nabbed these Target chairs on super clearance for $30/each.  We took them back to Target after the photo shoot, though- they were super cute but I love my big comfy ones (you can see a peek of them in my entryway) and we are planning to paint them.  Yes, paint fabric chairs.  It'll rock, don't be worried… the floors turned out okay, didn't they?! 😉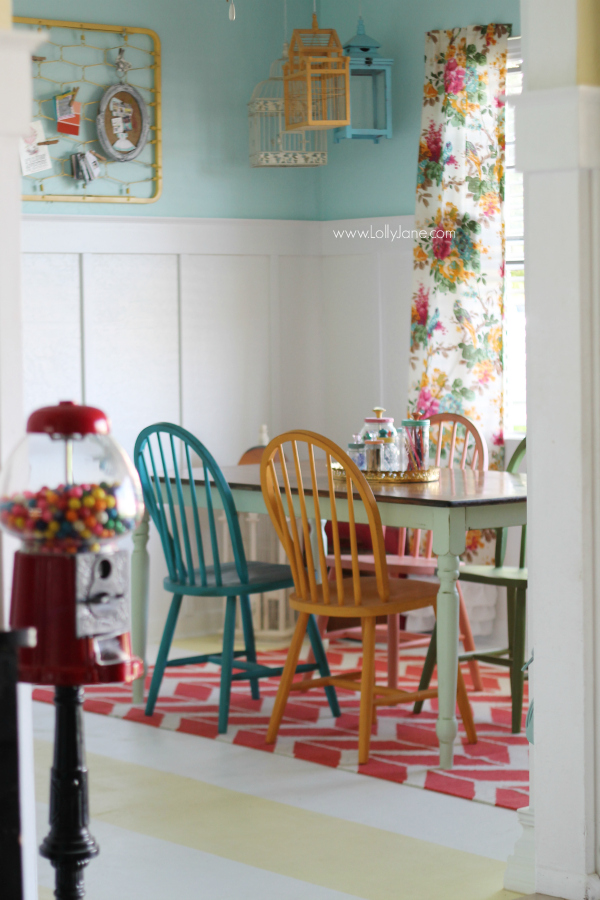 Kelli's favorite thing about this whole room are these pretty floral curtains (see the birds?) from World Market that our talented seamstress sister modified to fit the space by simply adding ruffles + lace. They definitely add a feminine touch to the shabby distressed projects throughout the room!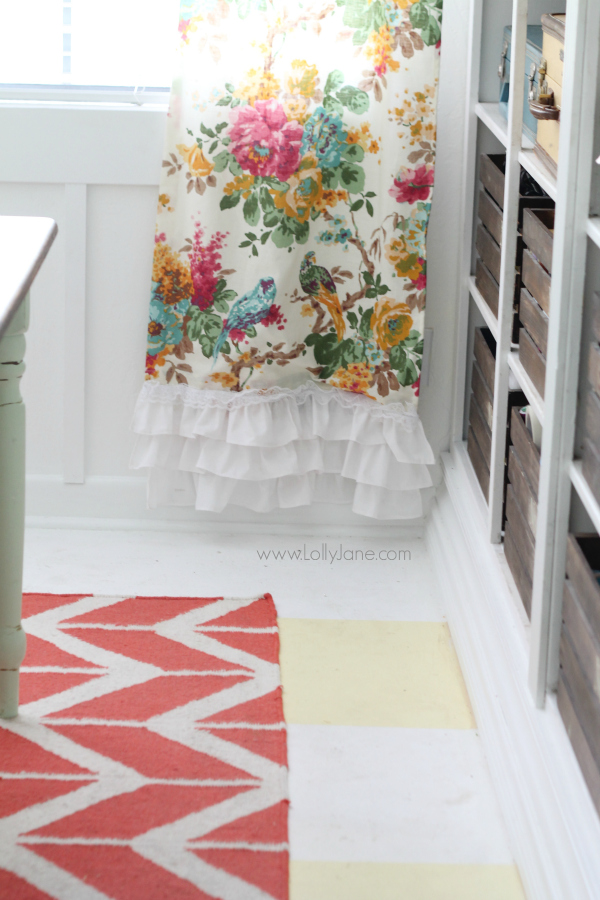 Here's a shot of the million dollar pin of Kelli's herringbone painted bookcase that I swear keeps this here blog afloat in Blogland! This is where it all started, after all! 😉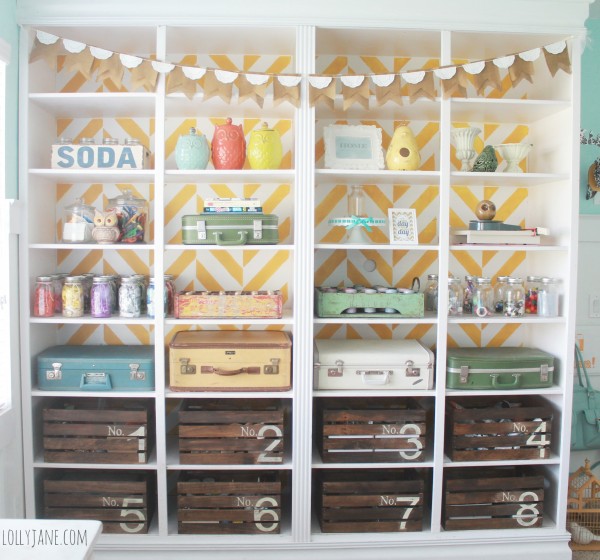 And for EVERY. SINGLE. TUTORIAL. relating to this fun space, be sure to click on our "craft room" tag that has a boatload of tutorials so you can create your piece of Lolly Jane's space in your house (like our vintage numbered crates, burlap doily bunting, decorative vent cover and more!) A BIG thanks to Creative Spaces mag for including us in this fun roundup of creative spaces! 🙂
Interested in owning this amazing mag? Buy a digital copy here! And a hard copy here! They'll be for sale at JoAnn's, Michaels + Hobby Lobby this weekend!
xo