Wall design ideas are always swimming in my head. I love painting my walls more than I love dressing myself. While a lot of women love to shop for clothes, I love to shop for paint. It's a sickness really but my house colors make me feel happy so I enjoy it (: When I was asked to review U Stripe It's new paint tool, I weighed my options before writing the owner back. Remember me and Kristi promised you guys we would free up our blog of "fill" posts? We try to say yes to good opportunities that will benefit us personally AND you as our dear readers. After looking at my walls, I decided a boring white wall in the hallway would be the perfect spot to try out the stripe tool…so it was quickly transformed into an ombre accent wall!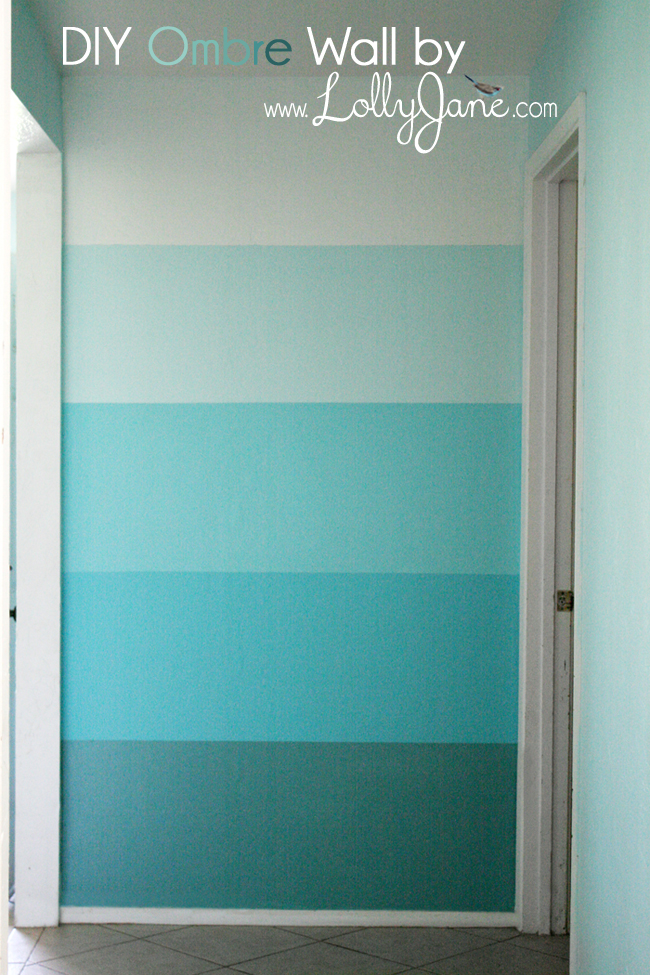 My favorite part is that I was able to use all my random leftover paint to create this color pallet! The top coat is white, leftover from my board and batten entryway. The second coat is is my living room wall color. The third color is the fourth color with the first color mixed (got that??). The fourth color is a 'turquoise gem' that I got free 2 years ago!-so happy to finally use it! The 5th color is from my kitchen cabinets (if you follow us via Facebook you'll have seen a sneak peek of those crazy cabinets, they'll be revealed soon).
I love that the lines are perfectly straight! There was no guesswork which made this project a breeze! This is what the U-Strip It tool looks like:
The neat thing about this tool is that it's designed to make perfectly straight lines. Not just horizontal lines like my wall but all sorts of patterns: chevron, plaid, squares, diamonds and so on. Pretty cool, right? Their site offers video tutorials which I watched beforehand. The tool comes with delicate painter's tape and 2 sided sticky tabs so you can use it with no helpers. I used my handy hubby since he was around to hold it for me while I marked my lines but if he wasn't home, I'm confident I could have done it without him, the tool is pretty darn easy to use.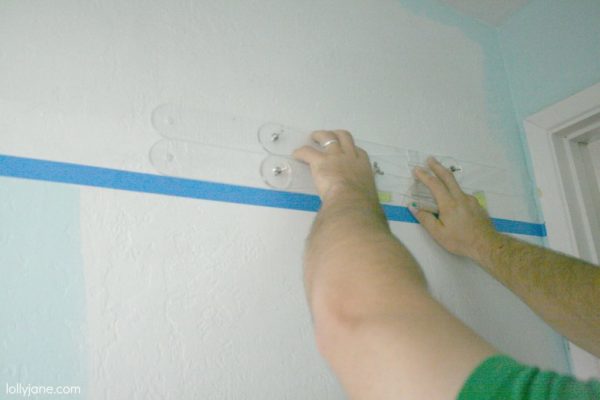 To get started with the stripes, you should start at the top and work your way down.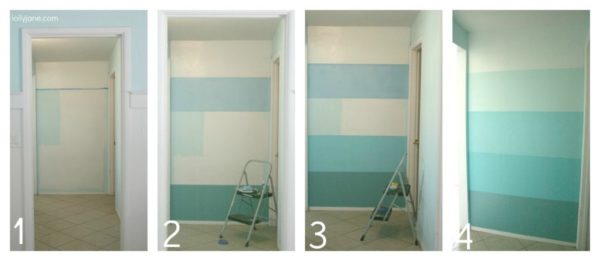 This was trial and error for me as I've never done 5 different colors and I had a 4 hour block of time as my kiddos were in school which means I was in impatient mode (; I started off by measuring. My wall is 94″ so I divided that by 5 and ended up with 18″ stripes. I taped 18″ below the top of the wall (#1 pic) and painted that block white. Since I didn't want to wait for each block to dry, I then jumped to the bottom and painted it dark turquoise (pic #2) and after the first block was dry, I taped the bottom line of the white block and painted the second block. I painted the 4th block (pic #3) a lighter shade of turquoise. It was at this point Sandee came over and said she didn't like the color of the #2 block so I had to re-evaluate my color scheme. I loved block color 4 so I mixed block 4 with block 1 to get a lighter shade which created block 3. For block 2, I used the wall color on either side of this wall. Make sense? Slightly confusing. The good news is the color mess up was mine, not the tools, oopsie!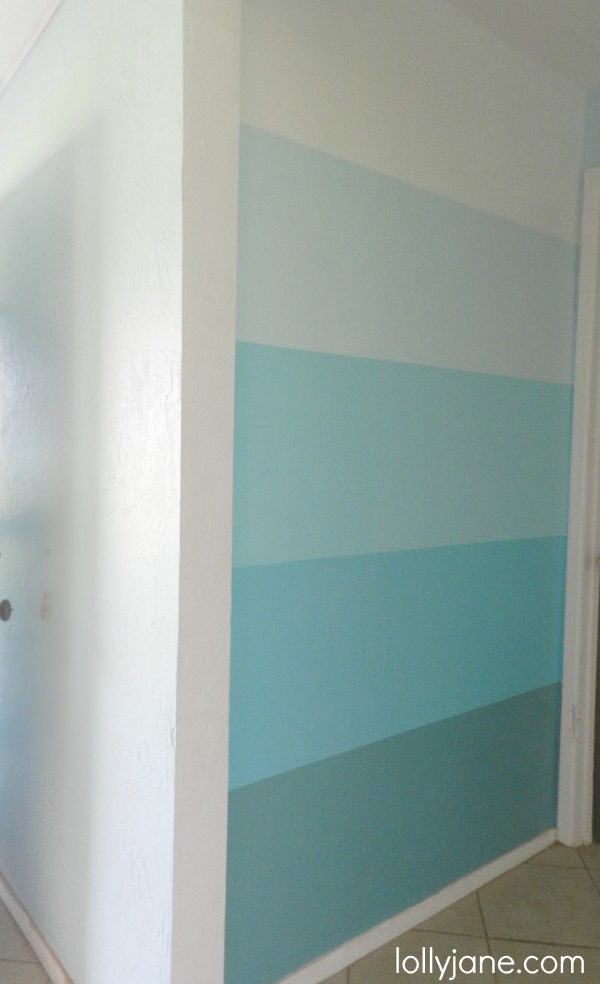 Here's the view when you walk into my house from the garage. Since I park in there, it's so nice to have this cheery wall greet me when I walk in!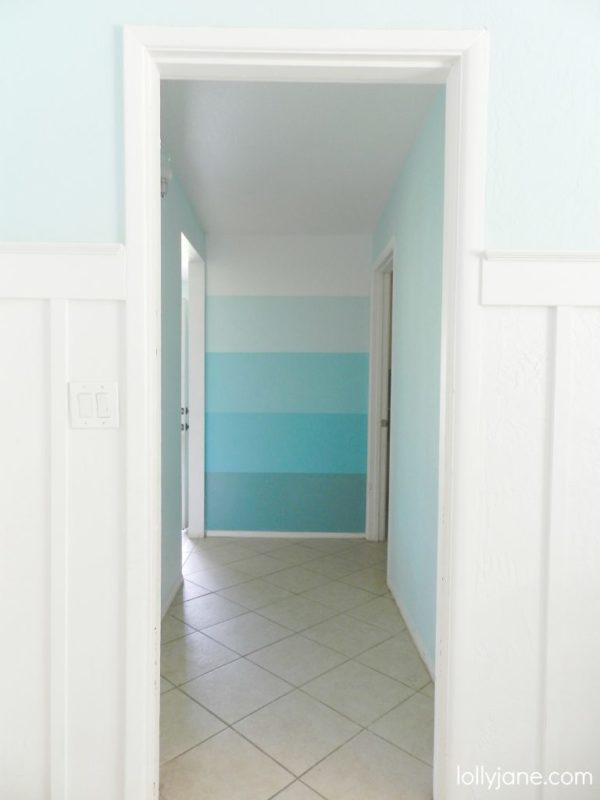 Updated: Click HERE to see how I decorated it after it was painted, it will take you to the full post showing the pic below (: