Happy Monday!  Kristi and I are still recovering from a cray cray weekend and are now laying on the couch and can't move Tough Mudder survivors!  Whoo hoo!  Anyway we've had quite a few comments and email inquiries on my faux vintage crates (displayed with my herringbone bookcase I showed with the sneak peek of my craft room makeover last week) and because I'm recovering, have had computer time to share the tute.  LOL!
Here's my secret to affordable crates….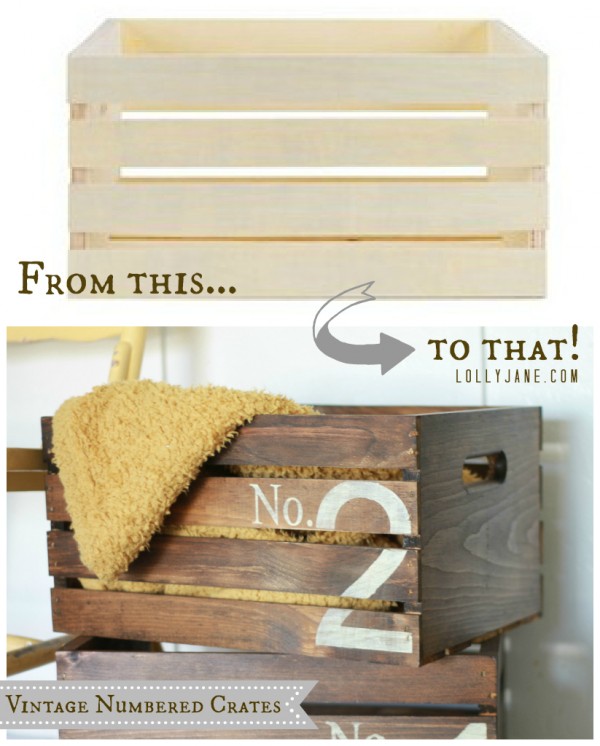 …$11.99 unfinished wood crates from Joann's!!  And, with your trusty 40% coupon it comes out to less than $8/each. Score!  If you want to personalize your own storage space or spruce up a corner of the family room (they are super cute filled with extra couch blankets or pillows) take a peek at how we created ours to look like vintage numbered crates: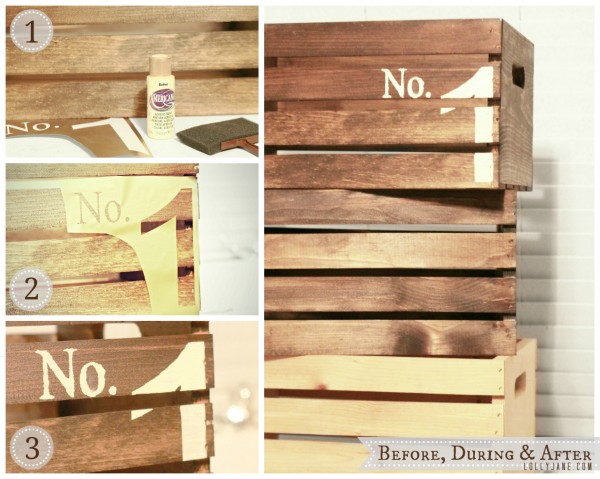 Stain crates in Minwax, dark walnut color… pretty sure that's the universal stain color in Blogland (;
Use your vinyl program of choice, (the layout was 7″x7″,) and design/cut "No. 1" in vinyl lettering.
Note: The "No. 1″ is sized 2.75″ x 1.5″ in Times New Roman font, and the numbers are sized 4″ x 6" roughly in Arial font.
Peel off backing and adhere to crate in bottom-right corner.
Using a foam brush, lightly paint over vinyl (since you're using it as a stencil) in Americana acrylic paint by DecoArt, in light buttermilk color.
Lightly sand when dry and admire your new faux vintage crate!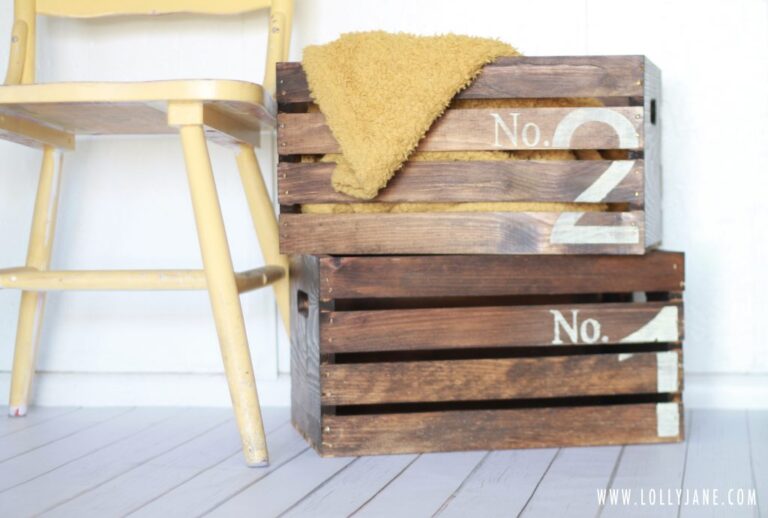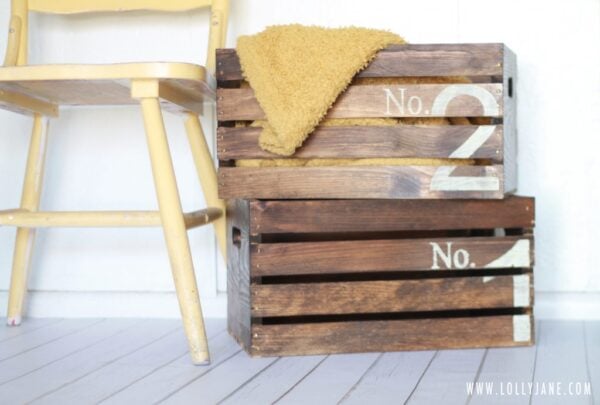 These crates are so versatile!  You can add casters to make them mobile…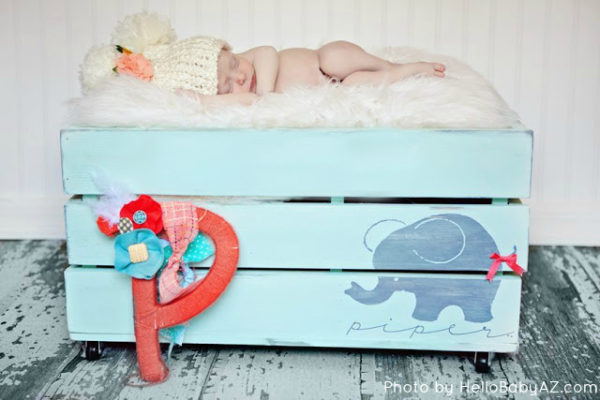 (Take a looksie at our DIY wooden nursery crate version | main pic photographed by Hello Baby! photography)
….or leave them stained sans numbers and use for everyday storage in any room of your home.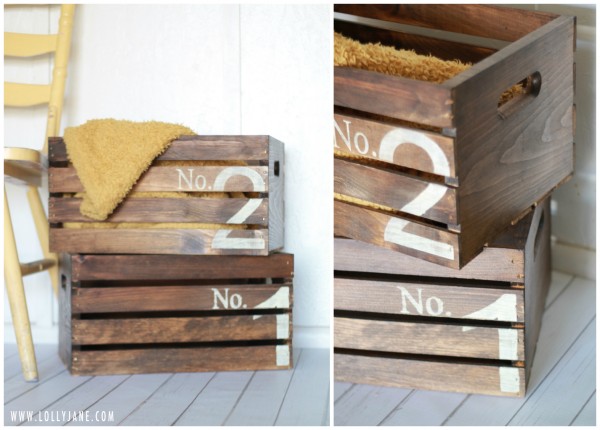 This simple crate can instantly spruce up any space and we love how easy it was to create a completely custom look for under $10.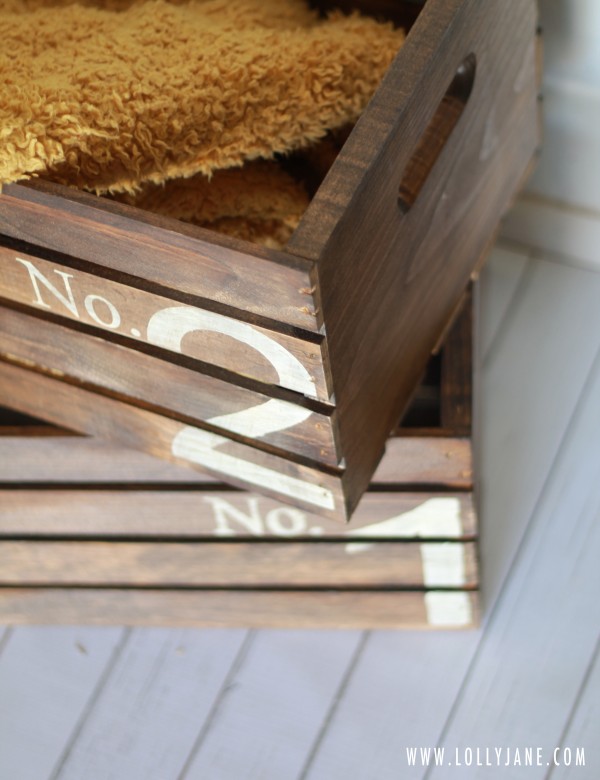 ps: In case you missed my craft room sneak peek, here are all 8 of the vintage numbered crates I'm using for my craft hoard storage.  I lovely love looooooove them! (: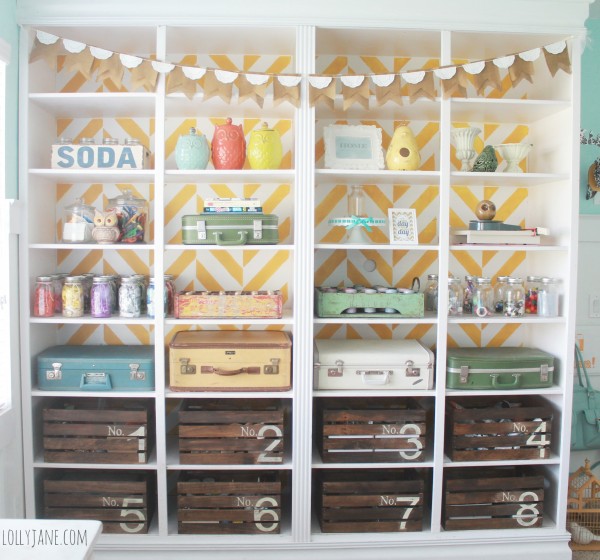 We'll be back soon to squeeze in some St. Patrick's Day crafts before Easter is here.  Such a bummer there's only a few weeks in between for decorating purposes, right?! (;
Update: Check out our burlap doily bunting tutorial, full bookshelf before and after and even a herringbone roundup!
xoxo