Coastal Master Bedroom |Reveal
My coastal master bedroom makeover is complete, and I'm so in love! My husband is even more in love with me more after I was able to pull off this design on a budget, and I have to admit it was fun working on it with him! Click on over to have a look back at my master bedroom inspiration post. Wow, I would not go back to the dark side…aka, the non-decorated side! The before picture was actually pretty flattering, but I promise you it was a hot mess in real life. Just check out this after picture to see the big difference for yourself.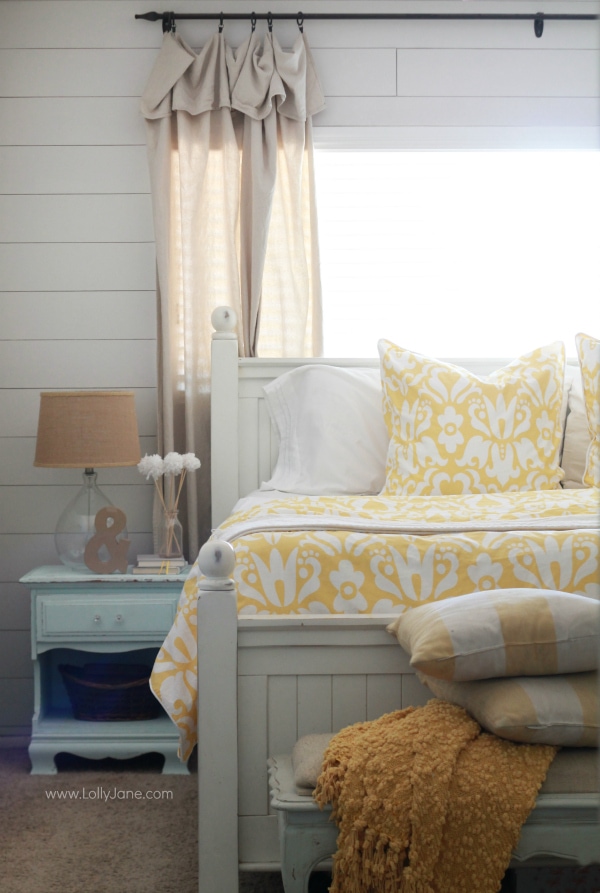 That plank wall is delicious! I love the depth it gives the room, and how it grounds the bed to that wall. The window pops, but the linen curtains subdue it. The bed is surrounded by calming decor, and it's such a relaxing space. Here was my inspiration board created for this bedroom. I used Sherwin-Williams' Chip It!™ tool to find the perfect shade for my room! I'm really picky about what color white goes in my space, so after creating several inspiring color chip cards, I decided EXTRA WHITE was the color for me! It complemented most of the colors I was loving on my color chips, so I knew it was the one.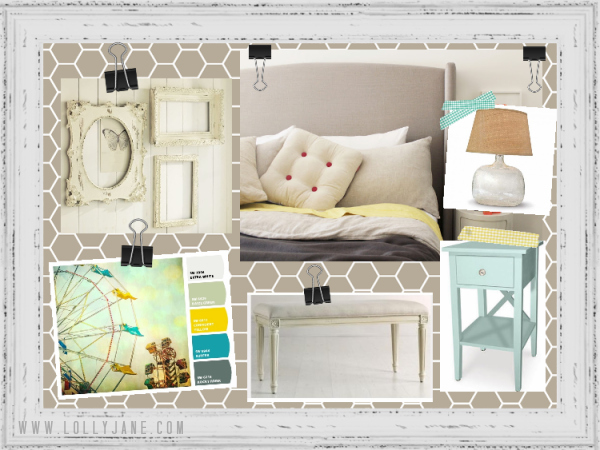 Okay, admit it…you're dying to know the wall color. It's so calming, isn't it? It mixes well with whites, tans and muted tones. Sometimes it looks a little green, sometimes it's just the right shade of blue. I've used this color all over my house, so it's no surprise I used it again for my master bedroom. It's Sea Salt from HGTV® HOME by Sherwin-Williams. And, let me tell you…I went through a lot of paint in this room! Not only did I paint all 3 walls Sea Salt, I had to paint each individual plank as well as the tedious closet doors with 20 panels total. I love this color! I have several posts all using to this color! But, I love painting, it calms me, so it was a good trade with the hub. He cut all the planks, I caulked and painted. Look at the room again from a different angle, don't you love the color? I think I'm obsessed since I've also painted my dining room table and chairs and even the bench sitting at the foot of the bed in Sea Salt! I admit I was tempted by that beautiful Baize green above in the inspirational picture…I even bought a sample of it. But after going back and forth with the Extra White, I stuck with Sea Salt for the blue tones. And afterall, it's become a classic around here and you can't go wrong with a classic.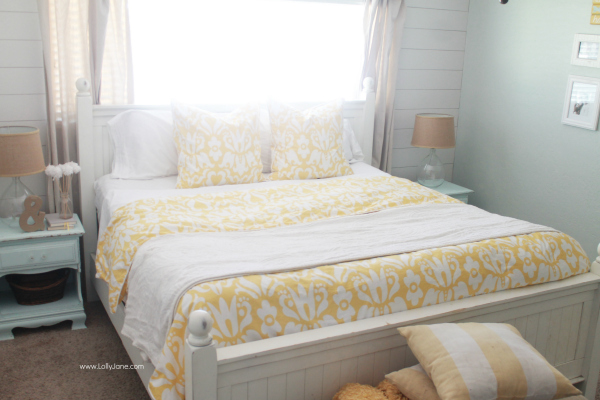 The gallery wall is strictly pictures of me and the hubby. I thought it would be fun to display a picture of each year we've been married. It's amazing to look back at 11 different pictures and recall the stages of our lives, how old each child was, where we lived at the time, how much we've changed since then.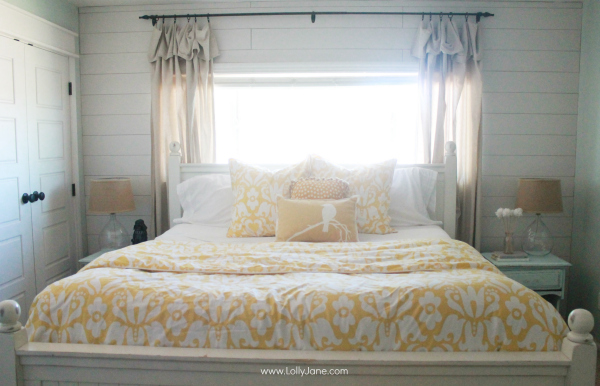 It's going to be a fun tradition to keep up!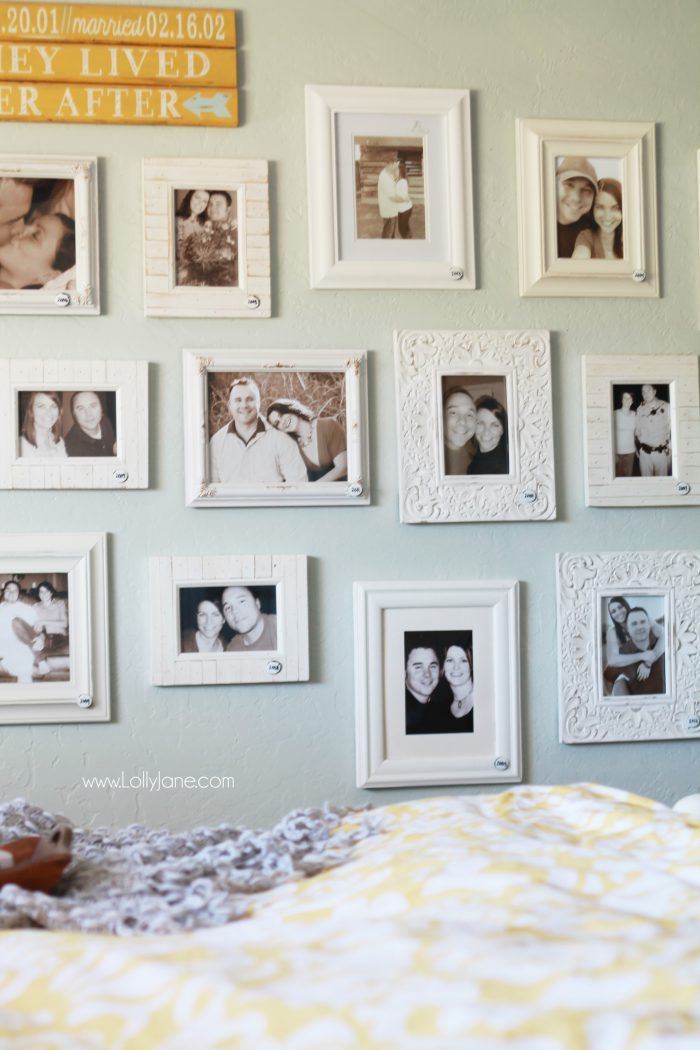 I love the white in this space, it's not a pure white, it's almost got a hint of gray in it. I used the same white on my beautiful closet doors, adore them. And guess what? These doors were installed by HGTV's former carpenter, Barr Huefner! He did a fantastic job!!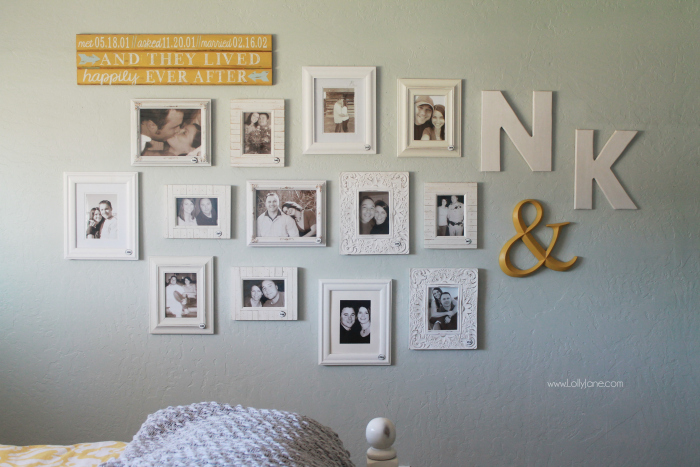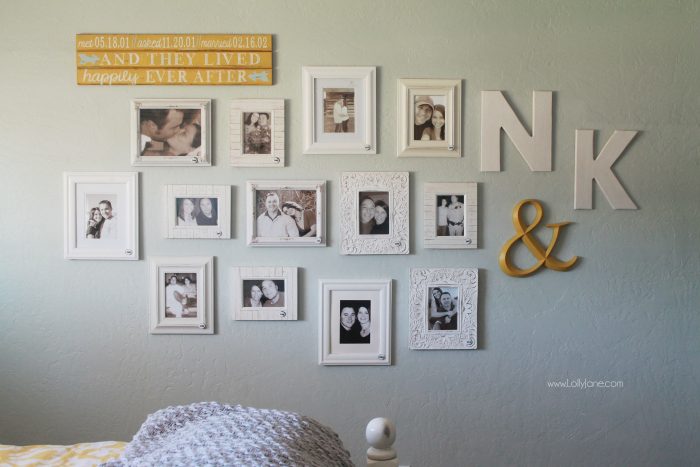 Even my dresser area got a slight makeover with new accessories. I love mixing vintage with new in my house. Your past defines who you are so why not shake things up with your ancestors' old goodies? See that vase? It was $10 at a common store down the street. I filled it with my grandfather's corks when I cleaned out his house last summer. The memories of digging through his life is priceless to me, and I've been saving those old corks for the right project, check out the whole post on our cork vase filler idea. I can imagine him and my recently deceased grandmother cracking open their nightly glass of wine together, and it makes me smile. The basket was a clearance find for $20, but in it is my dear Nana's pillow. When she was getting close to passing, she reminded me that I could have the pillow I so dearly loved. I hold it close when I miss her and think of it sitting on her always-perfectly- made-bed.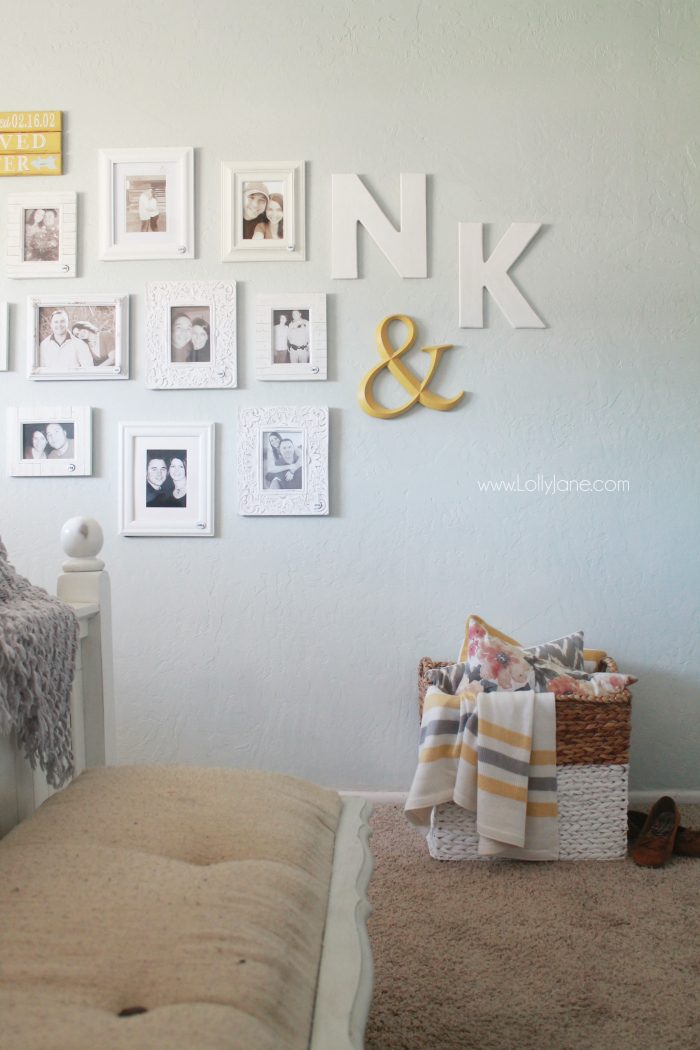 I love how the Sea Salt wall color complements both white and tan. Both the semi-modern dresser and the coastal basket. My fav paint color yet! I hope I've inspired you to make over a room in your house. It was really easy to pull all the accessories together and it wasn't very expensive. I spent around $600 including the custom closet doors and that isn't a lot for a whole room…especially the most important room in the house!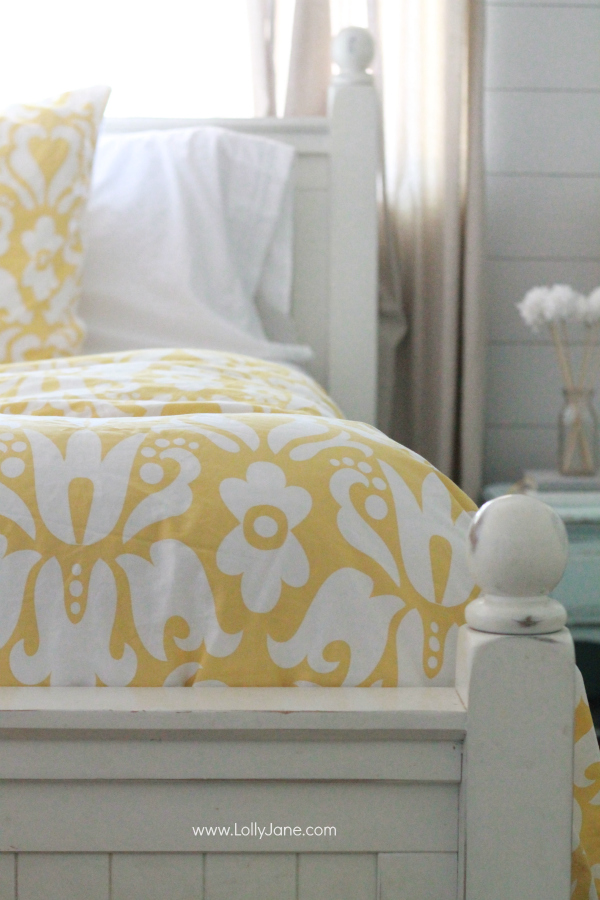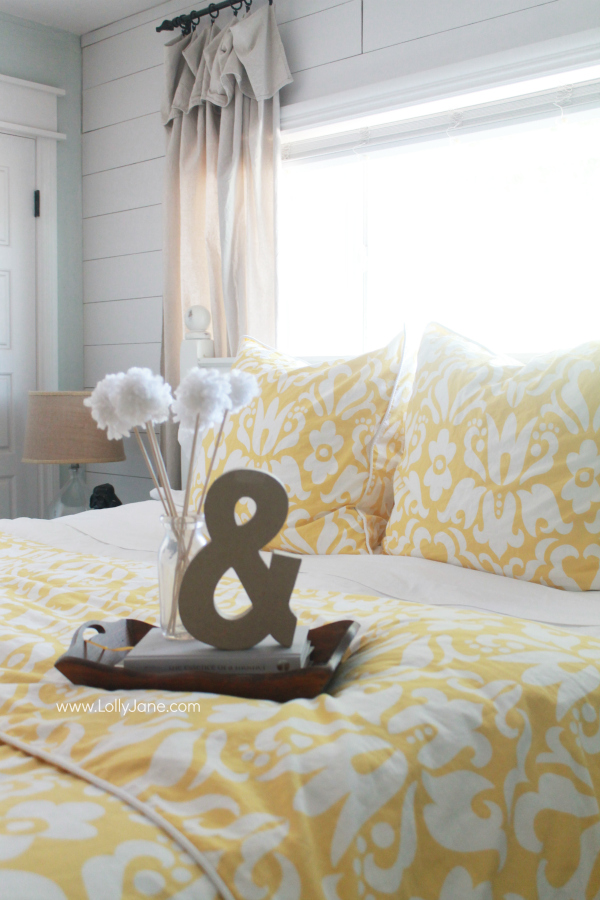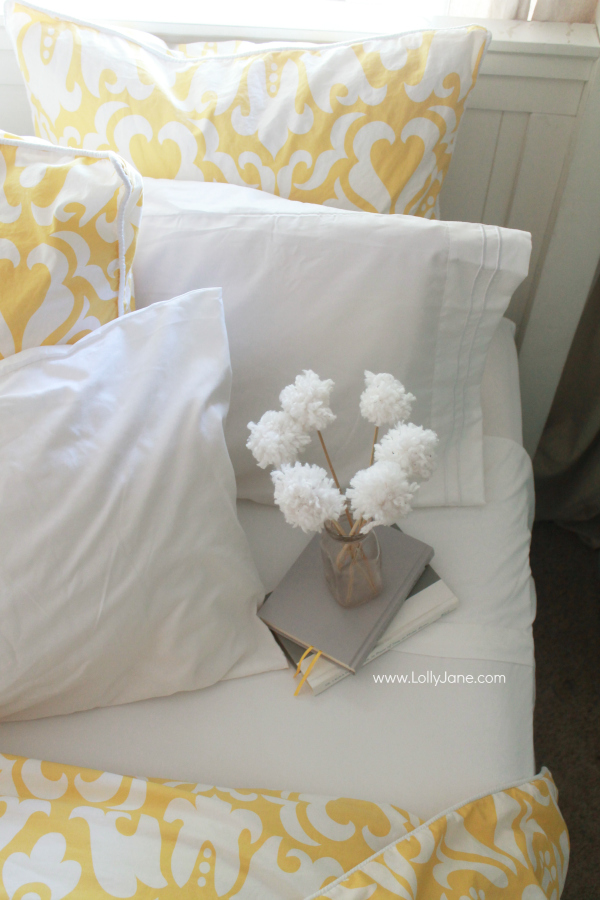 Thank you, Sherwin-Williams for sponsoring this room makeover! Visit them on Facebook, Twitter and even Instagram. They're just a few blocks down the street from my house and are getting to know me by name there (; Also check out a close up of that cupboard door subway art!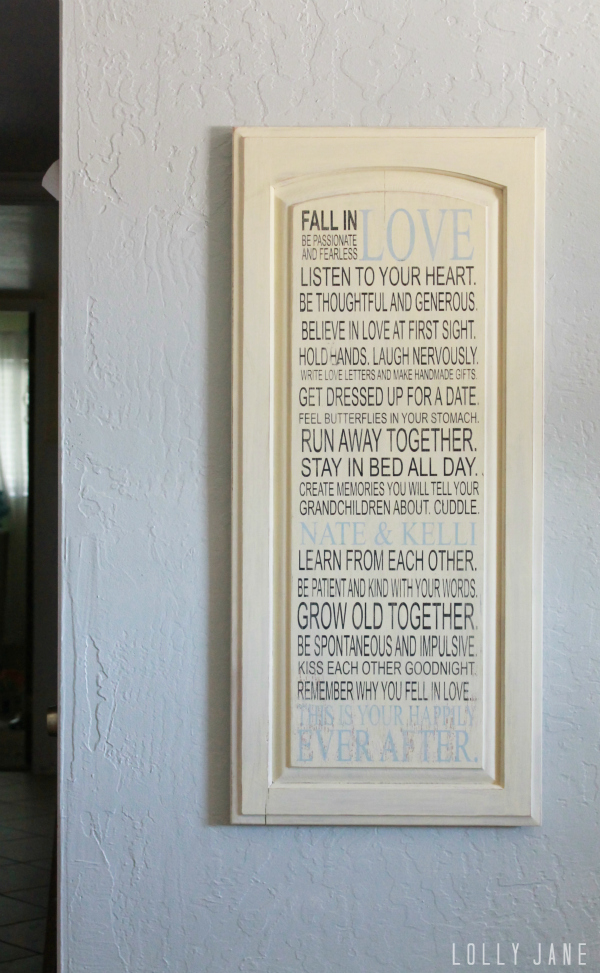 Source List:
Ceiling Fan
Frames: Pottery Barn from DownEast Home, the rest on sale from various stores like World Market, Pier One, Michael's, JoAnn's
Cupboard Door Sign: gifted from my uncle after a kitchen demo
Curtains: Drop Cloths from Home Depot, just folded over at the top and clipped
Lamps + Shades: Target
Basket + Bird Pillow: Marshall's
Bedding: Bed, Bath & Beyond
Doors: Custom built from 84 Lumber, LOVE them!!!
More details of this room coming all week! Check out my updated bedroom refresh: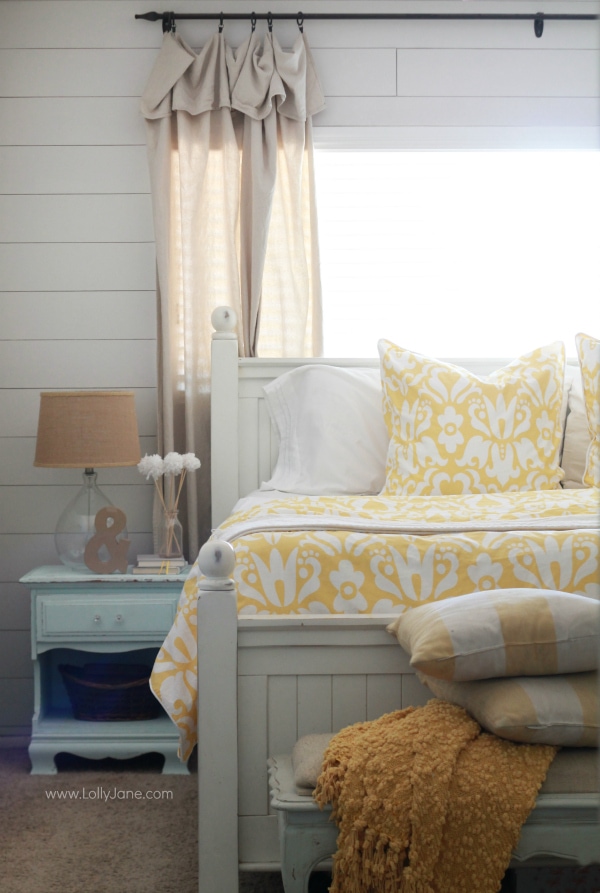 Visit all of our room makeovers like our always changing family room gallery wall,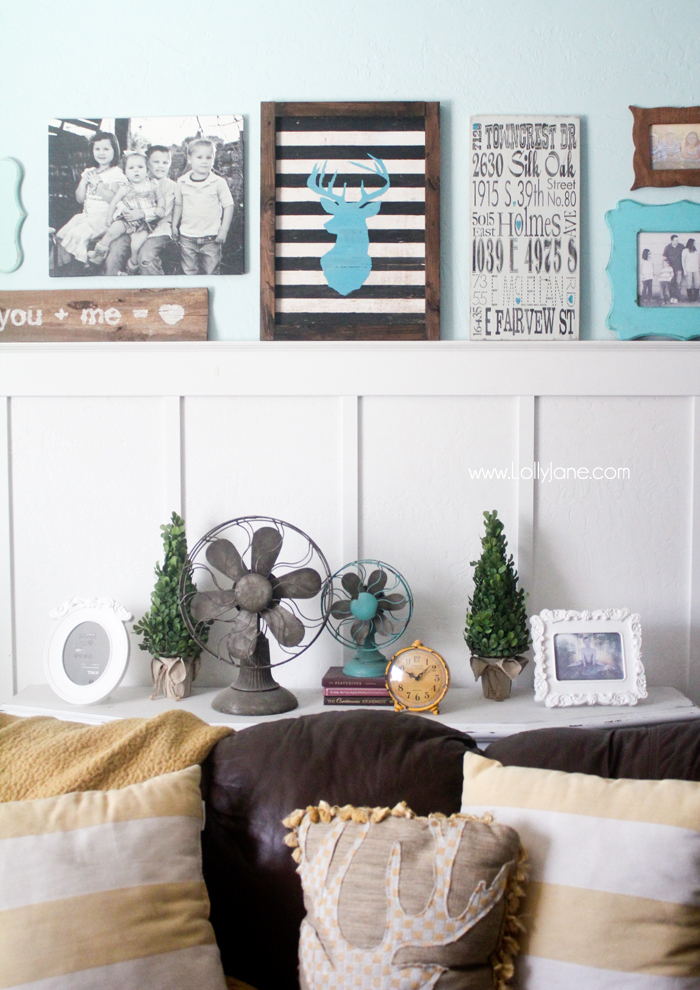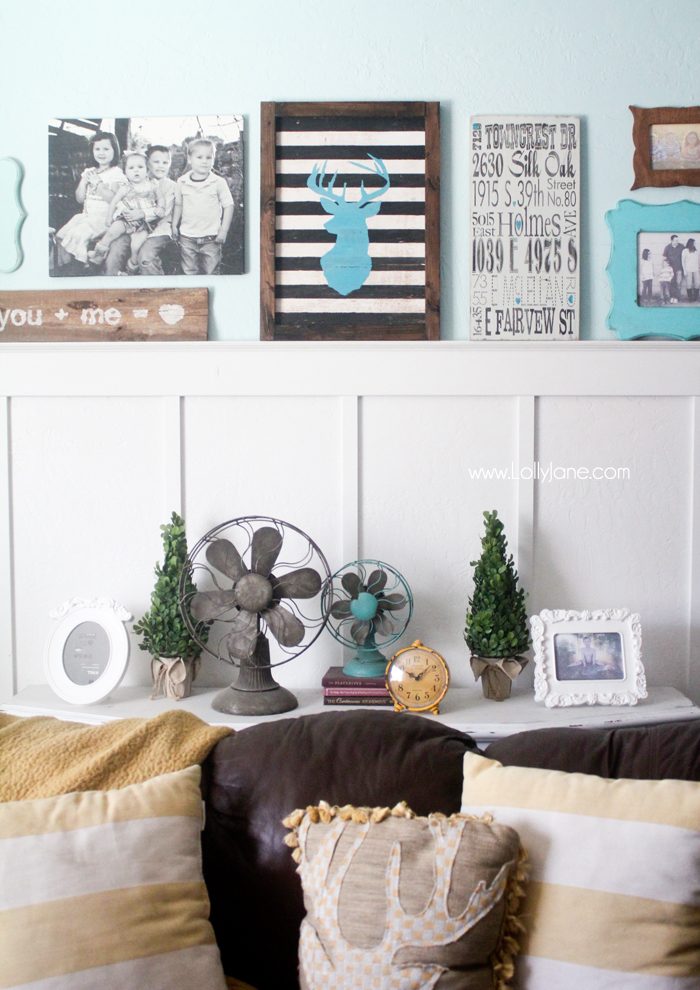 and our fun and eclectic craft room series.