Small Modern Farmhouse Bathroom
Small Modern Farmhouse Bathroom, see how we made every inch of this space count!
This bathroom remodel has been a long time coming! Renovating your own home while working full time, (and living in it with 3 children plus a golden doodle puppy!) is not for the weary… but alas, we have finished our hall/kids bathroom and it is glorious! It went from a boring builder grade home to a modern farmhouse with a flair of boho/tribal that is very kid friendly but also chic enough for me to relax and lock the children out peacefully bathe in. 😉
Small Modern Farmhouse Bathroom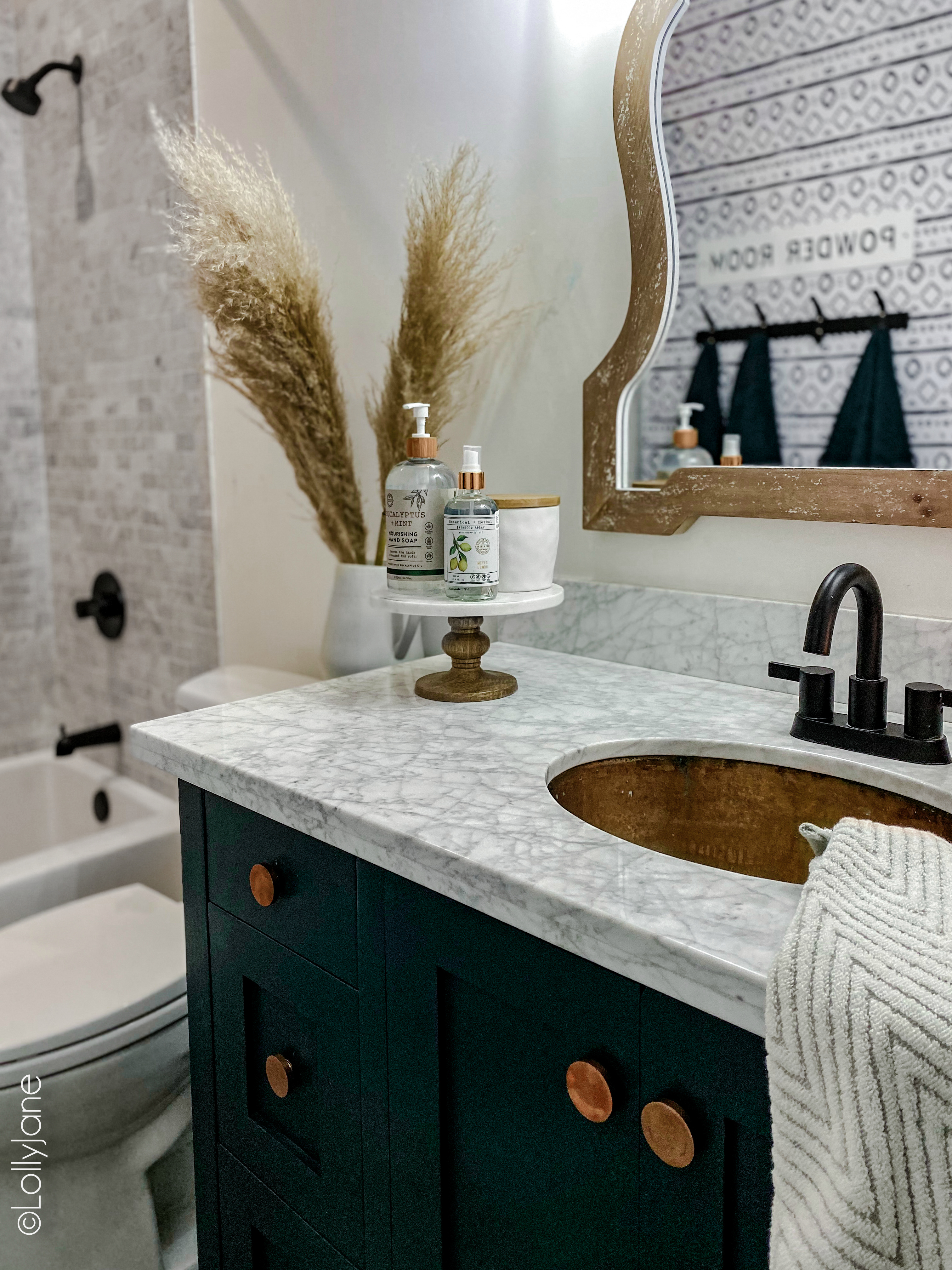 The inspiration for this entire space were these gorgeous black matte faucets. I wanted a black + white bathroom (easy to clean!) but knew I would paint our handmade vanity a colorful hue and wanted the black to be carried throughout the whole space.
CLASSIC MODERN FARMHOUSE HARDWARE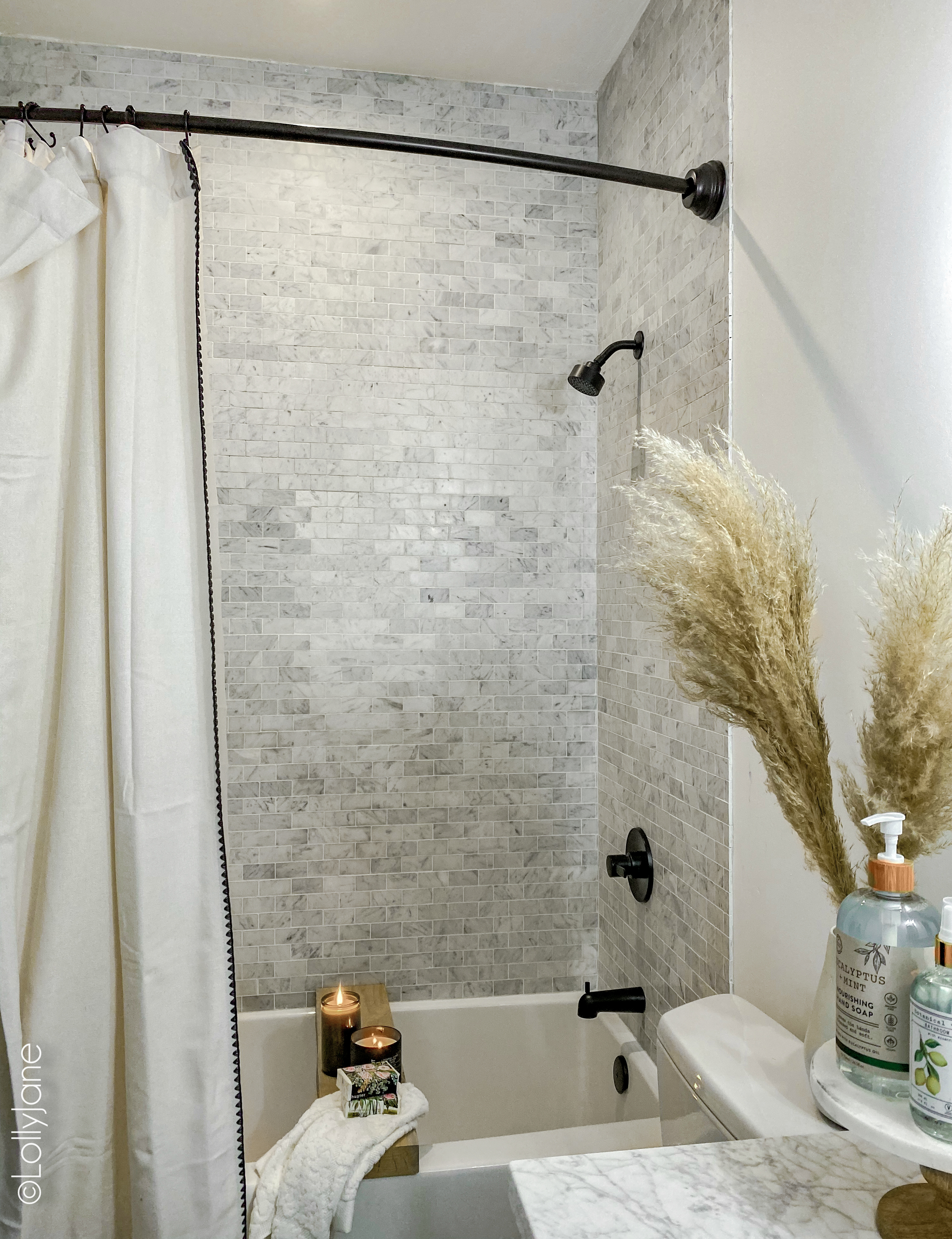 The simple design of both the sink faucet and bathtub & shower trim kit can accommodate a variety of styles but looks especially fantastic with our modern farmhouse meets tribal vibe we have going on. Paired with a marble countertop on the vanity AND marble subway tile in the shower, the matte black really POPS and I absolutely love the look of it but more importantly, as styles and seasonal decorating come 'n go, this classic hardware will stay just that: classic.The fixed spout is nearly 7" from the sink and fills in the space nicely where my husband hung the mirror too high, (thanks for saving the design day, Peerless– ha!) As a mom, my favorite feature of the Precept faucet is that the drain stop is behind the spout so my 3-year olds little eyes can't see it at first glance and is aware yet that she can make things float. Haha.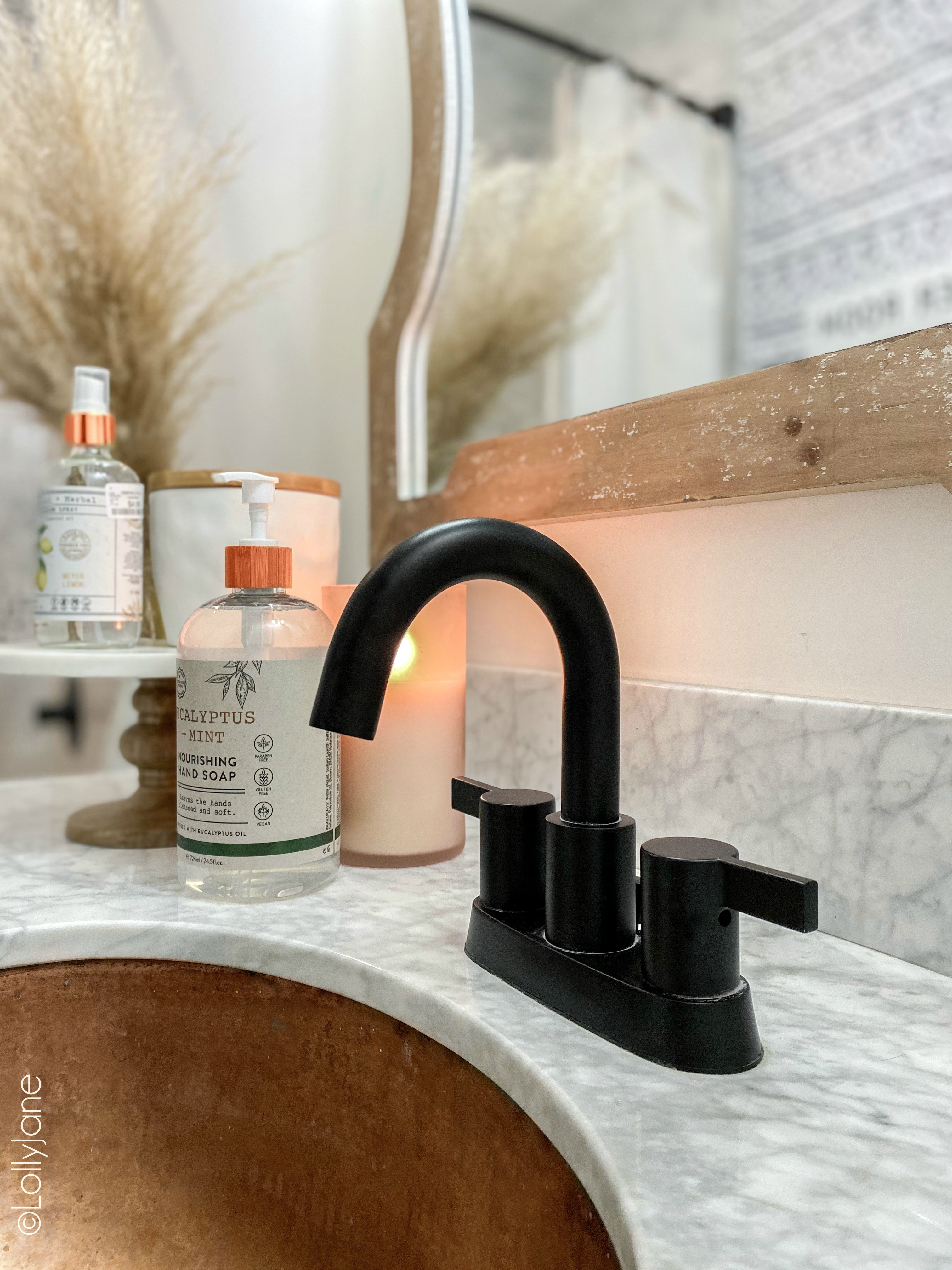 Small Bathroom Storage Ideas
Because this is a small bathroom, we opted to keep the mirror fixed, but to add room for storage, we built a vanity with 3 deep drawers. It also has a large space under the sink, perfectly fitting 2 small baskets underneath for shallow items like toilet paper, candles for me when I bathe, or extra towels. We store the kids toothbrushes and toothpaste in the top drawer, hair supplies (gel, blow dryer) in the middle drawer, and extra towels or other bathroom supplies in the last drawer. Other small bathroom storage ideas include:
Toilet paper holder on the side of the vanity with a small garbage can underneath
Basket next to the toilet filled with toilet paper if there's no room for a holder
Vanity with drawers
Mirror that opens to a medicine cabinet
Hanging rack from shower head
Hanging towel holder on the back of the door
Basket of extra towels by shower/bathtub
Attractive containers on the counter that double as storage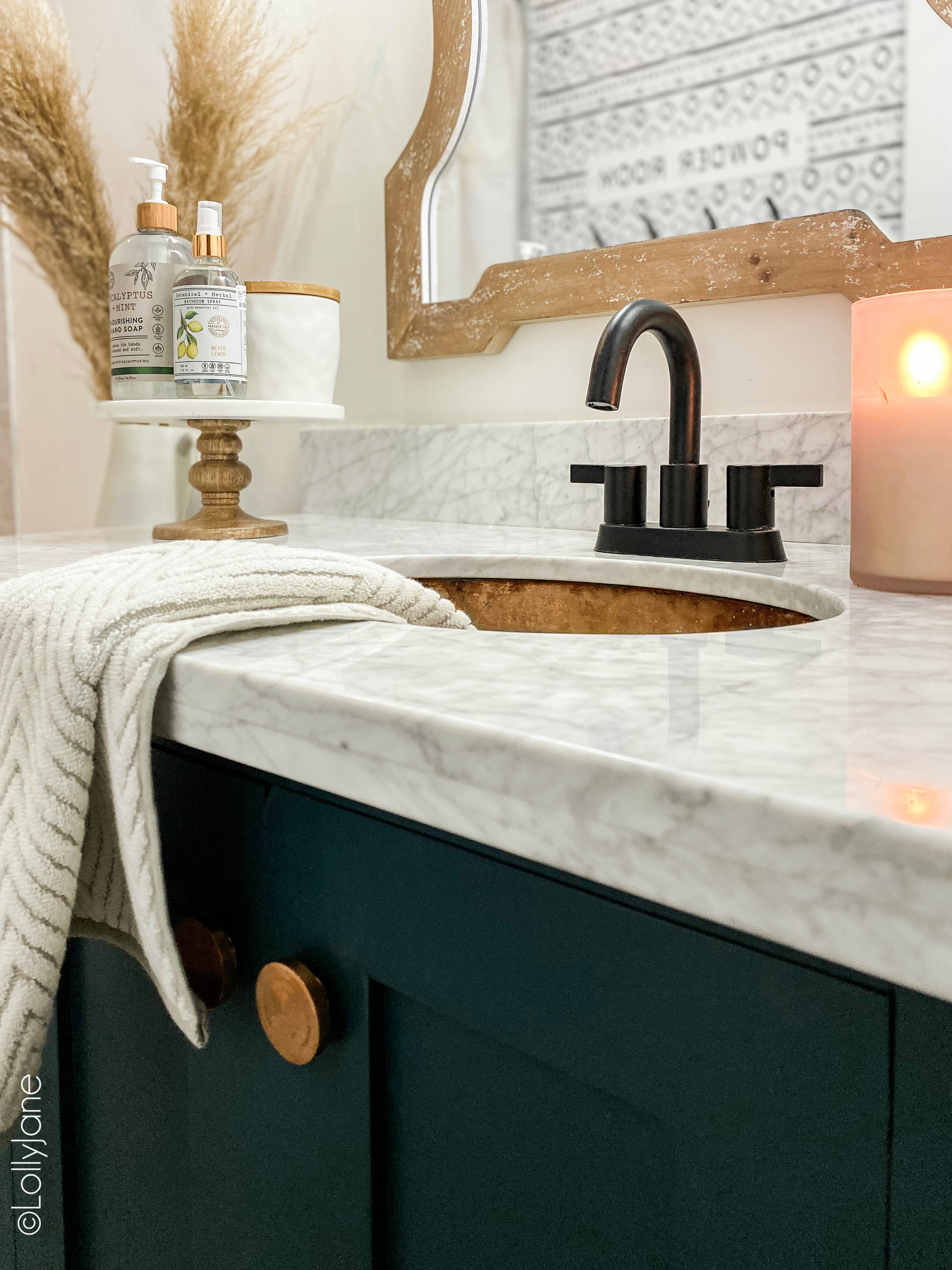 The plug on the bathtub shower & trim kit is my favorite feature; you push one side to open the flow to drain and push the other side to secure the water.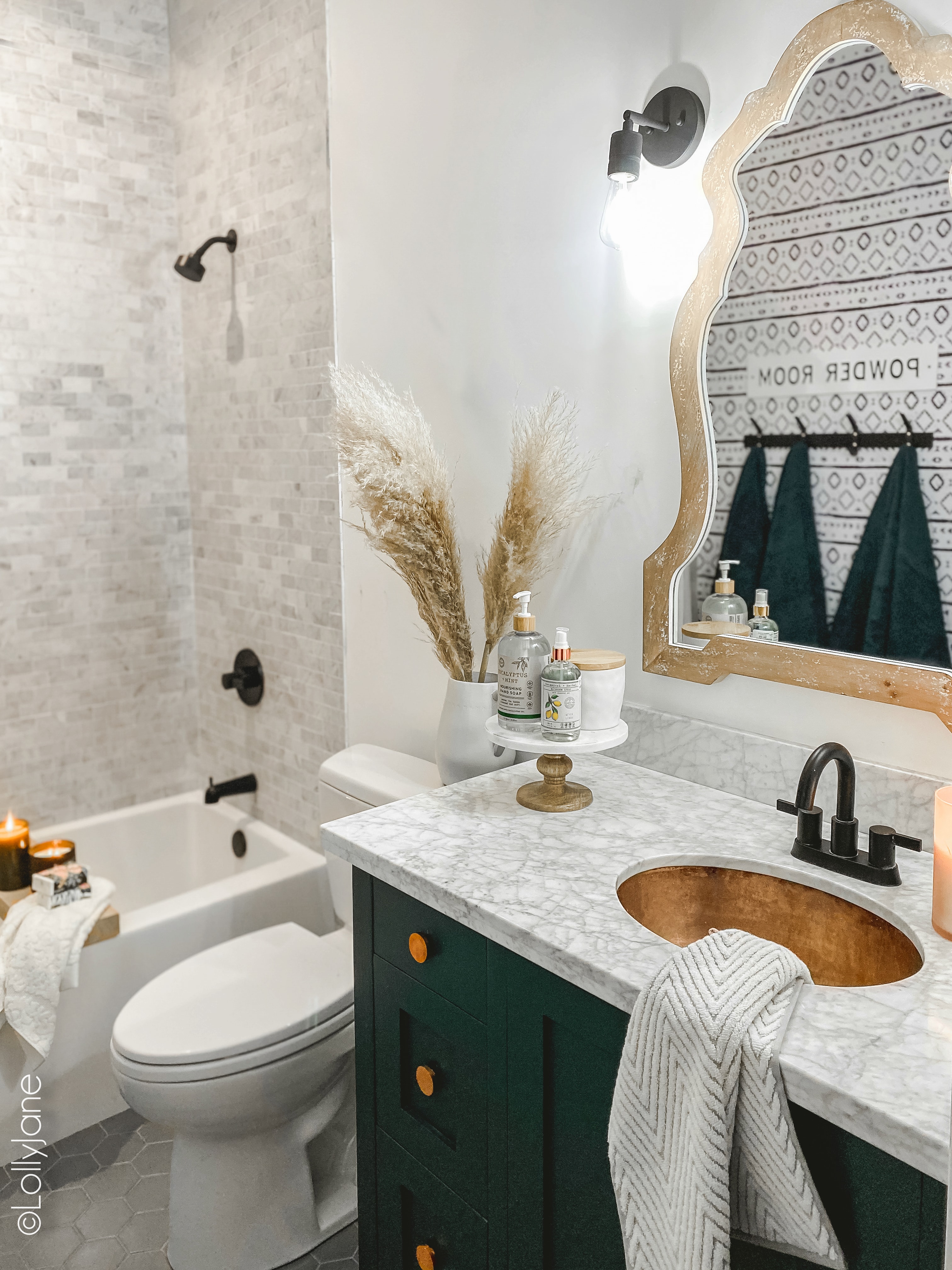 It's the little things!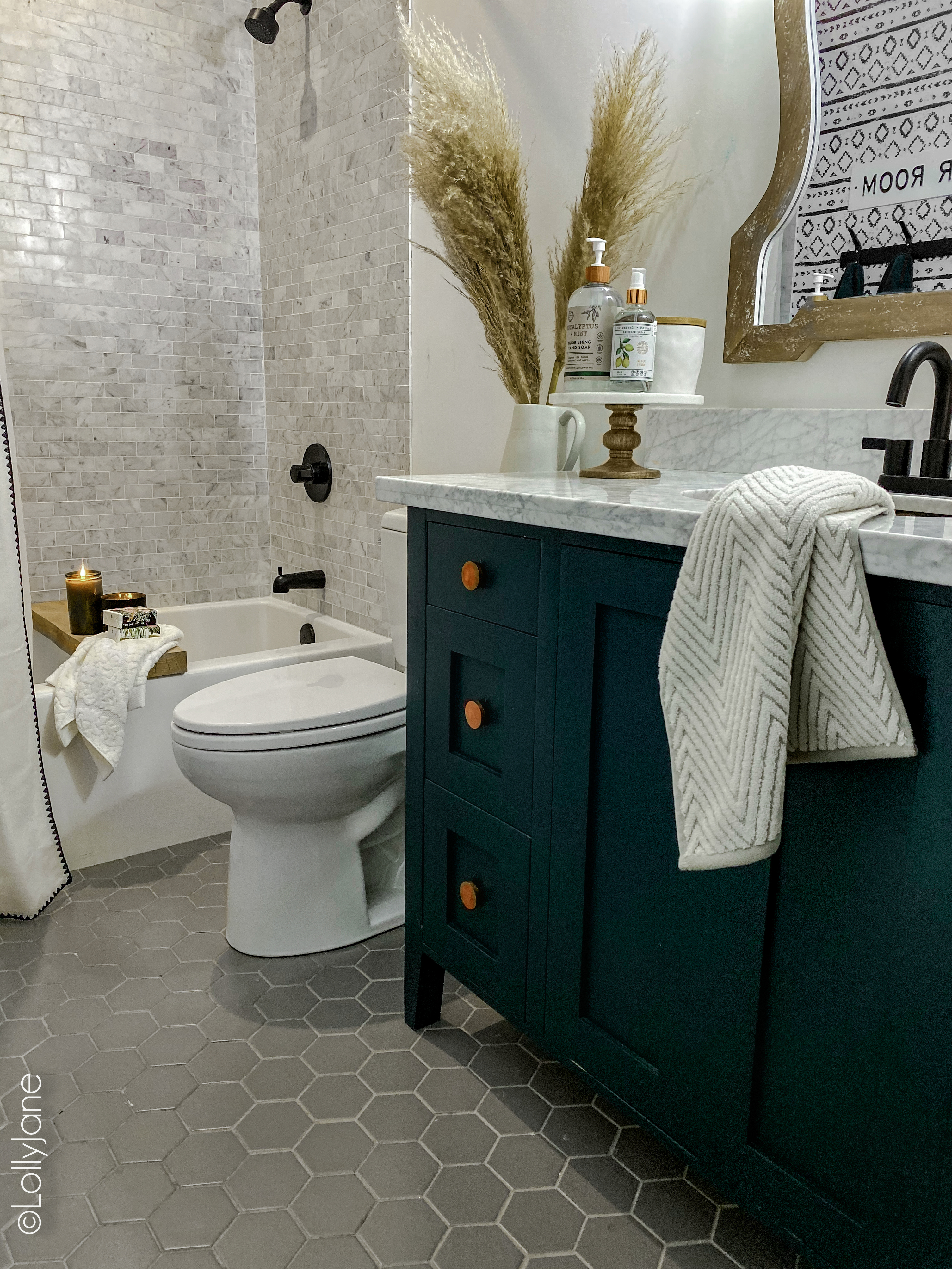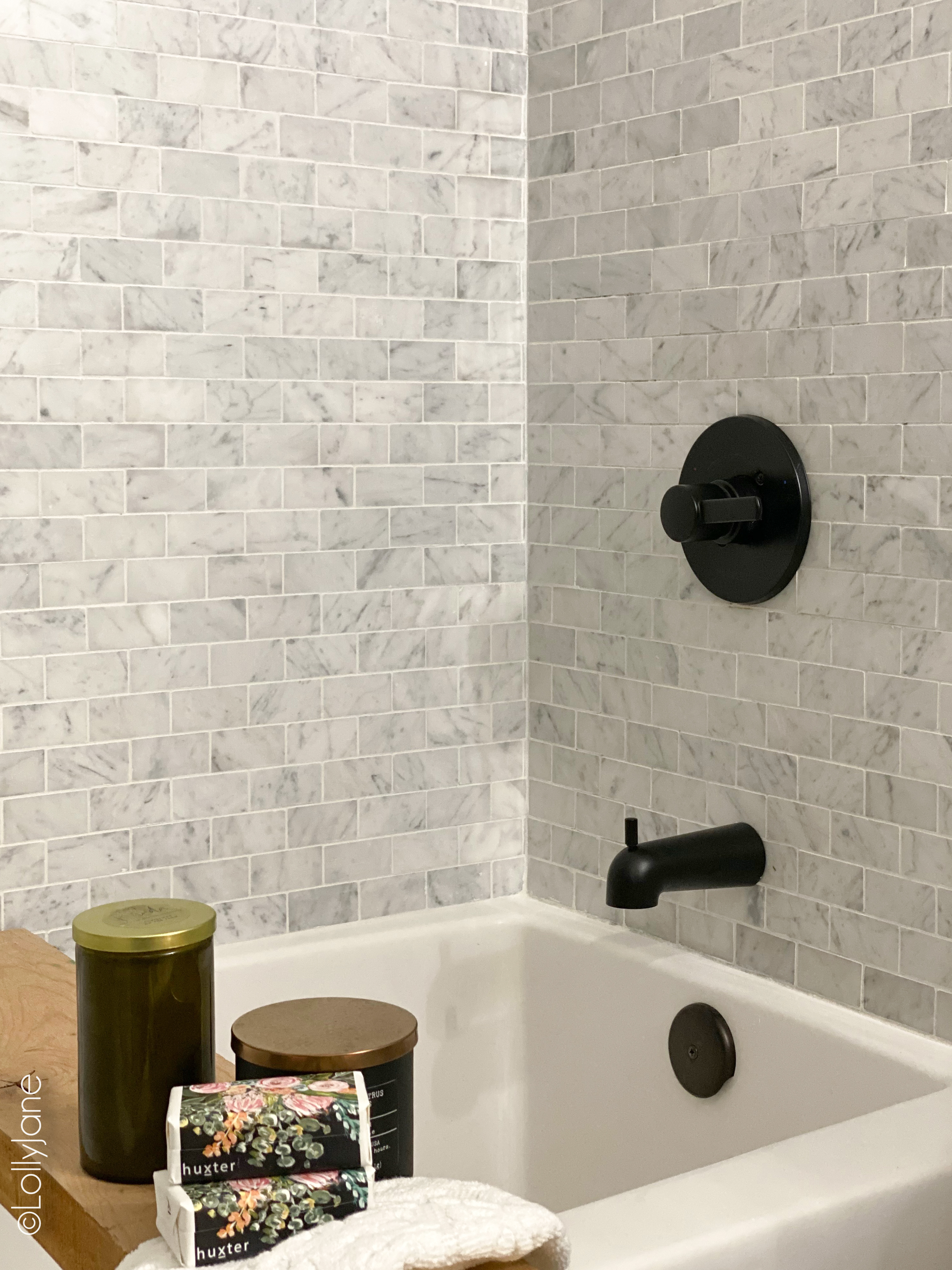 My faucets and trim & shower kit accessories are kid-friendy and easy to clean!
DIY bathtub holder
To jazz up this space and not have it LOOK like a kids bathroom (since it's also the guest/hall bathroom) I cut a piece of wood to go across the tub, sealed it to waterproof it, then placed a washcloth + candles on there for ambience (and a place for my phone to rest) for when I'm using this space.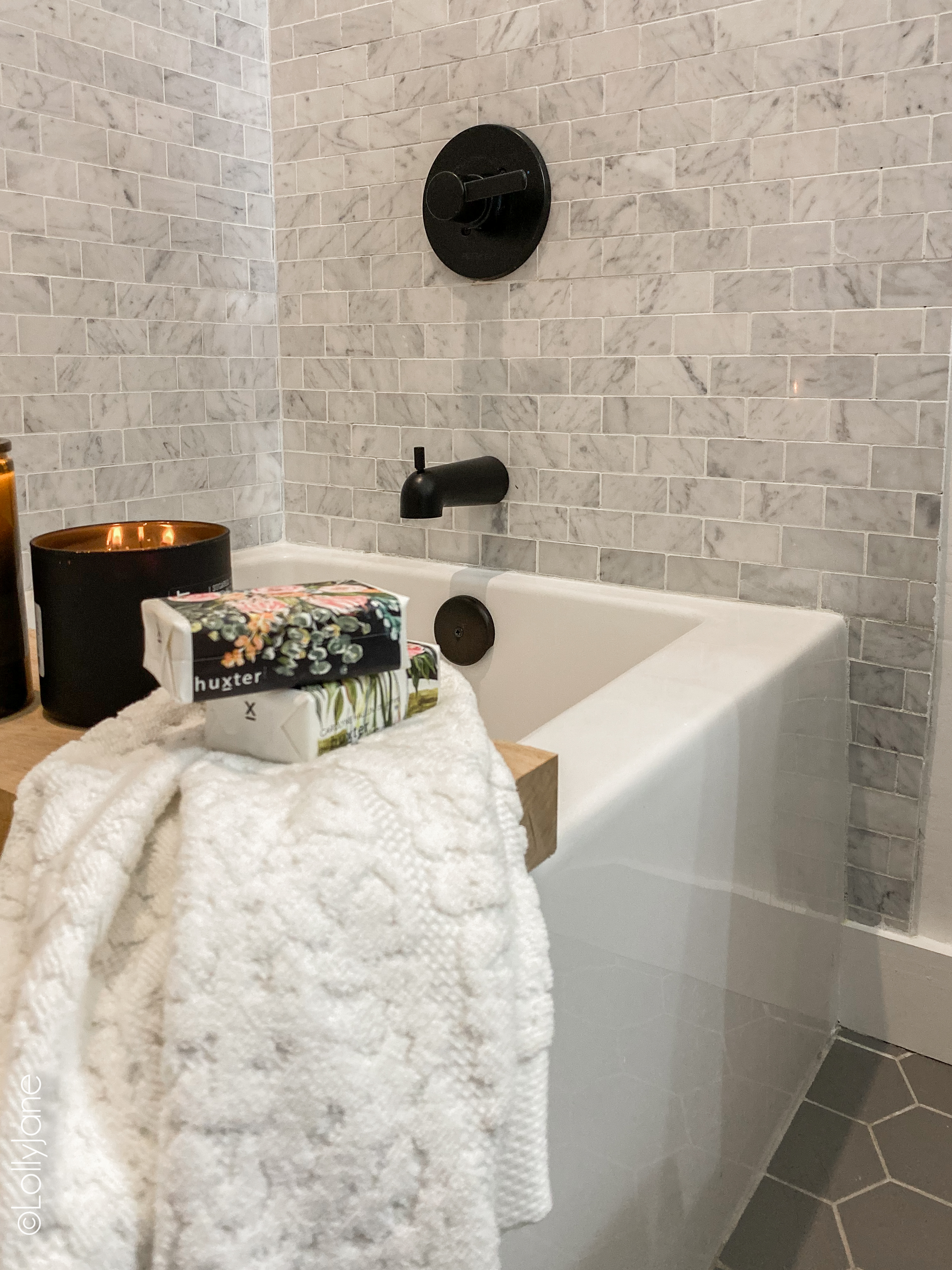 When the children are in here, the wood + candles go under the sink.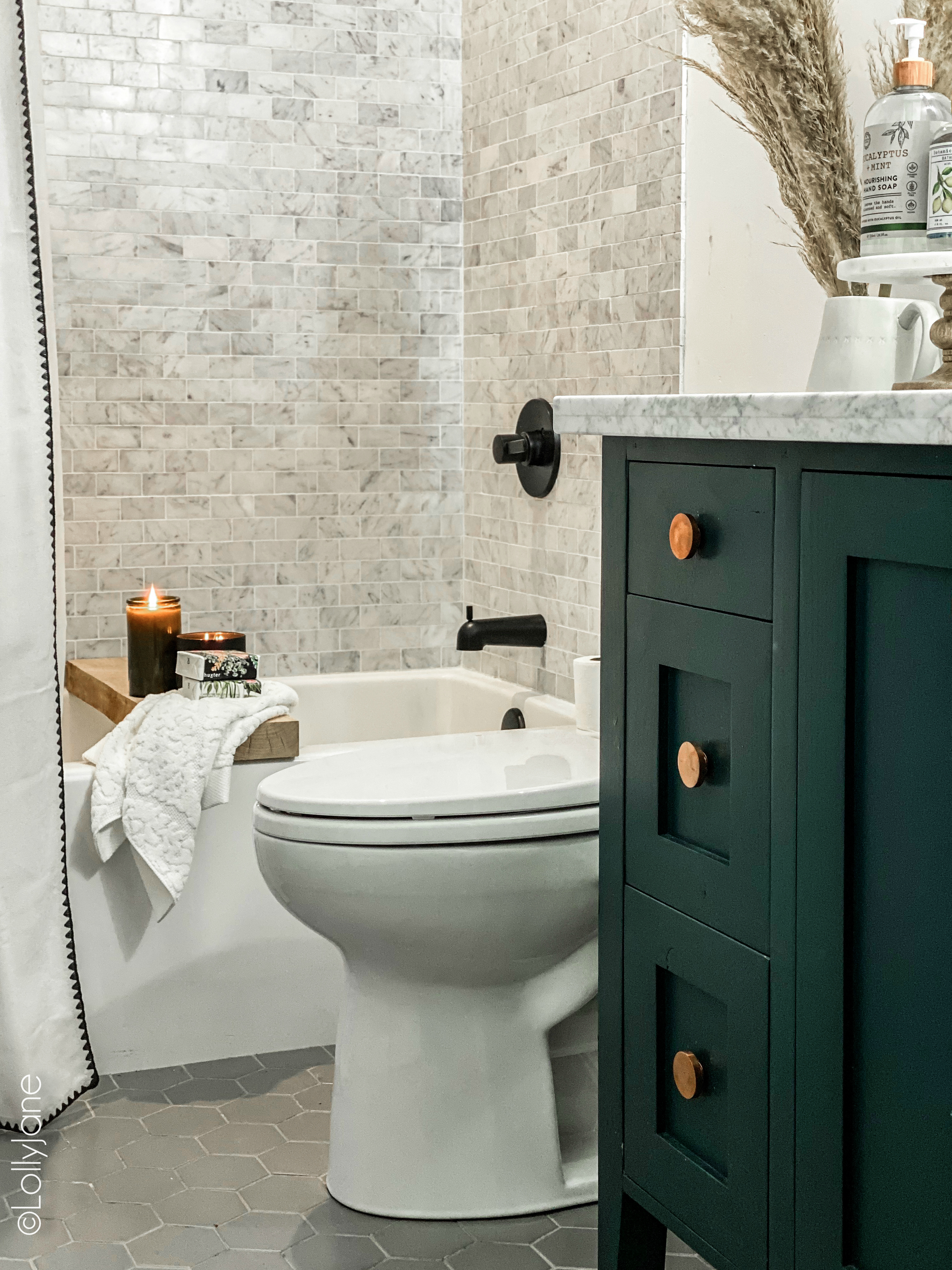 However you use style this space, the hardware is classic and can accommodate any taste or season!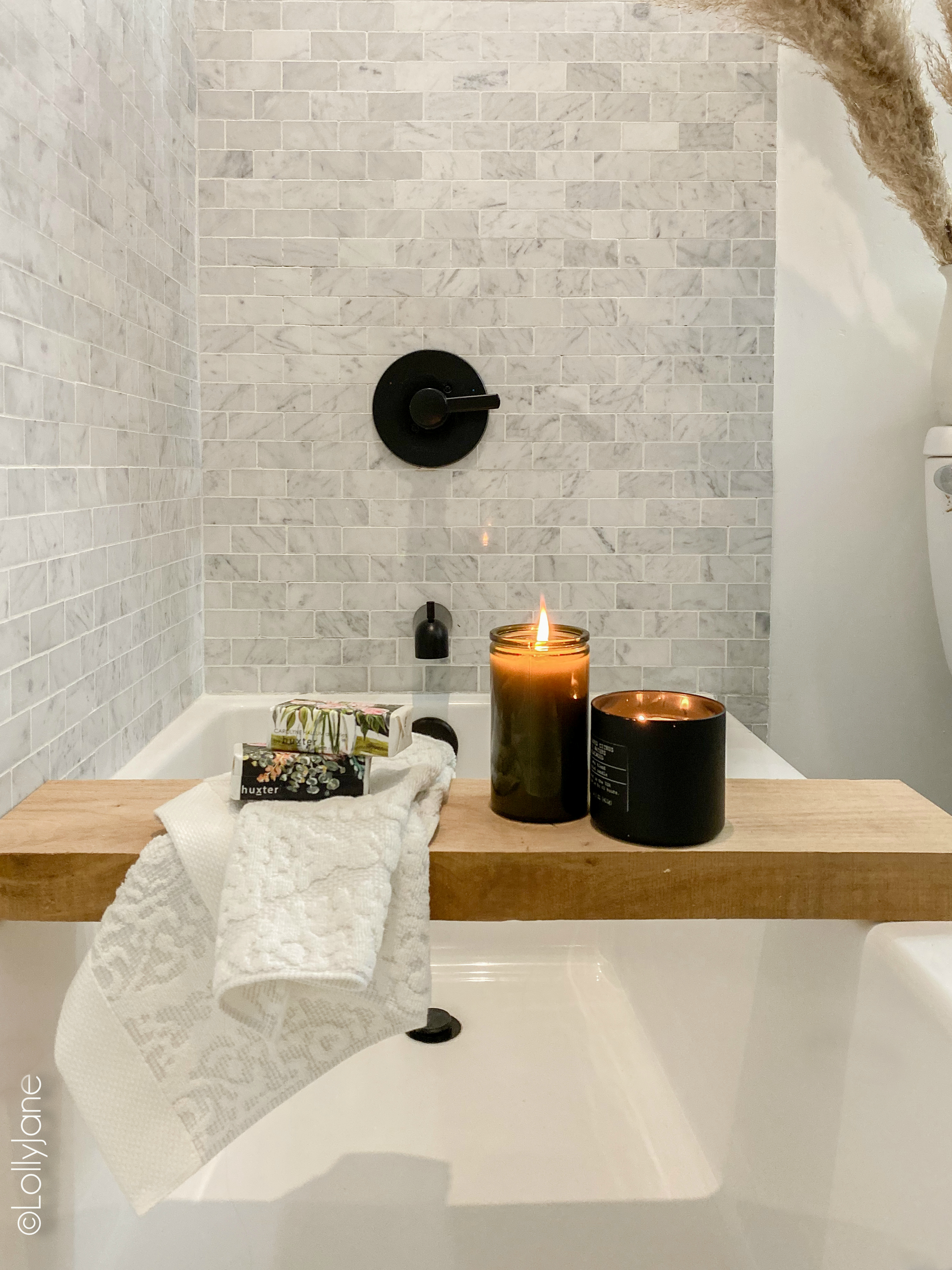 Source List for this project:
Vanity- DIY/Built by my husband
Vanity Marble Top (similar)
Vanity Color- Cascades SW7623 by Sherwin Williams
Wall/Trim Color- Behr Pure White PR-W15 via Home Depot
Copper Knobs on vanity
Tribal Wallpaper: Source undisclosed as WE DO NOT RECOMMEND, it does not stick well 🙁
PLEASE PIN
If you enjoyed this post, please pin so your friends can see it, too! xo