Check out the before and after teen boy bedroom makeover using a budget friendly full bed, cozy memory foam mattress and a foolproof way to maximize black out curtains!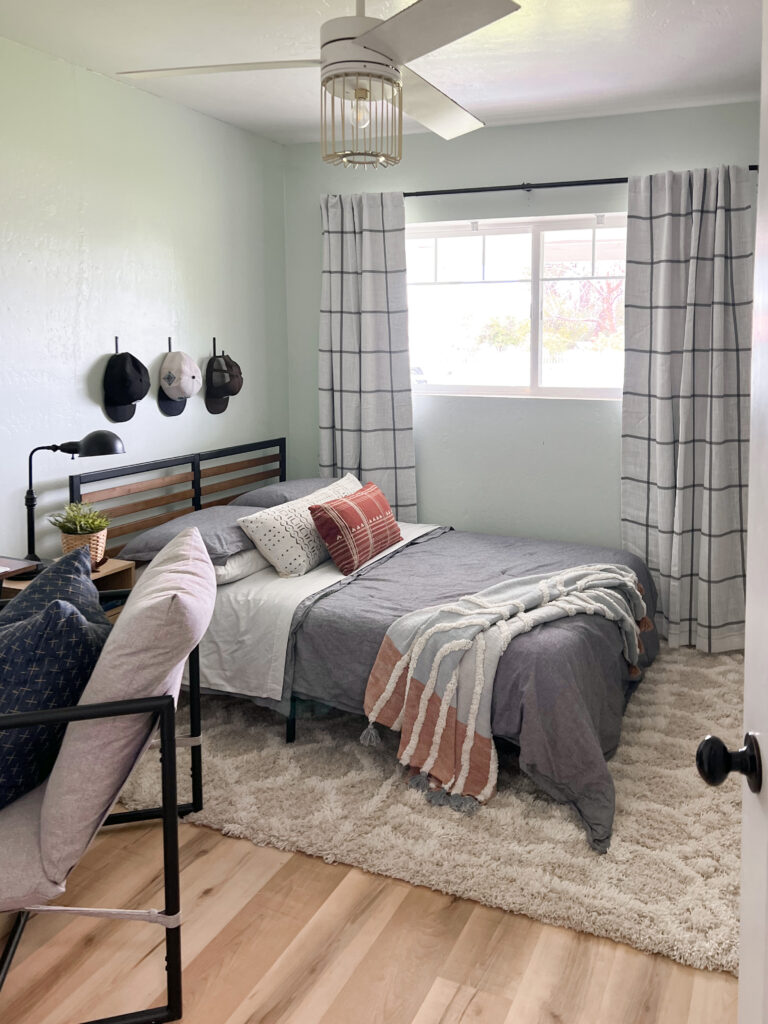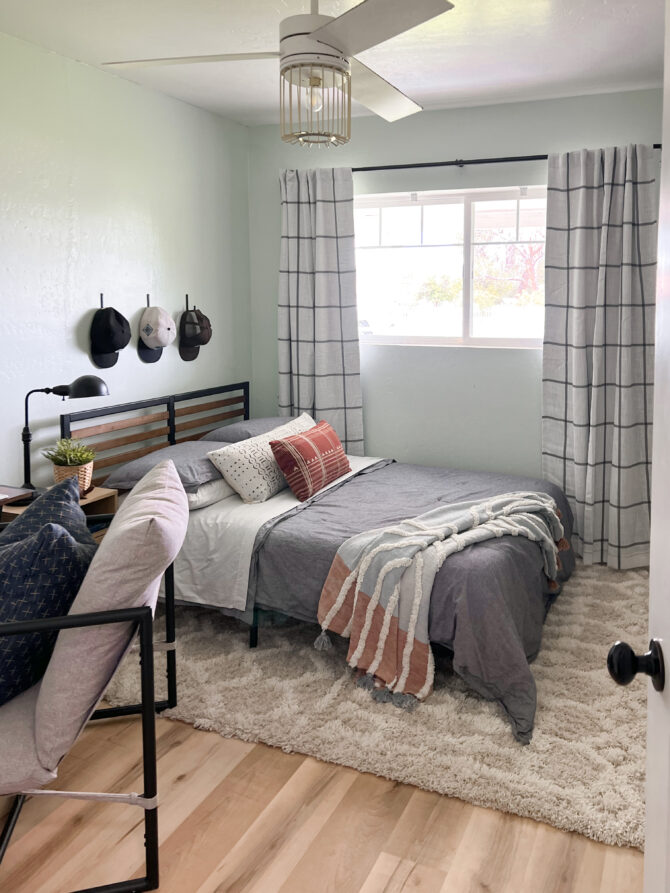 My 16 year old son is getting his own room for the first time since birth and he could not be happier! We've only had 4 bedrooms throughout the years and since our boys are sandwiched in the middle, they've always shared. Our oldest is married and on her own which meant we had a vacant space… my interior designer heart was a little excited! Haha
Here's a peek at her teen girl bedroom. I twas fun to make it look a little more grown up after her younger little girl purple bedroom obsession. Their shared boys bedroom still makes the rounds on Pinterest and the industrial modern farmhouse style bunk bed is STILL one of our top sellers since its debut 3 years ago! He really liked that style and wanted to repeat the look in a minimal way in his new space.
TEEN BOYS BEDROOM MAKEOVER
To start, we found this full size bed from Zinus and loved the price and reviews. We paired it with the same brand's thickest memory foam mattress that contours to your shape and he sleeps like a baby (again), haha.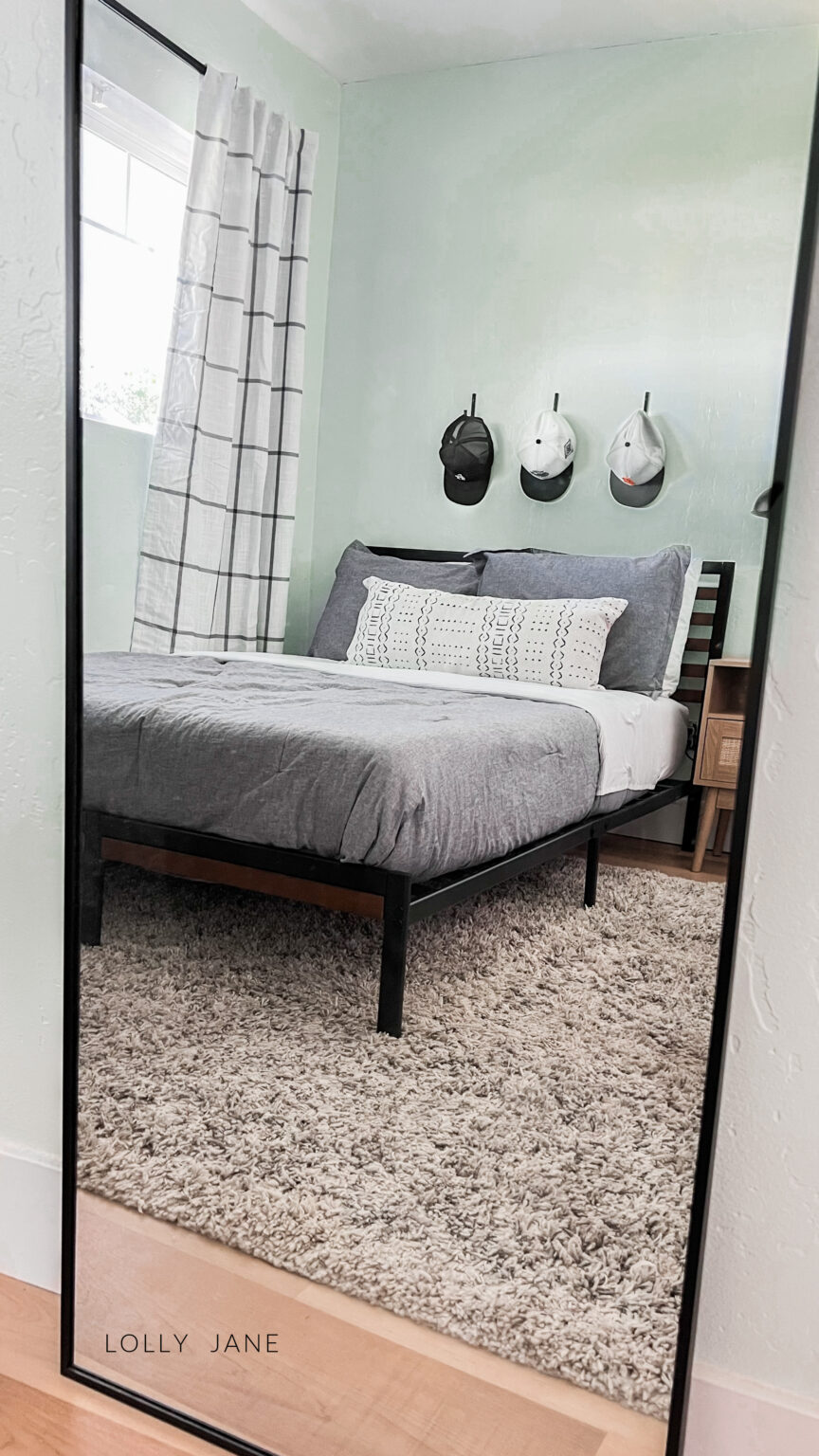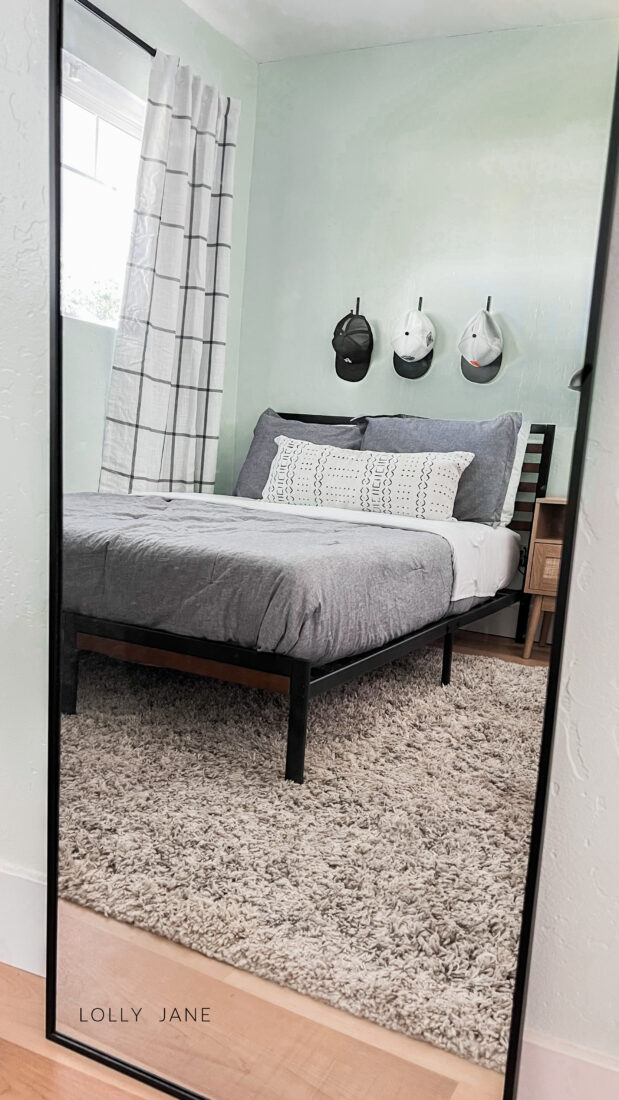 What a difference just the bed made! I love how low-profile it is. It's a full size bed but isn't overpowering to the room. Look at this before, wow!
He'd like to paint the walls white and replace the gold and white fan for a more neutral choice but for now, we're happy with how it turned out without any major renovating. We simply added new accessories and wow, what a difference!
MAXIMIZE ROOM DARKENING SHADES
I found this wrap around curtain rod on Amazon and am so impressed how the curtains can butt all the way up to the wall now to the ultimate room darkening experience. We found these masculine plaid black out curtains on sale which do a great job of darkening the room.
We pulled the blinds off completely and love how clean the room looks now. It highlights our new windows too to allow us to enjoy the top grids from both indoor and outdoor!
SHOP TEEN BOY BEDROOM DECOR
We had fun shopping together for all his new goods to make the room feel like him.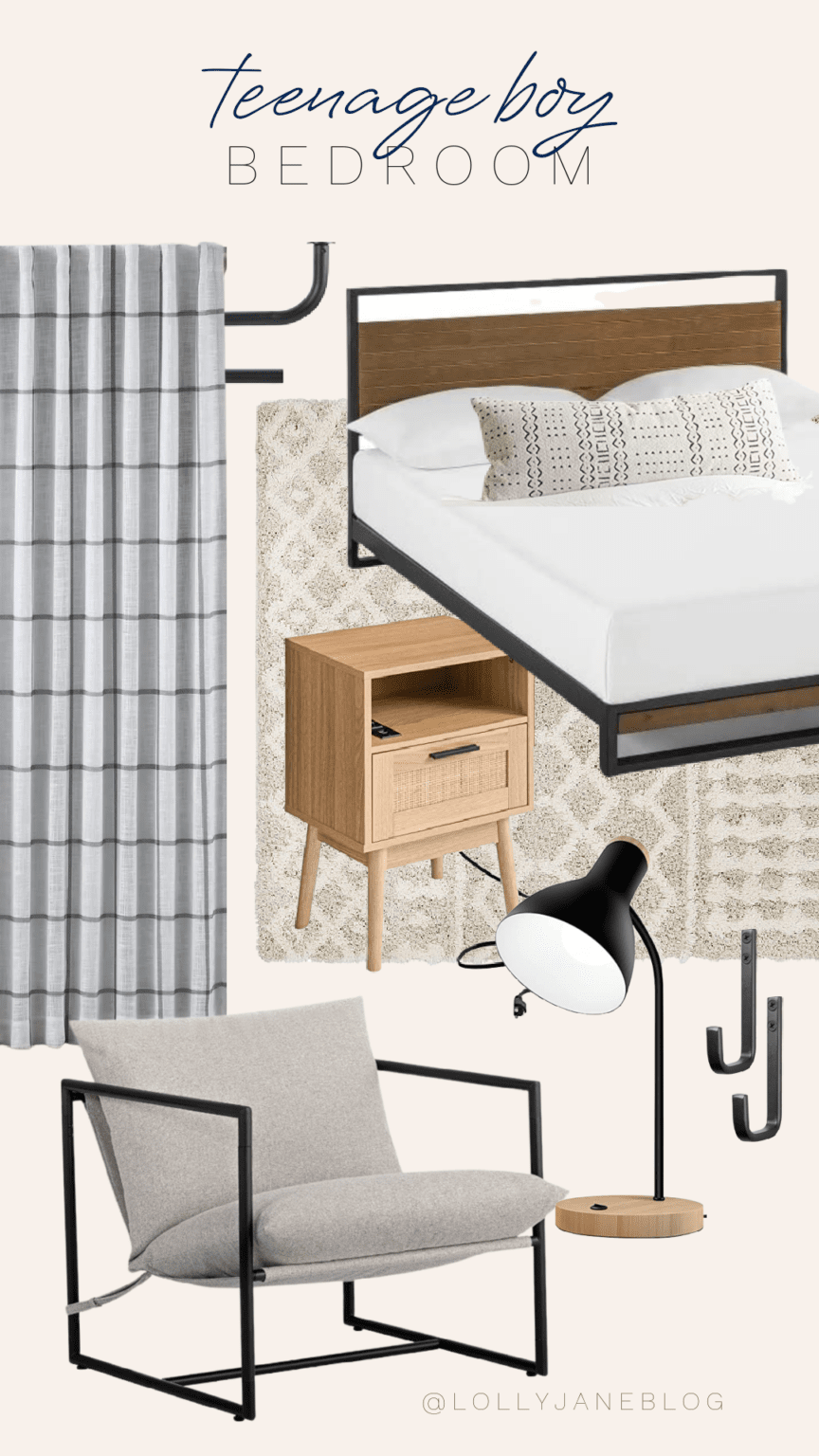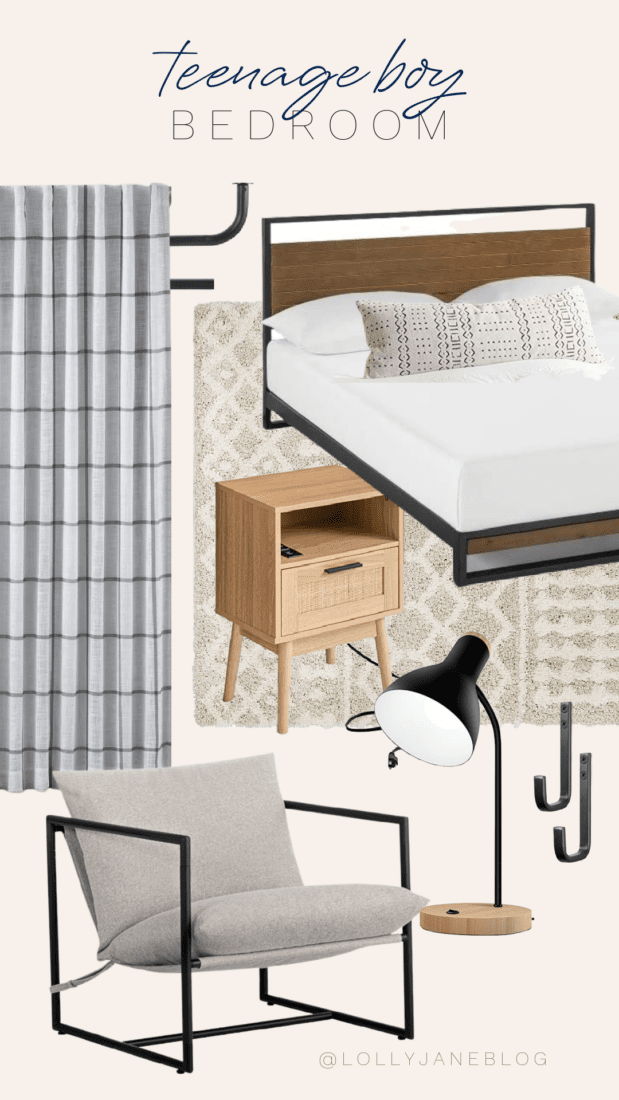 Shop them all in one spot below!
Snag all of the sources for this space in one spot! Thank you for supporting us by purchasing through these links, a small commission is earned so we can keep sharing room makeovers like this!
What do you think of his new room? We assembled and styled it all in one day, it was really fun! I borrowed this rug from Breck's room (older brother) since T's new rug arrived hours after we finished taking pics, lol! He loves his new shag.
Bonus: The furniture was easy enough to assemble that my teen sons put it together themselves!
EASY HAT STORAGE
If you're looking for a quick fix to hang hats, I have the perfect solution that doubles as decor!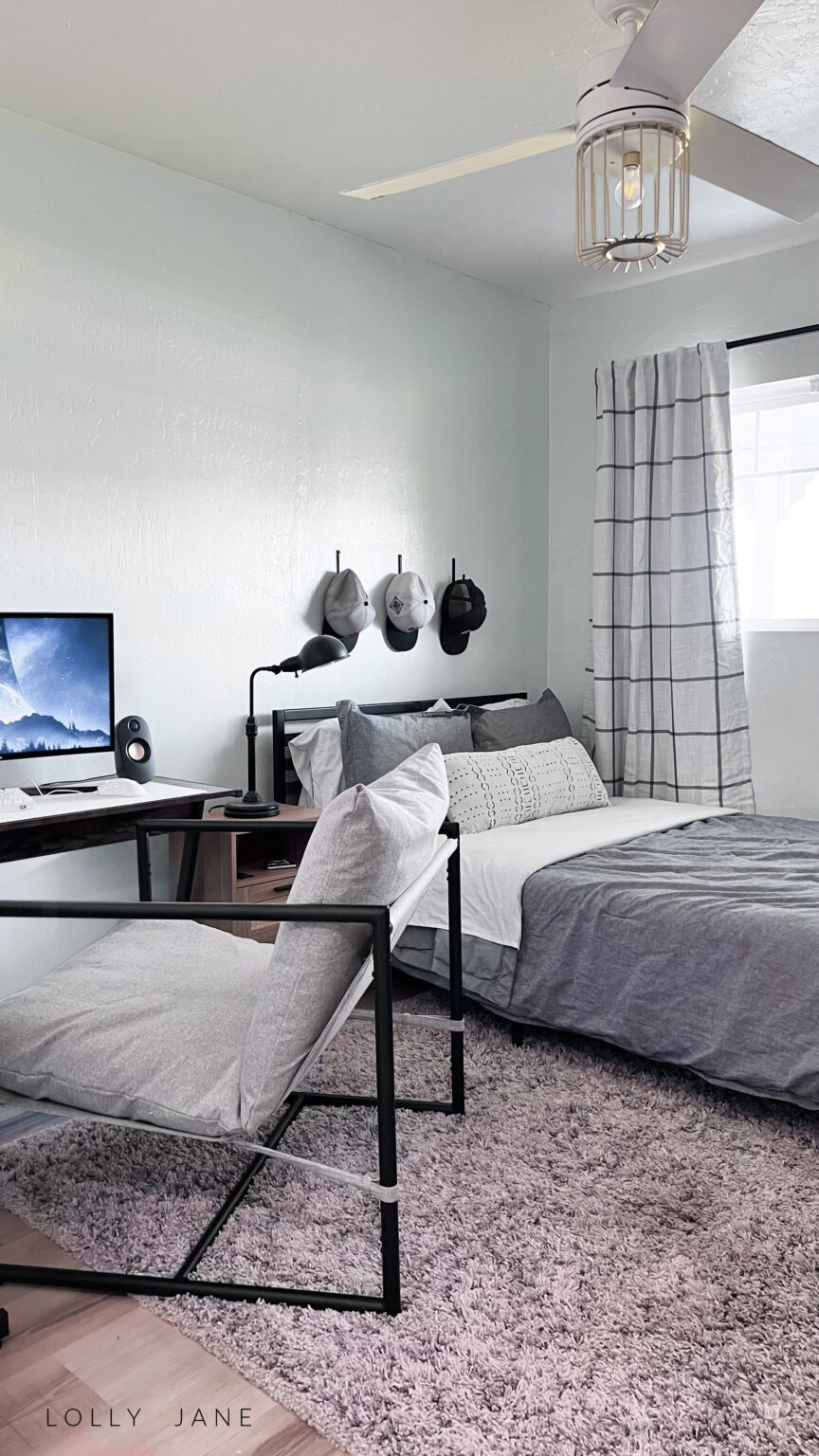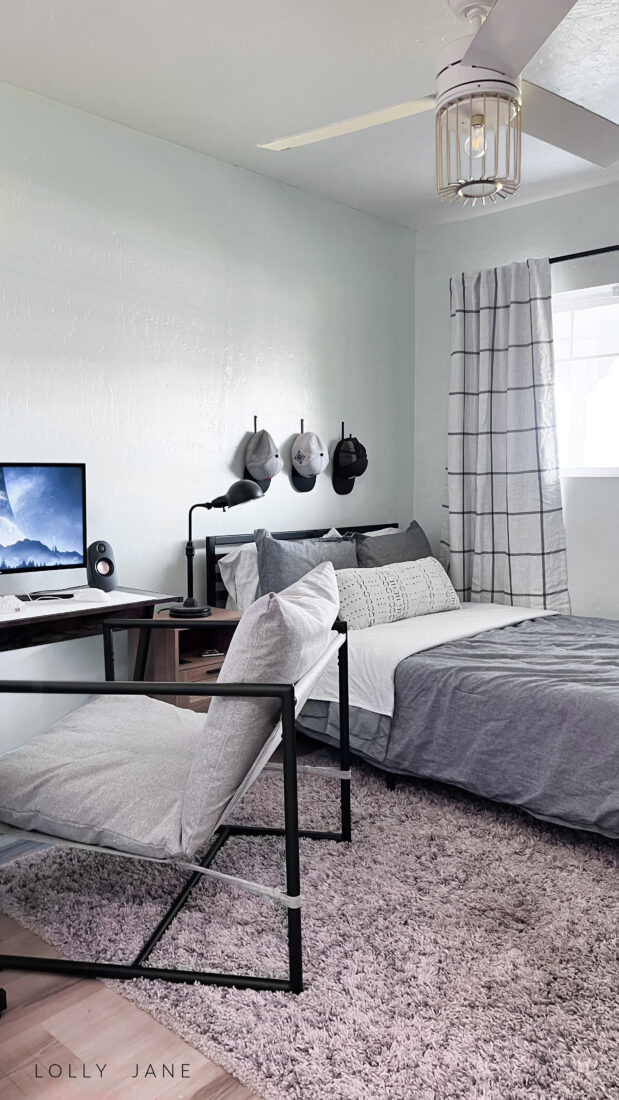 I found these inexpensive hooks at Target and hung them evenly above his headboard. His hats won't get wrinkled or squished any longer (they were stacked in his closet before) plus he can now proudly display his favorite teams in one spot!
BOYS ROOM MUST HAVES
And of course no room with a teenager would be complete without a full length mirror to check his daily "fit" which is slang for outfit, I learned. HA!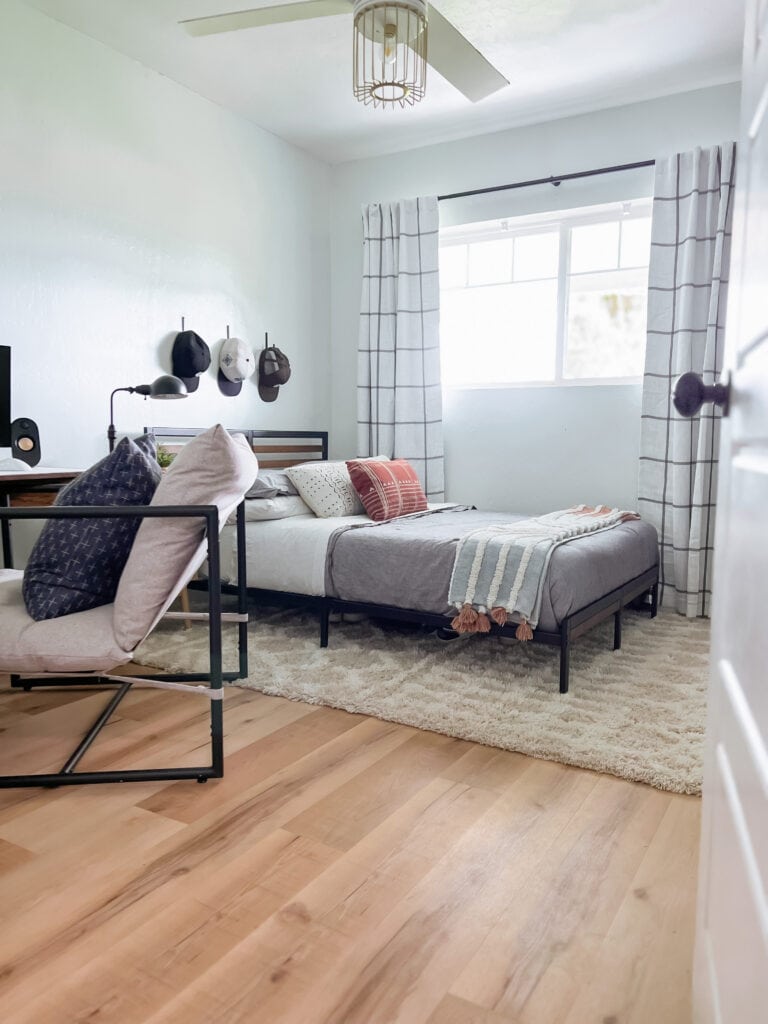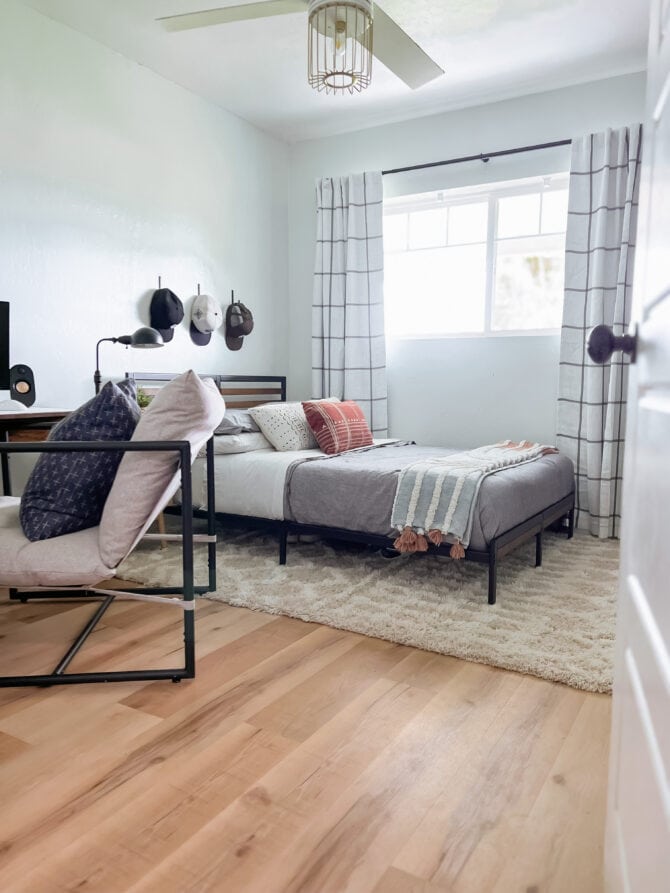 See that cute rattan nightstand? It came with a built-in outlet on the top shelf, very inconspicuous, but perfect for charging his phone and Air Pods at night. Little things like that really make a difference in making a room cozy and welcoming. We paired it with a modern wood and black lamp (again, we borrowed the one shown from big bro's room as the new one wasn't here yet) and it's the perfect ambiance in the evening when he's winding down.
He loves the sling chair as its extra wide and has plenty of room to grow. His 6′ frame fits comfortably and often I'll find him kicked back in the chair with his feet on his desk.
PLEASE PIN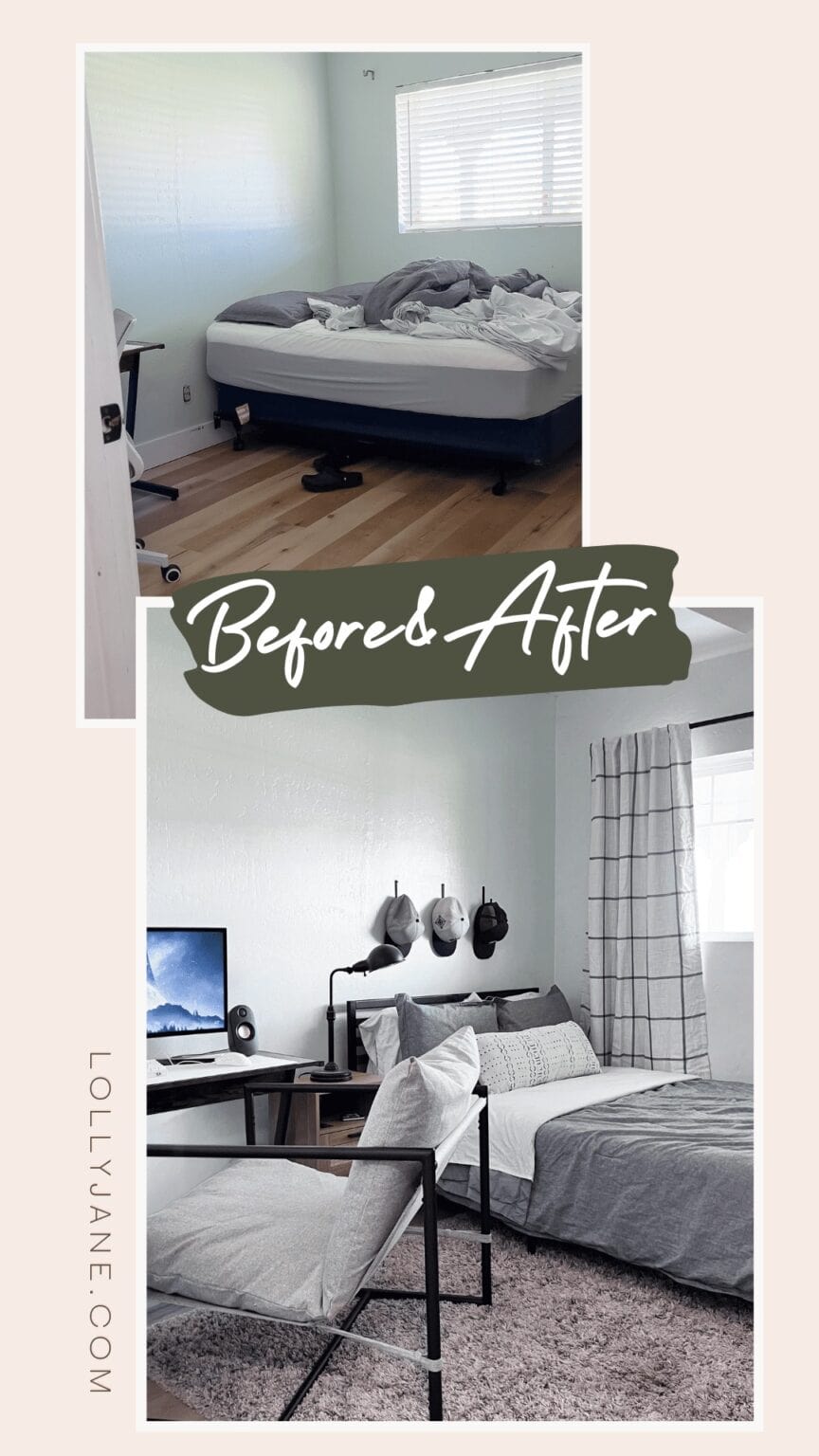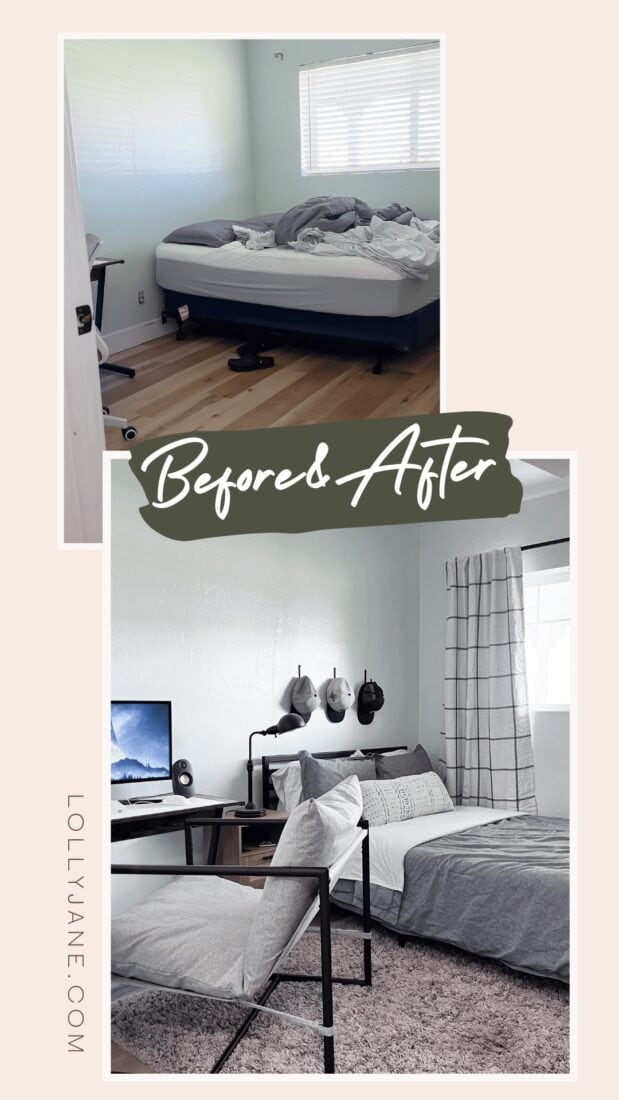 Did we miss anything? We'd love to hear what you think of his new space!
We have a thing with making bedrooms pretty AND practical! Here are some of our faves!