Frozen 2 Themed Bedroom Ideas
Do you have a Disney Frozen 2 fan in your home? These Disney Frozen 2 room decor ideas include soft, modern themed bedding and simple accessories to create the bedroom of their dreams.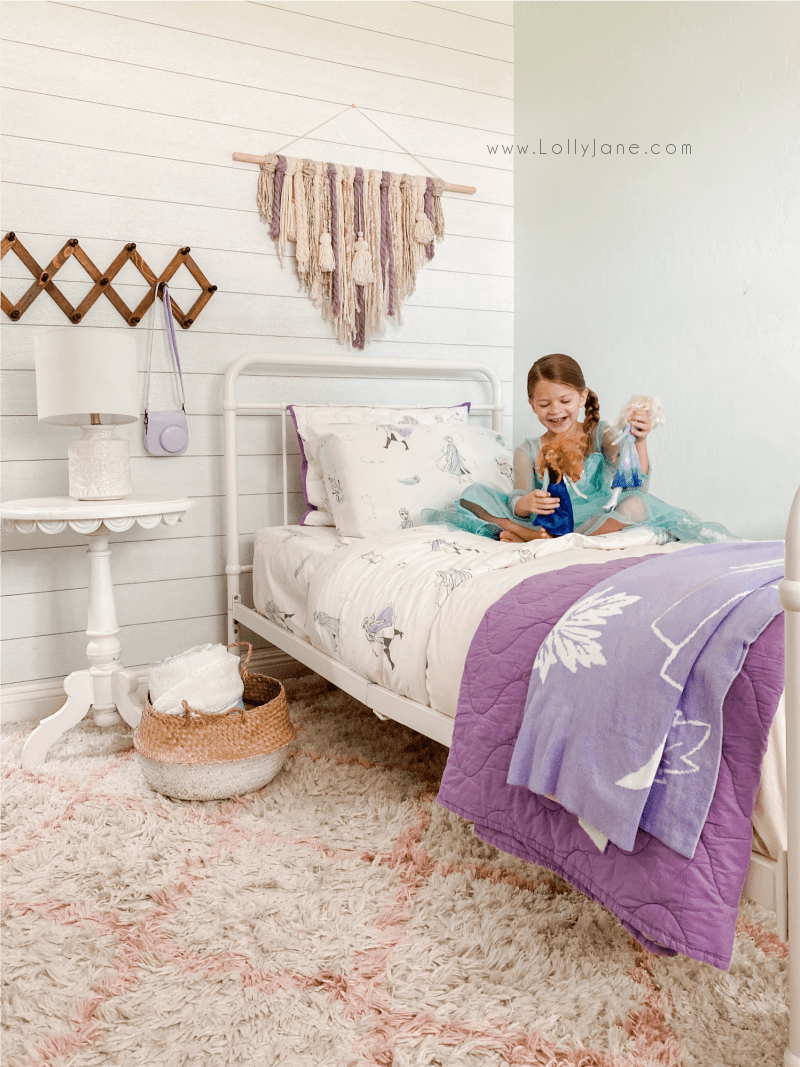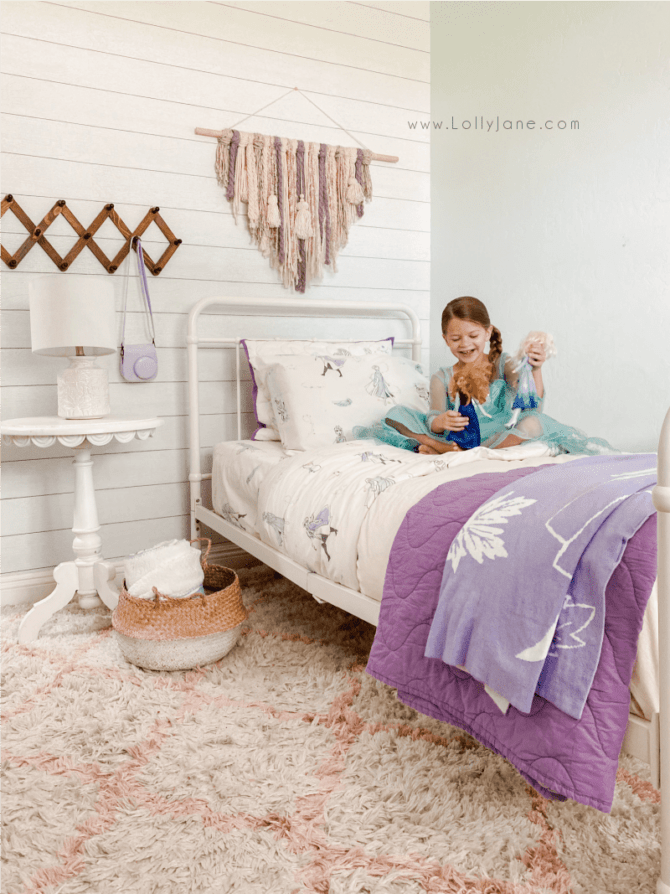 We love decorating kid spaces. It's so fun to get creative with different themes and colors and follow the trends. My daughter is all about Disney Frozen 2 right now (plus her favorite color is purple) so her new Morning Bird bedding was the perfect finishing touch for her bedroom. We love that this bedding isn't too juvenile so older kids can enjoy it too! Because it reflects a more mature style, my decor loving heart is happy too!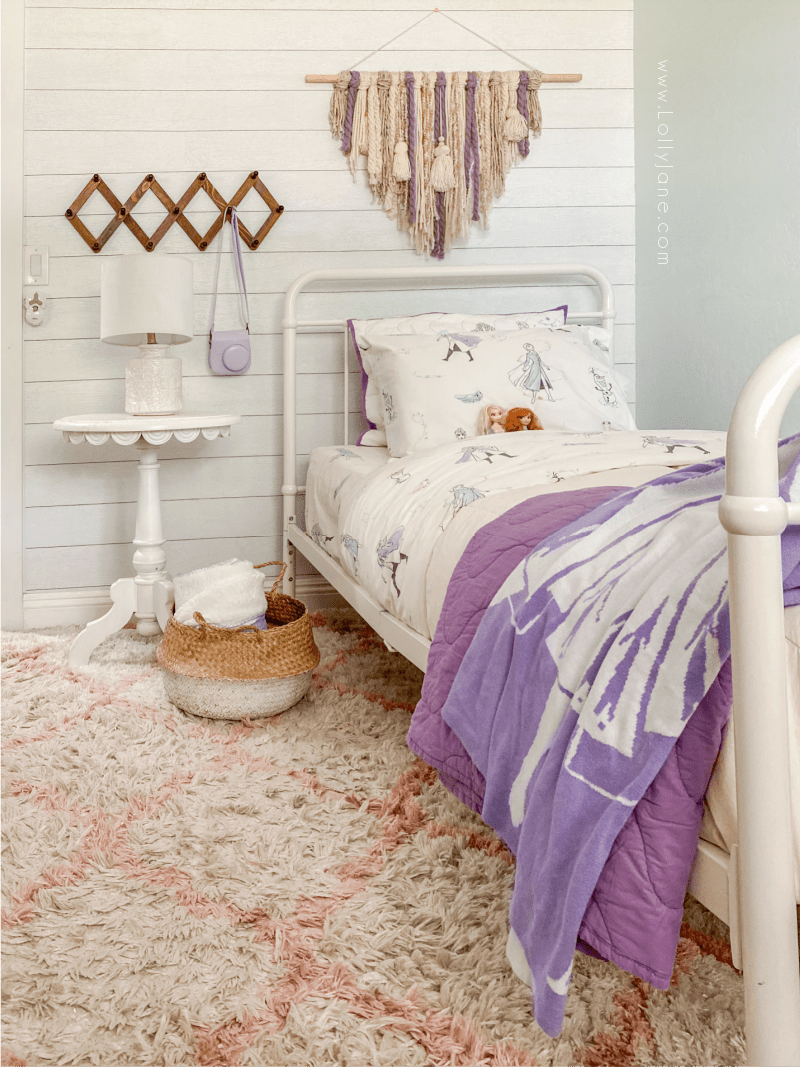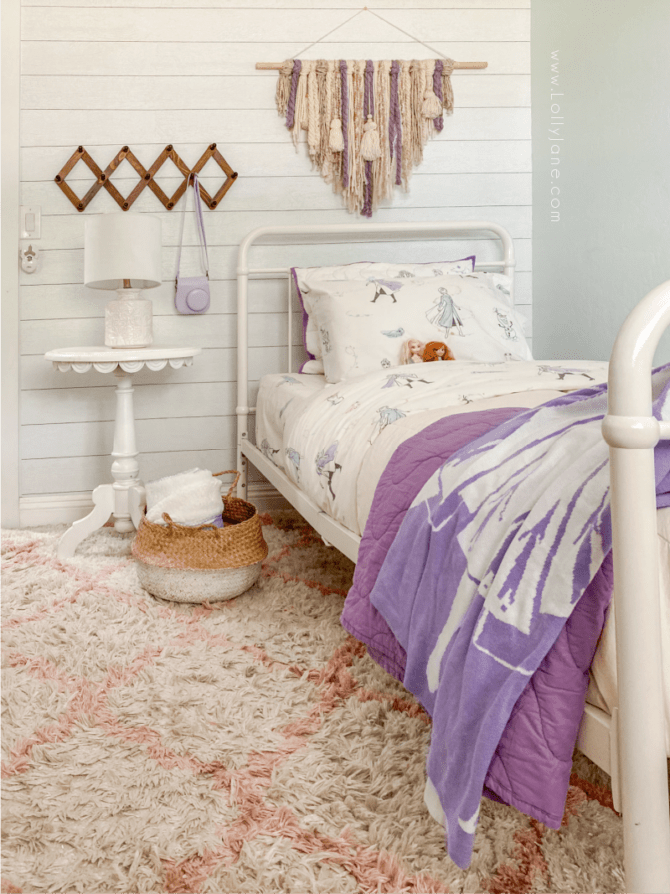 disney frozen themed bedroom must haves
We love an inspiration board to visualize the room before we make it over. Here's a list of all the pieces we used to pull this cute Disney Frozen themed bedroom together.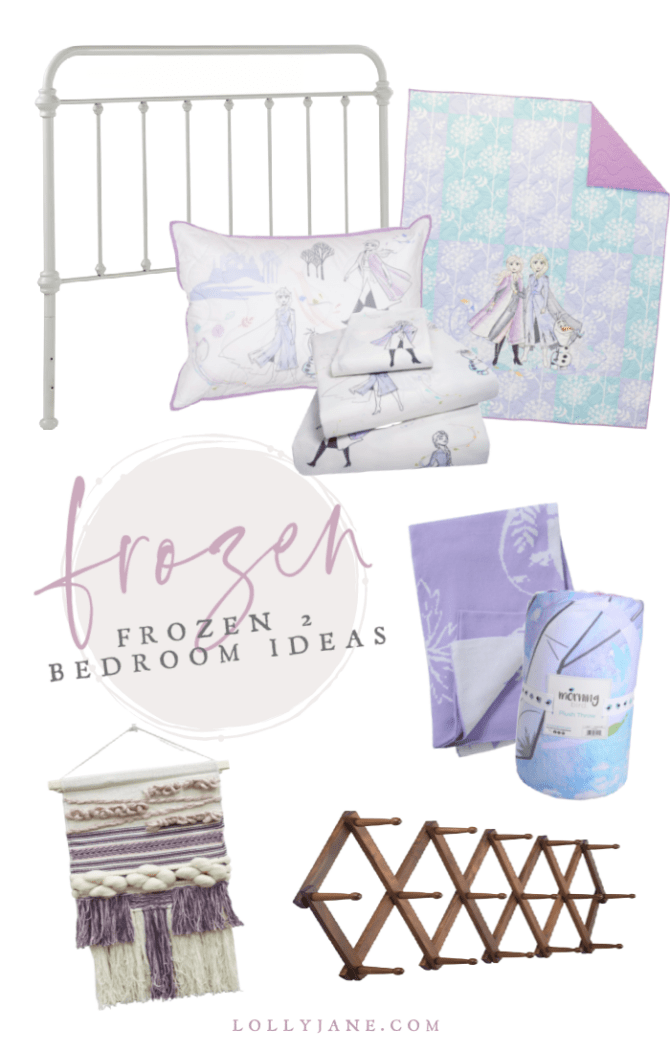 disney
FROZEN 2 BEDDING ACCESSORIES
disney FROZEN 2 BEDROOM DECOR ACCESSORIES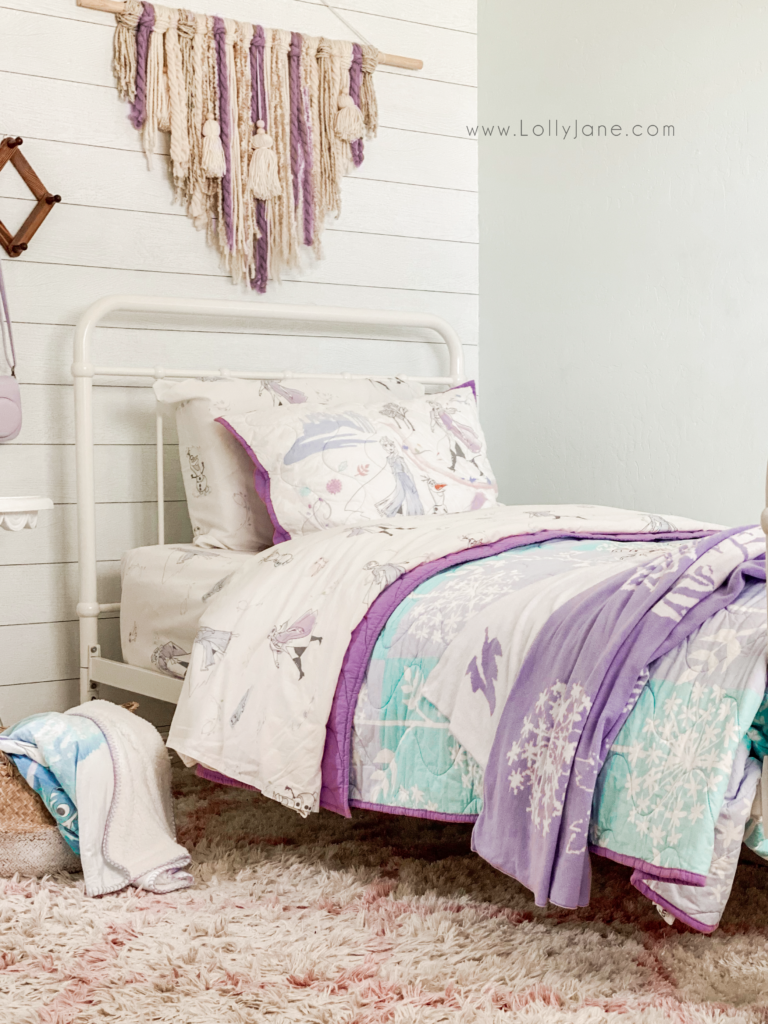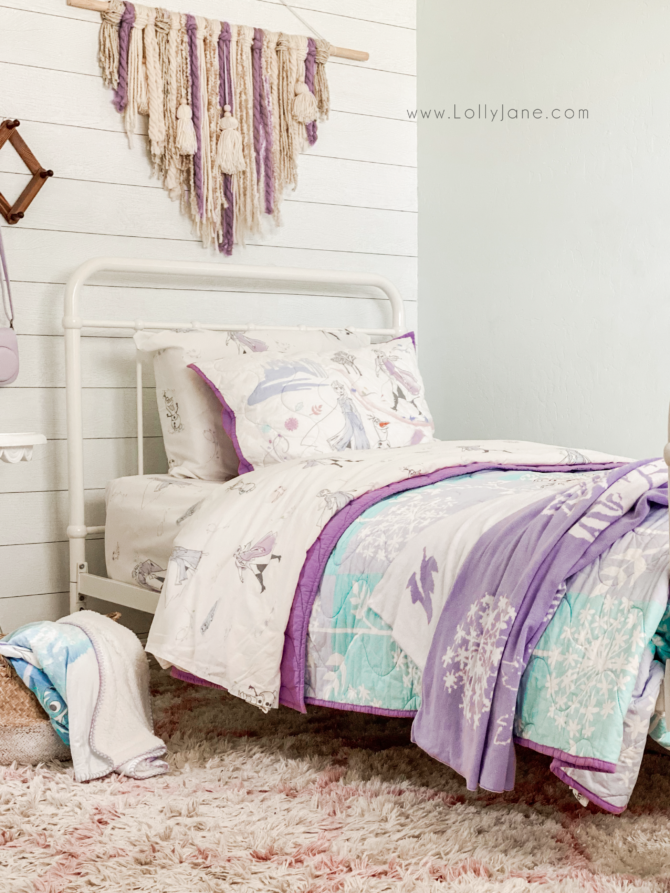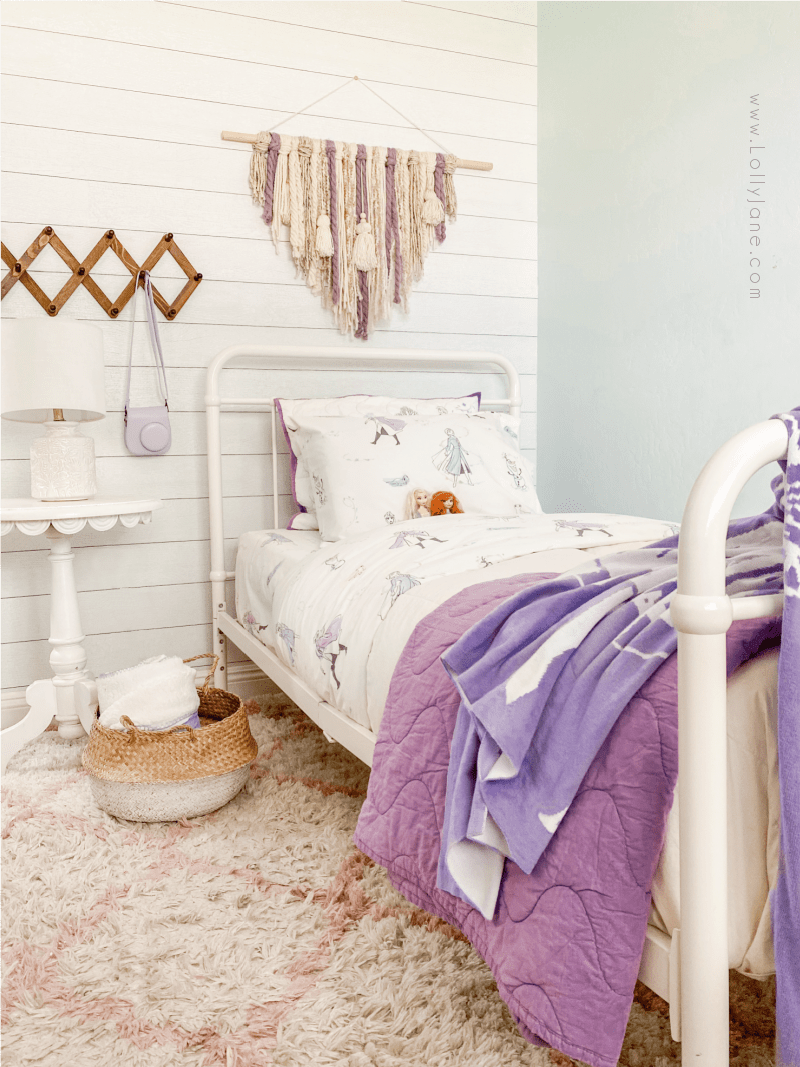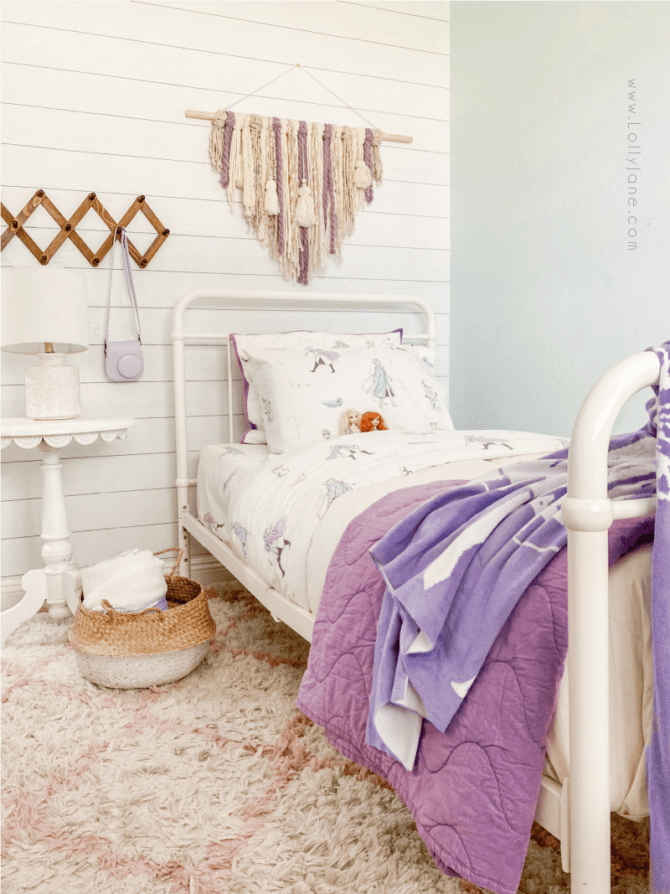 how to style a disney frozen 2 bedroom
If you're looking for Disney Frozen 2 bedroom wall decor without actual themed, here's what we suggest. Start off with neutral walls so colors don't clash. This also allows you to use colorful bedding without competing with the wall decor.
We used shiplap removable peel and stick wallpaper for a reason. It intentionally created a simple background so we could add bold decor pieces. Plus, since it's removable and won't damage walls when it's removed, it's non-committal. The soft purple and gray macrame boho wall hanging match the bedding but levels up the maturity.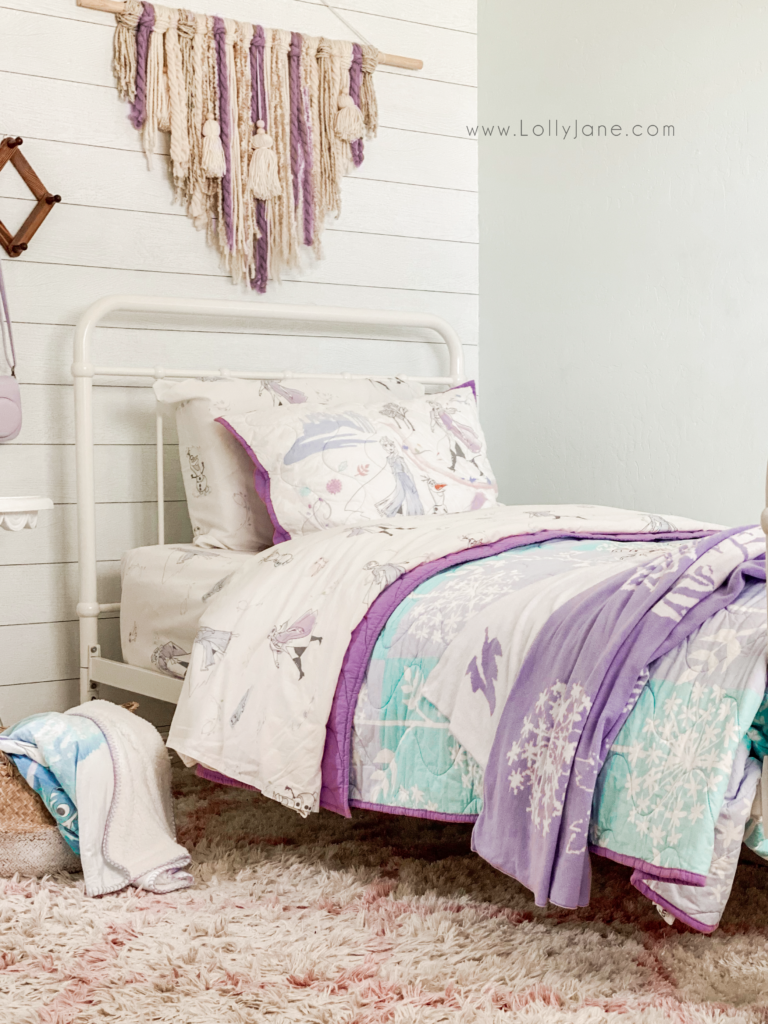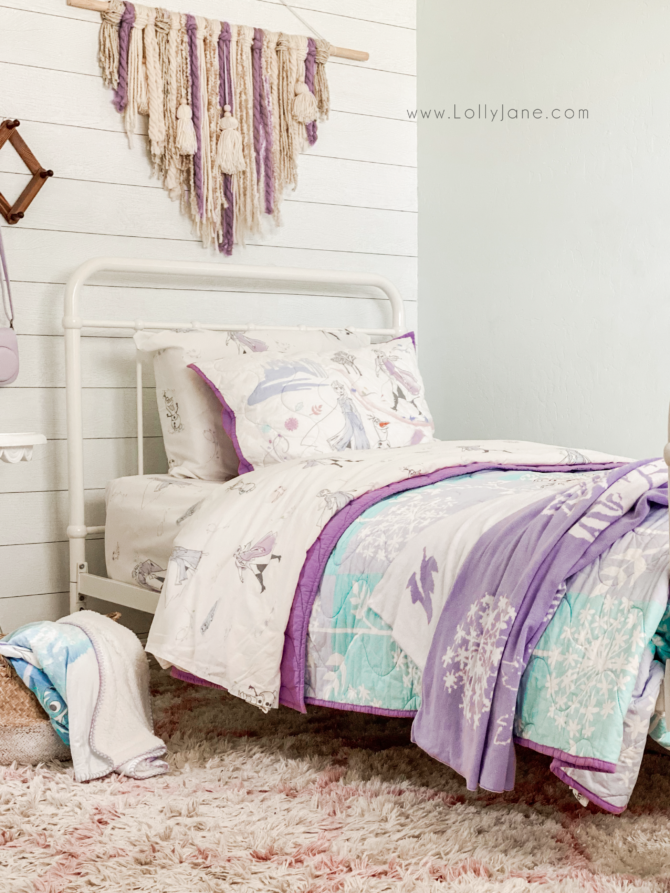 RUG: Using a quality rug is a great way to base your theme. We went with a neutral pink and white shag rug. It's mostly white but has some hints of pink which is one of my daughter's favorite colors. It's soft enough to grab a book and the cozy sherpa throw to snuggle in for downtime.
FURNITURE: Having the bed and end table the same color also keeps the room uniform and lets the decor pop. The star of the show is the bedding, as it should be!
BEDDING: We love Morning Bird's bedding because of the quality of the materials. They use 100% organic cotton on their sheets and pillow cases and both the duvets and comforters use soft, breathable cotton. The comforters are also reversible so you can flip them over for a new design, depending on your child's preferences. (Bonus: use our code for 30% off! Insider tip: add more to save more, if you bundle all the items, you get a bigger discount ?)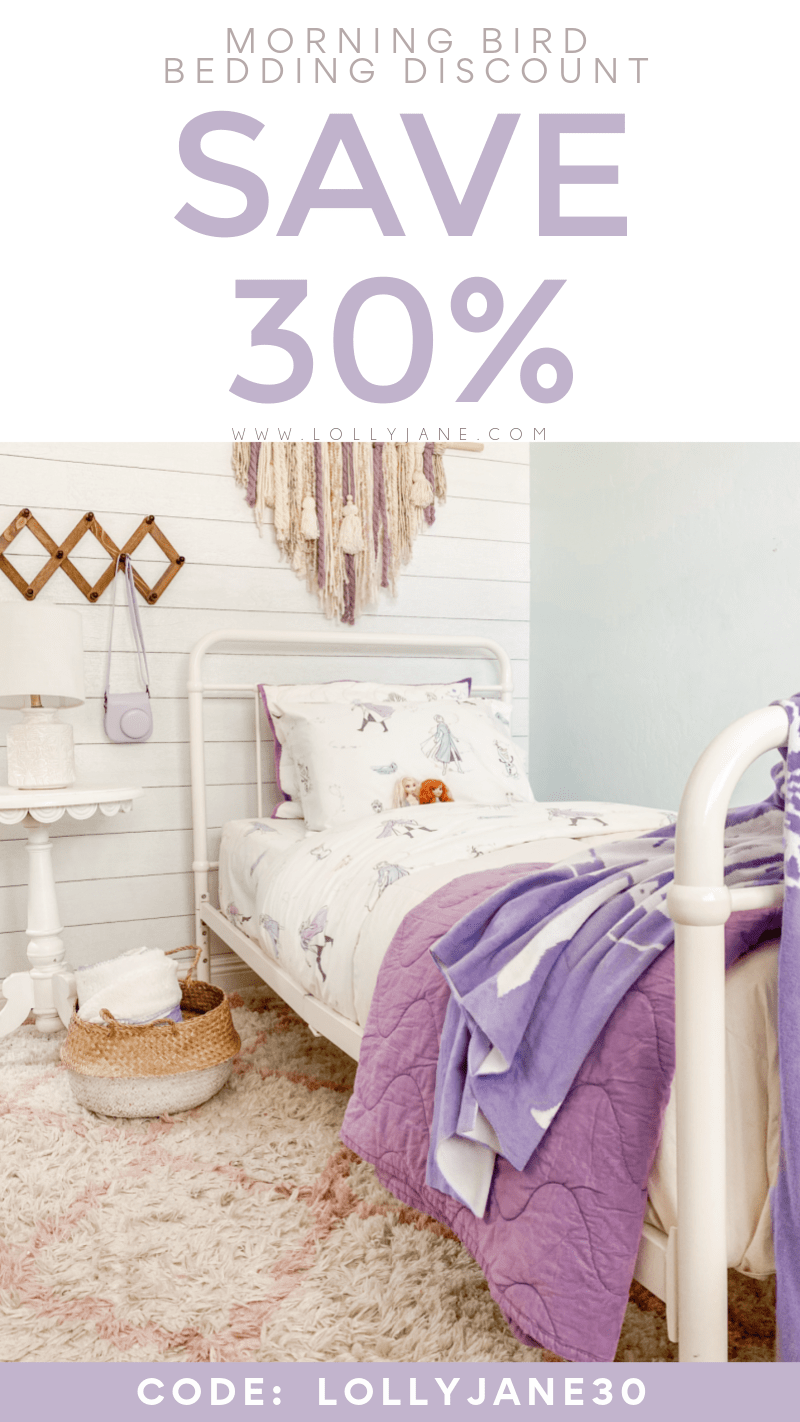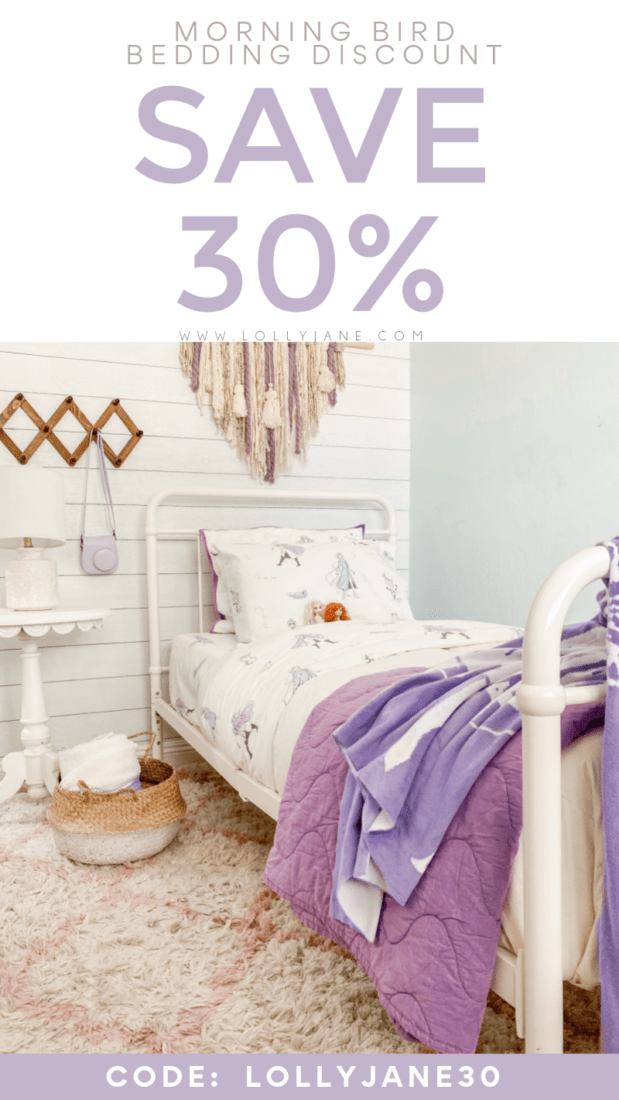 ACCESSORIES: Place simple items on the end table like a clock, lamp or a stack of your child's favorite books or a fun family picture.
Most of all, have fun with your child and let them have a say in their space. Not pictured is my daughter's collection of hand painted canvases. They're kind of an eye sore, lol, so we hung them up in a gallery style formation in the corner and she loves to see it from her bed. Win-win!
Bonus: paint colors used
Wall: Glimmer by Sherwin Williams
End Table: Ultra Pure White by Behr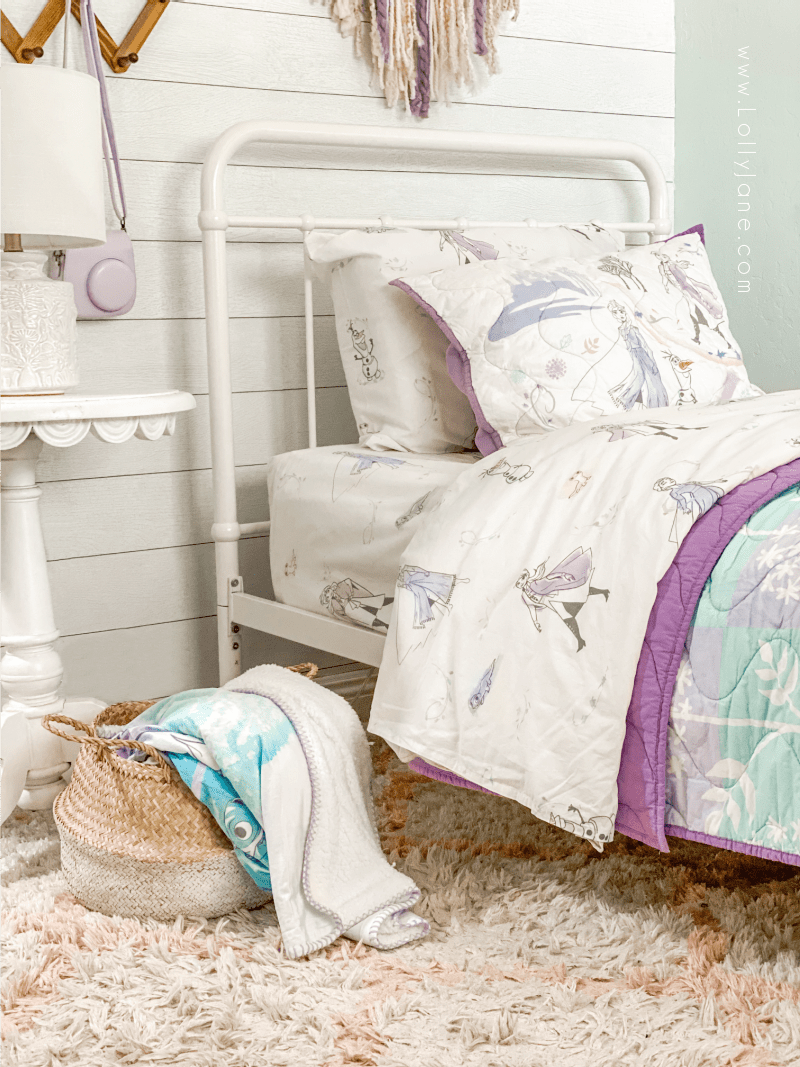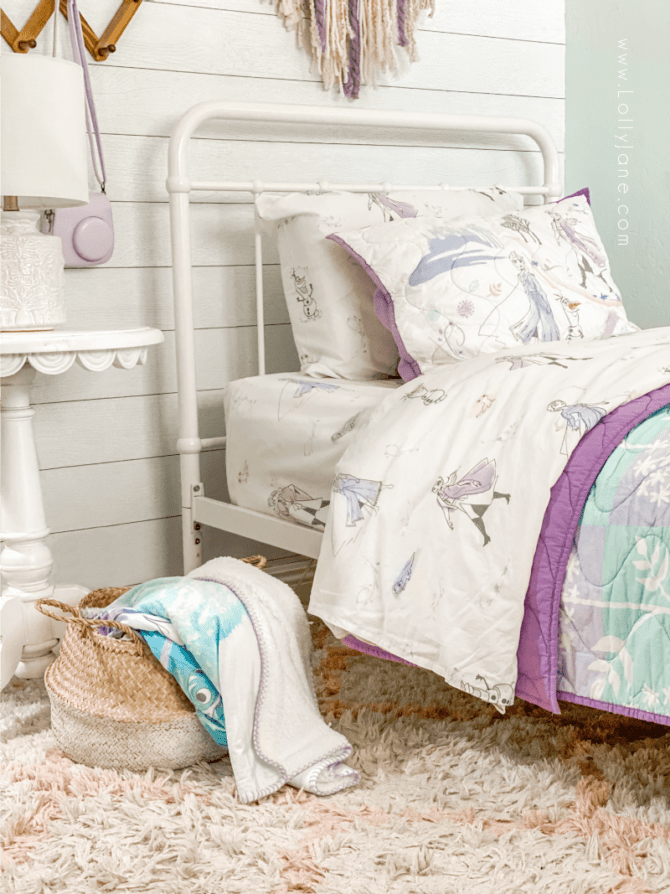 We hope we've given you some inspiration to decorate your little girl's bedroom. We'd love to hear your feedback or any questions, just comment below! XO
More girls bedroom ideas
Here's what my daughter's floral bedroom decor looked like before…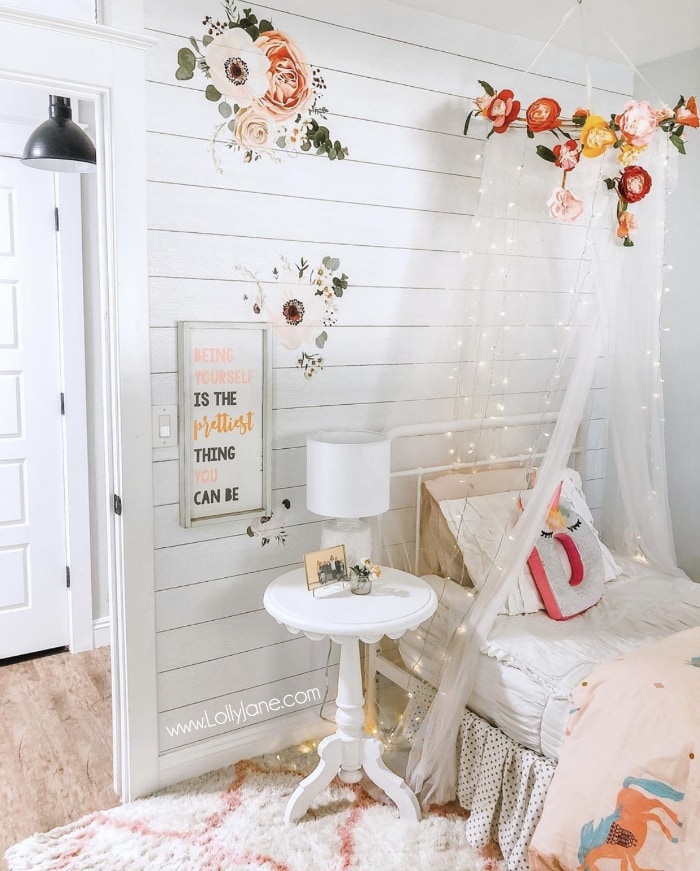 …and what it looked like before that! See how her love of purple runs deep? ? She loved her gold and purple little girl bedroom.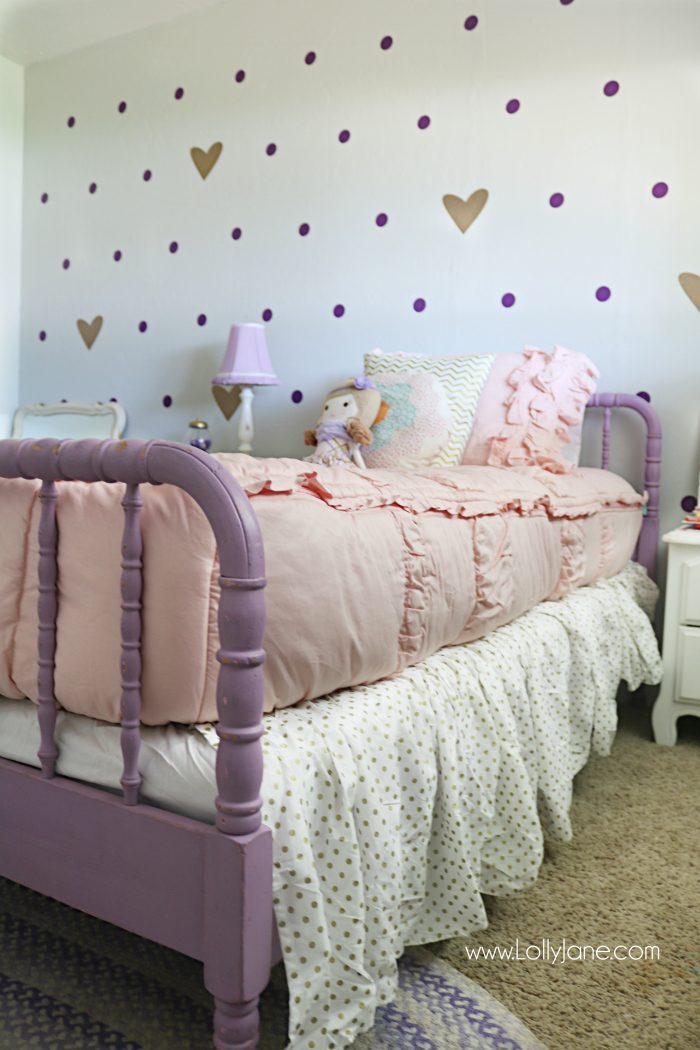 Are you going to copy this look? Tag us on Instagram (or use the hashtag #lollyjane on your post) so we can share your hard work in our stories! Happy decorating!