I chalk painted my countertops!
Remember when we covered up our 70's avocado green laminate counter tops with faux granite paint several years ago? We were asked to share how to properly install a bathroom cabinet and aren't quite ready to gut this bathroom so we decided to give it a little DIY love.
UPDATE: Since this blog post (almost a decade ago) there has been some major advancements to paint, especially with painting countertops. ✨We HEAVILY and HIGHLY recommend using a paint MADE FOR COUNTERTOPS to ensure a long lasting finish. Rust-Oleum countertop paint is our #1 choice, available at the Home Depot. ✨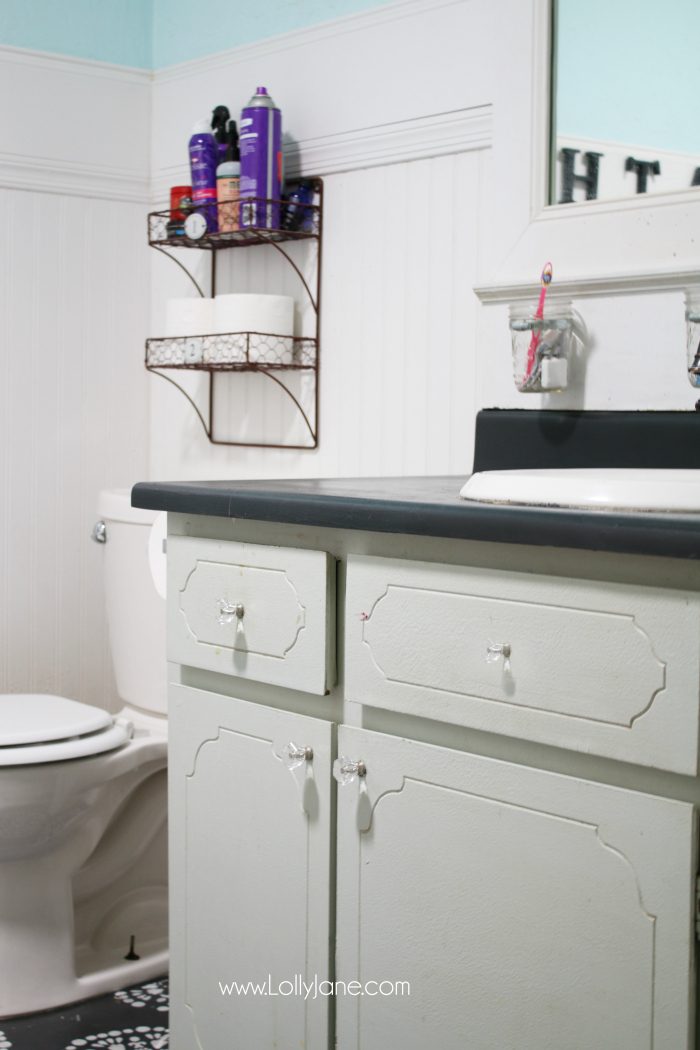 Have you read that book about giving a mouse a cookie which causes a million side jobs and he finally goes back to the cookie? We're the mouse. I was at Home Depot and came across Rust-Oleum's tintable counter top paint. But then I got to chatting with a worker and became distracted (just like the stinkin mouse) and came home with the UN-tinted can (dang it!) plus 2 cans of chalk paint for the floors. With 3 littles at my feet, I didn't want to go back to the store so instead, I added a little chalk paint to the can to tint it myself. Um, I don't know much about science but let me tell you, they don't mix well, ha! The two paints started to separate and I knew I screwed the counter top paint up so I threw it away and decided to just chalk paint my laminate counter tops. Here is the before, leftover from the granite job: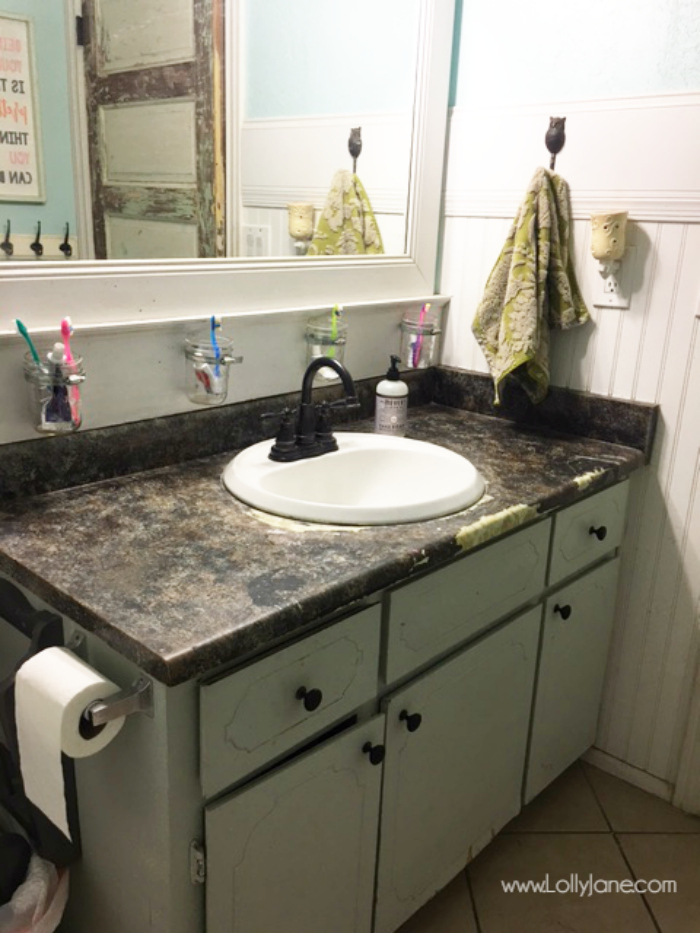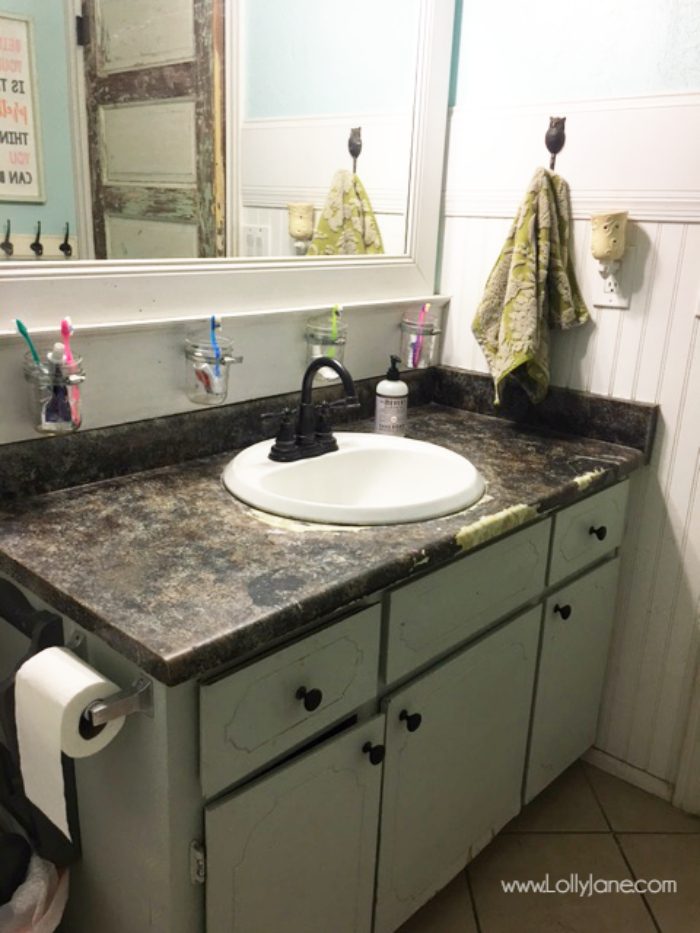 Here is the freshed up after: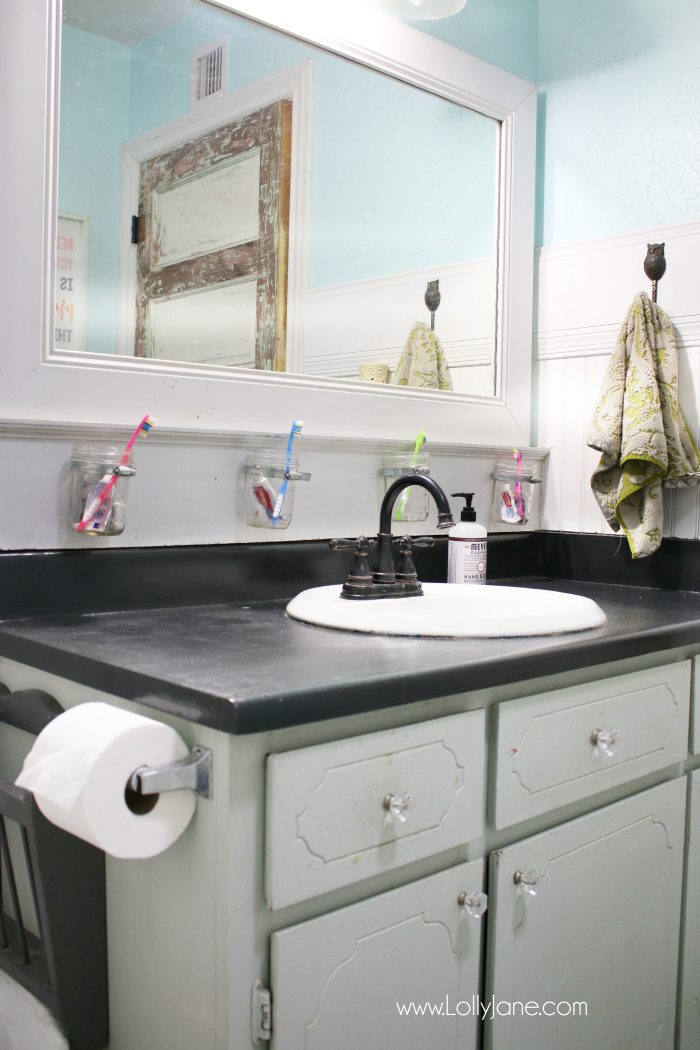 Let's talk chalk paint. Not to be confused with chalkboard paint. Chalk paint is amazing. Annie Sloan created the concoction, making it thicker which requires less layers so you can paint faster. Plus it dries fast faster so you're done with the total task quickly. We used to wholesale for BB Frosch which is a chalk paint powder. With BBF, you're able to add the powder to any existing paint to turn it into chalk paint. Nowadays, so many paint companies have their own chalk paints on the shelves so we grabbed what was closevby, Rustoleum. As you can see below, the granite has held up pretty well! It only came off from the highest used areas, around the sink and edge where my kiddos grab their toothbrushes.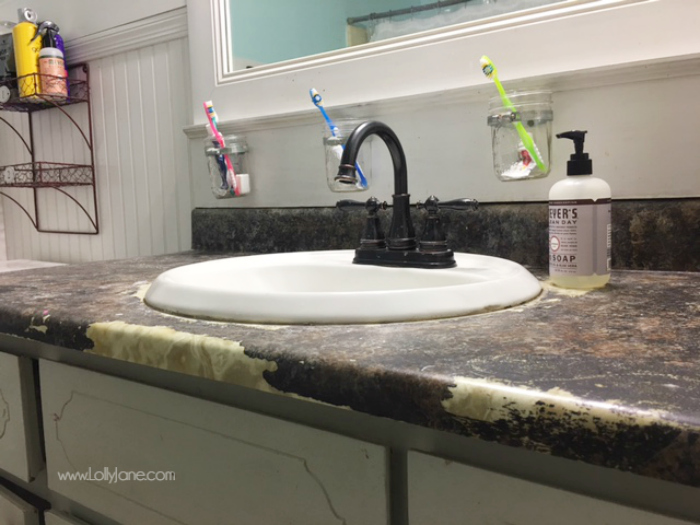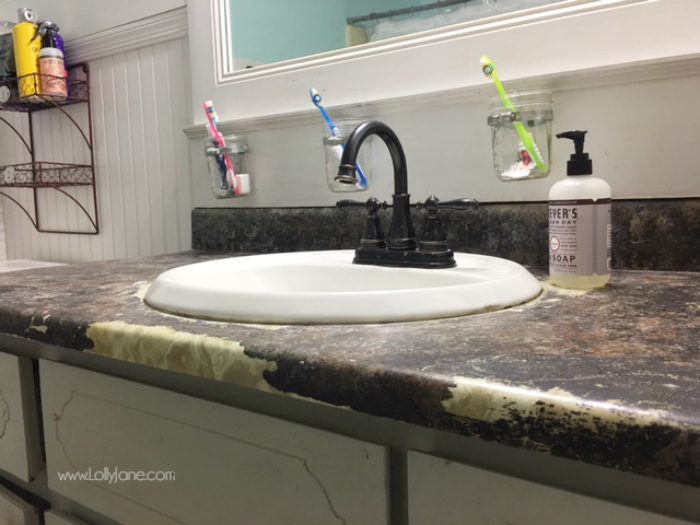 I gave the "granite" a quick sand to smooth it out.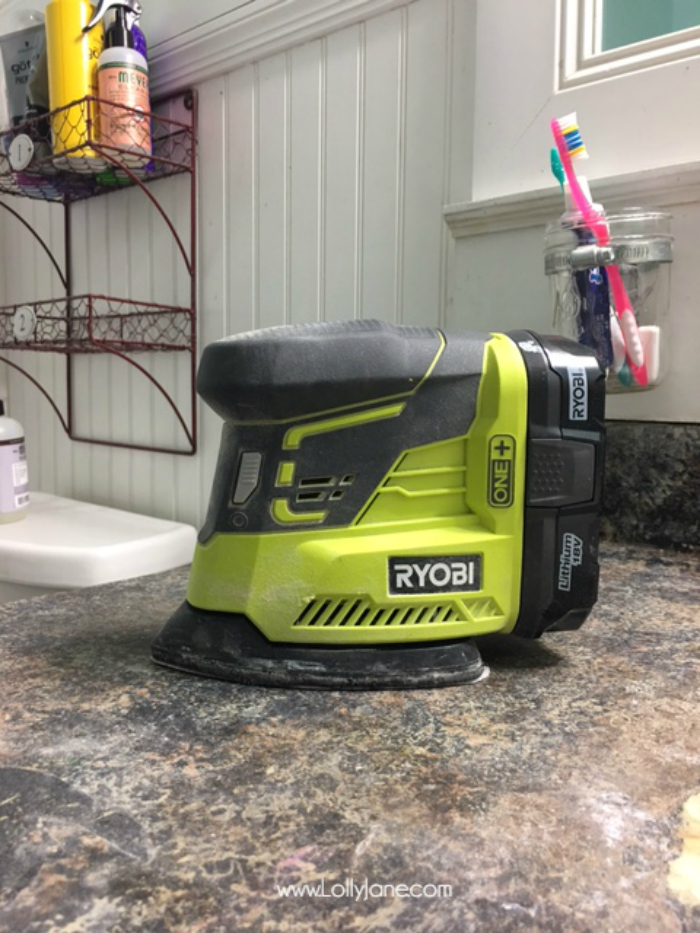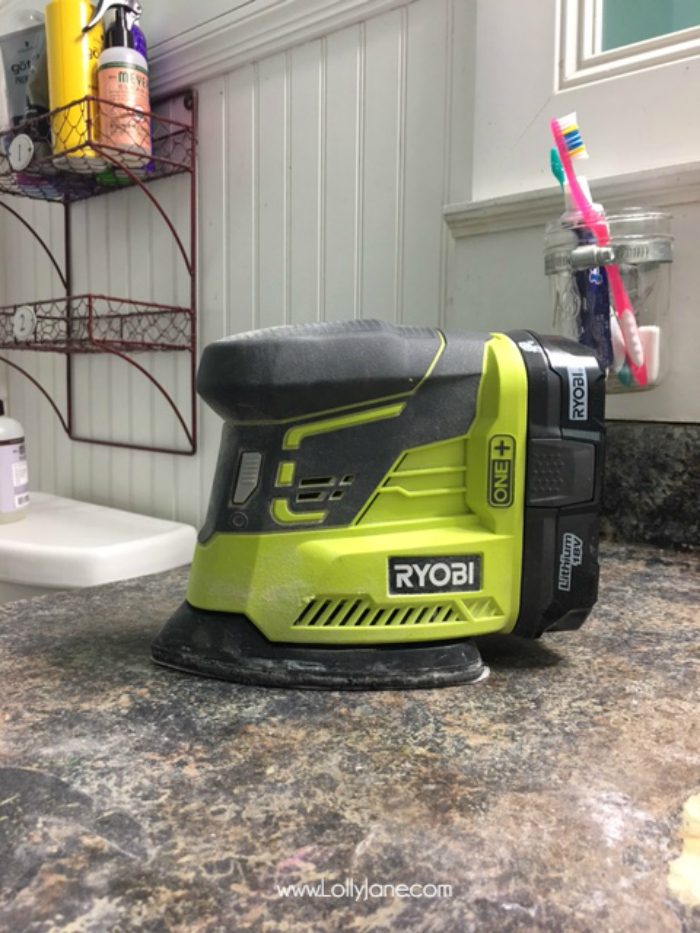 Most chalk paints only need one coat but I did two to be safe.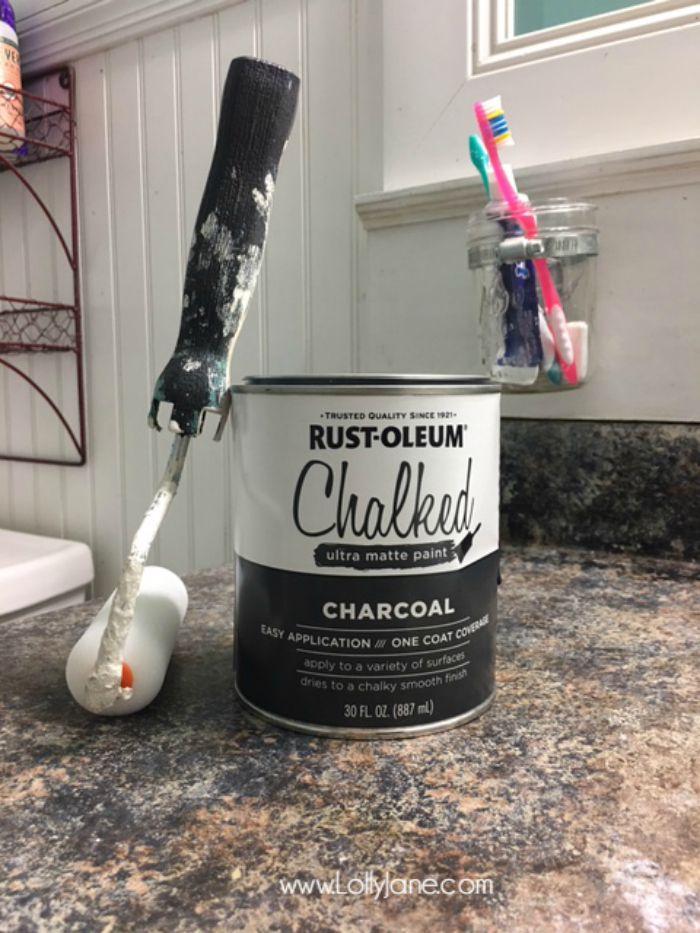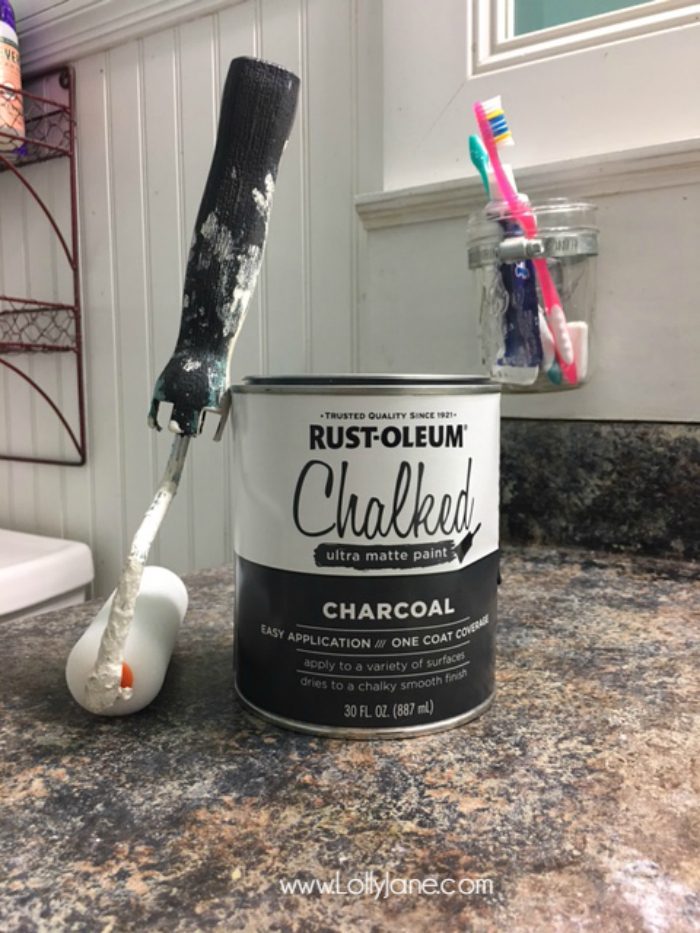 I used a basic paintbrush to get into the crevaces then a sponge roller to give it an even coverage.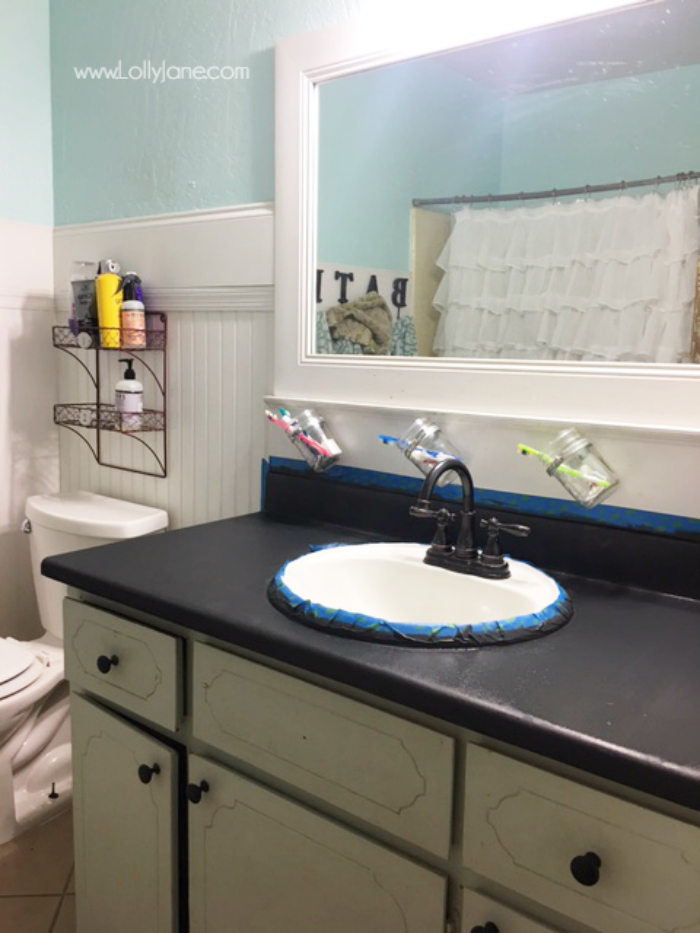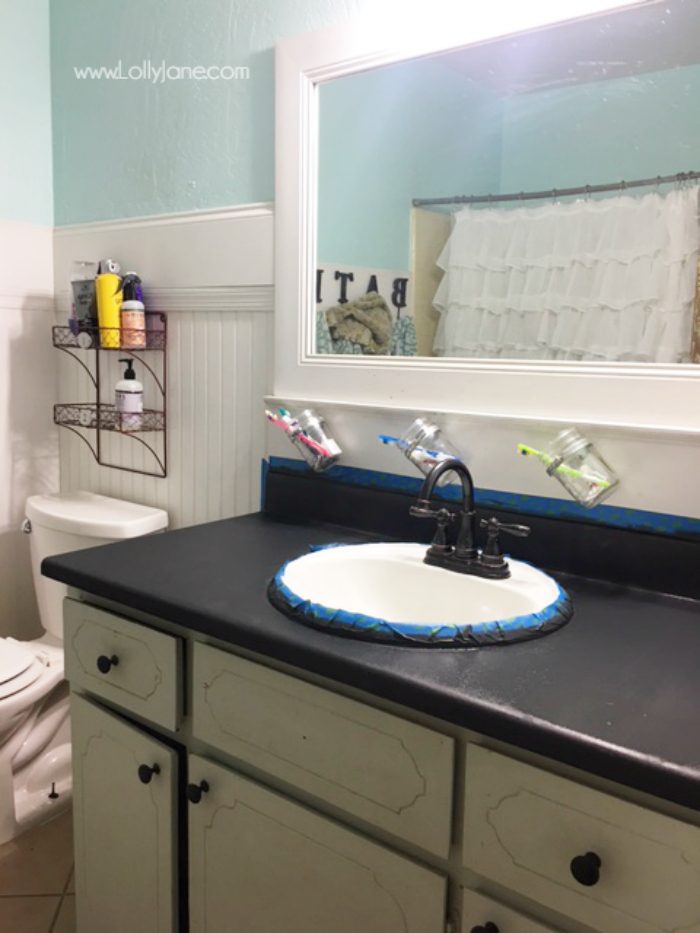 I sealed it with a clear poly and let it dry for 2 hours. I gave it a second coat and let it dry overnight. It's been 2 weeks but hasn't budged a bit!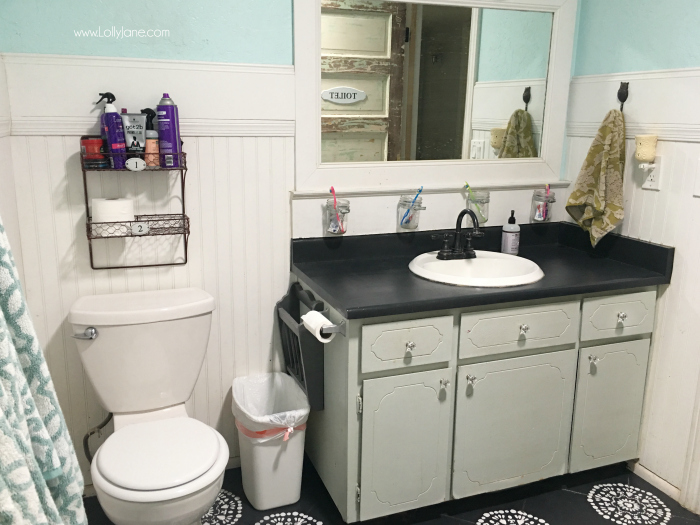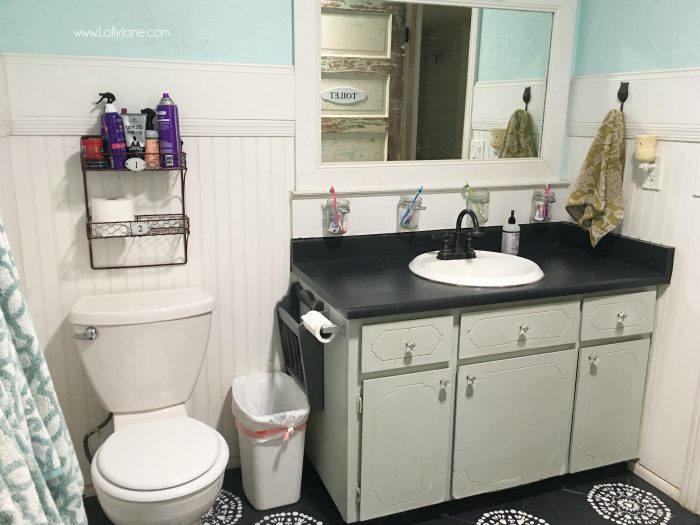 We swapped the dark knobs for some crystal pulls to lighten up the vanity and match my doorknob.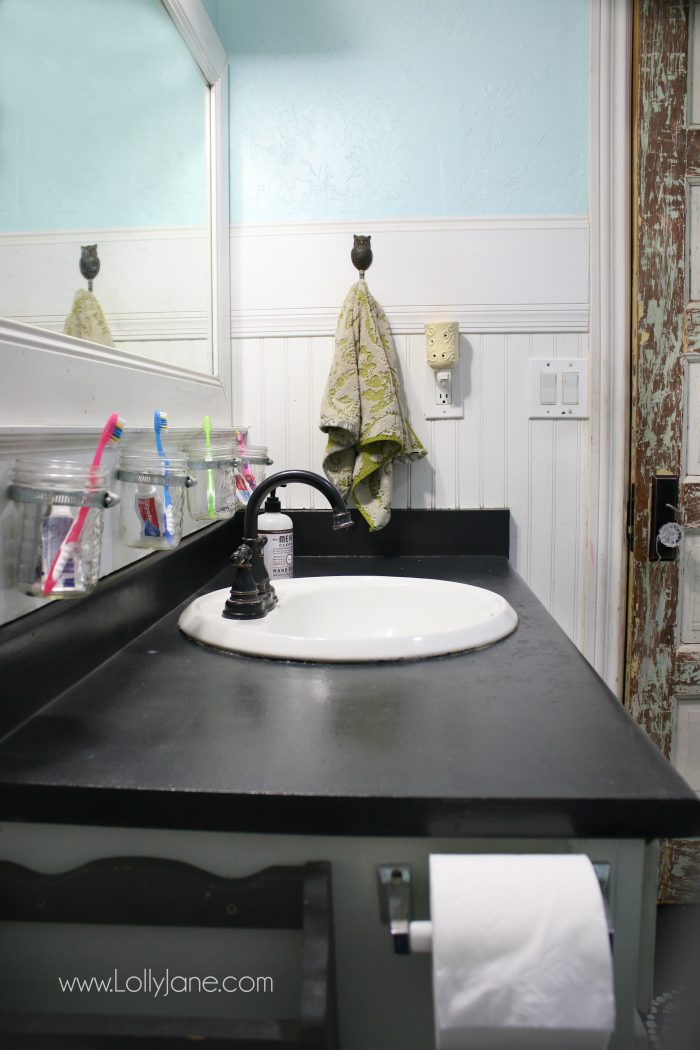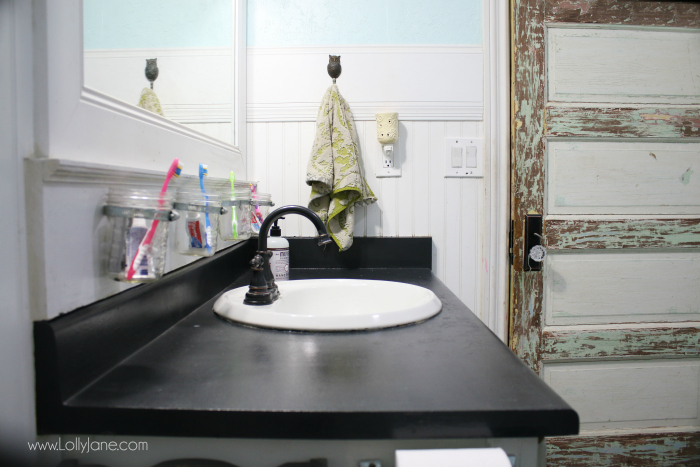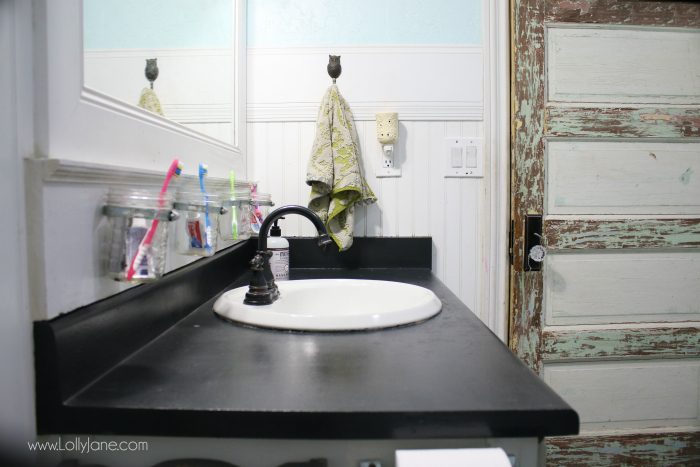 I know what you're going to ask, would I look at chalk painted countertops as a long term solution? Probably not. We love our little farmhouse but it's all original: the cabinets are starting to fall apart inside and the baseboards have been soaked a million times in the 40 years of raising kids from several different families (it was a rental for 30 years). We are itching to gut it but want to pay cash, we're so close! This is a less-than-a-year fix for us.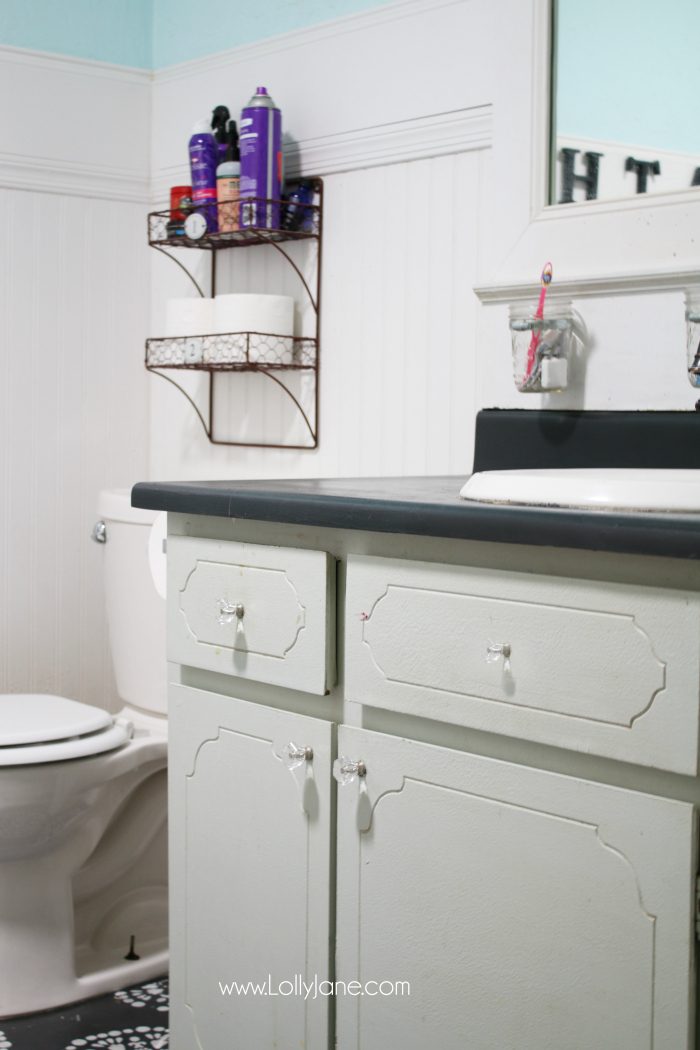 But it looks pretty darn good, temporary or permanently. If you were paying attention…you'll have noticed the black and white floors in the last couple of pictures. Those were also chalk painted. Stay tuned!

Wall Color: Sherwin-Williams "Swimming"
Glass Cabinet Pulls: Home Depot, similar ones here.