LOL Surprise Themed Bedroom Ideas
L.O.L. Surprise fan in your home? These L.O.L. little girl's bedroom decor features lush bedding, an easy wall treatment idea and fun pink accessories to make your little one's bedroom dreams come true!
My five year old daughter has been begging for L.O.L. toys since she started kindergarten and her new school friends have them. We got one as a reward for her getting green colors the first quarter of school (green means she didn't get in trouble from the teacher) and she's been hooked on them since.
After seeing this fun L.O.L. Surprise set at Morning Bird, Annika begged to put them on her newly painted gold bed! We love how the soft yellow compliments the gold accents in her room.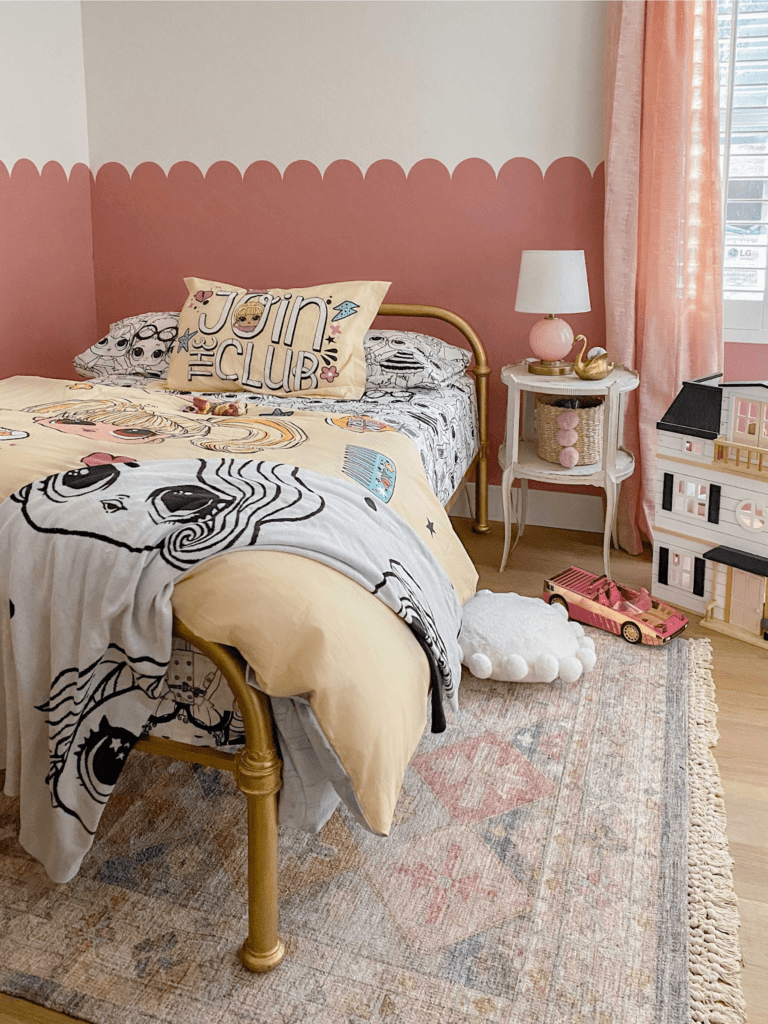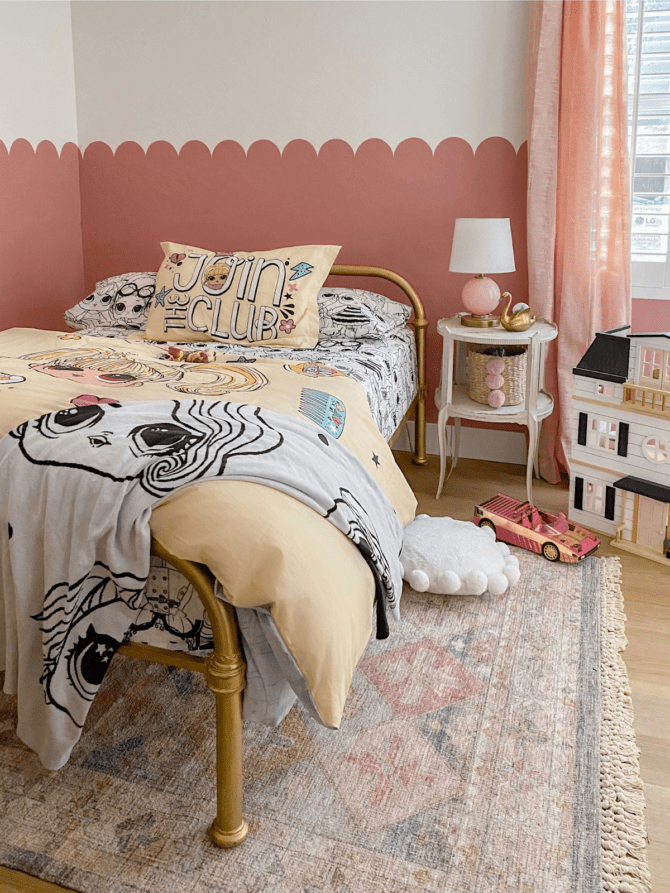 l.O.L Surprise themed bedroom must haves
Since the bedding has a busy pattern, we decided to keep the rest of her room minimal so the bedding would be the statement in the room.
In just 3 hours we transformed her walls into a scallop painted wall and love how it pulls her room together. We kept her decor simple with a pink ball lamp and pretty gold swan to store her "treasures". We also added a vintage style rug to break up her floor and to give her a spot to play with her L.O.L. dollies to complete the look.
Adequate storage for kids rooms are a must as they're always collecting small items. We love keeping a basket next to their bed to tuck away books, small toys and any new treasures they want to keep close. Grab your bedding and accessories below.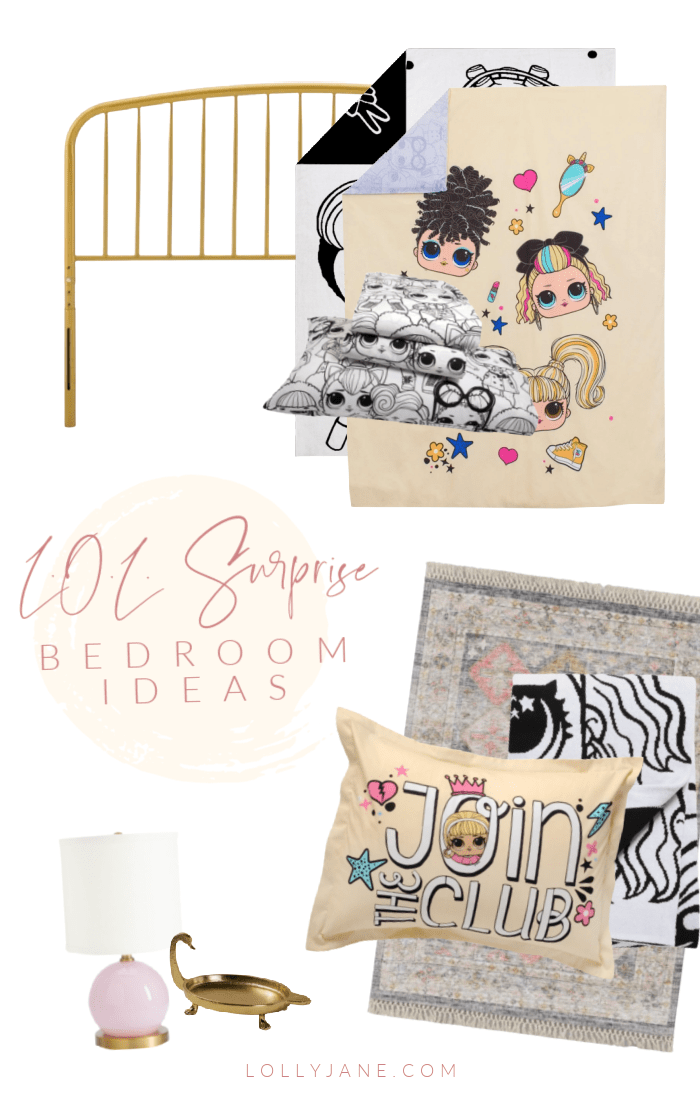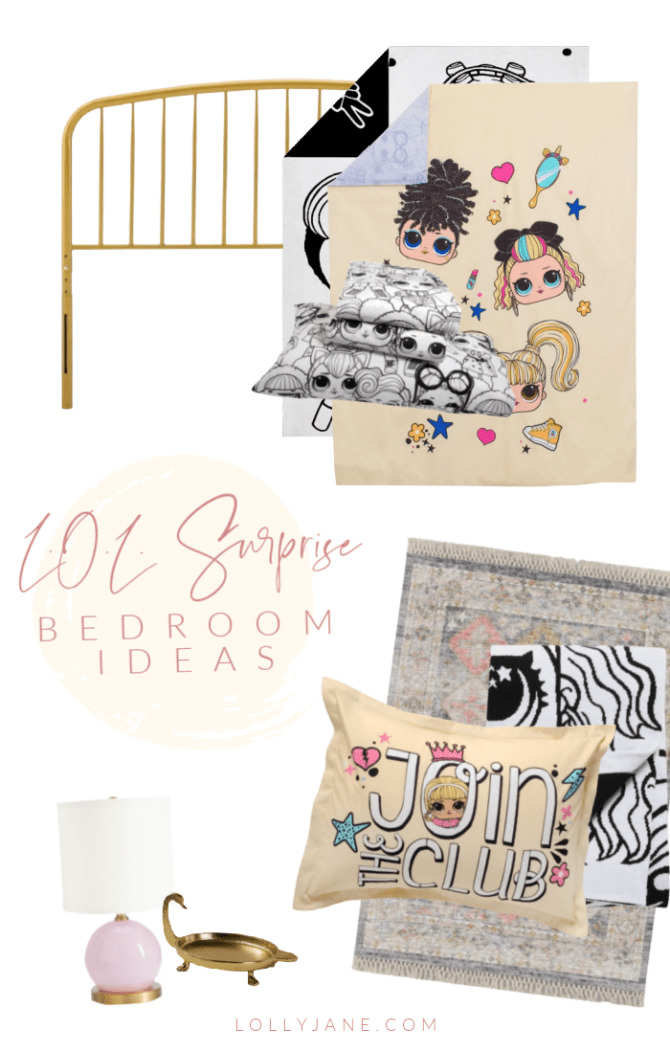 L.O.L. Surprise BEDDING ACCESSORIES
L.O.L. Surprise BEDROOM DECOR ACCESSORIES
Vintage Rug
Scallop Nightstand
Gold Swan
Pink Ball Lamp
Pink Linen Curtains
Gold Curtain Rod
Gold Curtain Clips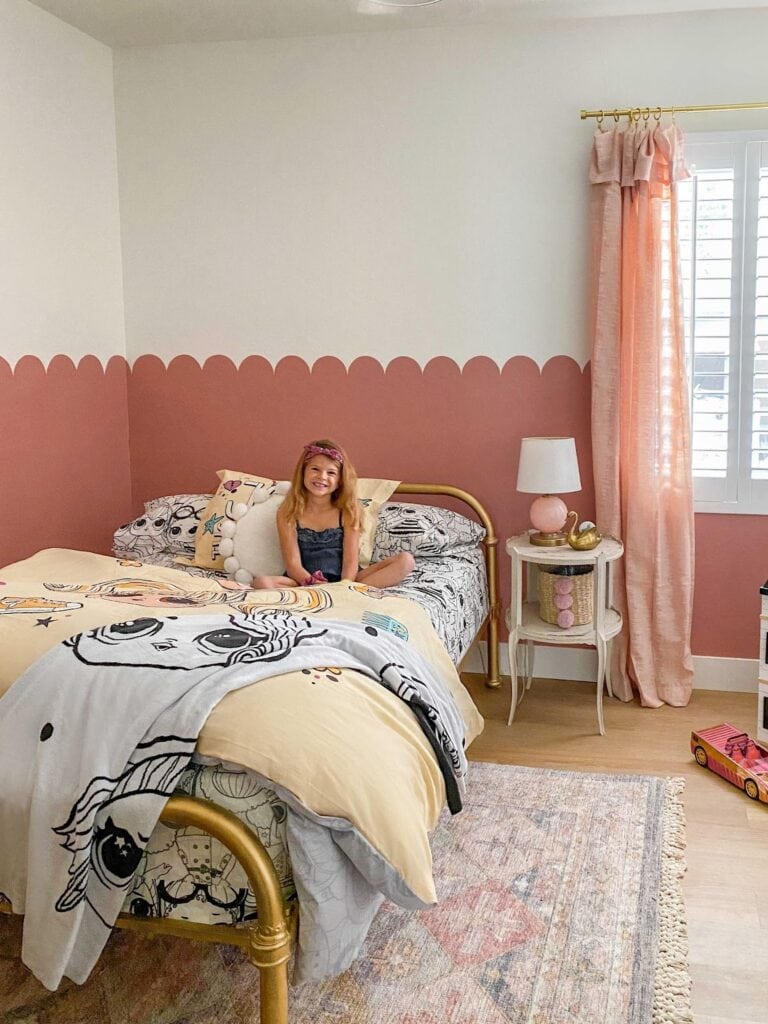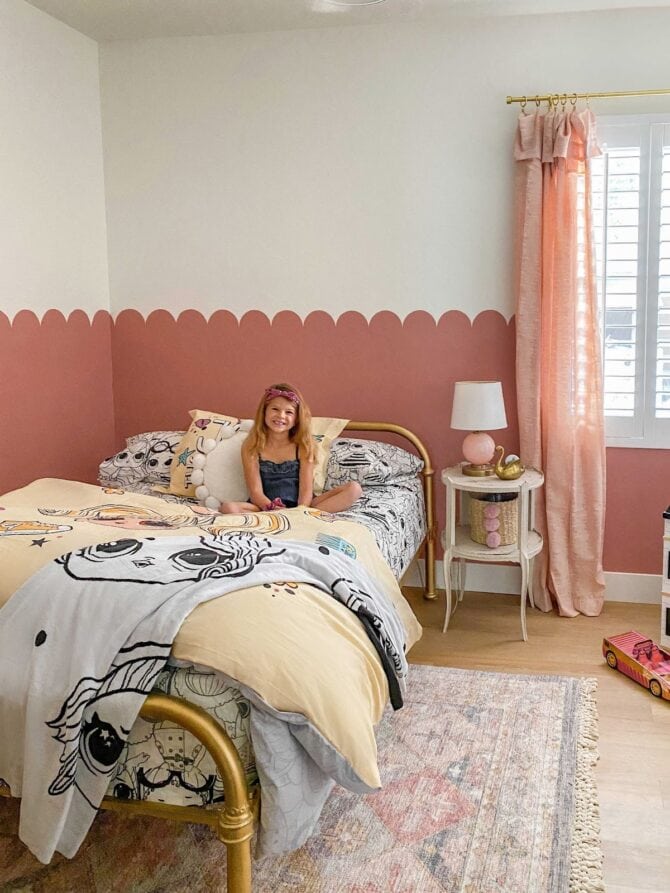 how to style a L.O.L. bedroom
To style the bedding, start with sheets. We always flip the top sheet over so when you fold it over, the design is upside up.
Then we add a duvet with a cozy down insert. We fold this over so you can see the pretty patterned sheets. Pro tip: add 2 twin duvets inside to make the bedding extra fluffy! Plus it keep your kiddo extra warm at night.
After adding the duvet, we layer a coordinate throw as the cherry on top of the bedding. It's quickly accessible for afternoon naps or to cozy up on the couch when we watch movies together. Add an extra pillow like this pom pom pillow to create texture to the set.
If you love this bedding, save 30% with our Morning Bird discount code LOLLYJANE30 to make your little one's day!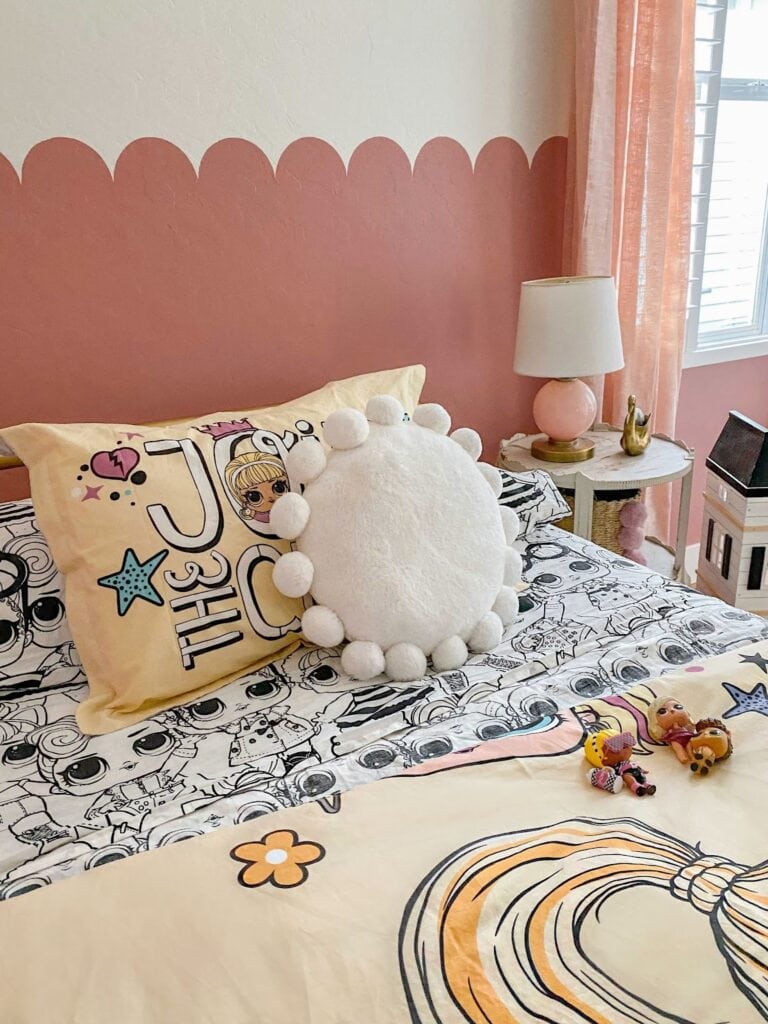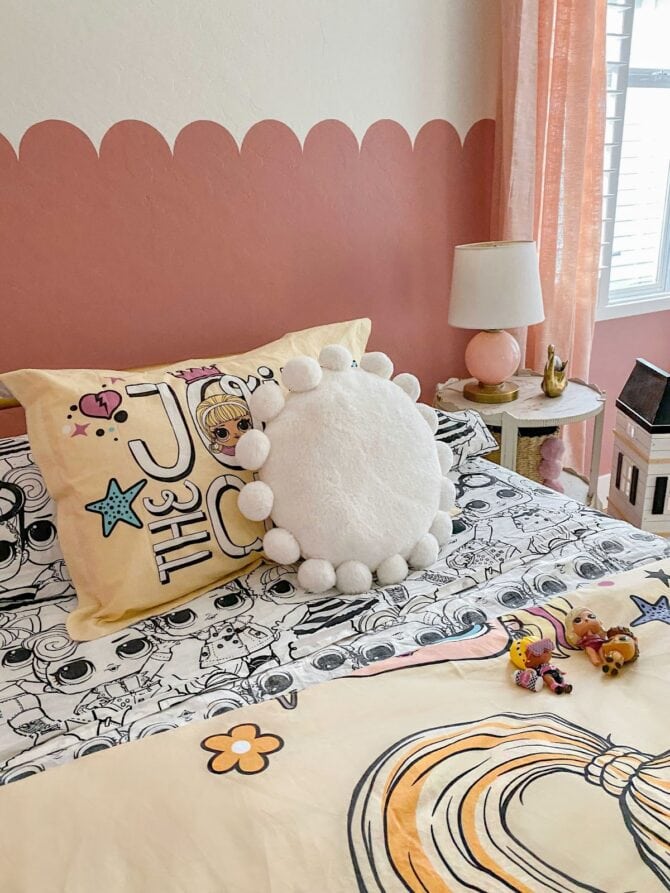 We hope we've given you some inspiration to decorate your little girl's bedroom. We'd love to hear your feedback or any questions, just comment below! XO
More KIDs bedroom ideas
If you're looking for more themed bedrooms, we have the cutest Paw Patrol bedroom any little dog lover would adore: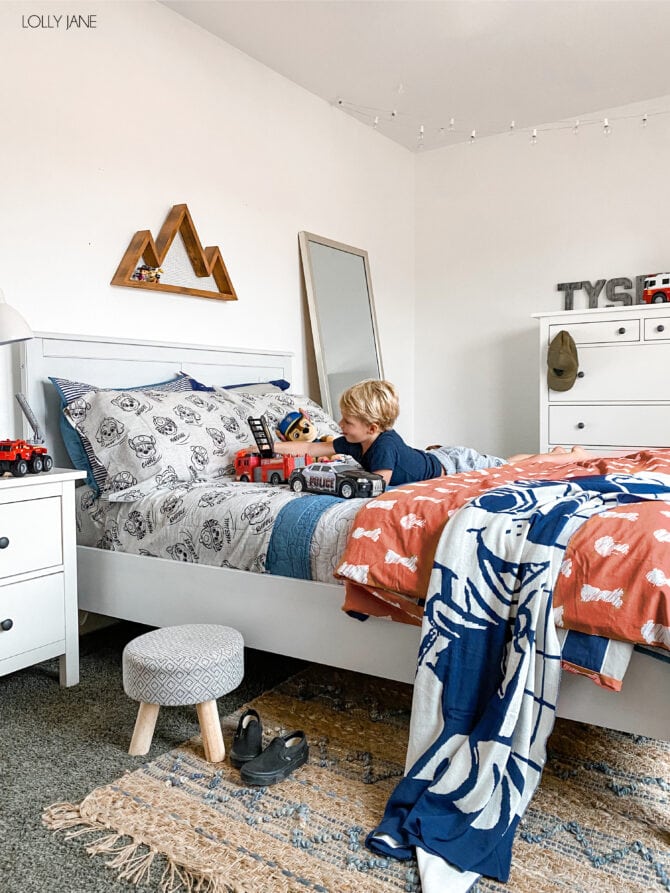 Plus a pretty Frozen 2 Bedroom fit for a princess!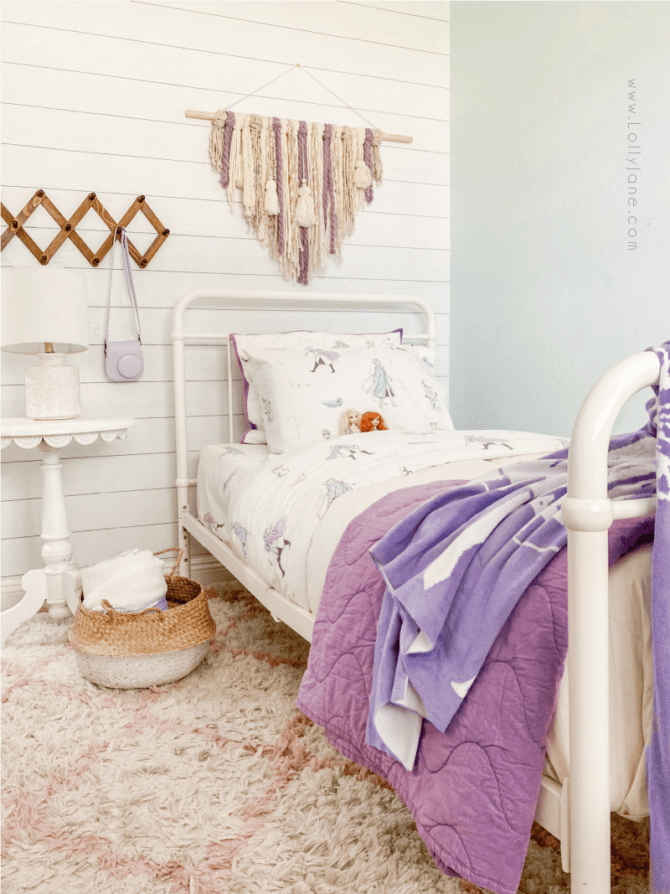 Are you going to copy this look? Tag us on Instagram (or use the hashtag #lollyjane on your post) so we can share your hard work in our stories! Happy decorating!