Modern Farmhouse Bedroom ideas
Get the modern farmhouse look in your bedroom on a budget without compromising style with these easy ideas!
Want the trending modern farmhouse look in your bedroom? We have a handful of staples to help achieve the look… for less! (Thank you to Walmart for partnering with my fave brand Gap- best collaboration everrrr!)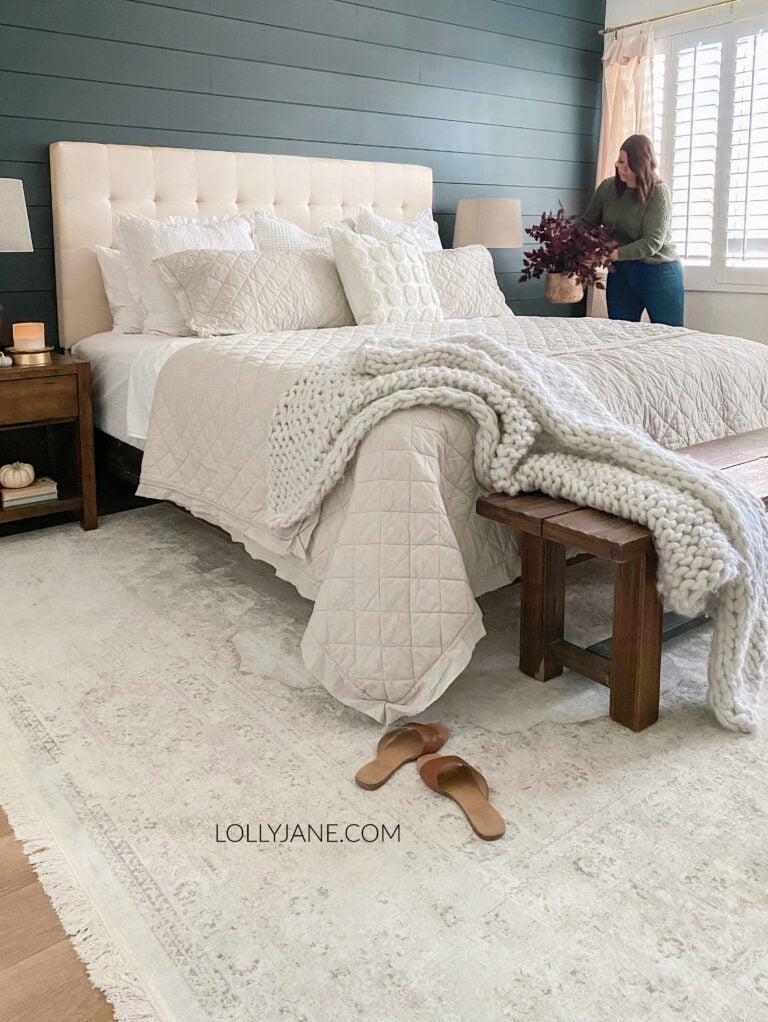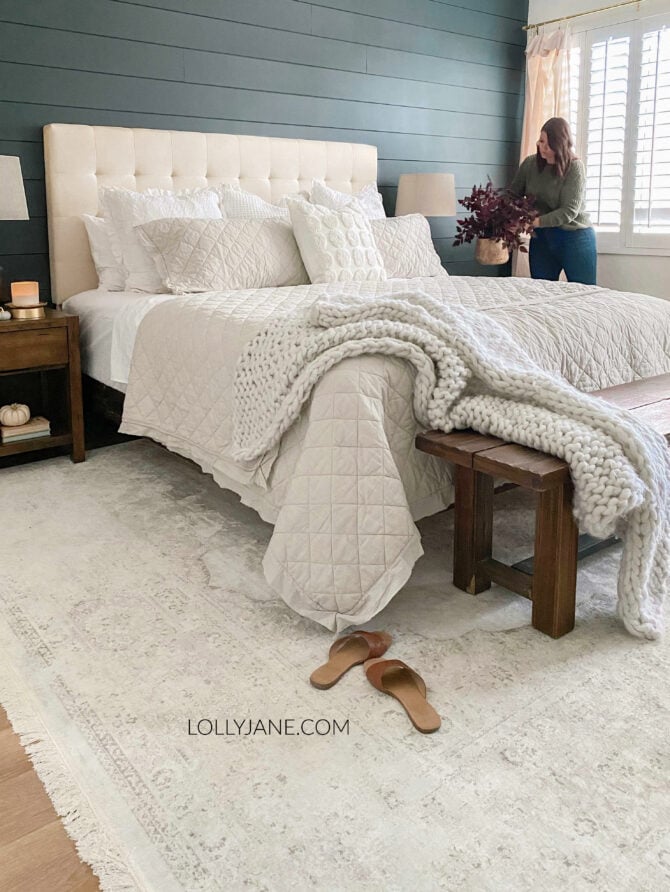 Modern Farmhouse Style
By definition, according to BHG, the modern farmhouse style is the perfect blend of the traditional country look with the more minimal contemporary design. We added a clean shiplap accent wall in this bedroom then painted it a moody deep teal (color is called Midnight in NY by Behr) to pull in the modern vibe.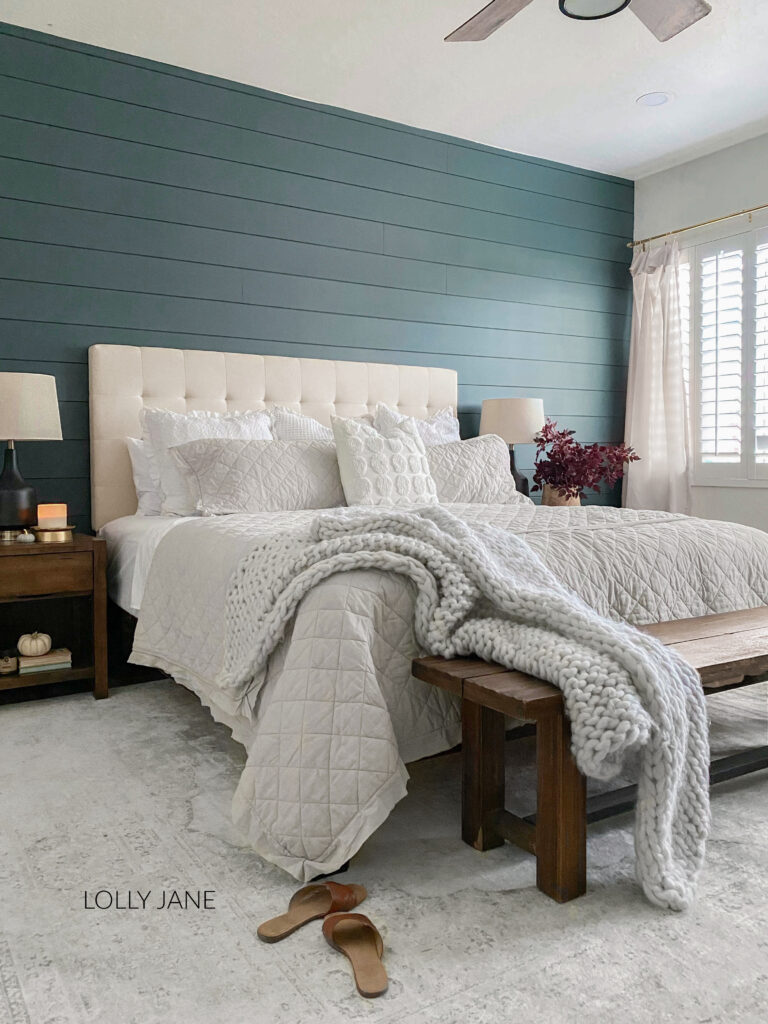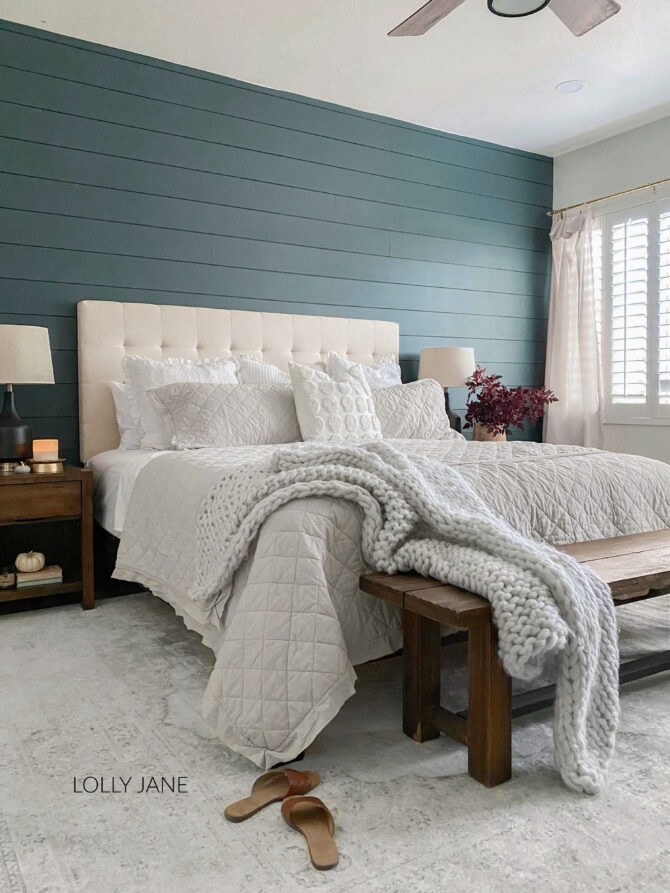 The new Gap Home line is exclusive to Walmart and I added a few items from to really mesh the two styles. From furniture to decor to kitchen and bedding, we are officially smitten!
MODERN FURNITURE
The upholstered square tufted headboard offers a classic traditional look with four rows of soft, buttonless tufting; its tailored look is ideal for layering soft and decorative pillows. (Hello dot pillow, so cute!) Bonus: it's adjustable and comes in five neutral colors designed to complement your own style. Perfect for leaning back to watch TV or settling in with your laptop. You can easily mix and match with other Gap Home pieces and collections for a fresh look in every room, only available at Walmart.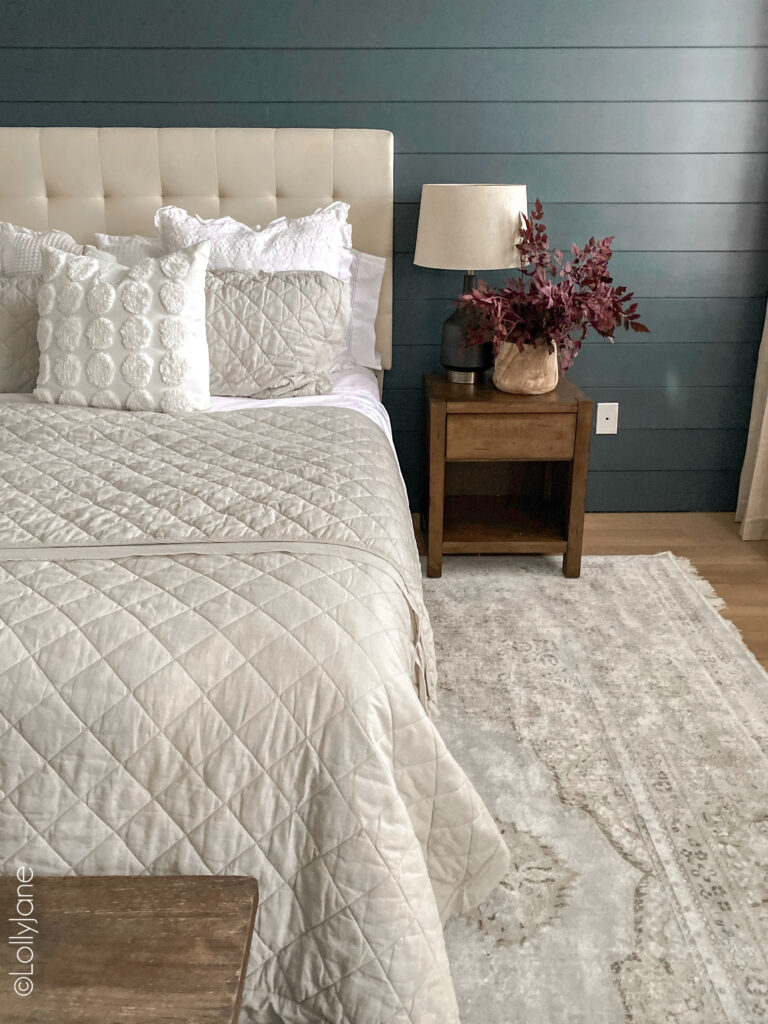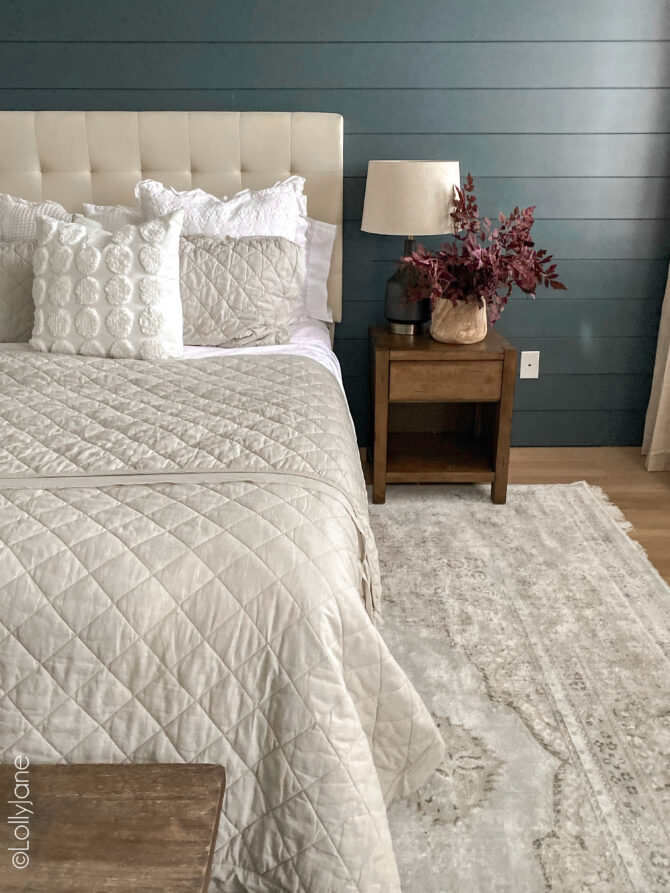 Walmart Home's online selection is huge so when I typed in "modern farmhouse furniture" I wasn't surprised to find the perfect night stands for this room. I love the warmth of the maple wood against the cool modern accent wall.
FARMHOUSE bedding
Gap has a timeless American style for modern living and depending on how and what you pair it with, it can go seamlessly with almost any design. The farmhouse bedding I chose is all about comfort AND style.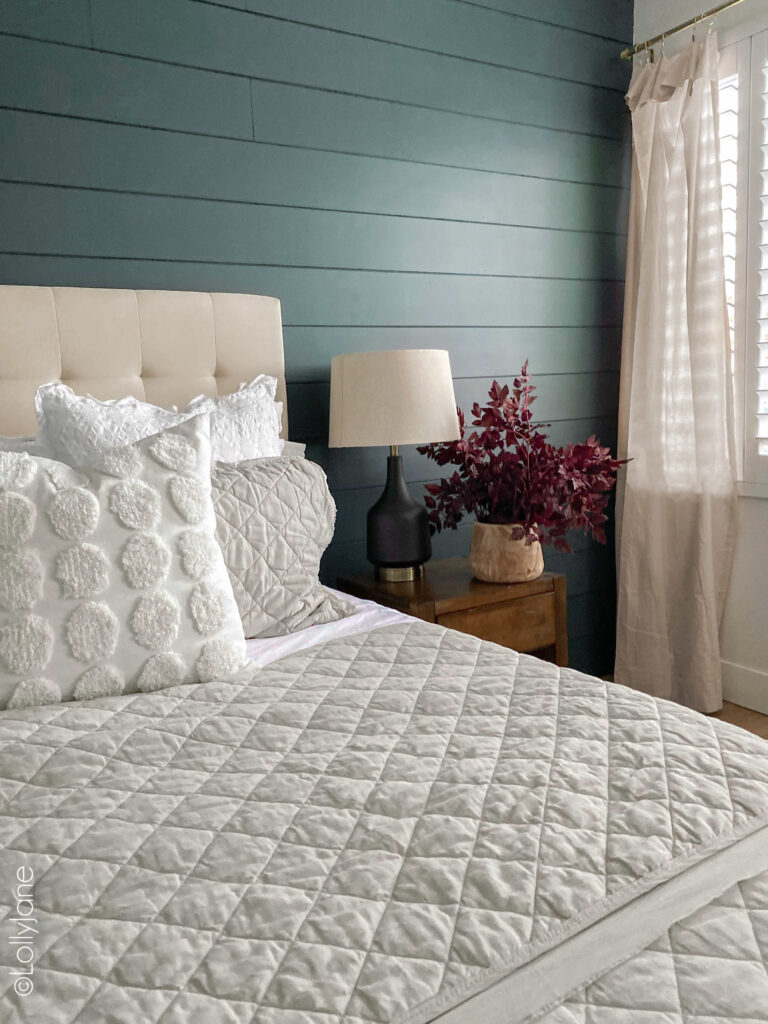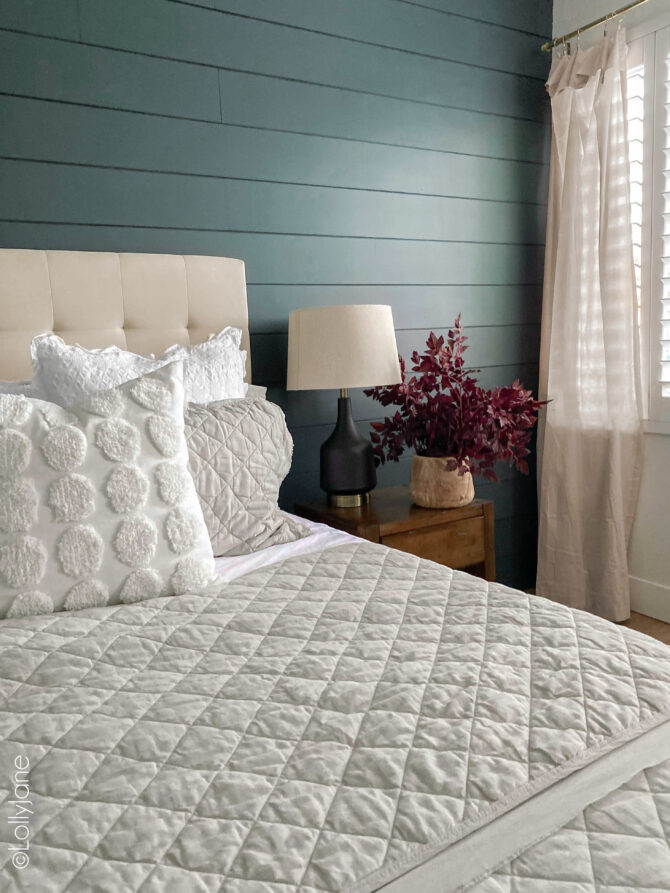 The sheet set has Gap's classic stripe accent (that coordinate perfectly with the color of my wall!) while the pleated quilt is tailored with super-soft and breathable organic cotton, the washed frayed edge is my favorite… just a touch of farmhouse! I added 2 matching pillows to my cart and am glad I did to complete the look. Use alone in summer and for added warmth in winter… here in Arizona no duvet is needed! 😉 Add a throw pillow or two and the look is complete!
Search "Gap Home" next time you're on your Walmart app. (There is more than bedroom goodness, Gap Home has kitchen ware as well that is to die for darling!) Simply select your own favorites, purchase and enjoy 3 day shipping!
SALE ALERT!!! 20% of all Gap Home (online only) from 11/24 9M PST (aka 11/25 at midnight EST) through 12/03 9 PM PST.
You can shop this look on our Like To Know It page or below: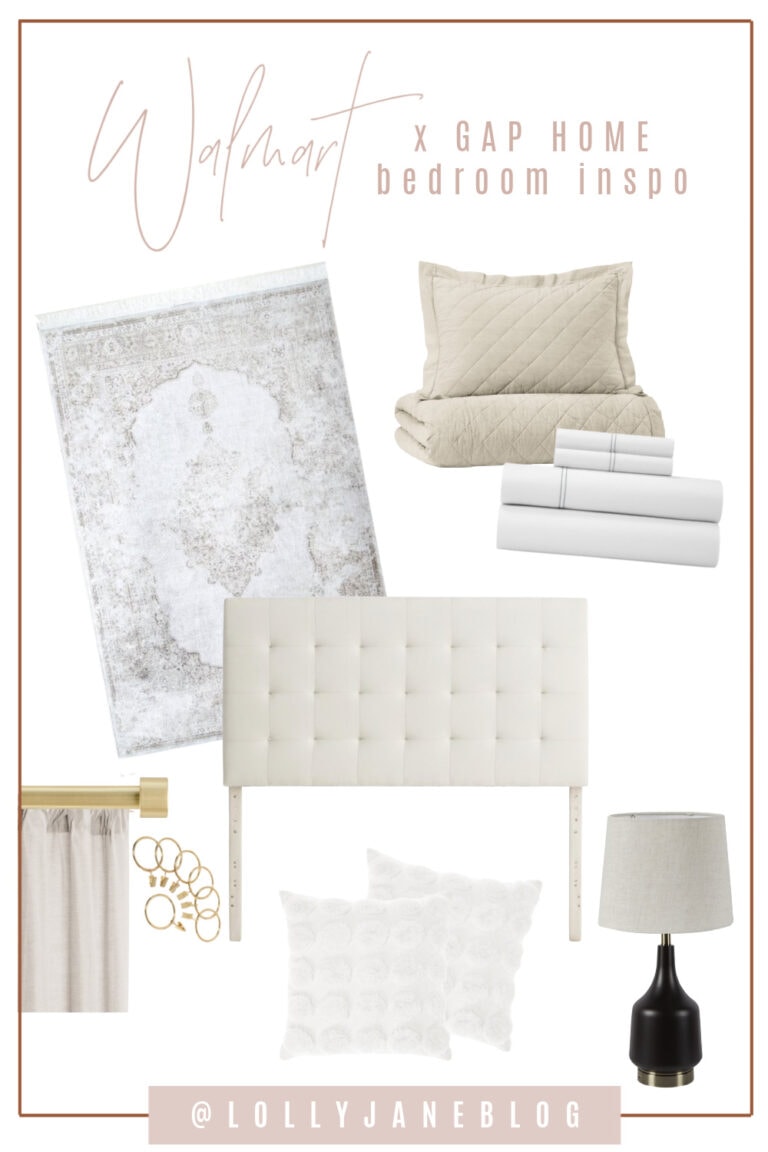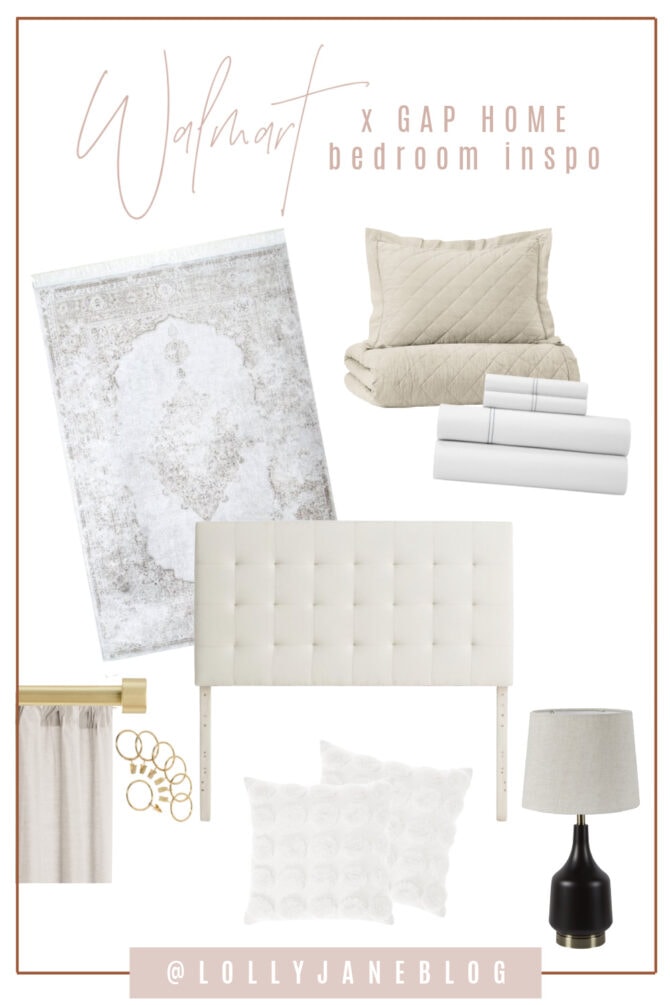 PLEASE PIN
We hope we've helped line up some ideas to create your own modern farmhouse bedroom! We'd be grateful if you'd pin our mood board to share the love! ?
BIG THANKS to Walmart.com + RewardStyle for sponsoring today's post. This Post May Contain Affiliate Links. As always, all opinions are our own. See our full disclosure.