Installing Farmhouse Double Dutch Exterior Doors
If you like farmhouse doors, you'll double the love with these custom french dutch doors! These beauties will never go out of style and are an easy way to bring natural light to your home.
Dutch doors are our favorite part of older houses. They're also called half doors, double-hung or even split doors. Kristi's father in law is from Holland and says they're called boerendeur which means "farm door", very fitting because we live on a mini farm!
Our Instagram community has asked us what is the point of dutch doors and honestly, we mostly love the look of them! But because they're divided horizontally, the top and bottom pieces open independently which allows for airflow through the top door but still provides a barrier on the bottom.
They are also handy for only having to open the top half when delivery drivers come by or if you want to talk to a neighbor but know they're not coming in all the way, you can just chat through the door.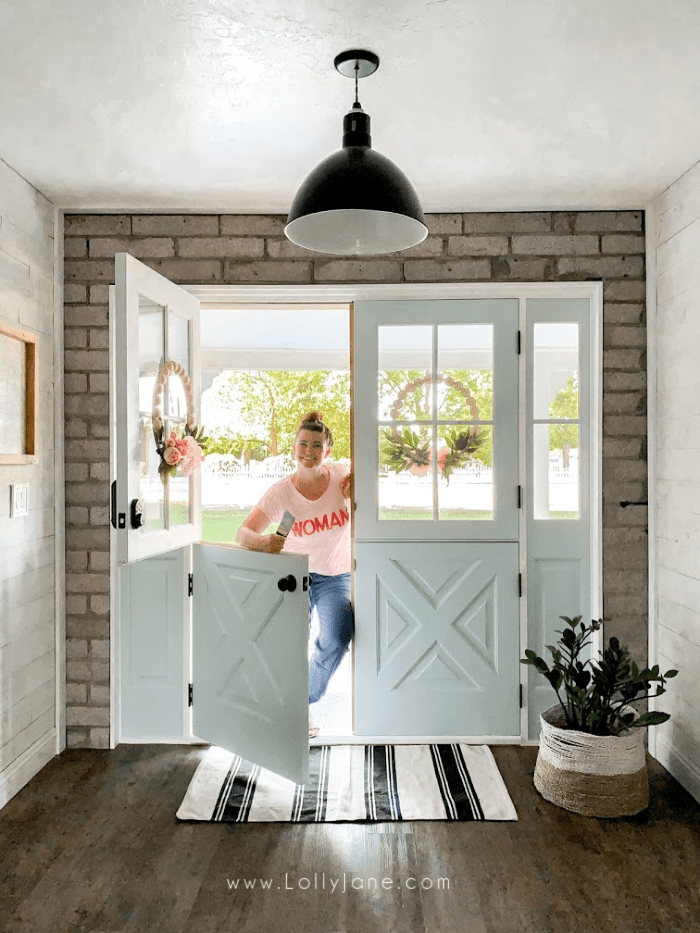 Now that you understand what dutch doors are, let's chat D O U B L E  dutch doors!! ?
We've been debating if two dutch front doors are called french dutch doors or double dutch doors: french doors indicate there are two doors so if you say french double dutch doors, are you basically repeating yourself?
Which would YOU say is the accurate name for them?
I thought it would be fun to take you along the process of removing our old doors, installing the new ones and how we painted them. So scroll on down for tons of pictures and an amazing "after"! We LOVE these doors!!
removing the old doors
I insisted on having the double dutch doors custom made to fit our entryway.
My reasoning is that we're going to live here until we die (that's our hope, anyway!) so it's worth it for extra cost.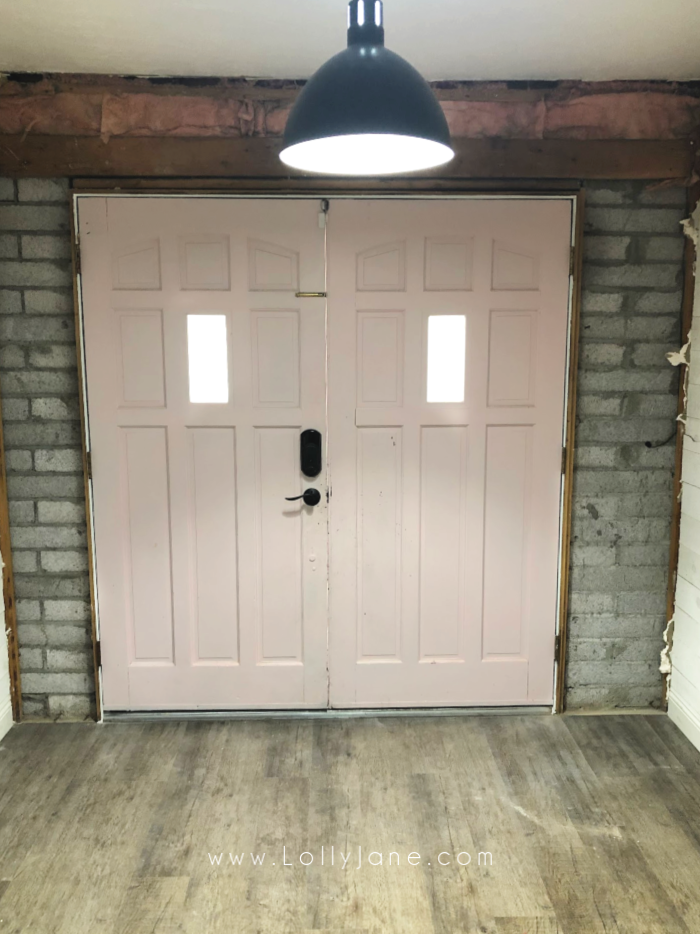 Since we've been saving up and paying cash for our renovations, Nate wasn't thrilled with the idea at first because it required us hiring a mason to cut out the sides of the block wall to widen the opening.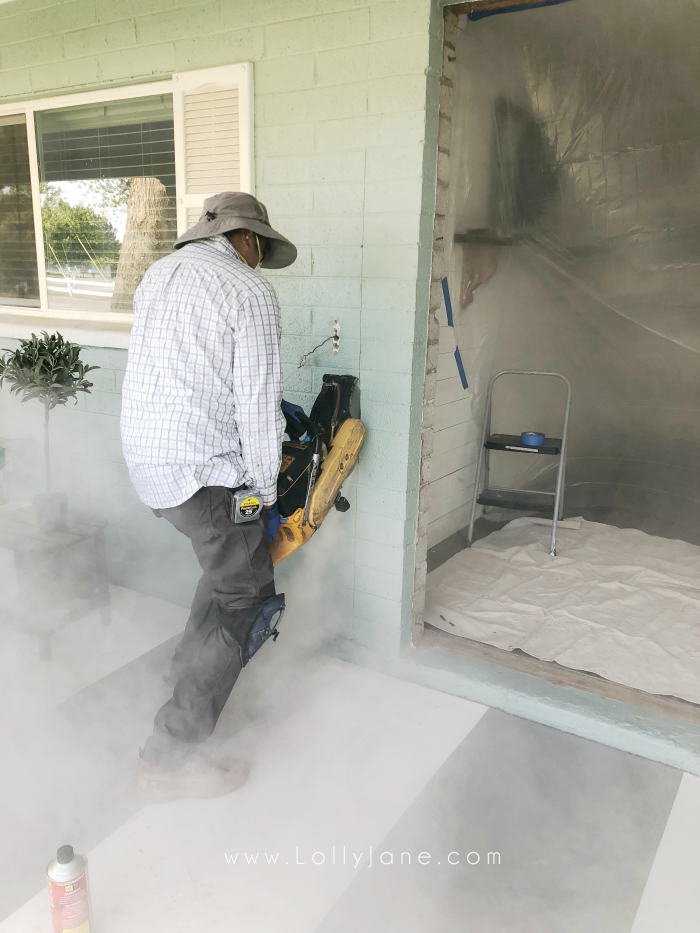 Originally, we were nervous about cutting it ourselves because we weren't sure about the structure: could the existing lentil support the new doors and sidelights? The answer turned out to be yes but we're glad we hired the correct professional to be safe. The doors were an investment and we wanted to do it the right way.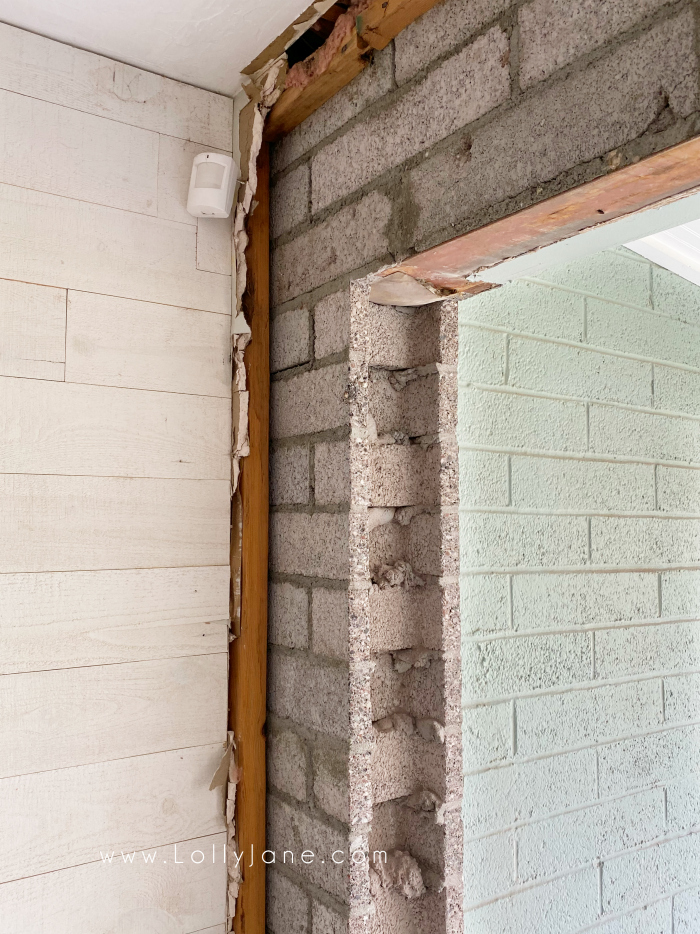 The neat thing is that the mason was a friend of a friend so Nate ended up assisting him which saved us 1/2 the cost of the original $1200 quote.
After the fact, Nate feels like he could have done the work with a quickie saw but again, it was worth it to have the mason's expert opinion as he couldn't have known about the lentil support until he cut the block open.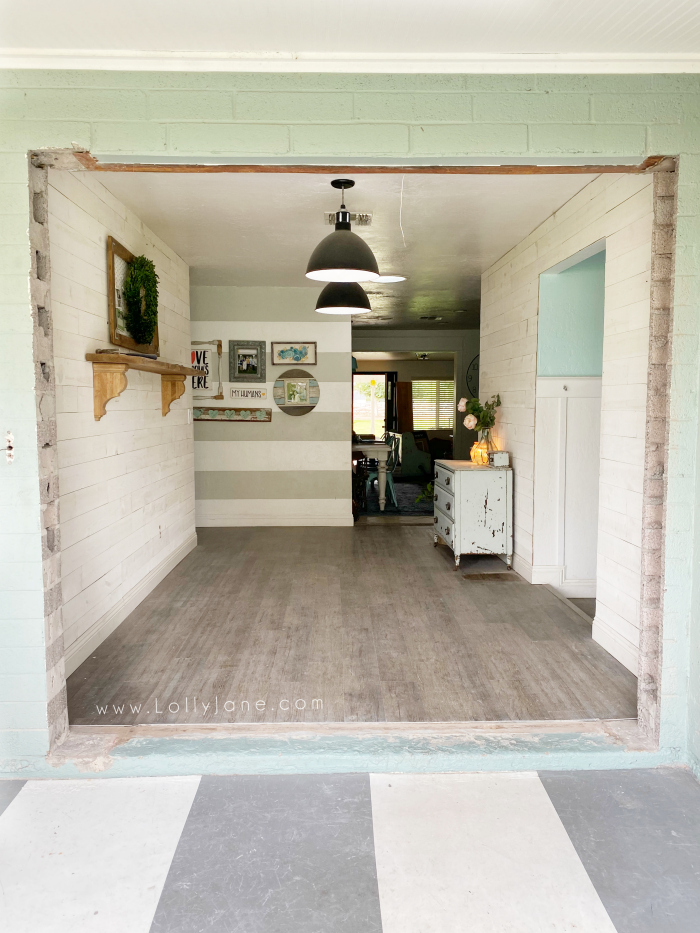 As soon as the wall was opened up, I knew we made the right choice. Check out all that natural light!!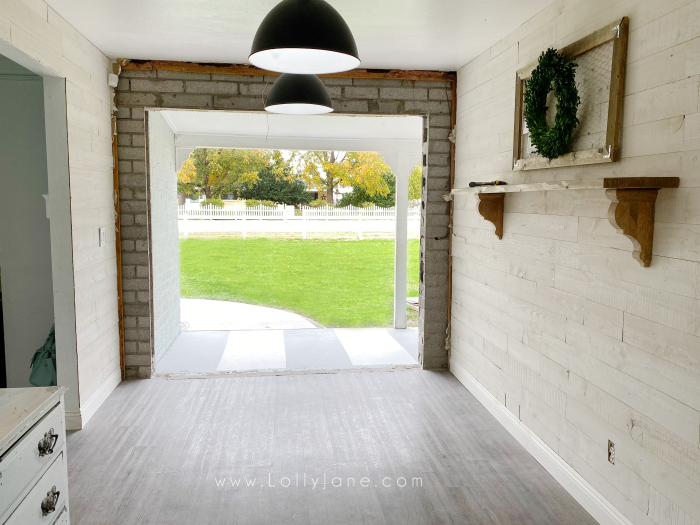 Here are our popular painted doors, sadly sitting in the yard. (We have plans to re-purpose them, stay tuned!)
See where it says RAY and PAYNE on the wood? Our parents built this house back in the 70's; the Ray Brothers were the builders and our last name, Payne, shows how this was marked for our family.
Awh..I wasn't even born yet when those words were written. We were brought home from the hospital to this house.
It's been so fun to update it and include our parents in our decisions along the way ?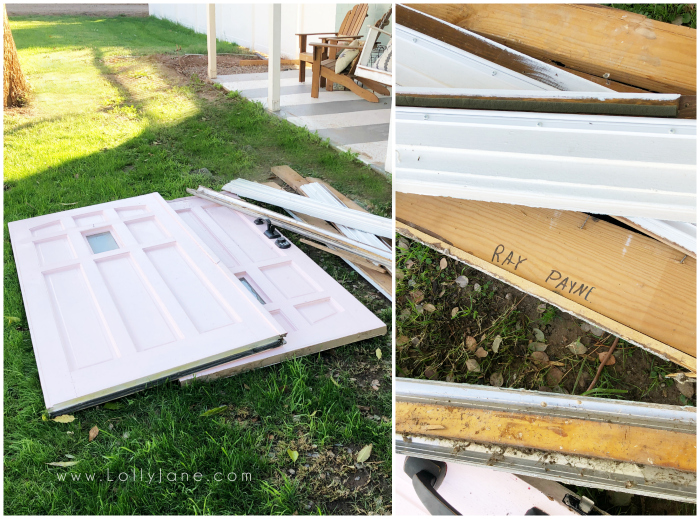 Installing the dutch doors and sidelights
Because this door is so custom, we don't have step-by-step instructions of every detail. Note: have your dealer install them for you and you won't need the instructions!
We documented a lot of the process on Instagram so visit our Dutch Door Highlight for lots of behind the scenes videos and photos.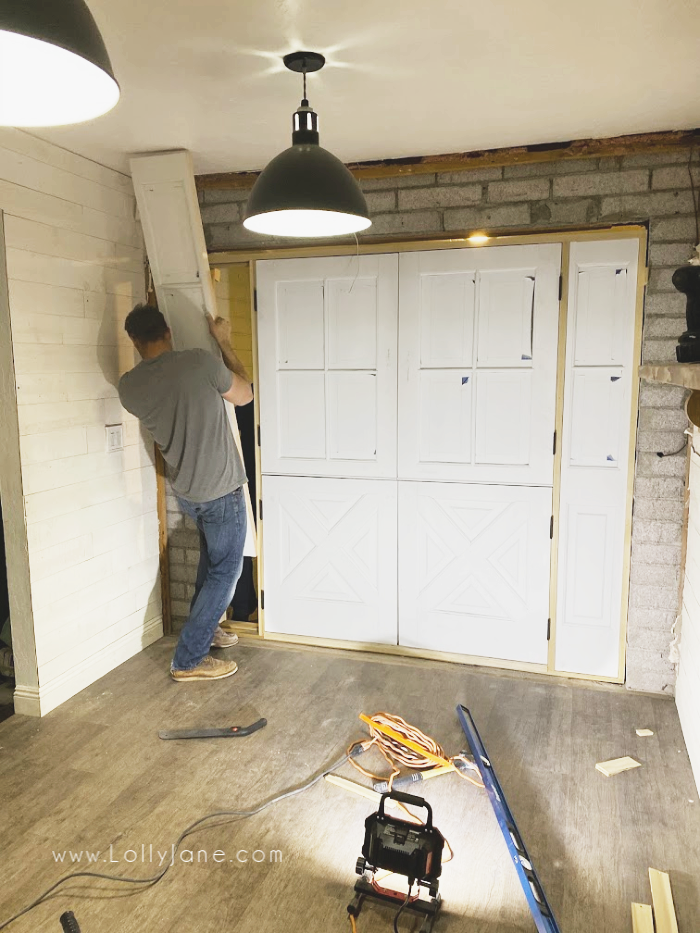 Cory (Kristi's husband, shown above) built the frame for the doors and sidelights. You can differentiate the frame by the raw wood.
He had to add hinges and all the hardware plus the weather stripping and carve out the sliding locks on top and bottom of the non-opening door. It was no small feat.
(Both doors DO open, one will always stay shut until you pull the lock out of the bottom which secures it to the floors like a typical french door.)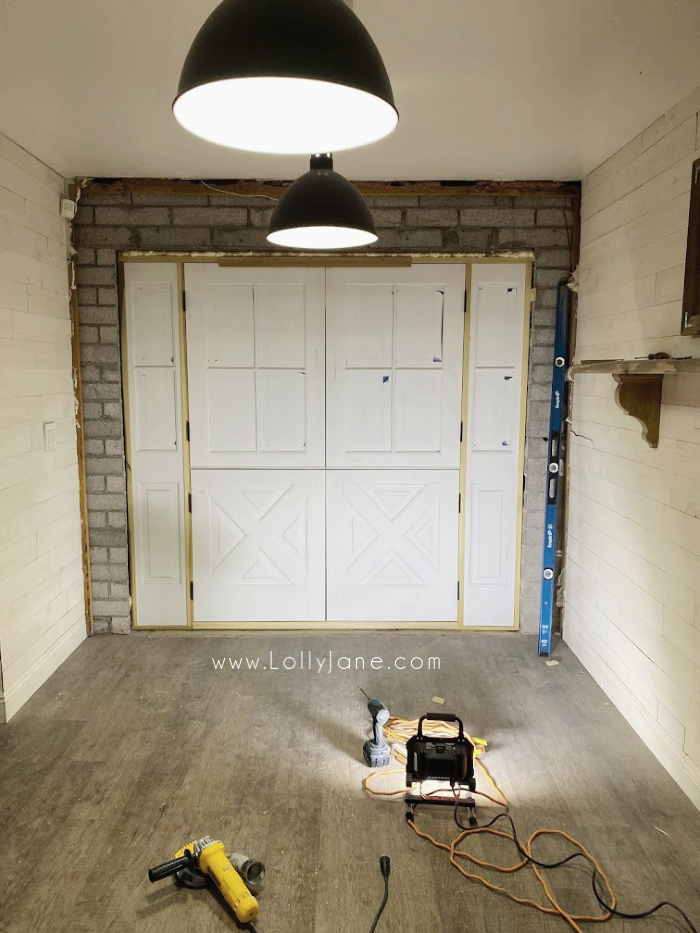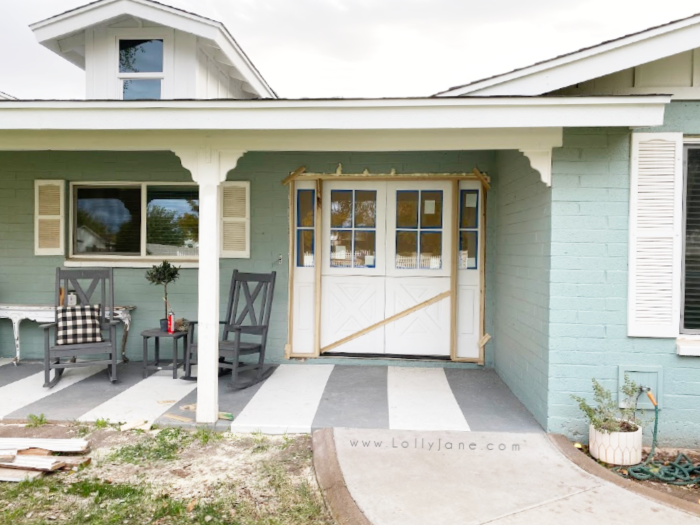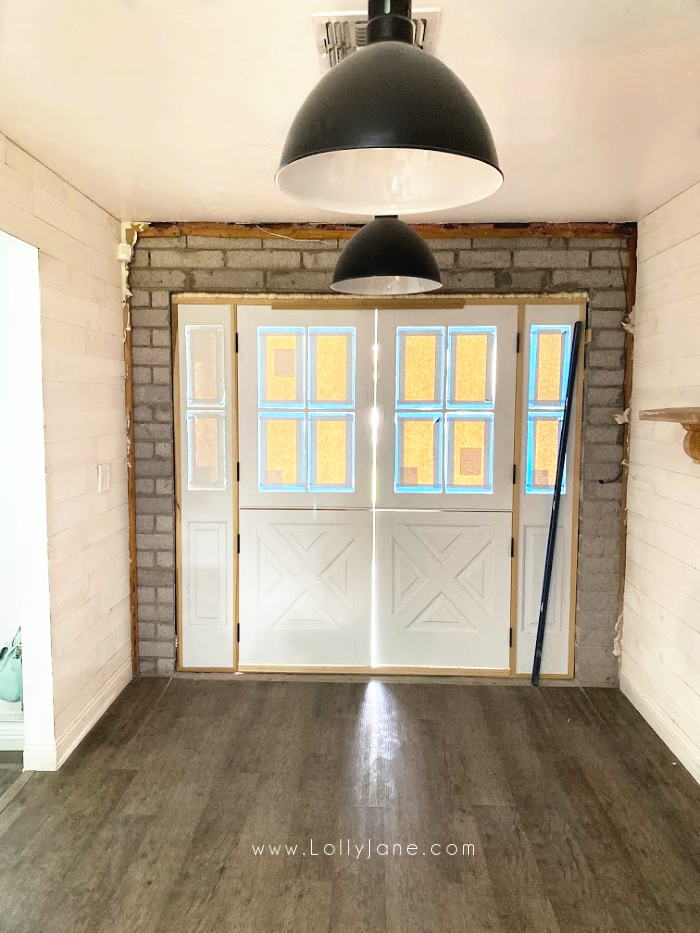 Now onto the fun part: he then framed it out in a farmhouse style trim.
Farmhouse Trim Doors
Step one: We used a Dremel to remove the existing wood frame (shown below). It wasn't needed structurally and we love the look of the exposed block.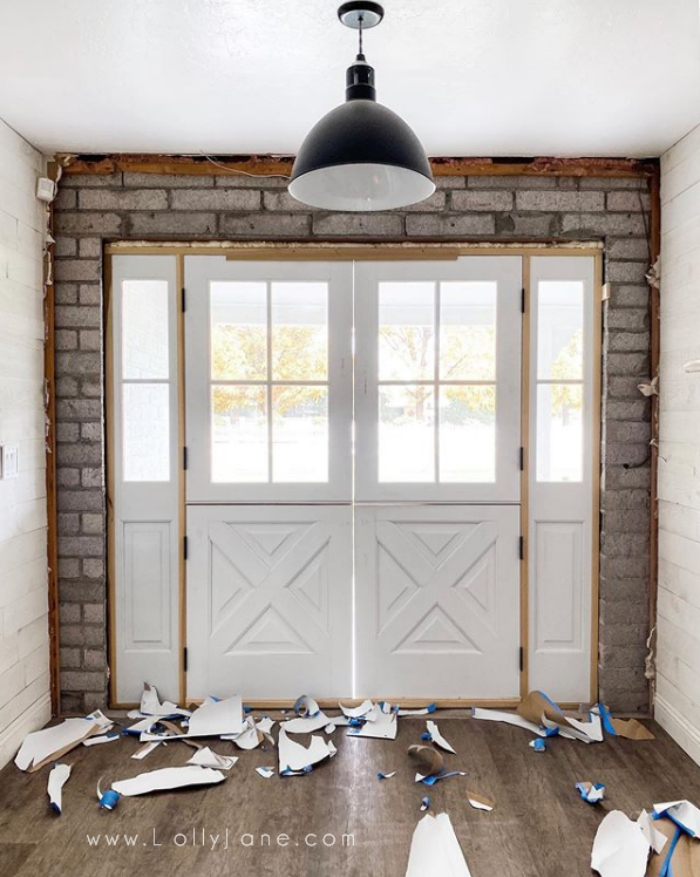 Step two: We got all our trim from Discount Door and Trim, even with the big home improvement stores' sales, DDT beats their prices.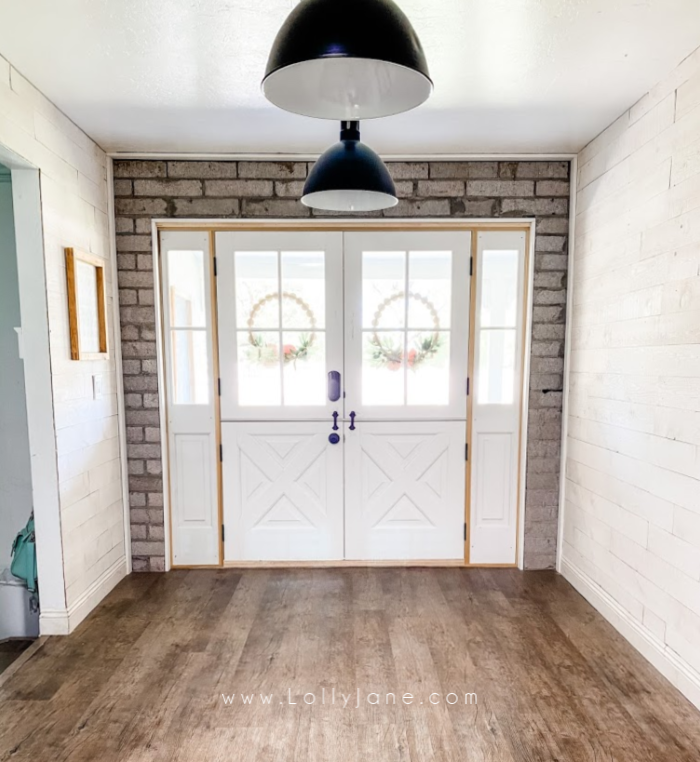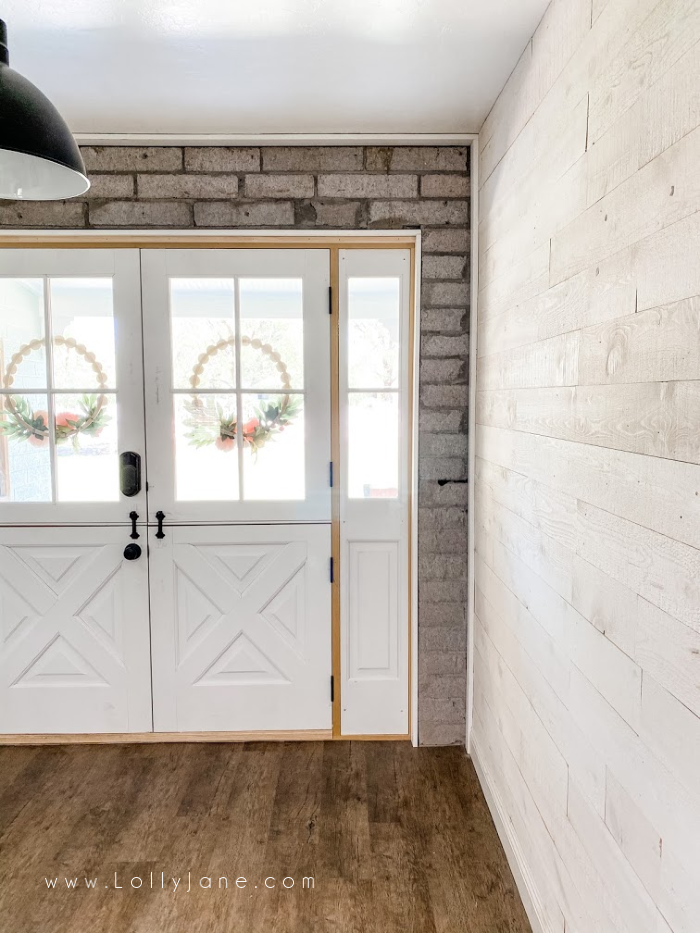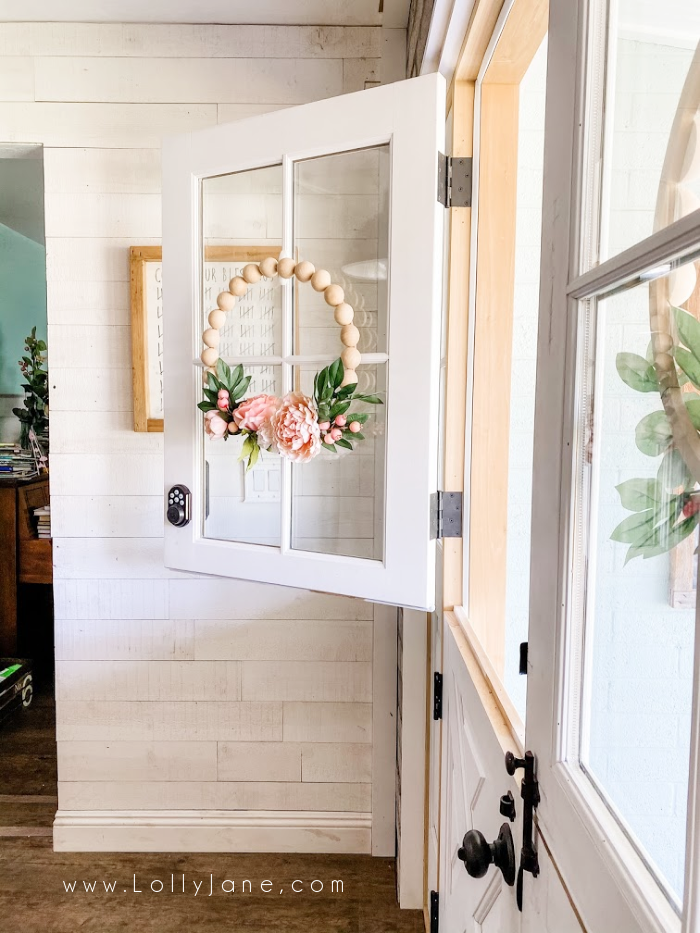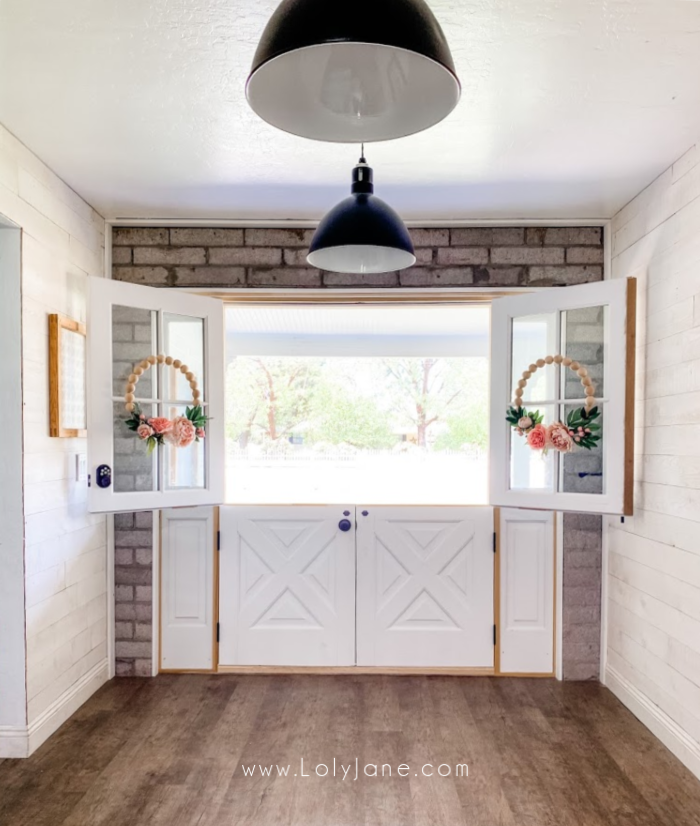 The front porch is the most dramatic statement with the custom trim.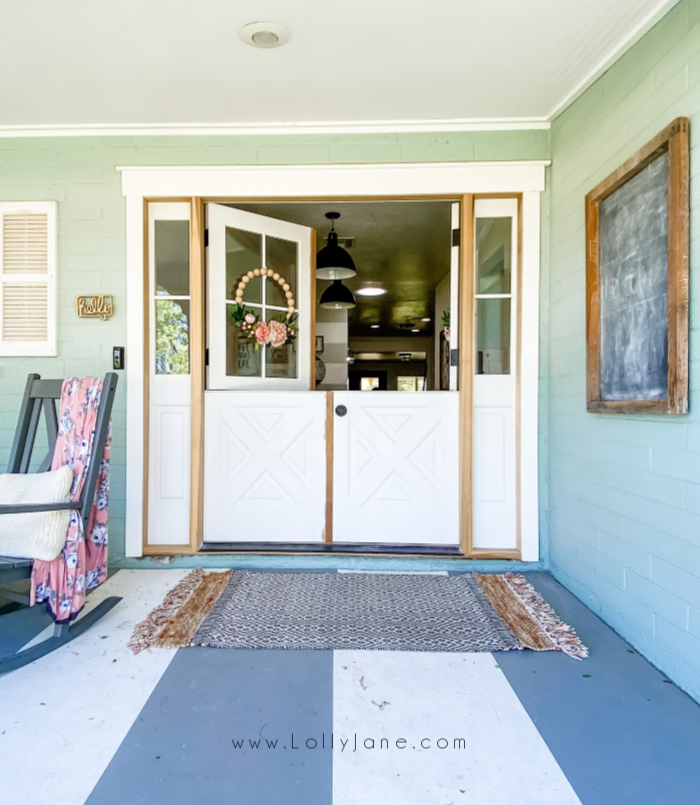 painting dutch doors
Thanks to the quarantine, I finally had time to paint my doors!
I've only done the interior so far because I still can't decide on an exterior color. I love my aqua house color so this pretty blue would clash so for now, they're still primed white.
But how dreamy are the interiors, right?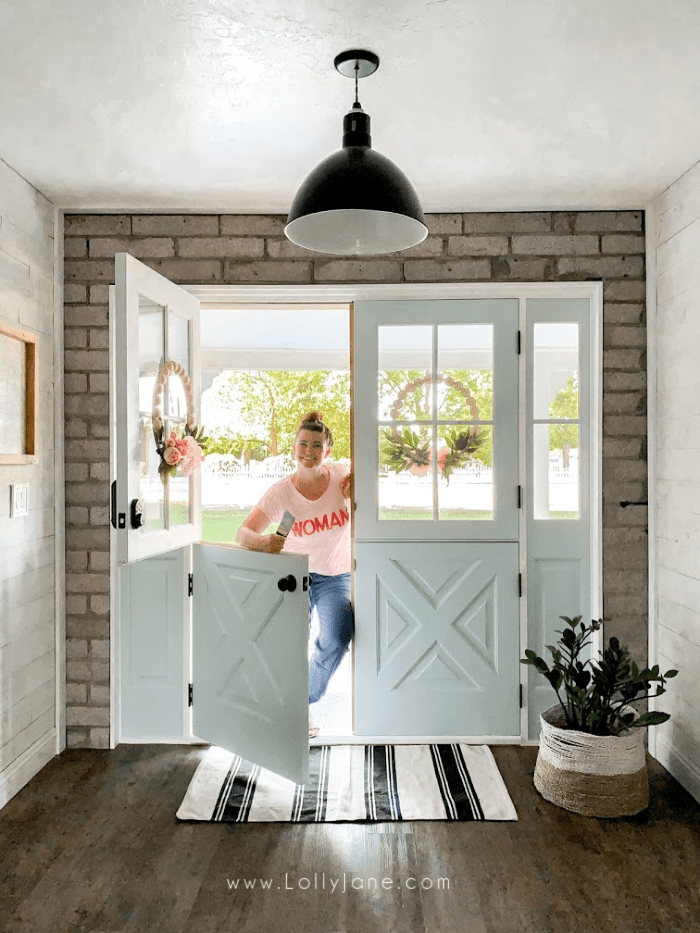 Paint colors we used for our interior dutch doors:
Body: Natures Reflection by Behr
Trim: Ultra Pure White by Behr
before/after of the doors
Here are a few shots of the old doors versus the new.
I miss the fun pink and I do miss the nostalgia of the old doors, knowing my dad installed them but I'm loving the natural light and the farmhouse vibe from the new doors.
I especially loved having the tops of the doors open all winter and spring, the nicest time of year here in Phoenix.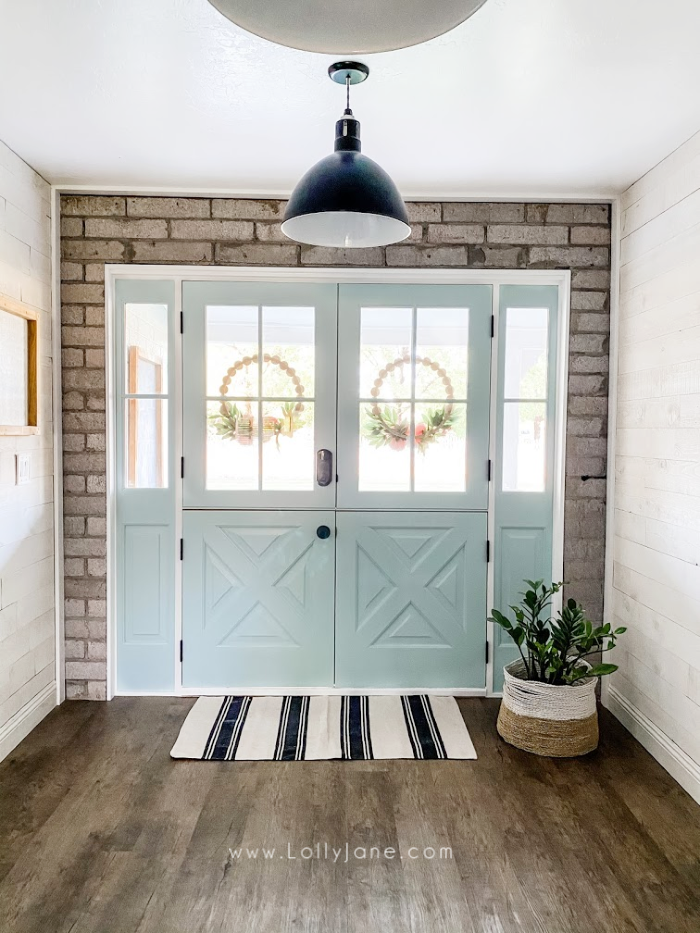 before/after entryway view
Here's a shot looking into the entryway from May 2019.
I adore those blush pink doors. I painted them a couple of years ago before it was mainstream..before it was nicknamed "millennial pink".
Again, I miss the pink but don't love how trendy the color has become..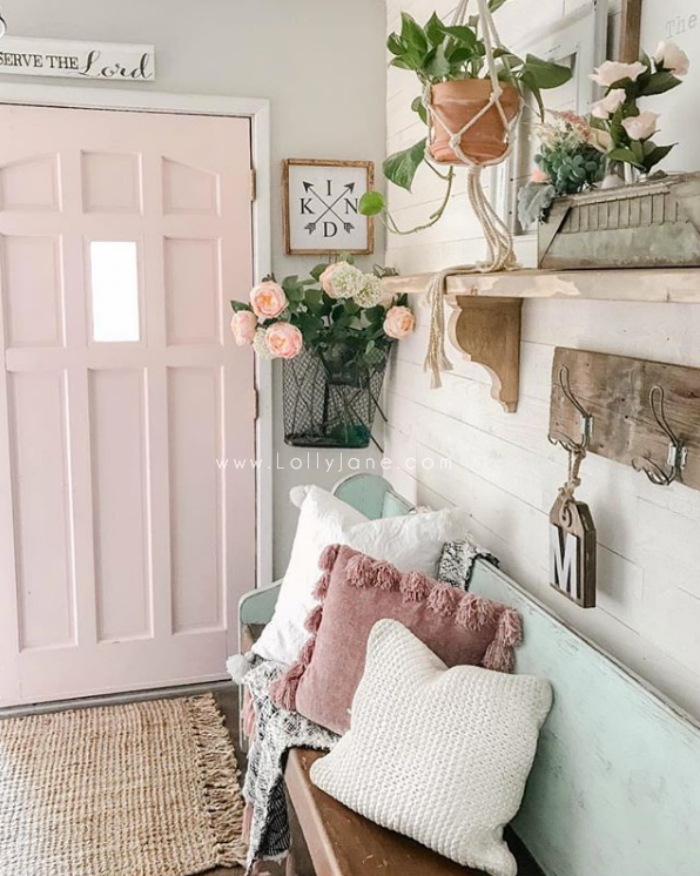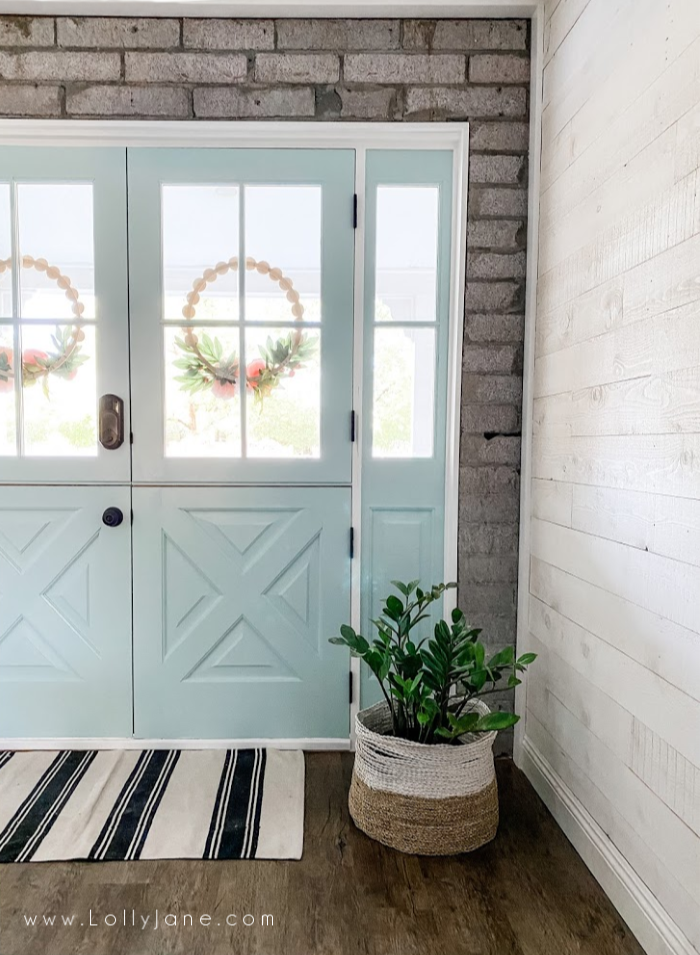 BEFORE/AFTER front porch view
Here's a shot of my front porch from August 2019. I loved those blush colored pink painted doors!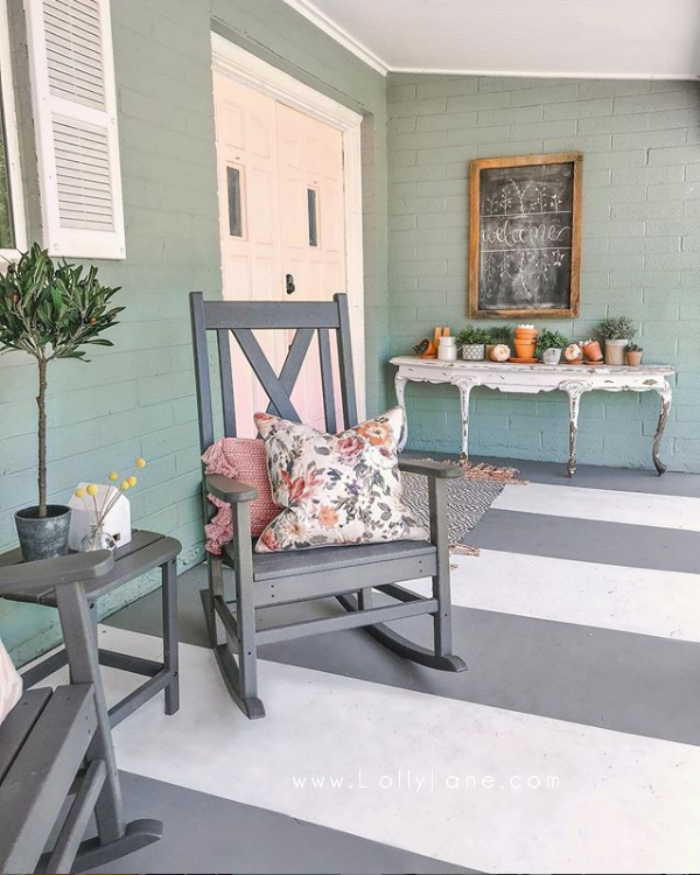 Here's an exterior shot of our double farmhouse dutch doors now (April 2020), primed and ready for paint.
(Still deciding on a final color, argh!)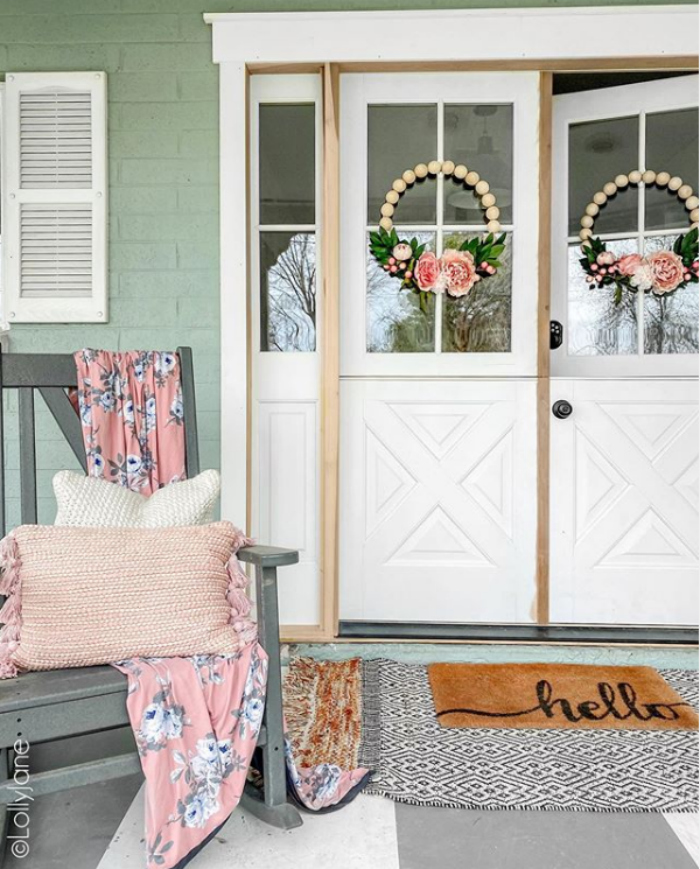 ROOM SOURCES
*Look for a DIY German Schmear tutorial coming soon as well as painting the exterior doors in May!
ordering dutch doors
So where do i get dutch doors?
Our doors are the Traditional Sash 2435 (double doors) + Traditional Sash Sidelight 1742. If you want these doors, you'll need to order through a local dealer.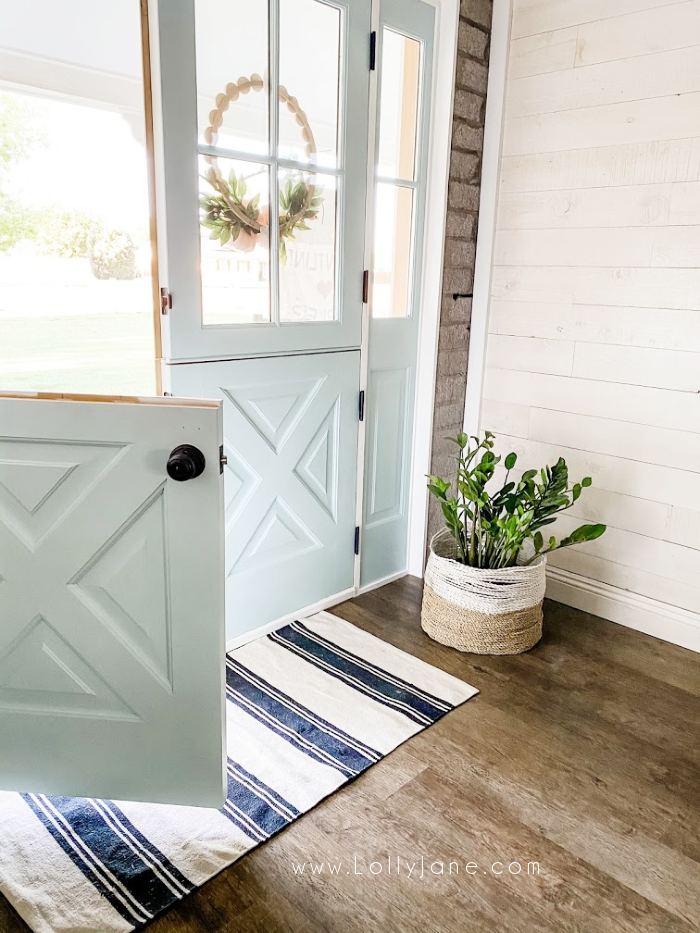 Cory is truly an amazing woodworker but by the end of my install process, he was hating his task. Even though I paid him for his services, it was a huge job and he has vowed to never take on dutch doors again. HA!
A dealer can definitely install them quickly and more efficiently for you but because we got the doors directly, no local dealer would work with us due to liability.
please pin
We'd love for you to pin this so your friends can be inspired, as well!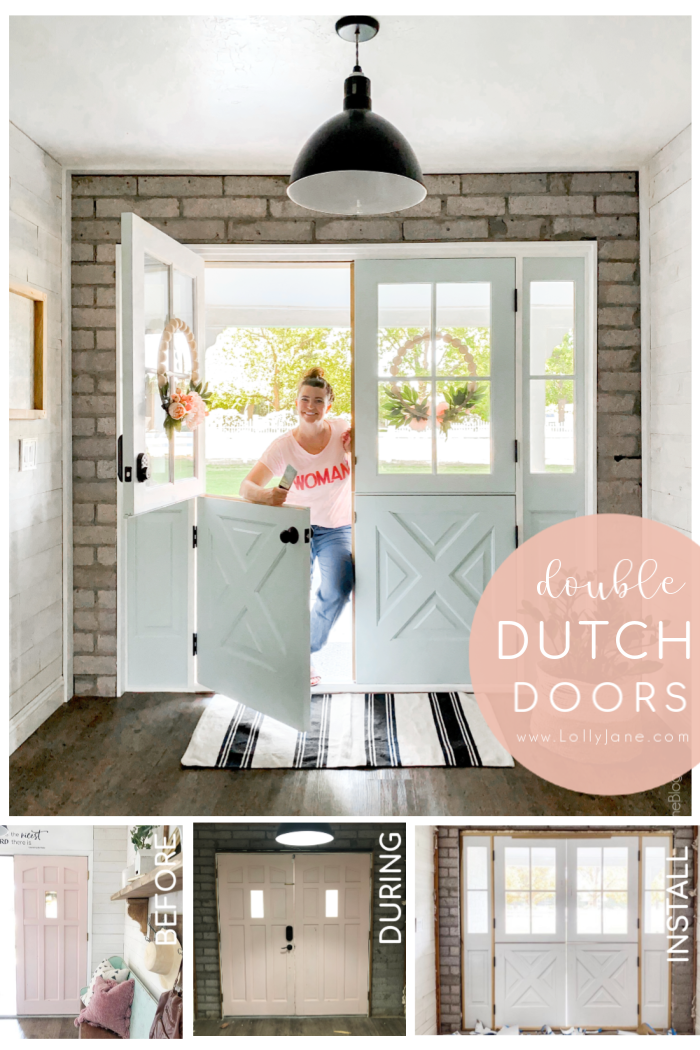 more dutch door goodness
Be sure to visit Kristi's Craftsman Dutch Doors to see how modern dutch doors can look ?