Learn how to make this oversize boho drop cloth banner to make a huge statement with inexpensive materials. No sew option available, too!
We were challenged to thank our front line workers using only materials we had on hand since we're all in quarantine and can't shop easily. We rummaged around our stash and found a drop cloth, paint and a boho macrame bunting my teen no longer wanted. With a little paint, hot glue, needle+thread and leftover eucalyptus stems, we had the makings for the perfect giant boho banner!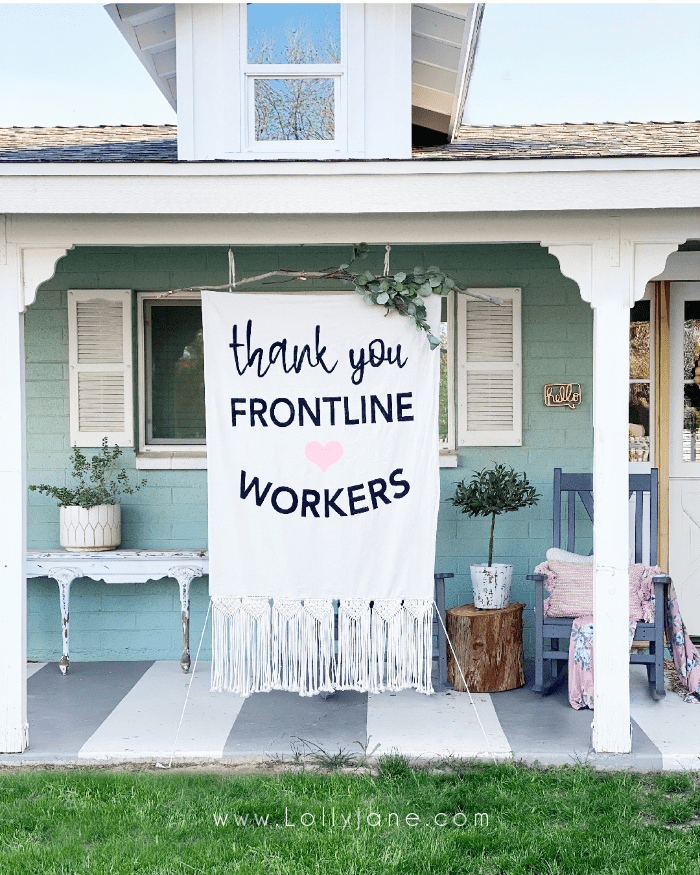 BOHO BANNER FROM A DROP CLOTH
It's been fun to see people inspired by our original boho banner from a drop cloth, we love when they tag us so we can share it in our stories to keep inspiring even more people! (Kindness is what makes the world go round and copying without credit is super lame 😛) We're ALL craving extra kindness right about now so what better way to show it than thanking our front line heroes by dedicating this project to them? 🤍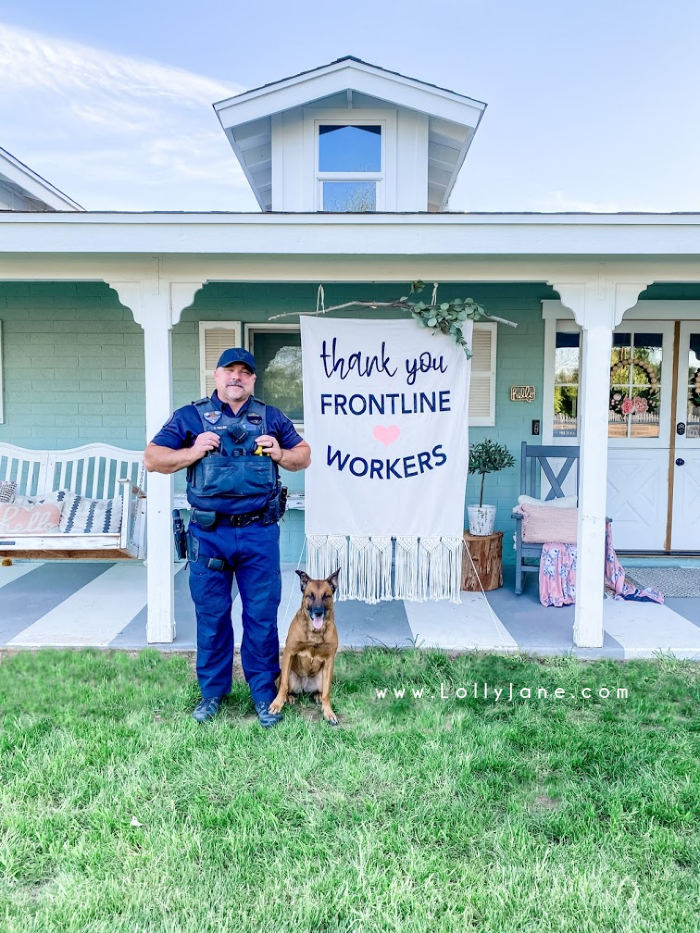 (My husband is the sergeant of the K9 Unit. Pictured with his best friend, Hannah!)
visit more banner ideas
supplies to make a giant drop cloth banner
how to make a boho drop cloth banner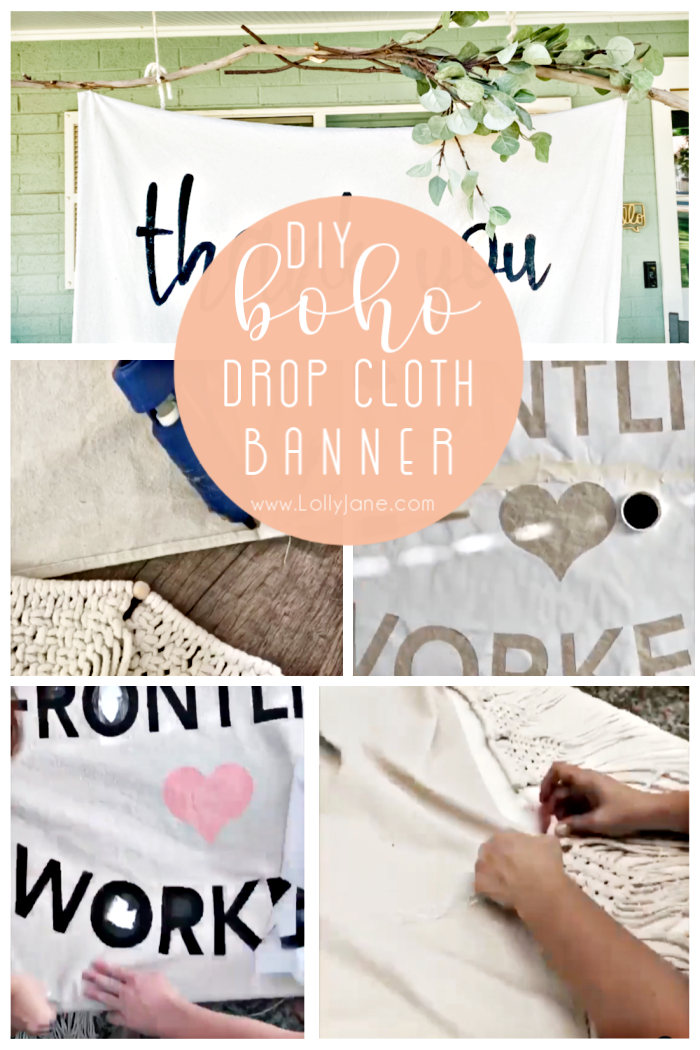 Cut drop cloth to 4′ long x 3′ wide.
Fold the cut sides over and glue it for a no-sew option. (Sew it for a more finished look.)
Center stencil in place, paint the lettering black, the inside of the heart pink. Let dry.
Hot glue (or sew) the fringe bunting to the bottom of the banner to give it a dressier boho vibe. ✌
To hang an oversize banner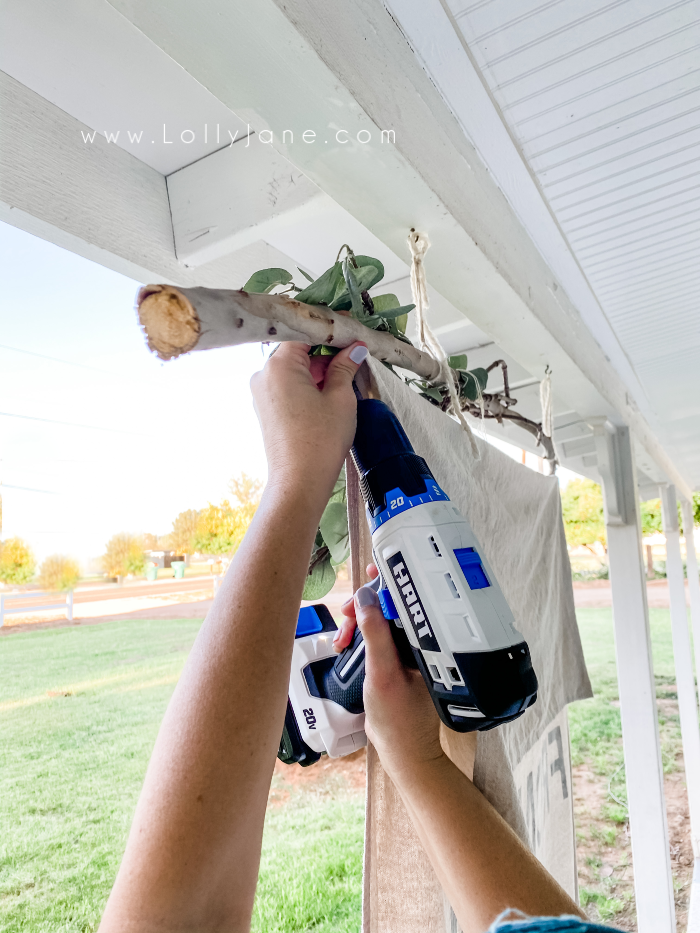 Screw 2 cup hooks to your porch frieze beam, about 2′ apart.
Wrap yarn around wood and connect to cup hooks.
Screw banner directly into wood underneath for durability (keep in mind it's outdoor so there will be wind!).
Tie on leaves, secure with yarn.
Our banner came with 2 long strings on the end for hanging, we put a nail through each string to hold it tight to the ground (like camping).
Update: we've had it up for 3 weeks in our front yard and it hasn't budged through rain, wind and now triple temps!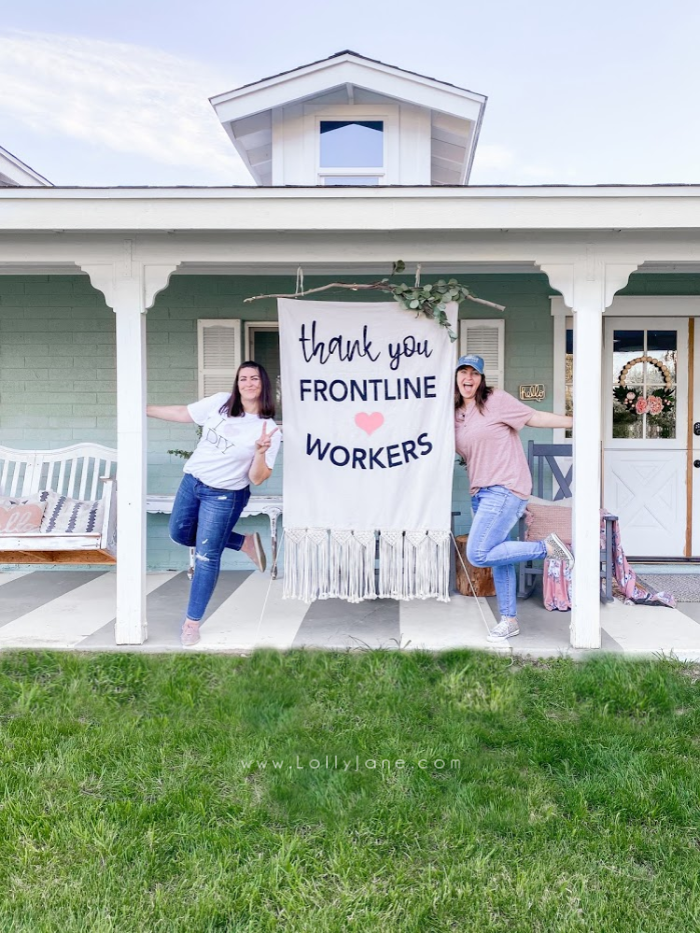 We'd love to see your own canvas banners, please tag us and we'd love to share on our stories and/or Pinterest!
Speaking of Pinterest…
PLEASE PIN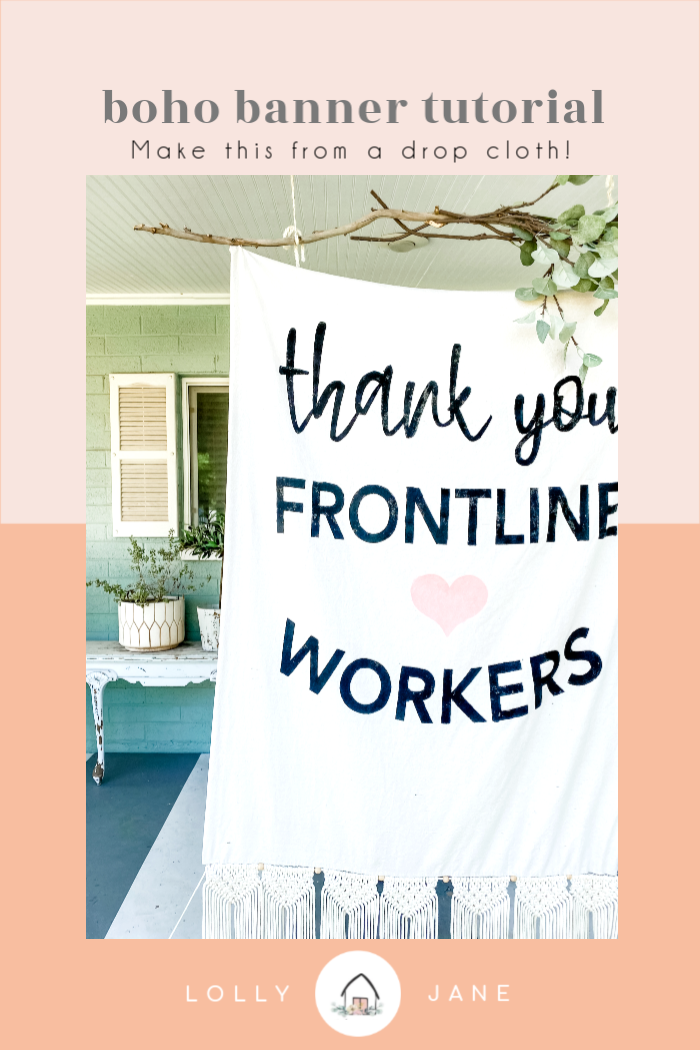 We'd love for you to pin this so your friends can make a giant banner from a drop cloth, too!