DIY Wood Bead Floral Wreath
Easy to make Wood Bead Wreath for makers of any level, and perfect to display for spring or ANY time of year!
If you're coming from Instagram or Pinterest, HELLO! If you're not, then follow us for daily DIY inspo!
This wreath has been pinned more than 2.2 million times in 3 months, woah! You all LOVE this wreath as much as we do! THANK YOU for the support!
Apparently we were WAY ahead of the trend when we featured a wooden bead wreath back in 2011! All things old become become new at some point which is why we're seeing these wood bead wreaths all over Pinterest again… and they're gaining popularity by the day!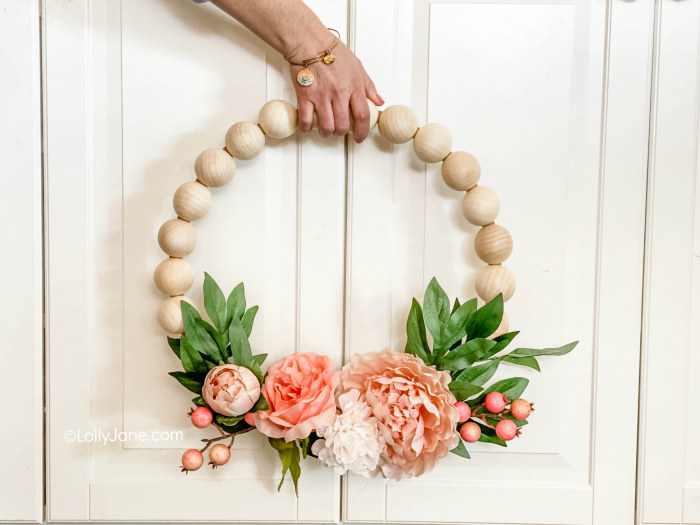 Wooden Bead Floral Wreath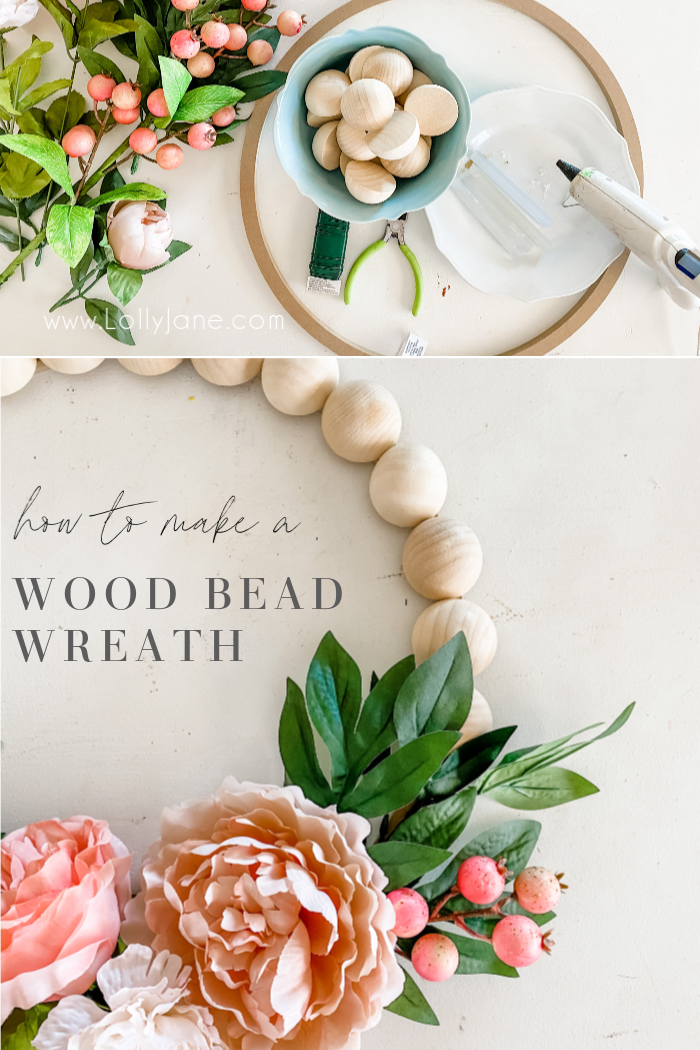 There are a couple of ways to make them but we've scoured Amazon and the big craft stores to find the best prices aaaaand have researched durability at the same time.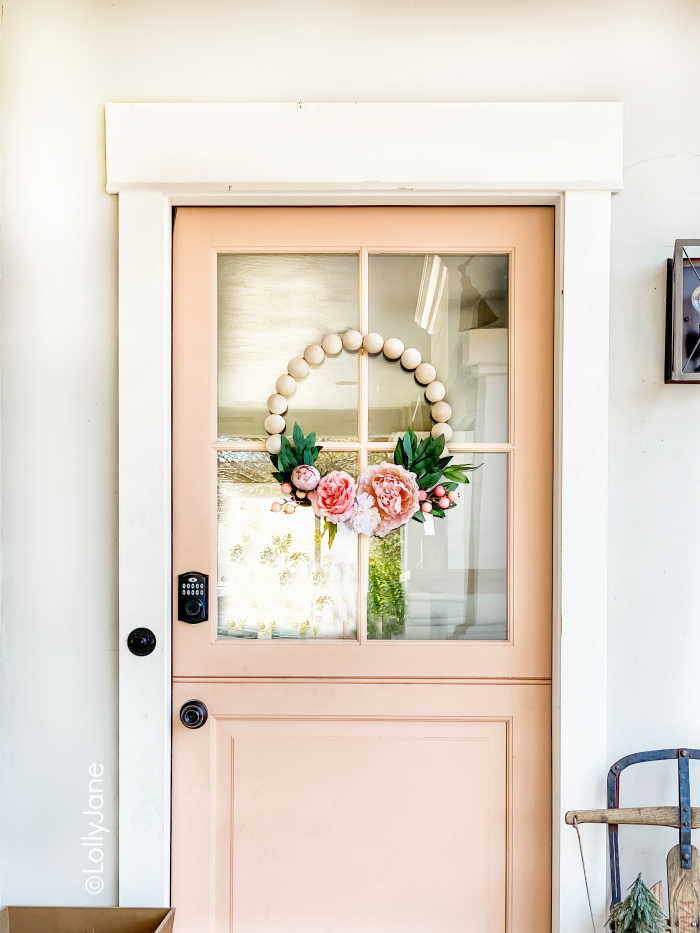 We originally saw this gorgeous wood bead floral wreath from our pal Peony & Honey. Luckily for us, her and a friend made a Christmas version so we were able to get the step by step to make a gorgeous wood bead wreath.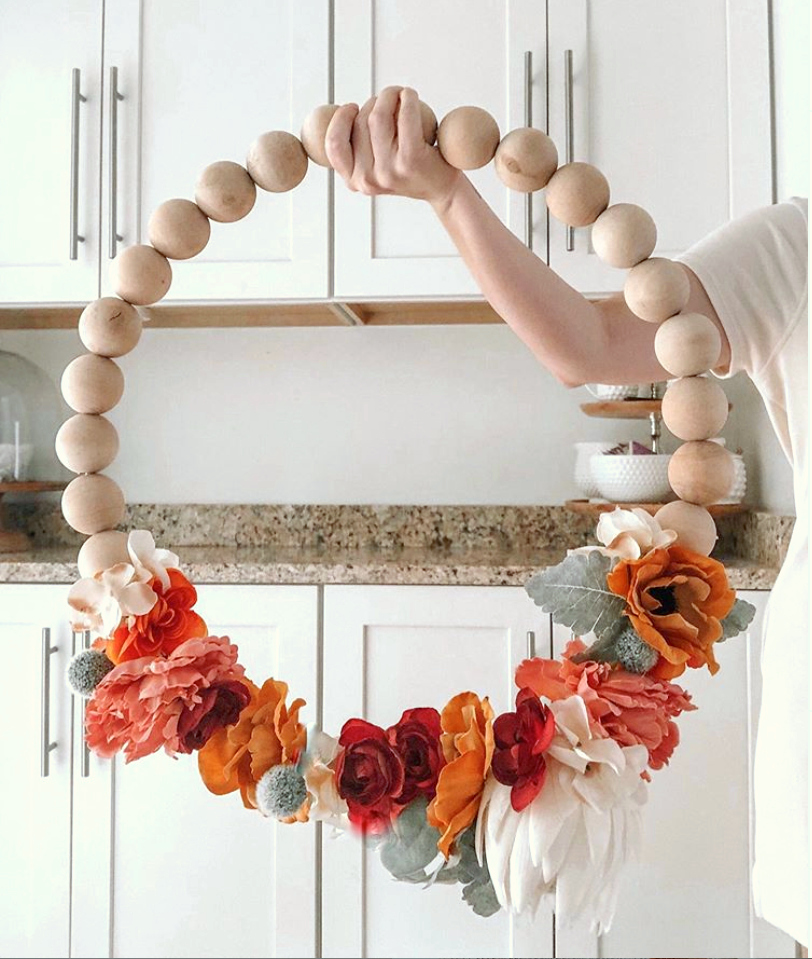 Since the 2″ round wood beads are super pricey, we decided to use the 2″ split wood balls instead. We found a 16 pack for $13.99 on Amazon which makes them $0.87/each versus the 2″ doll head beads in hobby stores for about $1.50/each.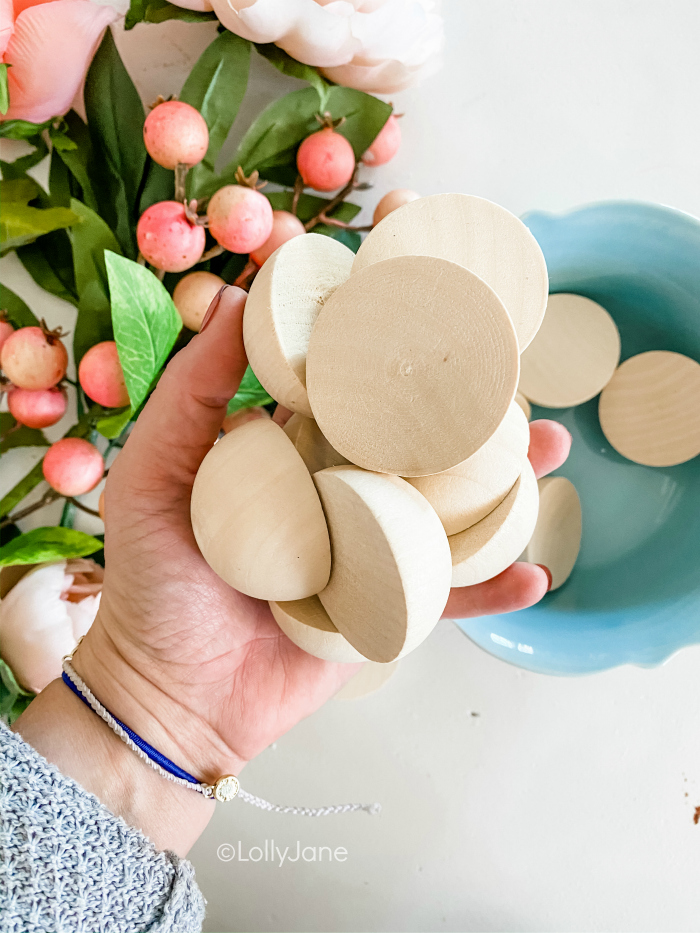 That doesn't sound like much but when you're using 13+ beads per wreath, it adds up! You can definitely use smaller beads to save money but we love the look of the chunky beads, personally. Check out our wreath pin board for a variety of ideas.
Supplies to Make a Wood Bead Floral Wreath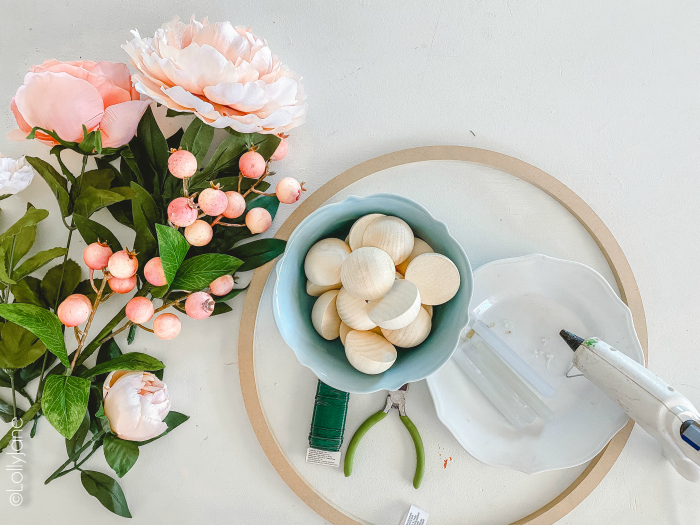 ***UPDATE ON WOOD BEADS: Our original source on Amazon keeps selling out. This Etsy shop kindly offered a 10% discount to our readers so use code LOLLYJANE at check out, her shop has great reviews! There are more sources in the comments that you have found, thank you all for researching!
Other supplies/ways to create this wreath:
You can use a metal hoop instead of the flat wreath we used. If using a metal hoop, you're able to simply string the beads through it. You'll need to snip the hoop first to get the beads on, then glue the cut piece back together. Be sure your beads holes are the same width so they'll be able to slide on easily. You can always drill a bigger hole, if needs be.
If you choose this method, you can glue the flowers directly to the beads or save on beads and follow Peony's how-to. She glued a foam backing to one side of the hoop then stabbed the flowers on the front side to hide the foam. You could also use a piece of cardboard, in place of foam, then glue directly to the cardboard.
If you use a metal hoop and full size 2″ balls, you could drill through the 2″ wood balls then wrap your florals & greens around the wreath and skip hot glue altogether for this step. Lots of options 🙂
How to make a wood bead floral wreath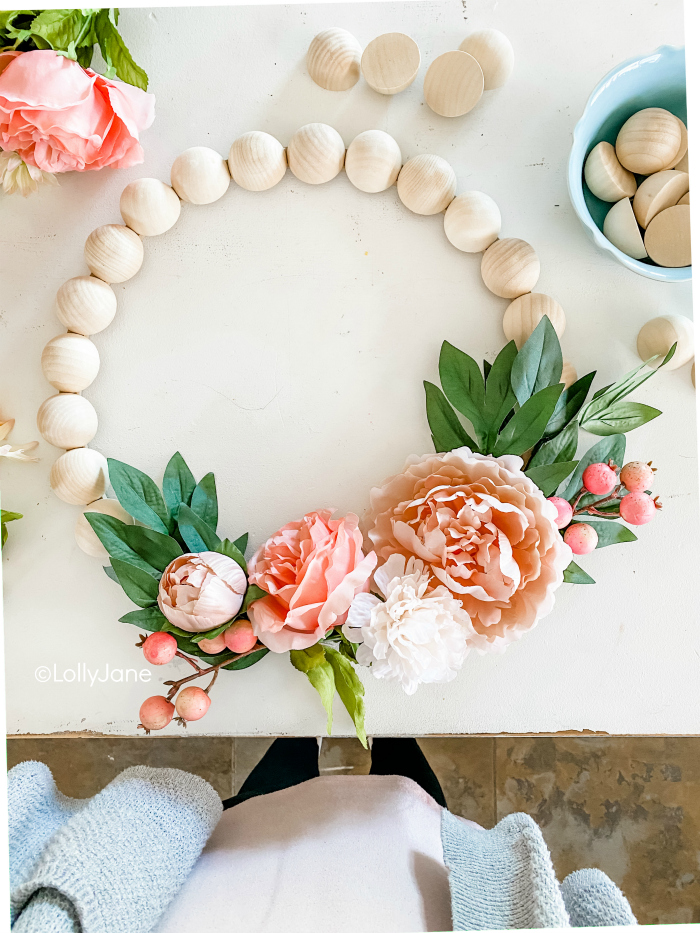 Making this wood bead floral wreath is so easy, here's the easy steps that should only take you half hour (or less!)  Hot glue 16 beads onto your wreath form: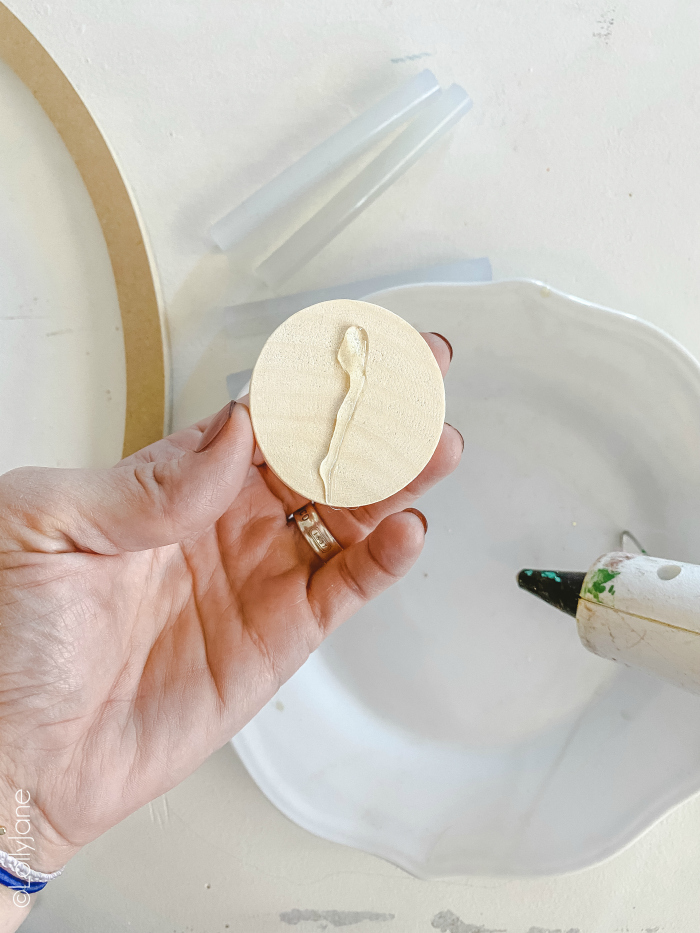 Aaaah look at that immediate progress, love it already!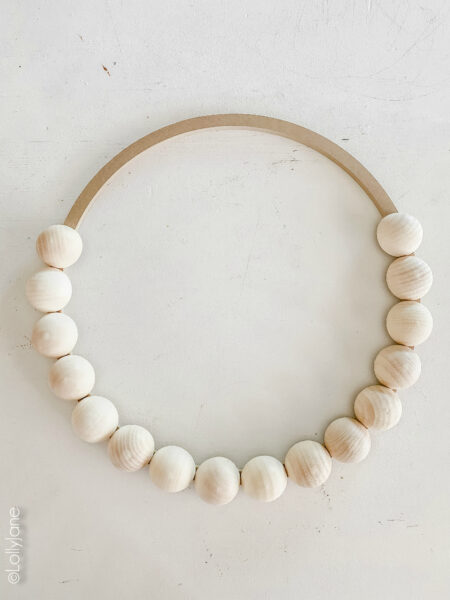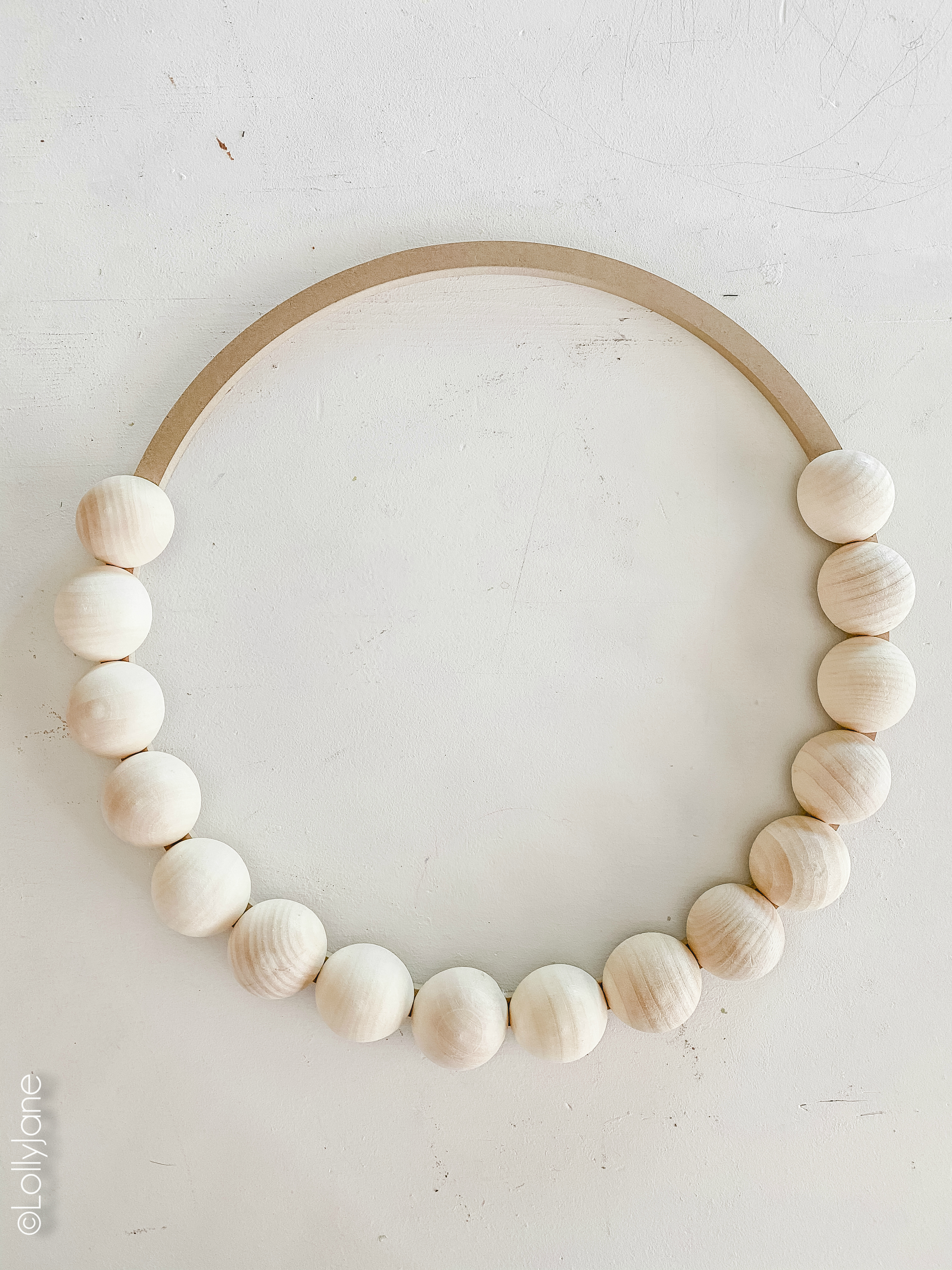 Wrap wrap wrap! Take floral stems apart and wrap with wire, trim with wire snips. Tightly wrap leaves around wreath form first. *Note: you could glue your florals and greens for a permanent option but since the beads were a little pricey, we thought it would be frugal to wrap them so you could swap it out for the holidays.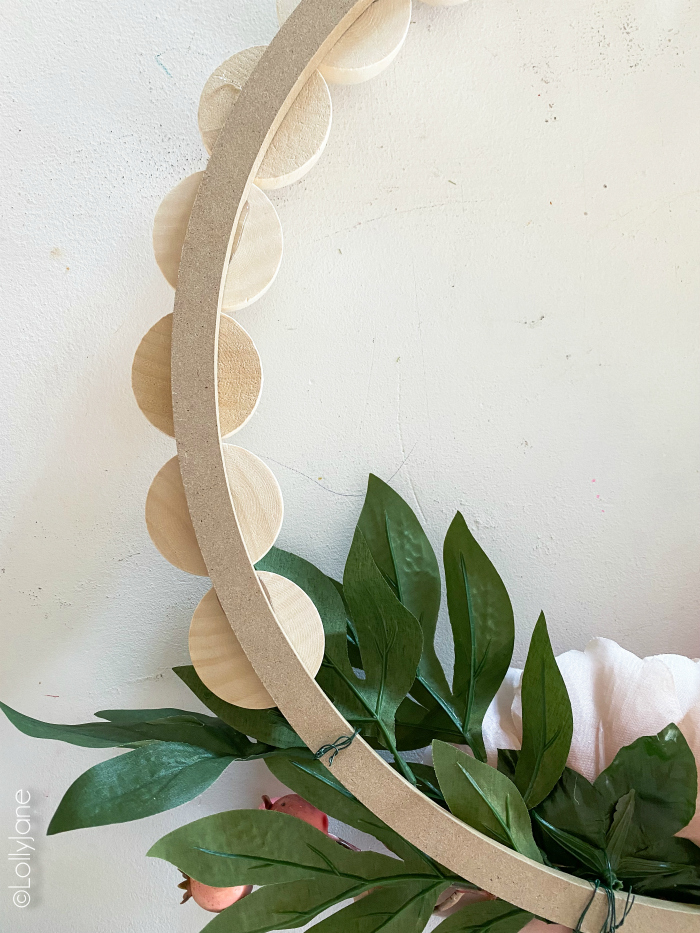 Wrap largest faux flowers around leaves next then tuck smaller flowers around larger florals and wrap securely.
If there's any gaps, tuck more greenery in then wrap with floral wire securely until it's to your liking.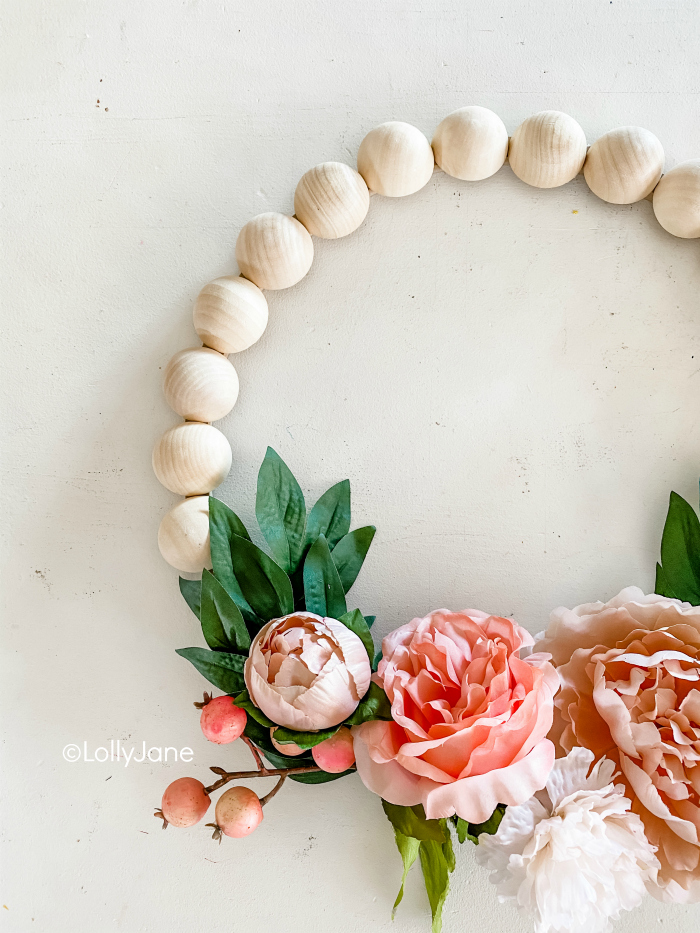 how to hang a wood bead floral wreath
I hung my wreath from my command strips. I simply set the wreath on top of it, in between 2 beads. I used the metal command hooks for this reason, to get a tight fit. No moving when the door is being slammed by kids all day long. 👍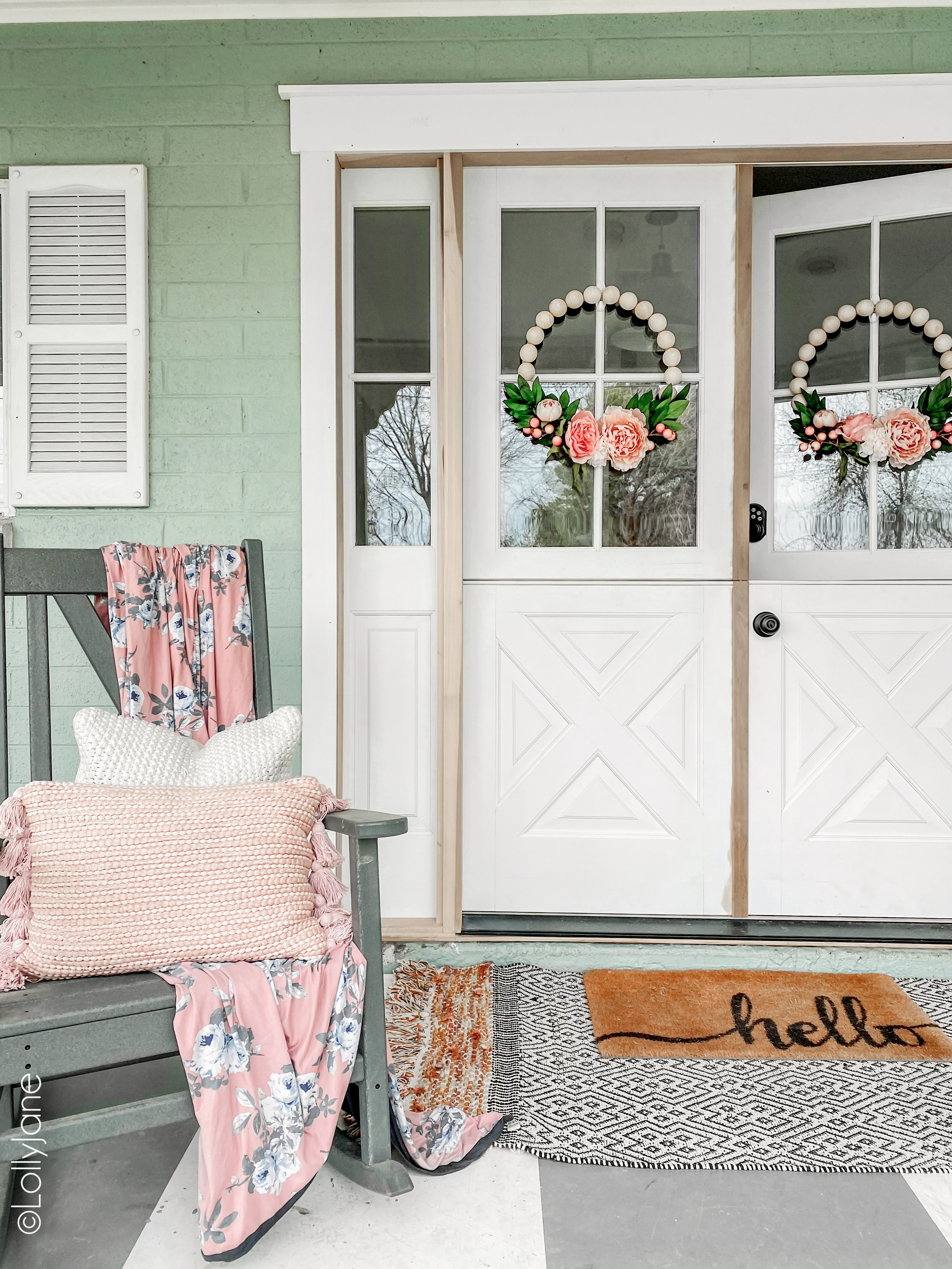 You can also screw cup hooks into your door then hang the wreath with ribbon or clear fishing line.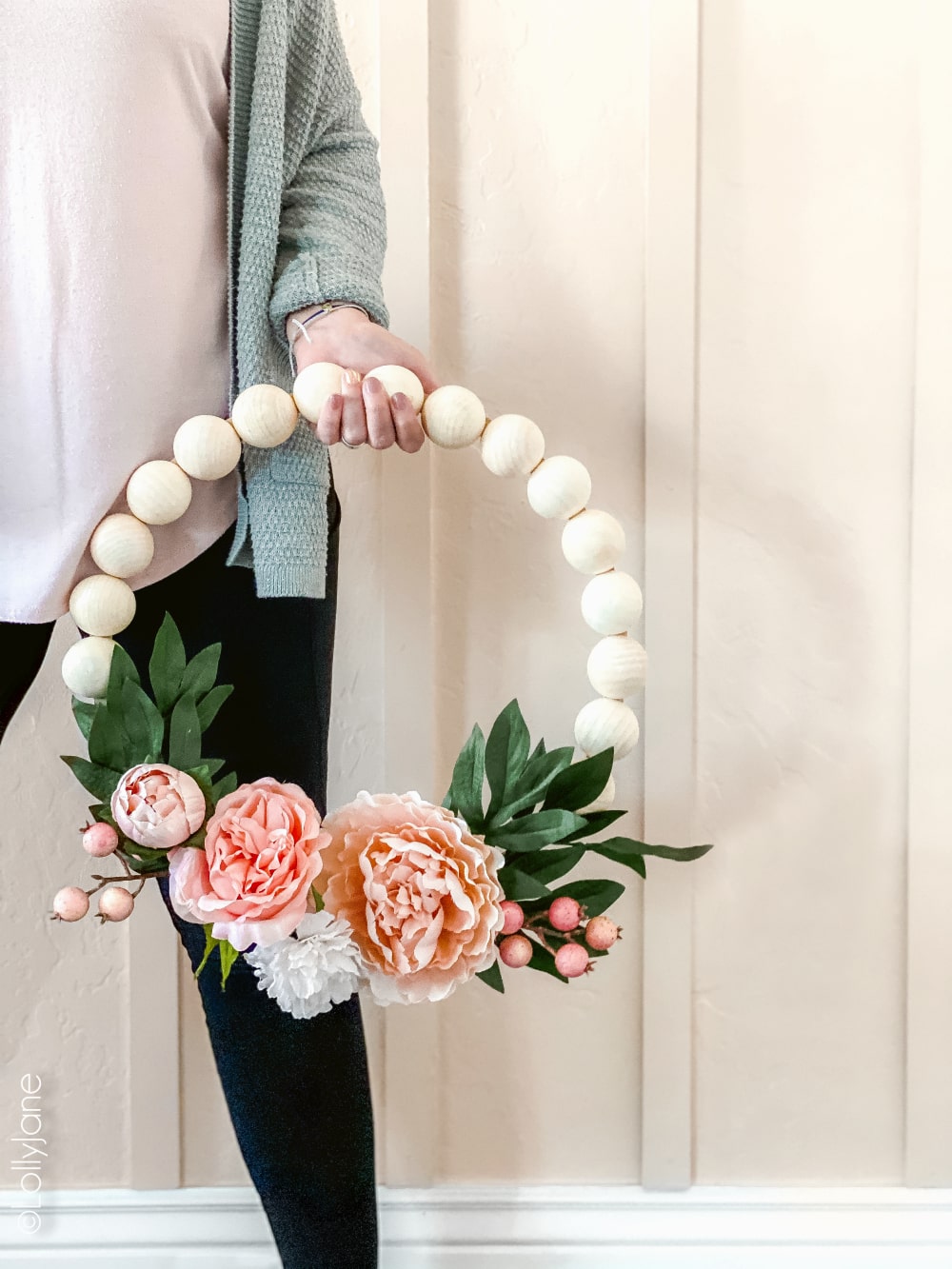 Want this cutie FALL style? You got it: DIY FALL SPLIT BALL WOOD WREATH is live!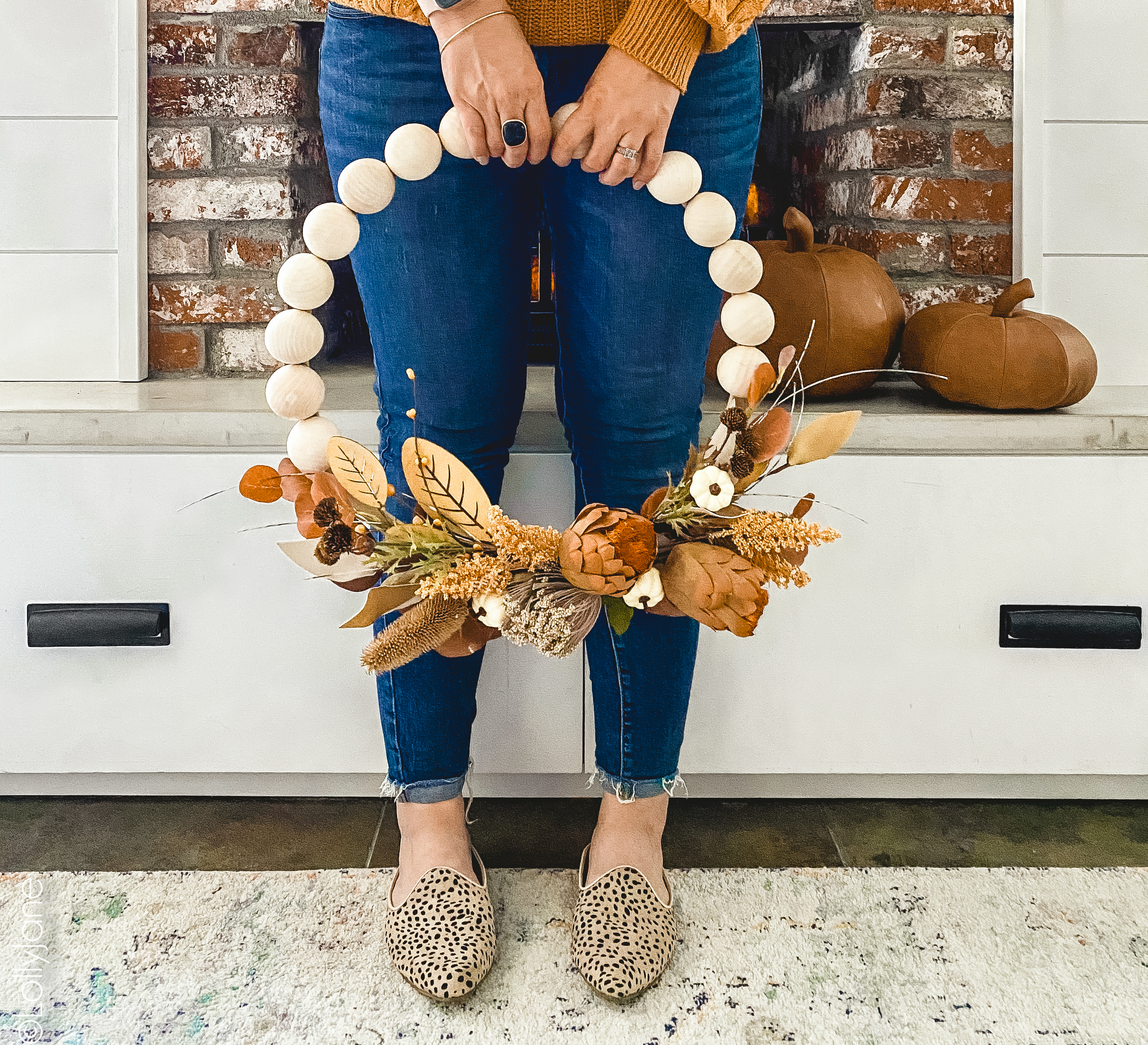 Want to see it being made? Watch below!

Check out more easy to make wreaths
Ohhh my. Should we even admit HOW many more wreath tutorials we have? Okay we will… you're welcome: one for every day of the week, pretty much! Ha!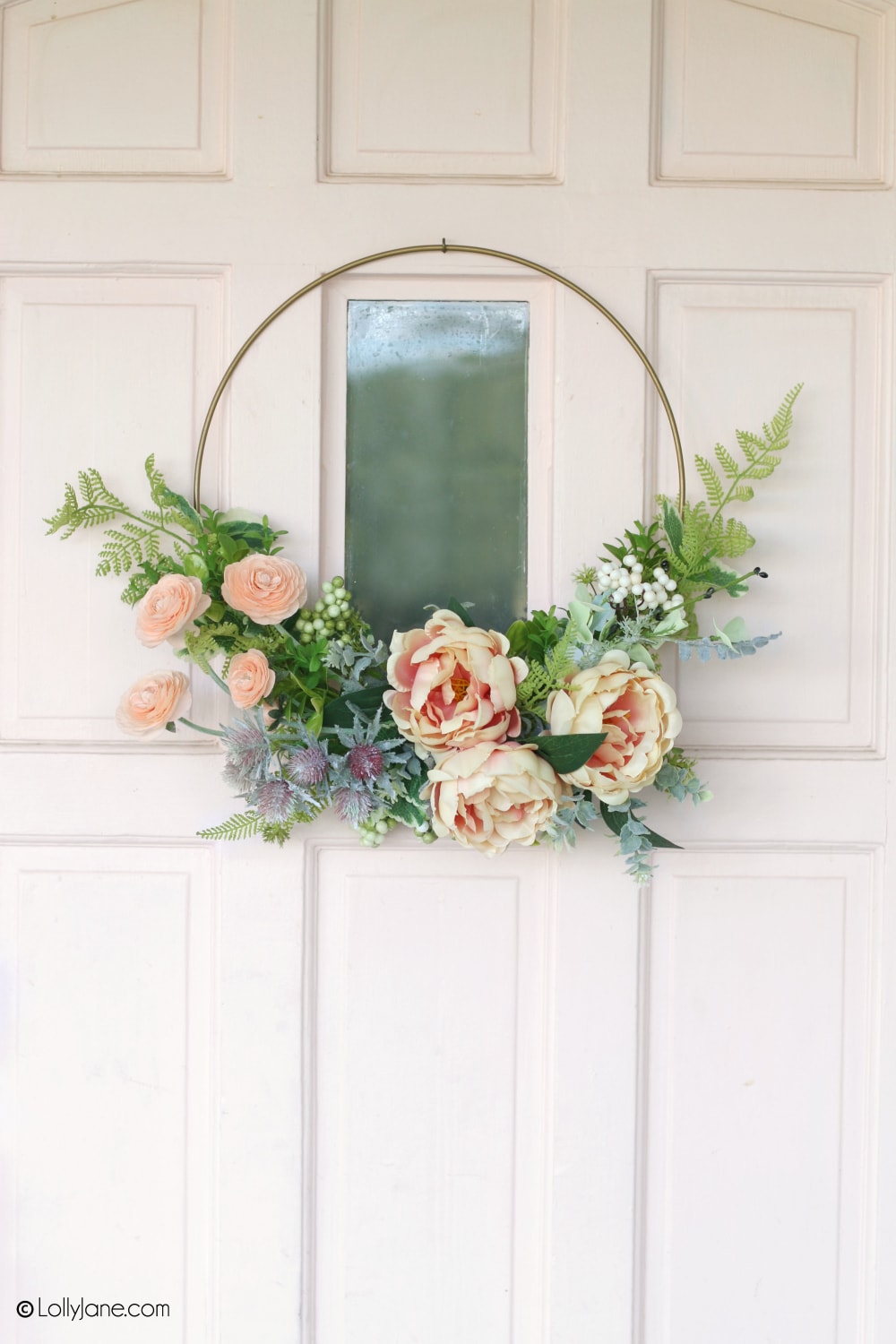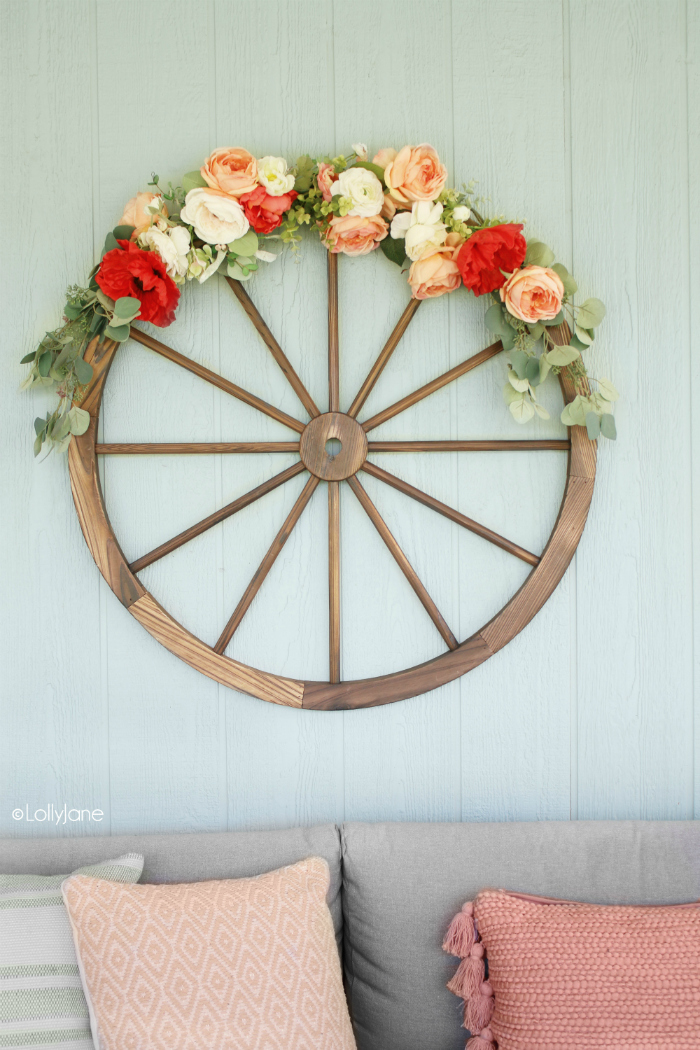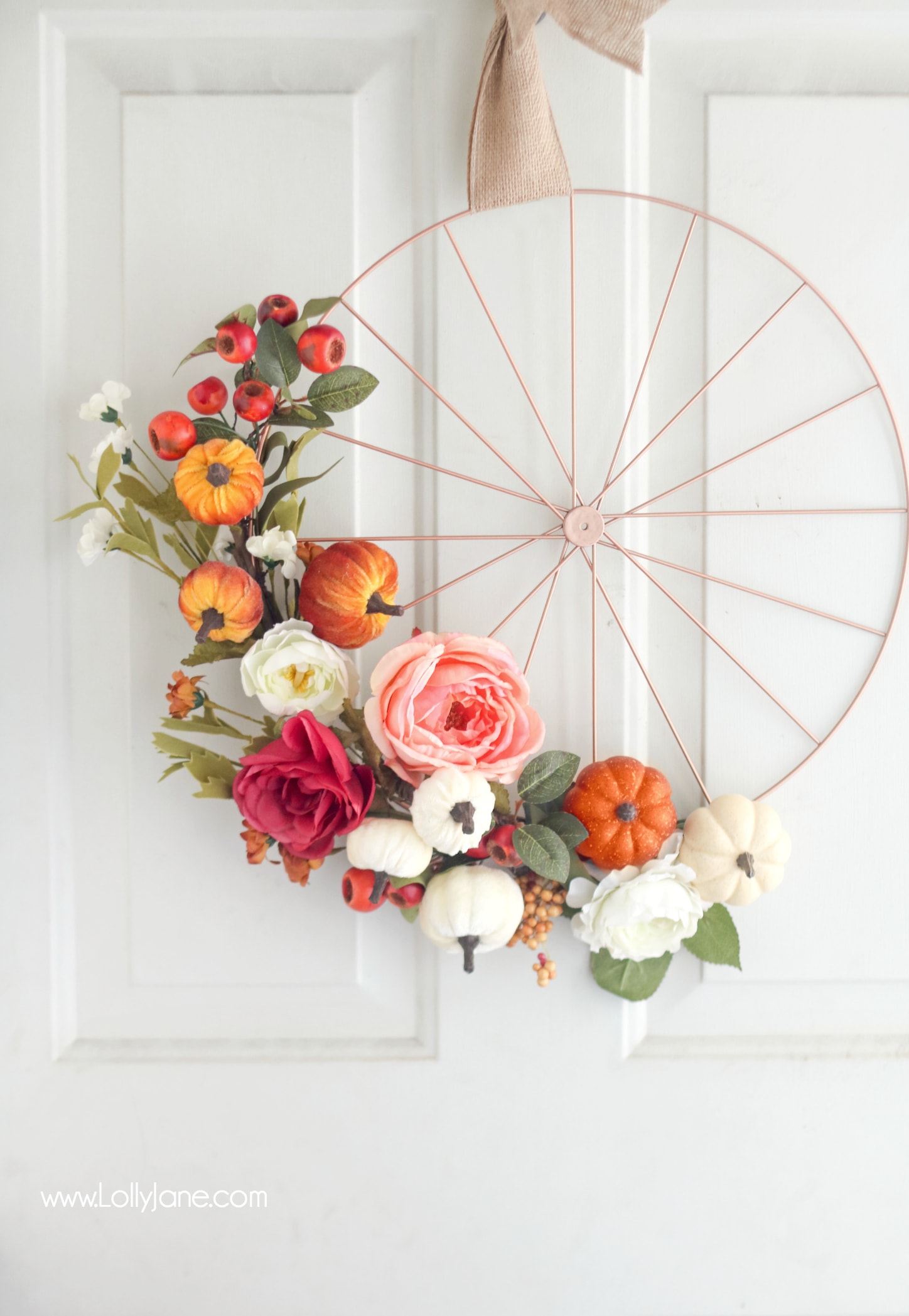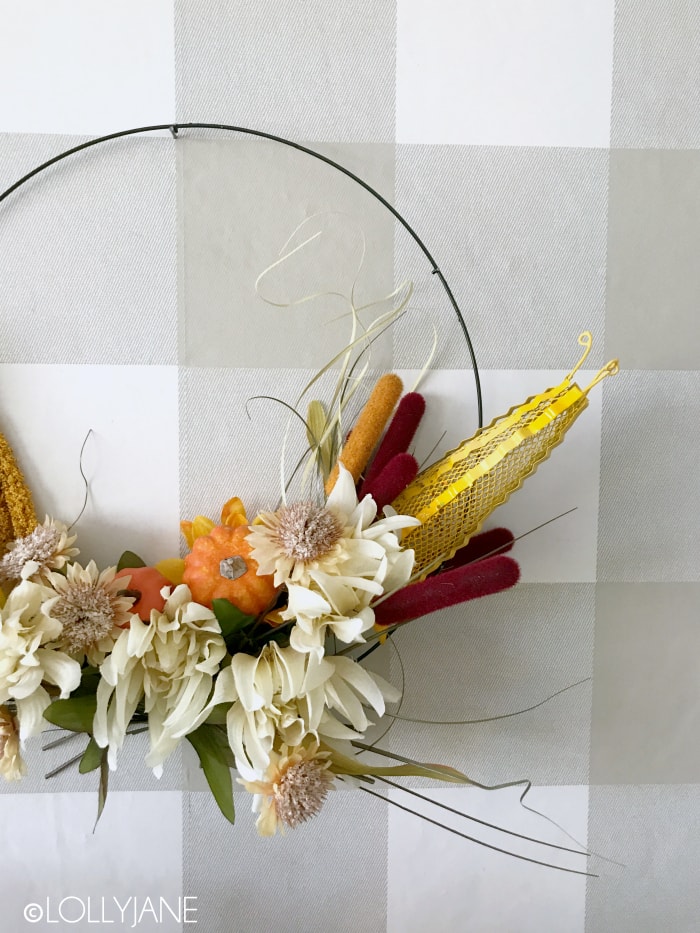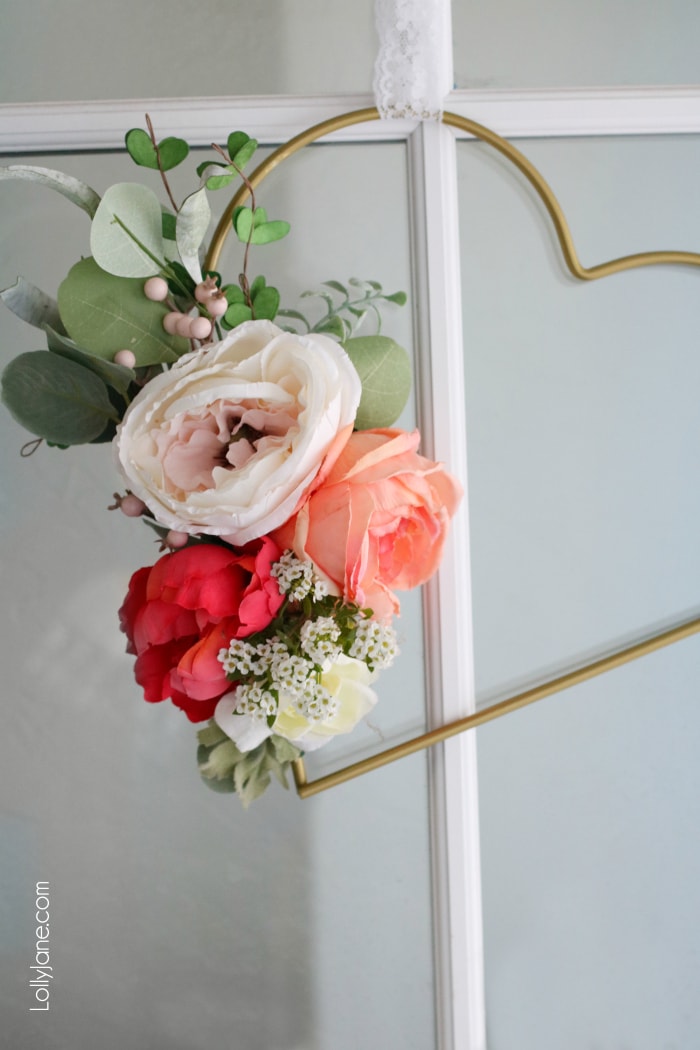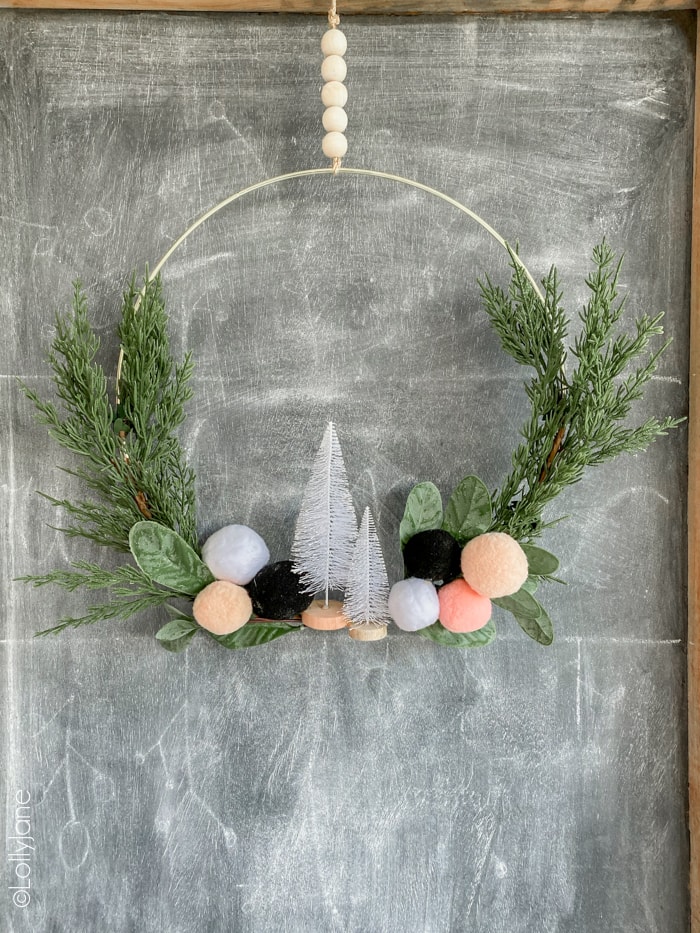 PLEASE PIN so your friends can make a wreath or two, as well!
We'd LOVE to see your own version, tag us on Instagram using #lollyjaneblog