How to bake the perfect size smash cake
Celebrate your little one's first birthday with a custom smash cake! Learn how to make a smash cake using a formula can for the perfect size cake for baby's first birthday! Easy photo shoot tips, too!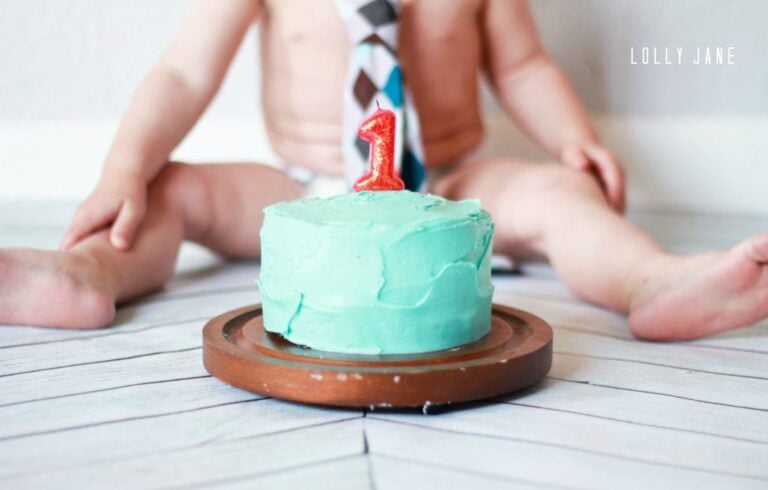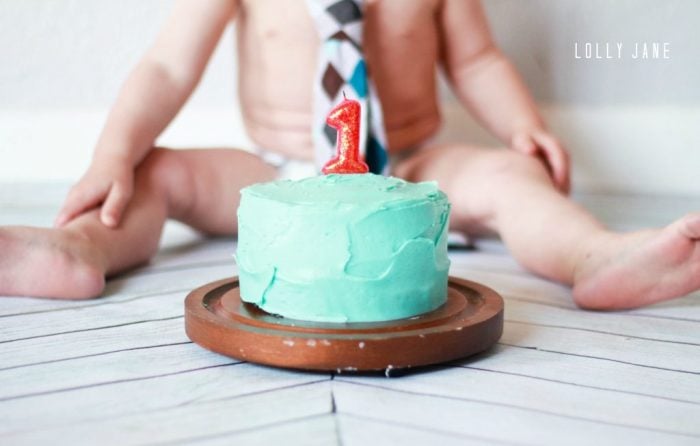 My little man turned ONE this past week… oh, how time  f l i e s! He wasn't feeling very well and I hadn't planned on a big party since my hubby had to work late so I decided to do a simple photo shoot to capture this sweet age and let him explore his very own smash cake.
What is a smash cake?
Smash cakes are just mini frosted cakes. They're meant exclusively for the birthday baby to dig into it with their hands. It definitely gets messy but the photos are priceless. I knew my standard round cake pan would make too much cake since it was just the 3 of us (baby + toddler) so I did a Pinterest search for tin can cake tutorials but they were either too big or too small, (any other mama just think of "Goldilocks and the 3 Bears" after reading that line?) I scoured my cupboards and came up with a near empty formula can and thought, "Why not?" so I gave it a whirl. It was the PERFECT smash cake size, who knew!
How to Prepare for a Cake Smash Photo Shoot
Because I wasn't throwing a party but knew I wanted to do a quick shoot to document Dutch's special day. I snagged a pre-made first birthday bunting (similar style linked) and a "1" candle then placed a cute argyle toddler necktie on my baby boy. I laid out my faux wood vinyl floor to create a rustic look, too. Making the cake was easiest part, though.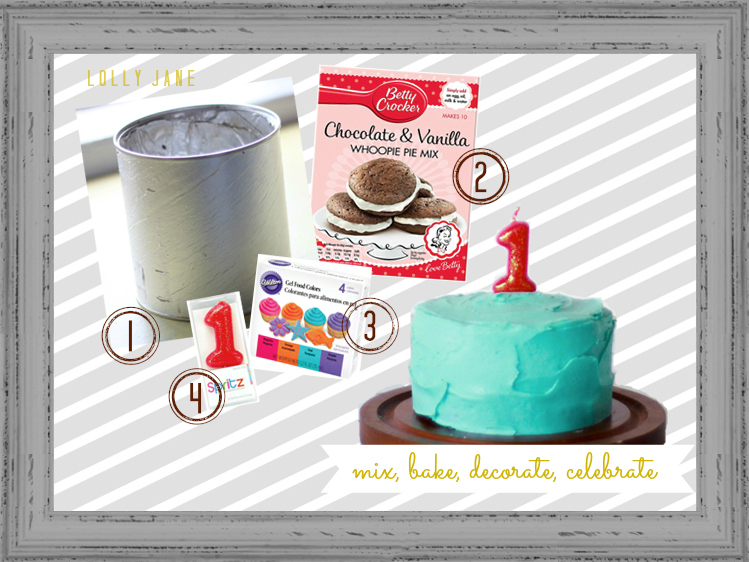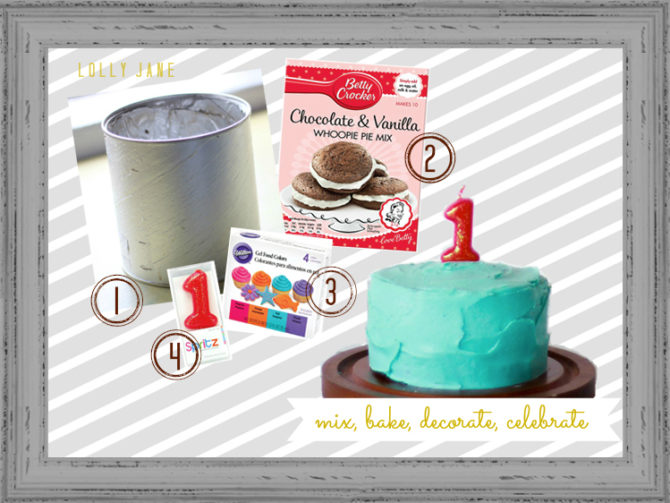 Formula Tin OR 3 – 4″ Cake Pan*
Whoopie Pie Mix*
*Note: You can also bake a standard cake mix in a loaf pan then cut out 3″ circles with a biscuit cutter.
How to Make a Smash Cake Using a Formula Can
Clean out an empty 12 oz formula tin can with soapy warm water and let try.
I used a whoopie pie box mix because it makes a small cake and comes with 2 frosting packets. Simply mix according to the box directions and pour into the formula can, being generous with PAM flour spray. Bake at 350*F for 18 minutes or until baked through. Note: The sides of the formula can bubbled a bit towards the top but did NOT bubble where the batter was and the cake was untouched…probably because it's not meant to be used as a baking pan. Ha! (;
 I love the bright neon food coloring (I used teal) and mixed with the 2 frosting packets that are in the whoopie pie box, which easily covered the cake and ended up being the perfect amount.
Simply top your frosted cake with a number candle.
It was about a 25 minute start-to-finish process and for me, with 2 little ones running around, that was the icing on the cake. Hee hee…. pun intended! (;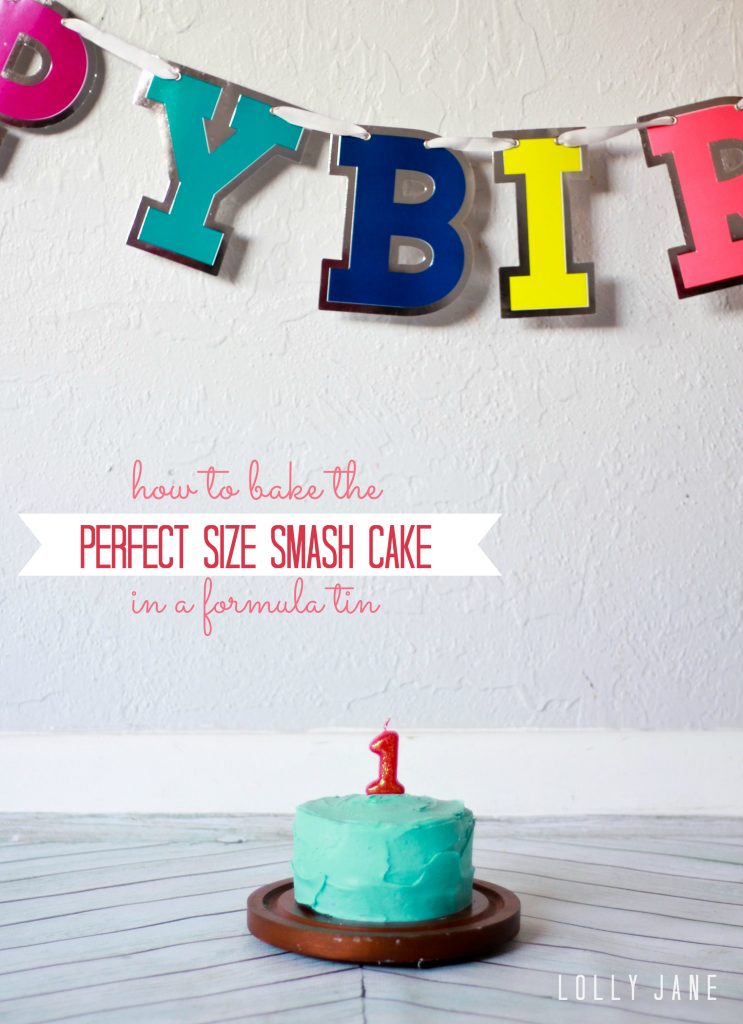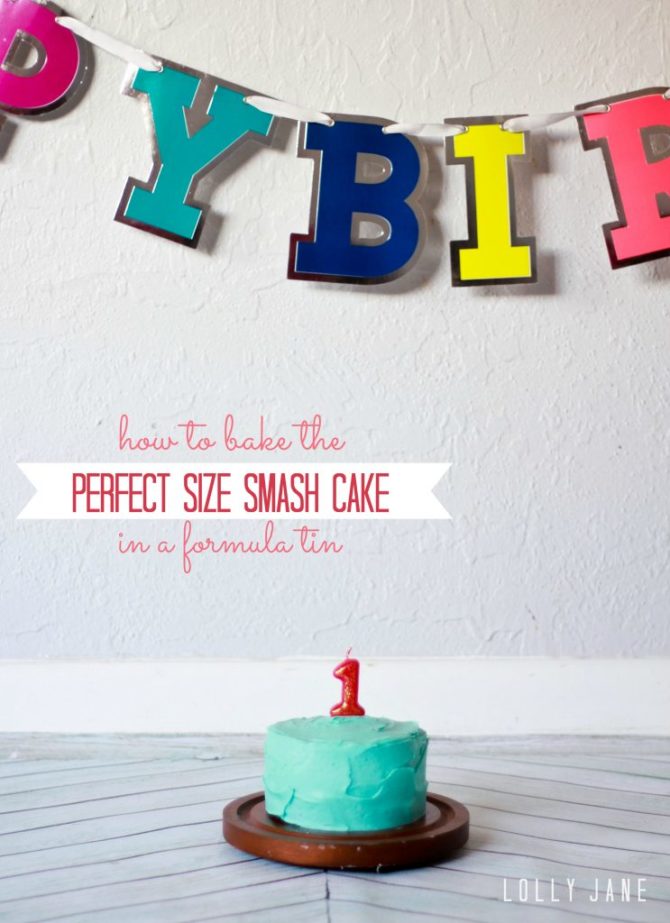 What is a good size for a smash cake?
If you can't find a formula tin or don't have one on hand to recycle, a 3″ round or 4″ round is common for smash cakes. Some people use a 6″ round for a smash cake but that's getting pretty big for the baby to mess up if you're giving it exclusively to them. No size is wrong though 🙂
We hope you enjoyed our smash cake hack of using a recycled formula tin to make an easy smash cake! Please leave a comment below with your feedback and a picture if you've used our ideas! We love to hear from y'all!
Visit more cake recipes:
FAQ's about smash cakes
Can you bake in tin cans?
In order to bake in tin cans, they need be metal throughout. Recently, a lot of tin cans used for canned food are lined with a plastic type coating. You don't want to bake in a can that is white on the inside.
Is it safe to eat from a tin can?
Tin cookware, which used to be very common in earlier centuries, is still sold for outdoor cooking purposes. It is deemed safe to use under current health regulations.
Looking for more cake recipes?
Visit all of our YUMMY CAKES like our Neapolitan Shortcake,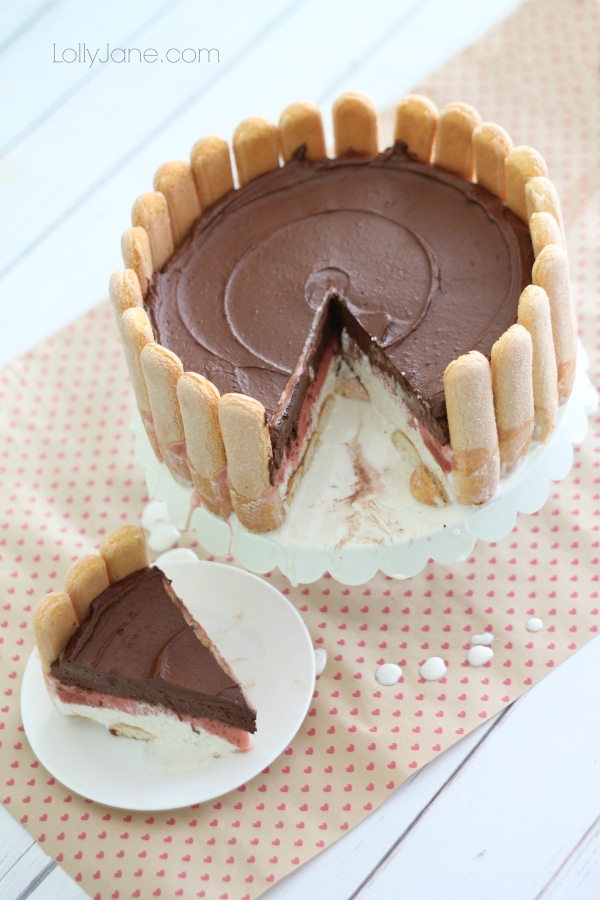 plus learn how to fancy up a cake stand on the cheap!