KEEP UP WITH US ON INSTAGRAM WHERE WE PARTY DAILY!
Yes you read that correctly: peel and stick shiplap! Stikwood is AMAZING and we love it in Reclaimed Weathered Wood White, so pretty and so fast to install for a full makeover in no time! Super fast to make quick cuts. We did our whole wall in one afternoon and can't tell you enough how thrilled we are with it!! We planked our master bedroom several years ago and still adore the look of it. We've been wanting to continue the look in the entryway but have been waiting on the new floors to go plus we had to take out the metal air conditioning ducts/raise the 7′ dropped ceiling to the rest of the house's 8′ ceilings. Old house problems! Needless to say, it's in and we are LOVING it!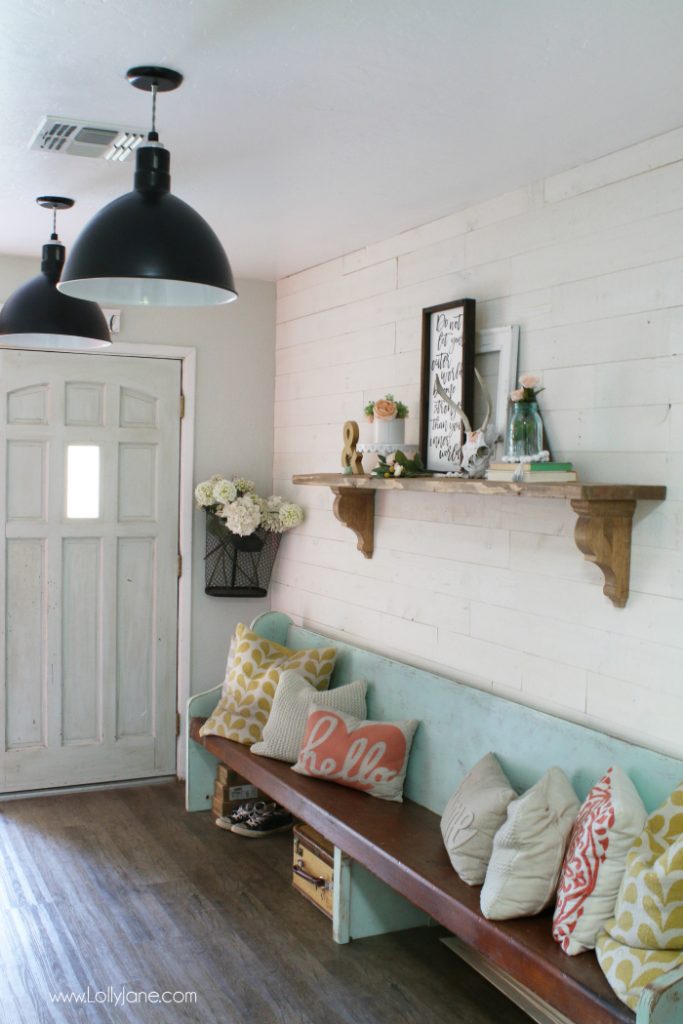 Peel and Stick Shiplap
Here's the entryway before we installed the Stikwood. We had just finished raising our ceilings when we started the shiplap install.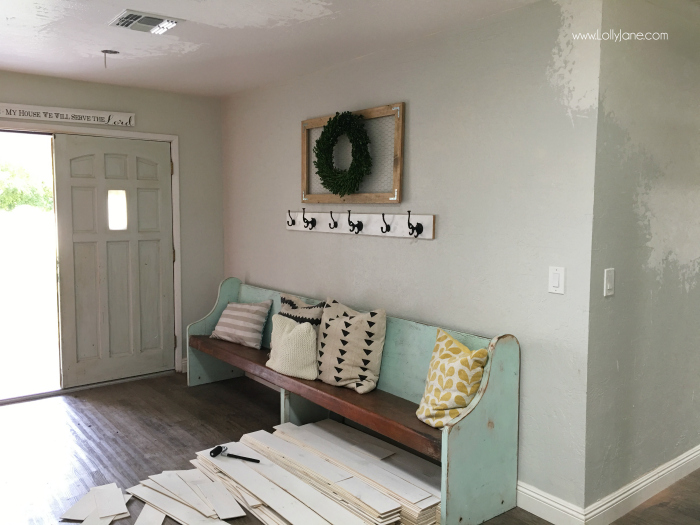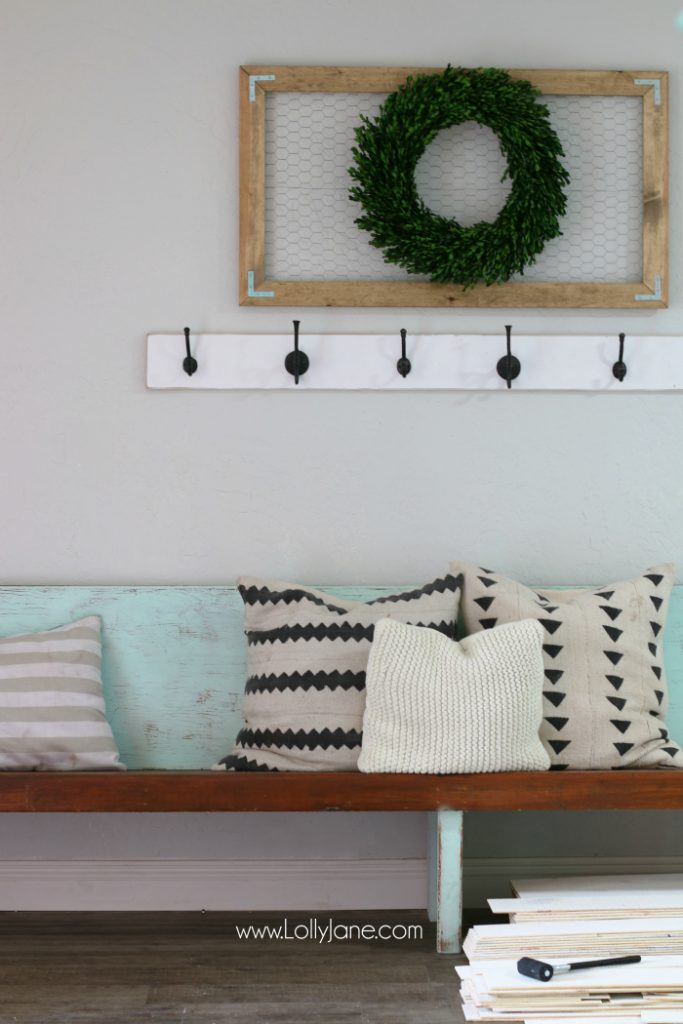 We didn't touch up the wall paint behind the wall since it was being covered up with the reclaimed wood but we did wipe down the whole wall to prep it for the Stikwood install process. We have textured walls and the Stikwood adhered to it with no problems.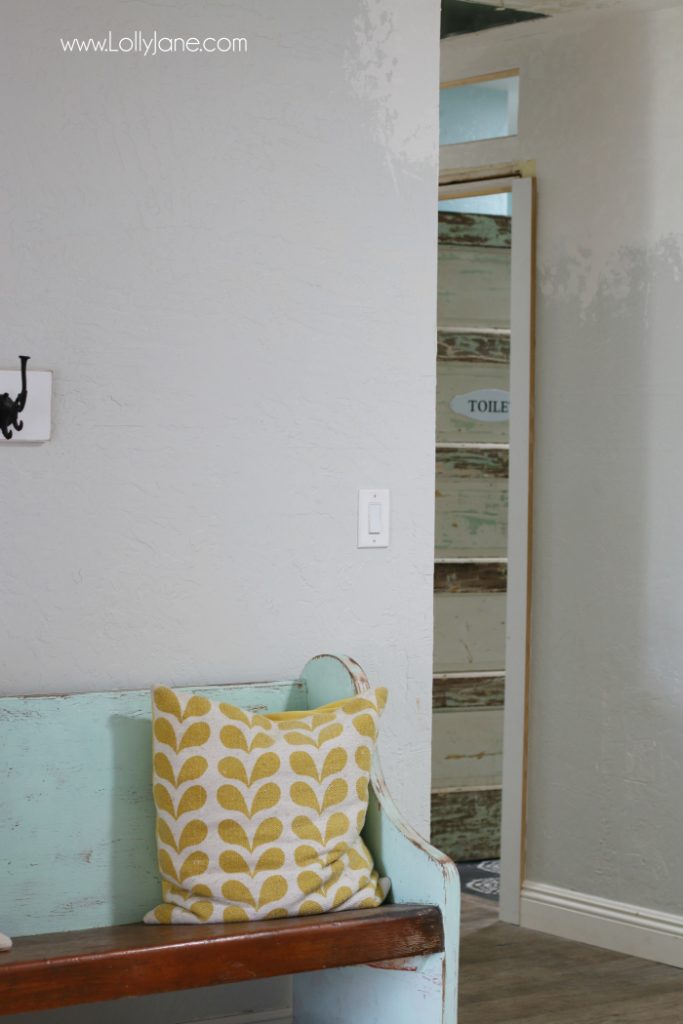 Here's the process of how to install peel and stick shiplap, it's so easy. Check out the Stikwood Installation video before you get started to get off on the right foot.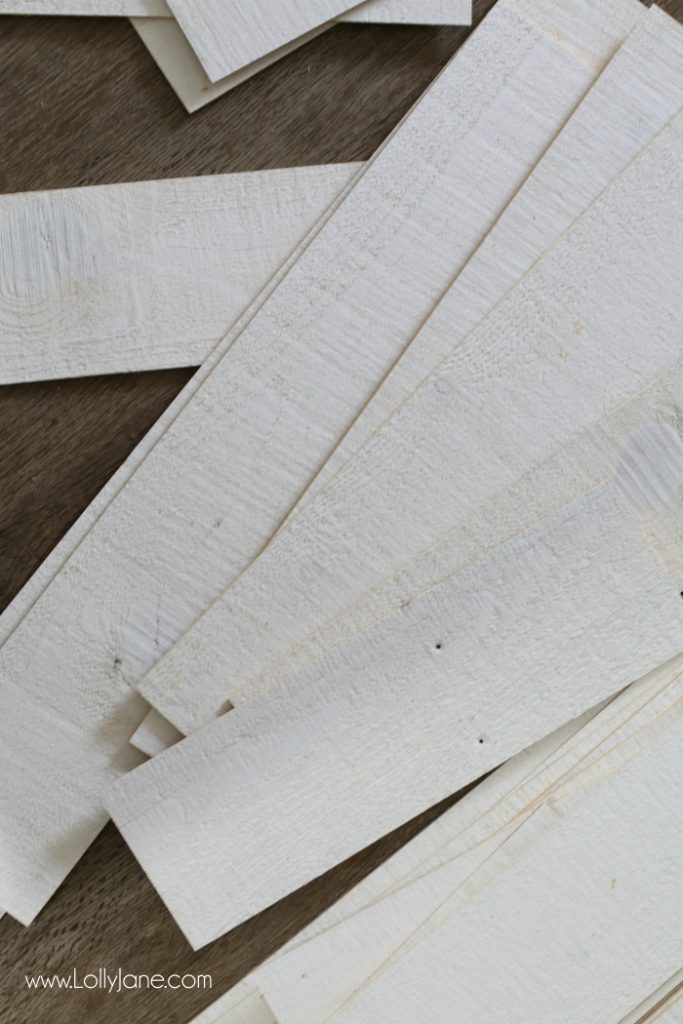 Unpack your Stikwood then let it sit for a day or two to acclimate to your home. The only tools you'll need are a pencil, level, roller and saw.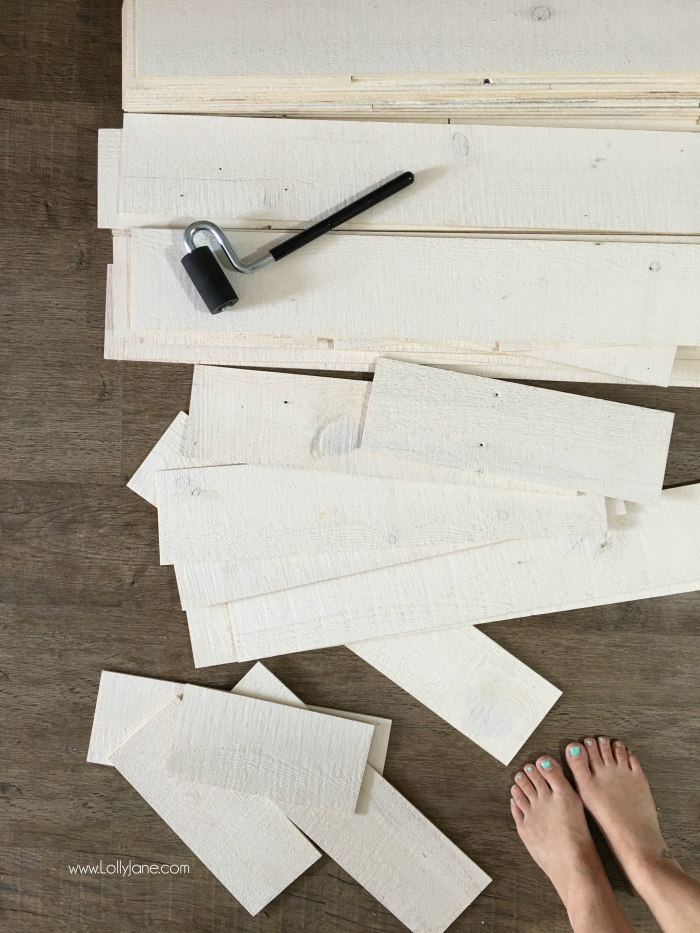 Decide on the pattern you prefer. You can install it traditionally like typical shiplap, making long rows or you can get as creative as you'd like. We chose to create an eclectic pattern across: short length, medium, long, short, medium, etc. We didn't really have a rhymn or reason, we just made sure the seams didn't line up when stacked. I started in the middle of the wall and followed a line of pencil with a level. Then I rolled over it to make sure it was nice and stuck to the wall.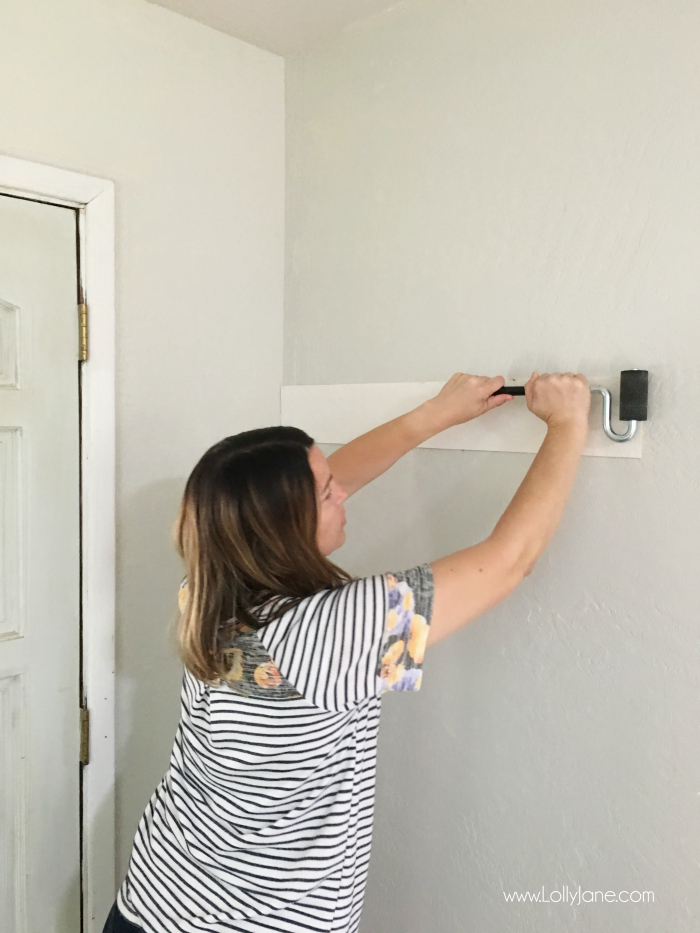 Continue on. This wall took a couple of hours due to stopping to measure and cut. Super fast!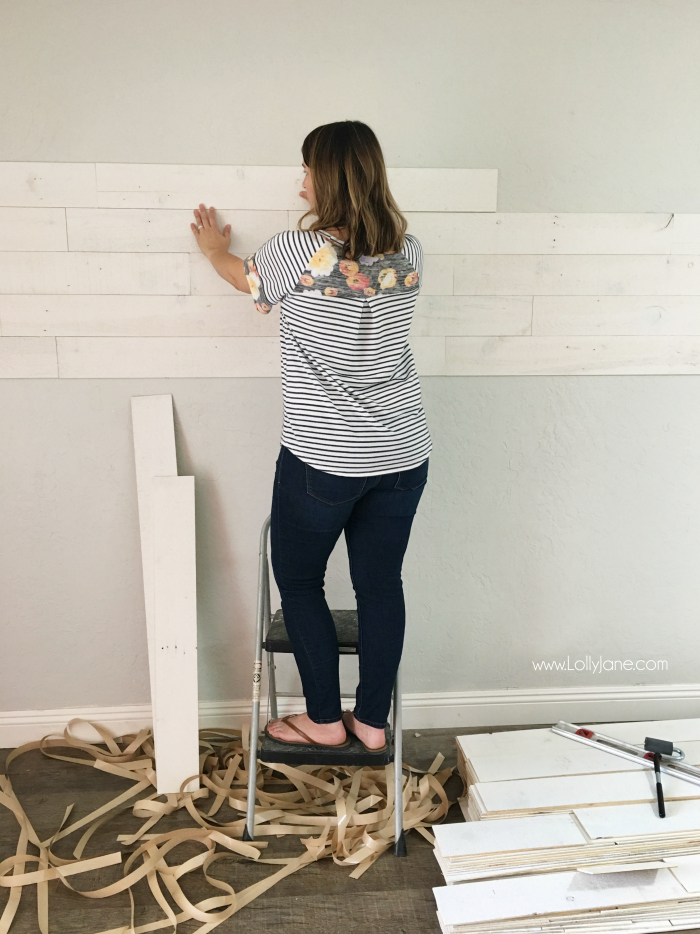 Repeat, repeat, repeat. For the cuts at the end of the wall, I used a miter saw and didn't have any problems with splitting.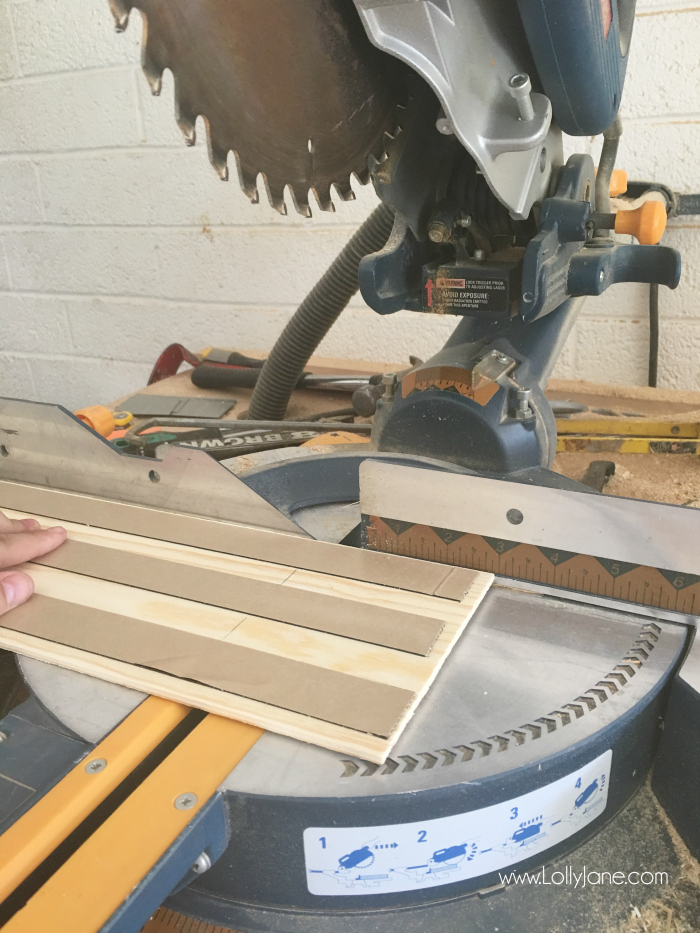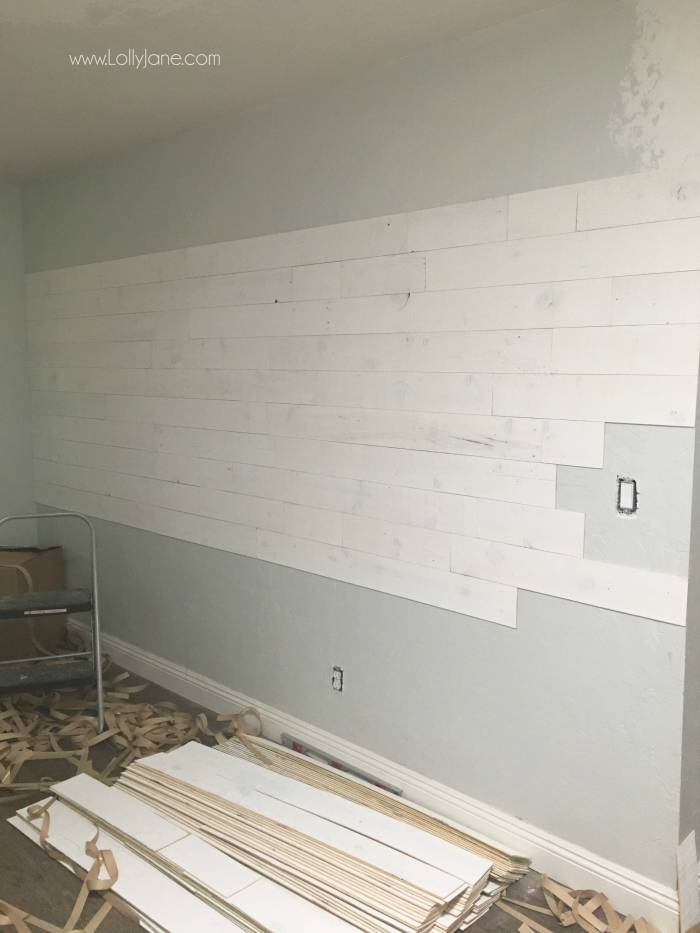 peel and stick shiplap Ahhh…isn't it pretty!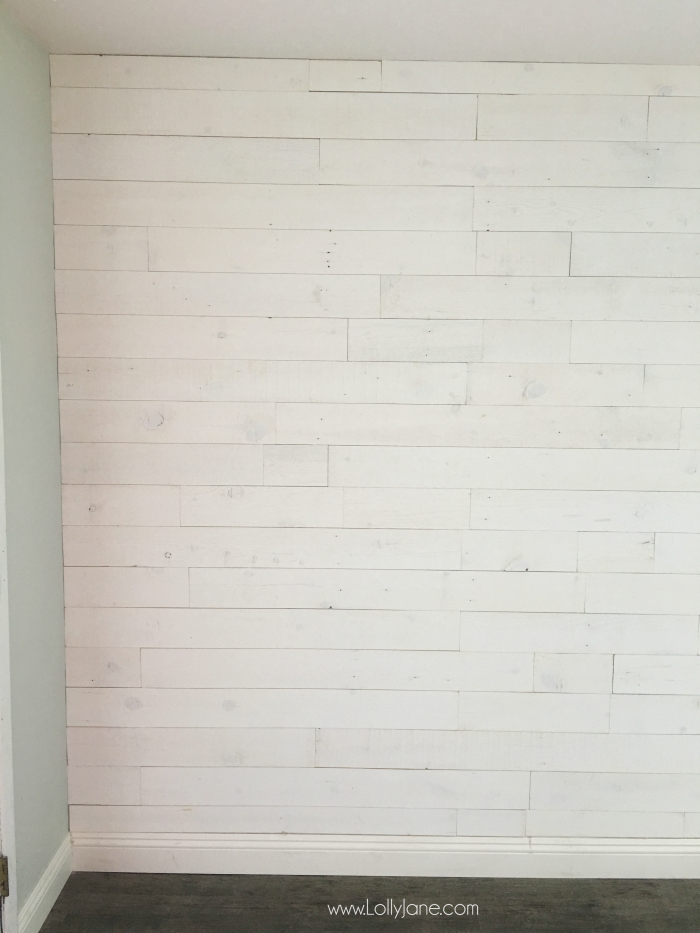 I loooooove the details of the reclaimed wood. It's REAL reclaimed pine and the imperfections are just perfect!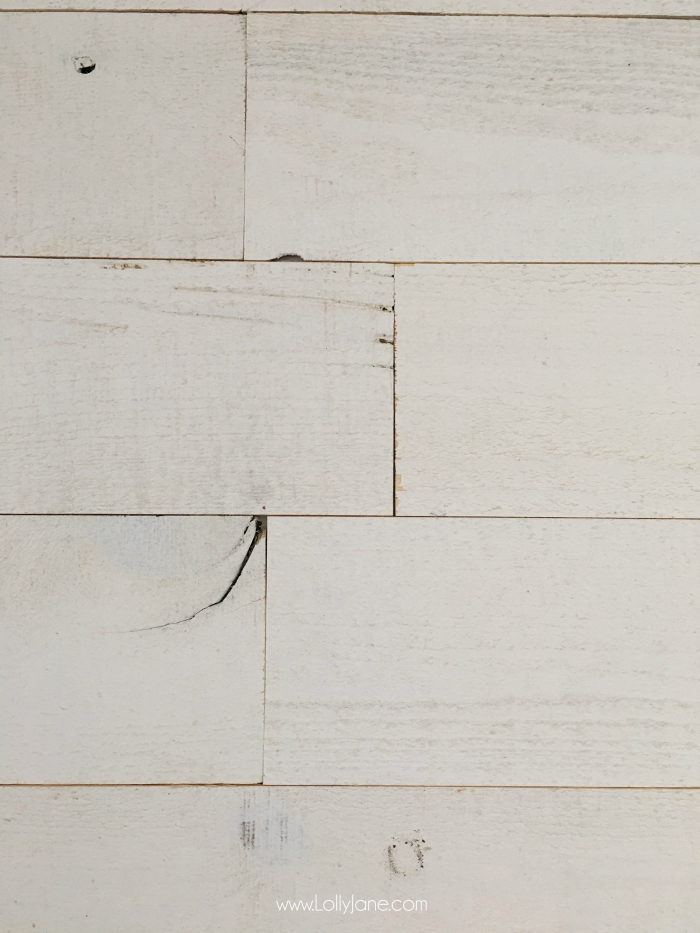 Here's the peel and stick shiplap entryway wall finished up.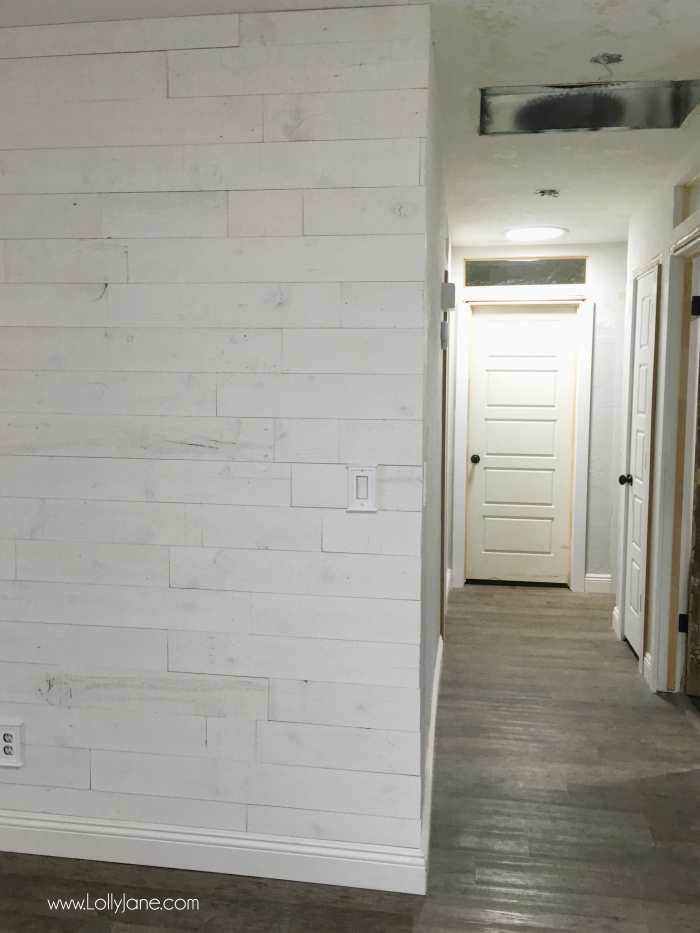 We started putting the space back together and love the contrast of the striped painted hallway.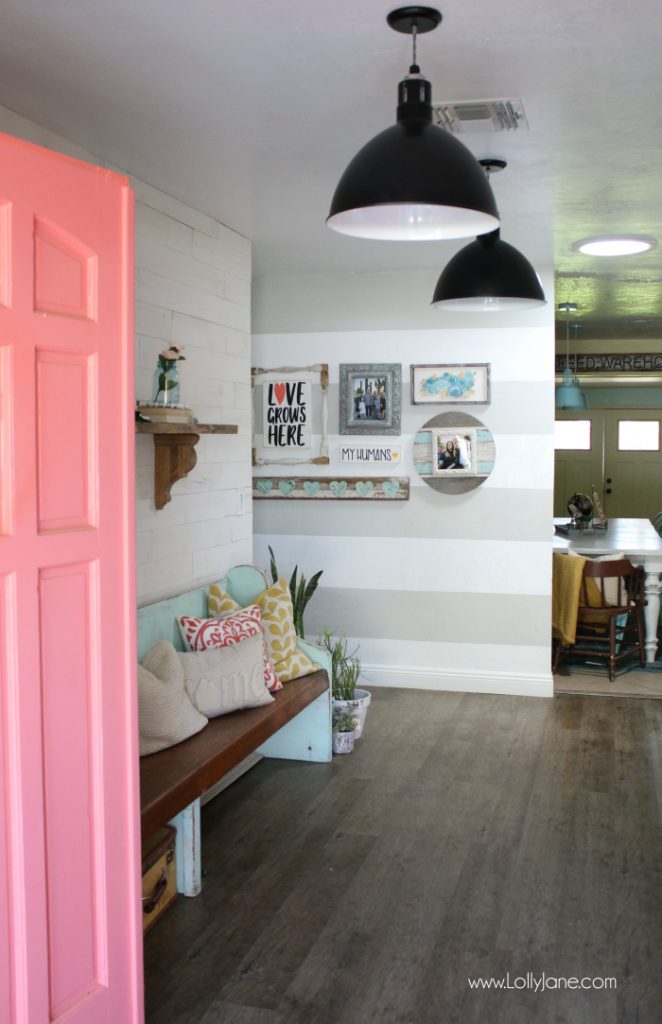 Doesn't the Stikwood look fantastic with our new transom windows? And with the pretty black pendants? Love it!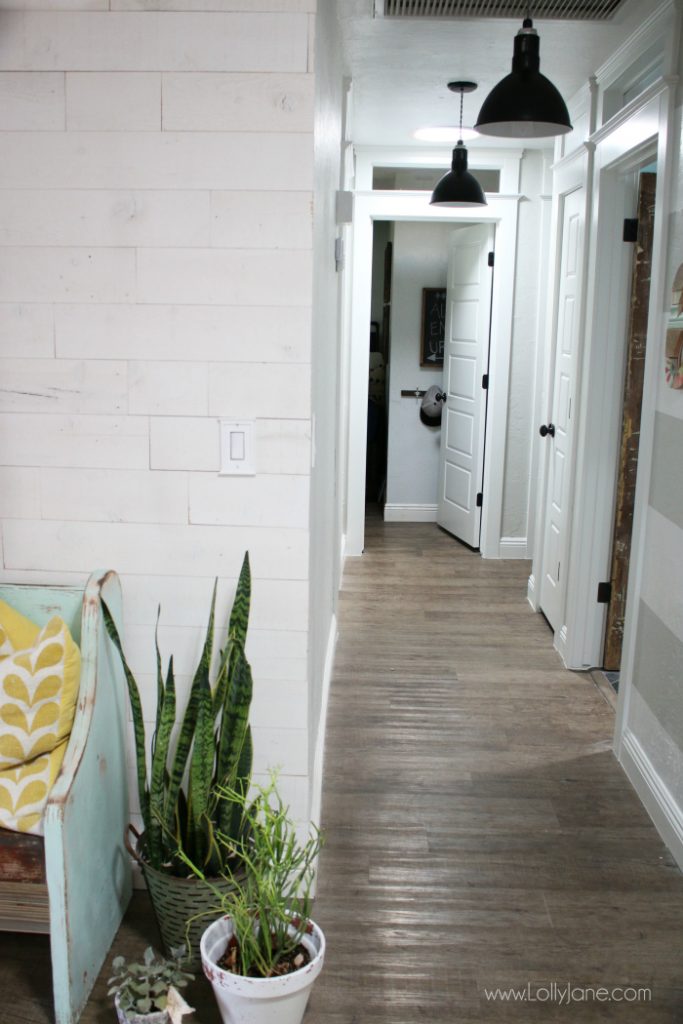 We're still looking for the perfect front doors then we'll finish the rest of the entryway off with the reclaimed wood. Here you can see a peek on the wall opposing the main entryway wall. (Ignore the half painted wall, that side of the house is undergoing a major renovation.)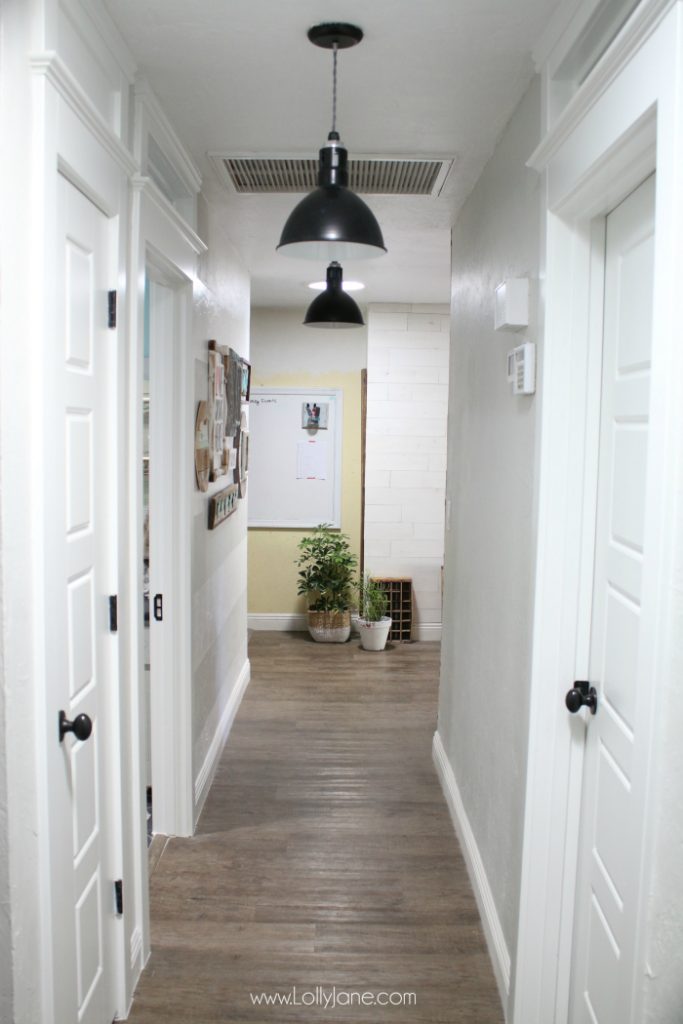 Check out some more brilliant spaces made over with some Stikwood reclaimed wood planks. Brilliant product! BIG THANKS to Stikwood for providing the materials to make my dream entryway come true! ♡ PLEASE PIN so your friend's can enjoy this too!

DIY Mommy used Weathered Wood White to transform her bedroom ceiling. Isn't it amazing?
We adore the The Lettered Cottage and their Weathered Wood Gray fireplace. If only Arizona needed a fireplace…pass the mallows!
Such a nifty little transfomation! Life on Shady Grove used the same reclaimed wood as we did, the Hamptons, to make over a closet.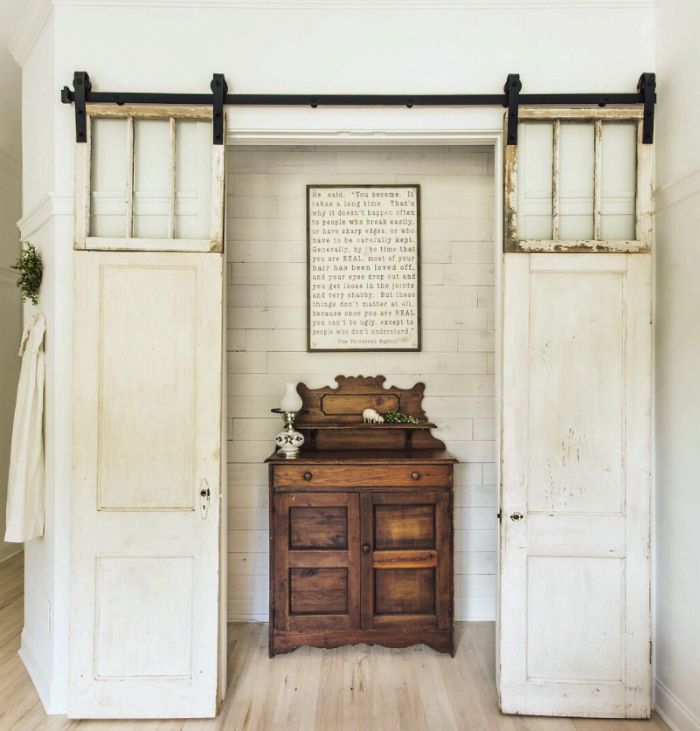 This focal wall from Poject Nursery using Reclaimed Weathered Wood is gorgeous. Love how rustic the wood looks!
I'd sleep in this pretty master bedroom from Hello Lovely Studios. The Hamptons is definintely my favorite choice of wood wall treatments!
We swoon for Swoon Interiors kitchen wall, yeow! Her Weathered Wood Gray was the perfect choice in this white kitchen!
Such a cute looks from Bella Blue, using Reclaimed Sierra Silver with soft white fabric and pretty florals. The perfect combination.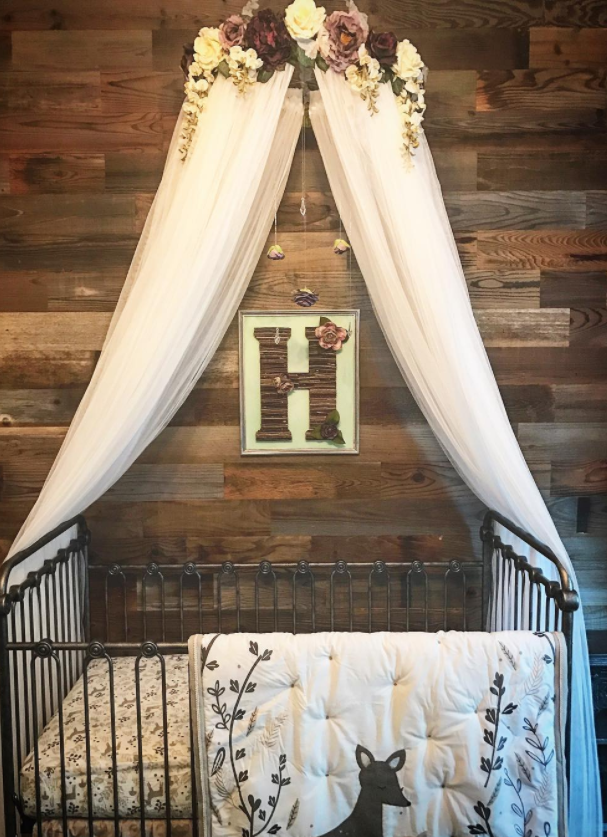 Reclaimed wood isn't just for walls. Blesser House transformed her kitchen island with Reclaimed Weathered Wood, gorgeous.
Go a shade lighter with Kindred Vintage and her Reclaimed Weather Wood Grey entryway. Stunning.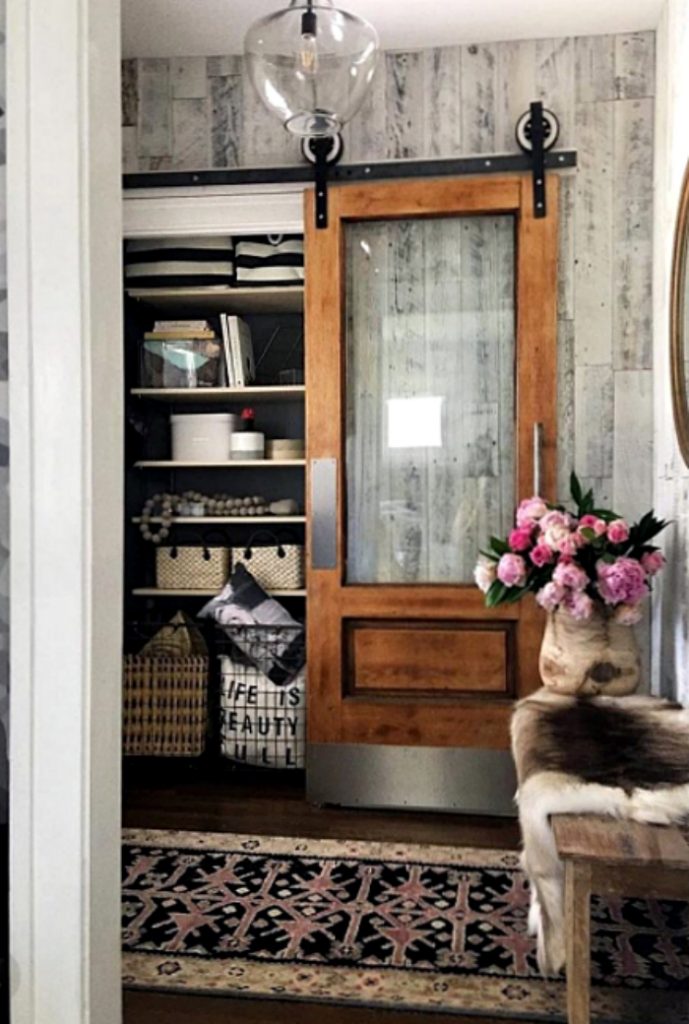 FREE EMAIL COURSE
5 Low Cost Tricks to Make Your House Look Like $1 Million
It's Lolly Jane's 5 FAVORITE Tricks to spruce up your space affordably.

Don't miss these!